4 Variations Available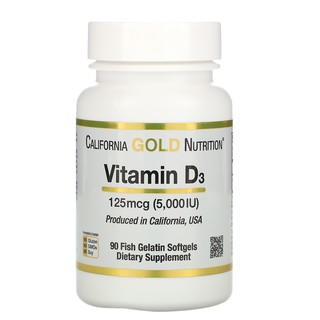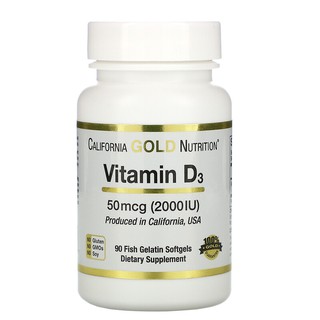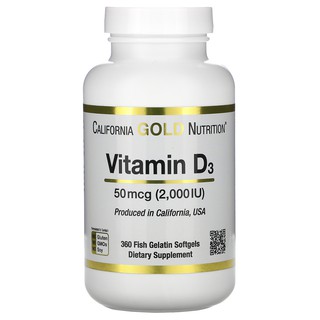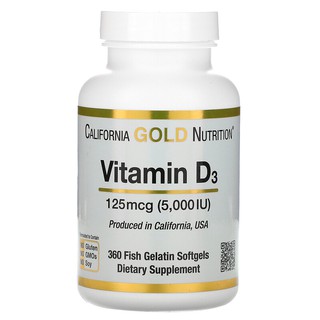 California Gold Nutrition, Vitamin D3, 125/50 mcg (5,000/2000 IU), 90-360 Fish Gelatin Softgels
$9.50 - $22.60
$15.00 - $22.60
Flash deal starts at 00:00, 2 Dec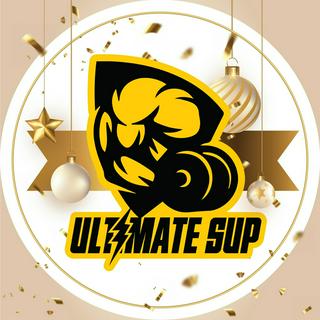 * Applicable to all products in this shop (excl. shipping fees)
#Vitamin D3 is the body's preferred form of Vitamin D. Sometimes called the "sunshine vitamin" because it is produced in the skin in response to sunlight, Vitamin D is an essential vitamin for many metabolic processes. Vitamin D3 helps to regulate the absorption of calcium and phosphorous, and supports normal immune system function.*
California Gold Nutrition Vitamin D3 features Vitamin D3 as cholecalciferol from lanolin in fish gelatin softgels produced in California, USA.
❤️ Suggested Use
Take 1 softgel daily with food. Best when taken as directed by a qualified healthcare professional.
The Recommended Dietary Allowance (RDA) and International Unit (IU) for Vitamin D can be influenced by your age, your gender, and your individual health and wellness needs. It is recommended to consult with a qualified Healthcare Practitioner to determine your specific needs and before using a high dose of Vitamin D.
Other Ingredients
Main Ingredients
Vitamin D3 (as cholecalciferol from lanolin)
❤️ Other Ingredients
Non-GMO Safflower Oil, Softgel Capsule (Gelatin [from Fish (Tilapia)], Non-GMO Vegetable Glycerin, Purified Water).
CONTAINS: FISH (Tilapia)
This product is not manufactured with milk, eggs, crustacean shellfish, tree nuts, peanuts, wheat, soy or gluten. Produced in a third party, audited and registered cGMP compliant facility that may process other products that contain these allergens or ingredients.
❤️ Warnings
Keep out of the reach of children. Consult with a licensed physician, pharmacist, naturopath or other qualified healthcare professional prior to taking dietary supplements.
Sealed for your protection. Do not use if seal is missing or broken. Best stored at controlled roomtemperature 20°C to 25°C (68°F to 77°F). Improper storage conditions, such as extended exposure to direct sunlight, high heat & humidity can cause product degradation over time.