2 Variations Available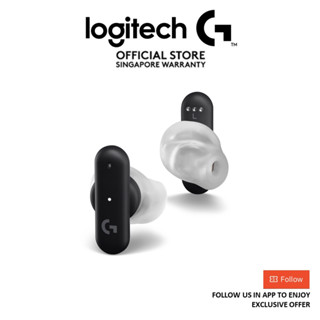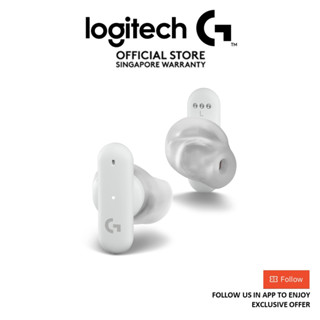 Logitech G Fits True Wireless Gaming Earbuds With LIGHTSPEED wireless & low-latency Bluetooth, Custom Molded Tips
Shopee Mall Assurance


100% Authentic
Get 2x your money back if you receive an inauthentic product.
Learn more
.

Free Shipping
Use Free Shipping Vouchers on products with 'Free Shipping Vouchers' label or look out for Free Shipping Shop Promotions, subject to min. spend.
Continue Shopping

15-Day Return*

100% Authentic

Free Shipping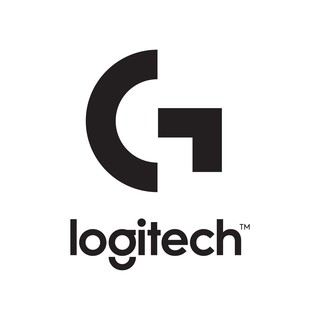 Logitech G Official Store
* Applicable to all products in this shop (excl. shipping fees)
MEET LOGITECH G FITS
Logitech G FITS mold to give you a personal fit. No matter what size your ears are. Whether you like to be immersed in PC, mobile or console games. And no matter what hair styles or hats you like to wear, FITS create an individualized experience that adapts to you and how you like to play.
TRUE WIRELESS GAMING EARBUDS
FITS are built for gaming. They have a long battery life and are equipped to play across PC, Mac, console and mobile. They offer high-fidelity sound in a small package and the custom molded tips create best-in-class passive noise cancellation.
VERSATILE
PRO-GRADE LIGHTSPEED + LOW-LATENCY BLUETOOTH CONNECTIVITY
PERSONAL FIT
LIGHTFORM TECHNOLOGY MAGICALLY SHAPES TO YOUR EARS IN 60 SECONDS
PREMIUM SOUND
10 MM DRIVERS DELIVER FULL, WARM AND DETAILED SOUND WITH DEEP BASS
LIGHTSPEED WIRELESS
FITS are the first earbuds to feature LIGHTSPEED. This gives you a pro-grade connection, high-performance audio response, strong connectivity and a long battery life.
Connect via LIGHTSPEED to your PC, Mac, Playstation 5, PlayStation 4, docked Nintendo Switch and Android devices through USB-A or USB-C
GAME-MODE BLUETOOTH
Enjoy more freedom of play. Switch between devices thanks to connectivity through LIGHTSPEED and BLUETOOTH. Not only can you pair FITS with your favorite devices, you can play in two modes. Game-mode Bluetooth to reduce latency when gaming. And standard Bluetooth to increase battery life and range when listening to music or watching videos.
LIGHTFORM MOLDING
When you first get Logitech G FITS, you'll experience our patented LIGHTFORM technology. In just 60 seconds, the earbud tips will magically mold to create a perfect fit for your ears.
PREMIUM SOUND
Logitech G FITS aren't your average earbuds. Thanks to the sound experts at Ultimate Ears, they deliver full, warm, detailed sound with deep punchy bass. With the FITS app, you can access EQs that are optimized for FPS or RPG games, music, podcasts, UE Signature Sound, Bass Boosts and more. Or you can finely turn your own EQ settings.
BEAMFORMING MICS
Each earbud contains two built-in beamforming microphones. If you're playing with friends or streaming, everything you say will be heard loud and clear.
PASSIVE NOISE CANCELLATION
The custom fit produced by LIGHTFORM technology creates a seal that blocks out noise so well it produces a best-in-class passive sound isolation effect. So all your games and music will sound amazing
LONG BATTERY LIFE
With 7 hours of listening time on LIGHTSPEED + 8 hours with the charging case, you can play games, music and movies all day.
When connected via Bluetooth, you can play for up to 9 hours + 11 hours with the charging case.
LOGITECH G FITS APP
The Logitech G FITS app is your key to setting up and molding your earbuds in the LIGHTFORM process. And then the app is used to finetune your EQ settings and tap into other features.
DESIGN CHOICES THAT MAKE A DIFFERENCE
From its design to production to delivery, many processes were optimized to make FITS a more sustainable product.
CARBON NEUTRAL
FITS are Certified Carbon Neutral. This means the carbon footprint of the product and packaging has been reduced to zero due to Logitech investment in carbon offsetting projects.
DIMENSIONS
Weight: 277g
Dimensions: 18.5 × 12.9 × 4.9cm
Audio driver: 0.39 in (10 mm)
TECHNICAL SPECIFICATIONS
EARBUDS
Frequency Response: 20Hz-20KHz
Impedance: 16 Ohms
Sensitivity: 106 +/- 3 dB SPL/mW
Microphone Pickup Pattern: Dual beamforming
Frequency Response: 100Hz-8KHz
WIRELESS TECHNOLOGIES
LIGHTSPEED: via USB-A receiver + USB-A to USB-C adapter
Bluetooth: Reduced Latency Game Mode
Bluetooth classic: 5.2
BATTERY (RECHARGABLE)
LIGHTSPEED connection
- 7 hours of listening time + 8 hours with the charging case
- 4.5 hours of talking time + 5 hours with the charging case
BLUETOOTH CONNECTION
- 10 hours of listening time + 12 hours with the charging case
- 6.5 hours of talking time + 7 hours with the charging case
CHARGING CASE
USB-C charging port
SYSTEM REQUIREMENTS
LIGHTSPEED : USB 2.0 port (USB-A or USB-C port). PC with Windows® 10 or later, macOS® X 10.14 or later, PlayStation 5, or PlayStation 4, Nintendo Switch (Stereo sound only), Android™ 9
Bluetooth : Devices with Bluetooth audio connectivity
WARRANTY INFORMATION
2-Year Limited Hardware Warranty