11 Highlights of Shopee's Black Friday & Cyber Monday Sale
11.11 is now over, but the shopping season has only just begun! Black Friday and Cyber Monday are just around the corner, and this year, you can expect thousands of products at up to 80% off!
Shoppers can expect amazing offers from our Black Friday Doorbuster Flash Deals, Giftopia Gift Set Sale, Lowest Price Guaranteed: Phones & Gadgets Sale, Best of Cyber Monday Flash Sale, and Electronics Brand Fair. On top of that, there will be many exciting contests and giveaways running – and lucky winners can walk away with cool gadgets like keyboards, earphones, portable hard drives and more!
So what are you waiting for? Take out your calendars, schedules and phones, and start marking these dates down because you wouldn't want to miss any of it!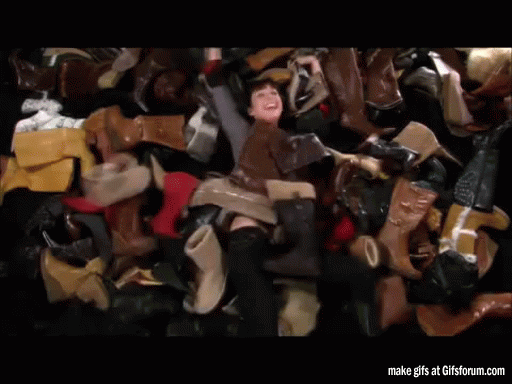 Black Friday Doorbuster Deals [24 Nov, MIDNIGHT]

We've got Doorbuster Deals for everyone and across all categories for up to 80% off! Clean your place with the Electrolux 2-in-1 Cordless Stick and Handheld Vacuum Cleaner (U.P $309, S.P. $149), slime your friends with the Cyber Strike X-Stream 349 (U.P $49.90, S.P. $16.90), and get a new phone while you're at it with the Xiaomi Mi A1 (U.P $329, S.P. $288).

(giphy.com)

Black Friday Giftopia [24 Nov, MIDNIGHT]

Get exclusive sets and bundles from top favourite brands across Health and Beauty, Fashion, Home and Living, and Toys, Kids and Babies! Know someone who's into collagen and supplements? The Kinohimitsu and Brand's set is the perfect present this upcoming festive season (U.P $25, S.P. $16.50). Never go wrong with the YSL Trio Set (U.P $169, S.P. $84.90), Etude House Christmas Collection (U.P $34, S.P. $19.90), or Laneige #Delightspop Set (U.P $69, S.P. $39.90) for makeup junkies. Or gift that fashionista friend of yours a classic Daniel Wellington

Watch with Cufflinks (U.P $230, S.P. $99) or a

Herschel

Backpack and Wallet Set (U.P $99, S.P. $69). Postpone all your appointments on 24 Nov to snag up these great gifts!

(giphy.com)

Credit Card Promotions [24 – 27 Nov]

Are you a Citibank Cardholder? If you are, then you are in luck! You get to save even more during Black Friday and Cyber Monday with these exclusive promotions:

– Enjoy $10 OFF $60 on Black Friday [On 24 Nov only]

– Enjoy $20 off $120 on Cyber Monday [From 25 to 27 Nov]

Don't have a Citi Card yet? Sign up now and receive an exclusive S$70 Shopee Voucher*!

(giphy.com)

Shopee Mall: Red is the New Black [24 to 26 Nov]

Yep, at Shopee Mall, Red is the New Black. And Shopee Mall is having a mega sale this Black Friday weekend with discounts up to 60%. If you don't already know, Shopee Mall is the place you should go to find the Official Brands and Shopee's Top Sellers. At Shopee Mall, you can enjoy a 15-Day Free Return Policy and Free Shipping. On top of that, you can be assured that all products are 100% Authentic! Get your wallets ready because you would not want to miss these great steals! We're talking about the Limited Edition YSL Face Palette Collector Spring Look 2017, Shure Earphones and many more! Get your wallets ready guys!

(giphy.com)

Gamer Loot Box [27 Nov, MIDNIGHT]

A Shopee Cyber Monday special, the limited edition Gamer Loot Box will be going on sale on our Official Account for only $129.90 (worth over $300). The box contains gaming favourites such as the Logitech G413 Gaming Keyboard with Romer-G Switches, Logitech G502 Proteus Spectrum Mouse, Cooler Master MastePulse MH320 Gaming Headset, and more. Follow us on our Official Account now to get the first-hand updates.

(giphy.com)

Techie Box [27 Nov, MIDNIGHT]

For those of you who are more gadget inclined, you can also get the super limited edition Techie Box that contains tech favourites such as the JBL Flip 3 Portable Speaker, a-Jays 5 Earphones, and more for only $109.90 (worth over $300) at 27 Nov, midnight as well. Remember, fastest fingers first! These boxes have known to sell out within minutes, so don't miss out. Follow us on our Official Account to get them first.

(giphy.com)

Lowest Price Guarantee – Phone and Gadgets [27 Nov]

We're setting standards. Get the iPhone X, Samsung Note 8 and much more at the lowest price – guaranteed… we even beat Apple Store prices! And we're challenging you to find better prices. If you find any of the deals at a lower price on other competing platforms, we will give you 2 times the difference back! That's how confident we are. T&Cs applies.

(giphy.com)

Best of Cyber Monday Sale [27 – 30 Nov]

We're offering nothing but the best! Get the best tech deals at up to 80% off. We're talking about the Nintendo Switch, Canon EOS M6 camera, and many more selections from cameras, entertainment, computer, gadgets, home electronics and gaming. Did we forget to mention they are all on Lowest Price Guaranteed too? *winks*

(giphy.com)

Electronics Brand Fair [27 – 30 Nov]

Find trusty deals from your trusted brands this Cyber Monday. Check out our Electronics Brand Fair filled with storewide discounts (up to70% OFF!) and exclusive promo codes from brands such as Asus, Philips, X-Mini, SonicGear, Europace, Skullcandy, and many more.

(giphy.com)

Official Brand Partners [28 – 30 Nov]

Get exclusive discounts, promos and deals with our Official Brand Partners such as Sandisk, Orico, Cooler Master, Tesoro and more with their launch offers. In addition, shop on Shopitree and you stand a chance to win the new XBox One X worth $699. T&C Applies.

(giphy.com)

Giveaways [24 Nov – 30 Nov]

Like our Facebook Page and follow our Official Account to get exclusive offers and stand to win thrilling prizes and cool gadgets like Black Bird Luminous Gaming Keyboards, JBL and Remax earphones, and Western Digital Portable Hard Drives. And best of all, they're all in BLACK (just to suit the theme).

(giphy.com)
Let us know what you're looking forward to the most, or what you're planning to get below!
–
New to Shopee? Get $7 off (min. spend $15) with code*: 7BFCM
*TNC Applies. Valid for new users from 22 to 29 Nov only.