In a glorious attempt to Make Yishun Great Again, Northpoint City underwent a massive transformation about three years ago and now boasts a plethora of new food stores on various floors and extended wings. Whether you're a Yishun resident or find yourself in the North, this is definitely a mall worth checking out. To help you conquer the best of Northpoint City food offerings and showcase all the good food in Yishun, here's our guide to eleven must-visit stores!
Best Northpoint City food stores worth heading to the North for
1. Kanshoku Ramen Bar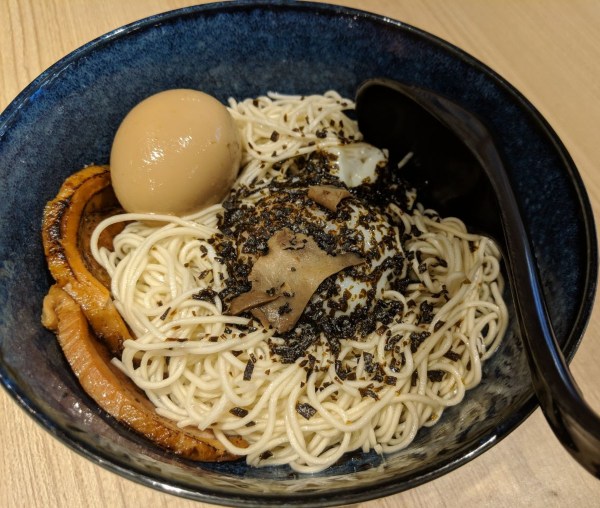 As a healthier option among heavy and oily ramen broths, Kanshoku Ramen Bar prides itself on not using additional MSG or preservatives. Kanshoku translates literally to 'finish food', something you'll definitely do given how delicious Kanshoku's Hakata ramen offerings are! Dressed with minimal toppings, the tonkotsu pork broth is lighter than its creamier counterparts. Don't forget to add an ajitama egg to complete your bowl of ramen. Kanshoku continually innovates to let fans experience different flavours and currently offers seven types of ramen for you to pick from!
Must-try: Their signature Truffle Ramen Dry ($16.90) is your answer to good food in Yishun! Served with shaved Italian truffle and doused in truffle oil, the dish is completed with caramelised chashu slices and sous vide egg.
Unit Number: B1-151
Opening Hours: Daily, 11am – 10pm
Available for delivery on GrabFood
2. JinJja Chicken (진짜 치킨)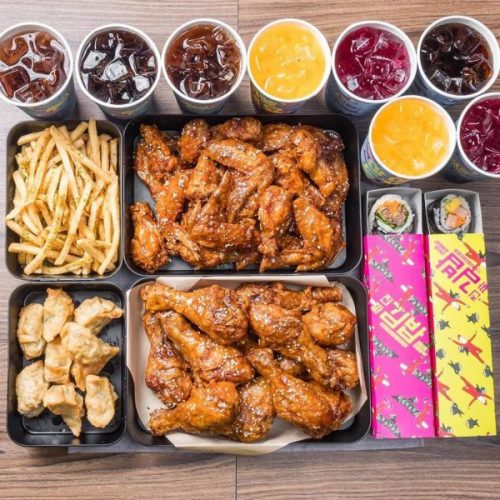 Love Korean snacks and dishes? Inspired by South Korea's culture of street food and doing things quickly, JinJja Chicken is quickly spreading its own idea of fast and casual eating through its Northpoint City food store. By pairing its yummy chicken with traditional Korean fares like jjamPong and kimbap, JinJja Chicken strives to provide options beyond chicken burgers and sandwiches. Far from the norm of most Korean Fried Chicken outlets, JinJja Chicken has also gone the extra mile of ensuring Halal Certification for Muslim customers!
Must-try: The 18 Pieces Wing combo ($19.90) comes highly recommended! Choose from three different flavours: Soy Garlic, Yang Nyeom and Monster. Unlike most of the competition, the wings provide a lip-smacking crunch by retaining its juiciness as you munch on the well-seasoned skin. For those feeling up to it, take on the Monster sauce chicken for a spicy zing.
Unit Number: 01-145
Opening Hours:
Sun – Thu: 11am – 10pm
Fri – Sat: 11am – 11pm
Available for delivery on GrabFood
3. Big Fish Small Fish
Expanding from its initial Punggol East Container Park beginnings to its current Northpoint City food outlet, Big Fish Small Fish has become one of the best places to get freshly fried British-style Fish and Chips. A light, golden-brown batter envelopes each fillet and tantalizes the taste buds with its succulent flesh. Also, Big Fish Small Fish serves customers with generous thinly-sliced crisps. Choose from four mouthwatering types of fish and seven unique sauces to dip your crisps in!
Must-try: Out of all the good food in Yishun, the Dory Fish ($7.90) (Shopee voucher only viewable on mobile) is definitely value-for-money. The chunky fillet possesses creamy tender flesh wrapped in a satisfyingly crunchy batter casing. These two parts combined, deliver a satisfying experience every time.
Unit Number: 02 -132/133
Opening Hours: Daily, 11am – 10pm
Available for delivery on GrabFood
4. Feng Food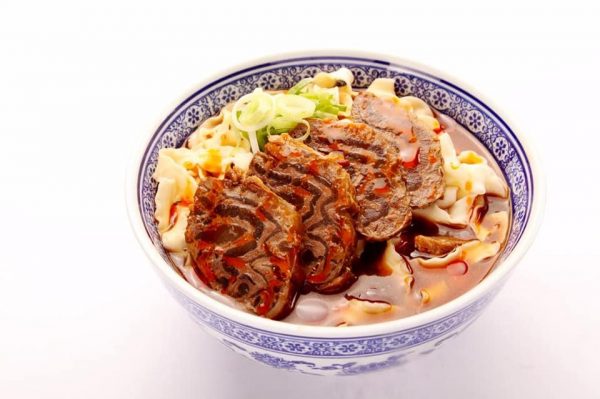 Up for traditional Taiwanese dishes? Check out Feng Food, a Northpoint City food restaurant dedicated to serving authentic Hakka food! Ambience-wise, the restaurant's attention to decor is impressive. The traditional decor gives the place a delightful charm not seen even in high-end Chinese restaurants. From Hakka-style Braised Meat Rice to Pork Wontons, you'll be hard pressed to find more affordable Taiwanese dishes than the offerings at Feng Food.
Must-try: Braised Beef Knife-shaved Noodles ($10.80) is a must try Northpoint City food dish! While most places compromise on noodle consistency, the dao xiao mian's thickness is consistent and void of any starchiness. The pork chop slices are also glazed with a flavourful marinade that pairs well with the succulent pork meat.
Unit Number: B1-156
Opening Hours: Daily, 11:20am – 9:30pm
Available for delivery on GrabFood
5. Collin's
Famous for their Mibrasa charcoal oven-grilled meat, Collin's was first established as a way of bringing affordable restaurant-quality Western fare to Singapore. Since its humble coffee shop origins, Collin's has managed to achieve a strong local presence boasting 21 outlets islandwide and is now a go-to for good food in Yishun. Choose from over 100 main courses with a menu that's constantly changing every six months, ensuring that repeat visits to Collin's are never dull!
Must-try: If you could only try one dish here, we recommend the Grilled Chicken Chop ($11.50). The grilled meat of the chicken chop remains tender and the hefty serving of black pepper sauce complements its smoky taste. Moreover, the spaghetti is al-dente and extremely flavourful because of the creamy base, ranking itself among dedicated pasta chains.
Unit Number: 01-113/114
Opening Hours: Daily, 10am – 12am
Available for delivery on GrabFood
6. Guzman Y Gomez
Boosting the variety of Northpoint City food offerings, Guzman Y Gomez (GYG) is a Mexican taqueria that delivers fast-food levels of convenience with high quality ingredients. Featuring four meal options, GYG promises to transport you to Mexico with its tasty fare of authentic Mexican cuisine. Additionally, you can choose from six different fillings for each item, ranging from spicy grilled chicken to slow roasted beef. Each type is a flavourful blend of cuts that guarantees to pack a punch of flavours.
Must-try: Go for the hard tacos with spicy grilled steak filling (Set of 3 for $11.50)! Encased in a crisp corn tortilla, GYG drenches the imported Australian steaks in GYG's Chipotle marinade. This provides just enough heat and flavour to tingle your taste buds and leave you coming back for more.
Unit Number: 01-176/177/178
Opening Hours: Daily, 11am – 10pm
Available for delivery on GrabFood
7. Pizza Maru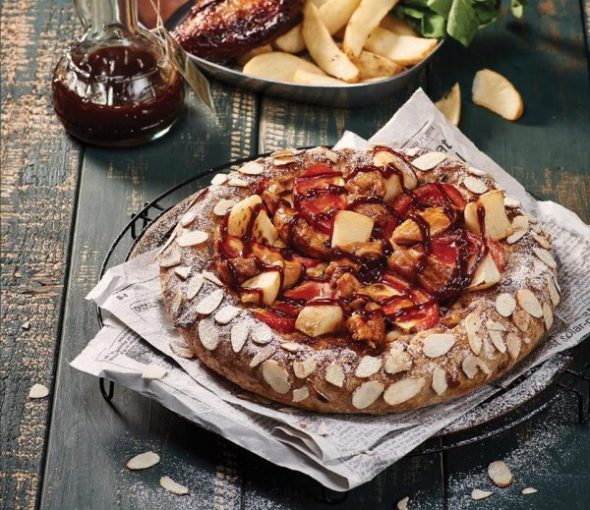 Unlike other Northpoint City food stores, Pizza Maru redefines pizza conventions by focusing on healthy pizza dough and crusts! With a heavy emphasis on fusion food and authenticity across more than 600 franchises, Pizza Maru offers two proprietary dough types to support the generous amount of toppings. The nutritious green tea dough is meshed with 12 cereal types and fermented while the black rice dough is rich in fibre and antioxidants.
Must-try: Cheese fans have to try the Real BBQ Chicago pizza ($26.90). It's served on fluffy black rice dough and stuffed with 600g of mozzarella cheesy satisfaction! The signature pizza is then filled with chicken chunks and assorted vegetables and finished with honey, almond flakes and icing sugar.
Unit Number: B1-192
Opening Hours: Daily, 11:30am – 10pm
Available for delivery on GrabFood
8. Akimitsu
We all love a good deal when it comes to affordable Japanese cuisine and Akimitsu (voucher only viewable on mobile) is certainly the best of the bunch! As one of the best restaurants for Japanese food at Northpoint City, Akimitsu is a critically-acclaimed tendon shop that keeps its tasty tempura dishes affordable for the masses. Beyond its wallet-friendly pricing, this restaurant keeps fans coming back for more with its century-old family recipe! 
Must-try: It goes without saying that you have to try Akimitsu's Signature Tendon ($14.90)! For its price, you're served a smattering of fresh ingredients that include fresh prawns and assorted vegetables. The one thing that sours a tendon bowl experience is soggy tempura. Thankfully, each ingredient is evenly coated in Akimitsu's famed tempura batter, making each bite truly gratifying.
Unit number: 02-28
Opening Hours: Daily, 10am – 10pm
Available for delivery on GrabFood
9. Tai Cheong Bakery
Despite being new to the Northpoint City food ecosystem, Tai Cheong Bakery needs no introduction! Since 1935, Tai Cheong Bakery has shaped the Cantonese pastry scene with its care towards time-honoured traditional recipes. As each delicacy is handmade, you're guaranteed an authentic Hong Kong taste with their classic delights!
Must-try: If it wasn't obvious enough, we're huge fans of Tai Cheong's world famous Egg Tarts ($1.90)! Upon sinking your teeth into the crumbly snack, you'll be greeted with a fragrant buttery taste of the crumbly crust. This in turn sets the stage for the eggy sweetness of the custard that'll instantly win you over. One golden tip is to hang around the bakery so you can snag a batch of freshly-made ones straight from the oven!
Unit number: B1-47
Opening Hours: Daily, 10am – 9.30pm
10. Fluff Stack
Never had a chance to experience the jiggly eye-candy of the best souffle pancakes? Why not check out Fluff Stack's pillowy soft soufflé pancakes! Far from just being another Instagram-worthy cafe with good food in Yishun, Fluff Stack changes things up by allowing you to experiment with unique toppings including Chantilly Cream and Honey Butter! We also applaud Fluff Stack for upping the ante and expanding upon their menu to include newer pancake flavours like Black Forest and Tiramisu!
Must-try: Out of all the flavours, we feel the Salted Caramel Soufflé Pancakes ($14.50) possess the most depth! Yes, they're all meant to be sweet treats that are a feast for the eyes but the savoury goodness of salted caramel is a fine touch to the already sugary dessert. Additionally, the crushed hazelnuts, mascarpone creme and cheese foam further complement the dish by offering a more varied mouthfeel with each bite!
Unit number: 02-115
Opening Hours:
Sun – Thur: 11am – 9pm
Fri – Sat: 11am – 9.30pm
11. Chateraise
If you're a cake and pie fan, you certainly have to try Northpoint City food stores like Chateraise! With over 20 stores in Singapore and 400 stores in Japan, Chateraise is a well-liked pâtisserie among locals for its beautiful yet affordable dessert offerings. Using the freshest ingredients from Japan, Chateraise whips up a wealth of tasty dessert options, ranging from sumptuous baked cheese tarts to fluffy mille crepe cakes! Chateraise also imports its cakes directly from Japan, upholding a high standard and ensuring that they taste as good as they look.
Must-try: If you could only try one, do choose the Legendary Fresh Cream Cake ($5.10). The airy sponge pairs well with the lightness of the cream, allowing you to take multiple bites without being overwhelmed. Topped off with fresh strawberry chunks to balance the sweetness, each of these tart and sweet elements combine to create something truly special.
Unit Number: 01-152
Opening Hours: Daily, 10am – 10pm
Hunting down the best Northpoint City food
Upon completing this gastronomic compilation of good food in Yishun, you're now a foodie expert in the best Northpoint City food options! Who says eating out has to be expensive? Make instant reservations and gain access to restaurant offers with our collection of vouchers from Chope and Grabfood/FoodPanda! 
Not a fan of travelling to the north after a long workday just for food? Check out our guide to quick air fryer recipes so you can effortlessly whip up a meal at home! Alternatively, if you're more of a night owl, read our guide to the best supper places in Singapore to quell those midnight hunger pangs.