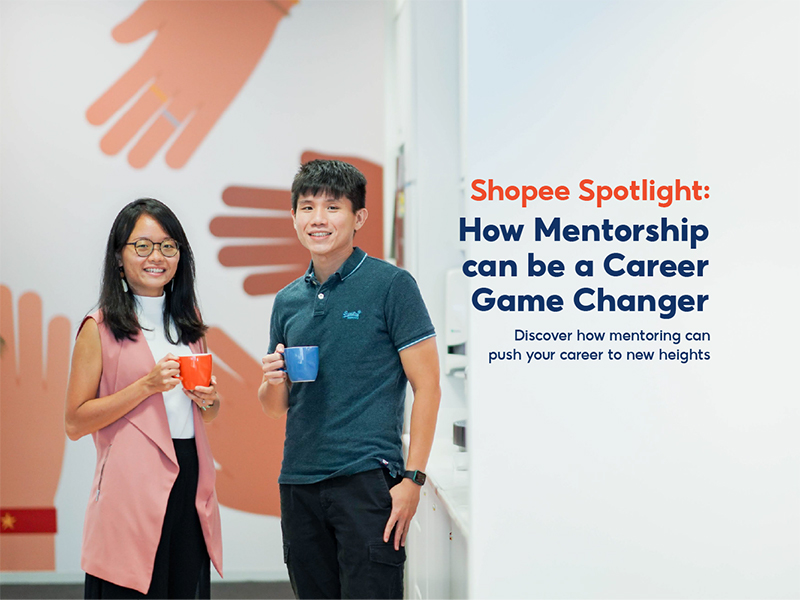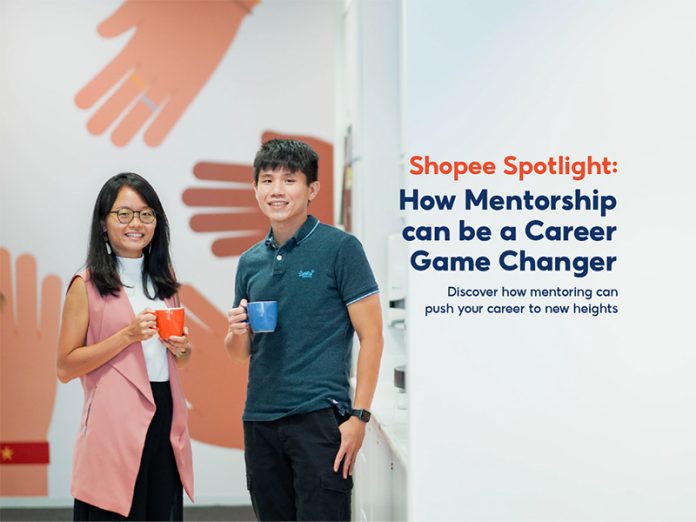 We may be familiar with the idea of mentorship, but what is the experience of being both a mentor and a mentee really like? In this article, we get real with Si Hui from our Seller Operations team, and Michael from our Online Marketing team. They started out as two mentees who were guided by others, before becoming mentors themselves at Shopee to provide guidance to others
Take a closer look into the challenges and insecurities they've faced in their Shopee mentorship, what they've learnt along the way, and explore tips for a fulfilling mentoring journey.
---
Tell us about yourself and your current role. 
Si Hui (SH): Hi, I'm Si Hui, and I currently lead the Singapore Seller Operations team. My team and I onboard sellers who are new to the logistics of e-commerce operations, and help our existing sellers improve their processes too. I've had the opportunity to learn from several mentors, the earliest being in secondary school! 
I'm currently mentoring my junior colleagues as part of Shopee Singapore's Company-Led Training (CLT) Programme, where I support them in their upskilling journey here at Shopee. It's been a joy and a learning experience to be a mentor for them, especially when I was once a mentee under the same programme too.
Michael (M): Hello, I'm Michael, and I'm from the Regional Online Marketing team. If you come across any type of online advertisement on Facebook, YouTube, or TikTok, that would be my team's work! Throughout my career so far, I've had the privilege of being mentored and helping to mentor others too. 
Like Si Hui, I was once a mentee who became a mentor as part of the CLT programme. I benefited greatly through learning from experienced mentors in my department, and now as a mentor, I'm happy to do the same for my juniors and witness their growth through the on-the-job and structured tech training under the programme.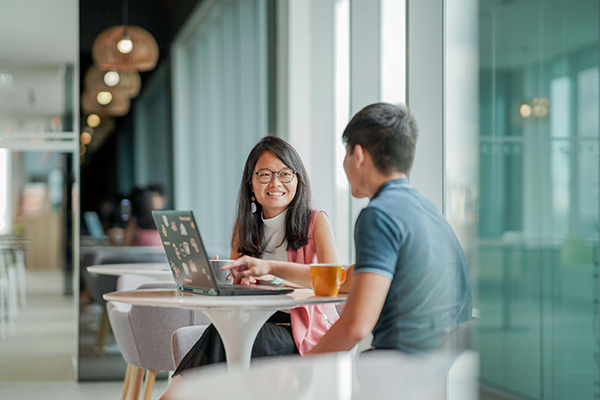 What was your first experience having a mentor like?
SH: My first experience being under a mentorship started in secondary school with my long-distance running coach. Back then, I benefited from the many nuggets of wisdom he shared with me, which I found applicable not just to sports, but to all aspects of life. Some pieces of advice that really stuck with me are the importance of always doing the right thing even when it's hard, and the power of small but consistent steps. There were countless occasions where he would patiently share his wealth of knowledge with me, and this has helped to shape many of the positive habits I still carry today.
I've also benefited from being under the guidance of other mentors over the years. It has been very helpful to talk through my ideas with someone more experienced, and get a look into their thought process at different points of their career journey and life.
M: I've met so many mentors even outside of my CLT programme, and all of them have guided me to become who I am today. My mentorships at Shopee were especially helpful when I made my career transition from Business Intelligence to my current role in Online Marketing. Back then, I felt very nervous about it as I had no marketing background, despite my interest in the job. My mentors patiently taught me technical marketing skills, and trained me in various soft skills like presenting too. 
More often than not, we don't really know how to improve ourselves further on our own. My Shopee mentorships have guided me to achieve my personal and professional goals, and challenged my own assumptions to develop me into a better version of myself.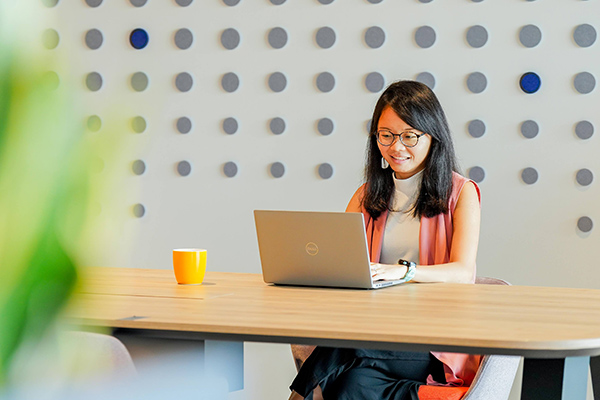 Why did you become a mentor, and how has it been like?
SH: To be honest, I didn't have a clear understanding of the value of mentorship at first. It was only after being mentored by others that I started to realise how meaningful it could be for someone else, and for my own growth. 
As a mentor, I don't believe in putting myself on a pedestal, thinking that I'm wiser, or feeling that my experiences are more valid. One of my previous mentees took a very different path in life to reach where she's at now. She would occasionally come to me to bounce off ideas, and we valued and learnt from our contrasting perspectives. She is now in a senior position in another company, and has gone on to mentor young professionals under her care. It's been very fulfilling to witness her growth. You never know whose life you might change for the better, and how this could set off a ripple effect of change and positivity.
M: You may be surprised but when I started out as a mentor, there were moments when I doubted my own ability to help someone else. There were even times where I ended up being overly mindful and cautious in what I said or did. Eventually, I realised that I just needed to be myself, and it comes down to our genuine intention to guide others. I truly believe I still have lots of room to grow — being a mentor doesn't mean you've got it all figured out! I also personally believe in giving back what I've learnt so far, and I hope that by sharing my past experience and practical know-hows, it can help others who are facing situations I've encountered before. This way, I pay forward the kindness and wisdom I've received. It feels like everything comes full circle which is incredibly meaningful.
One of my mentees joined my team from a different industry and felt discouraged that she wasn't picking things up as quickly as she'd hoped. Due to my background, I could put myself in her shoes and give her advice, like how there is nothing wrong with being slower at the start, as long as you learn. It was a surprise to hear her share about how our Shopee mentorship encouraged her a few weeks later, and that really made my day!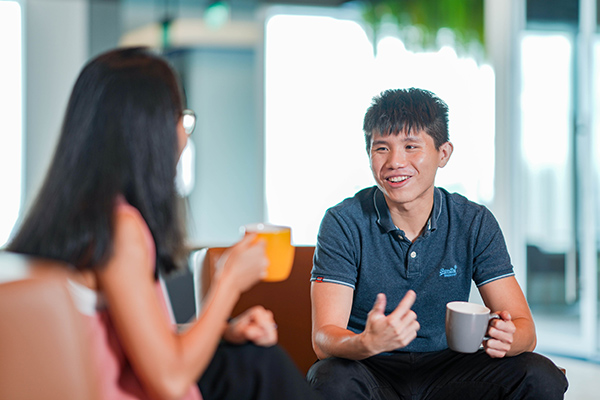 How has your Shopee mentorship helped to grow you as a person?
SH: Mentorship is an area I'm passionate about, because I enjoy helping people grow in ways that they may not be able to by themselves. I appreciate the opportunity to reflect on my own choices and experiences when helping others work through their challenges. For example, when asking my mentees, "What inspires you to embark on this particular goal?" or "Why is this important to you?", I also attempt to answer these questions myself.
M: I believe that mentoring helps both mentor and mentee become better versions of themselves. Even if you're a mentor, you have lots to learn from your mentee as well! It has taught me to be more empathetic and intentionally seek to understand other's perspectives, even if they are different. I've also realised that by sharing my thoughts and experience with others, it has helped to improve my communication skills, and develop my leadership skills too.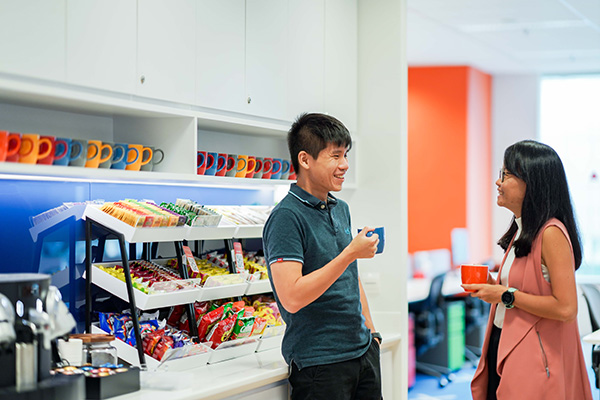 Could you share your tips from your Shopee mentorship?
SH: For mentoring to be effective, I believe that mentees must be willing to be responsible for their own professional growth. Mentors should also be active listeners, knowing when to wait before giving advice, and also taking care not to fall into stereotypes or assumptions by digging deeper. Mentees who are well-prepared by actively asking questions, and participating in the conversation demonstrate strong ownership and responsibility for their own learning. This helps to build trust in the partnership.
M: Remember that there is no one-size-fits-all approach, as every mentorship experience you have will be different. Being a good listener will help you understand each mentee's unique concerns, and work towards a solution together. At times, feedback given may challenge your own point of view too. It helps to stay open-minded in these cases, and consider it as a new perspective to think through things well.
---
Advance your Career with Shopee Singapore's Company-Led Training (CLT) programme 
In collaboration with IMDA, our Company-Led Training (CLT) programme is a dedicated programme for our full-time Singaporean employees to upskill and enhance their experiences at Shopee. You'll undergo six months of on-the-job and structured training, as well as be assigned a mentor within the same department to support you along the way. 
Open to both Singaporean fresh graduates and mid-career professionals, you can join our CLT programme by applying to any full-time roles relating to Product Management, Software Engineering, User Experience Design or Business/Data Analytics at Shopee. Find out more about the CLT programme here.
---
Looking for a fulfilling career with development opportunities? Embark on a career with us here.
More from Life at Shopee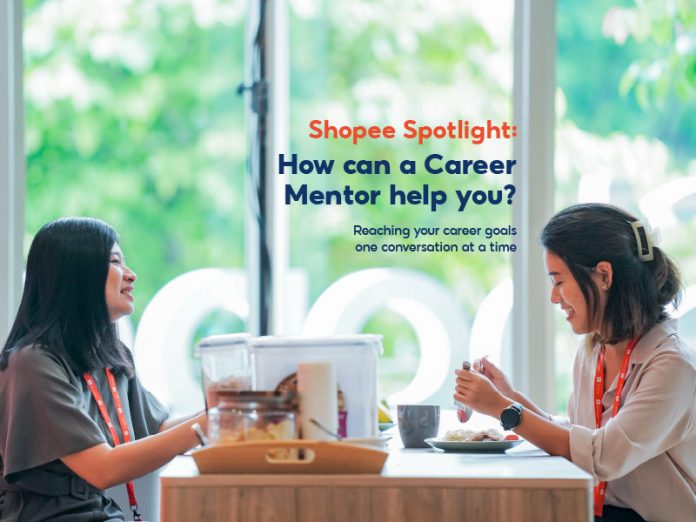 How Can a Career Mentor Help You?
Want to know more about Shopee mentorship experiences? Read here for tips from our mentor-mentee pair Clara and Peizi, and how a mentor might help you reach your career goals.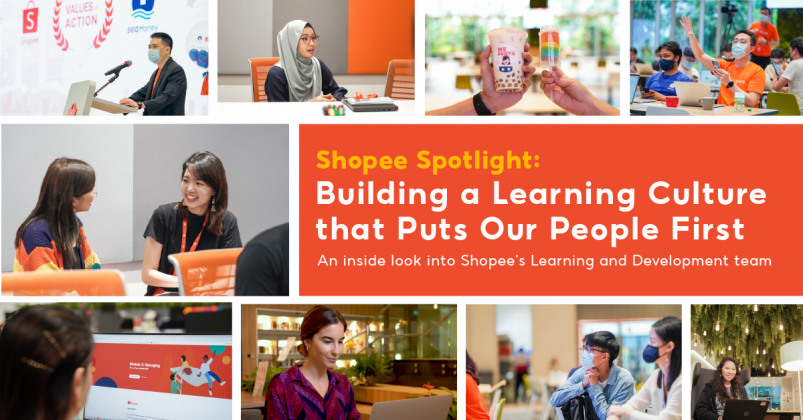 Building a Learning Culture that Puts Our People First
What's it like helping our people grow and reach their full potential? We met up with Chee Leong and Doris from our Shopee Learning & Development (L&D) team, to hear more about their roles, and their tips for a growth-filled career. Read here.
*Photos were taken in compliance with local Covid-19 safety measures.