Now that you're done shopping for Christmas presents (phew!), the second challenge comes when you're about to wrap your Christmas gift boxes. Fret not, we have a bunch of unique gift wrapping ideas to help dress up your presents in time for your Christmas gift exchange!
1. Go natural with fresh foliage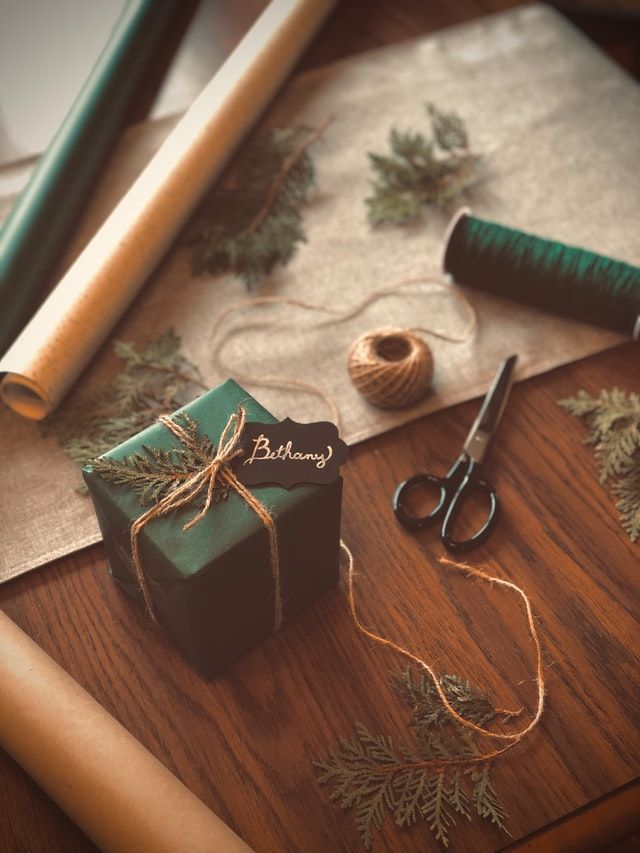 Who said you can't include natural elements in your gift wrapping ideas? While it'd be cool if you could get your hands on some fresh holly sprigs or pine cones, your loved ones will still be impressed if you opt for some faux vines and artificial leaves to decorate your presents instead! Wrap them in simple gift wrap (plain paper works fine too) and secure the faunas on your presents with twine ropes!
2. Bring in nostalgia with some brown paper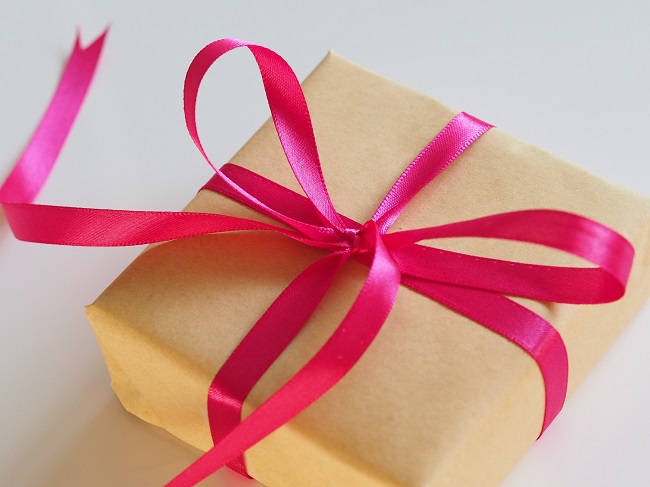 Forget about fanciful wrapping papers! Minimalistic styles have been all the rage recently. A great way to incorporate this trend into your gift wrapping ideas is to use brown paper. You can choose to tie a brown twine around the Christmas gift box or choose to go with a bright ribbon for an extra pop of colour! This simple gift wrapping idea adds a hint of nostalgia and is sure to warm up the hearts of your recipient at the Christmas gift exchange.
3. Florals are always a pretty sight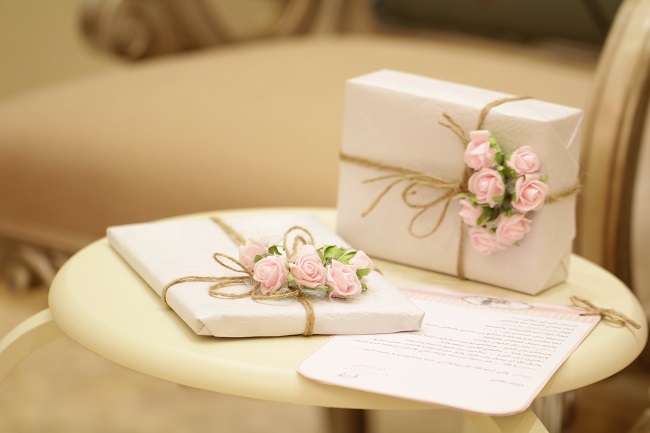 Can't make up your mind between a fresh flower bouquet or a present for Christmas gifting? Why not get both! With this gift wrapping idea, you can incorporate some dainty florals into your presents! If fresh flowers are hard to manage, you can use artificial flowers instead! They come in all sorts of colours and types so you're bound to find one that your recipient would adore! Alternatively, make some tissue flowers to add a fun pop of colours to your Christmas gift boxes.
4. Embrace traditions with Japanese Furoshiki

Paper is not the only way to wrap your gifts! Forget about the crumpled gift wrappers, opt for exquisite Japanese Furoshiki fabrics instead! This eco-friendly gift wrapping idea is a brilliant substitute for paper or plastic wrapping. You can easily use a lightweight cotton fabric ($15.66, available on Love Kyoto1) to wrap your Christmas gift box in. Not only do they look attractive, but your recipients can also even reuse the Furoshiki fabric for other purposes! Talk about killing two birds with one stone!
5. Light up someone's life with this fairy jar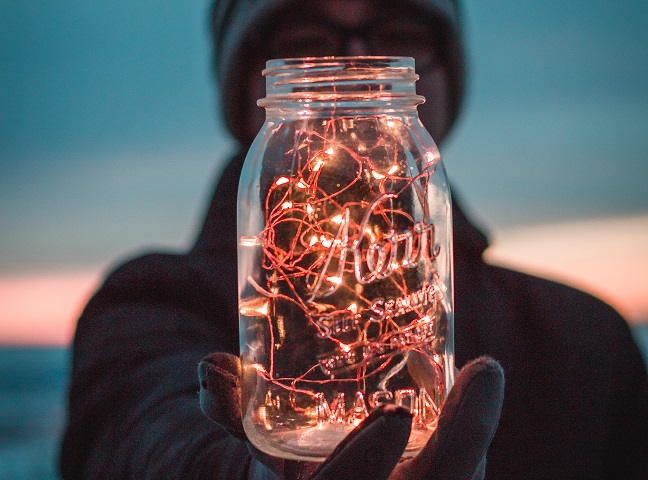 This gift wrapping idea is perfect for smaller gifts! All you need is a mason jar that's big enough to hold your gift, and battery powered fairy lights. Place your gift and the fairy lights into the mason jar to create a whimsical effect! Your loved ones are bound to be delighted when they receive such a magical gift at the Christmas gift exchange. This gift wrapping idea can also double up as room decor for the new year!
6. Just bead it with fuse beads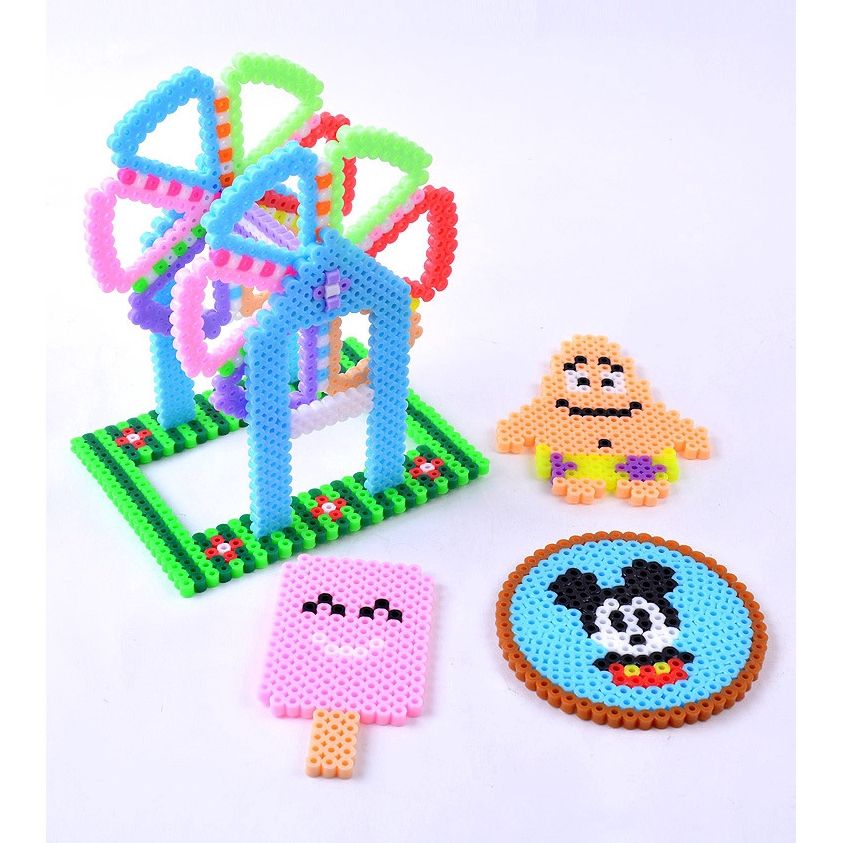 Fuse beads are great Christmas gift wrapping ideas for the whole family! Get the kids involved in creating some fun Christmas gift toppers or gift tags with fuse beads! These adorable creations are perfect for decorating a simple wrapping paper. Transform the fuse beads into Santa Claus, Rudolph or even the initials of the gift recipient to add a more personal touch. The creations are endless with fuse beads!
7. Sparkly magic begins with glitter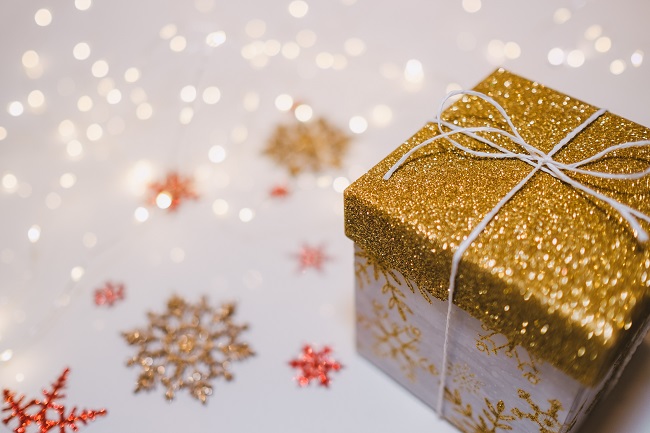 This gift wrapping idea is perfect for those who adore the glitz and glamour! Make your gift boxes look like a million bucks by dusting glitter all over the gift wrappers or gift boxes! Draw snowflakes all over a plain piece of wrapping paper using a glue stick, and pour glitter over the glue to create sparkly snowflake designs! For a less messy alternative, use glitter glue!
8. Fluff it up with pom poms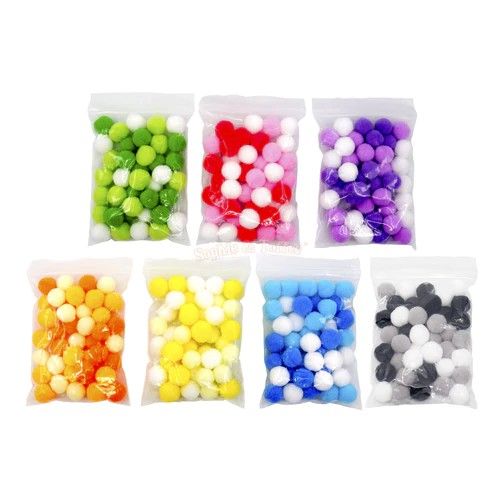 It's a bummer that it doesn't snow in Singapore, but don't let this rain on your parade. Mimic the tiny specks of snow falling from the sky with a bunch of fluffy pom poms ($2.64, available on Sophie & Toffee)! Simply glue white pom poms on a red wrapping paper to create a snowy effect. Alternatively, you can go all out and fill the entire wrapping paper with colourful pom poms for some rainbow madness. Psst…did you know you can make snow? We found six ways you can actually DIY snow — check it out and surprise your kids with a winter wonderland this year!
9. Bag it home with rustic burlap bags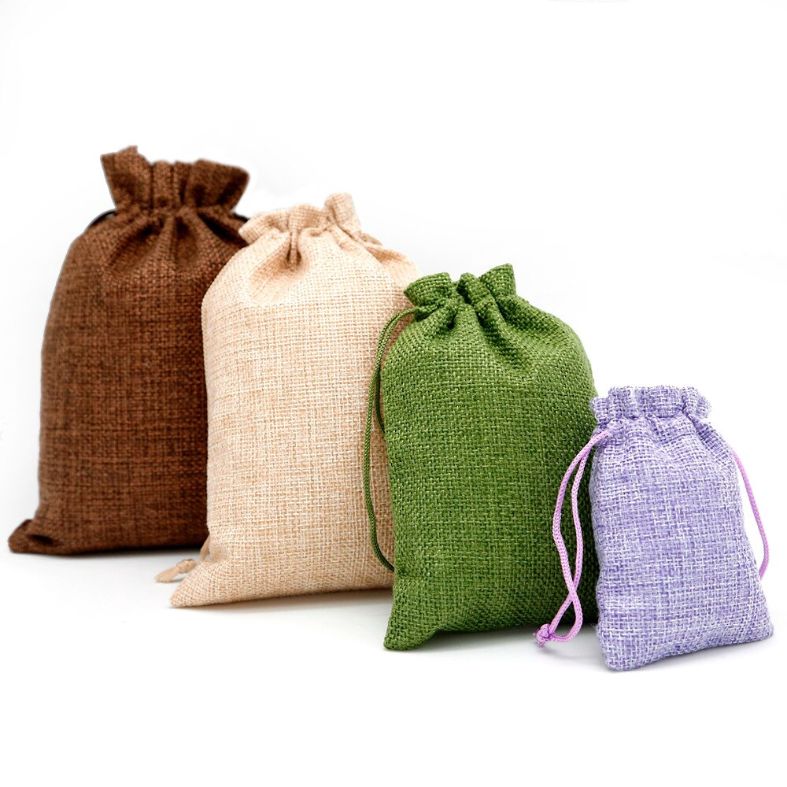 If art and craft isn't your best subject in school, this gift wrapping idea is just for you! Ditch the gift wrappers, burlap bag is your new best friend! Burlap bags give off a vintage, candid vibe, making your gifts feel more personal and intimate! What's more, they come in many shapes and sizes, which means you'll definitely find one that fits your present! This jute burlap bag (from $1.49, available on Ncc_penney Jewellery Accessories) is sturdy and can be reused multiple times, making this another eco-friendly gift wrapping option everyone will love!
10. Fuss free Christmas goodie bags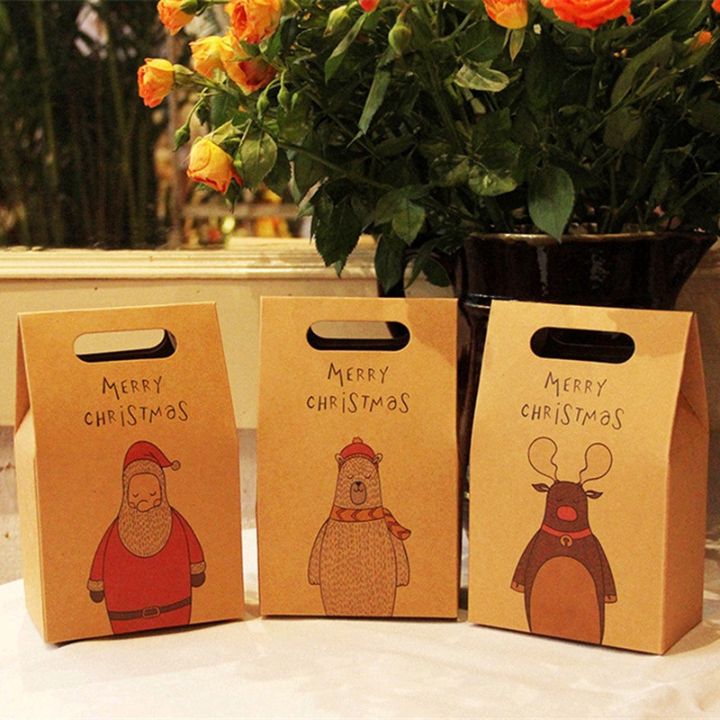 Need another easy and last-minute Christmas gift wrapping idea? These pretty yet fuss-free Christmas goodie bags will save the day! These Christmas party handbag boxes ($1.15, available on pai.sg) are ready-made — all you've got to do is assemble them along the folding lines and you can place your gift in! From a Santa Claus design and a cute bear to an elk, choose your favourite illustration. The bag measures 9.7cm by 15.5cm in height so it's large enough to fit candy to Christmas makeup gift sets for the special someone in your life.
11. Stamp your gift wrappers
Rope your little ones in with this creative gift wrapping idea! The idea is to carve a Christmas tree out from a potato, paint it and stamp the shape all over a wrapping paper. Once you have a potato, slice the top off and press a Christmas tree cookie cutter ($7.06, available on YY HOME) into the inside and carve out the Christmas tree shape. Press it into your stamp pad and stamp it all over a kraft wrapping paper (from $8, available on packable.sg). You'll get wrapping paper with cute Christmas tree designs on it. You can use a cookie cutter of any shape and encourage your kids to try this DIY craft with you!
12. Washi tape those Christmas gift boxes
Using a washi tape for decoration has to be one of the best life hacks. If you already have a cardboard gift box on hand, then the best way to jazz it up is to run a bright washi tape around the width and accent it with a dried flower on the top of the box. You can even go a step further and make a washi tape garland or circles with wax paper, printer paper and twine string. Wrap this garland around the gift box and tadah you have a whimsical looking Christmas gift box.
13. One with a lollipop or candy cane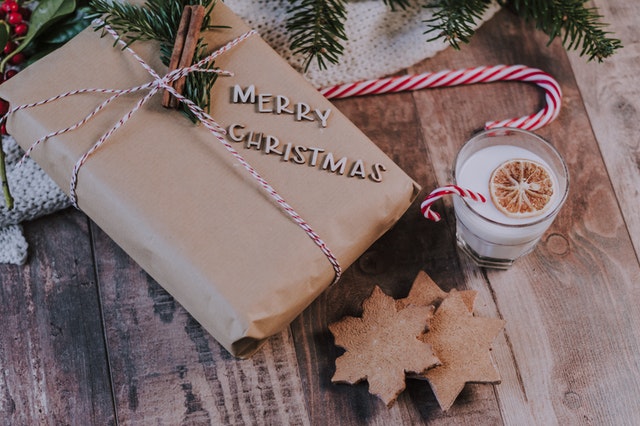 If the recipient has a sweet tooth, then they'll love this sweet surprise included in the present. Simply wrap the Christmas gift box, string a Christmas twine around it and leave a little space to insert a peppermint candy cane ($16.81, available on fakribakar.sg) or even a lollipop. This surprise will definitely bring a smile on the faces of both adults and kids alike. Choose from other candy canes available and stick it onto the present however you like!
Which gift wrapping idea do you want to try?
With all these unique gift wrapping ideas, your presents will definitely be the ones to shine under the Christmas tree. For those who're still missing on a few presents, it's still not too late! If you're looking for Christmas gifts for your kids, check out this ultimate list of Christmas gift ideas for kids otherwise this list of affordable secret santa gifts under $20 will help you discover one that's perfect for your colleague. Once you're sorted with the gift and gift wrapping, be sure to treat your family and loved ones to a delectable feast with these affordable Christmas dinner options. Happy holidays!
This article was updated on 16 December 2020. Additional research done by Justyn Toh.
---
New to Shopee? Get $7 off (min. spend $15) with code*: 13GIFTWRIDEA
* TNC Applies. Valid for new users from 19 to 26 Dec 2020 only.