Kids blue light glasses or computer glasses are becoming more mainstream these days as concerns of digital eye strain become more rampant. With the proliferation of digital media, it may be difficult to reduce the screen time of kids — a case in point was this year, during home-based learning. Since you might not be able to restrict them, you can do the next best thing and that is to equip them with accessories like kids blue light glasses that can serve to reduce eye strain to some extent.
What is blue light and why do we need glasses for them?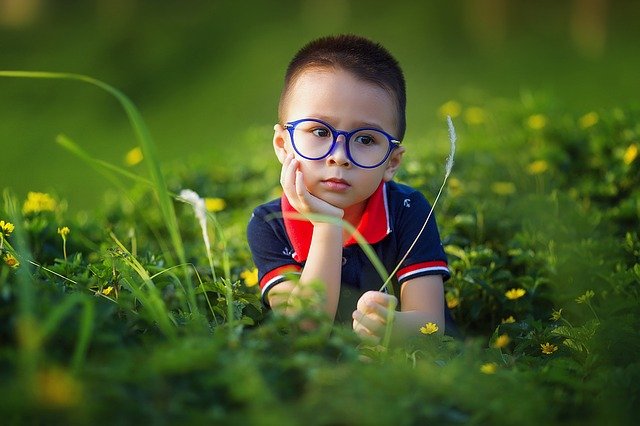 Contrary to popular belief, blue light is not just emitted from smartphones, tablets and TVs. In fact, the largest source of blue light is through the sun. Blue light is beneficial in the daytime as it can boost our attention and mood but it can be detrimental at night as it can affect our circadian rhythm. With many kids on electronic devices late into the night, blue light may affect their sleep, cause eye strain and result in headaches.
One way to prevent blue light from affecting our eyesight is by wearing blue light glasses or computer glasses when using electronic devices. Blue light spectacles have filters that either block or absorb the blue light from reaching your eyes.
Blue light glasses for kids can be worn by kids with perfect eyesight and by those who are already wearing glasses on a day-to-day basis. Read on to find out where you can get non-prescription and prescription kids blue light glasses in Singapore!
Non-prescription kids blue light glasses
1. Cyxus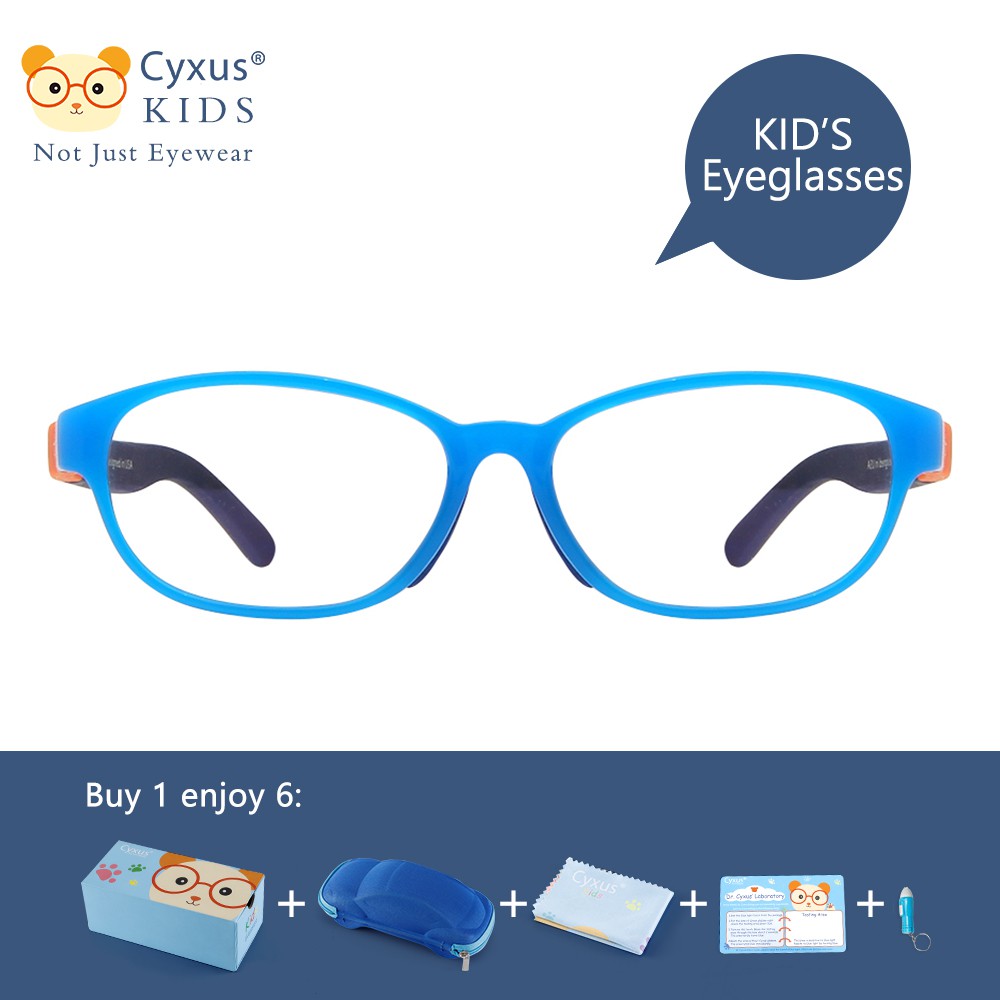 Cyxus is an American eyewear brand that has been known to design computer glasses, polarised sunglasses and glasses for kids since 2009. The Cyxus Children's Anti-Blue Light TR90 Rectangular Silicone Nose Care Goggles (available on Cyxus official store.sg) come with blue light filter lenses that are made of impact-resistant polycarbonate lenses. These in turn can help reduce eye strain, redness and dry eyes that kids experience after being exposed to digital screens for an extended period of time.
These stylish Cyxus glasses for kids are suitable for both boys and girls aged from seven to 16. The silica gel ear hook and flexible frame legs make it easy for the glasses to stay put so they don't slip off when in use!
Suitable for ages: 7-16
2. Cyxus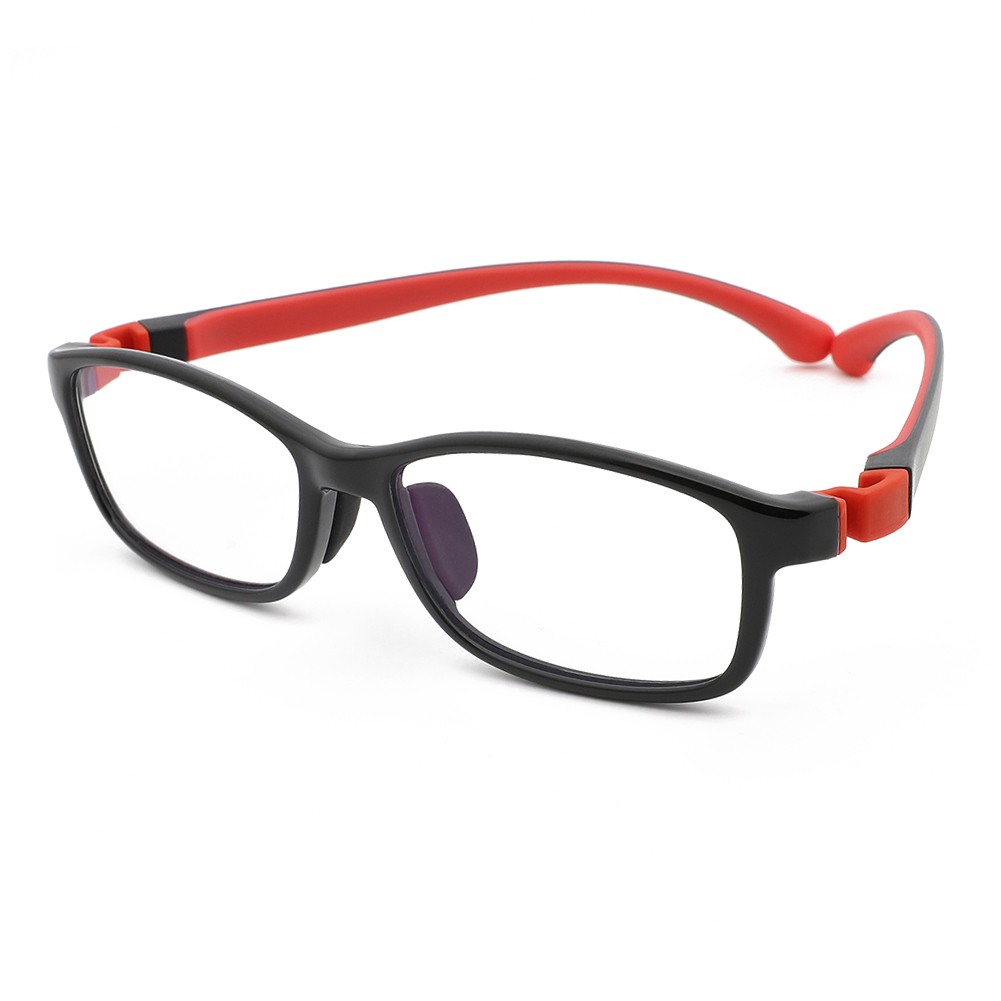 Are the littlest ones in the family already pestering you to see their favourite TV shows on your mobile phone or tablets? Restricting screen time can be tough at times so ensure your kids eyesight is always protected. Pop on this pair of Cyxus Computer Anti-Blue Light Square Glasses (available on Cyxus official store.sg) for your kids before handing over your phones. Apart from featuring anti blue light lenses, these glasses are also made of TR90 shape memory material, making them durable and flexible. These glasses for kids also have a soft anti-allergy nose pad and a detachable spring flexible temple to adjust the frames so they sit more comfortably on your child's face. Best part is, this package also comes with an eyeglass strap — so your child will not lose their glasses!
Suitable for ages: 2 – 6
3. JINS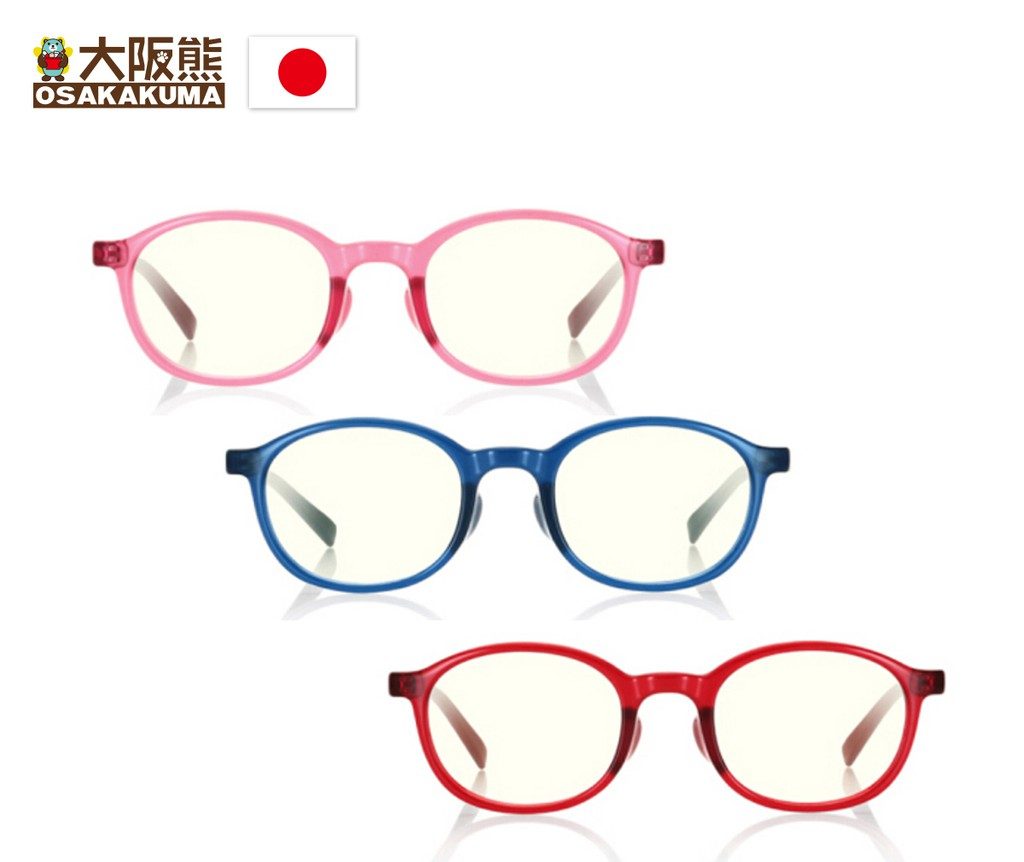 It may be tough finding the right blue light glasses for kids but JINS has made it that much easier. Their range of stylish glasses are sure to catch your eye (pun intended). JINS Children's Blue Light-Proof Glasses (available on Osakakuma SG) are able to block 25% of the light and are designed with a yellow tint to further prevent blue light from entering their eyes. Find your kids gaming into the wee hours of the night, more so during the holidays? Encourage them to wear these eyeglasses consistently at night so they experience less eye fatigue and may even see an improvement in sleep quality. Choose from three shades, red, pink and blue and start your little ones on a pair of kids blue light glasses with this brand!
Suitable for ages: no minmum age
4. Eyecare Studio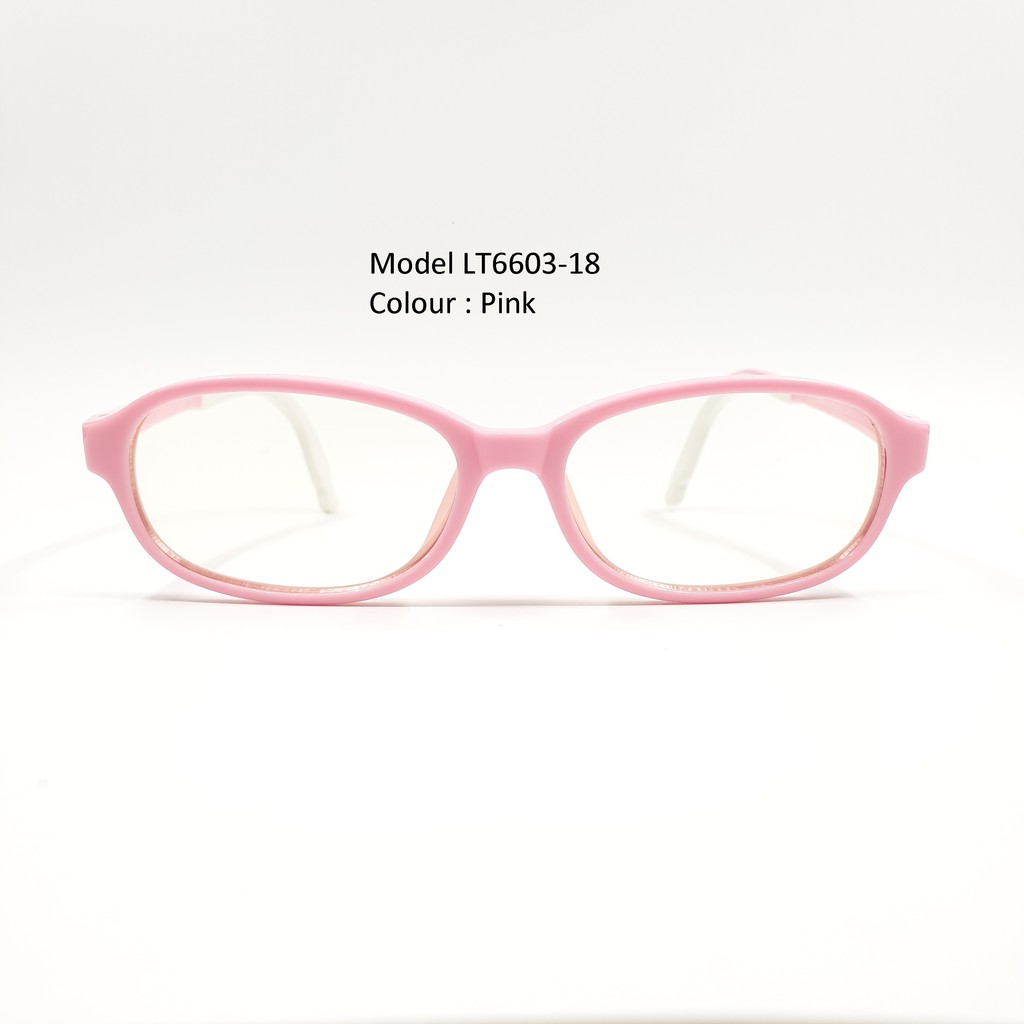 This pair of Eyecare Studio LT6608-18 Kids Anti Blue Light Glasses (available on Eyecare Studio Official Store) is also made of the strong but lightweight TR90 frames and is designed to protect your child's vision and reduce eye fatigue. This pair also comes with UV 400 protection lenses which means further protection from harsh sun rays when your little ones are outdoors. Bargain hunters will appreciate the free spectacle pouch and ear band that come with every purchase!
Suitable for ages: 6 – 12
Prescription kids blue light glasses
5. Owndays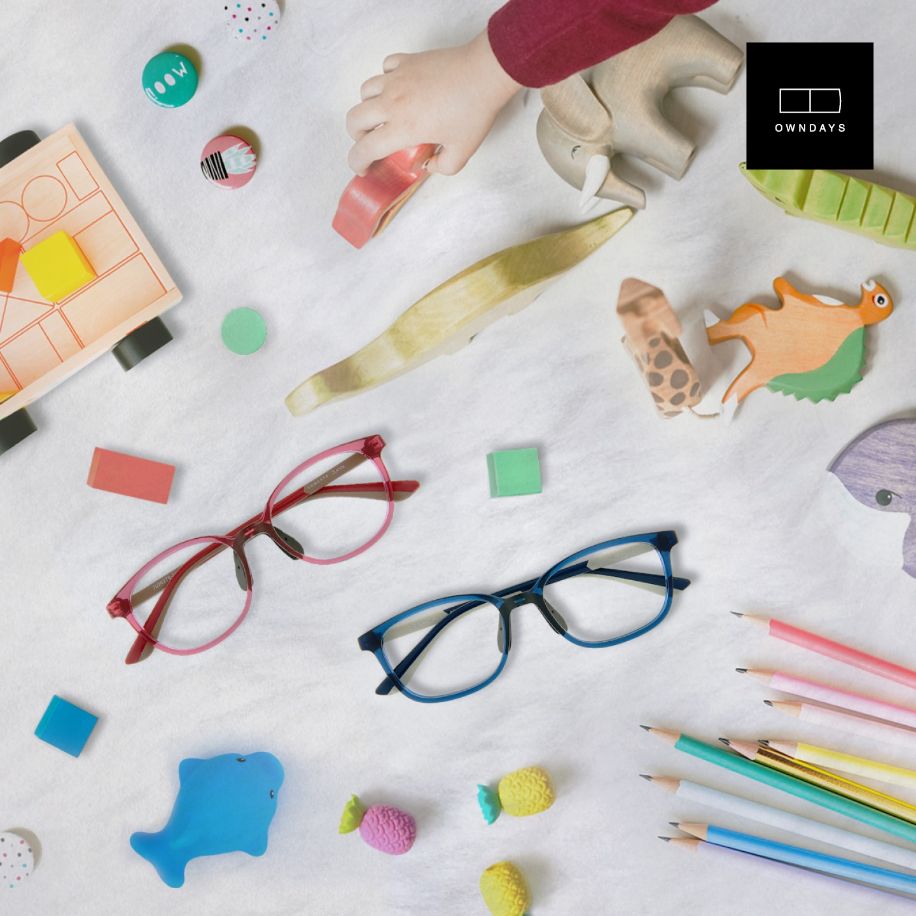 Probably one of the most well known spectacle retailers in Singapore, Owndays has crafted a name for itself with its affordable and chic range of glasses. Check out the Japanese retailer's Junni brand of glasses for kids. The standard lenses come with high index aspheric and offer UV protection. However, if you're on the hunt to find computer glasses for kids, then choose their lens add ons — like eyeshield and i'Relax both of which can filter up to 40% of the blue light from digital devices. The Junni range of glasses also come in a trove of colours and designs to appease every whim and fancy of your little one. From bubblegum pink to the more trendy ultra-thin frame glasses, they'll be spoilt for choice here!
Suitable for: No minimum age as long as the frame fits well for your child's face and head size
Address: ION Orchard, 2 Orchard Turn, #B2-69, S(238801)
Check out other locations here
Opening Hours: Daily, 10am – 10pm
6. W Optics
W Optics provides dedicated services to cater to all your child's eye care needs. They even have a cute kid's corner where the kids will be kept busy with the interactive wall displays while you take your time sourcing for the best frames that'll suit them. Moreover, they offer a range of lenses that not only help with blocking blue light but also tackles myopia by slowing down its progress!
Address: Great World City, 1 Kim Seng Promenade, #02-122, S(237994)
Check out other locations here
Opening Hours: Daily, 9.30am – 10.30am
By appointment only
7. Foptics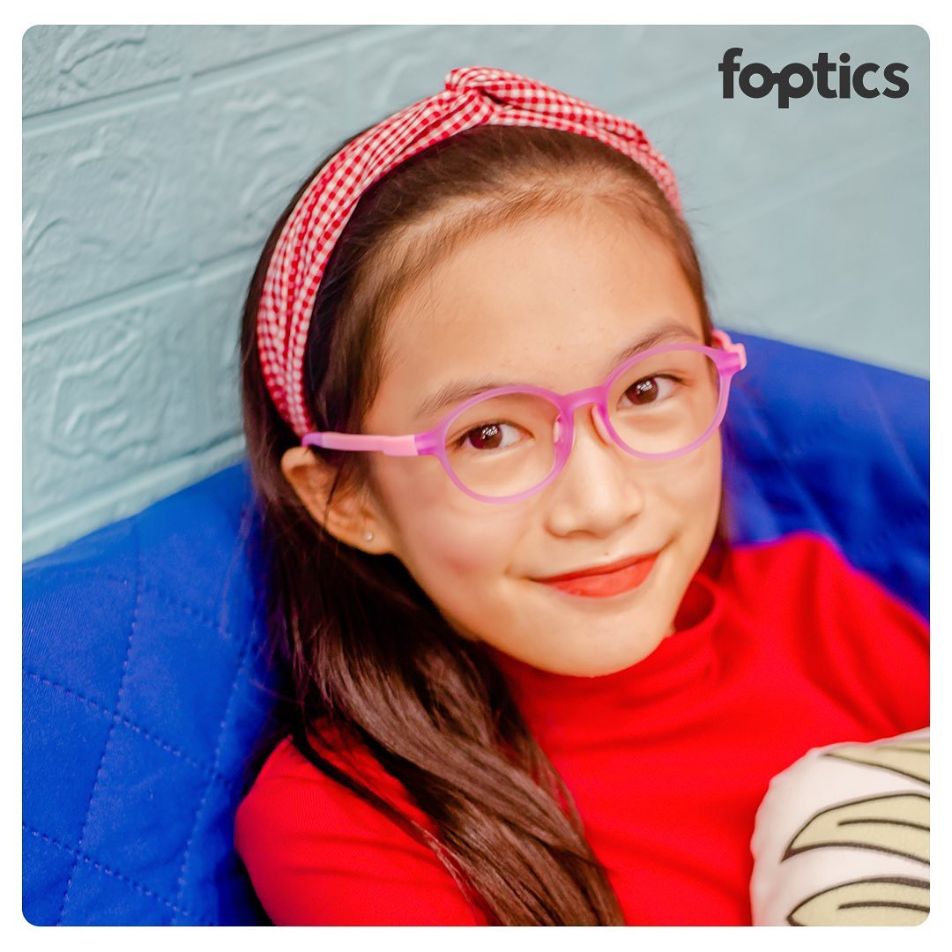 Local brand Foptics definitely knows a thing or two about manufacturing stylish and protective glasses. Their range of glasses for kids can be customised with blue lenses with added UV protection and glare-free coating. Have active monsters at home? Choose from their Active range of frames that are sweat resistant, made from plastic frames and lightweight.
Foptics is an authorised healthcare institution by MSF meaning you can tap on the Baby Bonus scheme to pay for your kids' glasses. How neat is that!
Suitable for ages: 8 and above (for Active frame range)
Address: 58B Pagoda Street, #03-01, S(059217)
Opening Hours:
Mon-Fri: 5pm – 9pm
Sat-Sun: 2pm – 7pm
By appointment only.
Kids blue light glasses aside, practise the 20-20-20 eye rule!
Have you gotten a better idea of why kids blue light glasses are important? Apart from equipping them with eyeglasses, encourage your kids to take a visual eye break by following the 20-20-20. It's advised that every 20 minutes, you should look at something 20 feet (about six metres) away for 20 seconds. This will help rest their eyes and reduce the strain from looking at screens too much. Practise this with them and they'll follow your example!
Of course one of the things you could do is to keep your kids away from screens. The school holidays are a great time to engage your kids in activities. Check out this DIY activity on how to make fake snow or set up some sensory activities for your toddlers!