If you can only use one makeup product for the rest of your life, what would you choose? For us – we'd choose blush in a heartbeat. Even when you've only slept for two hours the previous night, dabbing some blush on will make you look more awake. Looking for recommendations? We've done the legwork and sussed out the best blushers in Singapore! 
What are the different types of blush?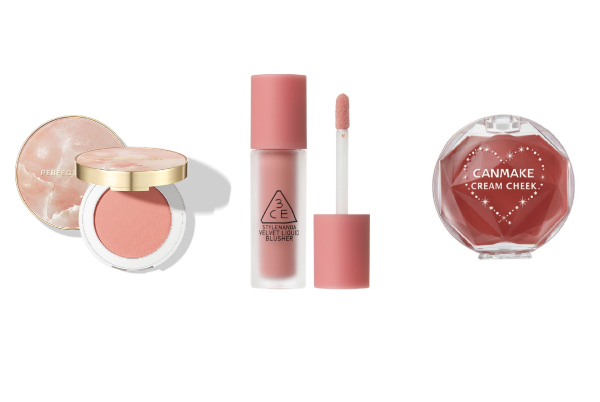 Before diving into the best blushers in Singapore, let us we go over the different types of blush available. 
When it comes to blush, powders are one of the most common types that you'll see in the market. They often contain sebum control powders which help with oil control – a godsend for oily skin sisters. However, it is still a popular option for all skin types. A useful makeup technique is to layer your powder blush on top of cream or liquid blushes, as it makes your rosy flush more lasting.
Best suited for: Normal to oily skin
Best application method: Blush brush
Fancy a dewy finish? Then cream blushes are for you. They glide seamlessly on skin, and can be applied before or after foundation for that au naturel look. However, be careful not to pile on too much as that can leave you with a sticky feeling.
Best suited for: Dry skin
Best application method: Fingers or stippling brushes
Liquid blush tends to be a lot more pigmented than cream or powders. If you like to rock a bold makeup look, then liquid blush can help you achieve it within the shortest amount of time, as you don't have to spend time to build the colour up. They are recommended for those who are more experienced with makeup, as it's easy to go a tad too far with it and end up looking like a Matryoshka doll. 
Best suited for: Combination skin
Best application method: Fingers or beauty blender
Best powder blushers in Singapore
1. 3CE Face Blush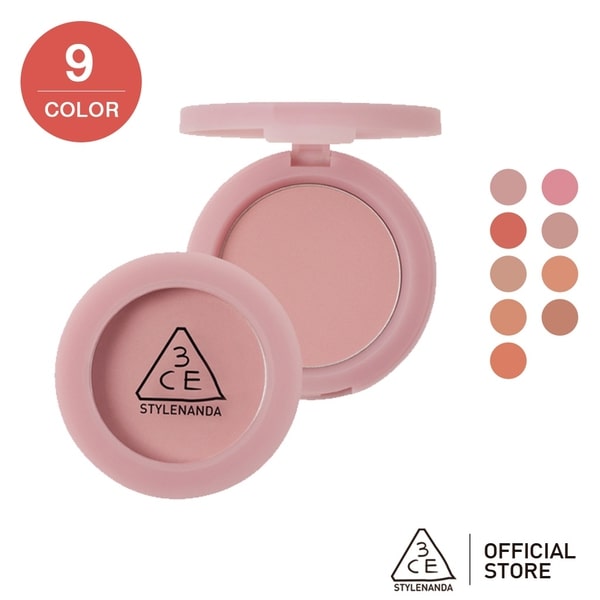 3CE's eyeshadow palettes are highly-raved, but their blush compacts are not to be slept on either. The 3CE Face Blush (available on 3CE Official Store) is one of the best Korean powder blushers in Singapore that offers exceptional colour payoff. All you need is one stroke to achieve that natural, sun-kissed look. One of the most popular 3CE blush shades for Asian skin is Rose Beige – which is a warmer-toned pink that complements our yellow undertones. Nude Peace is another hot pick as it is subtle and suitable for everyday wear.
2. ETUDE Lovely Cookie Blusher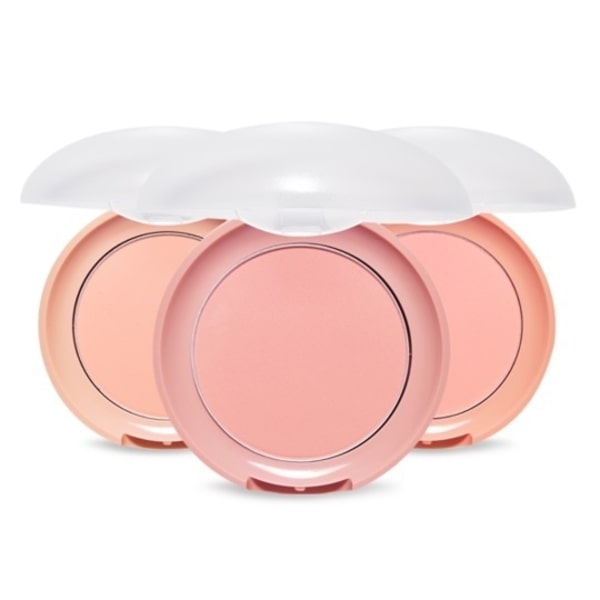 Whether it's for the best Korean lip tints or the best Korean cushion foundations, we can never stop talking about ETUDE. Their blushers are worth a spot on this list as well, especially the ETUDE Lovely Cookie Blusher (available on ETUDE Official Store). This powder reflects light from various angles, giving a soft, dewy effect that is subtle but not invisible. The Etude House Lovely Cookie Blusher also comes with a puffy cushion applicator that feels soft on your cheeks. Just a few light taps and you'll be radiating from within. 
3. MILANI Rose Powder Blush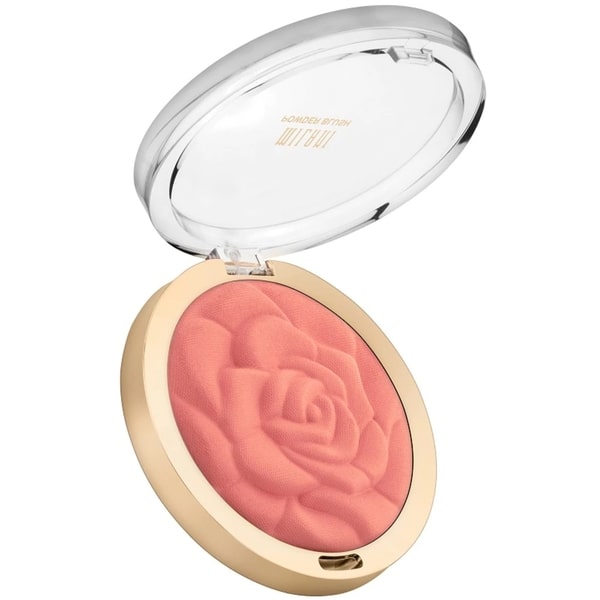 The MILANI Rose Powder Blush (available on Watsons Singapore Official Store) is a tried-and-true classic that has gotten a nod from beauty gurus and makeup artists alike. Milani has definitely created one of the most flattering dusty rose shades for Asian skin, and we absolutely love the subtle shimmer that it gives. For just $16.90, its packaging screams femme fatale with its petal compact design and gold rims. 
4. PERIPERA Pure Blushed Sunshine Cheek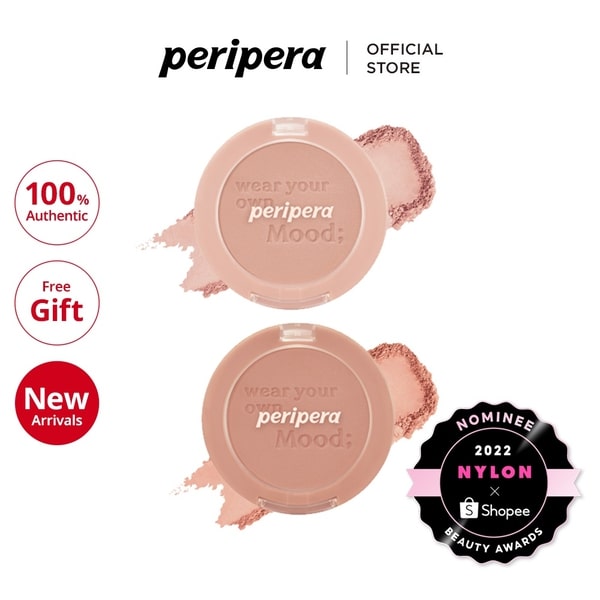 PERIPERA may be best known for their lip tints, but their blush options are equally impressive. Take for instance the PERIPERA Pure Blushed Sunshine Cheek (available on Clubclio_official) which features gorgeous shades of pink inspired by sunshine and sunsets. Made of soft and fine powder, the PERIPERA blush blends well without clumping even after you layer a few coats. It is subtle and buildable, which is best for those who love a natural makeup look. This blusher is also suitable for the humid Singapore weather, as the sebum powder helps to absorb sweat and mattifies the skin! 
5. Judydoll Pretty Blush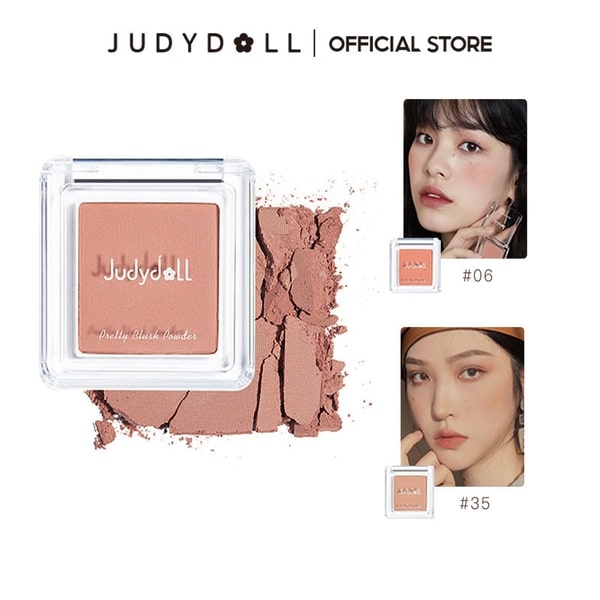 Judydoll is one of the best makeup brands from China that has been making waves for their affordable makeup products. Their eyeshadows and blush come in the perfect shades for creating that no-makeup, effortless look. The Judydoll Pretty Blush Powder (available on Judydoll Official Shop) is one of their best-selling products in Singapore and beyond. It's suitable for Asian skin and helps to create the viral douyin makeup look that enhances your natural beauty without being OTT. We highly recommend the new Palm Tree shade for the most subtle glow. Blend it with the blue Salty Bubble for a lifting effect that gives you a youthful radiance!
6. Flower Knows Circus Gradient Blush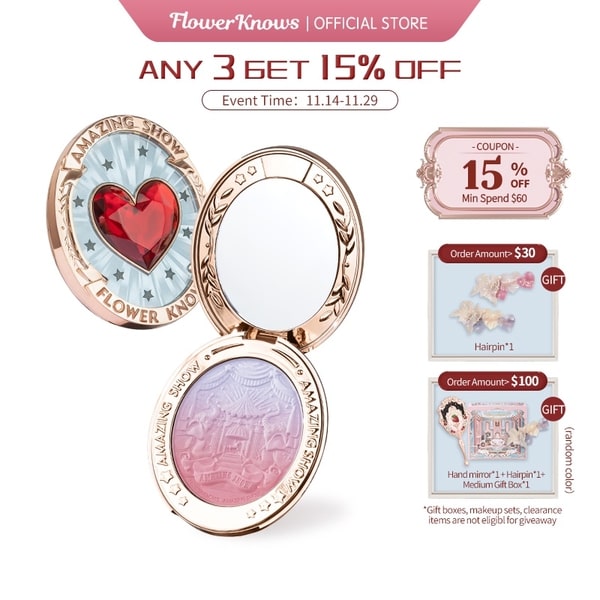 We're suckers for packaging. That's why we can't resist the Flower Knows Circus Gradient Blush (available on Flower Knows Official Store) which features the most elegant and intricate bejewelled design. We can't blame you if you bought the Flower Knows blush just for the case but the delight doesn't just stop at that. A beautiful ombré blush powder embellished with circus art lies within. To add dimension to your face, we recommend getting the shade Blue Moonlight which comes with a blue and pink combination. The blue gives a plumping effect, while the pink brightens your skin tone. 
Best cream blushers in Singapore
7. Canmake Cream Cheek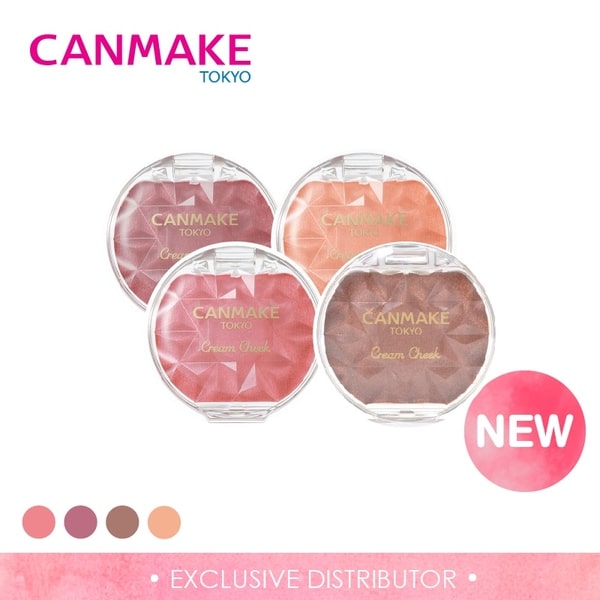 If you're new to makeup, we highly recommend the Canmake Cream Cheek (available on Tsupply Official Store) – one of the best cream blushers in Singapore that is easy to apply. You don't need fancy beauty blenders or stippling brushes – just use your trusty fingers and dab them onto your cheeks for a natural, skin-like flush. The best blush shade for Asian skin from the Canmake cream cheek range is the Almond Terracot, a sophisticated brick red that complements our yellow undertones. It may look pretty intense in the pan, but is subtle when applied on your skin. Simply layer on for a stronger pop of colour.
8. Glossier Cream Blush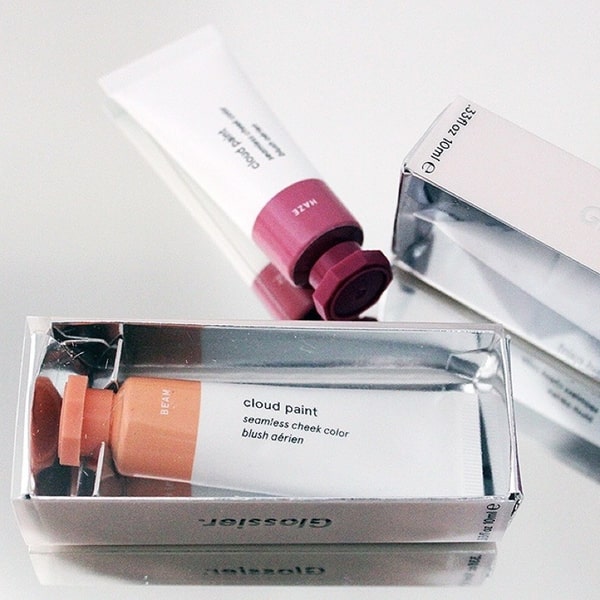 It'd be a crime not to mention the cult-favourite Glossier Cloud Paint Cream Blush (available on jorzz) in an article about the best blushers in Singapore. The packaging is a dream, and the formula is the gift that keeps giving. You can use it as a blush, eyeshadow, and even on your lips! Apart from versatility, the Glossier Cloud Paint is easy to work with and highly buildable as it gives a sheer finish, which makes it great for beginners. We highly recommend the shade Storm as one of the best blush colours for Asian skin. It is a warm shade of pink that gives you a natural, dewy flush. 
9. Sunnies Face Airblush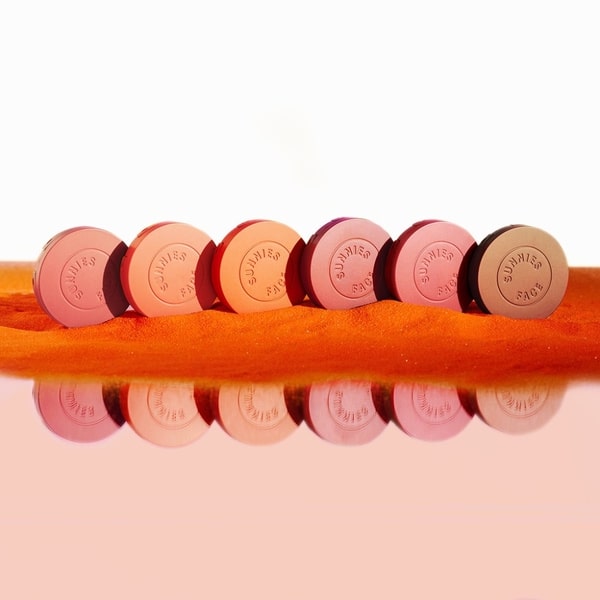 Formulated with skin-loving ingredients like squalene and vitamin E, the Sunnies Face Airblush (available on Sunnies Face) soothes the skin while giving it an instant glow up. It also contains seaweed extract and bamboo stem powder that softens and protects the skin. That's why it is one of the best blushers in Singapore for Asian skin. In terms of finish, the Sunnies Face Airblush gives you a soft, silky matte pop of colour that makes you look youthful and revitalised. For Asian skin, we recommend Fig, a brick rose shade that compliments warm undertones.
Best liquid and cushion blushers in Singapore
10. Rare Beauty Soft Pinch Blush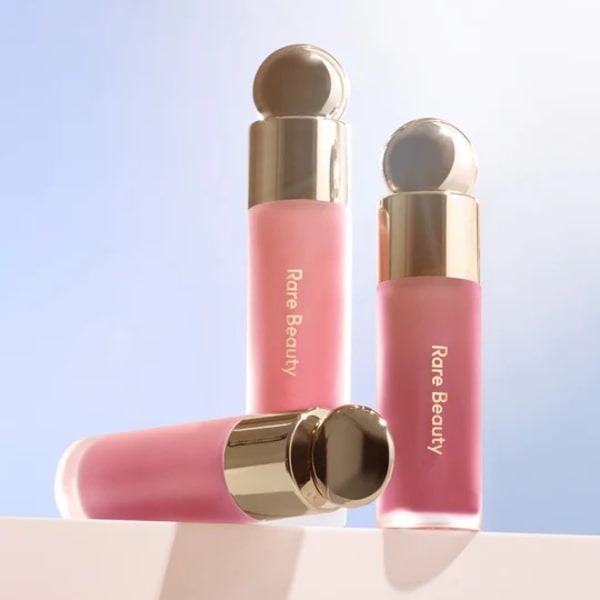 Created by Selena Gomez, Rare Beauty has quickly become one of the most coveted beauty brands. While the Rare Beauty Soft Pink Liquid Blush (available on Maisondebeaute) costs nearly $40, it might actually last you a lifetime. Just a tiny dot of this blush is enough to make your entire cheek flushed. It's also dewy, moisturising, and extremely long-lasting, so you won't have to reapply it at any point of the day. We also love how weightless it is for a liquid blush! For Asian skin, the best and most popular Rare Beauty blush shades would be Grace (a rosy mauve) and Joy, a bright, lovely coral. We recommend diffusing the liquid with your fingers before going in with a stippling brush.
11. THE FACE SHOP Moisture Cushion Blush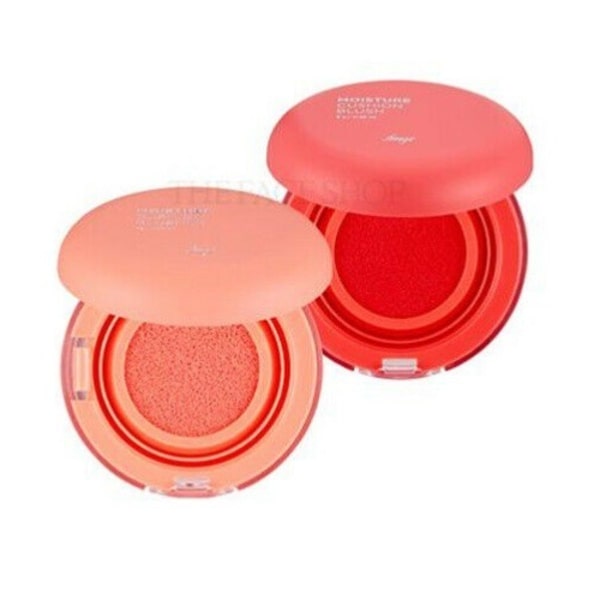 We already know how convenient cushion foundations are, and there are cushion blushes now? Sign us up, stat! THE FACE SHOP Moisture Cushion Blush (available on Younfamily) comes highly recommended as one of the best blushers in Singapore for Asian skin. They offer vibrant colours like red and coral for a bolder, brighter look. There's even a highlighter cushion for that dewy finish. When applying this, lightly tap the puff on the blush cushion to avoid absorbing too much product and apply them gently on your cheeks. A little goes a long way!
How to choose the right blush shade for your skin tone?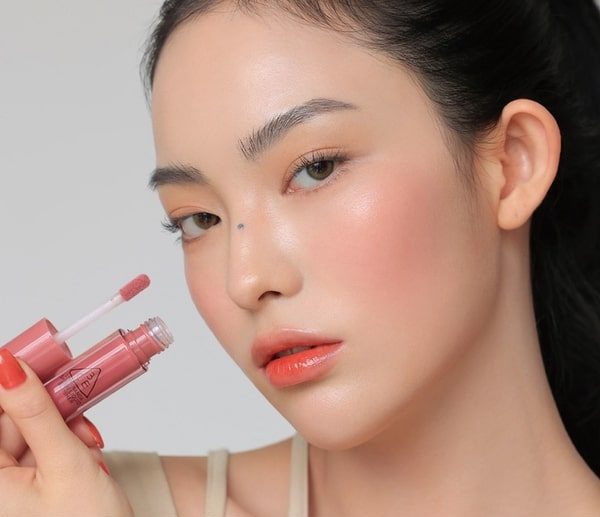 For us, there's no right or wrong answer when choosing a blush colour for your skin. It all depends on how experimental you want to be. For a natural look, go for a blush shade that is similar to your undertone. For a bolder look, go for a blush shade that is the opposite of your undertone. Warm shades include coral, peach, and more brownish reds. Cool blush tones would be pink, berry, and fuschia. Alternatively, mauve is a neutral tone that hardly goes wrong.
If you're unsure of your undertone, the fastest way to find out is by looking at the veins on your wrist. If your veins appear blue, you likely have a cool undertone. If they appear purple, you're likely to have a warm undertone
Achieve a radiant glow with the best blushers in Singapore
Can't decide between the Rare Beauty blush or the Judydoll Pretty blush? Well, we'd say get them all 'cus one is simply not enough. Snag the best blushers in Singapore during our 12.12 Birthday Sale, where exciting deals await. For more beauty recommendations, check out our roundup of the best concealers for Asian skin and the best women's perfumes for a spritz of luxe!