From high quality cosmetics to drop dead gorgeous packaging (have you seen the iconic Florasis eyeshadow palette with intricate phoenix engravings?!), Chinese makeup brands have earned themselves a strong following over the past year. It's time to make space on your vanity table for some of the best China makeup brands if you've yet to hop on the #TikTokMadeMeBuyIt trends. Not sure where to start when it comes to the whole new world of C-beauty? Check out our makeup reviews on some of the best Chinese cosmetics brands like Florasis, Judydoll and Flower Knows below.
Why is there a rise in China makeup brands?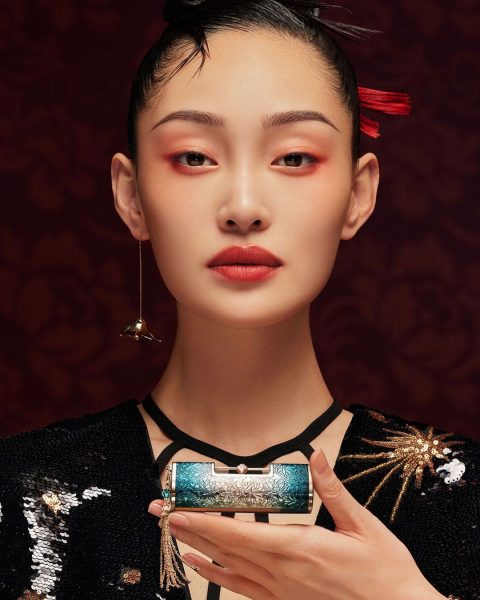 One might think that the pandemic may have affected consumers' desire to wear makeup under the mask. But that's not the case for the Chinese beauty market. These Chinese makeup brands have been booming ever since the outbreak. China makeup brands are growing in popularity in both the domestic and international beauty scenes and there are a few reasons for that. Compared to western, Japanese and Korean cosmetics, China makeup brands are offering their products at affordable prices – all without scrimping on quality or aesthetics. 
In addition, many of these brands are investing heavily in popular brand ambassadors like Troye Sivan, Du Juan and Justin Huang while engaging key opinion leaders with strong following. Think Li Jiaqi, the renowned Lipstick King with 40 million fans on Douyin (China's version of TikTok). It's no wonder beautyholics of all ages are getting to know about these makeup brands in China! 
Chinese brands also use an aggressive strategy called co-branding to target consumers who are loyal to other brands. ZEESEA has worked with the British Museum for their whimsical Alice In Wonderland collection, while Perfect Diary launched an adorable Hello Kitty vintage collection late last year. These co-branding launches never fail to impress with their stellar product presentation, catching the attention of makeup addicts all over the world.
Are Chinese makeup brands safe to use?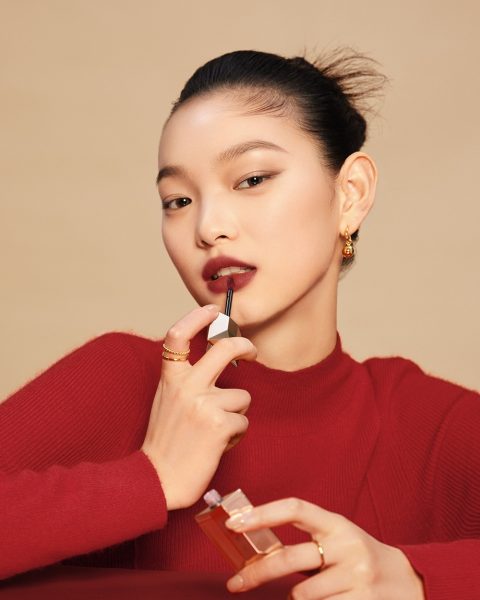 Before hopping on the bandwagon, it's important to know if the beauty products you're using are safe for your body. While each product and brand can use different ingredients, you should always do some research before applying anything on your skin. This applies to any Korean, Japanese, western or Chinese makeup and skincare products.
When it comes to shopping from China makeup brands, we suggest patronising well-established brands that have passed the safety assessment by China's Cosmetics Supervision and Administration Regulation (CSAR). Most of these best Chinese cosmetics brands will feature safety certificates on their websites. It's also worth contacting the brand directly for more information if you can't find the safety certificates.
Are Chinese makeup brands cruelty-free?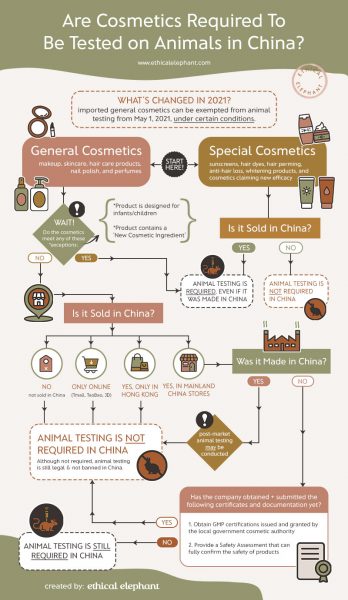 Wondering if these best Chinese makeup brands are cruelty-free? According to Humane Society International (HSI), China makeup brands manufacturing "ordinary" cosmetics (makeup, skincare, hair care, nail polish and perfumes) are no longer required to provide samples of new products for animal-testing from 2014. Instead, they are allowed to conduct their own product risk assessment or any non-animal test methods that are internationally recognised. However, it is worth noting that although animal testing is no longer required, it is still legal and not banned in China. In addition, special cosmetics (sunscreen, hair dyes, hair perm solutions, anti-hair loss products, whitening products and cosmetics created based on new innovations) are still required to go through animal testing.
Popular China makeup brands worth the hype
1. Florasis
花西子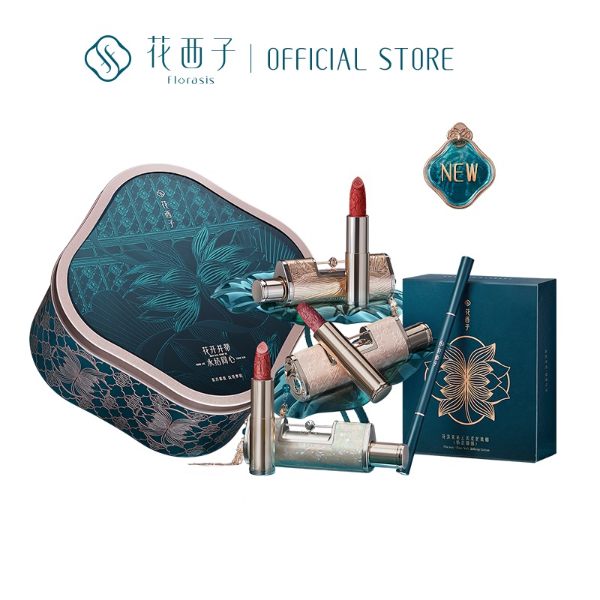 We can't talk about the best Chinese cosmetics brands without doing a makeup review on Florasis. Just look at the details on their makeup packaging! Also known as Hua Xi Zi (花西子) in Chinese, Florasis places a strong focus on traditional Chinese style and culture.  This can be seen both in their intricate oriental packaging and ingredient list. To cater to the Asian market, Florasis beauty products are made from natural floral extracts and herb essences suitable for Asian skin.
Our recommendations for this makeup brand in China:
While we are tempted to review every makeup product at Florasis, the item that stands out the most from this best Chinese makeup brand is the Florasis Floral Concentric Lock Lipstick (available on Florasis Official Store). The lipsticks take inspiration from traditional Chinese love locks. Each lipstick is encased in a lock-shaped sleeve, but we especially love what's inside! The lipstick bullet is intricately engraved with a scene from the ancient Chinese love story of Zhang Chang drawing his wife's eyebrows. Aww, we are not sure if we'd ever bring ourselves to use these lipsticks.
Another luxurious beauty product we will recommend in this Florasis makeup review is the Florasis Eyeshadow Palette with Peony and Moon Relief (available on Florasis Official Store). Like the lipstick, a scene from the Chinese folklore, A Hundred Birds Paying Homage To The Pheonix, is intricately engraved into the shadows. This instantly gives the palette an air of elegance! Even if you're not a fan of bold shadow hues like bright red, gold and midnight green, the palette is still a worthy splurge for the collection. Wondering where to buy Florasis in Singapore for your fellow beautyholic? You can shop for Florasis kits that come as a bundle with makeup brushes to boot online on Shopee Singapore.
2. Perfect Diary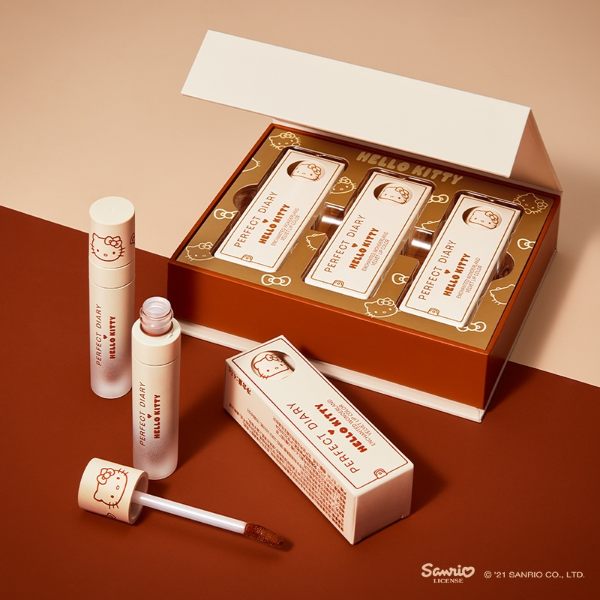 While western beauty brands have been dominating China's beauty industry for years, Perfect Diary made a breakthrough by taking the top spot in 2019. This makeup brand in China is known as the hidden gem of makeup with its wallet-friendly prices and holy grail quality. The brand made its mark on the global beauty scene with its iconic Cardcaptor Sakura collection, and continues to offer unique co-branding collections for makeup lovers all around the world.
Our recommendations for this makeup brand in China:
Perfect Diary has teamed up with Sanrio for an irresistibly cute Hello Kitty Lipstick Lip Cream (available on Perfect Diary Official Shop) collection consisting of various wearable vintage hues perfect for any occasion. These velvet lip stains are long lasting and give a soft matte finish without feeling heavy on the lips.  
Another successful Sanrio launch is the Perfect Diary x Sanrio Loose Powder (available on Perfect Diary Official Shop) featuring popular characters like Pom Pom Purin, Gudetama, My Melody and Little Twin Stars. The ultra-fine loose powder is smudge and transfer-resistant, and blurs imperfections without creasing or caking. Each set also comes with a fluffy kabuki brush, definitely a great steal for budget beauty junkies! Check out other highly raved Perfect Diary products.
3. Flower Knows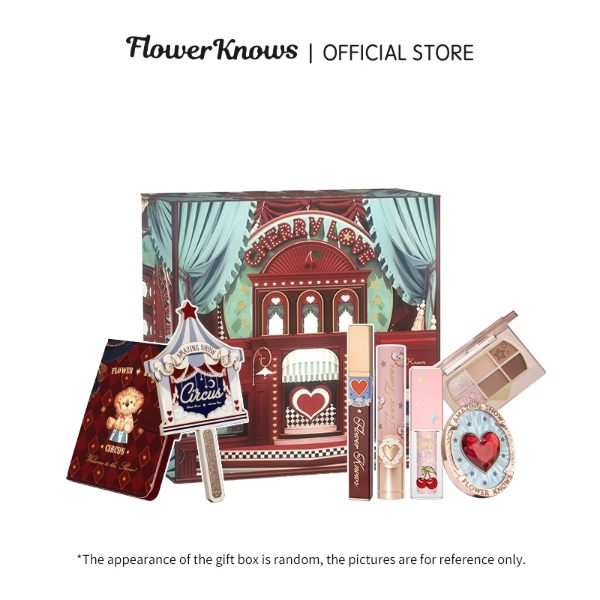 Baozi and Hana are no strangers to avid cosplayers. The duo are some of China's top cosplay celebrities with over 232 thousand followers on Facebook. They have since retired from cosplay and became founders of Flower Knows, a China makeup brand known for its over-the-top lolita packaging. Moreover, every Flower Knows product is amped up with kawaii vibes — it's nearly impossible to resist! Read on for our makeup review on some of the best Flower Knows products.
Our recommendations for this makeup brand in China:
The Flower Knows Little Angel Feather Lip Glaze (available on Flower Knows Official Store) has set our standards high when it comes to the packaging of beauty products from makeup brands in China. Bearing strong similarities with the neo renaissance pillars but with a cuter twist, these liquid lipsticks are bound to garner envious looks in the makeup room. Many Flower Knows makeup reviews have revealed that the lip glaze sets quickly into a velvety texture for all day comfortable wear. In addition, the lip glaze comes in nine pigmented colours to suit different skin tones and occasions!
There's something about the dainty vintage porcelain eggs trinket boxes that make them look so exquisite and precious. Taking inspiration from these late 20th century masterpieces, the Flower Knows Flower Goddess Carving Blush (available on Flower Knows Official Store) unlocks to reveal a pigmented blusher made from organic ingredients catered for all Asian skin tones. The blush blends out seamlessly and adds a radiance flush to your complexion.
4. Colorkey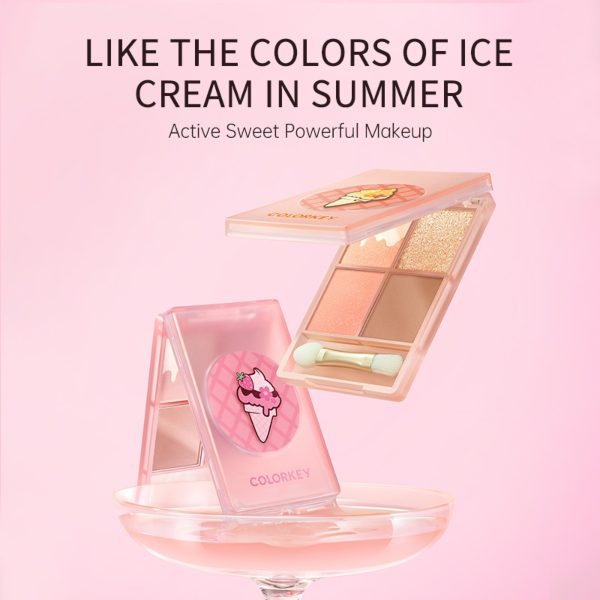 Founded in Guangzhou, China, Colorkey is one of the best cosmetics brands in the beauty industry. Catering to young adults, Colorkey boasts a vibrant makeup style with its collaborations with some of our favourite childhood cartoons! Think Doraemon, Hello Kitty and even Pokemon. Colorkey has also taken on a sweeter and cuter edge with their newer Ice Cream collection. Featuring adorable ice cream motifs, these makeup products show that this is one China makeup brand that is extremely versatile!
Our recommendations for this makeup brand in China:
You can't go wrong with the Colorkey Sweet Summer Eyeshadow Palette (available on Colorkey Official Store)! Comprising four shades with two different textures, this is one eyeshadow palette that's compact enough to bring along your day out. But then again, you won't need to do any touching up due to the long lasting and waterproof formula! While you can get creative with the matte and shimmery textures for your eye makeup, the best thing is how they can also be used for other purposes. Use Pinky's matte shades for your blush or contour, and the shimmery ones as a highlighter. It all depends on which eyeshadow palette you're thinking of getting, but why not get all three so you can mix and match the shades to your heart's content!
Let's not forget the Colorkey Ice Cream Mini Lip Glaze Set (available on Colorkey Official Store) that'll make a wonderful addition to your vanity. The six shades of lip glazes are more than enough to feed your lipstick addiction. From a light nudey-pink shade to a warm rose and even a dark maroon, you'll be spoilt for choice with these Colorkey lipsticks! The best part about this set is how each lip glaze dries off with a different finish – a satin-matte or glossy. If these lipsticks aren't enough, there's also the Colorkey Kolaki Love Notepad Gift Box (available on Colorkey Official Store) that features four matte shades. We especially love these matte lipsticks because of the jelly-like texture that doesn't feel dry on our lips. And despite that texture, these lipsticks retain the long lasting qualities iconic of matte lipsticks!
5. Judydoll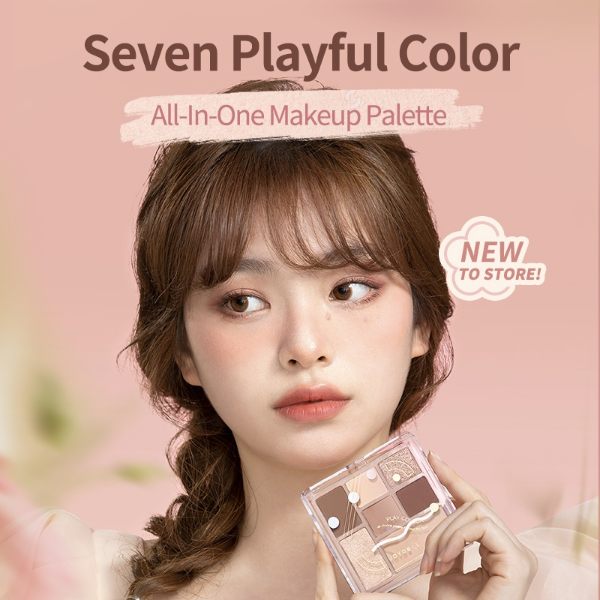 Can't justify spending close to a hundred bucks on high-end branded makeup? You can still create similar looks with Judydoll, one of the best makeup brands in China known for producing insanely good dupes of highly-raved cosmetics at budget prices! In addition, Judydoll does not shy away from bold colours. Think lime green, tomato red or even aqua blue eyeshadows. If you're a fan of artistic makeup, this is the perfect brand to look out for!
Our recommendations for this makeup brand in China:
One of the most popular dupes that Judydoll has created is the Judydoll Starlight Highlighting Powder (available on Judydoll Official Shop). This highlighter brick glides on with a dazzling shine similar to the famous BECCA Shimmering Skin Perfector – but at less than a fraction of the price! 
Other worthy purchases include the Judydoll Play Colour All-in-one Palette (available on Judydoll Official Shop). The palettes come with a spectrum of fun shades and can be used for eye makeup or as blusher, contour or even highlight!
6. Focallure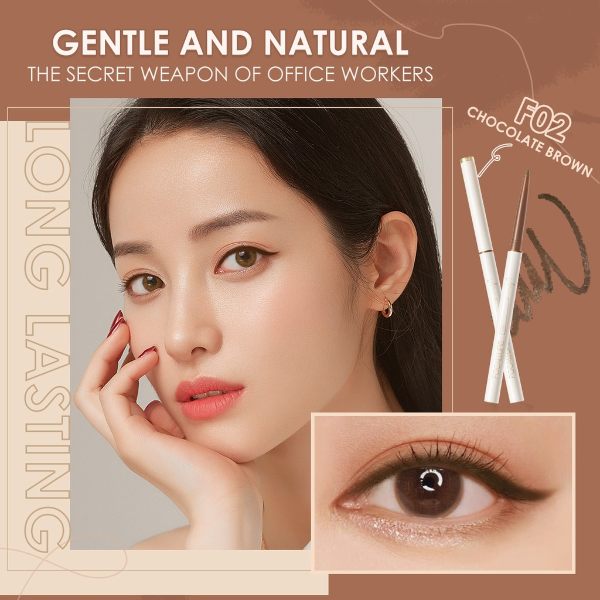 Makeup beginners who are starting to expand their makeup collection will love Focallure, one of the best Chinese makeup brands for its holy grail products at incredibly affordable prices. $3 for an eyeliner that's known to be as good as CLIO's pencil liners? Take our money! Focallure also focuses on producing multi-purpose makeup products that are straightforward to use. Makeup beginners have no need to fret as they can freely experiment with Focallure's products and find their style!
Our recommendations for this makeup brand in China:
For flawless, one-stroke eyeliner magic, look no further than Focallure Waterproof Ultra-slim 1.7mm Gel Pencil (available on Focallure Official Store). At only 1.7mm thick, you'll never have to worry about overlining your lids anymore. 
Looking for an all-in-one concealer kit that can neutralise redness and hide those pesky dark circles? The FOCALLURE High Coverage Water-Proof Longstay Lightweight Concealer Cover Plate (available on Focallure Official Store) is a dream come true. Made up of a combination of five concealing and colour correcting hues (think pink, green and orange), you can easily mix and match the shades to create your very own unique concealer that works for different needs!
7. O.TWO.O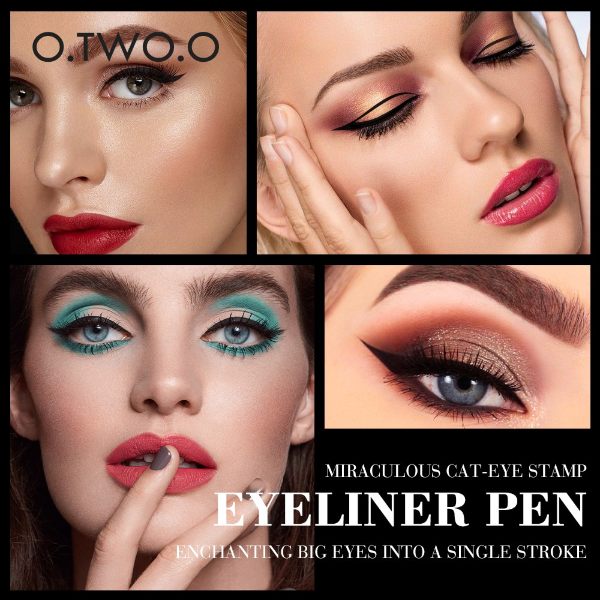 O.TWO.O is another best Chinese makeup brand that should be on your radar – especially if you're into budget-friendly, western-inspired makeup products. Despite being a makeup brand in China, O.TWO.O takes on more of a western flair with bold colours, full coverage makeup that's perfect for a sexy, sultry look.
Our recommendations for this makeup brand in China:
Feathery brows are all the rage right now especially in the US. You can easily recreate these statement brows with the O.TWO.O Soap Brow Makeup Kit (available on O.TWO.O Singapore Official Store). Each kit comes with an eyebrow shaver, a spoolie brush to fan out your brow hairs and a brow soap to keep the strands locked in place. Learn more about creating different brow styles with our eyebrow guide! 
Eyelash growth serums are the secret to long natural lashes. But eyelash serums can easily set you back close to a hundred dollars per tube, which can be an expensive splurge for those on a budget. Thankfully, you can achieve visible results with the O.TWO.O Eyelash Nourishing Essence (available on O.TWO.O Singapore Official Store) – at less than $6 (say what?!). Formulated with natural botanical ingredients, all you have to do is apply the serum onto the root of your lashes twice a day and voila! Say goodbye to falsies and eyelash extensions once and for all!
8. CHIOTURE
Introducing the trendsetter in the Chinese makeup industry – CHIOTURE. Established in 2009, CHIOTURE started off as a skincare brand focused on harnessing the power of natural ingredients. But in 2014, CHIOTURE expanded its line of products by adding makeup to create a more holistic beauty range. Since then, this best Chinese cosmetics brand has been known for producing various viral beauty products year on year – including a paw-shaped blusher and mahjong-inspired eye makeup collection! Keep an eye on this best Chinese makeup brand, you don't want to miss out on any of their viral new launches or they will be sold out in no time!
Our recommendations for this makeup brand in China:
The CHIOTURE X.D Lip Balm (available on Rebecca store) is the epitome of wanderlust. Each bullet comes encased in a lilac case that paints a beautiful view of the night sky. This moisturising lip balm comes with a highly pigmented formula, so it also doubles as a lipstick. If you can't get enough of the purple, galaxy-like vibes, the CHIOTURE Purple Storm Lipstick Set (available on Mag Dunbar's shop) should be more than enough! This lipstick set has three options that come with different finishes – glossy, satin and matte. Apart from the fantasy-like packaging, we're sure you'll be spoiled for choice with these CHIOTURE lipsticks! 
Meanwhile, cat lovers need to get their hands on the CHIOTURE Cute Cat Claw Blush (available on Mia Beauty). With cute squishy toe beans on the case and a cheeky cat embossed into the blush, even Mr Whiskers would be interested in this CHIOTURE blusher!
9. FLORTTE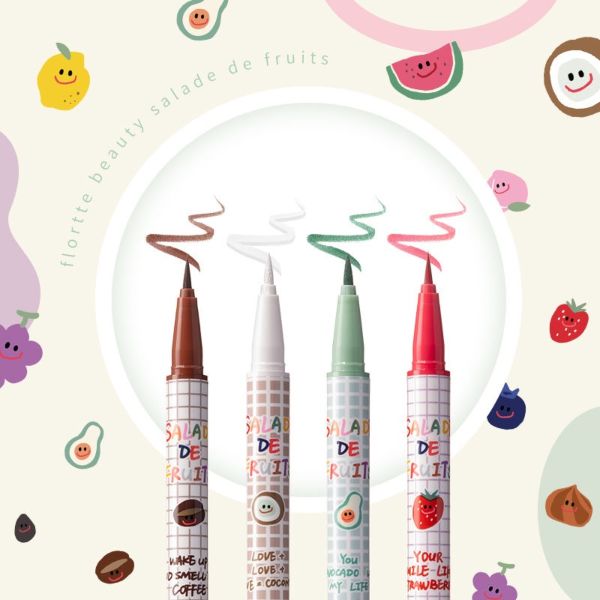 Make way for the newest kid on the block! FLORTTE started out somewhere between late 2018 and early 2019. But what drew our attention to this China makeup brand is their irresistibly cute packaging. Think eyeshadow palettes with pretty keychains and eyeliners decked in colourful doodles – FLORTTE's product designs are bound to make your day! Aside from packaging design, this Chinese makeup brand wowed us with its superb quality. Find out what's worth adding to your makeup collection below! 
Our recommendations for this makeup brand in China:
FLORTTE definitely has a penchant for replicating stationery with their makeup products – think Salade De Fruits Liquid Eyeliner (available on GSY.Beauty.sg). Boasting a similar fun vibe, their Ultra-Fine Eyebrow Pencil (available on Mia Beauty) looks just like multi-coloured scrapbooking pens! While we may mistake these eyebrow pencils for pens, you will notice a difference when you're doing your makeup. The formula glides on smoothly as you perfect those hair-like strokes. Moreover, this eyebrow pencil can help promote hair growth. The formula contains ginger that stimulates hair follicles and encourages brow hairs to grow. The vitamins in ginger also strengthens each strand to prevent them from falling out! 
Eye products aren't all FLORTTE has to offer. The FLORTTE First Kiss Series (available on Pinannie Official Store) features lip balms that are bright and lightweight. Thanks to its formula, this FLORTTE lip balm dries off without leaving a sticky finish. You don't have to worry about tackiness or greasiness. In fact, enjoy the feel of this lip balm as it moisturises your lips from the inside out. You'll have perfect pouts for days to come!
10. HEDONE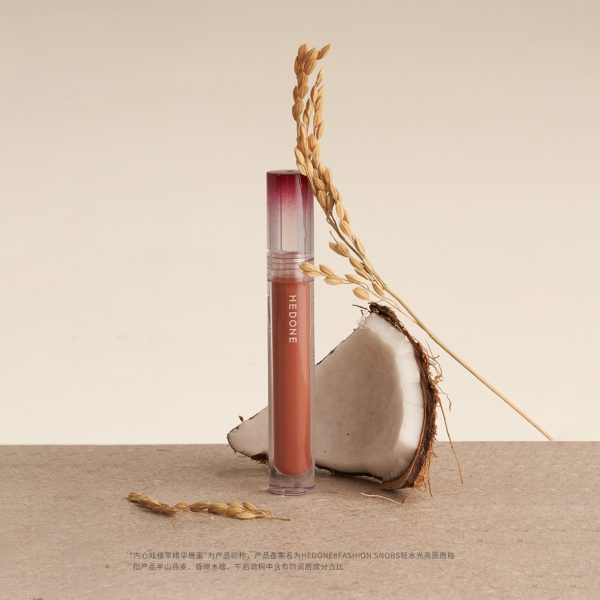 American TV series, Euphoria, has swept the beauty community up with its avante garde makeup looks packed with vibrant colours, glitter and theatrical eyeliner. And HEDONE is China's answer to this crazy makeup trend that many Gen Zs are obsessed with. This is the best cosmetics brand in China that has been born to defy beauty norms, proving that makeup is for self-expression rather than self-perfection. It comes as no surprise that HEDONE uses a mix of male and female models for their brand – simply because makeup is universal and knows no boundaries.
Our recommendations for this makeup brand in China:
Where to buy HEDONE online in Singapore? We've sourced for the best HEDONE products so you can just sit back and shop. Express your individualism with the HEDONE Jello Lip Sip (available on A WITCH SHOP) that comes in a total of 14 shades! There's a beautiful pale pink that'll enhance the natural colour of your lips, and a bright red that's a must-have. With a moisturising formula that has a glossy finish, this is one Chinese makeup brand you can trust a lipstick with zero transfer.
Aside from lipsticks, HEDONE has also received many positive reviews for the HEDONE Contour Highlight Palette (available on Love sea). This palette contains both powder and cream formulas for different contouring needs – cream for the sides of your face, powder for the nose and chin. There's also a matte white highlighter (this is quite rare to find as most highlighters have glitter or shimmers in them) to create contrast against your contours, enhancing your face dimensions to a tee!
11. Cheerflor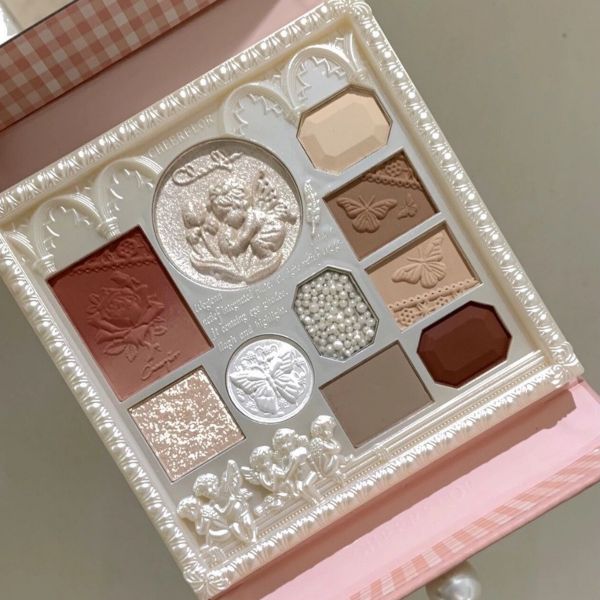 With more than two decades of experience in the makeup industry, Cheerflor is the next makeup brand from China to get your hands on! This Chinese cosmetics brand has some of the best eyeshadow palettes, lipsticks, nail polish and more. Their designs take inspiration from the Victorian era, with elaborate floral patterns that are intricate and opulent.
Our recommendations for this makeup brand in China:
The Cupid Angel Eyeshadow Palette (available on Pinannie Official Store) is an elegant cosmetic product like no other! There are cupid angels and florals lining the palette, and each shadow also has similar patterns embossed on them. This Cheerflor eyeshadow palette features warm, peachy tones that are perfect for that summery look. With a pigmented formula that's extremely buildable, you can wear this eyeshadow on your lids for all sorts of occasions. Our favourite bit is how each shade is named after a dessert. There are shades like almond cream, creme brulee and creamy apricots! Moreover, the formula is extremely long-lasting, so you won't have to worry about crease lines as you wear this eyeshadow all day!
This best Chinese makeup brand's nail polish is also to-die-for. Trust us, your at-home manicure sessions will get a whole lot better with the Cheerflor Guns N' Roses Nail Polish Series (available on 8rzpp5sm8_). You won't have to worry about damaging your fresh manicure as this nail polish fully dries in under a minute. What's even better is how this nail polish is peelable, so you can easily remove them without damaging your nails! If you're not into peeling the polish off, go for the Cheerflor Remover Wipes (available on i_1eavbvus). These remover wipes are also great if you want to change up your manicure during your vacation. They're packaged individually, so they won't take up too much space in your luggage!
12. TASU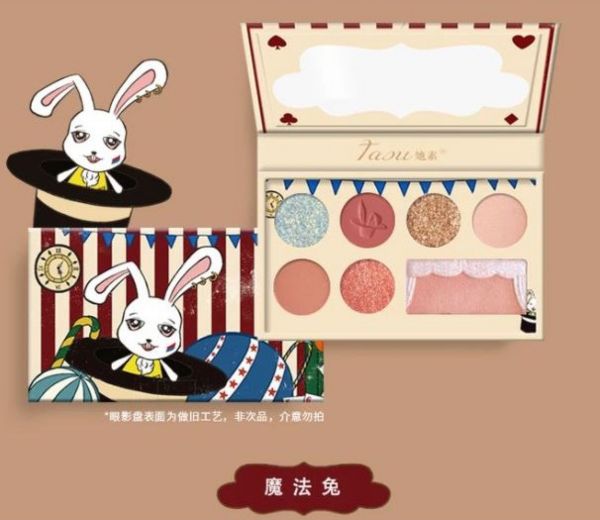 Want dupes for your favourite eyeshadow palettes from other beauty brands? Known for their wide selection of eyeshadow palettes, TASU is one of the best Chinese makeup brands where you can refresh your cosmetics at a fraction of the price! Chinese netizens have also shared glowing reviews of TASU's eyeshadow palettes. Each palette features different colour tones, so you can always switch between warm and cool makeup looks! 
Our recommendations for this makeup brand in China:
With a buttery smooth formula up their sleeves, TASU's eyeshadow palettes are a must-have in your vanity. The TASU Circus Show Series (available on cx13043423700h4.sg) features both warm and cool eyeshadow palettes. Go for the Circus Clown option if you're looking for cooler shades of mauve. If you're looking for warm tones of browns, the Happy Party palette would be your best friend! There are six different colours in each palette, but the best part is how there are contour and highlight shades. Each palette has a deeper and warmer shade that you can use for blush or contouring. The light shimmer shade is also perfect to give you that extra pop on your cheekbones! 
No makeup look is complete without some lipstick. The TASU Velvet Matte Lip Mud (available on hacdishdu0) is made with a smooth liquid formula that's extremely moisturising. Did we mention that it's also super long-lasting? This waterproof TASU lipstick comes in several different colours that will complement any look you create with their eyeshadow palettes. The formula is also buildable, so it's perfect for that subtle pop of colour or a bolder lip!
13. Carslan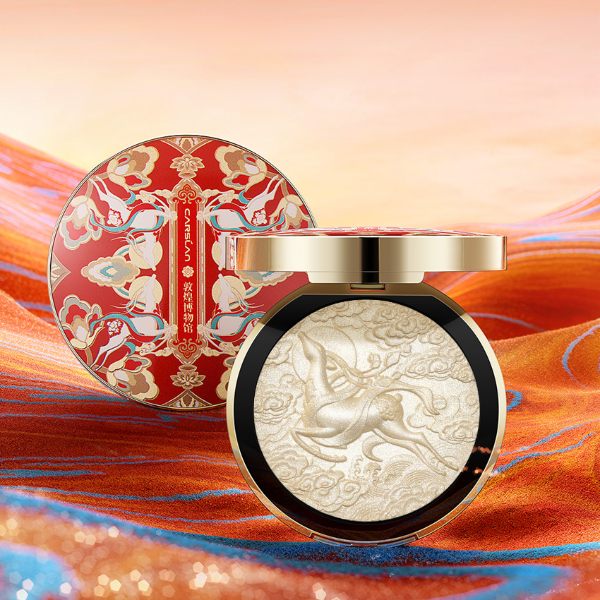 Level up your makeup game with Carslan, one of China's most luxurious domestic makeup brands. In 2021, Carslan teamed up with renowned designers, who have worked with high end brands like Dior and Hermes, to amp up their packaging design. Now, that's something we are definitely interested in splurging on! This best Chinese cosmetics brand also invests heavily in their research and development. It's said that Carslan spent years perfecting a lipstick formula in their lab. No wonder almost every Carslan product is a hit on the market!
Our recommendations for this makeup brand in China:
The Carslan Oil Control Liquid Foundation (available on Carslan Official Store) is a godsend for those with oily skin types. Infused with pure black truffle with powerful antioxidants, this featherlight matte foundation stays on flawlessly for up to 24 hours without oxidising. Psst, there's also a moisturising version for dry skin girls!
Carslan collaborated with Dunhuang Museum to bring forth the Exclusive Deer Sculpture Highlighter Powder (available on Carslan Official Store). Embossed with the image of a deer frolicking in the horizons, the highlighter design is inspired by the Buddhist wall paintings and sculptures found in cave temples which Dunhuang, China, is known for. Warm skin tone beauties can go for the shimmery champagne gold highlighter while those with cool skin tones will find the peach pink highlighter a better fit.
14. ZEESEA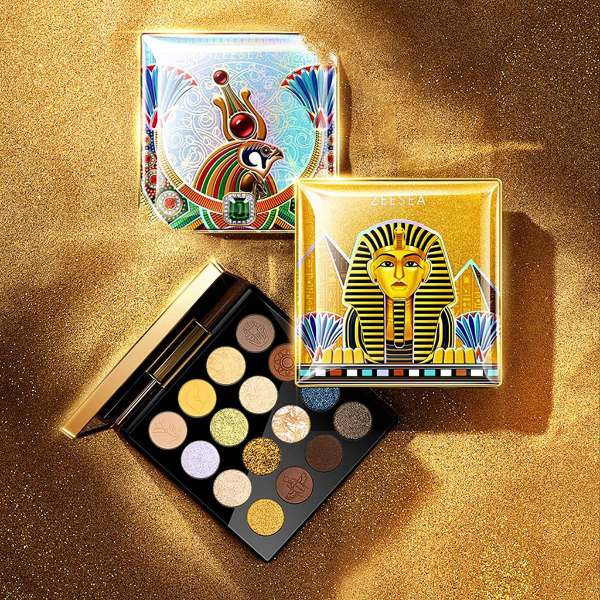 While ZEESEA may be relatively newer to the beauty scene compared to many of the best Chinese cosmetics brands here, they have quickly gained popularity across the globe. The brand has brought about a new wave of makeup trends to the market with never seen before collections. Case in point: Their Enchanting Egypt and Forbidden City collections started a makeup craze that's anchored in history and culture! ZEESEA is definitely the place for you if you're tired of cutesy makeup products and want to try something different.
Our recommendations for this makeup brand in China:
The ZEESEA × British Museum Egyptian Style Eyeshadow Palette (available on ZEESEA Cosmetics Store) comes with a spectrum of jewel tones and glitters. It takes reference from the treasures unearthed in Egypt – from gold wares to jewellery and amulets. While the palette may contain some unconventional shades like blue and green, most are actually perfect for everyday use!
Step into the whimsical world of Alice with the ZEESEA X British Museum Alice in Wonderland Face Makeup Primer (available on ZEESEA Cosmetics Store). This is one of ZEESEA's best sellers. The primer is formulated with antioxidants that also provides anti-ageing benefits. It contains 70% water for all-day hydration while helping your makeup adhere beautifully. The makeup base comes in three hues – purple for sallow skin, green to neutralise redness and nude for a more natural no-makeup makeup look.
15. Catkin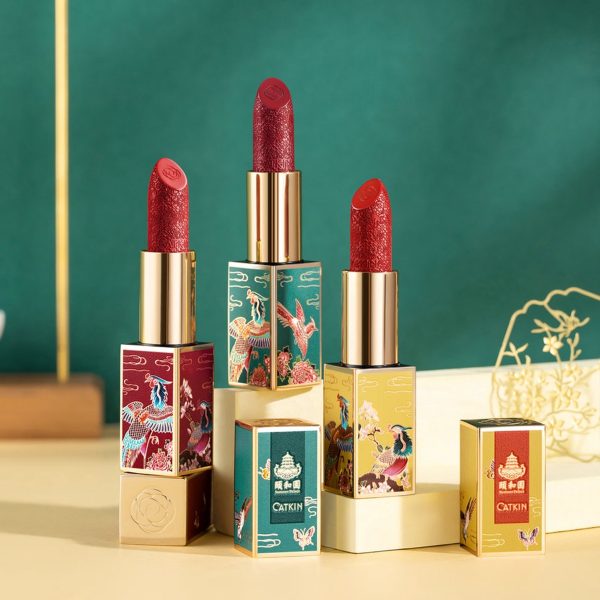 Step into a world of oriental packaging and top quality products with Catkin. As one of the leading China makeup brands in the country, Catkin is a household name among C-beauty lovers. And it's no surprise that they have over 6,000 counters alone in the domestic market! The blending of intricate Chinese motifs with European designs is what draws so many to Catkin. It has led to the creation of regal-looking makeup, like the Catkin Summer Palace collaboration, that sold out in less than 24 hours after launching! 
Our recommendations for this makeup brand in China:
Undoubtedly, the first thing you'll have to try from this Chinese makeup brand is the Catkin Summer Palace Lipstick (available on Laycy Official Store). This was what led the Summer Palace collection to be sold out so quickly. And it's thanks to the beautiful Chinese engravings on the lipstick! The lightweight and buildable formula to this lipstick is also a bonus. While just one layer will do for those who prefer a light tint, you can also go over your lips again for a bolder look. And the best part is how it'll feel like nothing on your lips! The formula even nourishes your lips due to the presence of hydrating ingredients like jojoba seed oil and castor oil.
It's always important to exfoliate your lips before applying lipstick. Dead skin left on your lips can reduce colour payoff, so it's important to use the Catkin Lip Scrub (available on CatkinOfficialStore.sg)! The Vitamin E and grapefruit oil in this Catkin lip scrub moisturises and brightens your lips to give you a beautiful pout everyday. It'll make lipstick application a lot smoother too!
Achieve a new glow with these best Chinese beauty brands
These underrated best cosmetics brands in China are your answers to affordable beauty products with Holy Grail standards. Continue to ride the C-wave with the most popular Chinese dramas and best Chinese variety shows featuring your favourite mainland actors and actresses. You can also have a taste of China's vibrant food culture when you munch on these yummy Chinese snacks!
This article was updated on 22 November 2022. Additional research done by Caryn Tan.