While we can always buy our food processed from supermarkets, there's just something innately satisfying about catching our own food. As such, it's no wonder why prawning is an enjoyable hobby many Singaporeans have. While prawning might sound like something only retirees do, you'd be surprised that many young adults (and even children!) enjoy this shrimple activity too. Here's our rundown of the best prawning places in Singapore with the cheapest rates to visit this holiday! 
What is the best time to prawn?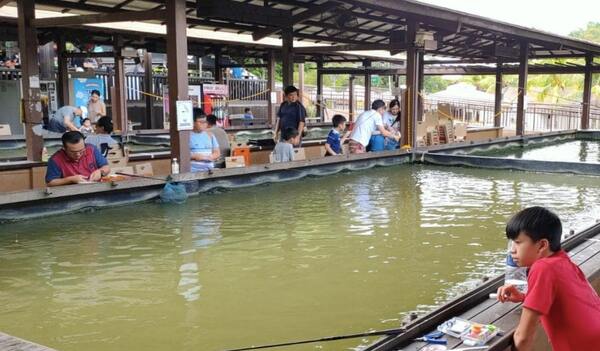 While there is no hard and fast rule on which time of the day you should go prawning, it is best recommended to do it at night. Not only is it more cooling at night, the vibes are also more relaxing and chill. What's more, it'll be less crowded at night too, so you won't have to wait long for a spot. It helps that most of the best prawning places in Singapore are open 24/7 so you can hop over anytime! 
How much does prawning cost?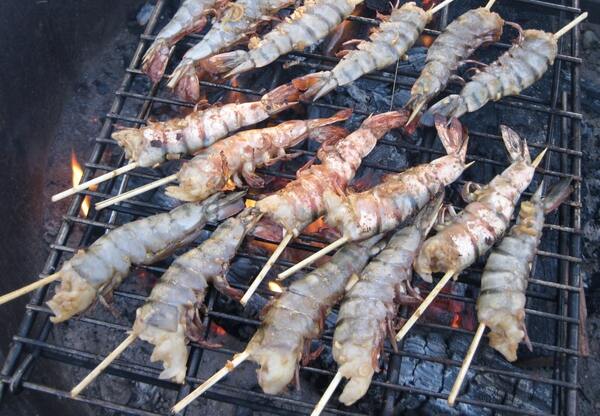 Thankfully, prawning is a rather affordable activity with many prawning farms offering cheap rates from $10/hour. On average, renting one rod for a one-hour session would cost $20 while a two-hour session would cost $30. Some of the best prawning places in Singapore also offer sessions for up to 10 hours, which cost $100 per rod. 
What are the most important prawning tips?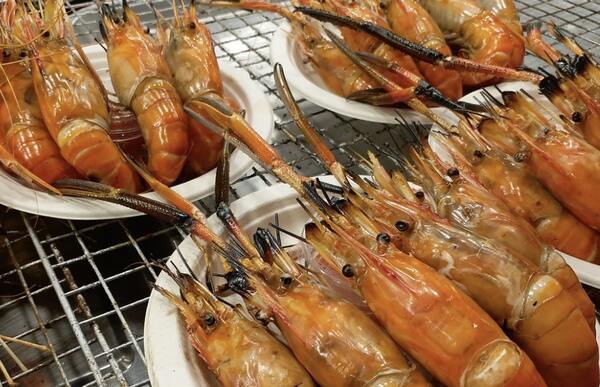 If you're never gone prawning before, the activity might seem a little tough. After all, how do I know when a prawn is really tugging on my hook? Here are three prawning tips you should take note of:
Find a good prawning spot
Given that there are many large ponds in the prawning farms, it can be hard to find the best spot. If you suspect that your current spot is barren, drag or recast your line to another spot and check for bites again. 
Good things (in this case, prawns) come to those who wait. Rushing to another spot quickly might cause the bait to drop off and jeopardize your earlier efforts. However, don't get too laid back either because you'll never know when a prawn will come biting! 
Know the correct technique 
To ensure you make the most of your buck, you need to know the right prawning technique so as to not let those prawns slip back into the water. For instance, you have to ensure that the bait touches the bottom of the pond because prawns hover there instead of mid-water. Check out the video below to improve your technique:
Best prawning places in Singapore (2022) 
1. Prawning at ORTO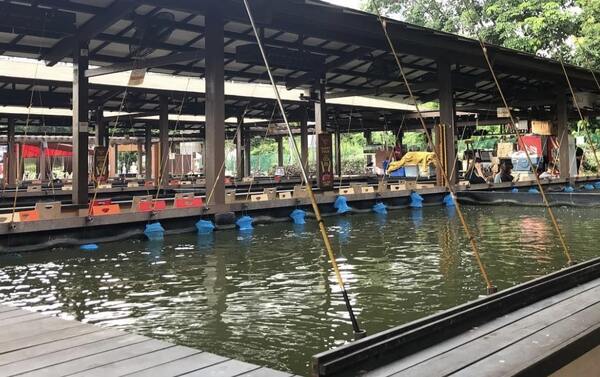 There's no other place as synonymous with prawning than ORTO, a recreational leisure park nestled in the Yishun heartlands. Unfortunately, the place is set to be cleared to make way for planned housing developments in early 2023. But till then, it is still one of the best prawning places in Singapore with over 10 ponds full of prawns and yabbies waiting to be caught. After your catch, you can wash and skewer your prawns on their electric grills – all free of charge to use! Once done, head over to the next door BKK Bistro and Bar where you can slurp on Thai boat noodles for just 80 cents per bowl!
Address: ORTO, 81 Lorong Chencharu, #01-09, S(769198)
Opening Hours: Daily, 24/7
Price: From $20/hour
2. Ah Hua Fishing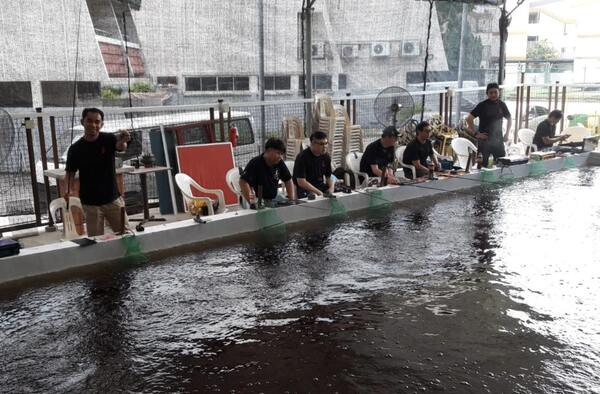 Located in the secluded area of Pasir Ris lies Ah Hua Fishing, one of the best prawning places in Singapore with quiet surroundings and fresh air. Away from the hustle and bustle of the city, Ah Hua Fishing (which was previously at Kranji) has the perfect atmosphere for a chill afternoon while you wait for your feeler friends to come biting. It is also a common spot to bring your little ones to unwind during the holidays. Other than offering some of the cheapest prawning rates in Singapore, your kids can also go koi fish feeding ($1 per bottle) and pole fishing (from $25/hour) too. 
Address: 125a Pasir Ris Road, S(519121)
Opening Hours: Daily, 24/7
Price: From $20/hour
3. D'Best Fishing
Take a trip down Pasir Ris Town Park for D'Best Fishing experience with your kids! From just $5.35/hour, you'll get to enjoy some of the cheapest prawning rates in Singapore here. Their main seawater fishing pond is styled after a kelong, which instantly transports you back into the 70s. It helps that the prawns are released in intervals so you have a quality fishing experience. D'Best Fishing also has an indoor pond for beginners where you can learn to bait a hook and properly cast a fishing rod. We can totally understand why this is one of the best prawning places in Singapore!
Address: Pasir Ris Town Park, 90 Pasir Ris Central, S(519635)
Opening Hours: Daily, 24/7
Price: From $5.35/hour (Main Pond), $20/hour (Indoor Pond)
4. Riviera Prawn Fishing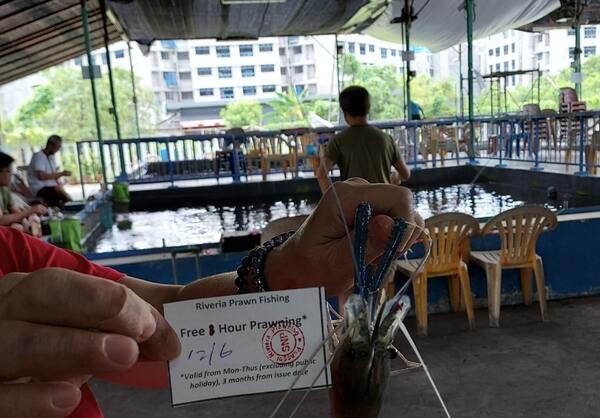 Riviera Prawn Fishing is another of the best prawning places in Singapore to bring your kids who are hungry for prawning adventures. With yellow plastic chairs and makeshift tentages, the atmosphere here mimics that of a fishing village. That surely does bring a certain nostalgic vibe to the place! But what we love most about Riviera Prawn Fishing is how they've got a reward system as an incentive to keep prawning. If you're lucky to catch a tagged prawn, you'll walk away with $10 cash! And if you catch enough prawns for a feast, you can have a delicious BBQ session at their dining area afterwards too. 
Address: 60 Punggol East, Golf Club, #01-11, S(828825)
Opening Hours: Daily, 24/7
Price: From $18/hour
5. FishBugis+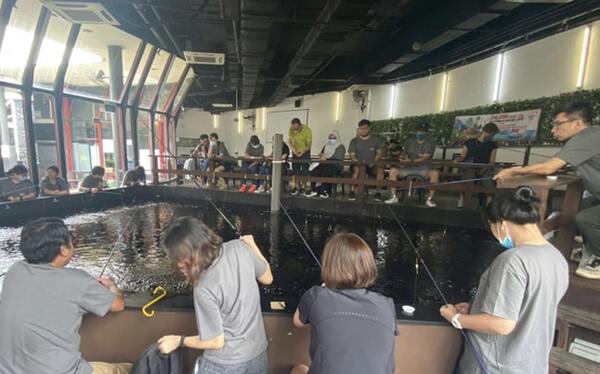 If you're not in the mood to hit up the best clubs in Singapore past midnight but still want something fun and spontaneous, then we recommend going to FishBugis+ to do some prawning! With some of the cheapest prawning rates in Singapore from $10/hour, you can literally spend the whole night on this rooftop prawning farm. Moreover, as one of the best indoor prawning places in Singapore, there are BBQ grillers for on-the-spot cooking so you get to enjoy the prawns fresh. Did we mention that the venue also doubles up as a sports bar? Yes, there are regular live screenings of soccer matches at their beer garden complete with refreshing cider and beer towers!
Address: Bugis+, 201 Victoria Street, #07-05/06, S(188067)
Opening Hours: Daily, 9am – 6am
Price: From $10/hour
6. Hai Bin Prawning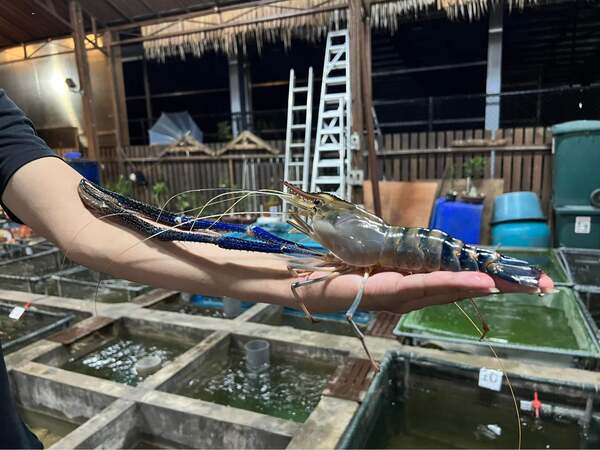 Prawning brings joy to people from all walks of life. That is the vision that Hai Bin Prawning holds on to. And it definitely does live up to that by offering packages of up to 10-hour sessions so that anyone and everyone can enjoy prawning. As one of the best prawning places in Singapore, they also offer affordable corporate rates. Hence, prawning here would be a great idea for some team bonding with your colleagues too. Beyond the prawning rates, we love how its Banyan Bar and Kitchen have yummy finger food like chicken wings, fries and calamari rings you can sink your teeth into. It's definitely the best way to end a long day (or night) of prawning!
Address: 6 Tebing Lane, #01-04, S(828835)
Opening Hours: Daily, 24/7
Price: From $22/hour
7. ATC Fishing Village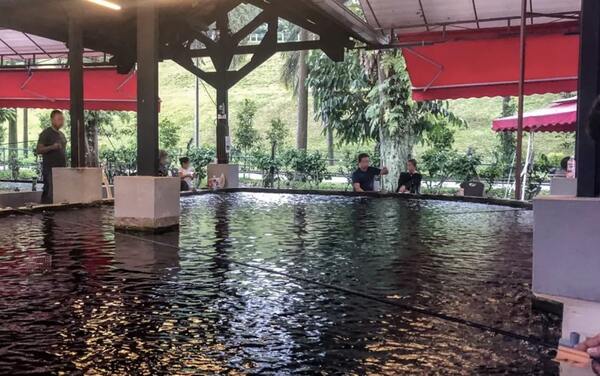 Other than the Jurong Bird Park and the Singapore Science Centre, Jurong is also home to ATC Fishing Village, one of the best prawning places in Singapore with cheap rates. Apart from prawns, you'll be pleased to know that there is a wide variety of crabs that are up for catching too. If you manage to get one with a tag, you'll have a chance to win some cash prizes, loyalty cards or one free hour of prawning! Even better, there are special weekend deals like exclusive mud crabs in their yabby pond. Thereafter, head over to their BBQ facilities where you can cook your catch immediately! 
Address: 241 Jalan Ahmad Ibrahim, S(629143)
Opening Hours: Daily, 24/7
Price: From $20/hour
Spend the school holidays at the best prawning places in Singapore (2022)
Armed with this list of best prawning places in Singapore, we hope you now have one more activity to add to your to-do list in the upcoming holidays! Need more fun suggestions? This list of holiday activities to do with kids in Singapore will definitely help you out! If you prefer an indoor activity, we suggest visiting the best art jamming studios with your little ones or letting them try to solve some of the best Rubik's cubes.