While there's no need for an introduction to Korean beauty brands, are you as well informed when it comes to the Korean fashion department? To give you a crash course, we've compiled a list of the latest Korean bag brands well-loved in South Korea and beyond. Whether you're into casual, elegant, or androgynous styles, we've got you covered with the trendiest designs this season!
Korean bag brands with trendy and chic designs
1. MARHEN.J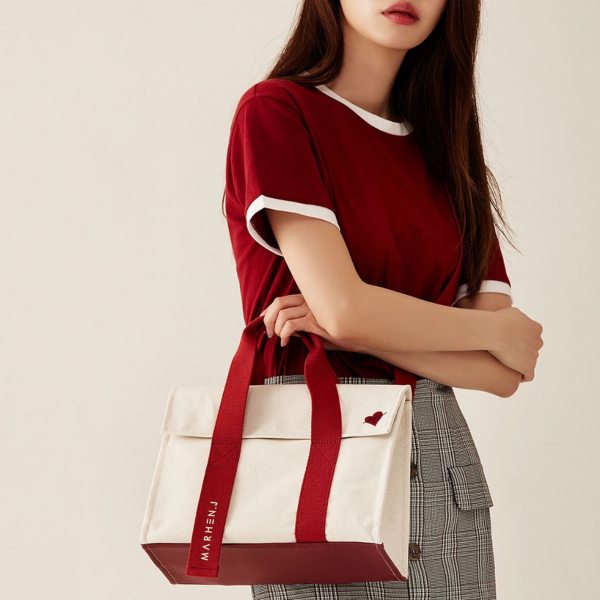 Founded by the Creative Director of world famous K-Pop groups TVXQ and Twice, MARHEN.J is one of the hottest Korean bag brands in Singapore right now. Hitting the sweet spot between minimalistic and chic, it's no wonder many K-Pop artists, such as SNSD's SooYoung, have been sporting MARHEN.J bags as a staple fashion accessory. 
If you're looking for a bag with a minimalistic yet versatile design, you won't go wrong with the iconic MARHEN.J Roy Mini Bag (available on MARHEN.J OFFICIAL). It can be paired with both casual and formal outfits — perfect for 21st century fashionista. This MARHEN.J bag's ergonomic design boasts practical storage compartments for your 15-inch laptop, A4 documents, water bottle, umbrella and more. On top of that, this canvas bag is waterproof and stain-resistant too. 
Don't forget to check out other popular designs such as the MARHEN.J Lexy — a mini crossbody bag for your phone and knick knacks — and the latest MARHEN.J Charron (both available on MARHEN.J OFFICIAL)!
2. Find Kapoor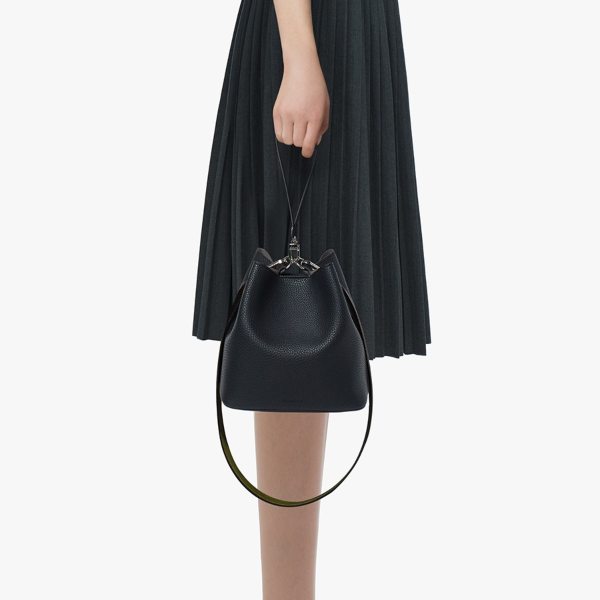 We've got to admit, Find Kapoor is one of the Korean bag brands with the best designs. In fact, their products look more like a work of art than an accessory. Find Kapoor prides itself in marrying both classic and trendy elements to create original designs that appeal to everyone. Experimenting with colours and patterns, Find Kapoor's bags are unconventional masterpieces for the modern woman. 
If we absolutely had to choose a favourite, it'll be the Find Kapoor Pingo 20 (available on FIND KAPOOR Official). Sporting a charming, textured, black finish, what makes this Korean designer handbag special is its straps. The bag comes with a classy chain sling and a black wristlet strap. A simple switch of the straps changes the entire style of the bag, making this a versatile piece to invest in! If you prefer something smaller, go for the Find Kapoor Marc (available on FIND KAPOOR Official) which will be just nice to hold your phone and wallet.
3. JOSEPH&STACEY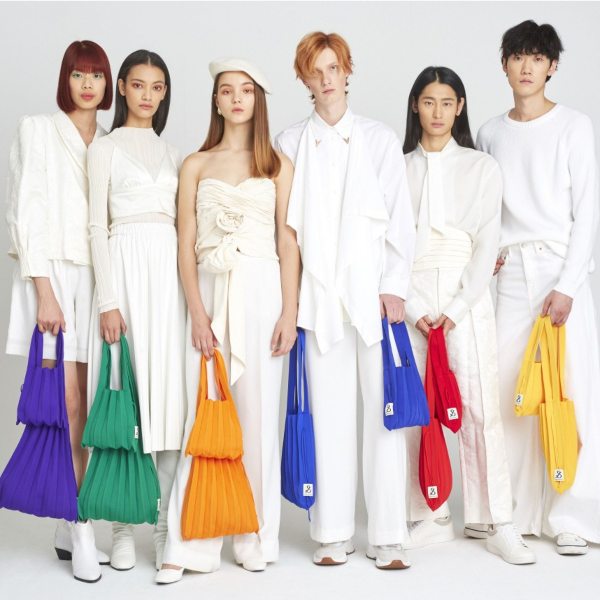 Although tote bags will never go out of style, JOSEPH&STACEY has taken it upon them to recreate this basic bag into something completely extraordinary. Incorporating pleats and vibrant colours, this is one Korean handbag brand that takes the cake. The JOSEPH&STACEY Lucky Pleats Knit (available on marketkueen.sg) is especially perfect for those who've collected tons of tote bags through the years. The bright colours on these JOSEPH&STACEY bags will make them easy to spot! What we especially love is how this tote bag is foldable, making it easy to store away when you no longer need them. But who are we kidding when they'll definitely become your daily go-tos! 
4. Joy Gryson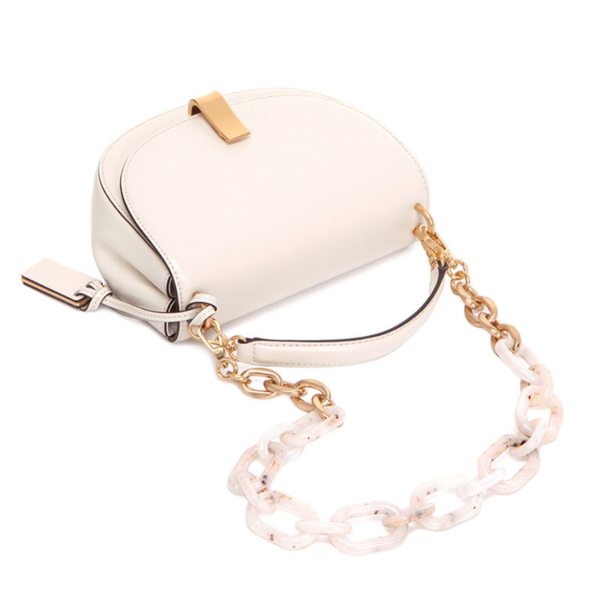 Luxe, sexy, and unique. These are the three words that we'd use to describe Joy Gryson – one of the best Korean designer bag brands featuring a myriad of bags for every style and occasion. Those who watched Korean dramas like It's Okay Not To Be Okay might have also spotted Seo Ye-Ji carrying the Margot Crossbody Bag (available on her Scent), exuding absolute class and style.
The Joy Gryson Claire Bag (available on her Scent) which features a unique half-moon shape was also seen in True Beauty and Vincenzo. Loved seeing how they rocked them? You can too. Get your hands on your favourite Joy Gryson bags and channel main character vibes with them!
5. OSTKAKA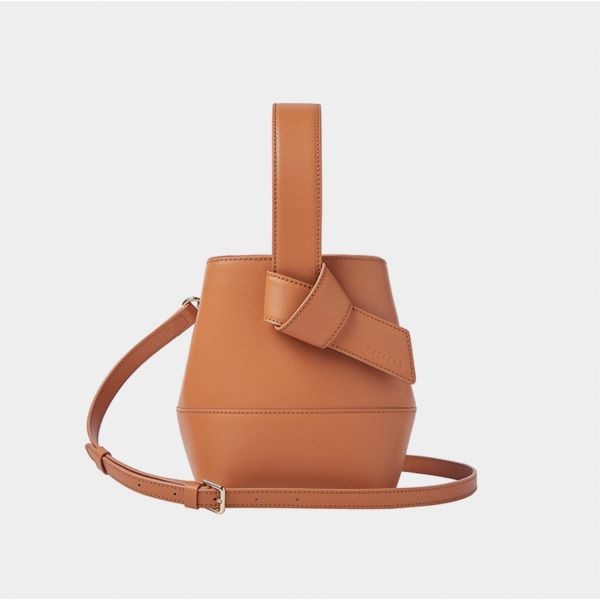 OSTKAKA is a Korean bag brand that takes bucket bags to the next level with their creative Swedish-inspired designs. One of their most popular OSTKAKA bags is the Lycka Mini Bag (available on objetoss.sg) – a minimalist and classy bucket bag featuring a simple knot detail. For something extra feminine, go for the Lycka Quilting Tote (available on objetoss.sg), a Korean designer handbag that was featured on actress Oh Yeon So in her Dazed photoshoot! This dainty bag will certainly be the perfect fit for any date night outfit.
6. Pleats Mama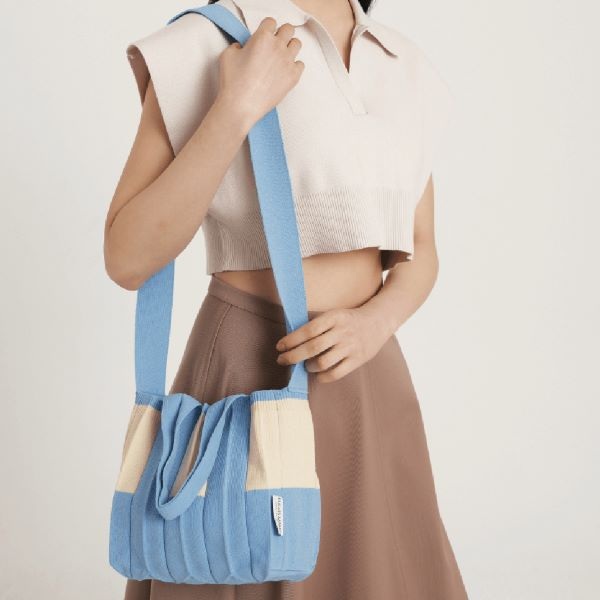 Eco-conscious fashionistas, we've found one of the best Korean bag brands for you! Pleats Mama believes in sustainable fashion. It demonstrates this through the use of recycled materials to create all of its products. The Pleats Mama Mini Two Way Shoulder Bag (available on moodwhite) is completely made out of yarn extracted from PET bottles. Its unique material makes the bag lightweight but durable. 
With many vibrant colours to choose from (including lime green and periwinkle blue), we've got to give it up to Pleats Mama for striking the perfect balance between style and sustainability! Another key point about this unconventional bag is its ergonomic pleated design. This allows the bag to be folded up like a fan and stored away conveniently when not in use!
7. Stretch Angels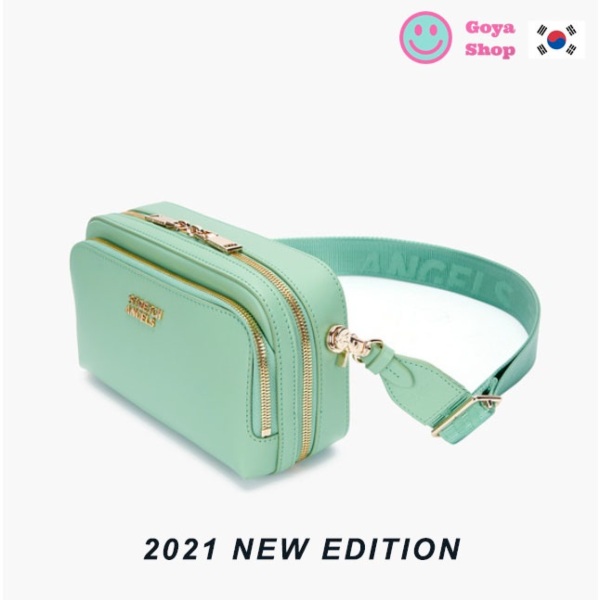 Both a clutch and a cross-body bag rolled into one, the Stretch Angels Panini Bag (available on GOYA SHOP) is a convertible bag inspired by panini — yes, the Italian sandwich. It has the same boxy design as panini sandwiches. In addition, it sports a thick strap that resembles the likes of a perfect cheese pull! Simply remove the strap to convert this Stretch Angels bag into a clutch to match a more feminine outfit. In addition, the bag is paired with a complementary card wallet which will come in handy when you're travelling! 
Not too keen in bright, paddle pop colours? Stretch Angels is the Korean bag brand to turn to when you're looking for badass accessories. Check out the Stretch Angels Black Gold Panini (available on GOYA SHOP) which will go great with a swaggy streetwear outfit!
8. OSOI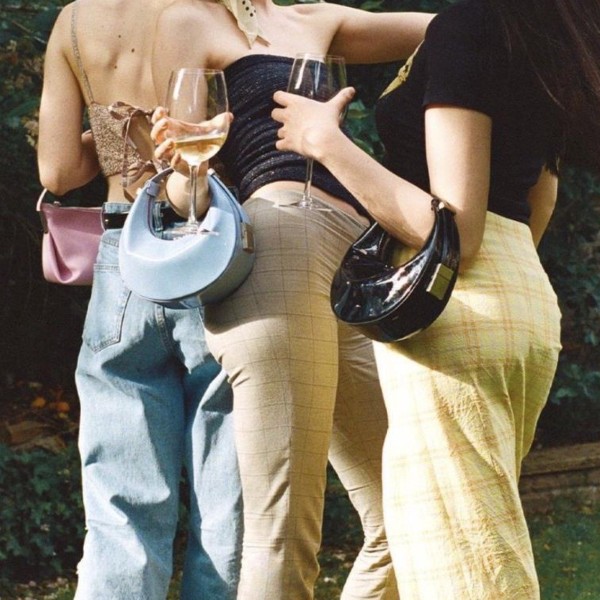 Cutting-edge, minimalist and modern are the terms that define OSOI as one of the most popular Korean handbag brands. And that's thanks to how their bags all have uniquely defined shapes. So if you're into something different and going for a more bold look, then this is the Korean handbag brand to trust. 
Specifically, the OSOI Toni Mini (available on ktopgoods.sg) is an adorable accessory that also gives the wearer an edgy vibe. The rounded edges and metallic details are classy, making this OSOI bag a versatile piece of accessory.
9. RAWROW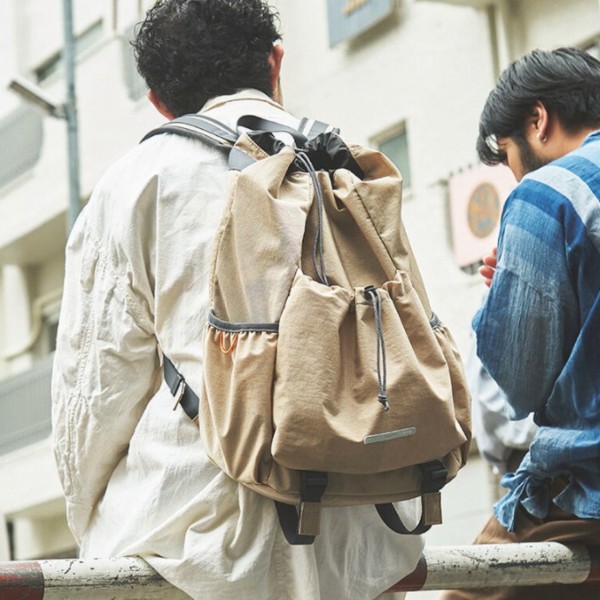 RAWROW is a unisex fashion brand catering to modern individuals who prioritise practicality over aesthetics. Having said that, customers from all over the world – Germany, Japan and Singapore included – adore the unpretentious and thoughtful designs of this Korean backpack brand. 
If you're on the lookout for a backpack replacement, the RAWROW String Backpack (available on Good Maker Best Price SG) is a great option. Boasting a large capacity that can store your laptop, books and other gadgets, this RAWROW bag is a trusted companion for all phases of your life. Made with washed nylon, the RAWROW backpack is built to last as it can stand against the wet weather. That's why RAWROW is one of the best Korean backpack brands worth considering!
10. Alice Martha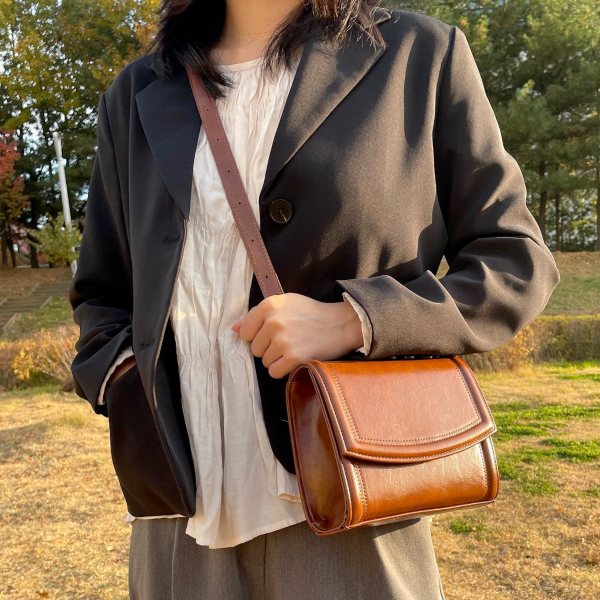 If you haven't noticed, Korea's latest fashion trend is all about going back to the basics. This means clean lines and attractive solid colours. Still rocking bold and loud prints? Maybe it's time to switch things up by getting your very own Alice Martha bag! As seen on K-Pop idols such as Sista's Bora, Alice Martha is a well-known Korean bag brand for ladies. 
The Alice Martha Crossbody Bag (available on SooStore) is one of the brand's best sellers and it's easy to see why. Designed with an overlaying flap across the opening, the Rosie shoulder bag is simple yet functional. Lifting the flap reveals a roomy main compartment that will fit daily essentials such as makeup and a mini water bottle. You can also wear the bag in two ways — as a shoulder bag or a sling bag to complement your outfit. With a reasonable price tag, we think the Korean designer handbags from Alice Martha are an absolute steal for girls on a budget!
11. Entre Rêves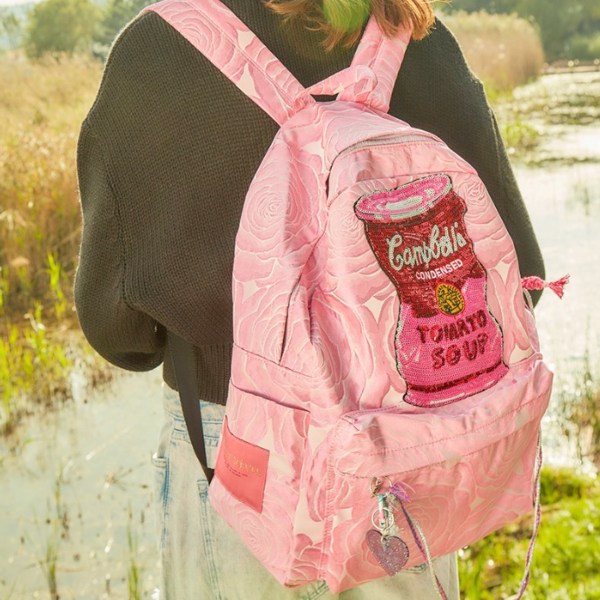 The cool peeps at Entre Rêves aren't afraid to go loud with their wild and unconventional designs. From neon hues, sequins and holographic patterns, the backpacks from this Korean bag brand are nothing short of fabulous. Moreover, all Entre Rêves bags are custom-designed and handmade to perfection for the girl who's looking to stand out! 
Dare to make an impression with the flashy Entre Rêves Campbell Backpack (available on coolpick-coolpeak.kr)! It's made of duo chromatic fabric that changes in colour under different lighting. The highlight of the bag lies in the details, such as the intricate floral pattern and bedazzling sequins. Other must-own designs include the Entre Rêves WorkersHolic Backpack and the Entre Rêves Some Kind Of Wonderful Backpack (both available on coolpick-coolpeak.kr) with mesmerising blush sequins.
12. Bubilian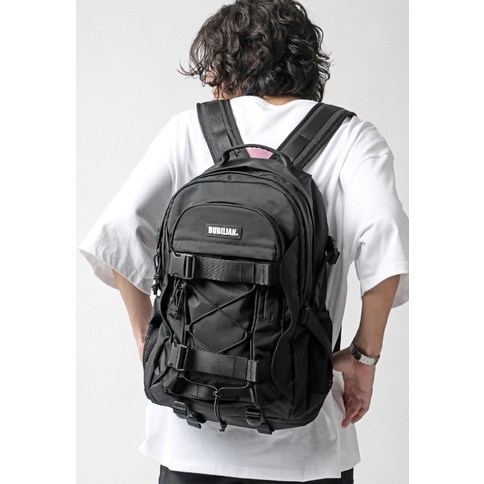 It's nearly impossible to browse through Bubilian bags without buying one. As one of the hottest street designer Korean backpack brands, Bubilian bags boast a unisex design that caters to a wide spectrum of styles. Whether it's a spacious and sturdy rucksack to hold all your travel accessories or a cute and cheerful backpack for school days, Bubilian has got you covered!
If you're looking for a bag jam-packed with utility, you've come to the right place. The Bubilian Luxury Backpack (available on greenpage.sg) is the ultimate option for those who are looking for something solid. This Bubilian bag has several compartments for all your barang barang. It even has a designated slot for your laptop, making sure it's well-protected from accidental damage. On top of being water-resistant, this Bubilian bag is designed with a folding base to prevent it from collapsing. This means that all the contents will be kept upright and your laptop won't fall over!
13. Nieeh
Loved by many celebrities, Nieeh is a popular Korean bag brand that specialises in fashionable streetwear. From bold and vibrant shades to muted colours, Nieeh is a Korean bag brand that caters to all tastes. They also have designs that are perfect for all sorts of occasions. Whether it's a simple puffy tote or a classy shoulder bag, you'll definitely be spoiled for choice when it comes to Nieeh's bags. 
Their emphasis on the classic and timeless vibes is what makes this Korean handbag brand so well-loved. For instance, their Leather Handbag (available on NOTAG Official Store) is a simple bag that's perfect for daily wear. It's a staple that every girl should own; from casual picnic dates to atas dinners, you can bet that this is one popular Korean handbag brand that's got your back. 
14. Kitch Studio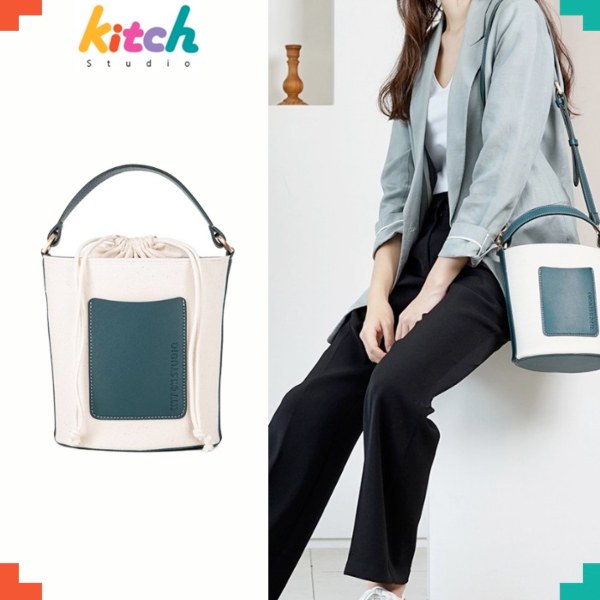 Love sporting a casual look? We think you'll find your It bag from Kitch Studio – one of the best Korean bag brands that offers swanky tote bags and bucket bags. What makes their bag special is their functional pockets that help you keep all your daily essentials neat and organised. No more digging into an endless bottom for house keys anymore! One of our favourite Kitch Studio bags is the Kitch Studio Mug Pocket Bag (available on Ggang shop). It is made of synthetic leather and canvas fabric, complete with a zipper pocket at the back and an open pocket in front. With these elements, you can easily slot in cards and items you reach for often!
15. Donkie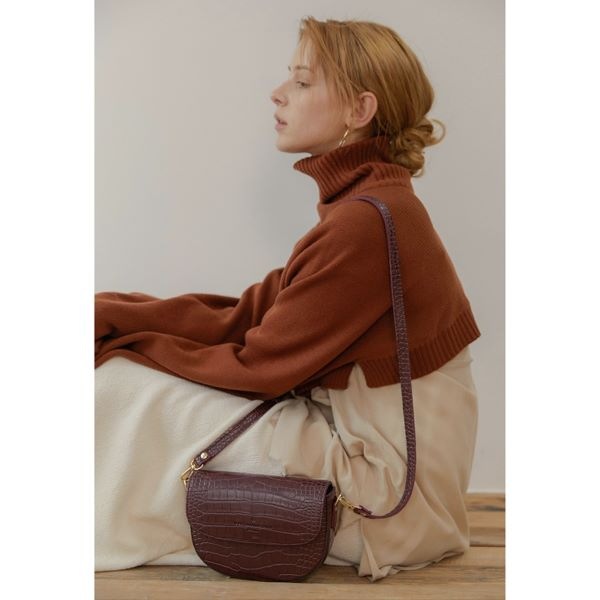 Toted around by Red Velvet's Irene, Donkie bags offer sub $100 options worth your attention. Donkie is a well-loved Korean bag brand that offers functional yet voguish bags that are made of quality material and hardware. For an elegant get-up, we recommend donning the sophisticated Donkie Half Moon Cross Bag (available on ZIP1141.sg). It is a Korean designer handbag that features a classy brown colour paired with gold details that pairs well with any outfit. For something more edgy, the structured Donkie Crossbody Bag (available on pickor.sg) would make for a perfect fit!
16. MLB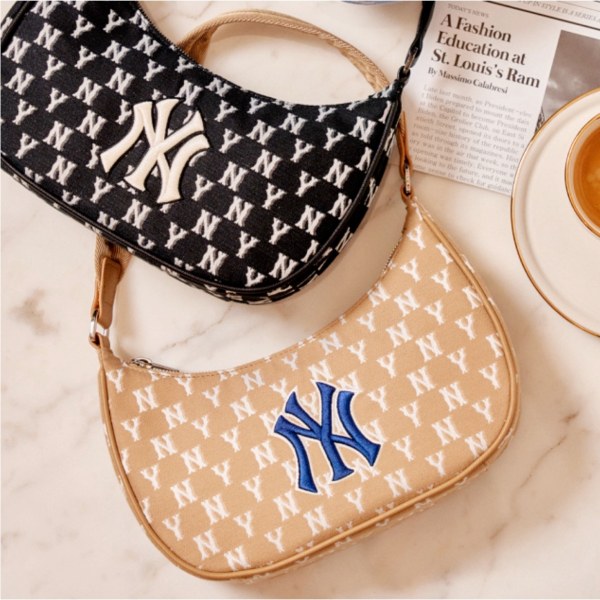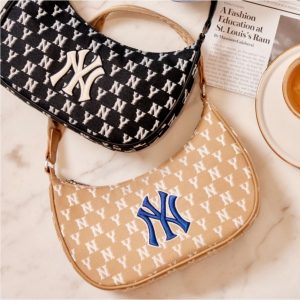 Whether you're a baseball fan or not, the culture has definitely taken off in the form of a Korean bag brand. MLB is known for being a lifestyle fashion brand. That being said, this Major League Baseball fashion brand has been around for at least 150 years. With one MLB cap being sold every 10 seconds, this is THE brand to look out for when you're thinking about streetwear. 
The MLB Monogram Jacquard Hobo Bag (available on SooStore) is the next it thing to cop. As shoulder bags will always be in trend, we love how MLB has incorporated their unique spin to this fashion accessory. The monogram prints coupled with bold colours is what draws attention to your entire look, so you can bet that those #OOTDs are going to get tons of likes! There are also MLB backpacks, crossbody bags and others that are just as amazing. For instance, their Monogram Mini Cross Bag and Mono Backpack (both available on mimifa.sg) that features Mickey Mouse are some worthy additions!
17. MCLANEE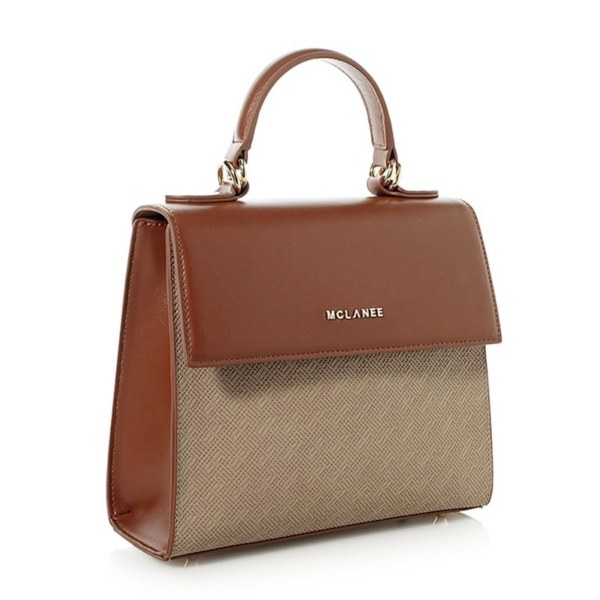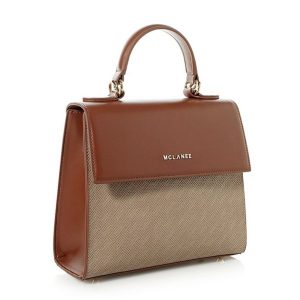 Channelling atas vibes like no other is this Korean bag brand known as MCLANEE. A look at their bags and you'll see polished metallic buckles and vibrantly-coloured bags that will definitely amp up everyday wear. And for those who live for minimalist vibes, MCLANEE is the Korean bag brand to turn to. 
Their 547 Flow Tote (available on pickor.sg) comes in three staple colours: Ivory, Brown and Black. These complementary colours elevate your look without drawing too much attention away, making it perfect for work too. Moreover, the bag has just enough space to fit an iPad; there's no better option than this! But the best part about most of the MCLANEE bags is how they double as a crossbody bag. So you can easily transform it from a work accessory into a casual dinner accompaniment. Alternatively, go for the ChuChu Bag (available on pickor.sg) that's simply adorable!
Glam up with these chic bags from the trendiest Korean brands
These flattering designer handbags and backpacks from the trendy Korean bag brands like MARHEN.J and Find Kapoor will certainly elevate your outfits for the year ahead. Ride the Korean wave and seize this chance to check out other popular products such as the best Korean lip tints or spice up your meals at home with K-Drama inspired recipes!
This article was updated on 7 March 2023. Additional research done by Caryn Tan.