Start your Hari Raya prep early and brainstorm how you want to dress up this year! Apart from wearing your most glamorous baju kurungs, you should also begin practising some simple hijab styles to match your outfits. From classic, everyday wraps to chic crossover hijab styles, these unique ways of wrapping the hijab can frame your face to highlight different features. Wondering which style is the best for you? Read on to learn about the latest simple hijab styles for 2023 that will suit your face shape!
How to put on an underscarf?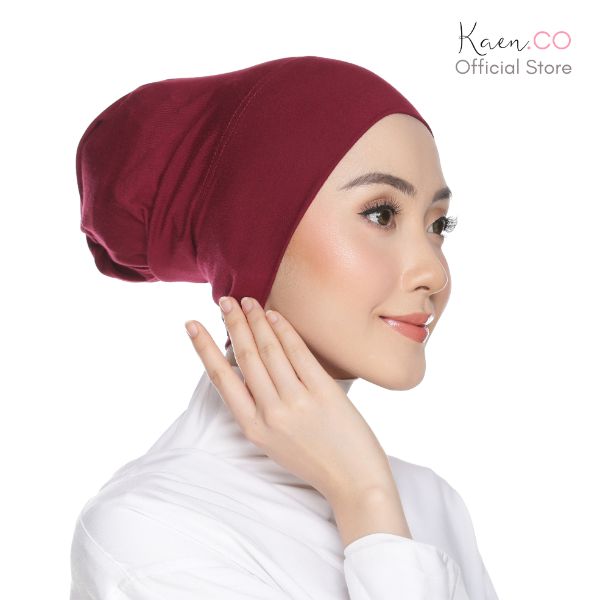 Before tying and styling your hijab, it's important to first tie your hair and cover it with an underscarf or a hijab cap. Not only does this keep your hair out from your face but also provides a stable base for the hijab to be worn over. This is also where you'd need to tie on a scrunchie if you're going for a turban style hijab which requires a bit more height.
Which hijab style is the best for your face shape?
Of all the simple hijab styles out there, the one that is most suitable would be one that frames your face well. For this, you would have to know what kind of face shape you have. Follow our simple hijab styles guide below to figure out the best look for you this 2023! 
1. Simple hijab style for oval-shaped faces: Instant hijab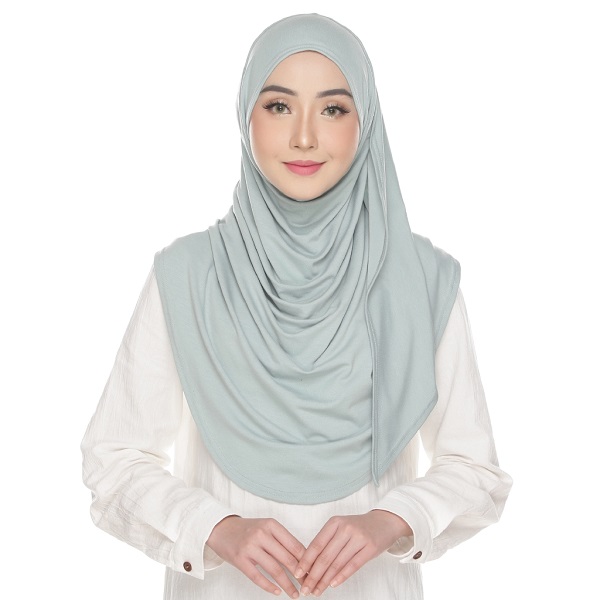 People with oval-shaped faces are usually envied for their almost-perfectly symmetrical look. The facial features are very proportionally balanced for those with this face shape. These faces are usually longer instead of being wider, and the jawline and chin are rounded. If you fall under this category, you'll be able to sport any kind of fashionable hijab style regardless of how you wrap it. All you need to remember is if you wrap your hijab tightly around your face, you should keep it loose around your neck to maintain some contrast. 
Being able to sport so many simple hijab styles is great, but if you're spoiled for choice and can't decide on one, go for an instant hijab! A popular trend as of late, instant hijabs can be slipped over your head without needing pinning or draping. This fashionable hijab style is perfect for those who have the heart but slightly clumsy fingers when it comes to pinning their hijab in place!  
How to wear this simple hijab style:
Slip an

Instant Long Hijab

(available on

kaen.co

) over your inner

hijab

cap (which comes included in the purchase)

Adjust the

hijab

and frame it around your face and around your neck. Let one end of the

hijab

hang down from your right shoulder and

voila

you're all set!
Pro tip: Choose to pin on a hijab brooch to jazz up this hijab style. We like these pretty Korean Rhinestone Brooches (available on Jewelry&Clothing Boutique.sg) for their classy, pearl design.
2. Simple hijab style for round-shaped faces: Slim face hijab style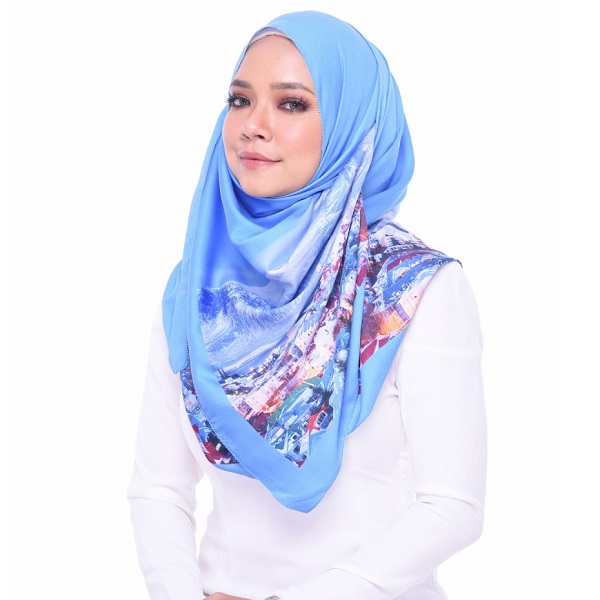 Round-faced individuals have a youthful and sweet-looking appearance. This type of face shape has a face width and face length that are almost the same. The best 2023 hijab style for round-shaped faces would be one that can help tone make you look slimmer from all angles. When wrapping your hijab, keep it loose to avoid highlighting the curves on your face. This will also create straighter edges so that your cheekbones can be accentuated, thus resulting in a more angled look. 
Want to play down the curves from your round-shaped face? The slim face hijab style gives you a V-face shape so you can eat guilt-free and still look glam for the 'gram!
How to wear this simple hijab style:
Using an

Owl By Nora Silk Shawl

(available on

Owl By Nora Danish

), position it on your underscarf with the right side longer and the left side a lot shorter 

Pin the shawl to the back of your head with

headpins

. Ensure that your ears are covered and that the shawl is sitting comfortably on the top of your head.

Taking the long side of the shawl, pin it from the midsection just above your ear. You can use a

mini

hijab

pin

(available on

Basic Maker

) for this. You can choose to pin the shawl even higher up to emphasise the V-shape.

Take the longer side of the shawl and bring it under the chin to the other (left) side of the head — you'll immediately notice how this already covers your cheeks!

Bring the rest of the shawl over to the right side from the back. The draping is now complete.

All that's left to do is to secure the layers of the shawl. Layer the loose shawl over the initially placed pin and secure the fabric with a second pin. 

You can also choose to add another pin to the left side — pinning the two previously layered fabrics together
Pro tip: Ensure that the side of your face is covered and your cheekbones are visible. This will give your face the desired V-shape effect. Also, check that the underside of the hijab sits right below your chin and not too far in so you won't be showing any double chin!
3. Simple hijab style for longer faces: Turban chiffon style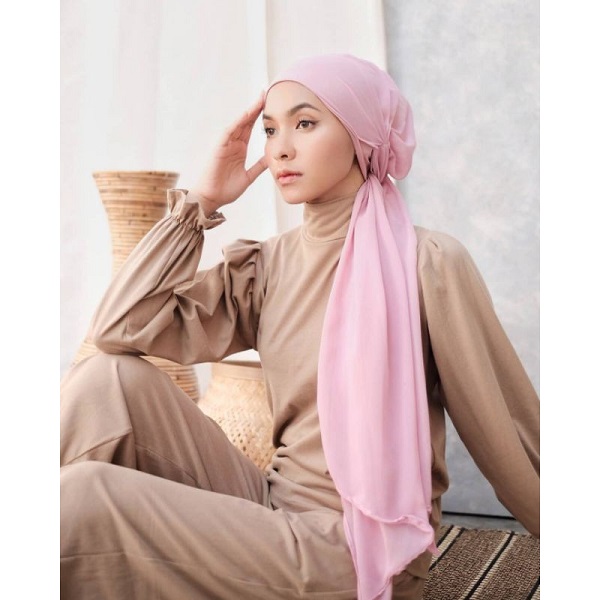 If the lower half of your face is longer than the top and your forehead is the widest part of your face, you have a long face shape. Depending on how angled your face is, you could either have a more oval-shaped face or one that's more rectangular. The most important thing here is to shorten the length while creating some angles with your cheekbones and jawline. 
The best way to wrap your hijab for this face shape is the turban style. Turban style hijabs are popular for being more chic than regular tudung styles. They are usually wound around the head to give a volumising and dramatic effect. However, the traditional turban style sits high on your head and can look a little too bold to pair with a baju kurung! Instead, try a side turban style that'll give you a softer and more feminine look!
How to wear this simple hijab style:
Using this

Plain Chiffon Hijab

(available on

zoearissaluxe.os.sg

)

, wrap the longer edge around your hairline, or closer to your eyebrows to reduce the width of your forehead

Make sure the

hijab

is on the centre of your forehead. Bring the two loose ends to the back of your neck and do one cross over from behind.

As you ensure that your ears are covered, bring one of the ends over to the other side so that both ends are now sitting on one side

With both of the loose ends together, tie them in a simple knot 

Now that one of the loose ends is longer than the other, throw the shorter one to the back and secure it with a

hijab

safety pin

Take the longer loose end and bring it to your other side so that it drapes across and covers your chest

Voila

, you have a secure and feminine

hijab

style that'll stay the whole day!
4. Simple hijab style for square-shaped faces: Over-the-shoulder drape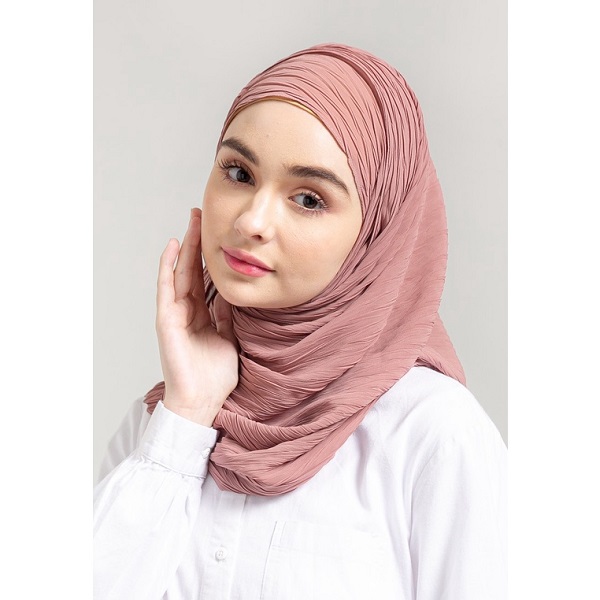 People with square-shaped faces have a forehead and cheekbones are about the same width. There isn't much variation in angled facial features apart from a stronger jawline. Going for simple hijab styles that are loose around your chin area will help play down those angles in your jawline. You should also place the hijab higher on your forehead and wrap it tightly along your cheekbones so that it'll give the illusion of a longer face. 
To complement your square-shaped face, you should go for an over-the-shoulder drape style. This easy hijab style is simple and doesn't require any complicated steps. The over-the-shoulder drape style requires one side of the hijab to be wrapped tightly along your cheekbones, so this will help bring out some angles in the middle portion of your face. With this style, the drape across the front of your chest keeps the headscarf loose around your chin, thus helping to tone down your strong jawline. 
How to wear this simple hijab style:
Place this

Saujana Series Tudung Fazura

(available on

aurazayna

) over your head,  one side shorter than the other. Make sure that the shorter length is long enough to wrap around and cover your neck. 

Fold the shorter side and align it with your cheekbones 

Bring the shorter length of the scarf to the other side while keeping it aligned to your chin, and pin one of the scarf's edges to your underscarf

Take the other edge of the shorter length and bring this to the back of your neck, so you'll have a short drape below your chin. You can pin this so that your

hijab

will stay secure through the day.

For that elegant drape, take the longer side of the scarf and throw it over your shoulder 

Use a

mirror

to make adjustments to your finished look and you'll have a fashionable

hijab

style for your Hari Raya 2023! 
5. Simple hijab style for heart-shaped faces: Low bun turban style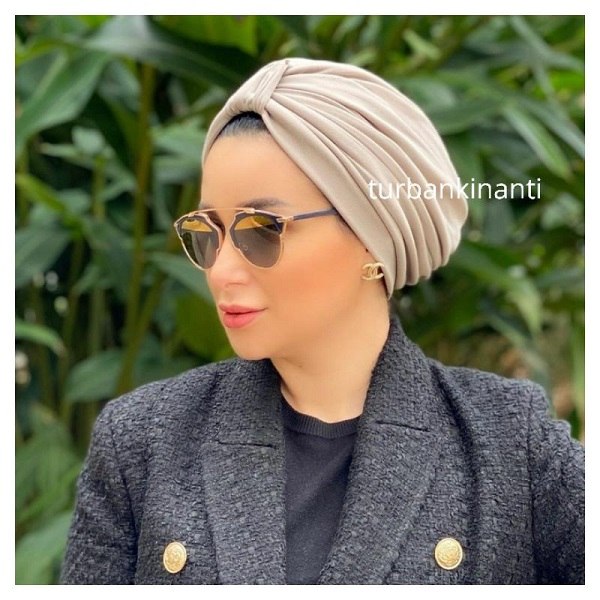 Those with heart-shaped faces have a wider forehead and a pointed chin. In fact, the forehead will be the widest part of the face. In order to balance this out, you should wrap more layers of the hijab around your face, like the over-the-shoulder drape style shown above. You can also go for a more tight-fitting wrap style for your hijab, like the turban style! Accessorise with a statement necklace or large earrings to complement the tightly-wrapped turban style hijab so that it'll help balance out the width of your forehead. 
This classy low bun turban hijab style is the best for your heart-shaped face. Pair this fashionable hijab style with the Lubna Drama Sleeve Peplum Top With Skirt (available on Zalora Singapore Official Store) for an haute couture look this Hari Raya 2023. You'll surely be turning heads in this outfit!
How to wear this simple hijab style:
Ensure that your hair is braided and tied into a bun. Put on a

cotton hijab cap

(available on

manyue.sg

) and ensure that your hair is flat and sits at the nape of your neck.

Tie a

hijab

scrunchie

(available on

ftslofficialstore.sg

) onto your bun. This will add volume to the

hijab

style!

Fold this

Square Tudung Fazura Shawl

(available on

aurazayna

) lengthwise — about ¼ of the scarf

Rest it on your head with the two sides of the same length

Bring the sides behind your neck and criss-cross them. Pull them as tightly as you prefer and bring them over your shoulders.

Take the end resting on your right shoulder and cross it over your bun. Ensure that you keep it positioned low and not too high up on your head. While holding onto that end, do the same for the left side.

Once you've gathered both ends together, you can make a knot at the base of your low bun

Pin up the remaining short ends of your

hijab

and tuck it in and you're all set!
6. Simple hijab style for diamond-shaped faces: Loosely wrapped hijab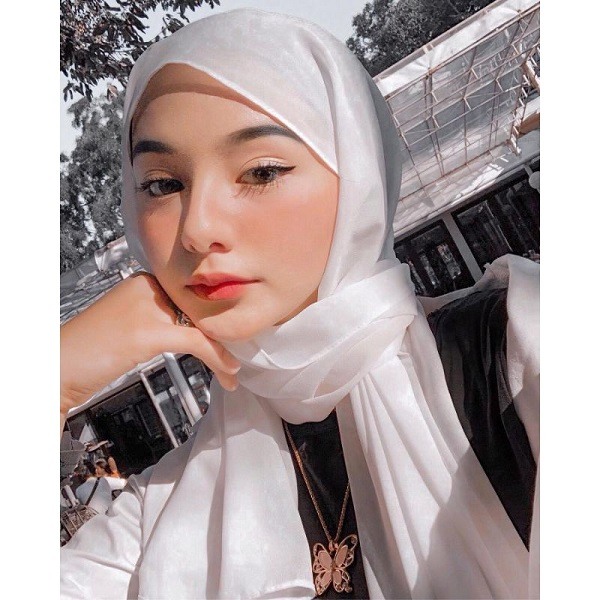 Similar to heart-shaped faces, people with diamond-shaped faces usually have a very prominent jawline and sharp chin. Other than that, diamond-shaped faces have narrower foreheads and higher cheekbones. To balance these angles out, you should go for simple hijab styles that feature looser layers. 
A loosely wrapped hijab style is perfect for your diamond-shaped face. This fashionable style features layers that will look the best when you're using a chiffon hijab. The loose layers of this fashionable hijab style not only help reduce the strong angles to your facial features, they also add a wispy vibe to your Hari Raya 2023 outfit! 
How to wear this simple hijab style:
Place a

Chiffon Scarf

(available on

SurayaSofea.AN

) over your head, with one side shorter than the other. Make sure the shorter side is long enough such that it reaches your chest. 

On the shorter end of your scarf, take the edge that's sitting on the middle of your chest and bring it up to the other side and pin this onto your head 

Grab the longer end of your scarf and move it towards your back

Unravel this longer length of the scarf and drape it onto your head so it creates a veil at your back

Secure the scarf at both sides of your head with a

Magnetic Hijab Brooch

(available on

Forward Forever

) or pin and you're done! 
Try these fashionable and simple hijab styles this Hari Raya 2023
We hope you're inspired to try some new and simple hijab styles this Hari Raya 2023. Don't forget to also use a tudung mask extension strap so you can wear your face mask more conveniently while out visiting. Dressing up with the best modern baju kurung is just one part of the fun. Stock up on the best halal snacks like yummy macaron towers to ondeh ondeh cheesecakes, or go for some of the best kueh lapis in Singapore! While here, check out our Hari Raya Sale for irresistible deals on Ramadan essentials and enjoy huge savings!
This article was updated on 6 February 2023. Additional research done by Caryn Tan.