Start your Hari Raya prep early and brainstorm how you want to dress up this year! Apart from wearing your most glamorous baju kurungs, you should also start practicing hijab styles if you wear a tudung. From classic, everyday wraps to chic crossover hijab styles, rock a different yet stylish tudung when while doing your Hari Raya visiting this year. Are you a beginner at styling hijabs? Check out #4 for a two-step tutorial on how to wear instant hijabs!
How to put on an underscarf?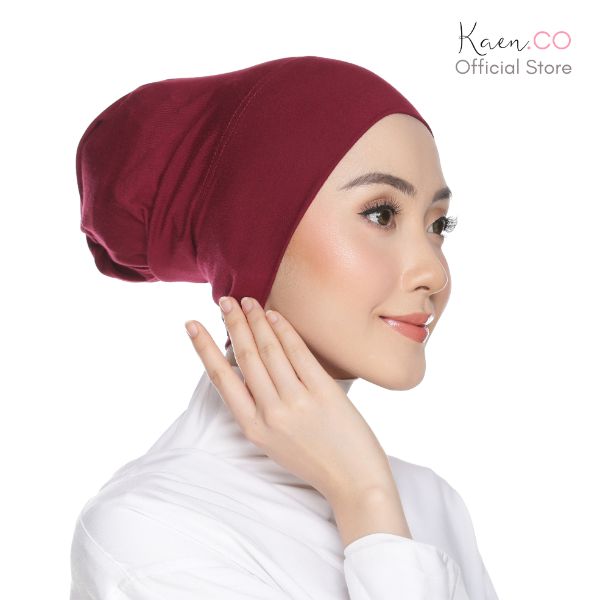 Before tying and styling your hijab, it's important to first tie your hair and cover it with an under-scarf or a hijab cap. Not only does this keep your hair out from your face but also provides a stable base for the hijab to be worn upon. This is also where you'd need to tie on a volumising scrunchie if you're going for a turban style hijab which requires a bit more height.
How to style your hijab? 5 easy styles anyone can try!
1. Instant hijab 
Tried to style hijabs but have failed too many times to admit? Well, instant hijabs may be just what you need! A popular trend as of late, instant hijabs can be slipped over your head without needing pinning or draping. Perfect for those who have the heart but slightly clumsy fingers when it comes to pinning their hijab in place!  
How to wear this hijab style:
Slip the

Bokitta TAJ or TAJMAXI

(available on

Bokitta.

) over your inner hijab cap (which comes included in the purchase)

Adjust the hijab and frame it around your face and around your neck. The TAJ variant is shorter and you can expect that hijab style to just above your chest. One end of the hijab will also be hanging down from your right shoulder and

voila

you're all set!
Pro tip: Choose to pin on a hijab brooch to jazz up this hijab style. We like these pretty Korean rhinestone brooches (available on Jewelry&Clothing Boutique.sg) for their classy, pearl design.
2. Slim face hijab style
It will be hard to resist munching on those Hari Raya goodies this festive season — think kueh lapis, bunga rose and pineapple tarts, yum! We've got the perfect hijab style for you to try so that you can indulge in these treats leaving your face stuffed and puffy. This slimming hijab style gives you a V-face shape so you can eat guilt-free and still look glam for the 'gram!
How to wear this hijab style:
Using an

Owl By Nora Silk Shawl

(available on

Owl By Nora Danish

), position it on your headscarf with the right side longer and the left side a lot shorter. 

Pin the headscarf to the back of your head, with

headpins

. Ensure that your ears are covered and that the scarf is sitting comfortably on the top of your head.

Taking the long side of the scarf, pin it from the midsection just above your ear. You can use a

mini hijab pin

(available on

Basic Maker

) for this. You can choose to pin the scarf even higher up to emphasise the V-shape.

Take the longer side of the scarf and bring it under the chin to the other (left) side of the head — you'll immediately notice how this already covers your cheeks!

Bring the rest of the scarf material back to the right side from the back. The draping is now complete.

All that's left to do is to secure the layers of the scarf. Layer the loose scarf over the initially placed pin and secure the fabric with a second pin. 

You can also choose to add another pin to the left side — pinning the two previously layered fabrics together
Pro tip: Ensure that the side of your face is covered and your cheekbones are visible. This will give your face the desired V-shape effect. Also, check that the underside of the headscarf sits right below your chin and not too far in so you won't be showing any double chin!
3. Side turban chiffon style
Turban style hijabs are popular for being chicer than regular tudung styles. They are usually wound around the head to give a volumising and dramatic effect. However, the traditional turban style sits high on your head and can look a little too bold to pair with a baju kurung! Instead, try a side turban style that'll give you a softer and more feminine look!
How to wear this hijab style:
Using a

chiffon hijab

, fold it lengthwise into a square. Take one corner and fold it upwards into a large triangle. 

Place the scarf on your under-scarf with the inverted triangle side resting on the center of your head

Bring the two sides of the headscarf, behind your head. Ensure that your ears are covered. 

Pin the ends with a

hijab safety pin

(available on

Infashion Accessories Mall

)

Bring the ends of the scarf over your left shoulder. Loop the shorter end around the lengthy part and tie it into a knot.

Voila

, you have a secure and feminine side hijab style that'll stay the whole day!
4. Low bun turban style
Want a classier turban style hijab? Try this low bun turban style! The classier hijab style will sit well with this Zalia-Side Ruffle Mermaid Kurung (available on Private Labels by Zalora) for an haute couture Raya look. You'll surely be turning heads in this outfit!

How to wear this hijab style:
Firstly, ensure that your hair is braided and tied into a bun. Pull over a

cotton hijab cap

(available on

manyue.sg

) and ensure that your hair is flat and sits at the nape of your neck.

Next, tie a

hijab scrunchie

(available on

kaen.co

) onto your bun. This will add volume to the hijab style!

Fold this

Zalia Basics Leila Square Shawl

(available on

Private Labels by Zalora

) lengthwise — about ¼ of the scarf

Rest it on your head with the two sides of the same length

Bring the sides behind your neck and criss-cross them. Pull them as tightly as you prefer and bring them over your shoulders

Take the end resting on your right shoulder and cross it over your bun. Ensure that you keep it positioned low and not too high up on your head. While holding onto that end, do the same for the end resting on your left shoulder.

Once you've gathered both ends together, you can make a knot at the base of your low bun

Pin up the remaining short ends of your

hijab

and tuck it into the hijab and you're all set!
5.  Sleek hijab
Calling all mums out there –this hijab style is for you! This sleek yet neat style will not get in the way of your mummy duties or be tugged on by active toddlers! It's also a style that'll pair well with a muslimah blouse and pants for that chic, modern look. Style this hijab with Aqeela Muslimah Fishtail Floral Blouse (available on Aqeela Muslimah Wear) and naelofar Back Slit Tencel Pants (available on naelofar OFFICIAL STORE).
How to wear this hijab style:
Use a

square hijab

like this

naelofar Fiona Square

(available on

naelofar OFFICIAL STORE

) and fold it into a triangle

Place it onto your headscarf, ensuring that the two sides of the scarf are of equal lengths

Pin the scarf under your chin with a

brooch or pin

Fold the edges of the scarf framing your lower face. Tuck them inwards to give a more streamlined look. You can also adjust the top of the scarf to ensure that your headscarf beneath remains hidden.

Criss-cross the two ends of the scarf and bring them to the back

Make a knot at the back with the ends and you're ready. Be sure to neaten the folds at the front and back before stepping out in your Raya glam!
Which hijab style will you try this Raya?
We hope you're inspired to try a new hijab style this year. Don't forget to also use a tudung mask extension strap so you can wear your face mask more conveniently while out visiting. Dressing up is just one part of the fun. Stock up on the best halal snacks like yummy macaron towers to ondeh ondeh cheesecakes While here, check out our Hari Raya Sale and Bazaar Kita 2021 for irresistible deals on Ramadan essentials and enjoy huge savings!
This article was updated on 13 April 2021. Additional research done by Jamantha Lim.

---
New to Shopee? Get $7 (min. Spend $15) with code*: HIJAB7STYLES
*TNC applies. Valid for new users from 14 Apr to 21 Apr 2021 only.