A trip to the thrift shop is always an adventure – you never know what gems you'll stumble upon. They're also where you'll find the best bargains – lucky ones among us will find designer items going at basement prices. We could go on and on with a long list of why thrift shopping is worth embarking on, whether it is budget-friendly prices, dopamine-inducing finds or advantages for the planet. If you're on the lookout for secondhand items and vintage treasures, read on for our recommendations on the best thrift stores in Singapore to visit.
Best thrift shops in Singapore – West
1. Therapist Thrift Shop – monthly $10 Fill-A-Bag event
Therapist Thrift Shop is best known for their monthly $10 Fill-A-Bag event that thrifters would religiously head down for. For such basement prices, you may think that you won't be in for well-known brands or quality clothes there. But that's where you'll be surprised. During my visit, I snagged good quality skirts and several tops and dresses from brands like Zara, H&M, as well as local blogshops like Love & Bravery – some of which are easily my favourite pieces in my wardrobe. On other days, the thrift shop offers themed sales such as winter wear and formal wear, which helps narrow down your choices. 
If you're planning to head down, do note that plastic bags will be provided, but you can bring larger tote bags to store your steals. There's a good selection of men and women's clothing, so you can bring your better half. Fun fact: the lovely owner of the thrift shop is a therapist and the thrift shop offers therapy services on days when the thrift shop is closed. She gives great recommendations while you're combing through the piles, as she always knows where the best finds are. 
Address: Bukit Timah Shopping Centre, 170 Upper Bukit Timah Road, #05-19, Singapore 588179
Opening hours: Saturday, 1-7pm
2. Thrifteyseconds – selection of clothes, toys, and accessories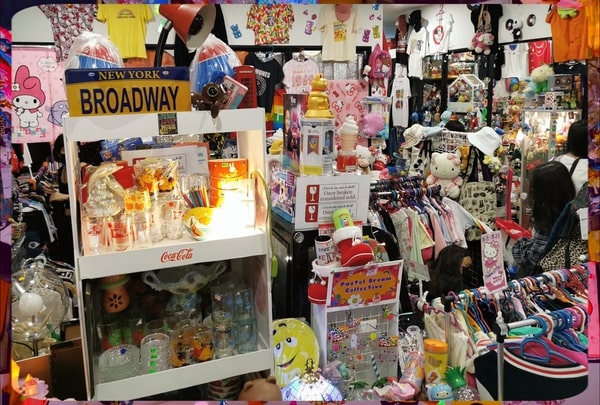 Nestled within the hoods of Bukit Batok, Thrifteyseconds is a hidden gem that's worth checking out. They offer clothes that are sourced from Japan, which are of great quality and style. If you're into the retro 90s style, you'll most likely be able to pick out a fit for that vibe. Not only that, your choices are not limited to clothes. Those with a penchant for all things cute will be thrilled to find trinkets, toys, and accessories. Some of which might take you down memory lane to the times of your childhood. Despite the extensive selection of items, the store is well-organised and won't make you feel overwhelmed. Not to mention the owner of this thrift shop in Singapore is extremely friendly as well, so you'll be down for a good chat.
Address: WCEGA Plaza, #04-27, Bukit Batok Crescent, Singapore 658064
Opening hours:
Mon: 3.30pm – 6.30pm
Tue – Wed: 5pm – 6.30pm
Fri: 1.30pm – 4.30pm
Sat: 1.30pm – 4.30pm, 9.30pm – 12am
Sun: 5pm – 6.30pm
3. Nightingale Thrift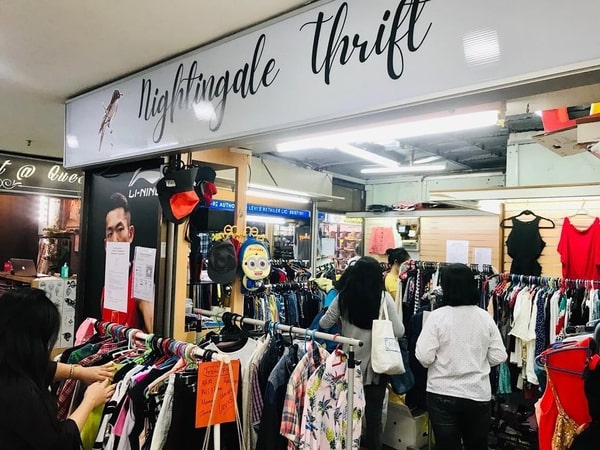 Nightingale Thrift's mission is three-fold – to reduce textile waste, support training and employment of people with autism, as well as to donate to needy families in Singapore. If you're looking for a thrift shop in Singapore with a cause that aligns with yours, this might just be it. While thrift stores are mainly known for preloved items, you'll be able to brand new ones here at a steal. Some good finds in the past include Zara statement necklaces, Melissa sandals, and Marc Jacobs designer belts. Apart from clothes, you can also find games, home decor like rugs, and plushies during your haul at Nightingale, one of the best thrift stores in Singapore. 
Address: 1 Queensway Shopping Center, #03-05, Singapore 149053
Opening hours: 
Wed: 2pm – 6.30pm
Fri: 2pm – 6.30pm
Sat – Sun: 2pm – 7pm
4. Honsieponsie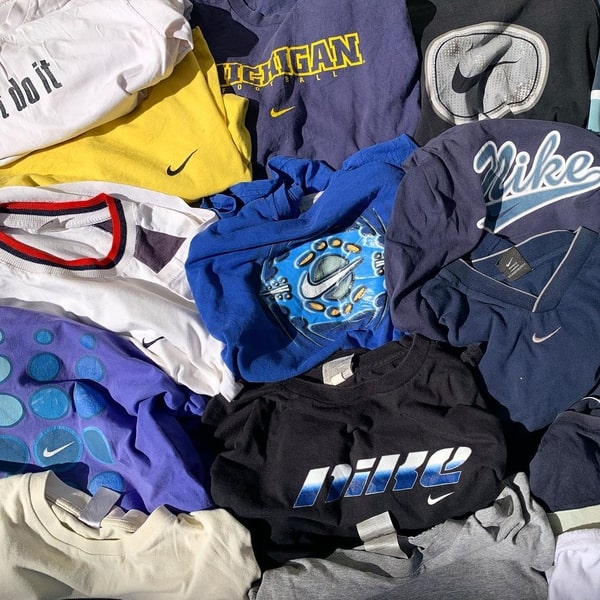 Carhartt overalls, Nike graphic tees, Lee's denim jeans and more – these are just some of the items you can find at honsieponsie, a thrift shop in Singapore owned by an avid young thrifter. It is one of the best thrift stores in Singapore that's highly-reviewed for their well-curated selection and items that are kept in good condition. To make your thrifting experience even better, the pants are also labelled with its waist sizes which allows you to narrow down your choices at a glance. If you want to elevate your style, you can check out their TikTok account for style guides featuring the items at the thrift store!
Address: Queensway Shopping Centre, 1 Queensway, #02-40A, Singapore 149053
Opening hours:
Wed – Sun: 12.30pm – 7.30pm
5. By My Old School – for vintage collectibles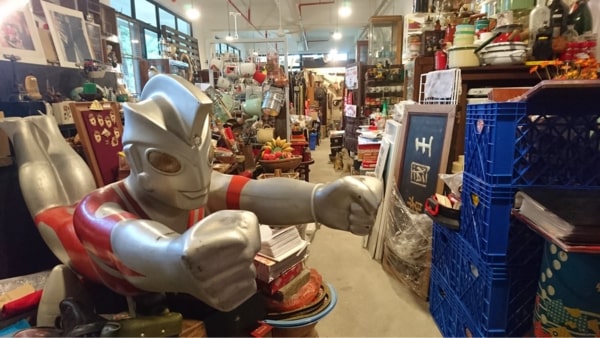 For a trip down memory lane, visit By My Old School – one of the best thrift stores in Singapore with a trove of vintage collectibles. This includes figurines (like the iconic Ultraman), cassettes, glassware, artworks, typewriters, records and almost everything under the sun. It is a place worth visiting at least once for the nostalgia the items evoke – like the sight of the walkman you used to carry around to listen to your favourite music in your teenage years. Every item there is available on sale or rent, and you can engage the thrift store for prop rentals for your wedding and other events as well.
Address: 115A Commonwealth Drive, #03-24, Singapore 149596
Opening hours: 1pm – 9pm, daily
6. Thryft – for secondhand books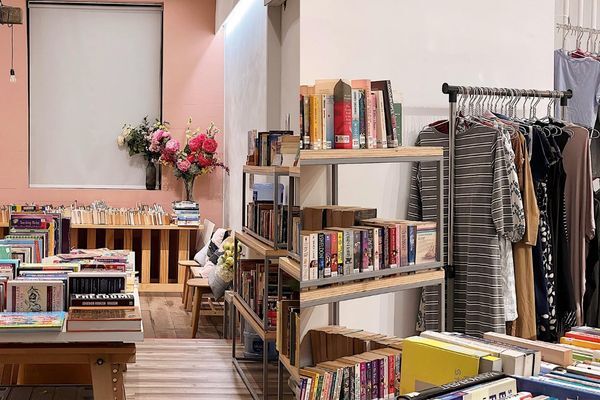 Book lovers on a budget should give Thryft a chance – especially if you're a fan of physical copies. It is one of the best thrift stores in Singapore that offers a wide range of genres to choose from, whether it's the best Singlit titles or the best self-help books. They also have an online store where you can place orders or if you want to check prices before heading down to see the quality of the books yourself. You can also donate your old books Thryft so other bibliophiles can continue to enjoy them!
Address: 671A Bukit Timah Road, Singapore 269719
Opening hours: 1pm – 9pm, daily
Best thrift shops in Singapore – Central
7. Function Five Thrift Shop – steals from $5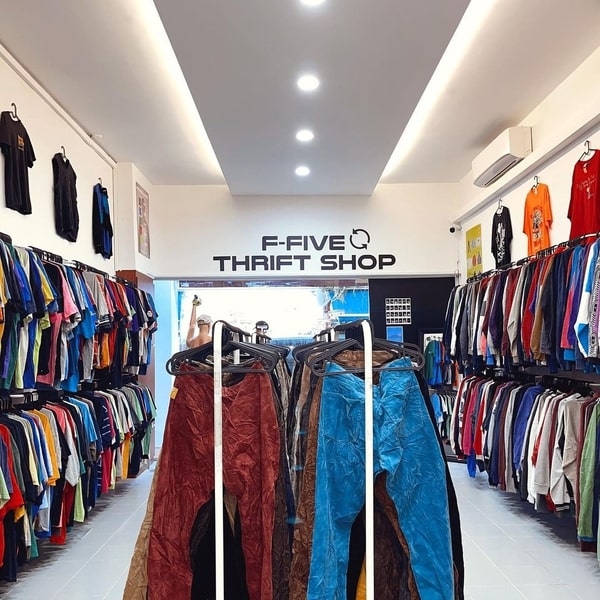 Located at the quaint and charming hood of Arab Street, Function Five Thrift Shop is a highly-reviewed thrift store in Singapore that's worth a visit. Here, you can find a wide range of graphic tees, sweaters, hoodies, and reworked items. There are also rings and jewellery to pick out as well. The prices range from $5 to $25 on the first floor, while clothes on the second floor can go up to $55 or more. The shop is organised, and the staff are friendly and helpful as well. That's why it is one of the best thrift stores in Singapore for secondhand gems!
Address: 43 Arab Street, Singapore 199742
Opening hours: 1pm – 9pm, daily
8. The Fashion Pulpit – best for clothes swapping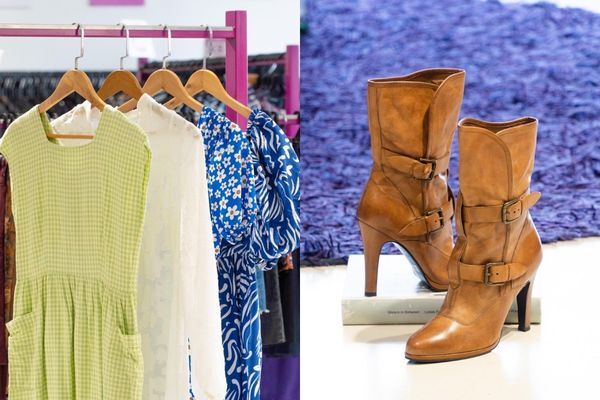 Anyone who wants to adopt a sustainable fashion lifestyle needs to visit The Fashion Pulpit – one of the OG places in Singapore that offers you a clothes-swapping experience. You basically bring a bag of clothes that you don't want but are still of good quality and hand them over to the owner, who quality checks each piece and pegs a price based on points to them. The total amount of points your clothes are worth will be the currency you shop in with the wide selection of new-to-you pieces that are refreshed weekly. They offer different swap membership options such as a one-time swap for $35 and a 2-months swapping membership for $99.
Address: OUE Downtown Gallery,
Opening hours: 1pm – 9pm, daily
9. A Vintage Tale – for vintage and retro fashion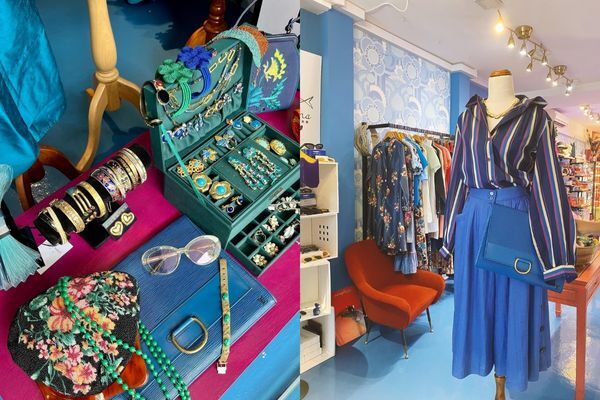 Vintage clothes never go out of style. If you are looking for genuine vintage clothes with colourful and unique prints, A Vintage Tale is one of the best thrift stores in Singapore to go to. The selection of vintage clothes there boast great quality and design, and the place is decorated with charming vintage trinkets as well. Apart from the great selection available, another reason why thrifters love going to A Vintage Tale is its friendly store owner. She helps you pick out suitable pieces and tells you her honest opinion on whether you look good!
Address: OUE Downtown Gallery,
Opening hours: 1pm – 9pm, daily
Best thrift shops in Singapore – East
10. SSVP Shop – has a kitchen section and biblical artworks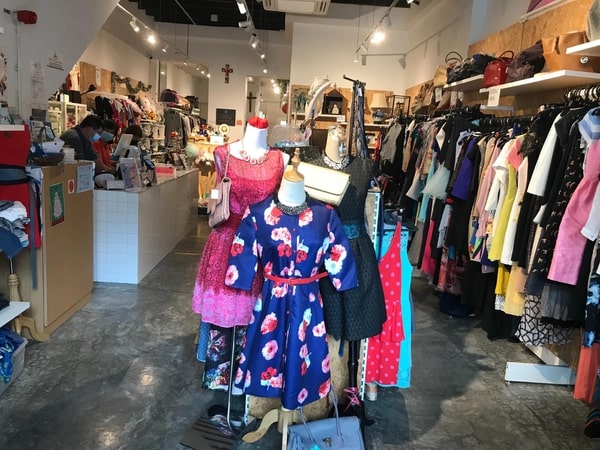 Quality steals as low as $2 may sound too good to be true, but that's exactly what you can find at SSVP Shop, one of the best thrift stores in Singapore. Apart from clothing, you can expect to find jewellery and sometimes even branded handbags. They also offer a selection of homeware, and toys so you can expand your treasure hunt. It is also clean and well-ventilated, so it won't be hard to stay here for hours while you comb through all the secondhand items available.
Address: 501 Geylang Road, Singapore 389459
Opening hours: 10am – 4pm, daily
11. Hock Siong & Co. Pte Ltd – for used furniture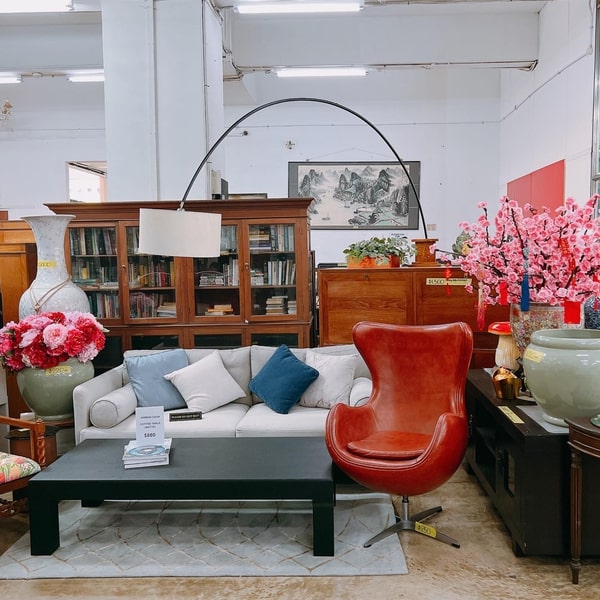 A piece of new furniture can easily set your bank account back by the thousands. A good alternative would be to buy second hand at the best thrift stores in Singapore. Not only can you enjoy slashed prices on good quality items, you'll also get to find beautiful vintage furniture that are no longer available on the market. If you're currently renovating your BTO and you're open to decorating them with secondhand furniture, Hock Siong & Co. is one of the best vintage furniture thrift stores in Singapore to visit!
Address: Junjie Industrial Building, 153 Kampong Ampat, #01-03, Singapore 368326
Opening hours:
Mon – Sat: 9am – 5pm
Sun: 9.30am-5.30pm 
Shop sustainably at the best thrift stores in Singapore
From clothing, furniture, books, to rare vintage trinkets, there's so much that you can find at the best thrift stores in Singapore. For more things to do in Singapore, check out our curated list of things to do in Sentosa and things to do at Changi Airport.