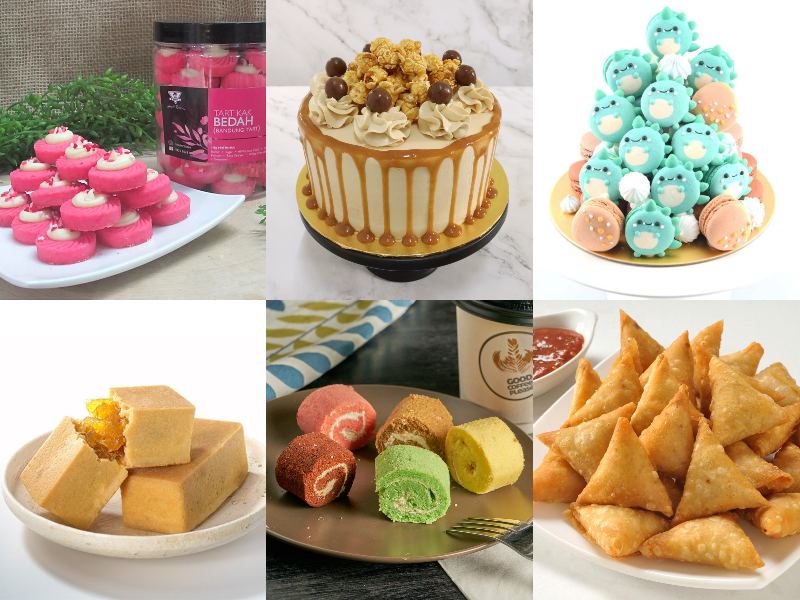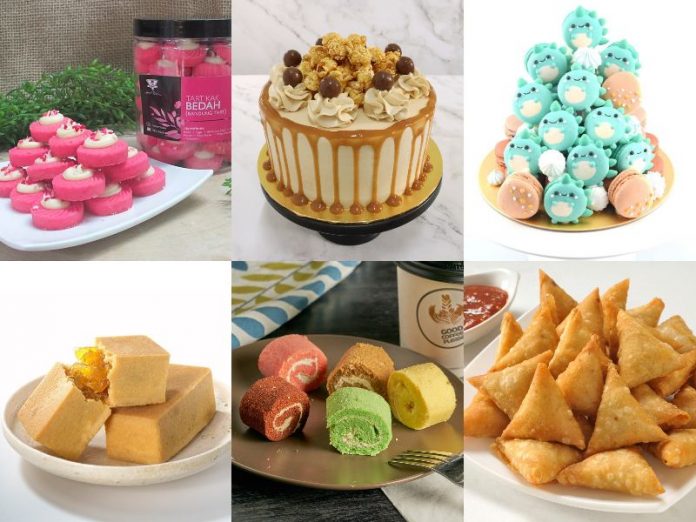 Have you heard? The highly anticipated Geylang Serai Bazaar 2021 has been called off and vendors have shifted online. While we may miss the bustling crowd and the sweet makciks calling us 'sayang' at the Geylang Serai Bazaar, we can still purchase our favourite Hari Raya snacks online! From creamy gelato to crumbly tarts, check out these yummy halal snacks in Singapore that will have you screaming 'sedap!'.
Delicious halal snacks in Singapore for Hari Raya
1. Hipster Bake Small Ondeh Ondeh Cheesecake In A Jar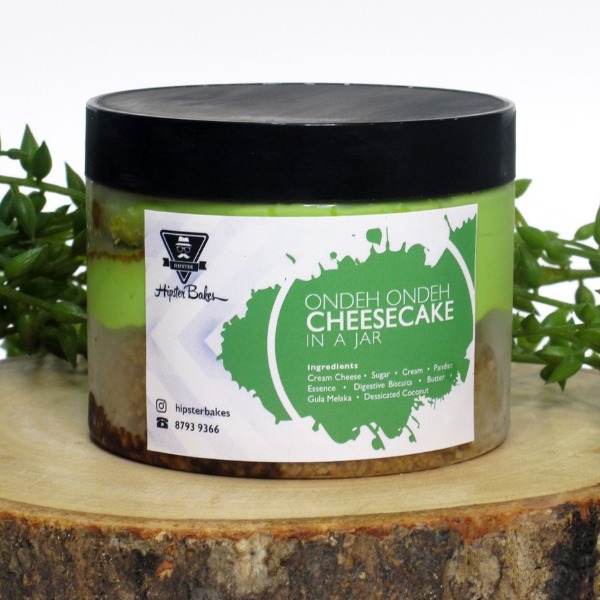 Looking for a halal snack in Singapore that will please even your grandparents? The Hipster Bake Small Ondeh Ondeh Cheesecake In A Jar (available on Hipsterbakes Official Store) will delight both the young and old! Taking a twist on our favourite traditional palm sugar-filled rice cake balls, this cheesecake is filled with rich coconut and creamy pandan cream cheese batter. Trust us, stock up on this halal snack in Singapore because everyone will be wanting second servings! Psst, wash the jar and repurpose it for a zero waste Raya.
2. Sugary Kneads Assorted Premium Tartlets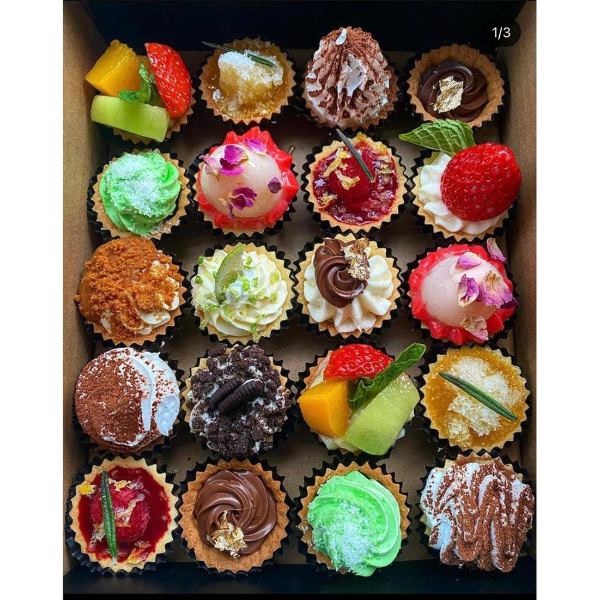 If you're worried that you won't have enough Hari Raya snacks to go around, we've got the perfect solution for you. Cue the Sugary Kneads Premium Tartlets 20 Pieces Box (available on Sugarykneads Official Store). These assorted tartlets are not just a feast for the stomach but for the eyes too! Among the 20 flavours, you'll find unique ones like pina colada, rose lychee and Nutella cheese. You can be sure that there's a flavour (or two) for everyone!
3. Annabella Patisserie Unicorn Meringue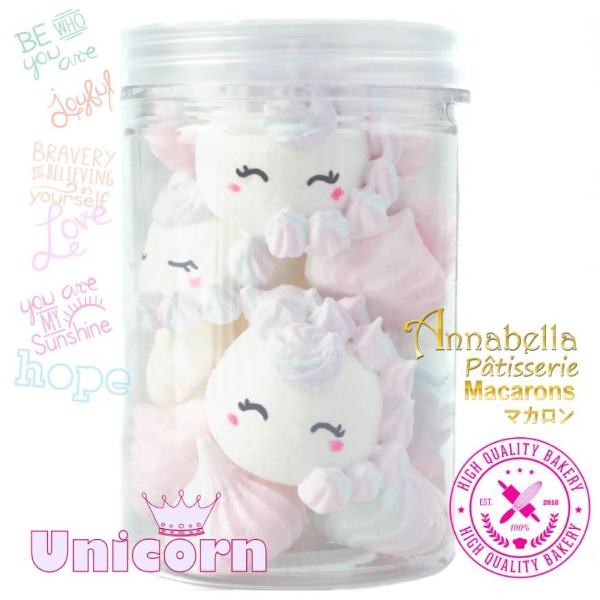 What's something sweet, beautiful and magical? Annabella Patisserie Unicorn Meringues (available on Annabella Patisserie), of course! These super cute halal snacks in Singapore will definitely put a smile on your face and sweeten up your taste buds. These meringues also make for great gifts for family and friends who have a sweet tooth!
4. Montreux Patisserie Fudgey Chocolate Cake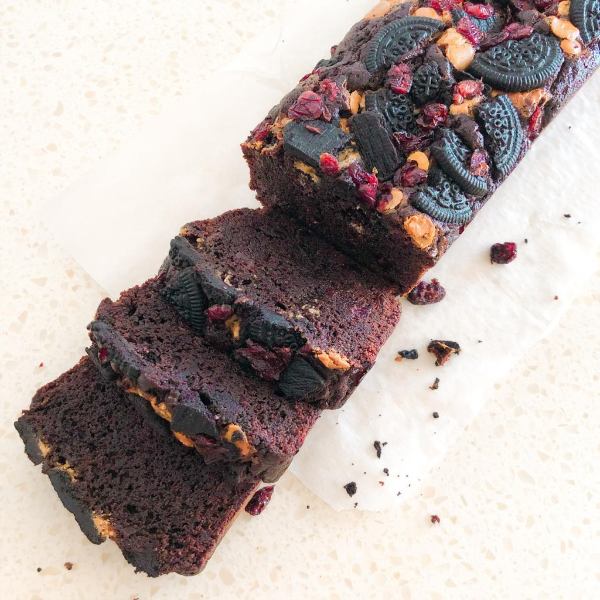 Chocolate lovers, rejoice! The Montreux Patisserie Fudgey Chocolate Cake (available on Montreux Patisserie Official Store) is exactly what dreams are made of. Sink your teeth into this moist chocolate cake topped with cranberries, oreo biscuits and white chocolates. While this Hari Raya snack may sound cloyingly sweet, you'll be pleased to know that is not, in fact the case. So even those who don't have a sweet tooth will enjoy this yummy treat!
5. Cat & The Fiddle Milo Dinosaur Cheesecake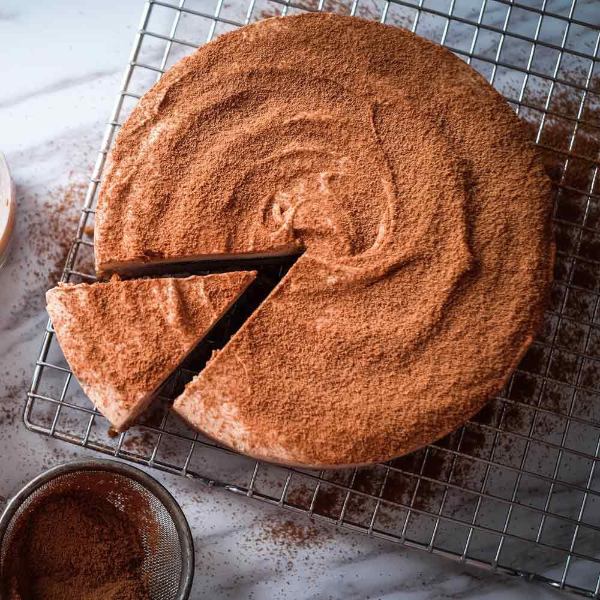 Milo is one of Singaporeans' favourite beverages, which is why it is no surprise that the Cat & The Fiddle Milo Dinosaur Cheesecake (available on Cat & the Fiddle Cakes) became such a hit here! Inspired by the local drink Milo Dinosaur, this cheesecake boasts a ton of chocolate-y malt goodness. But to truly enjoy the gastronomical experience this Raya, we suggest topping the cake off with the complimentary sachet of Milo powder (yums)!
6. Uncle Lim's Choice Curry Potato Samosa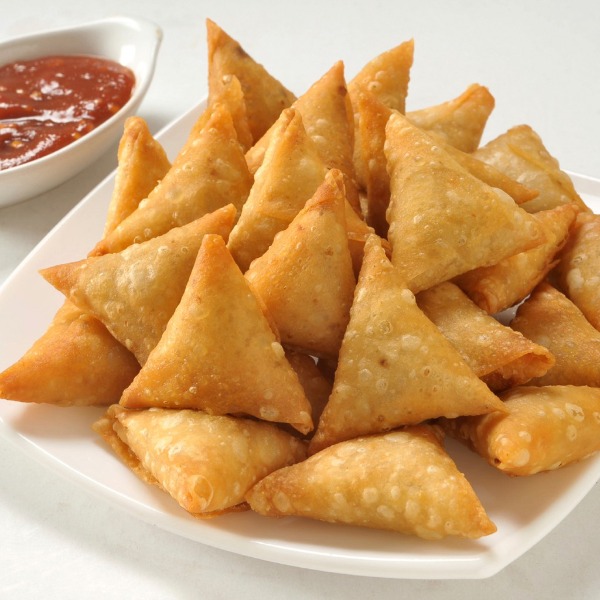 You know what else makes for a great finger food at your Raya gathering? Uncle Lim's Choice Curry Potato Samosas (available on Enjoy DoDo Official Store)! These little golden triangles are easy to prepare in the air fryer and impossible to go wrong with. However, be sure to prepare more of these crunchy Hari Raya snack because your guests will definitely find it hard to stop snacking once they start! 
7. Deli Indo Signature Prune Kueh Lapis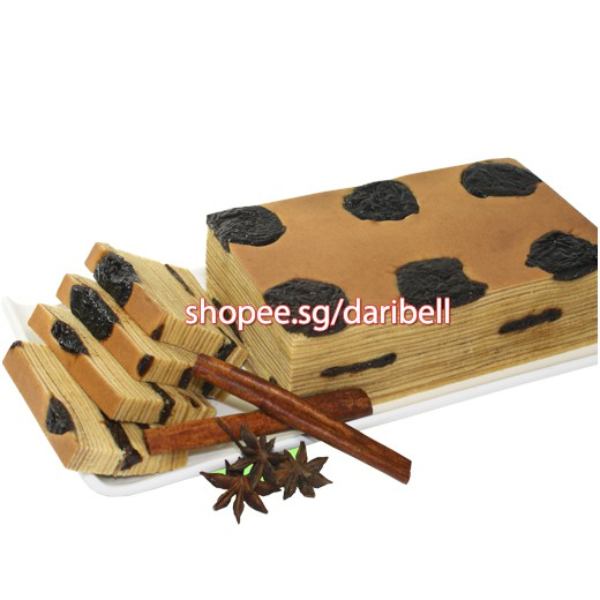 Whether it's Chinese New Year or Hari Raya, kueh lapis has always been a staple snack for festive seasons. Indulge in the Deli Indo Signature Prune Kueh Lapis (available on Daribellsg Official Store) which comes with a generous amount of prunes added throughout the layers! This lends the cake a fruity yet subtly sweet flavour perfect for the festive occasion! 
8. IRVINS Salted Egg Fish Skin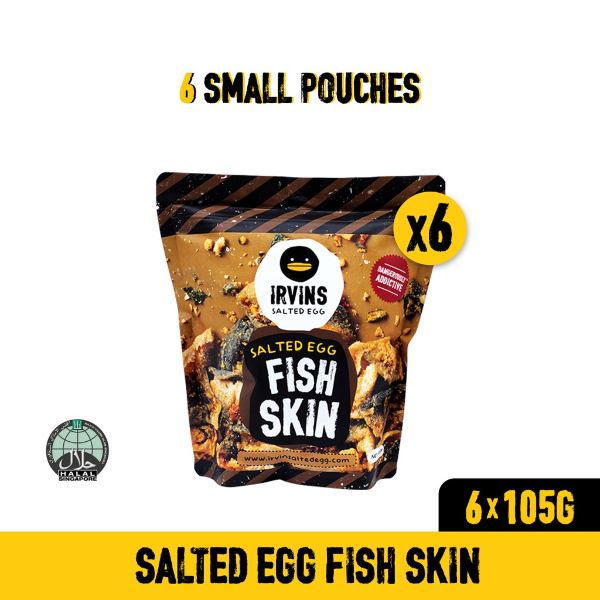 We will never get over the salted egg craze — not when it has something to do with crispy fish skin! The IRVINS Salted Egg Fish Skin (available on IRVINS Official Store) is as addictive as halal snacks in Singapore can get. This local savoury treat is made using dory fish skin, real salted egg and a bunch of spices and ingredients to create a flavourful and aromatic ensemble. You may want to keep a few packets hidden in the food cupboard for yourself lest your guests finish them all!
9. Ritz Apple Strudel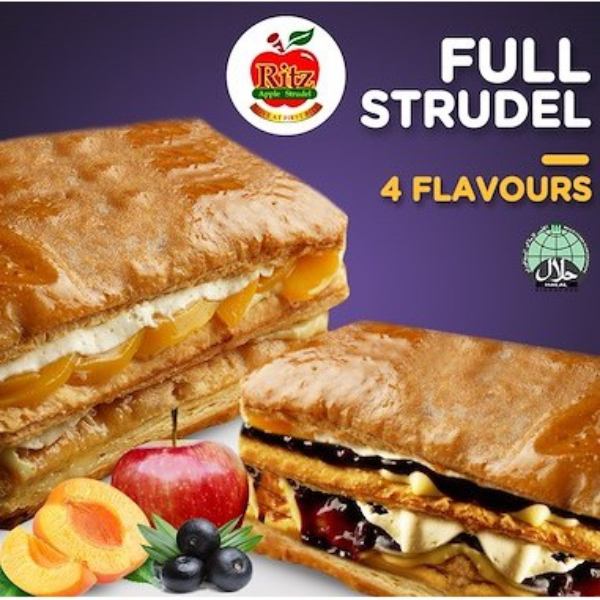 As an all-time favourite, the Ritz Apple Strudel (available on Ritz Apple Strudel (Home Delivery)) is a fail-proof halal snack in Singapore to indulge in with  your Muslim friends this Hari Raya 2021. Made of crispy layers of glazed pastry and creamy custard filled with tangy apple chunks, the apple strudel is a light dessert to have after a heavy meal. It comes in other flavours too including peach, blueberry and chocolate.
10. Meiji Chocolate With Macadamia Nuts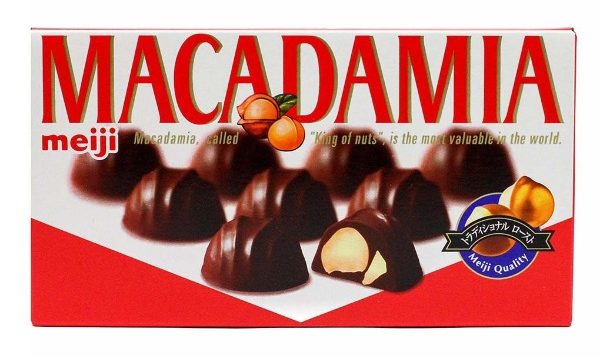 Looking for small gifts to bring along when you're going Hari Raya visiting? The Meiji Chocolate With Macadamia Nuts (available on Hong Yi Hao Snacks) make for a great option! This Japanese halal snack in Singapore comes in a presentable box that's perfect for gifting. Each chocolate ball contains a macadamia nut for that addictive crunch!
11. Hipster Bakes Bandung Tart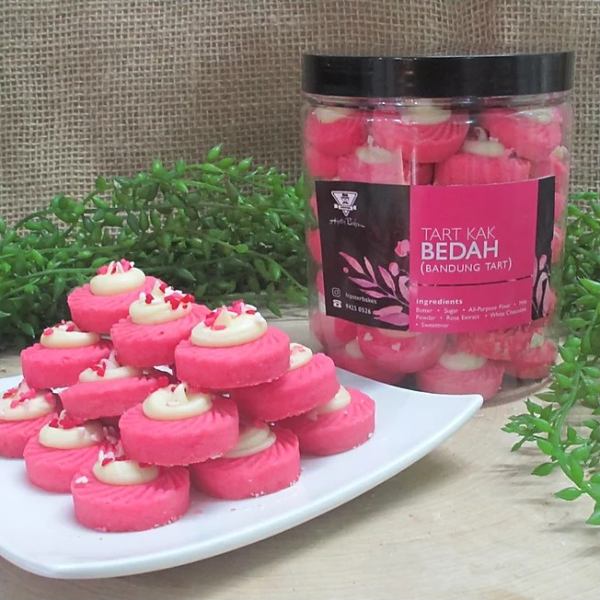 Enjoy the signature rose flavoured drink in the form of a tart with the Hipster Bakes Bandung Tart (available on Hipsterbakes Official Store)! This flamingo-pink halal snack in Singapore features a bandung flavoured crust that's fragrant with just the right amount of sweetness. A surprise awaits in the middle of each tart — a milky filling that melts in your mouth instantly! We swear, Hari Raya snacks can't get any better than this. 
12. Annabella Patisserie Dinosaur Macaron Tower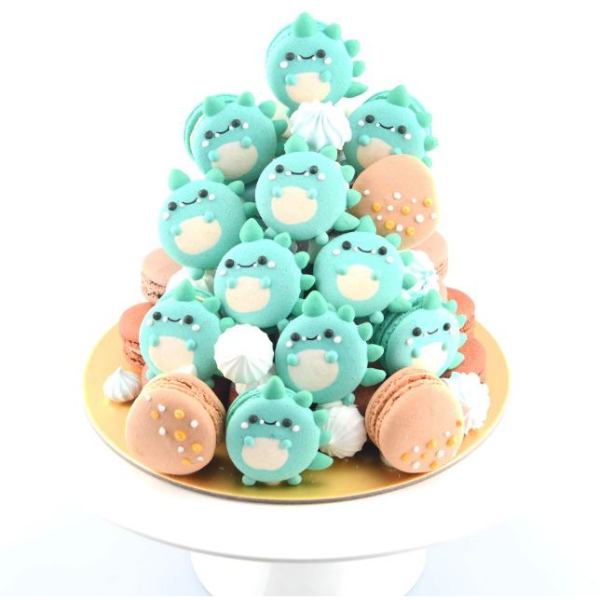 Beat the Raya foodstagram feed with the Annabella Patisserie Dinosaur Macaron Tower (available on Annabella Patisserie) — everyone will be messaging you about it! The tower holds 43 pieces of macarons in total with assorted flavours. This includes vanilla, chocolate and unique flavours from their Classic 3 collection such as milo and oreo milkshake. You'll even find little meringues peppered throughout the mountain of sweet treats. This adorable macaron tower is bound to be one of the most memorable halal snacks in Singapore for Hari Raya 2021!
13. Kit Kat Thick Matcha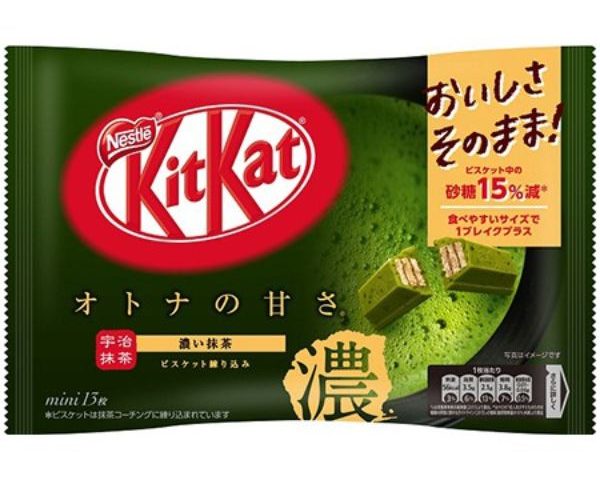 Aside from green packets, treat the little ones to the Kit Kat Thick Matcha (available on Shokunin Japan) to brighten their day! These green waffle sticks are coated in subtly sweet yet earthy green tea flavour. Even the adults will enjoy this Hari Raya snack for a taste of Japan!
14. Mini Swiss Rolls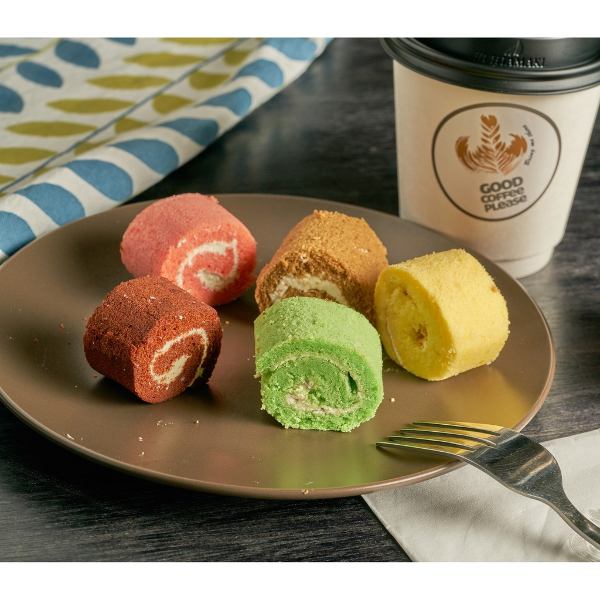 Play it safe this Hari Raya with these Mini Swiss Rolls (available on goodcoffeeplease). Made of super soft and fluffy sponge cake as well as flavoured cream, these light treats are perfect for tea time with the family. You can choose between pandan, coffee, chocolate, vanilla and strawberry flavours. Can't make up your mind? Why not go for the assorted version to try all their yummy flavours!
15. eCreativeCake Salted Caramel Cake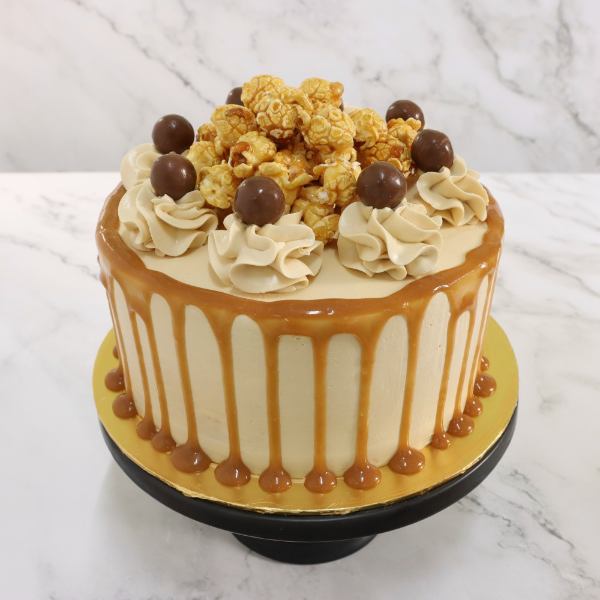 No Hari Raya feast is complete without a  glorious cake! We had to include this eCreativeCake Salted Caramel Cake (available on eCreativeCake) which comes topped with Maltesers, caramel popcorn and salted caramel sauce.This cake also tastes just as good as it looks! It leans more on the salty side with just a thin layer of caramel between the frosting and the cake. Plus, it's not covered in overwhelming amounts of cream — so there's no need to worry about feeling jelak!
16. Old Chang Kee Frozen Mini Curry Puffs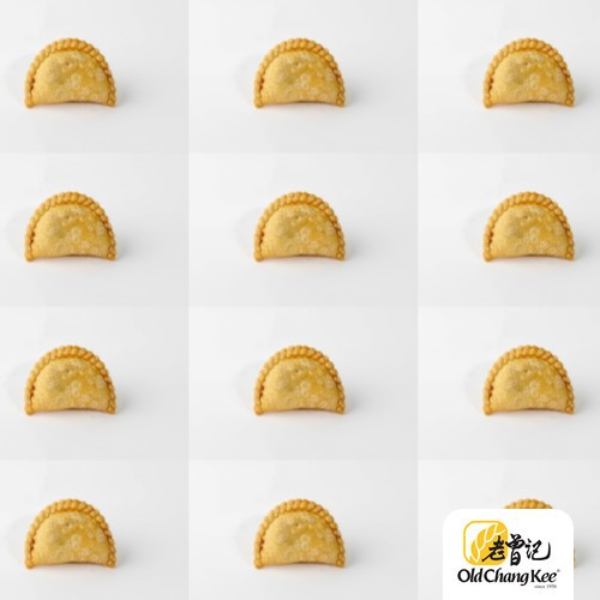 Whip up a quick afternoon snack for the family this Hari Raya with these Old Chang Kee Frozen Mini Curry Puffs (available on Old Chang Kee Official Store)! You can now have a taste of the signature Old Chang Kee curry puffs anytime at home — simply pop them in the oven or deep fryer and voila! Unlike the curry puffs in the store, these ones contain purely curry potatoes without meat or egg. Even though the curry puffs are bite-sized, each pack comes with 50 pieces so there will be more than enough to go around for everyone!
17. Sunnyhills Pineapple Cake Tart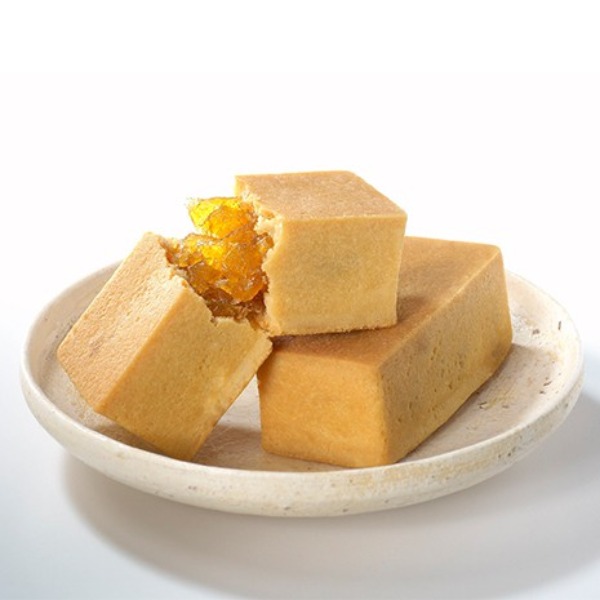 Let's face it, Raya isn't Raya without pineapple tarts. Treat your loved ones to the best Taiwanese pineapple tart from SunnyHills! The halal-certified SunnyHills Pineapple Cake Tarts (available on SunnyHills Official Store) is freshly imported from Taiwan every week. The tangy freshness of the tarts come from its sun-ripened pineapple paste which contains absolutely no additives. Together with its melt-in-your-mouth butter shells, this premium halal snack in Singapore is not to be missed!
18. Nutsholic Honey Butter Almond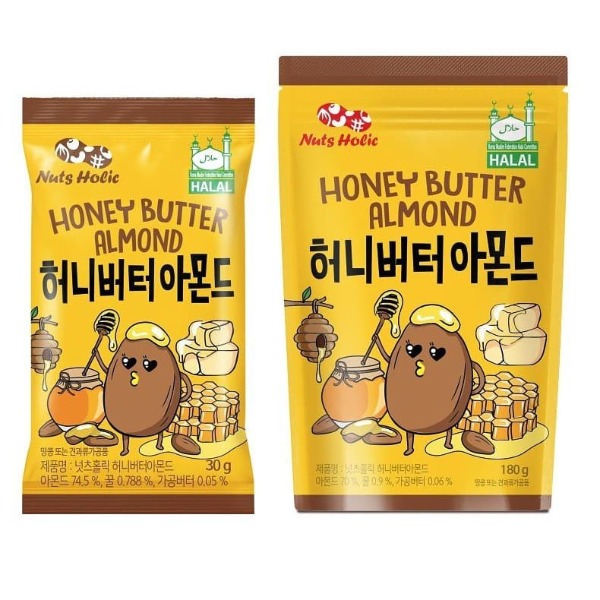 There's no better excuse than Hari Raya to stock the home pantry with your favourite Korean halal snacks in Singapore. For something crunchy and sweet, go for the Nutsholic Honey Butter Almond (available on Shopinshop_korea.kr). Alternatively, Nutsholic also comes in flavours such as strawberry almonds as well as hot spicy almonds that are sure to pack a punch!
19. OOI Gelato Chendol Gelato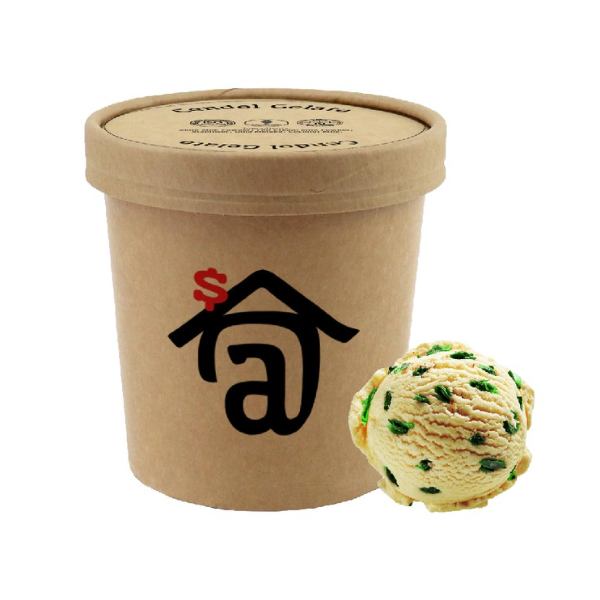 If the Raya heat is getting to you, the OOI Gelato Chendol Gelato (available on OOI by Dylan Ooi) will help to cool you off! Tasting exactly like our favourite chendol dessert, this tub of delicious gelato oozes with flavours of coconut milk and gula melaka. Of course, it also includes the iconic green jelly that all of us look forward to in every bowl of chendol. 
More ways to celebrate Hari Raya 2021 with your loved ones
In need of more inspiration for Hari Raya snacks in Singapore? Check out the video below to find out what are other halal snacks you should try!
Also, be sure to explore our list of yummy Hari Raya cookies to add to your snack collection! Meanwhile, don't forget to get ready your Raya fashion with these easy hijab styles to nail that #OOTD shot. Keep your eyes peeled for awesome deals online during our Ramadan and Hari Raya Sale to snag your Raya essentials at discounted prices!