While it originated from Indonesia, the popular spicy dish of rendang has gained much popularity in Singapore too! With its yummy mixture of spicy chillies and the buttery sweetness of coconut milk, rendang is a fan favourite among the Muslim community during festive events like Hari Raya Puasa. Looking for where to eat the best beef rendang? Look no further – read on for our top picks of the best rendang places in Singapore! 
What is the difference between rendang and curry?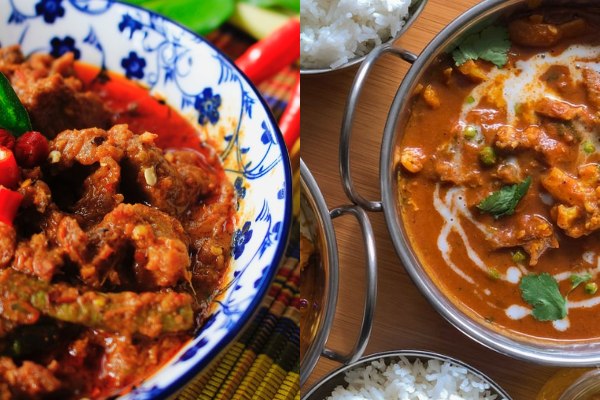 Before you fill your tummies, you need to know exactly what you're eating. There is a common misconception that people have – that rendang is the same thing as curry. While both dishes contain a certain amount of spices, they are actually not the same.
Rendang is a dish that originated from the Minangkabau region in West Sumatra, Indonesia in the 15th century. It is essentially a dish of meat, most commonly beef or chicken, that has been slow cooked and braised in coconut milk. Most times, it is seasoned with herbs and spices which turns the meat dark brown.
Meanwhile, curry is a South Asian dish dating all the way back to 2000 BC. Curries are essentially a mixture of spices such as turmeric, coriander, ground cumin, ground ginger, and black pepper. They usually contain chicken, fish or poultry. It is a dish popular among the Indian community and is often eaten with rice and vegetables.
Best rendang restaurants in Singapore
1. Hjh Maimunah
When it comes to searching for the best restaurants that sell rendang in Singapore, you'll definitely come across Hjh Maimunah! Founded in the 1990s, the restaurant has since become a household name and a top choice for those seeking to indulge in some Kampung-styled cuisine. We especially love their beef rendang, which we dare say is one of the best in Singapore. Other than its spicy and well flavoured beef, you'll also enjoy the soft, fluffy rice that comes along with the dish. Psst, the beef rendang here is priced affordably below $10, so you won't have to worry much if you're cash-tight!
Address: 20 Joo Chiat Road, #01-02, S(427357)
Check out their other outlets here
Opening Hours:
Tues – Sun: 8am – 9pm
2. Old Bibik's Peranakan Kitchen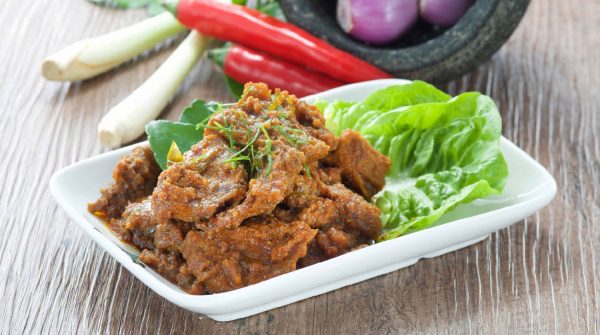 Hands up if you're all for wallet-friendly food! At Old Bibik's Peranakan Kitchen, one of the best beef rendang restaurants in Singapore, you'll never have to burn a hole in your wallet. Each rendang set meal, which is affordably priced below $10, comes with stir-fried vegetables, an omelette and power-packed belachan chilli. Price aside, we love how their rempah sauce is blended daily and made using the freshest ingredients. On top of that, their beef is slow cooked for hours to ensure that the meat is fork tender and fully infused with the flavour of the rendang. Boy, we're hungry already! 
Address: 328 Joo Chiat Road, #01-02, S(427585)
Opening Hours: Daily, 11.30am – 9.30pm
3. Rumah Makan Minang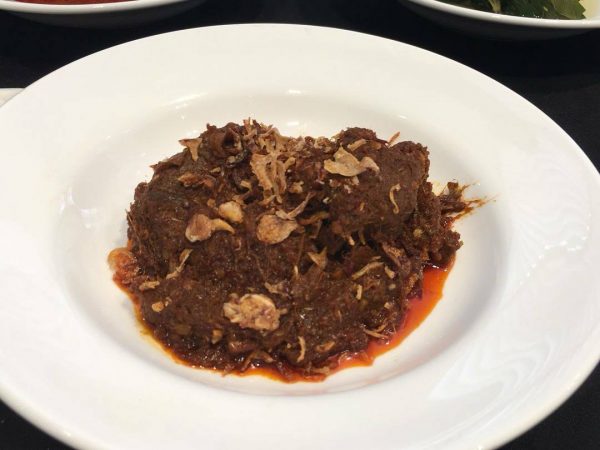 Tucked in the heart of the Malay heritage district, lies Rumah Makan Minang, a multi-generational restaurant specialising in Minangkabau cuisine. But Rumah Makan Minang isn't your average Indonesian restaurant. As part of the Singapore Tourism Board's heritage trail with a history dating back to the 1950s, we can count on it to offer some of the best beef rendang in Singapore! Cooked over a slow charcoal fire, you'll be served beef rendang consisting of tender meat and captivating flavours. Yummy! 
Address: 18 & 18A Kandahar Street, S(198884)
Check out their other outlets here
Opening Hours:
Mon: 9am – 7.30pm
Wed – Sun: 9am – 7.30pm

4. Cumi Bali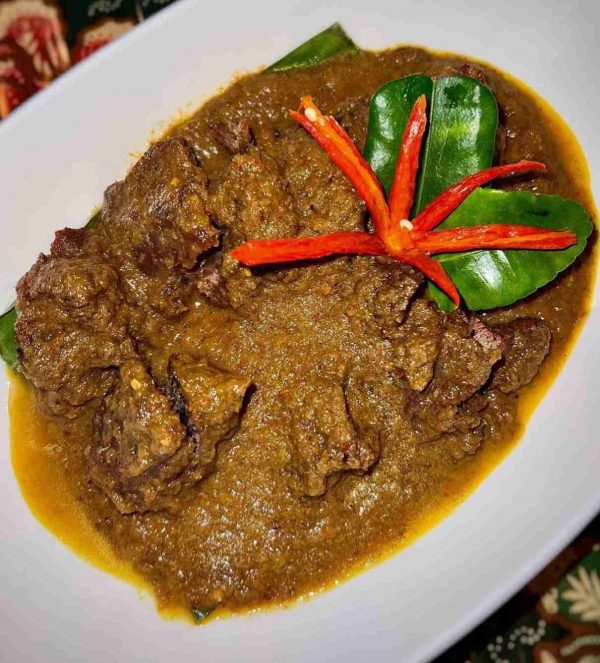 Founded in the late 1980s, Cumi Bali has since been a household name and one of the best rendang restaurants in Singapore. While it might come with a hefty price tag of over $20, we assure you that their rendang is worth every cent. With a generous ten pieces of meat doused in a flavourful gravy, this best beef rendang delivers in both quality and quantity. Additionally, it uses over 25 spices and is cooked to perfection for over eight hours before serving. Do note that unlike other rendangs, no coconut milk is used so their rendang is more on the watery side.  
Address: 50 Tras Street, #01-01, S(078989)
Opening Hours: Daily, 11:30am – 3pm, 6 – 9:30pm
5. Violet Oon Singapore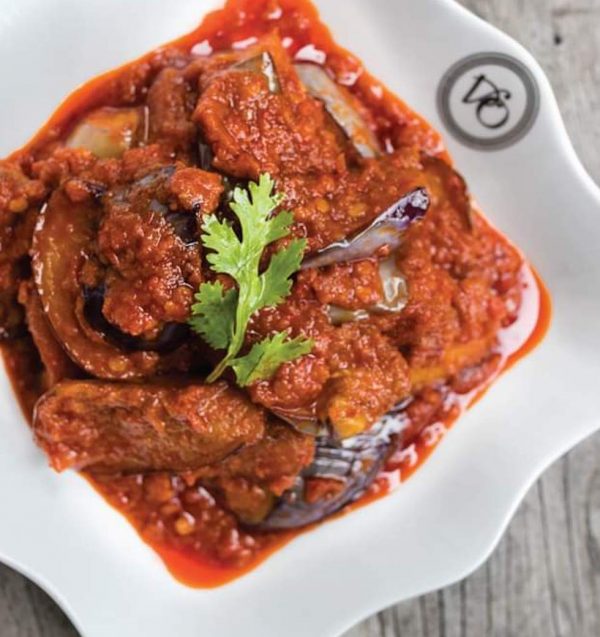 Ask any Singaporean and chances are, they would have heard of Violet Oon as a go-to place for halal Peranakan food! But what many don't know is that it also offers some of the best rendang in Singapore too. In particular, their beef rendang wows with a melange of spices that is specially flavoured with kaffir and bay leaves. Doused in a creamy coconut cream sauce, you'll surely be left wanting more! It is recommended that the rendang be tried with their Ayam Pong Tay which is seasoned with bean paste, cinnamon and cloves.
Address: 2 Orchard Turn, ION Orchard, #03-28/29, S(238801)
Check out their other outlets here
Opening Hours: Daily, 12pm – 10pm
6. Sari Ratu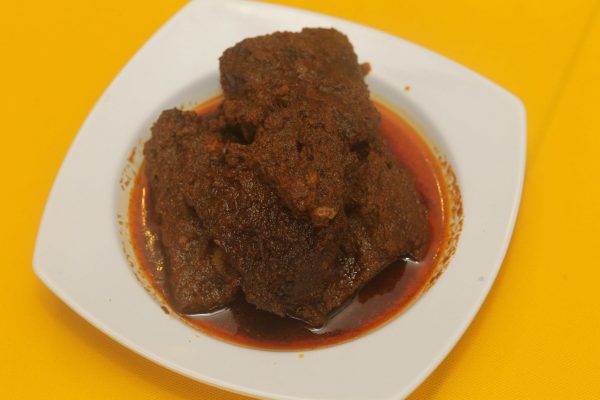 As one of the best rendang restaurants in Singapore, Sari Ratu ticks all our boxes in terms of getting a taste of some authentic rendang! Made with a tender beef that has been slow cooked for hours alongside a tasty thick gravy, you'll be asking for seconds faster than you can say "Sedap"! Additionally, we recommend adding green and red sambals which are subtly sweet and smoky, as well as a sambal egg for an added spicy experience
Address: 304 Orchard Road, Lucky Plaza, #02-107, S(238863)
Opening Hours:
Tues – Thurs: 11am – 8pm
Fri: 12pm – 7pm
Sat – Sun: 11am – 8pm
Best rendang stalls in Singapore
7. Sabar Menanti II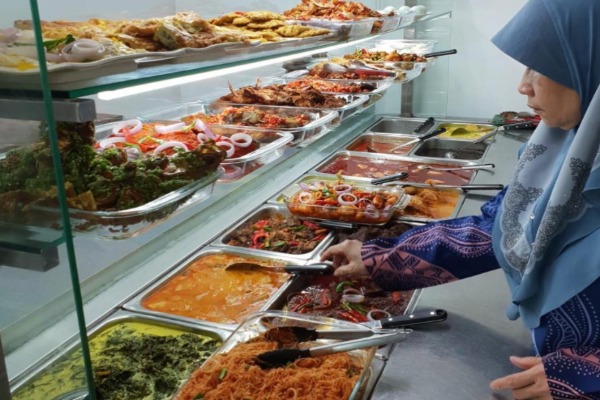 Without a doubt, Sabar Menanti II is another top choice when it comes to the best rendang stalls in Singapore. After all, it was founded more than 50 years ago by the late Haji Marlian Athar who hails from Sumatra – right where the best beef rendang originated from! In particular, their beef rendang packs a punch given its tender meat and savoury taste. The dish is also doused in gravy that is thick and rich. Sabar Menanti II also offers some yummy chicken rendang that promises to be equally mouth-watering!
Address: 747 North Bridge Road, S(198715)
Opening Hours:
Tues – Sun: 6am – 4.30pm
8. Istimewa Kitchen 
Believe it or not, the folks at Istimewa Kitchen require at least 25kg of boneless mutton meat for cooking on a daily basis – that's a testament to how popular the stall is! With such a huge fan base, Istimewa Kitchen does put in effort to live up to its name as one of the best mutton rendang stalls in Singapore. The lean mutton pieces are carefully braised for two hours to ensure that they melt in your mouth instantly. ​​And if that still doesn't satisfy you, try eating it with their popular assam fish. Infused with tamarind sauce and red chilli, the fish has the perfect balance of tanginess and spiciness!
Address: 3014 Bedok Industrial Park E, S(489980)
Opening Hours:
Mon – Sat: 6.30am – 2.30pm
9. Warong Nasi Pariaman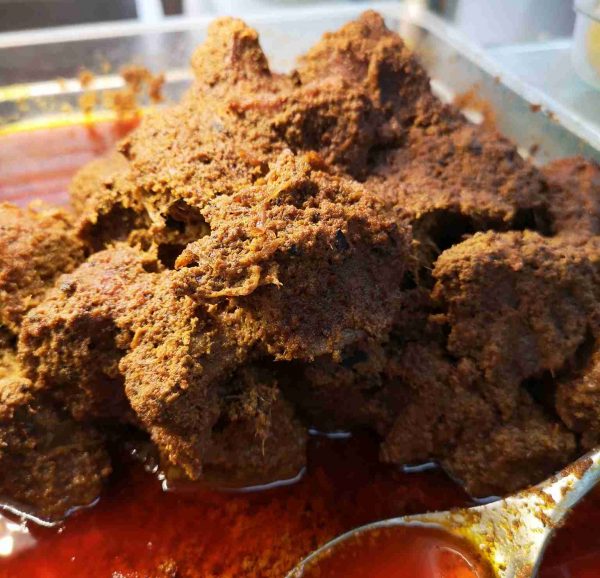 Having been around for the last seven decades, Warong Nasi Pariaman has definitely made its mark as one of the best beef rendang stalls in Singapore. In fact, the owners predict they take in around 500kg of beef monthly – that's how popular their beef rendang sells! Their secret? Using a charcoal stove to slow cook the meat. This is because the heat from the charcoal unites and adds flavour to the dish, producing a strong aroma that will leave you craving for more. If you still have qualms, you can put them to rest because even footballer Fandi Ahmad and President Halimah Yacob have paid the stall a visit and given it rave reviews!
Address: 738 North Bridge Road, S(198706)
Opening Hours: Daily, 7.30am – 4pm
10. Sinar Pagi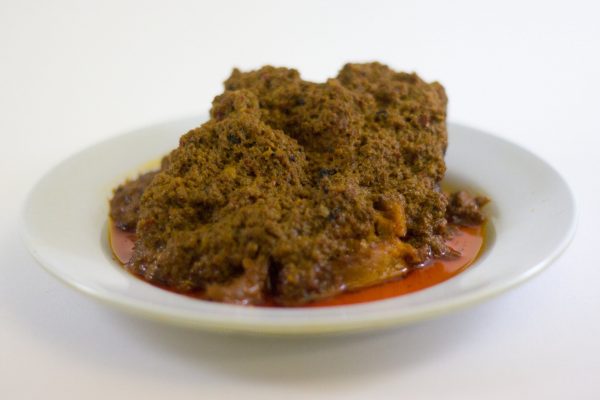 Another frontrunner on our list of best rendang stalls in Singapore has got to be Sinar Pagi. While it is known for its scrumptious servings of nasi padang, their rendang is worth a shot too! If anything, its snaking long queues are proof of its popularity, but we assure you that it is worth the wait. In particular, we are in love with their chicken rendang that comes with intense spicy flavours. The tender barbecued chicken is dipped in a coconut curry sauce that is so finger-licking good. What's more, the rendang is served alongside generous portions of tauhu goreng, braised brinjals and a plate of ruby-red sambal. 
Address: 1 Geylang Serai, Geylang Serai Market, #02-137, S(402001)
Opening Hours: Daily, 8am – 4pm
11. Maimon Nasi Padang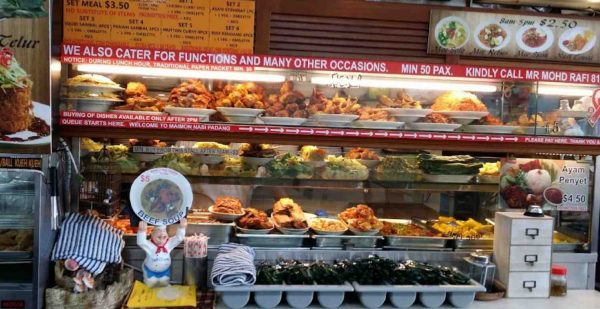 As its name suggests, Maimon Nasi Padang delights with its lavish servings of nasi padang. But as with most Indonesian stalls, it also offers some of the best beef rendang in Singapore. The meat is soft and tender, making it easier to chew and more enjoyable. It helps that the accompanying rice is fragrant, and the gravy is rich. We suggest adding chilli sambal belacan for an extra spicy indulge! Oh, and did we mention that this stall offers catering and delivery services too? Now you can eat rendang in the comfort of your own home!
Address: 49A Serangoon Garden Way, #01-29, S(555945)
Opening Hours:
Wed – Thurs: 11am – 3.30pm
Fri – Sun: 11am – 3.30pm, 5:30pm – 8pm
Feast on the best rendang in Singapore this Hari Raya
Armed with this list of best rendang places in Singapore, we hope you now know where to get your spicy fix this Hari Raya 2022. Want to try your hand at making your own piping hot bowl of rendang? Follow these beef and chicken rendang recipes that'll surely impress your family and friends. Otherwise, don't forget to stock up on the best kueh lapis in Singapore and head down to these best halal dim sum places for some halal siew mai and chee cheong fun. Check out our Hari Raya Sale for more attractive deals on all your other Hari Raya essentials!