The sizzling grill, the spread of banchan side dishes, the juicy meat cuts. Nothing quite beats a sumptuous meal at the best Korean BBQ restaurants. If you're missing the taste of authentic Korean barbecue, there's no better place to enjoy succulent grilled meat and the company of. From KBBQ veterans to restaurants specialising in Korean BBQ at Tanjong Pagar, these places have the best Korean BBQ that won't disappoint!
Our picks for best Korean BBQ in Singapore
1.
Michin Korean BBQ n Hotpot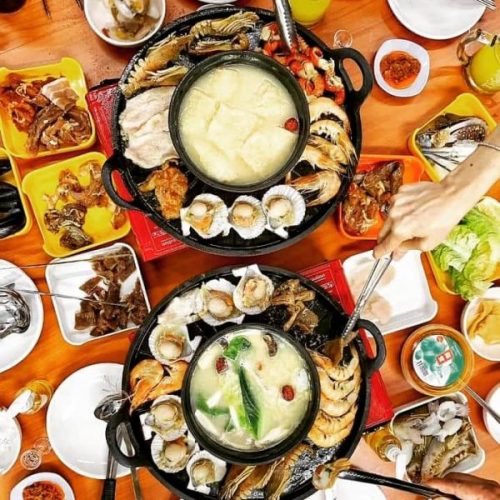 Does an all-you-can-eat Korean BBQ meal under $20 sound too good to be true? As one of the best Korean BBQ in Singapore for those on a budget, Michin Korean BBQ n Hotpot keeps things affordable with its free flow of food! Don't let its coffee shop locale fool you — this is a true blue Korean BBQ place that emphasises on variety and quality instead of fancy interiors and pricey alcohol. We personally loved char-grilling cuts like their Soya Chicken Leg and Garlic Beef slices that boasted strong flavours to help punch through the greasiness usually present in most Korean BBQ. For hotpot fans, you can also check out their shellfish offerings that include scallops and clams!
For even greater discounts, buy their wagyu slices and iberico pork (both available on Michin Korean BBQ n Hotpot) with us using ShopeePay.
*Do note that the vouchers are only viewable on mobile
Address: 473 Fernvale Street, #01-05, S(790473)
Opening Hours: Daily, 5pm – 10.30pm
2. Seoul Garden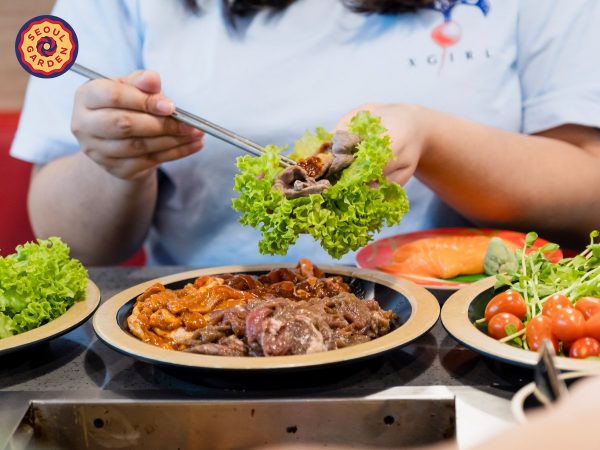 Of all the best Korean BBQ in Singapore on this list, you'd definitely be familiar with Seoul Garden. As one of the original restaurants to bring the trend to our sunny shores, Seoul Garden is close to 40 years old and has evolved through the years to become an ideal place to visit for families and friends to visit. With its spread that rivals international buffets, you'll be blown away by the variety here as you snag french fries and prawns alongside your juicy meat cuts! To sweeten the buffet experience, Seoul Garden features a smokeless grill system that does away with overhead exhausts. This means more occasions to chow down as you won't end up smelling like barbecue when the meal ends! If you're intent on bringing along your Muslim friends, you'll appreciate how Seoul Garden is a Halal-certified Korean BBQ place that guarantees they won't get left out. 
Interested in giving this classic Korean BBQ outlet a shot? Buy our $50 Cash Voucher (available on Seoul Garden) with ShopeePay.
*Do note that the vouchers are only viewable on mobile
Address: NEX, 23 Serangoon Central, #B1-34/35, S(556083)
Check out their other outlets here
Opening Hours: Mon – Sat: 11.30am – 2.30pm, 5.30pm – 10.30pm
3. 8 Korean BBQ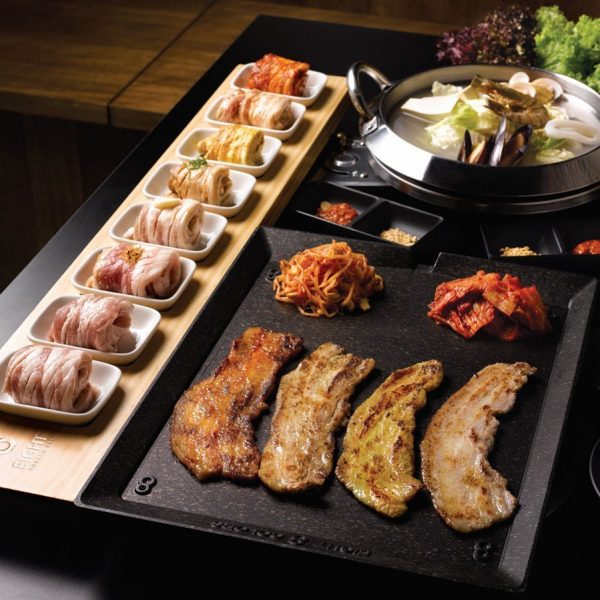 8 Korean BBQ is the perfect place to visit if you're seeking a chic and aesthetic restaurant to enjoy the best Korean BBQ in Singapore. Just like their name, they're known for serving eight colourful flavours of pork. Each type comes with their own set of health benefits and they've even added a 9th flavour by popular demand. From wine and curry to miso paste and black sesame, you'll be spoilt for choice with the variety. Besides the regular Korean BBQ meat, 8 also serves sashimi-grade salmon served ¾ raw so it's safe for consumption. For big eaters, they have free flow banchan so you can place dishes like kimchi and beansprouts on the grill to accompany your meat.
What we loved most about feasting at 8 Korean BBQ is its consideration for the guests so you can comfortably savour the juicy meat. In addition to having exhausts to help regulate the smoke and smell, 8 Korean BBQ also offers Febreeze so you won't smell like Korean BBQ. Furthermore, a piece of wax paper is strategically placed on the grilling meat to prevent oil splatter.
Address: The Central, 6 Eu Tong Sen Street, #02-79/90, S(059817)
Opening Hours: Daily, 11.30am – 2.30pm, 5.30pm – 10.30pm
4. Supulae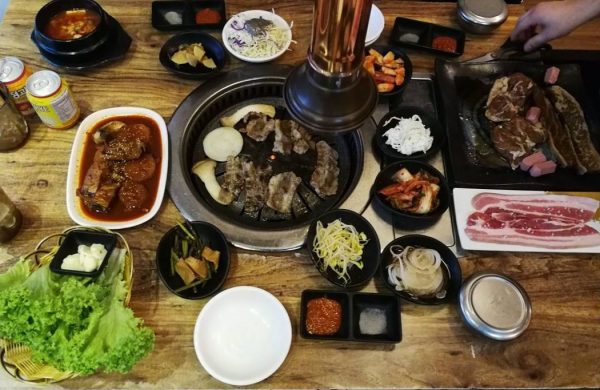 Whoever said you have to go to Korea to enjoy authentic Korean dishes has not been to Supulae as it offers some of the best Korean BBQ in Singapore when it comes to variety! With a wide selection of meats and popular Korean dishes like tteokbokki and pajeon, you're in for a treat if you have Korean food cravings. As Supulae is run by a pair of Korean sisters, the food at this Korean BBQ at Tanjong Pagar is as authentic as it can get! As such you can expect the typical Korean hospitality to follow as the staff are extremely friendly and efficient. We appreciated how they automatically changed the grills when they started looking charred without us even asking.
Supulae's meat comes in sets for two to three diners. When combined with Korean side dishes, rice, soup and steamed egg, you're definitely getting more than what you bargained for! Do you find yourself constantly overcooking meat when eating Korean BBQ, and ending up with tough slices of beef? You won't have that problem here as the staff helps barbecue the meat so the meat is cooked to perfection.
Address: 80 Tanjong Pagar Road, S(088501)
Opening Hours:
Sun – Thu: 5pm – 1am
Fri – Sat: 5pm – 3am
5. Woorinara Korean Restaurant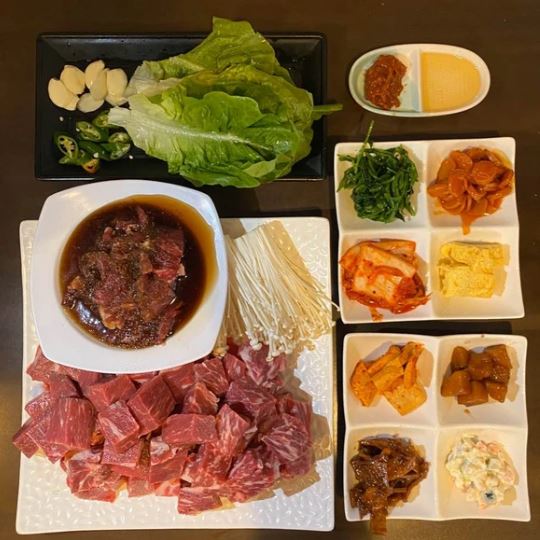 Don't mind paying more for some of the best Korean BBQ in Singapore? Woorinara won't disappoint with its quality meat sets that start from $30. This is especially worth it considering the quantity, taste and texture of the meat! On top of these, they also boast a large range of Korean food to accompany the Korean BBQ options. These include usual dishes as well as more unique items like cheese seafood and kimchi pancakes, stir-fried rice-cake with ramen and even cold kimchi noodles.
Seeking a break from the succulent grilled meats? Woorinara's fried chicken will definitely pique your interest. Korean food lovers will know the pain of finding anything that tastes remotely close to Kyochon's fried chicken in Korea. We loved how fuss-free it was snacking on the boneless fried chicken that's generously seasoned with soy garlic and cheese! For a winning combination, make sure to also order their traditional ginseng liquor! 
Address: 19 Lorong Kilat, #01-02, S(598120)
Opening Hours: Daily, 11am – 3pm, 5pm – 11pm
6. Go! K-BBQ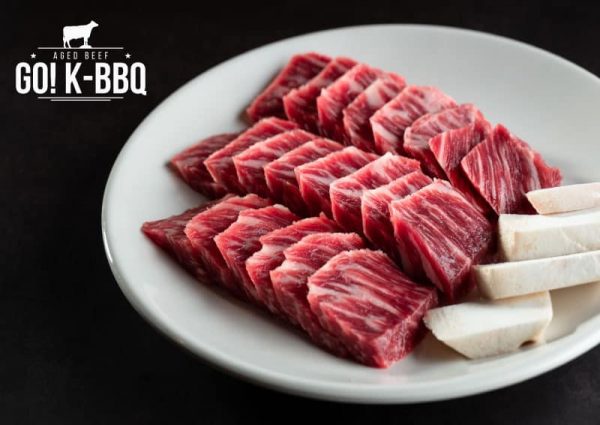 Go! K-BBQ is a must-go for meat connoisseurs when it comes to the best Korean BBQ in Singapore. This is especially so given the effort that goes into preparing the meat! Aged meat is their specialty and you'll be able to see snippets of the ageing process around the shop. To ensure that the juices and flavours are locked in, their aged meat is stored for 15 days at a low temperature in the 'mature room'. Once done, the staff will check that the grill is 320 degree celsius before grilling the meat. 
Worried you'll mess up the precious aged meat and end up over or undercooking it? You'll be glad to hear that the staff will do all the grilling for you, so much so that there are signs asking you to leave it to them. As the meat is aged for a fixed period of 15 days, there's limited quantities for sale. That's why you should make a reservation with your meat of choice prior to the visit to prevent disappointment!
Address: 76 Amoy Street, S(069895)
Opening Hours:
Mon – Fri: 11.30am – 2.30pm, 5.30pm – 10.30pm
Sat – Sun: 5.30pm – 10.30pm
7. 왕대박 Wang Dae Bak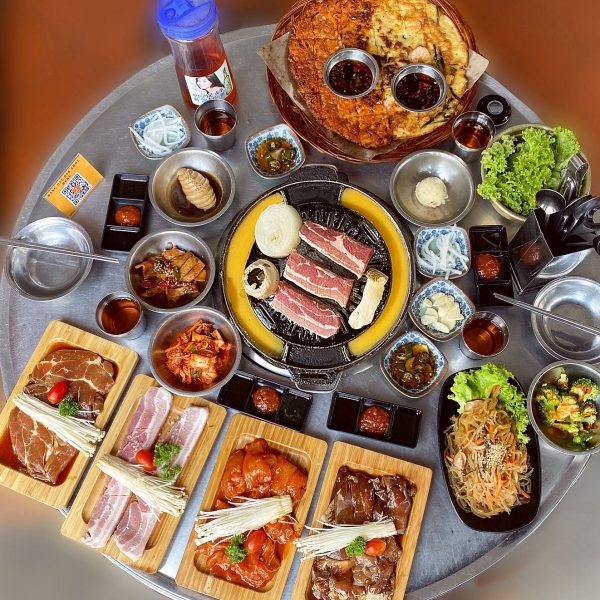 When it comes to authenticity, Wang Dae Bak offers the best Korean BBQ in Singapore by using charcoal. Unlike most popular places for Korean BBQ in Tanjong Pagar that use electric and gas grills for convenience, Wang Dae Bak prides itself on its traditional charcoal grill. The end result is juicy barbecued meat that comes with extra char as you savour the additional smoky flavour absorbed by the meat. By swiftly searing the meat it's grilling, you'll enjoy a caramelised exterior with your meats that makes feasting at Wang Dae Bak a unique experience! 
Charbroiled meat aside, there's plenty to love about Korean BBQ at Wang Dae Bak! Firstly, you can get creative with eggy side dishes due to the free flow egg mixture that's refilled on request. From adding it to your wraps to enjoying it plain, the egg ring certainly provides some much needed respite from the huge portions of barbecued meat. Additionally, if you adore Korean pancakes, their giant half-half pancakes offer a crisp yet moist texture that any Korean foodie would die for.
Psst, save yourself a pretty penny by ordering from their meat collection with us. From Pork Belly Meat Kit to Prime Ribs (both available on Wang Dae Bak), you'll find a host of meat set listings that'll help you save tonnes.
Address: 98 Amoy Street, S(069918)
Opening Hours: Mon – Sat: 11.30am – 2.30pm, 5.30pm – 10.30pm
8. O.BBa BBQ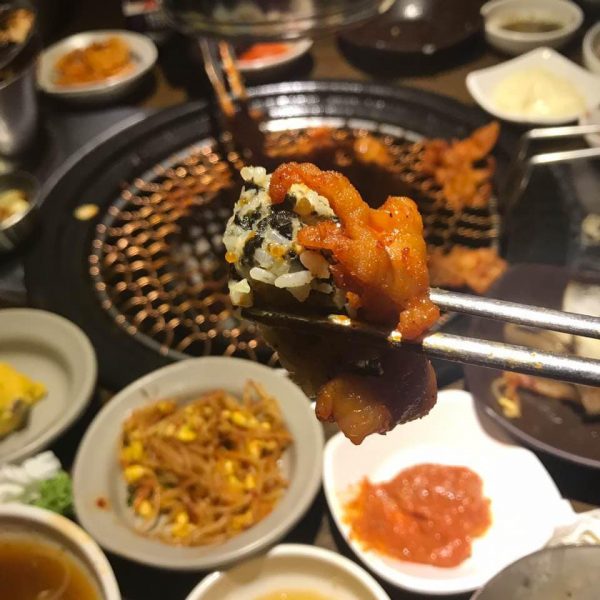 We can't talk about the best Korean BBQ in Singapore without mentioning the one with snaking peak hour queues! Unlike certain places for Korean BBQ in Tanjong Pagar, O.BBa BBQ refrains from overwhelming with free flow meat. Rather, the restaurant offers a curated selection of cuts that'll make diehard carnivores drool with anticipation! From succulent Black Pork Belly to gorgeously marbled Prime Beef, O.BBa guarantees a juicy mouthful with each bite of their premium meat.
What was also a surprise was O.BBa BBQ's stew and soup selection! By adding generous portions of meat and soft-to-the-touch tofu, their seolleongtang and sundubu jjigae are perfect ways to cleanse your palate and prepare you for the meaty goodness to come. Combine these with their smattering of authentic Korean fare and you have a winning formula that'll keep Korean BBQ fans coming back for more.
Address: 63 Tanjong Pagar Road, S(556083)
Opening Hours: Wed – Mon: 11.30am – 3pm, 5pm – 11.30pm
Sizzling good meats at these best Korean BBQ in Singapore
From famous outlets for Korean BBQ at Tanjong Pagar to lesser known all-you-can-eat buffets, we hope you found our rundown of the best Korean BBQ in Singapore handy! Prefer to have your Korean feast at home? Check out these Korean food delivery options that conveniently deliver right to your doorstep. Having midnight hunger pangs? Check out these best supper places that will cure those late night munchies!