Other than the Great Singapore Sale in June, another thing to look forward to is the Dragon Boat Festival! Foodies, it's time to feast again this year with the best bak chang delivery services in Singapore! Beat the queues and order your favourite rice dumplings online to indulge in the soft glutinous rice and savoury filling. Read on down below to find out the best bak chang delivery services available in Singapore!
Best bak chang delivery services online
1. Sin Mui Heng (SMH) rice dumplings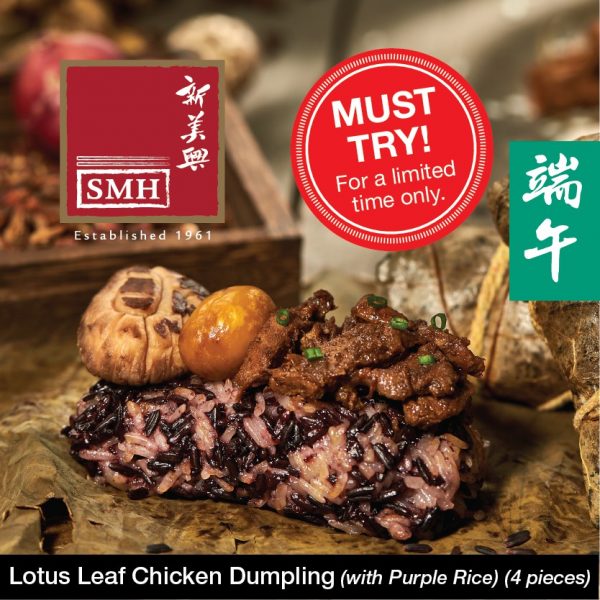 With its roots in handmade dim sum dishes since the early 60s, you can trust SMH to produce some of the best rice dumplings in Singapore. All the rice dumplings are handmade with fresh ingredients to ensure the best quality and taste. A must-try from SMH is the Lotus Leaf Chicken Dumpling (With Purple Rice) (available on SMH Food Group Official Store). Unlike regular rice dumplings that are made of glutinous rice, these SMH rice dumplings contain a mix of glutinous and purple rice. Purple rice is jam-packed with antioxidants and is a rich source of fiber, protein, and iron. This makes it a great choice for the elderly! Other great alternatives from this bak chang delivery service include the Lotus Leaf Red Bean Dumpling which has a subtle sweet flavour — yummy as a dessert! 
2. Gim Tim rice dumplings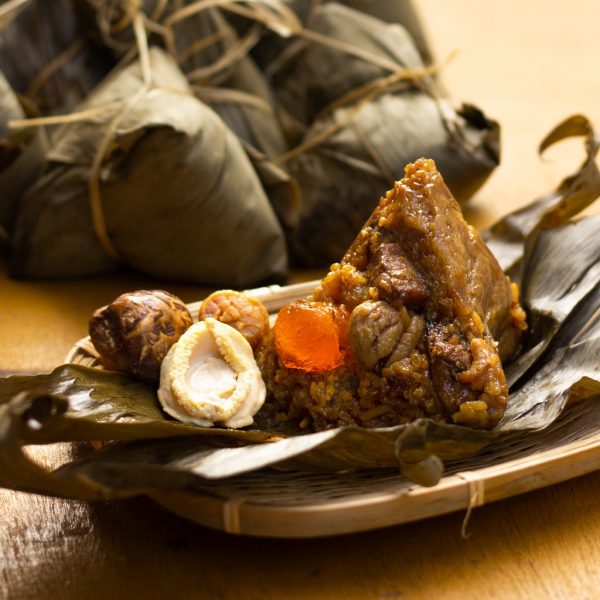 Want to impress your in-laws at this Dragon Boat Festival? You can do so with Gim Tim Rice Dumpling With Abalone And Conpoy (available on Gim Tim). No, your eyes are not playing a trick on you. The Gim Tim rice dumplings contain lavish ingredients like abalone, dried scallop (conpoy), and oyster. The combination produces a complex yet robust flavour that will surely have your in-laws nodding in satisfaction. You'd expect a rice dumpling with such premium ingredients to be expensive, but surprisingly, you can get them at only $7 each! If this is too fancy for the elderly, other types of rice dumplings offered by this bak chang delivery service are the Gim Tim Traditional Conpoy Rice Dumpling (available on Gim Tim). 
3. Joo Chiat Kim Choo rice dumplings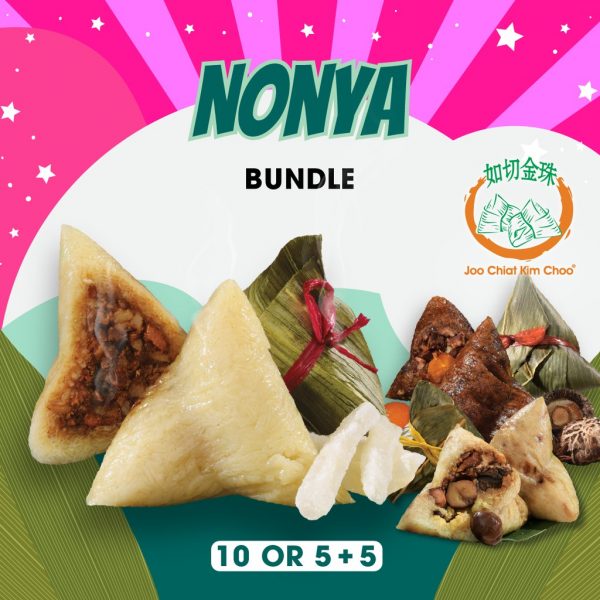 Joo Chiat Kim Choo needs no introduction. Touted as the golden pearl of Joo Chiat, the long queues at the store every Dragon Boat Festival speaks volumes about Kim Choo's rice dumpling popularity. The rice dumplings are adored for their perfect ratio of fillings to rice. This ensures that every mouth of bak chang is full of flavour and texture.
The Joo Chiat Kim Choo Nonya Rice Dumpling (available on Joo Chiat Kim Choo) is one of the best sellers here. It's different from the regular nonya bak chang you may be used to as it contains winter melon strips. This amplifies the sweetness of the rice dumpling, perfect for those with a sweet tooth. This bak chang delivery brand also carries Mini Rice Dumplings (available on Joo Chiat Kim Choo), known as kee chang, to fill your bellies during tea break! 
Pro Tip: Enjoy your kee chang with the Sing Long Nonya Kaya (available on Shopee Supermarket) or dip it into sugar for a sweet indulgence!
4. Tam Kah Salted Egg with Spiced Meat rice dumplings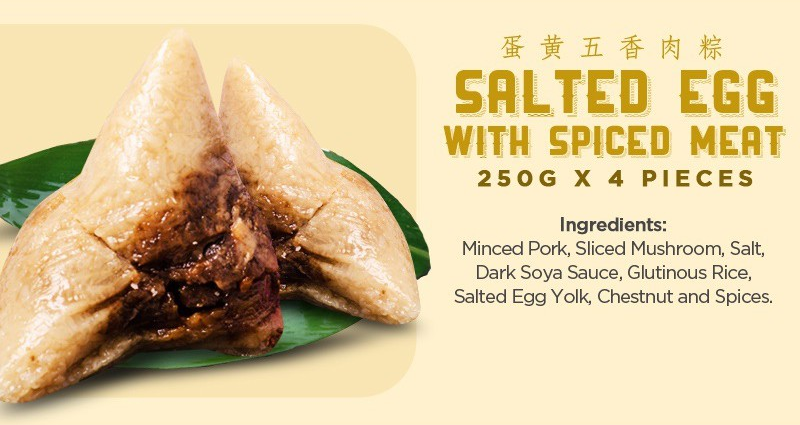 Sick of rice dumplings made of chicken? Why not try something new such as the Tam Kah Salted Egg with Spiced Meat Rice Dumpling (available on Tam Kah Seafood)! Other crowd favourites at this bak chang delivery brand include the XO Abalone Scallop and Fortune Pork Trotter Rice Dumplings — we believe this will be a hit among Teochew families!
5. Love Dumplings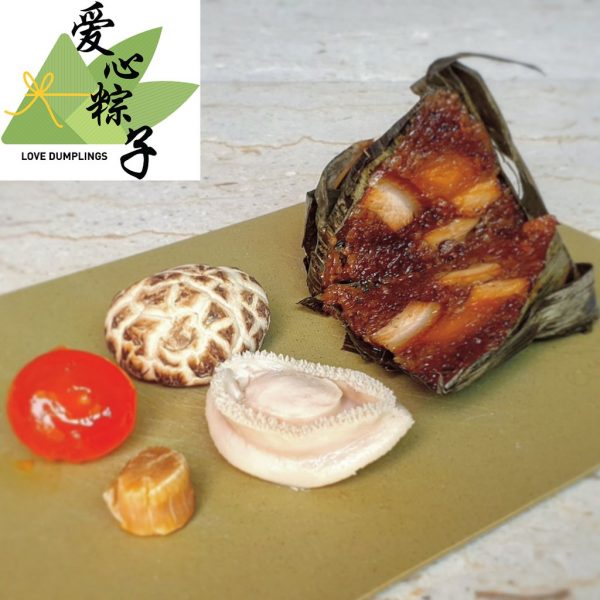 While Love Dumplings may not be a renowned brand with a long history, this home-based online bak chang delivery service is gaining a cult following as we speak. The rice dumplings here are based on a family recipe that's been passed down for generations. The homely taste of the Love Dumplings' bak chang will surely make you feel nostalgic. The Love Dumpling Chinese Glutinous Rice Dumplings (available on love.dumplings) come in varieties like kiam bak chang (salted rice dumpling), premium kiam bak chang (salted rice dumpling with abalone and scallop) as well as plain and red bean kee chang. Mix and match the flavours to enjoy a bundle price!
6. Yuen Chen Siang rice dumplings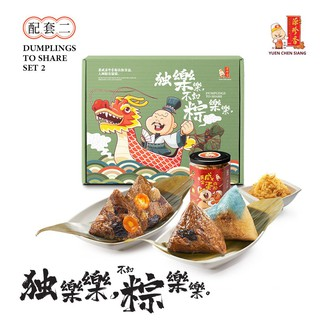 Most rice dumplings are either brown or white, but have you seen one that's blue? The Yuen Chen Siang Rice Dumpling Set (available on Haoliao) has a unique appearance with half the bak chang coated in sky blue tinted glutinous rice. This is two-tone design is also a marking to identify rice dumplings of duo flavours — sweet and salty! With the Yuen Chen Siang bak chang delivery service in Singapore, you can now enjoy both the sweetness of a kee chang and the saltiness of a nonya rice dumpling all in one.
In addition, the rice dumplings here contain absolutely no preservatives. Nonetheless, you need not worry about the freshness as each rice dumpling is sealed in a vacuum pack to extend its shelf life up to three months! 
(Bonus) 7. Thye Moh Chan rice dumplings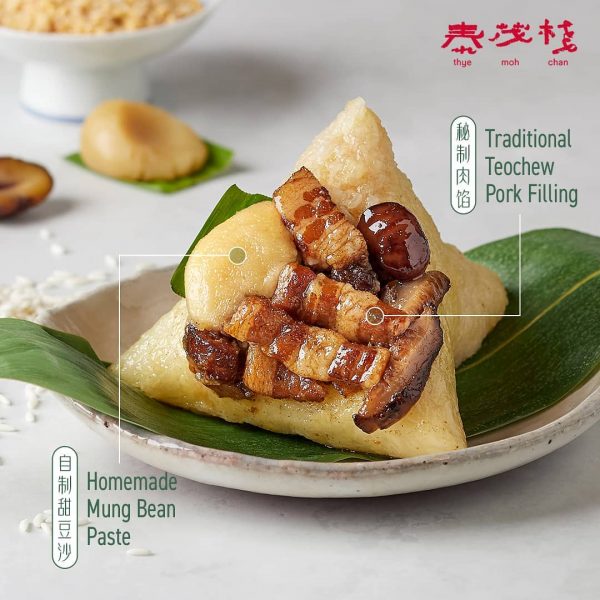 Here's another traditional bak chang brand if you're a huge Teochew bak chang fan! Started in 1943, Thye Moh Chan specialises in handmade Teochew baked goods — think mooncake, pastries, and of Teochew rice dumplings. Their Double Delight Rice Dumpling boasts a unique combination of green bean paste, minced pork, mushroom and chestnuts. As a result, these Teochew bak changs taste sweeter than their counterparts. The rice dumplings are hand-wrapped and cooked meticulously for three hours for the best flavour. You can experience the superior taste of Thye Moh Chan Teochew Double Delight Bak Chang at only $6.50 each. Purchase the mobile voucher and redeem it in the Thye Moh Chan stores today!
*Do note that the voucher is only viewable on mobile
Address: Paragon, 290 Orchard Road, #B1-12, Singapore 238859
Check out other locations here
Opening hours:
Mon-Sun: 10am – 8pm
Types of bak chang
Placed your orders? Take a look at this guide on the different types of bak chang and impress your folks at home with your knowledge!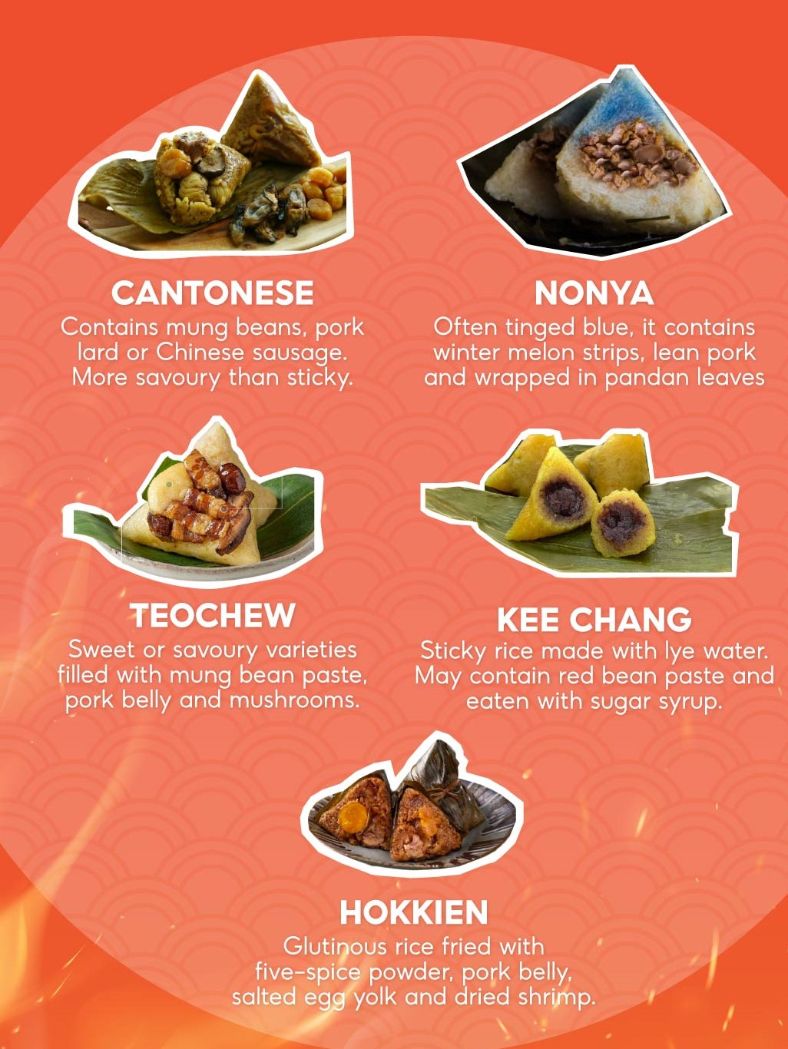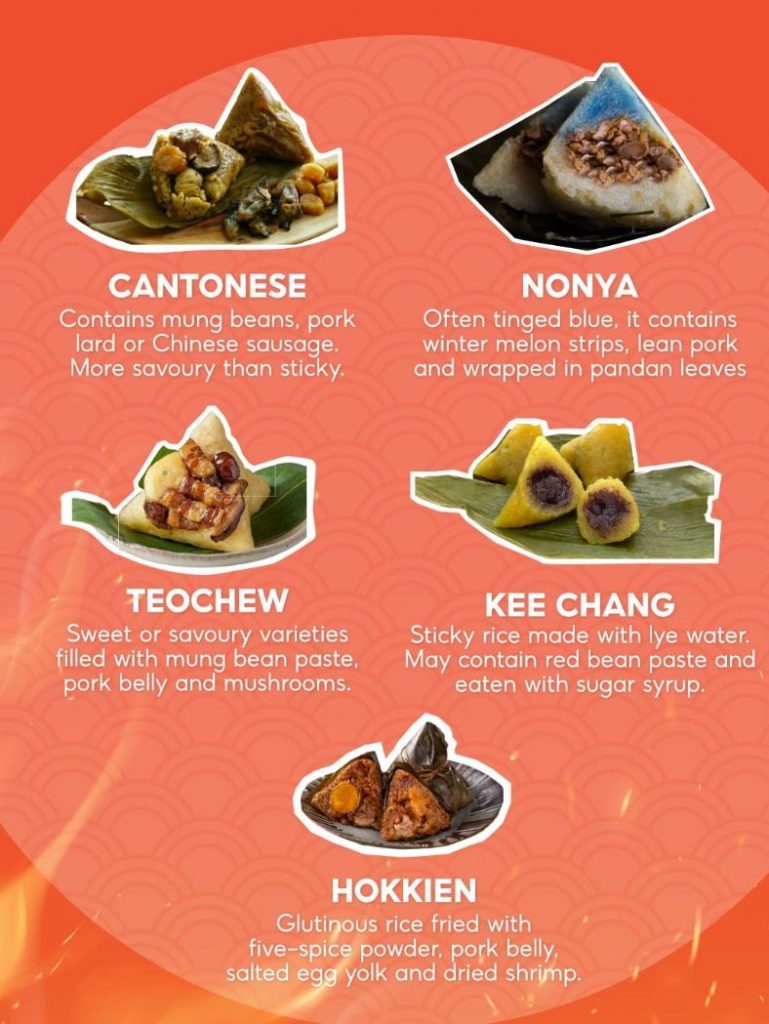 Indulge in the best rice dumplings with bak chang delivery services in Singapore
Dragon Boat Festival is a great reason to gather with your friends and family. Other than filling your bellies with rice dumplings, be sure to learn about the history behind the fun festival! And while you're feasting, why not throw some durians into the mix? Enjoy the durian harvest in the comfort of your home with durian delivery services in Singapore!
This article was updated on 28 May 2021. Additional research done by Jamantha Lim.
---
New to Shopee? Get $7 (min. Spend $15) with code*: BAK7CHANG
*TNC applies. Valid for new users from 31 May to 7 Jun 2021 only.