Whether you're a newbie to durians or someone who regularly indulges in the King of Fruits, we won't blame you if you're overwhelmed by the different types of durians available! From Mao Shan Wang's (MSW) signature bittersweet taste to the buttery goodness of D101, each durian variant presents a distinct taste profile that'll appeal to different palates. Scroll on as we cover the different types of durians you can buy in Singapore.
A beginner's guide on how to open durians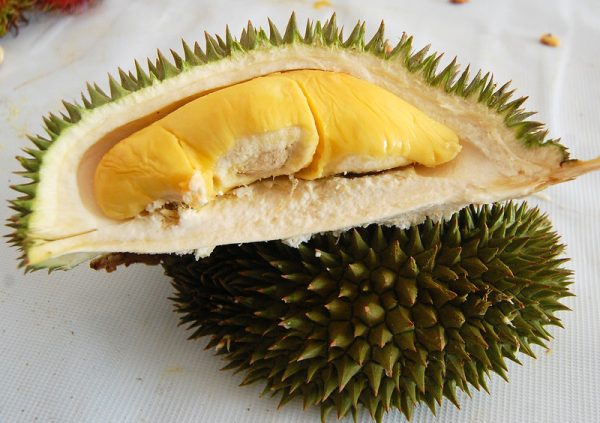 So, you've just bought your first durian! Unfortunately, cracking open one of these green porcupines can be a nightmare given their sharp spines and tough shell. Fret not, we've got a tried and tested method with which you'll learn how to open durians with ease!
Make sure it's ripe

The last thing you'll want is going through all that effort on how to open durians without being able to feast on its tasty flesh because it's unripe. One way to tell if the durian is ripe is to shake it! Yes, simply shake the fruit gently and observe if you hear a slight rattling. If you do, then this means the durian seeds have flesh that's soft enough for eating! You can also take a sniff of the durian. Ripe durians will emit a pungent scent that everyone's all too familiar with.
Identify where and how to place your knife

At the base of any durian, you'll find a brownish five-pointed star outline. These lines are the durian's sutures and they separate the fruit into its various segments. Simply stab the middle of the durian's base and apply force on these lines while holding the durian steady with a towel. Then cut along the lines so you can easily open the durian with your hands later.

Use your hands for the final stretch

When the durian's open by a few inches, you can easily pry apart the durian segments with your bare hands. Just make sure you do this carefully and protect yourself from the durian's sharp spines.
Now that you've learnt how to open durians, it's time to learn what differentiates one variant from another with this guide to the different types of durians in Singapore.
Ultimate guide to different types of durians to indulge in
1. D24 XO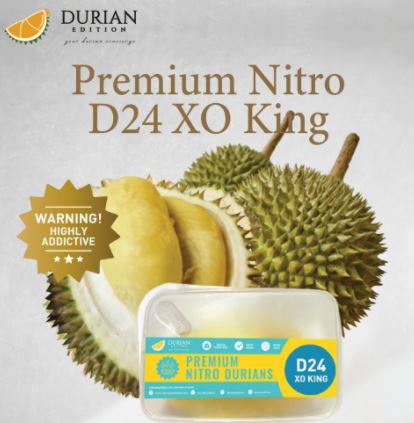 While many durian species flood today's market, old school durian fans will know that D24 durians are the best because they offer the perfect balance between sweet and bitter notes! For a more intense aftertaste, check out D24 XO durians. Thanks to additional fermentation, this variant features the same creamy goodness of D24 durians with a potent alcoholic kick. The end result is a bitter, booze-like aftertaste like no other among the different types of durians available 
Ready to sink your teeth into a D24 XO durian? Durian Edition's premium D24 XO (available on Durian Edition Official Store) are vacuum packed to preserve the overall freshness. Simply defrost it from the fridge and you'll have succulent D24 XO flesh ready for indulging!
2. Musang King / Mao Shan Wang (MSW)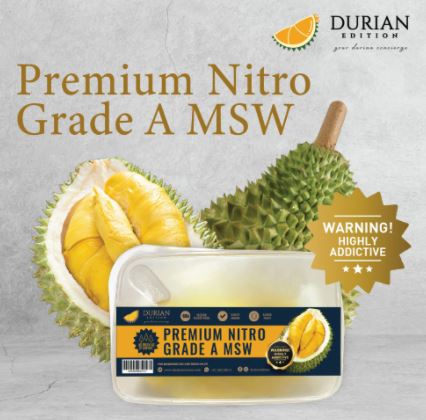 Ask anyone what's their top pick among the different types of durians and it'll likely be MSW, also known as Musang King durian. As the de facto durian choice for durian desserts and ice creams, MSW's reputation precedes itself with its classic bittersweet taste profile. MSW durians are also easy to eat as its bright yellow flesh slides off the seed effortlessly. Shape-wise, they're also easily recognisable given their pyramid-shaped thorns and starfish-like pattern at the durian husk's base.
We're eyeing this premium nitro grade A MSW (available on Durian Edition Official Store) for a MSW party at home. This variant hails all the way from Raub, Pahang. With 450g of MSW goodness, you'll be glad to know each packet is flash frozen with nitrogen for maximum freshness.
3. D13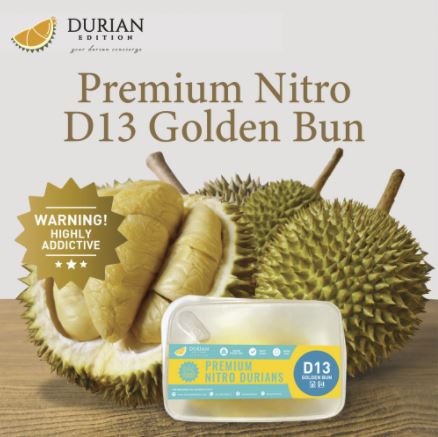 As a lesser known cultivar among durian feasters, D13 durians are kampung breeds — meaning they're grown in smaller batches and tend to have their own unique flavours and textures. It can also be easily identified from its deep orange hue. For durian fans who prefer something lighter on the palate, D13 is their best bet among the different types of durians due to its light sweetness and how it's less pungent than other varieties. Additionally, its soft, custard-like texture makes D13 durians a joy to munch through. 
Of the various deals, we love these Premium Nitro D13 Golden Bun (available on Durian Edition Official Store) for its meaty seeds. Going at $38 with 450g of durian, it offers plenty of bang for your buck.
4. Black Thorn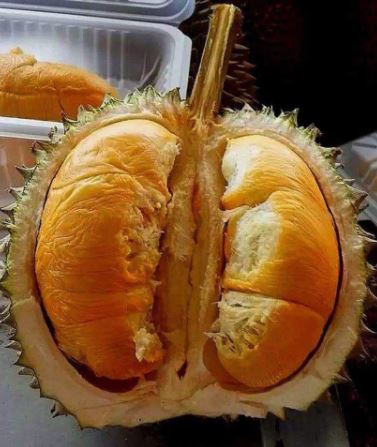 Step aside MSW, there's a new challenger to the throne! The Black Thorn durian is popular  among durian fans for its bittersweetness that rivals the levels of Musang King. Done admiring its custard-like orange flesh? Dig past its dark-tipped shell and you'll uncover dense flesh with a melt-in-your-mouth texture that's rich in sugary goodness. As it's a rarer variant among the different types of durians, you'd best snatch up listings like Pahang Black Thorn durian (available on DURIAN PANDA) before it's too late! 
5. D101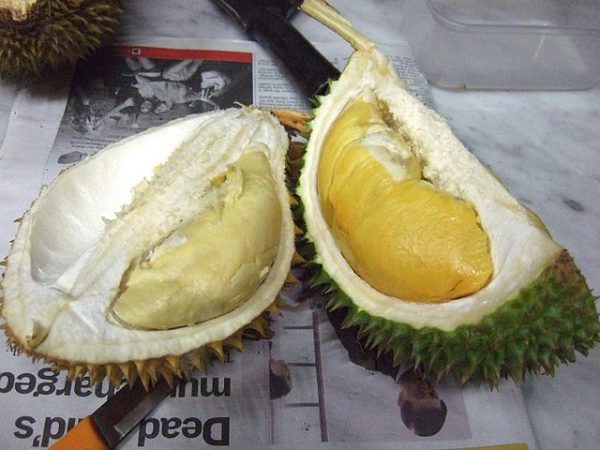 Introducing your friend who's trying durians for the first time? Then the subtle taste profile of D101 durians (available on Vital Pro) will certainly win them over! As different types of durians can sometimes overwhelm newcomers with their intense bitterness, D101 durians flip the script by offering a sweeter and more buttery flavour. To keep durian fans coming back for just one more bite, there's a sour tinge that counters the overall richness.
6. Golden Phoenix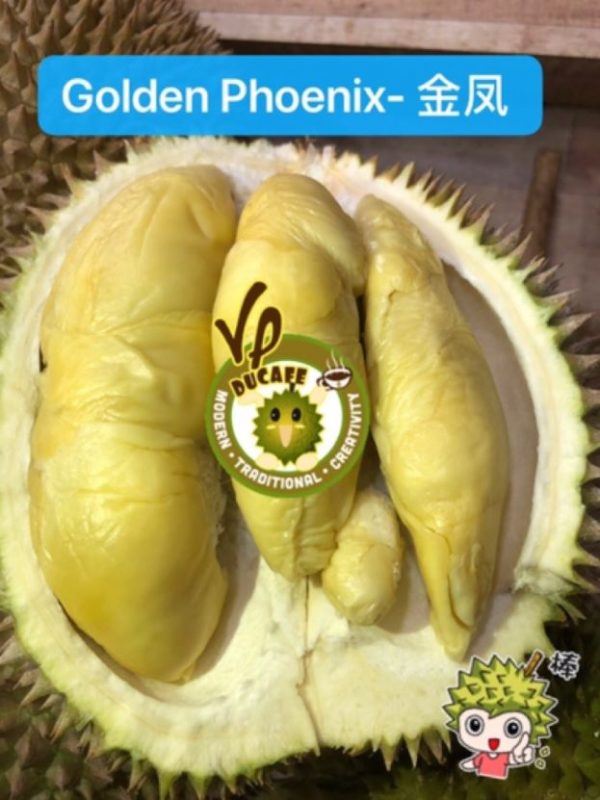 Contrary to popular belief, bigger durians don't always taste better. Don't let its pale, yellow-white durian pulp and miniature size fool you — Golden Phoenix durians prove there's more than meets the eye with its complex flavour profile and creamy mouthfeel! Also, unlike some of the different types of durians on this list, Golden Phoenix (available on Vital Pro) features a thick and dry consistency. This gives it a sharp and bitter taste that will satisfy durian fans that want an alternative to sweetened variants.
Which type of durian are you a fan of? 
Calling all durian connoisseurs! Follow the ShopeeTV team in this durian blind test challenge and see if you can identify the right durian types yourself!
From learning how to open durians to sampling the alcoholic punch of D24 XO, we hope our guide to the different types of durians in Singapore has served you well! Keen on further indulging those durian hunger pangs? Check out our list of easy durian cake recipes to try your hand at. For a more in-depth guide on where you can get your supply of durians, read our guide to online durian deliveries and enjoy these fruits from the comfort of your home!