Another year, another fantastic harvest for the King of Fruits! The durian season is once again here and it's the perfect time to indulge in your favourite durian variants. Whether you're a fan of the D24's creaminess or adore the bittersweet goodness of Mao Shan Wangs (MSW), relish in the taste of the best durians this year. Check out our rundown of the best durian stalls in Singapore that featured trusted sellers, late-night opening hours and affordable prices!
Popular durian stalls in Singapore
1. Ah Seng Durian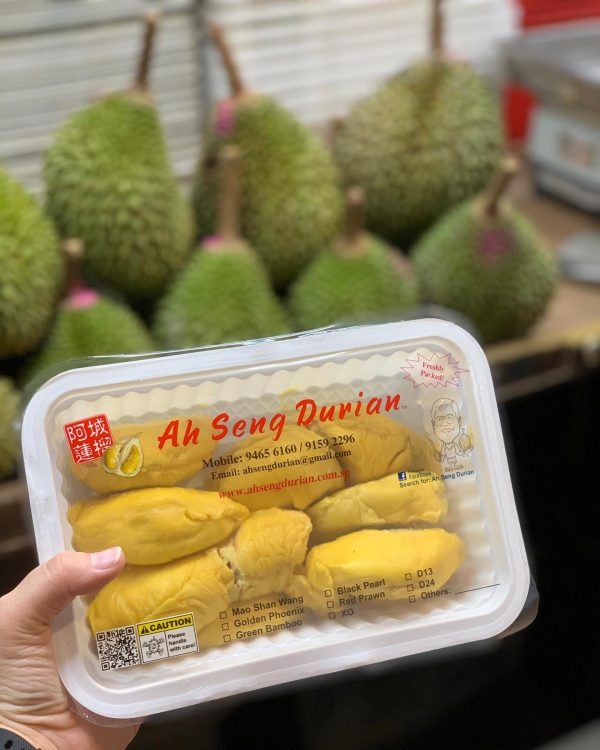 On the lookout for the best durian stalls in Singapore? As a hot favourite among westies, Ah Seng Durian has firmly established itself as the place to go for some of the best durians in town. With its commitment to offering competitive prices and fresh durians, the stall's queue reaches absurd lengths during peak periods! If you're packing some home, you'll appreciate the vacuum-sealed packaging so you won't be a nuisance on public transport and can avoid infecting your car with the pungent durian smell. In fact, Ah Seng Durian has gotten so popular that it's opened Durian Lab Cafe at Alexandra that specialises in durian desserts like MSW durian tarts and shortcakes!
Address: Ghim Moh Market & Food Centre, 20 Ghim Moh Road, #01-119/122, S(270020)
Opening Hours: Daily, 1.30pm – 8.30pm
2. Combat Durian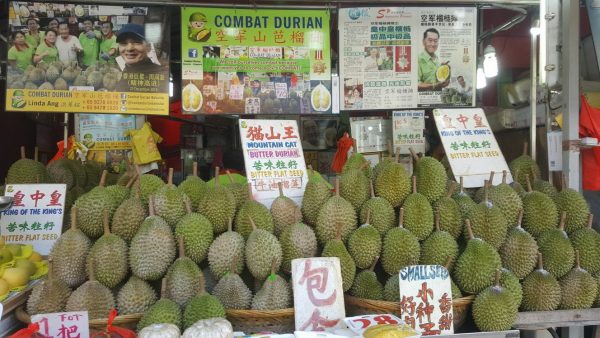 Ask anyone where the best durian stalls in Singapore are and you'll likely hear about Combat Durian at Balestier Road! As one of the oldest durian establishments in town, Combat Durian has earned a reputation for selling premium MSWs for more than 50 years. They were even awarded the Asia Pacific Brand Awards some years back! Interestingly, 'Combat Durian' has nothing to do with the military. Rather, Mr Ang coined the name because he endearingly mispronounced 'combat' as 'come back' and wished for customers to return after having a lip-smacking serving of his durians.
Address: 249 Balestier Rd, S(329708)
Opening Hours: Daily, 12pm – 10pm
3. Durian Mpire by 717 Trading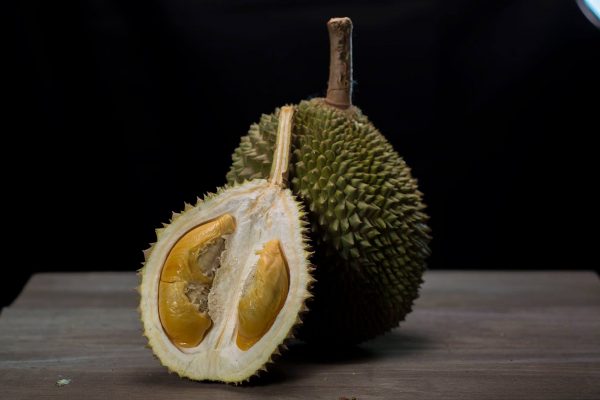 While on your search for the best durian stalls in Singapore, you'd certainly have come across dishonest durian sellers who use bait-and-switch tactics and rigged scales. Thankfully, you'll face none of that at Durian Mpire! For decades, Mr Goh has earned a reputation for his honest dealings with customers, giving them nothing but the best durians without spiking prices. Late-night durian feasters also frequent this spot because Mr Goh regularly brings in rarer breeds like D100 and Golden Phoenix!
Address: Highland Centre, 22 Yio Chu Kang Road, #01-01, S(545535)
Opening Hours:
Mon – Fri: 9am – 10pm
Sat – Sun: 10am – 10pm
4. 99 Old Trees
Tired of getting ripped off by angry durian salesmen? Unlike many of the durian stalls in Singapore on this list, 99 Old Trees is a farm-to-table seller! By sourcing their durians directly from the fertile lands of Pahang, they skip middleman fees and serve durians straight to you. This means you'll enjoy them much cheaper!
Price aside, we also love their modern take on traditional durian feasting! Sign up for SukaWa — an omakase that's specially organised at their durian bar. During this insightful session, you're able to taste multiple durian cultivars while learning about the durian family. To sweeten the deal, 99 Old Trees will also throw in unlimited servings of MSW!
Address: 46 Owen Road, #01-277, S(210046)
Opening Hours: Monday – Sunday: 10.30am – 9.30pm
5. Sindy Durian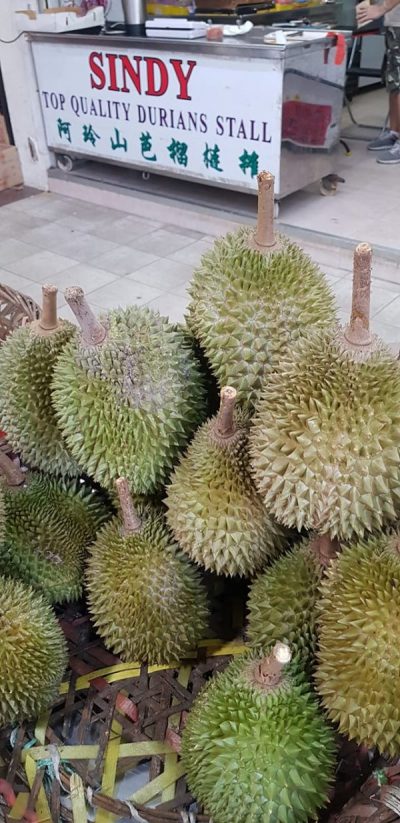 Sindy Durian is a 30-year-old, family-run business and has a reputation of only serving premium quality durians. As one of the few durian stalls in Singapore with staff who're fluent in English, visit them if you feel that language is one barrier preventing you from enjoying some late-night durians. You're also welcome to invite your non-Mandarin speaking friends along to feast on some of the best durians in Singapore. Fan of durian puffs? Head on down to Sindy Durian to order their mouthwatering durian puffs that are stuffed with melt-in-your-mouth 100% MSW filling!
Address: Block 89, Whampoa Drive, #01-835, S(320089)
Opening Hours: Daily, 24/7
6. 227 Katong Durian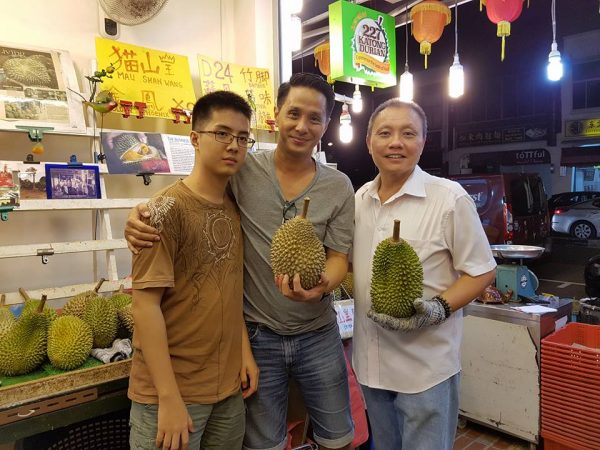 Hardcore durian fan but stay near the East Coast area? Check out 227 Katong Durian — the durian stall that has earned a loyal following because they deliver the freshest durians from Pahang, Malaysia! Offering a staggering variety that competes against some of the best durian stalls in Singapore, you'll love their array of rarer durians like Black Thorn and Green Bamboo. Combine this with wallet-friendly prices and it's clear why die-hard durian fans come back for more!
Address: 227 East Coast Road, S(428924)
Opening Hours: Daily, 10am – 10.30pm
7. 818 Durian & Pastries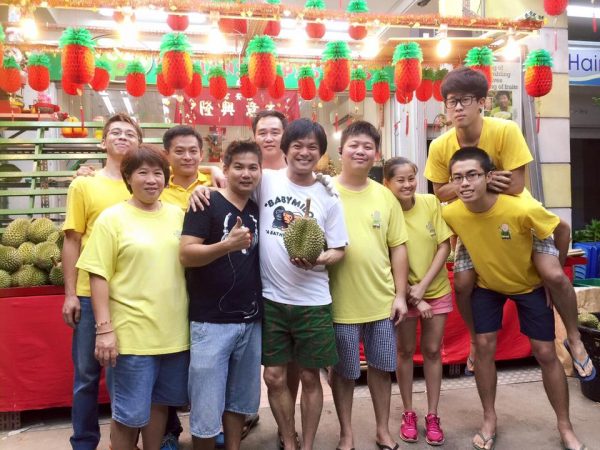 If the digits 818 sound familiar, that's because owner Goh Meng Chiang is the son of 717 Trading's Mr Goh! Instead of continuing the family business, he decided to venture out and carve his own path by specialising in farm-grown MSWs. Endorsed by local celebrities like Dennis Chew and Chew Chor Meng, 818 Durians & Pastries guarantees creamy durians that will satisfy the toughest of critics! Also, once you're done binging on some of their durians, don't miss out on their generously-filled durian puffs and frozen balls of MSW flesh that are miles ahead of traditional durian ice creams.

Address: 26 Defu Lane 10, #01-188, S(539207)
Opening Hours: Mon – Sat: 10am – 6pm
8. Ah Di Dempsey Durian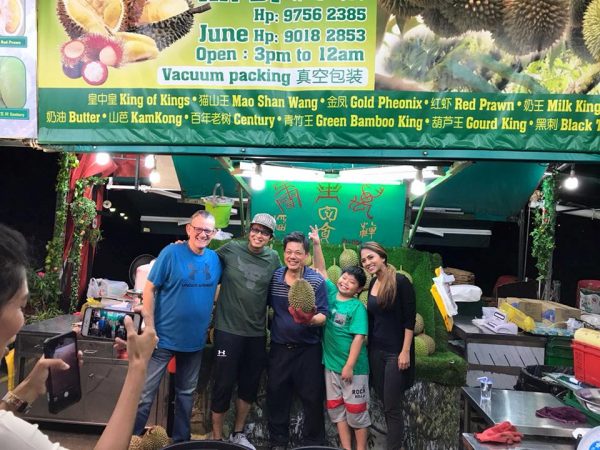 No list of the best durian stalls in Singapore would be complete without mentioning Ah Di Dempsey Durian! If you're looking for an authentic durian feasting experience, you'll surely find it here. Ambiance-wise, Ah Di has nailed it as you'll be having your durian at a makeshift stall in a secluded carpark while selecting from a wide variety of durians! Don't know your Red Prawns from your Gourd Kings? Let the owner know your preferences so he can pick some durians out for you. It's no wonder you see plenty of customers returning in droves to order by the dozens for some late night durians!
Address: Carpark, Block 7 Dempsey Road, S(249671)
Opening Hours: Daily, 3pm to 12am
9. King Fruits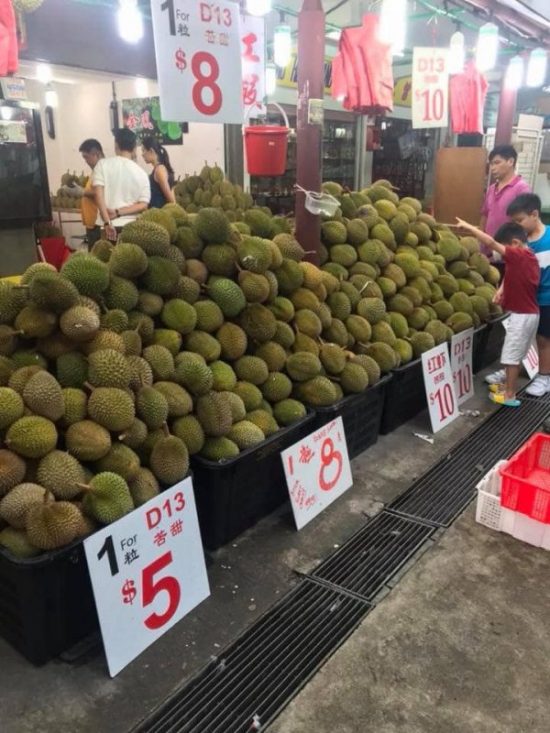 If you're looking for the cheapest durians in Singapore, you owe it to yourself to check out King Fruits Durian! Causing a stir among the durian lovers community because of their incredible $15 per MSW piece offer, you'll definitely be getting the most bang for your buck here. Besides their in-house MSW special, you'll also spot a whole array of deals that'll appeal to assorted taste palettes like D13s and Black Golds. This wide spread guarantees you'll get your fill, even if you're hunting for some late night durians to feast on.
Address: Geylang Lorong 33, 639 Geylang Road, S(389570)
Opening Hours: Daily, 24/7
Enjoy quality D24 and MSW at the best durian stalls in Singapore
From Ah Seng Durian to 99 Old Trees, we hope our rundown of the best durian stalls in Singapore has tickled your fancy. Still craving for durian even after the season is over? What if we told you it was still possible to get your durian fix all year round by checking out our assortment of durian pastries and biscuits. Accidentally ordered too many durians and find yourself struggling to finish them? Don't worry — you can get creative and flex those baking skills by trying these easy durian cake recipes. Alternatively, if you prefer to enjoy the King of Fruits from the comfort of your home, try these best durian delivery services in Singapore.
This article was updated on 7 July 2021. Additional research done by Fatimah Tasmeem. 
---
New to Shopee? Get $7 off (min. spend $15) with code*: DURIAN7STALLS
* TNC Applies. Valid for new users from 11 to 18  July 2021 only.