There's a reason why durians are crowned the King of Fruits — their golden, custardy and bittersweet flesh is simply irresistible. When it is durian season, we get to savour an array of fresh varieties from Mao Shan Wang to Black Gold, and durian fanatics will also look forward to variations like durian puffs. Piped to the brim with durian flesh, durian puffs are a light-as-air pastry that offer a fuss-free treat that's perfect for tea-time or supper. They're also great for those trying durian for the first time! To get your hands on them, check out our roundup of the best durian puffs in Singapore, from takeaway to delivery options that you can enjoy all year round!
Best durian puff delivery places in Singapore
1. Golden Moments Premium Mao Shan Wang Durian Puff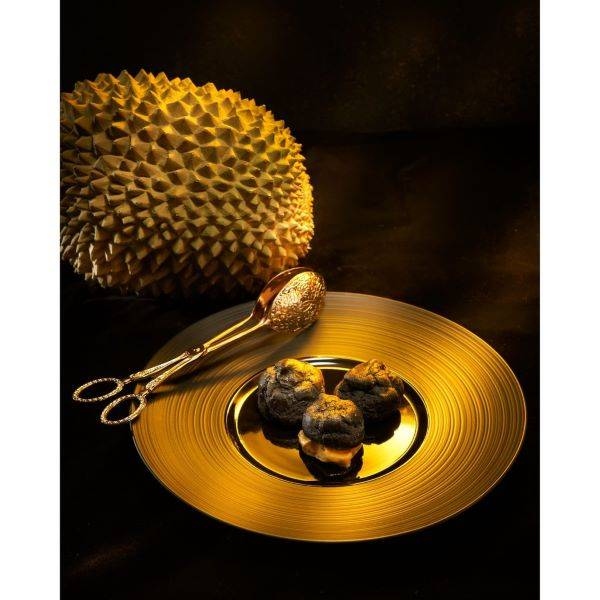 We've all come to know durian puffs as the golden brown pastries with a creamy durian filling. However, the Golden Moments Premium Mao Shan Wang Durian Puffs (available on Golden Moments Singapore) is here to break all stereotypes. Firstly, this best durian puff is black. Yes, you read that right. Secondly, it comes topped with 24K gold dust — how luxurious! Together with the pure Mao Shan Wang puree filling, this will surely make for an impressive gift for your in-laws! 
2. eCreativeCake Durian Cream Puff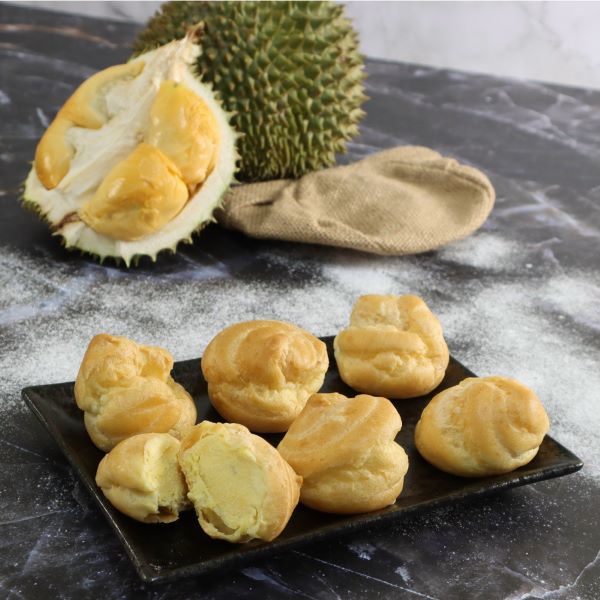 Known for their intricately designed fondant birthday cakes, eCreativeCake doesn't disappoint with durian puffs either. Their 6pcs Durian Cream Puffs (available on eCreativeCake) are generous with durian fillings, giving it a rich, aromatic taste. That's why it is one of the best durian puffs available for delivery in Singapore. For die-hard durian lovers who want to enjoy the fruit off-season, these puffs are sure to satisfy your cravings! 
3. iChef D24 Premium Durian Puff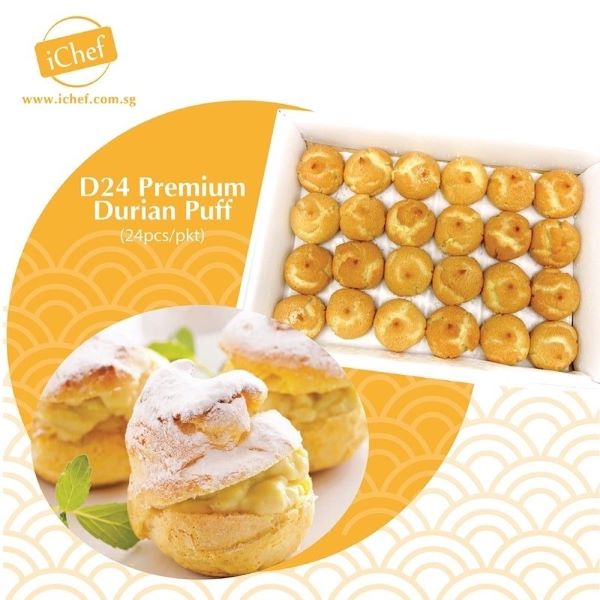 If you have an entire family of durian lovers, the highly-rated D24 Durian Cream Puff 24pcs (available on Ichef) is just the right amount for everyone to eat till their heart's content. Apart from its ultra creamy durian filling, this durian puff contains no preservatives or artificial flavours! That said, this durian puff is best consumed within 2 days after delivery for optimal enjoyment. 
4. Ritz Apple Strudel & Pastry Durian Puff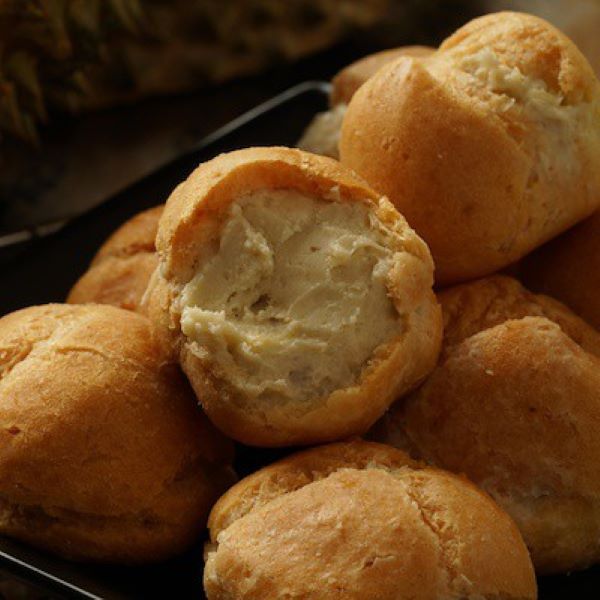 Want just pure durian pulp filling in your durian puff delivery order in Singapore? Your wishes will be granted at Ritz Apple Strudel! Aside from their strudels, Ritz Apple Strudel is also famous for offering some of the best durian puffs in Singapore. The golden pastry shells are harder on the outside but soft on the inside. This complements the moist durian flesh (read: not durian cream) encased in each puff. The Ritz Apple Strudel & Pastry Durian Puffs 16pcs (available on Ritz Apple Strudel (Home Delivery)) are perfect for the hardcore durian fans who want nothing but the truest taste of durian in their pastries! 
Best durian puff takeaway places in Singapore
5. Durian Mpire Durian Puff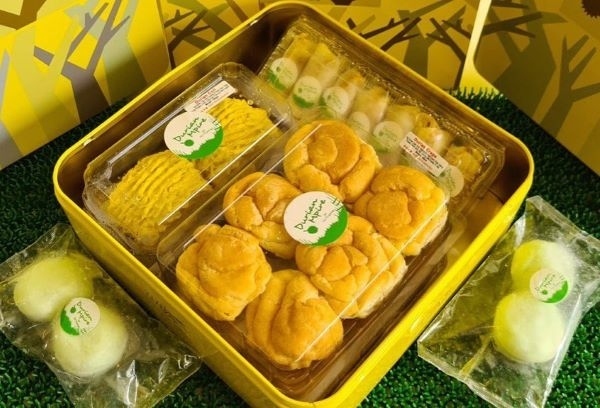 It's hard not to stop by Durian Mpire without buying a box of their best durian puffs or two. The aroma is simply too hard to resist! This local durian dessert brand was founded in 1973 as the dessert arm of the renowned 717 Trading durian stall. It's no wonder their durian desserts are always fresh and of the best quality! The durian puffs here boast a light crispy texture that stands out from the common soft pastry shell we've seen from other durian puff brands. Crack the shell and out flows the fresh and smooth durian pulp that takes this mouthwatering treat to a whole new level! 
6. Emicakes Ultimate D24 Durian Puff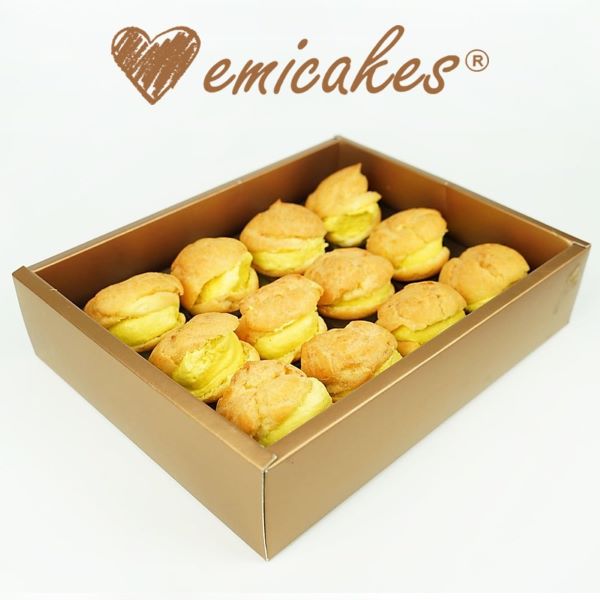 Well-known for their durian desserts, Emicakes is many foodies' go-to for the best durian puffs delivery in Singapore. The Emicakes Ultimate D24 Durian Puffs are freshly baked every day and boast a light and airy texture that's oh-so-satisfying! In addition, each Emicakes durian puff is filled with fresh cream that's made with a generous amount of real D24 durian pulp. 
Other than durian puffs, Emicakes also offers a wide variety of other durian delights. This includes the D24 Fantasy Durian Cake (available on Emicakes) which will make for a great birthday cake for a durian fanatic!
7. Goodwood Park Hotel Durian Puff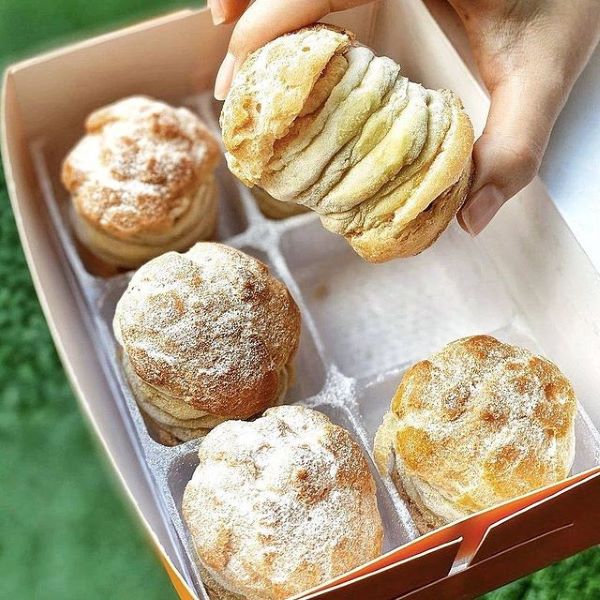 Planning for a staycation with your SingapoRediscover Vouchers? Be sure to check yourself in at Goodwood Park Hotel where you'll find the best durian puffs in Singapore that will satisfy even the fussiest durian critic. Aside from the signature favourites such as D24 puffs, you'll also get to indulge in Mao Shan Wang Power Puffs! Created with heavenly musang king pulp in choux pastry, this jumbo-sized profiterole will fill your mouth with an intense and yummy durian flavour. 
8. The Durian Bakery D24 Durian Choux Puff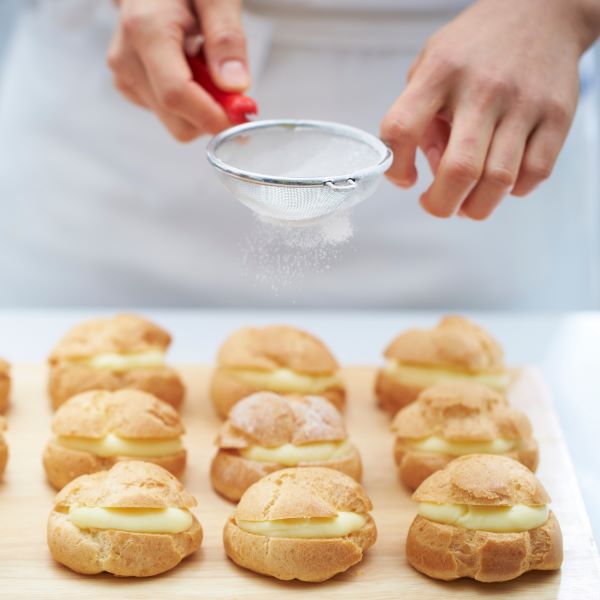 We admit, the best durian puffs in Singapore can sometimes cost more than expected. However, that doesn't mean you can't enjoy this irresistible treat at affordable prices. Introducing The Durian Bakery D24 durian choux puffs. They come in a box of 12 and cost about $20 — what a steal! 100% handmade from scratch, each pillowy puff is filled to the brim with pure D24 flesh supplied from Durian delivery's private plantation in Malaysia. This allows for quality control to ensure only the best durians are used! Moreover, the puffs are freshly baked everyday in limited quantities, so be sure to act fast!
9. Sunlife Durian Puffs & Pastries Mini Durian Puff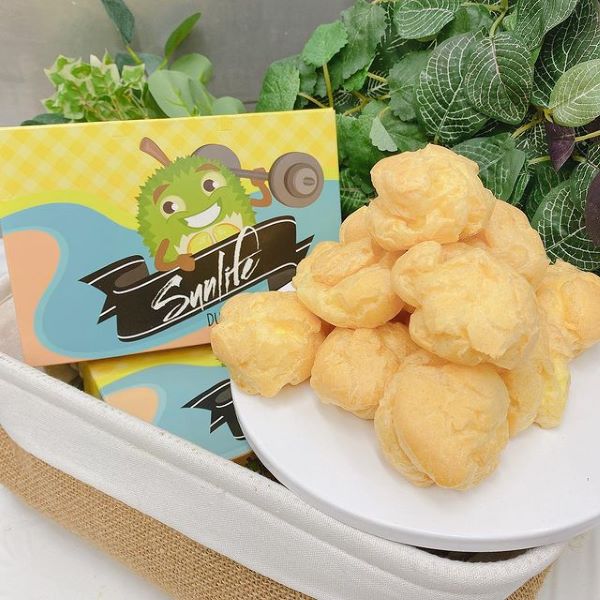 Take a look at the Sunlife Durian Puffs & Pastries Mini Durian Puffs and you'll quickly understand why it's one of the best durian puffs in Singapore. Despite being bite-sized, these mini durian puffs from Sunlife Durian Puffs & Pastries are filled to the brim with fresh D24 durian puree. The filling is so generous, it almost feels like you're eating only durian flesh directly from the fruit itself! The mini durian puffs are sold in 12 or 20 pieces but we strongly encourage you to go for the latter especially if you've durian monsters at home! Simply purchase the in-app dining voucher and head down to any of their outlets to redeem them.
*Do note that the vouchers are only viewable on mobile
10. Kazo Crispy Durian Cream Puff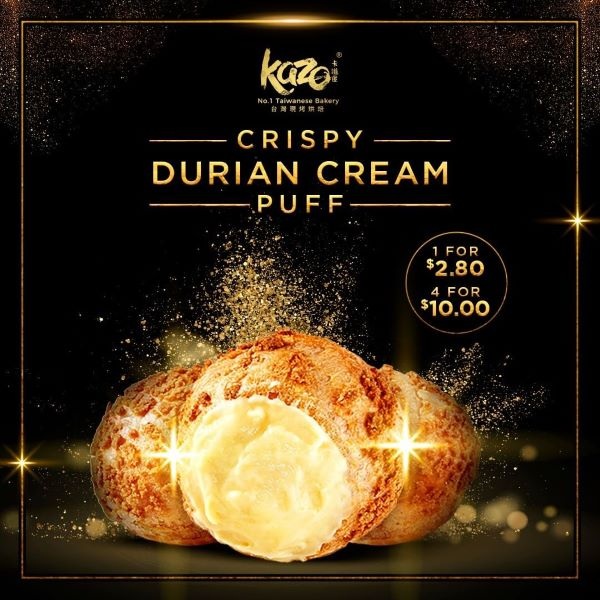 If you've yet to hear about Kazo, you're missing out big time. This popular bakery from Taiwan is known for its unique crispy yet fluffy pastry husks. Unlike conventional durian puffs that are soft and pillowy, the Kazo Crispy Durian Cream Puffs come with a cookie-like shell. Each bite starts with an addictive crunch before you hit the airy croissant-like interior and out oozes the durian cream. We strongly suggest taking smaller bites (even though we know the puff is hard to resist) or you may end up with cream all over your shirt — it's that flowy! The durian cream is not overly sweet and has an authentic durian flavour that's sure to please.
11. Four Seasons Durians Premium Mini D24 Puff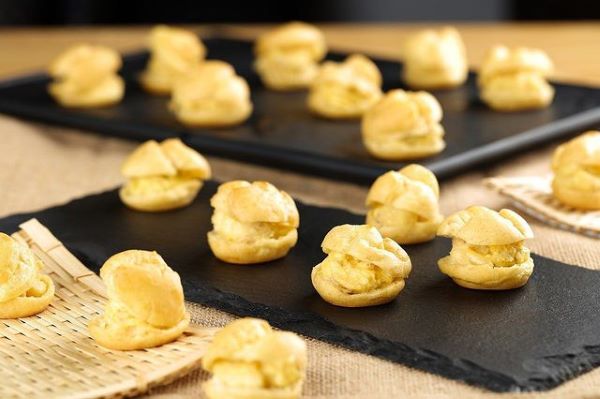 No best durian puff in Singapore article is complete without including our all-time favourite — Four Seasons Durian Premium Mini D24 Puffs! The D24 durian filling used in this treat is so fresh you can smell the strong durian aroma even without opening the box. The puffs are slightly on the sweeter side and  will definitely make those with a sweet tooth happy. If you prefer your durians to be bittersweet, opt for their Mao Shan Wang puffs instead. To enjoy this yummy snack, simply purchase the in-app dining voucher from Four Seasons Durians and head on down to any of their outlets to redeem your purchase! 
*Do note that the vouchers are only viewable on mobile
Crowning the cream of the crop with these best durian puffs in Singapore
As delicious as durian puffs can be, nothing quite beats enjoying the fruit from a freshly opened durian. Indulge in the King of Fruits from these durian delivery places in Singapore — some even provide same day delivery so you can get feasting almost immediately! If you're looking for durian dessert alternatives, try your hands at making one of these durian cake recipes for the family!
This article was updated on 12 August 2021. Additional research done by Liang Shi Nan.