Believe it or not, oversized shirts are the hottest trend right now, especially in the K-fashion industry! They are stylish on just about everyone including famous female K-Pop idols like Hyun Ah and Black Pink's Jennie as well as Korean male actors Park Seo Joon and Kim Soo Hyun. Want to know how to style Korean oversized shirts with what you already have in your wardrobe? Read on as we share some tips and tricks for making oversized shirts work for you!
How to style oversized shirts for ladies
1. Pair it with good ol' denim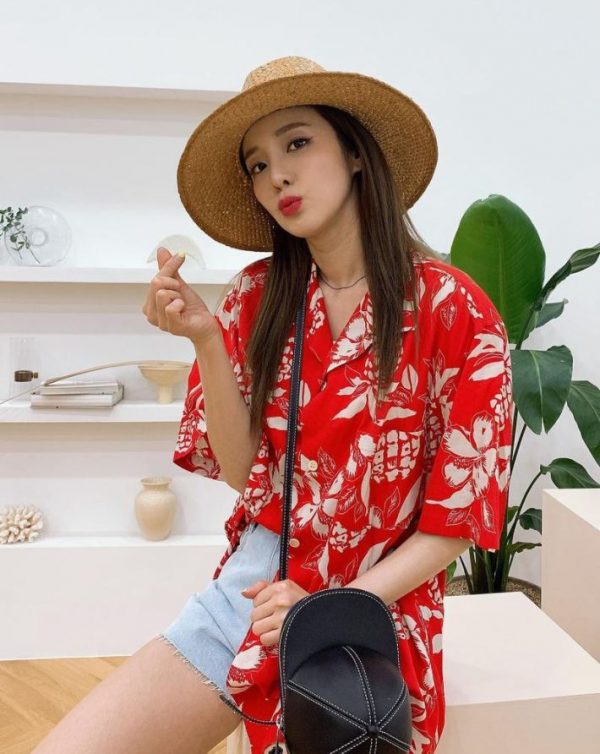 You don't need much to rock an oversized shirt — just pair it with your favourite pair of denim! After all, denim shorts match just about every oversized top and inject a fun summery vibe into the entire outfit. To recreate South Korean singer Dara's look, throw on a Loose Hawaiian Chiffon Shirt (available on popularstar) and pair it with a Levi's Women's High Rise Shorts (available on Levi's Official Store). You can leave your shirt half tucked out for a more laid back look. 
Oh, and don't forget to throw on a Ladies Sun Straw Hat (available on Leadbon World). This is an essential tip on how to style an oversized shirt as a large hat will ensure you look good and feel great even under the scorching Singapore sun! 
2.
Add a fashionable belt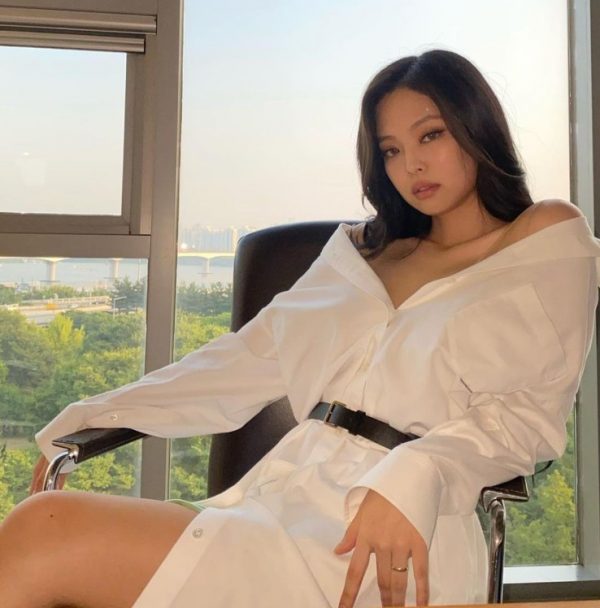 Wonder how to style an oversized shirt to duplicate K-pop singer Jennie's sultry look? After all, she does manage to transform a good ol' slouchy Korean oversized shirt into one that's sexy and feminine! Simply leave the first two buttons of this Oversized Blue Shirt (available on finnyfinds) open to widen up the collar of the shirt. Adjust the shirt such that its collar rests slightly on the edge of your shoulders — almost like an off-shoulder top!
Then, accentuate your waistline with a Women's Leather Belt (available on Zyodo Fashion). This women's belt also helps to hold your oversized shirt in place. If your oversized shirt leans on the shorter side, you can wear a leather skirt to complete the getup. Meanwhile, those who're comfortable with the length of the oversized shirt can simply wear it like a dress, just like Jennie did!
3. Show off your straps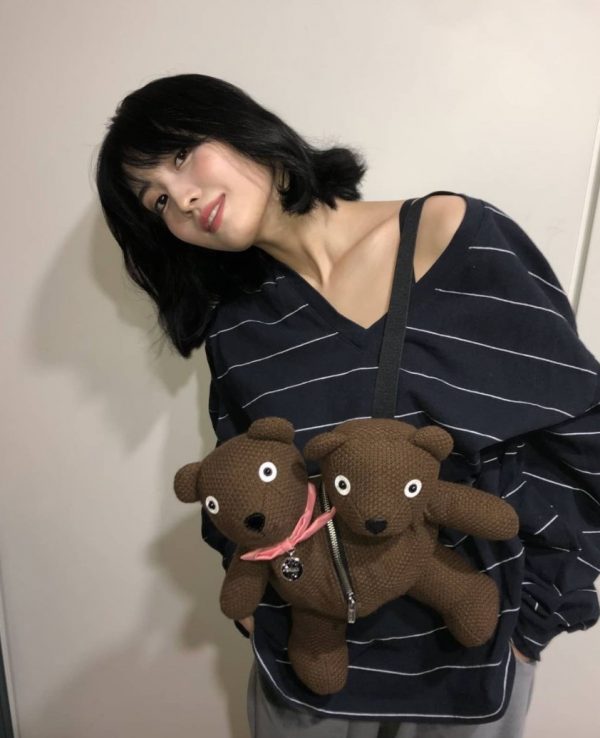 Twice's Momo sure knows how to style a casual oversized shirt that will make you look fabulous! You can do just the same with an Oversized V-Neck Shirt (available on Mao Women Fashion Shop) and some alluring bralettes! All you have to do is to adjust your oversized shirt such that it's hanging off one shoulder. This allows your bralette strap to peek through for a subtle yet sexy flair. 
Need some bralette suggestions? We recommend this Bralette in Black (available on Our Bralette Club Official Store) that is designed with frilly lace bands — perfect for this off shoulder getup! 
4. Balance it out with high knee boots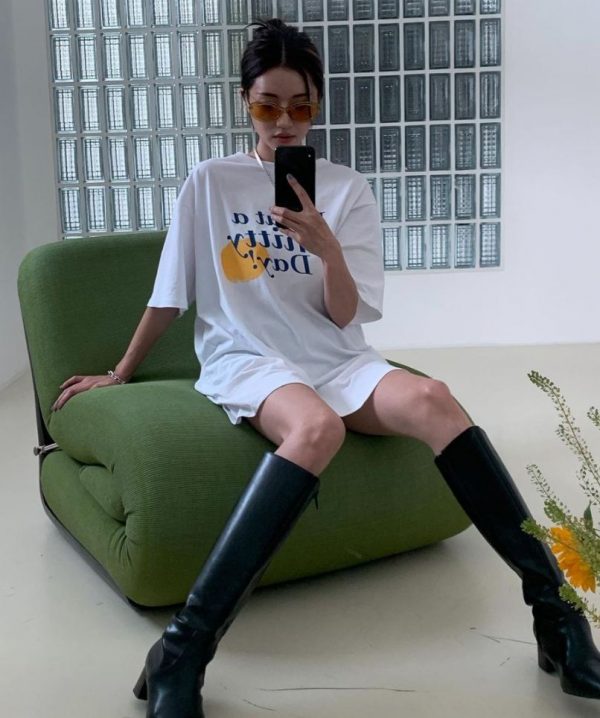 You don't need to be a fashion model like Sora Park to know how to style an oversized shirt well. Simply strive to create balance in your outfit and you'll look like a supermodel in no time. This means that when your top ends short (around your mid-thigh) and you're looking to skip the bottoms, you'll need footwear such as some high knee boots to balance out the entire look. 
We suggest trying this style with the trendiest Acme De La Vie ADLV Teddy Bear Oversize T-shirt (available on chanceafter). After all, ADLV is one of the most popular Korean oversized shirt brands among celebrities and fashionistas alike! End it off getting these IELGY Over The Knee Boots (available on IELGY Women's Shoes Official Store) to create a casual chic outfit that's fit for the fashion runway!
5. Wear it with tights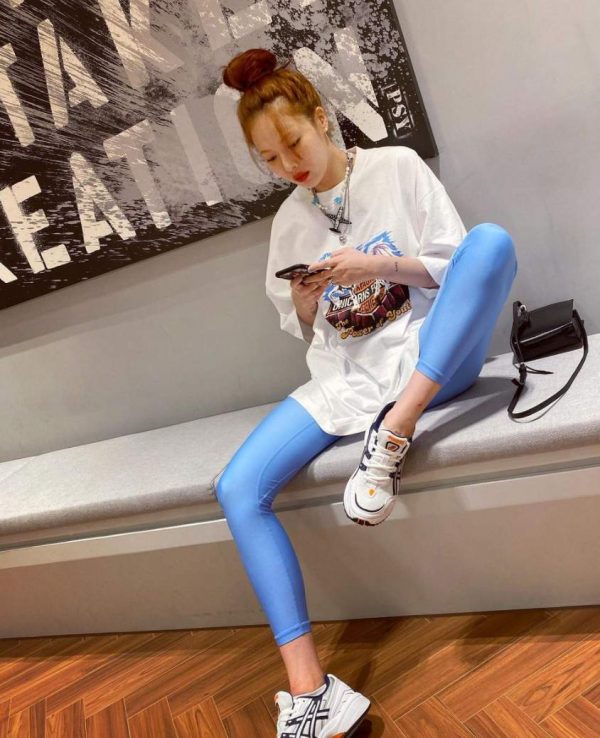 Still unsure of how to style oversized shirts and tees? South Korean singer Hyun Ah serves as the perfect inspiration for these looks! As one of the biggest trendsetters in the K-Pop industry, Hyun Ah is often seen in her oversized tees. However, instead of wearing them with her good ol' jeans and shorts, Hyun Ah prefers to switch things up with leggings! 
Recreate Hyun Ah's bold look with the popular Anti Social Social Club Tee (available on ygyblili.sg) or choose this trendy SSUR*PLUS x ICONSLAB Sakura T-Shirt (available on Prettyprincess). All that's left is to complement your outfit with a pair of striking Mulawear High Times Leggings (available on Mulawear Official Shop). These leggings double up as your athleisure staple and trusty yoga tights when you're hitting the studio. Alternatively, check out these affordable activewear brands to look good while working out!
6.
Layer on a hypebeast jacket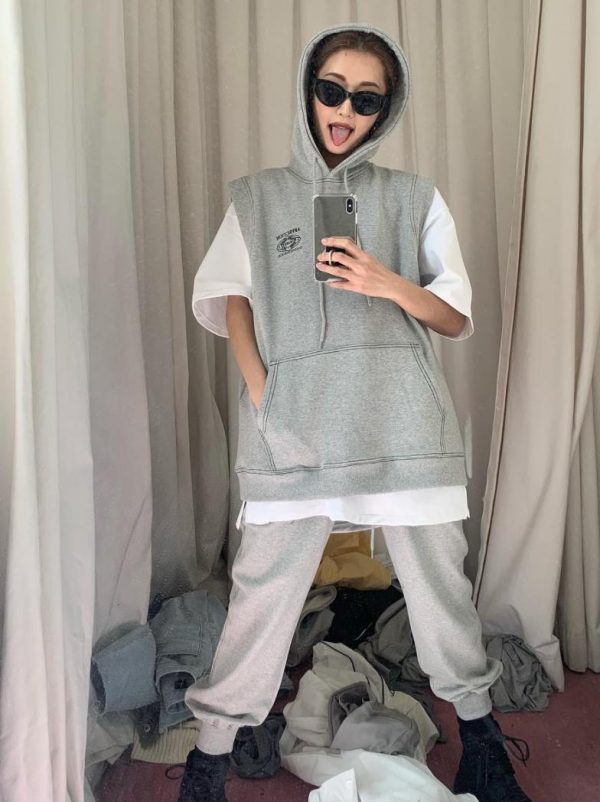 As shown by Korean influencer Sora Park's outfits, layering is the key to how to style an oversized shirt well – don't wear your Korean oversized tees by themselves! Channel your inner hypebeast and match them with various funky jackets to amp up your style. We suggest getting thin-layered ones so you can still stay cool in our sunny weather.
For instance, wear this thin polyester Women's FILA Logo Color Blocks Hooded Jacket (available on FILA Official Store) and leave it unzipped to show off your Champion Graphic Logo Tee T-Shirt (available on Champion Singapore by HYPED.) beneath. It comes in two pastel colours to soften up your rugged street fashion.
How to style oversized shirt for guys
7. Go baggy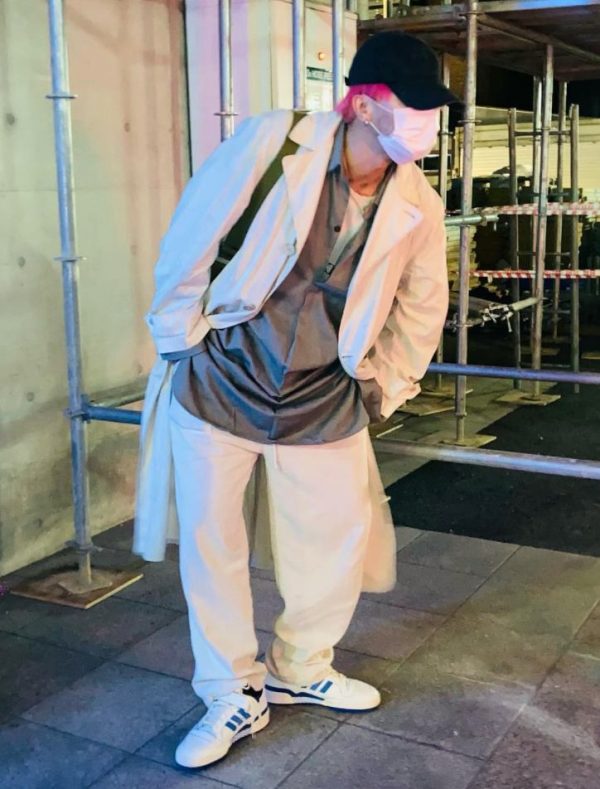 Gentlemen, want to know how to style a Korean oversized shirt for your taller build? A full-on baggy outfit, like the one seen on Winner's Mino, might just do the trick. Oversized tees and baggy apparels give you loads of room for movement — it's no wonder hip-hop dancers and B-boys love this style! 
Layer the slouchy WHO.A.U Embroidery Oversized Shirt (available on WHO.A.U Official) on top of the Authentic Fear of God Essentials Tee (available on FILA Official Store). Fear of God Essentials T-shirts are a must-have if you're big about street fashion! Slip into the INCERUN Men's Casual Linen Baggy Pants (available on INCERUN) and enjoy unparalleled comfort all day long.
8. Stay casual with joggers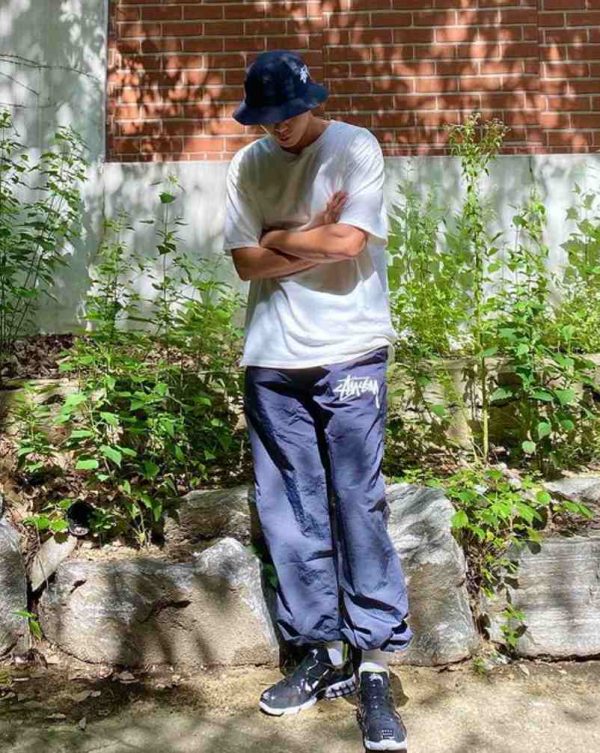 Heading out to meet the guys? Go casual but don't lose out on the swagger with oversized tees and joggers as seen on Korean actor Park Seo Joon. This getup is effortless — an oversized Authentic Kenzo Tiger Tee (available on Jshopspreejss) paired with these Unisex Plain Sweatpants (available on HF Apparel Official). 
Another trick on how to style oversized shirts with joggers is to have matching footwear! Tighten the laces on the neon Adidas ORIGINALS Yung-96 Shoes Men Yellow Sneaker EE7246 (available on adidas Official Store) and you're all set! Check out our list of best casual shoes for men for more recommendations! 
9. Style it up with formal pants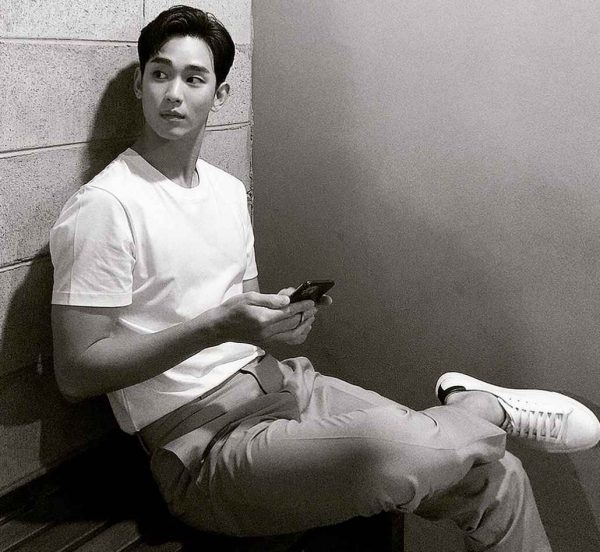 While many of our tips on how to style oversized shirts and tees revolve around creating a more laid back vibe, you can actually create a semi-casual outfit with oversized apparel too. Draw inspiration from South Korean actor Kim Soo Hyun's signature look which includes tucking an oversized T-shirt into a pair of formal pants. This type of outfit is also dubbed the 'Korean Oppa' look and will be sure to make your girlfriend's heart flutter! 
To recreate this smart-looking outfit, pick apparel with minimal prints and neutral colours. We suggest going for the Covernat Arch Logo Tee (available on COVERNAT.kr), neatly tucked in a Under Armour Men's Showdown Tapered Pants (available on Under Armour Official Store). Complete the look with the Adidas ORIGINALS Superstar Shoes Men White Sneaker FY6620 (available on adidas Official Store).
10. Top it off with a denim jacket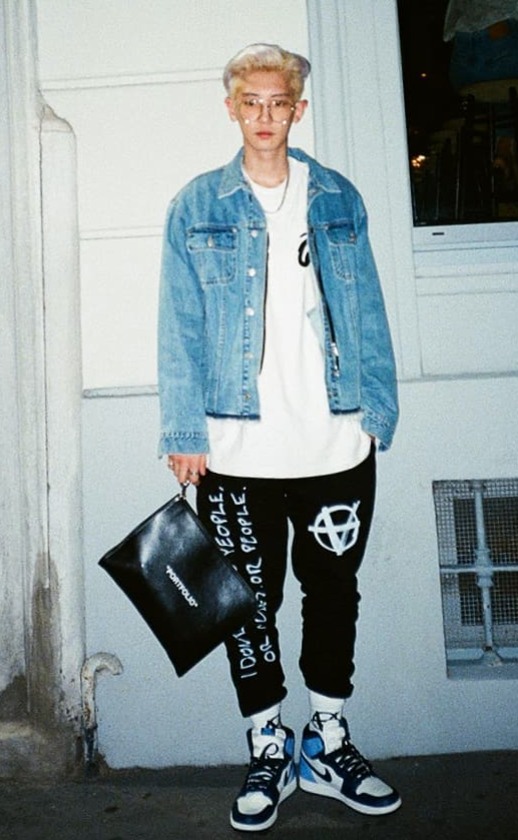 Want to know another great tip on how to style an oversized shirt or T-shirt that's suitable for everyday wear? It's to pair it with a denim jacket! Put together a simple look with an oversized Levi's Graphic T-shirt, Levi's 511 Slim Fit Jeans (both available on Levi's Official Store) and a pair of Converse Chuck Taylor All Star Hi (available on Converse Official Store). 
Elevate your style with Levi's Trucker Jacket (available on Levi's Official Store) which will come in handy for days when you're in the office or school lecture theatres. If you're wondering how to wear oversized T-shirts for guys, try out this versatile outfit that even EXO's Chan Yeol loves!
11. Jazz it up with tie dyed designs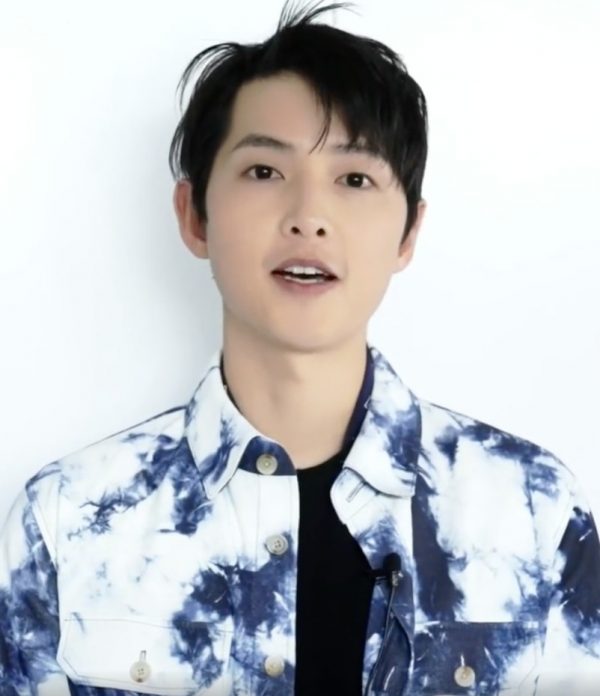 As one of the top Hallyu stars, Song Joong Ki sure knows a thing or two about how to style a Korean oversized shirt! His hat trick? Go for tie-dyed designs! With many people trying their hands at tie dying their own plain T-shirts over the last two years, it's no wonder that this is fast becoming a fashion statement!
Whether you choose a ​​Green Thanksinsomnia Tie Dye T-shirt (available on thanksinsomniastore.sg) or a INCERUN Men Tie Dye Long Sleeves Collar Shirt (available on INCERUN Official Store), these designs will surely evoke comfort, casualness and youth at the same time! You can pair this oversized tie dye shirt with a comfy pair of sandals like the ACTPLUS Unisex Slide (available on actplus.official) and accessorise it with a Shoopen Baseball Cap (available on shoopen.sg). 
12. Slay it with a vest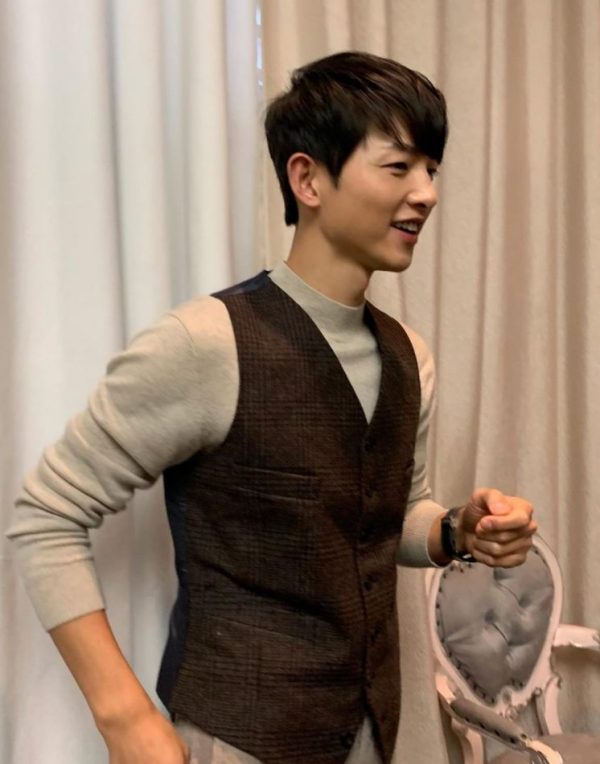 While it might not be the most practical way on how to style a Korean oversized shirt, rest assured that putting on a vest will definitely make you a fashion icon! Just take a leaf from Song Joong Ki once again! All you have to do is slip on a INCERUN Men Long Sleeve Loose T-Shirt (available on INCERUN Official Store) and throw on a Korea V-Neck Vest (available on K-2 Trend Clothing Official) over it. Given our sunny weather, we recommend wearing this only if you're going to be in an air-conditioned place like the office or a cinema. 
To turn your style up by a notch, strap on a dashing Olevs Men's Luxury Watch (available on OLEVS-Official-Store) or some Magnetic Wristbands (available on POWER IONICS OFFICIAL SG STORE). These accessories will definitely make you look more refined and suave! 
13.
Complete the look with a bucket hat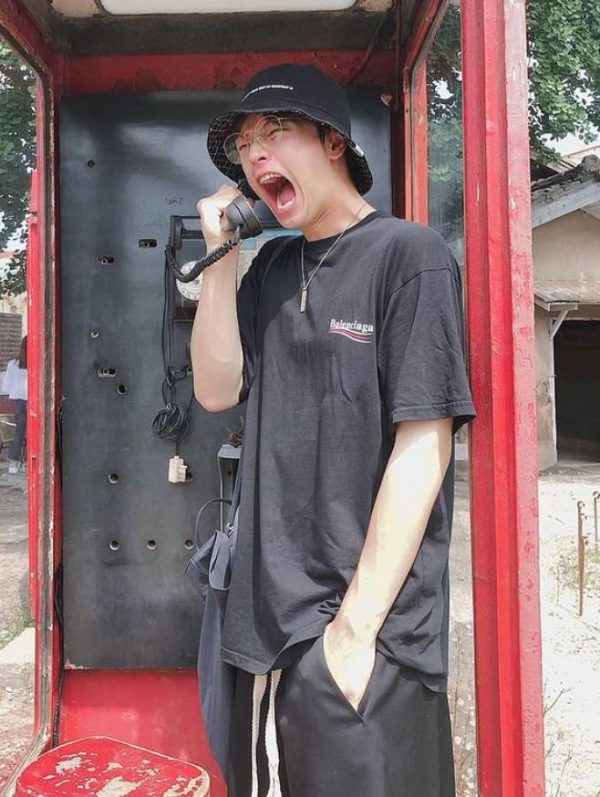 BTOB's Yook Sung Jae's oversized outfit looks even more suave with the addition of a bucket hat. Recreate the latest streetwear look with this oversized outfit featuring a white drop shoulder FILA FUSION Men's FILA Men's Cat Print Cotton T-shirt (available on Fila Official Store), a pair of Bossini Men Cargo Shorts (available on bossini Online Official Store) and a pair of FILA TRACER Unisex Chunky Sneakers (available on Fila Official Store). 
If you're thinking of how to style an oversized T-shirt without it looking baggy, fret not, the pair of cargo shorts will complement the top by giving it a more structured look. To further enhance this outfit, simply top it off with a PUMA Unisex Bucket Hat (available on PUMA Singapore Official Store). This hipster outfit will definitely give you a cool and refreshing look!
Have you figured out how to style oversized shirts? 
We hope this article has given you a headstart on how to wear oversized shirts. After all, there are so many variations of Korean oversized shirts and ways you can style them! For more fashion inspirations, check out the latest 2022 men's fashion trends in Singapore or give yourself a makeover with these best hair colours for Asian skin tones. Otherwise, be sure to equip yourself with some of the best Korean bags, best laptop tote bags and best men's backpacks for school, work and travel!   
This article was updated on 5 April 2022. Additional research done by Gabriel Choo.
---
New to Shopee? Get $7 off (min. Spend $15) with the code OVERSIZEDTEE7
*TNC Applies. Valid for new users from 2 to 9 May 2022 only.