We can agree to disagree on this, but there is a different bag for different occasions. Whether it is heading out to town with a pal or going to the gym, the bag we carry along to fit our necessities will vary. However, tote bags remain as one of the most versatile bags that can be brought along for many occasions. Those with large capacities can fit in a sweater and there are also stylish tote bags for laptop to bring to work! Thinking of getting one for work? We've sourced out some of the best stylish laptop tote bags for both men and women that you can bring to the office!
What do you put in a laptop tote bag for work?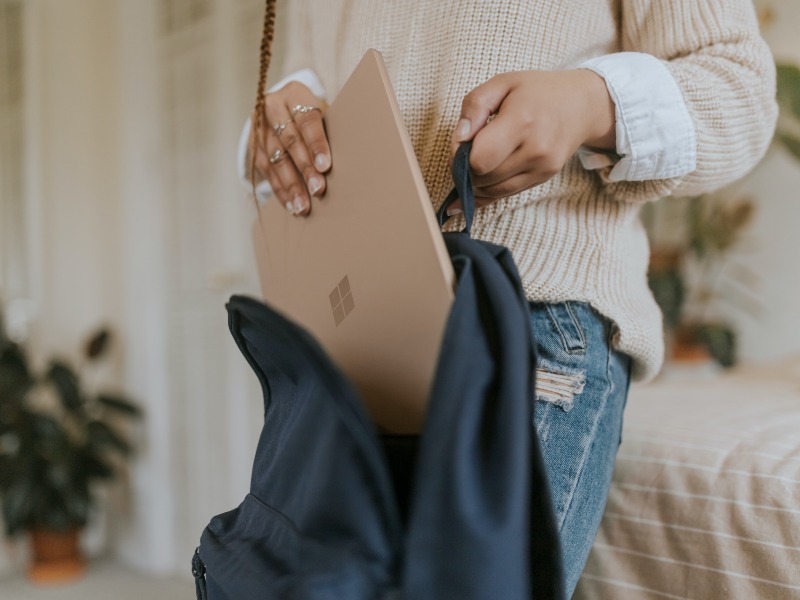 Getting a tote bag for laptops will make things super convenient for your travels to and fro work. There are many essentials that we carry around for our day-to-day use, and a stylish laptop tote bag for work cannot be more perfect to store these items! Here are some of the things people commonly place in their tote bags for work:
Unisex canvas tote bags for laptops under $60
Not only are tote bags versatile in terms of the different occasions that they may be used for, but many of them also come in unisex designs. Canvas tote bags are one of those. The best part? You can get them at very reasonable prices! We've sourced out a handful of unisex tote bags that you can get for under $60 — you can thank us later!
1. Muji Indian Canvas Tote Bag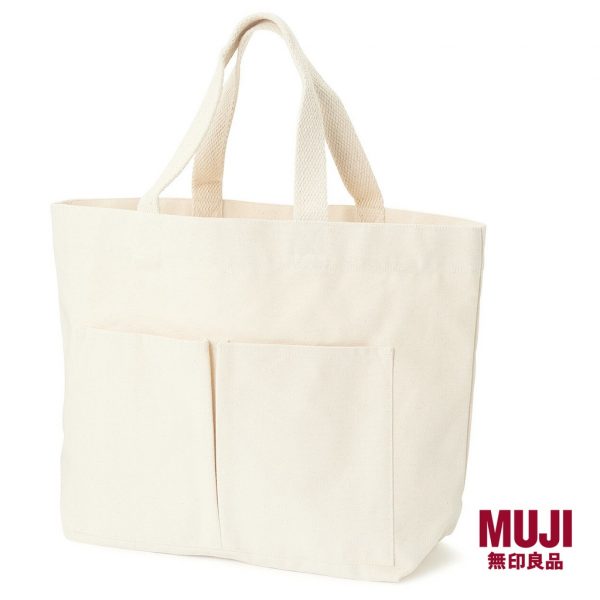 It is unsurprising to see basic fashion pieces from MUJI being listed here. This Japanese retail company has a minimalist philosophy and their consumer goods are often of good quality and at affordable costs. The Muji Indian Cotton Canvas Tote Bag (available on MUJI Official Store) is definitely one of the best tote bags you can find for work and many other occasions. It is made with 100% organic cotton, and the fabric is thick enough to withstand the weight of your devices. Kept minimally plain, simple and no-frills, this is certainly one of the best tote bags you can get for work in the day and dinner at night.
2. Guess Unisex Casual Tote Bag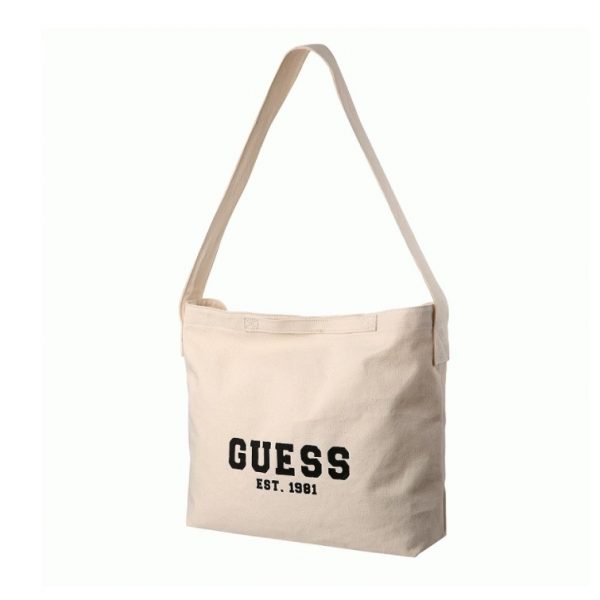 You just cannot go wrong with the Guess Unisex Casual Canvas Tote Bag (available on SooStore)! This is one of those essential bags you never knew you needed. Whether you are dressed like a girl boss for work or are wearing an oversized T-shirt for casual Friday, you will not go wrong with this bag. On top of that, this tote bag is suitable for laptops – no need to get an additional laptop sleeve to hold your work device.
3. Tommy Hilfiger Canvas Tote Bag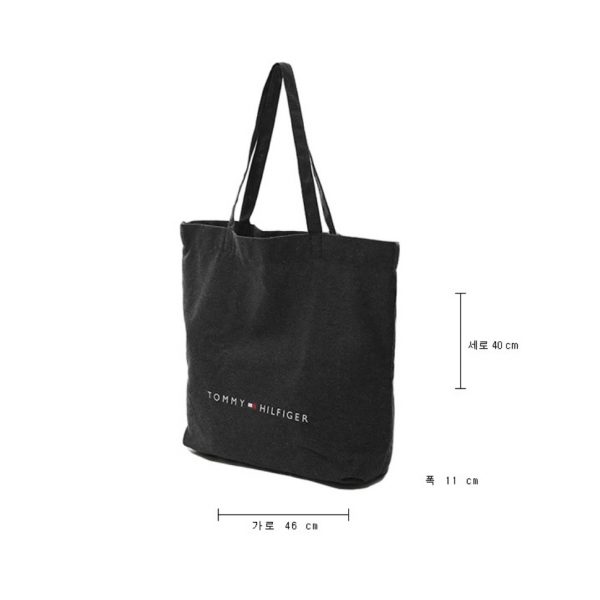 Tommy Hilfiger is an American clothing brand that sells lifestyle products ranging from men's watches to wallets. They are renowned to be the pioneer of classic American cool style with designs inspired by iconic pop culture. If this tickles your fancy, you ought to check out the Tommy Hilfiger Canvas Tote Bag (available on SooStore). This bag is made with 100% cotton and is 18 inches wide, making it the ideal stylish tote bag perfect for work laptops that are larger in width too.
4. Rivers Shoulder Tote Bag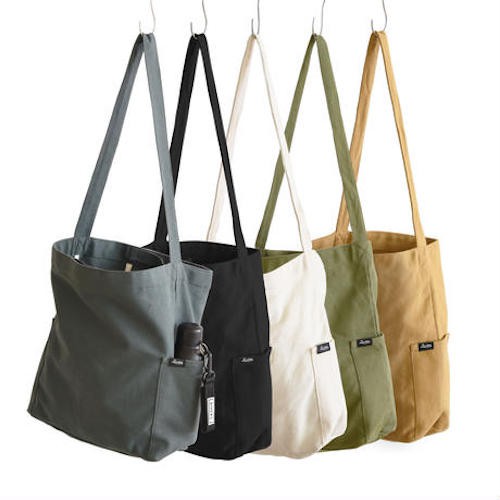 It is always great to have a classic favourite in a few colours so that you can mix and match, depending on your outfit of the day. If you're looking for variety in terms of colours, then the Rivers Shoulder Tote Bag (available on Smitten Coffee Roasters Official) is the way to go. This shoulder tote bag remains as one that is plain, perfect to pair with all your work apparel regardless if it's a flashy or simple outfit. What's more, this tote bag has a rather large capacity on top of two side pockets, so you can store your laptops, jewellery and accessories and umbrellas in the various compartments.
5. WHO.A.U Heritage Big Tote Canvas Bag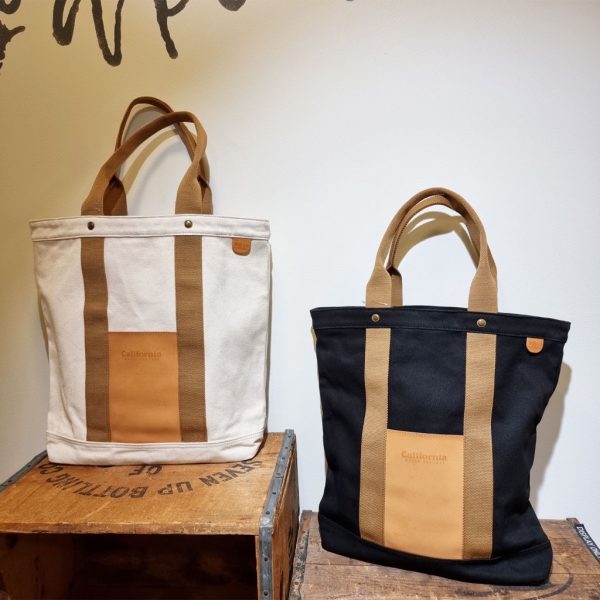 WHO.A.U is a Korean fashion brand that prides itself in its casual sportswear that holds a Californian surf theme. Besides baseball caps and women's apparels, their bags are also very popular amongst the international crowd. The WHO.A.U Heritage Big Tote Canvas Bag (available on WHO.A.U Official Store) is as functional as it is aesthetically pleasing, coming lined with waterproof materials at the inner bottom. The added brown details make this Korean bag one very stylish tote bag for work, especially if you are trying to rock that K-fashion look.
Statement laptop tote bags for the girl boss
Tote bags are one of the ladies' best friends and can undeniably change one's entire look. If you have got some budget to spare and want to invest in something more branded, there are plenty of options that you can explore! Choose from a range of stylish women's tote bags for work that comes in various sizes and colours to complete your office look!
6. Longchamp Le Pilage Green Tote Bag (L-Sized)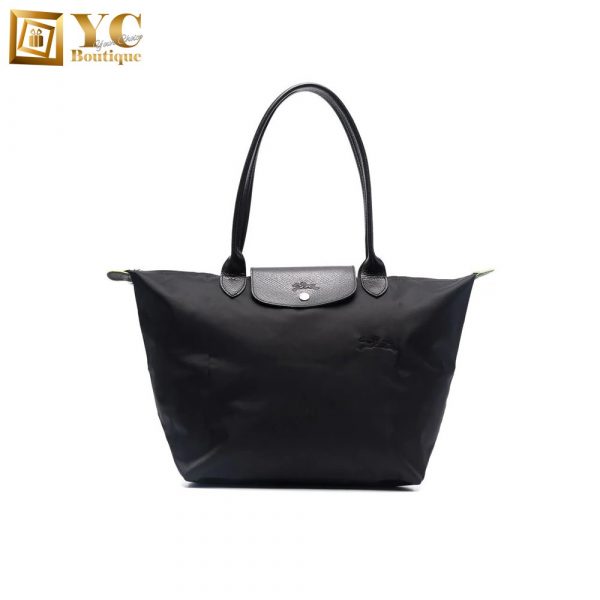 A brand that needs no introduction would be Longchamp, a luxury French brand that is most popular for its handbags. Should you be looking to invest in a laptop tote bag for work for the long run, you can bet that the Longchamp Le Pliage Green Tote Bag (available on YC Boutique) would be a safe option. The Le Pliage design has been around since 1993 — a testament to how this bag has withstood the test of time as it remains as one of the most popular bags today! This classy piece is simple yet stylish and comes in smaller variations and other colours. You're bound to find one that fits your work needs!
7. Fossil Kier Tote Bag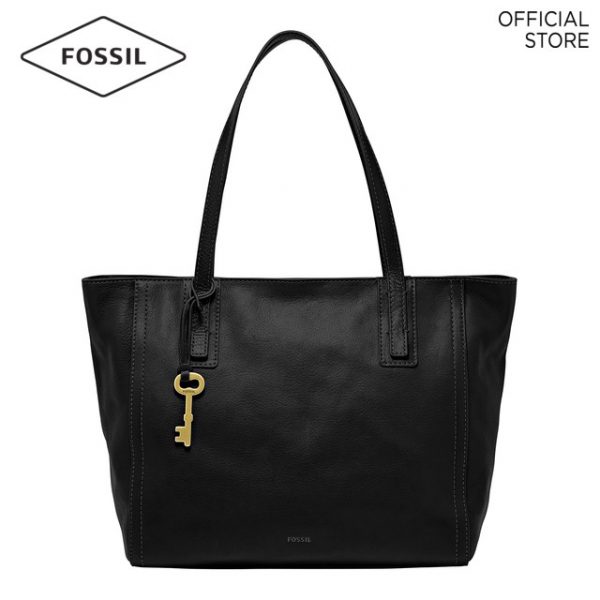 For vintage and classic lifestyle products, look no further than Fossil. This American brand is best known for its range of high-quality Fossil watches – especially couple watches! If you haven't already heard, their ladies' bags are also very popular for good reason. One of the best tote bags for work laptops would undoubtedly be the Fossil Kier Tote Bag (available on Fossil Singapore Official Store) which can store items up to 14 inches. This tote bag is made with organically grown cactus leaves as part of Fossil's efforts to move towards a sustainable future. This explains the slightly higher price tag but you know you're in for a good cause and a high-quality bag! The chic and classy look truly makes this one of the best tote bags for work and even for after office hours outings!
8. MARHEN J. Roy Nano All Black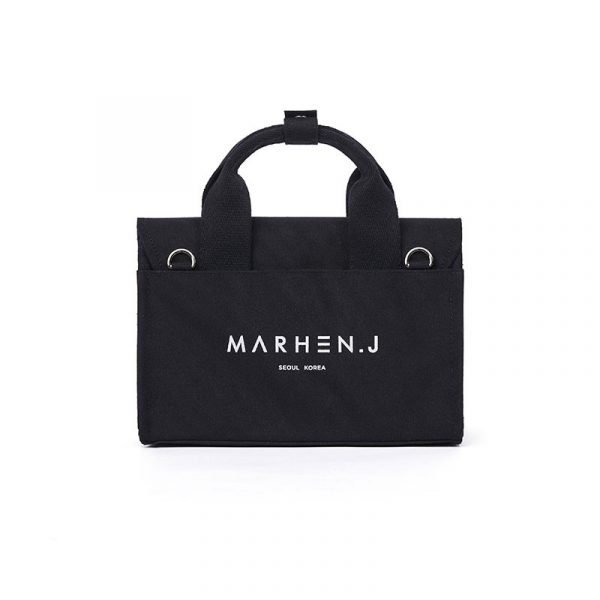 One of the most up-and-coming Korean bag brands would be MARHEN.J, a brand that is founded by the Creative Director of ever-popular K-Pop groups TVXQ and Twice. Many K-pop artists such as SNSD's SooYoung have been sporting MARHEN.J bags as their bag of choice! They are well-loved for their designs which are a fantastic mix of minimalistic and chic, so their bags are generally very versatile. The MARHEN.J Roy Nano All Black (available on Marhen.J Official Store) is the best kind of stylish tote bag for work as its design is simple, classy and super timeless! There are also many compartments in the tote bag to hold your documents, laptop, stationery and valuables.
9. Kate Spade Lane Large Satchel Bag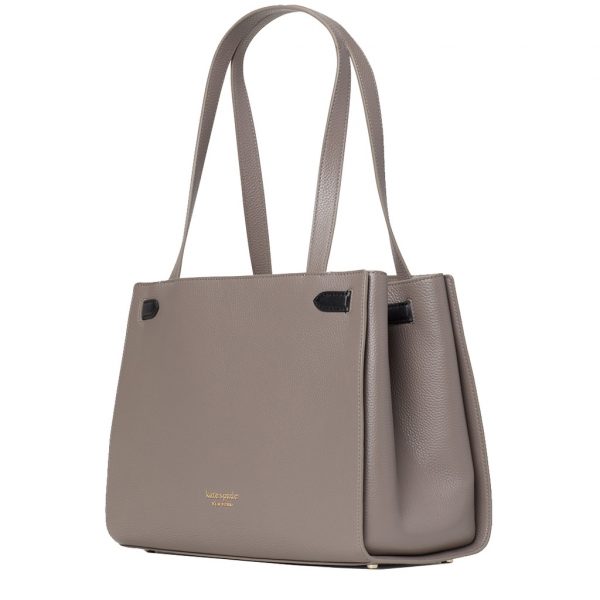 Nothing quite beats this gorgeous Kate Spade Lane Large Satchel Bag (available on pinkorchard.com Official Store) when it comes to functionality and elegance.. It is crafted in rich pebbled leather and smooth leather trim for extra durability. Besides, this Kate Spade tote bag comes with two different compartments with a centre zip, making it the ideal tote bag to bring to work for laptop storage and other A4 sized documents! The protective metal feet at the bottom of the bag is one small detail that is often overlooked. They ensure that your bag is kept upright, preventing any chances of your laptop toppling over.
10. Michael Kora Jodie Large Logo Jacquard Tote Bag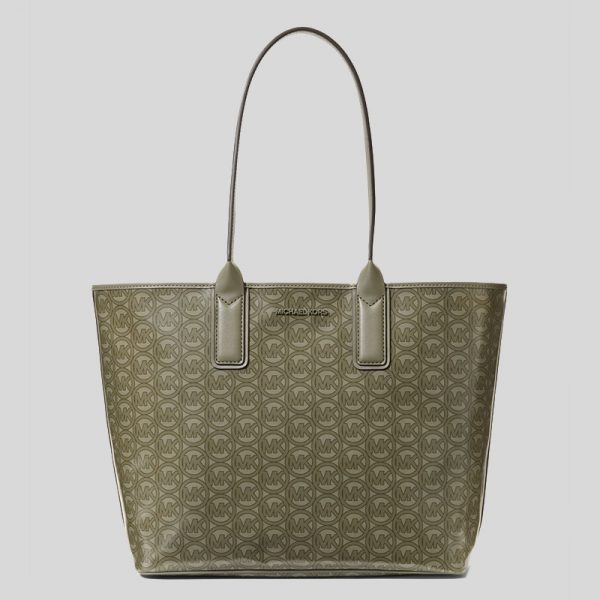 For the ladies who want a statement, stylish tote bag for work without it being over-the-top, we might have found the answer for you. This Michael Kors Jodie Large Logo Jacquard Tote Bag (available on Lussocitta Official Store) is both striking and simple at the same time. The Michael Kors tote bag is made from 100% recycled polyester and the repetitive logo design is made from jacquard fabric, so you know you're in for the real deal when it comes to quality! Trust us when we say that this has got to be one of the best tote bags for work to keep your look polished and ready to present your A-game!
Fashionable laptop tote bags for the gentlemen to bring to work
Many men often experience headaches on what bag to bring to work. Sometimes, even the best men's backpack for school, work and travel can be difficult to compliment a guy's dress style. Make the switch to men's tote bags that are functional and handy in terms of storage and are easier to match with your outfits!
11. MUJI Water Repellent Polyester Tote Bag With Laptop Storage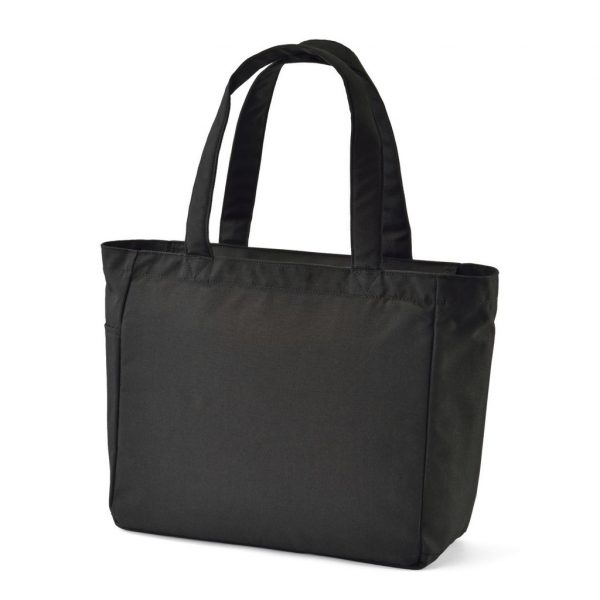 Lightweight? Check. Plain with no loud patterns? Check. Laptop compartment? Check. This MUJI Water Repellent Polyester Tote Bag With Laptop Storage (available on MUJI Official Store) has got to be the best laptop tote bag choice for men for all the practical reasons. Not only is it made of water-resistant polyester, it can also withstand a load of up to 20kg! Feel free to throw in any other work essentials such as your stationery or keyboards and your laptop in this simple tote bag for work!
12. Heylook Official Tote Bag Enigma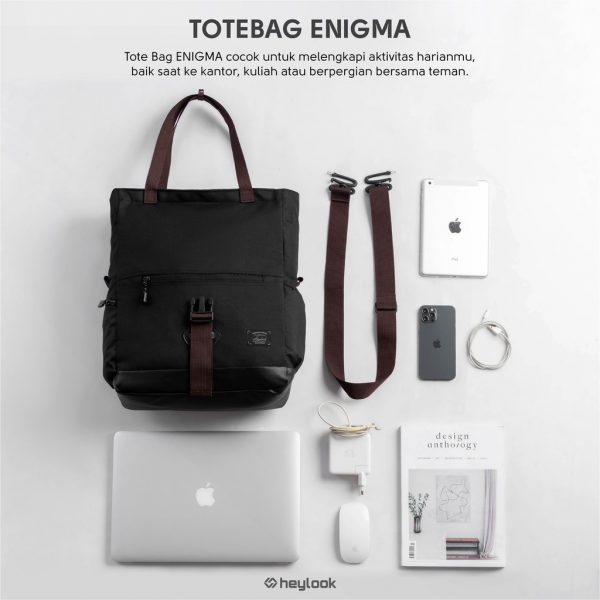 For men who are in search of a tote bag with a more rugged masculine design to swing over their shoulders, consider opting for this Heylook Tote Bag Enigma (available on Heylook Official Store). Fret not if you have many items to store when you're bringing this tote bag for work! It has a slot that fits laptops up to 14 inches wide as well as multiple compartments perfect to place your other gadgets or accessories. This laptop tote bag also doubles up as a crossbody bag and is truly one of the best versatile tote bags for work and other occasions!
13. Shoopen Shoo Two Front Bags Special Tote Bag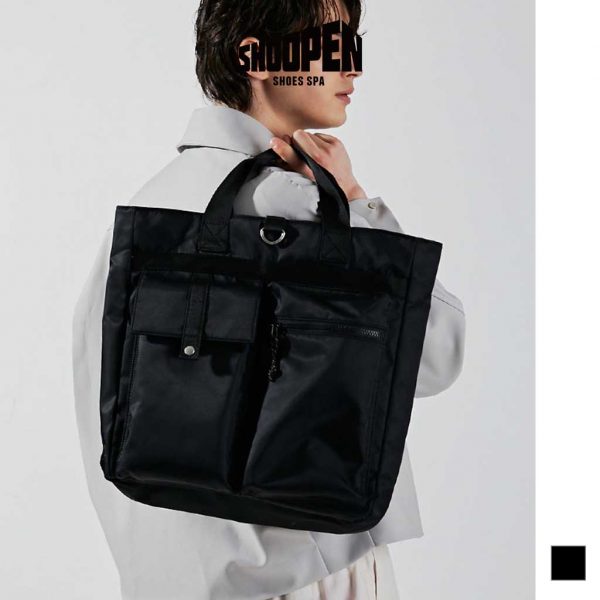 If you've been to South Korea, you should be no stranger to Shoopen, one of the country's most popular brands for high quality and affordable lifestyle products. Luckily for us, we can now purchase their goods online! For the guys, their Shoo Two Front Bags Special Tote Bag (available on shoopen.sg) comes highly recommended as one of the best laptop tote bags for work. This tote bag is ideal for laptop storage and the minimal design makes it a really stylish piece that is easy to complement no matter your fit! You'd be glad to hear that this tote bag can be carried as a sling, making it super convenient to grab your essentials from the two spacious compartments at the front!
14. Timberland Haverhill Riverside Tote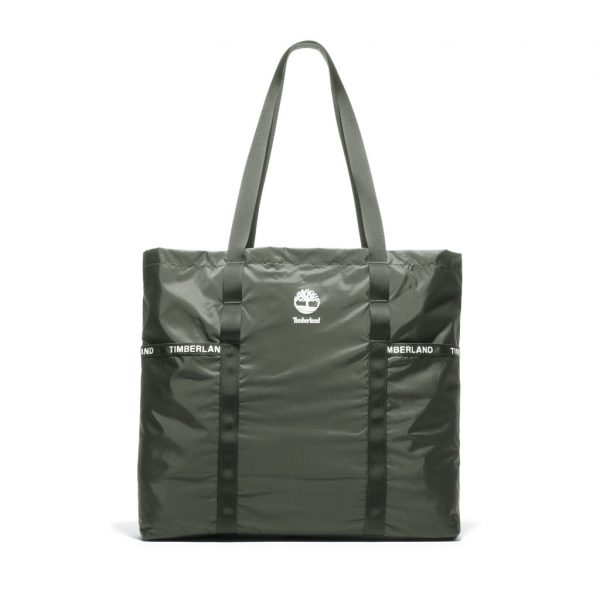 Timberland is an American retailer of outdoors wear and is particularly famous for its Timberland footwear. If you love the whole sporty, outdoor aesthetics, then the Timberland Haverhill Reversible Tote (available on Timberland Official Store) will be your best bet. This nylon tote bag is extremely functional and lightweight, albeit big enough to fit all the necessary essentials you have to carry around. There is an open-entry main compartment and two slip pockets at the side for greater organisation of your items. This Timberland bag is best for work and play due to its light material and large capacity!
15. Tommy Hilfiger Unisex Canvas Tote Bag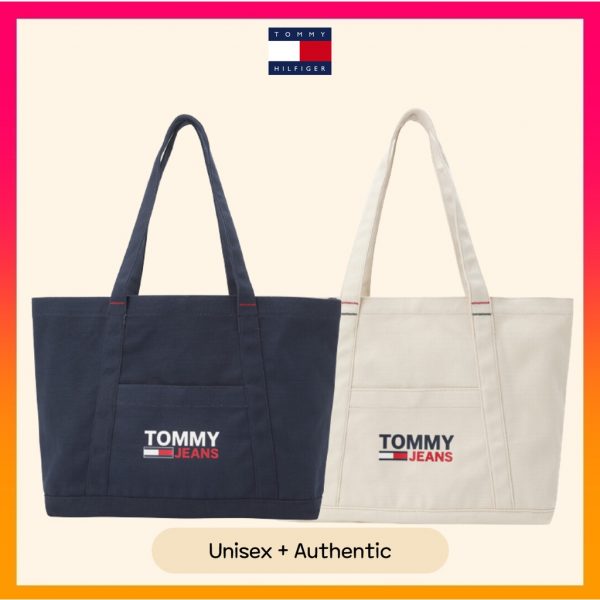 Yes, yet another Tommy Hilfiger bag on the list but we cannot emphasise how functional, durable and stylish these tote bags are for work purposes! Made with 100% organic cotton, the Tommy Hilfiger Unisex Canvas Logo Tote Bag (available on SooStore) is one durable tote bag that makes it perfect for storing laptops and more! This tote bag is great for daily use and is one stylish and chic tote bag for work that doesn't cost a bomb. Besides, it is available in two colours so you can even get a matching one for your other half!
16. (Bonus) Shupatto Tote Bags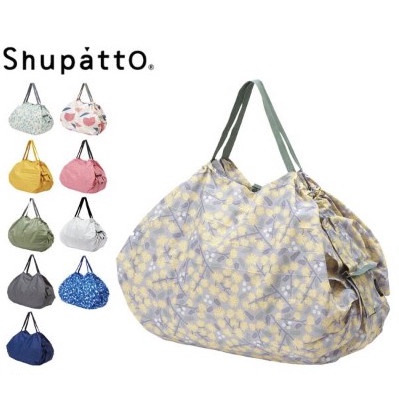 These vibrant and colourful tote bags by Shupatto may not be specifically designed for work per se, but they come in good use for the office in terms of capacity. With a large capacity up to 40L, you will be able to bring your work and gym essentials for an after-work workout. The Shupatto tote bags are designed in Japan and are made to be foldable, washable and eco-friendly. 
Out for office and need an extra carrier to go grocery shopping afterwards? The MARNA Shupatto Compact Bag (available on LIFEHACK JAPAN) is the perfect stylish tote bag for this that you can pop into your laptop tote bag! They come in a myriad of designs and colours ranging from floral patterns to navy blue. There are also other Shupatto foldable bags like the MARNA Compact Drop Bag (available on LIFEHACK JAPAN) and the Shupatto Foldable Tote (available on The Planet Traveller Official Store) that you can opt for too! 
Let these laptop tote bags be your anti-tote for convenient storage
We hope that our list of best laptop tote bags for work has assisted you in your search for one that's to your budget and style! Wrecking your brains thinking of your outfit when you are going to the office for work or out to meet clients? Check out our WFO outfit for ladies or our guide on men's fashion trends in Singapore for some inspiration! Have some space to spare and love to read? We have compiled a list of best e-book readers that you can conveniently place in your tote bag when you're heading off to work!