International Women's Day is an occasion to celebrate girl power and what better way to do so than through fashion? From chic jumpsuits and smartwatches to quirky T-shirts and belted dresses, channel your inner girl boss with these power outfits to celebrate International Women's Day this year!
International Women's Day edition: Which girl boss are you most like?
1. For the girl boss who's also a Mum
The ultimate inspiration when it comes to juggling like a pro. This woman manages to run her household and workplace, all while looking chic. Her style: no-frills, because she just can't afford for her lace dress to snag on her little one's mischievous fingers.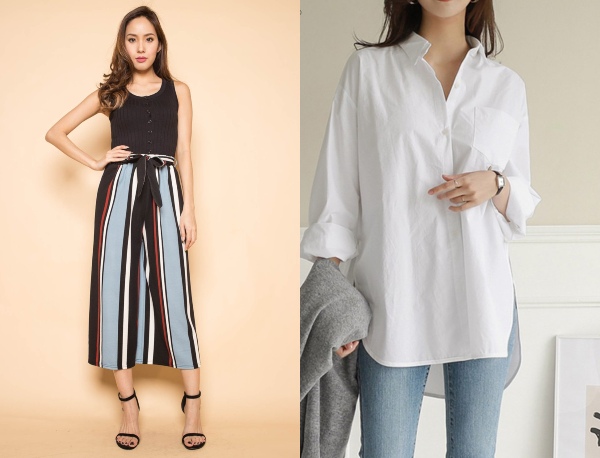 Nothing speaks comfort-chic like a lovely pair of culottes. They're forgiving, fashionable and will flatter your new curves well! These Printed Culottes (available on OOTD SG) can be paired with any tighter fitting top of your choice — like a chiffon tank top. Breastfeeding and suffering from sore boobs? Wear something loose-fitting and breathable like this Zanzea Long Sleeve Split Hem Blouse (available on ZANZEA Official Store) and throw on a thin waist belt to lightly cinch in that waist!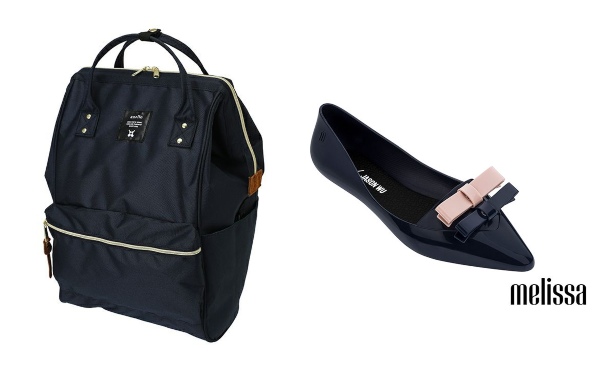 Invest in a bag that allows for enough room for your work files and even baby bottles. This Anello Kuchigane Backpack (available on Anello Official Singapore) is roomy enough for your laptop and can hold baby gear over the weekend. Don't forget to cushion your feet and invest in a trusty pair of footwear like this pair of Melissa Women Pointy II + Jason Wu (available on Melissa Official Store) flats — another versatile piece for the office and off days.
2. For the fashionista boss
This is one woman who is busy in the day and has just as many social engagements in the evening. Her style: an outfit that can take her from day to night.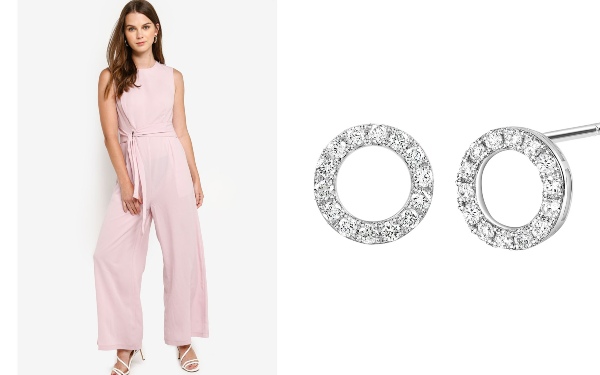 Jumpsuits are one of the most underrated types of women's apparel. Slipping into a one-piece is definitely easier to handle in the mornings. This Zalora-Sleeveless Hardware Detail Jumpsuit (available on Private Labels by Zalora) comes in a gorgeous blush colour and has a conservative cut that's office-appropriate. Add on a pair of Cresta Diamond Earrings (available on TAKA Jewellery Official Store) and swipe on a pretty lipstick before heading out to celebrate International Women's Day.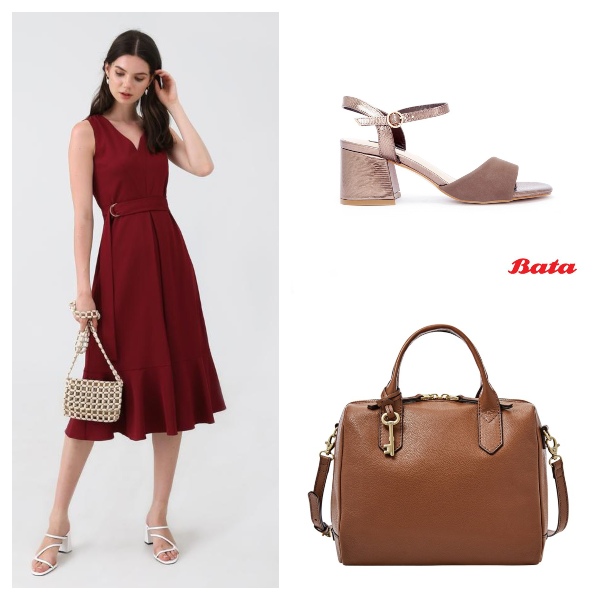 Besides jumpsuits, midi dresses are also a flattering fashionista choice. We love this sweet Yacht 21 Betsie Belted Ruffle Dress (available on YACHT 21 OUTLET). Pair it with this pair of BATA Comfit Ladies Ankle Strap Heels (available on Bata Singapore) for a feminine and put together look — perfect for International Women's Day!

The fashionista boss wouldn't be without an equally stylish handbag. This women's day 2021 is the perfect time to start carrying a chic handbag to work. Our favourite is this Fossil Fiona Handbag  (available on Fossil Singapore Official Store) that boasts a leather exterior and gorgeous Old English brass hardware! Want a bag that matches your OOTD? Check out this range of popular Korean bags for more inspiration!
3. For the quirky boss
This is one girl  boss who is bold in her choice of colours and prints. Her style: never boring, but always means business.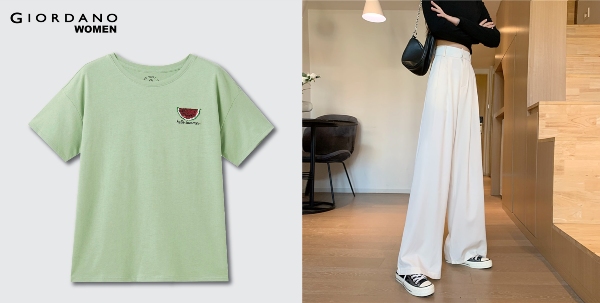 We envision a quirky girl boss to be daring, brave and all things fun. You can spot her in graphic tees with woke proclamations or perhaps this striking mint Giordano Sequined Tee (available on Giordano Singapore Official Store). Paired with Korean High Waist Suit Trousers (available on shrimp.fashionshop.sg), she will be the one to push fashion boundaries at the workplace — encouraging all to express their individuality along with her!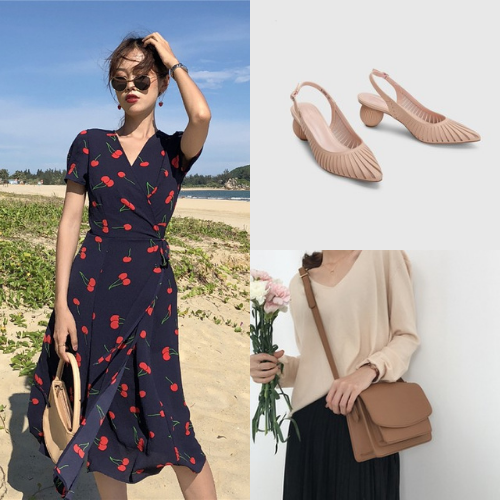 Quirky girl bosses won't shy away from incorporating splashes of colour, textures and prints. Don't be surprised to see her in printed creations like this flowy Cherry Printed Wrap Dress (available on Happishop). Accessories? She'll quite likely reach for a pair of Renae Pumps (available on prettyFIT Official Store) and an IEGLY Retro Shoulder Bag (Apricot) (available on IELGY Official Store). Their style may seem effervescent but don't let it fool you — these girls are both dreamers and doers, a true inspiration for us this International Women's Day!
4. For the sharp shooter girl boss
Dilly dallying simply won't cut it with these bosses that take no nonsense. They prefer to avoid the fluff and cut straight to the chase. Her style: functional, with a sleek silhouette.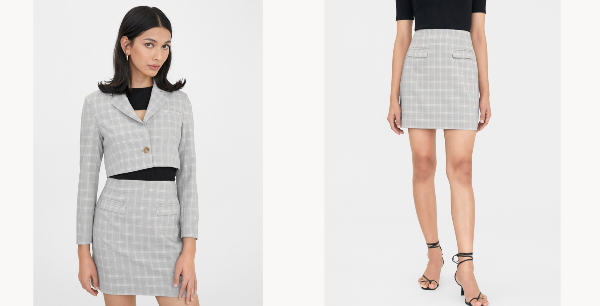 Though a crisp white shirt and smart pants will usually suffice, there's just something about a blazer and skirt combination that will up the power ante in those large boardroom meetings. This Pomelo Plaid Buttoned Crop Blazer and Pomelo Plaid Twin Pocket A Line Skirt (both available on Pomelo Official Store) definitely pulls all the stops for us. Pair it with a black camisole and strut into office with style and purpose. Together with a pair of sunglasses, clutch and heels, this is one powerhouse look to pull off this International Women's Day.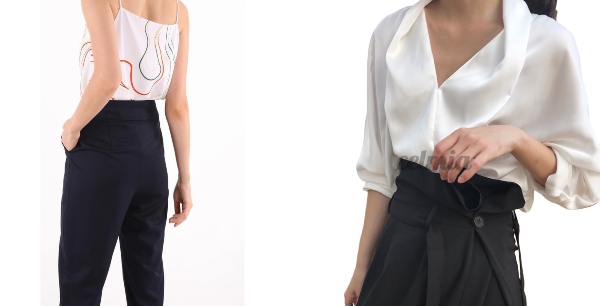 Not keen on a suit combination? Mix it up with high waisted pants and a white blouse instead! These Yacht 21 Inuk High Waisted Trousers (available on YACHT 21 OUTLET) paired with a tucked in CELMIA Silky Satin Shirt (available on Celmia Official Store) will give you a smart and sophisticated look.

5. For the minimalist boss
Less is more for these bosses. Her style: essential high-quality pieces that are versatile enough to be paired with everything else in her wardrobe.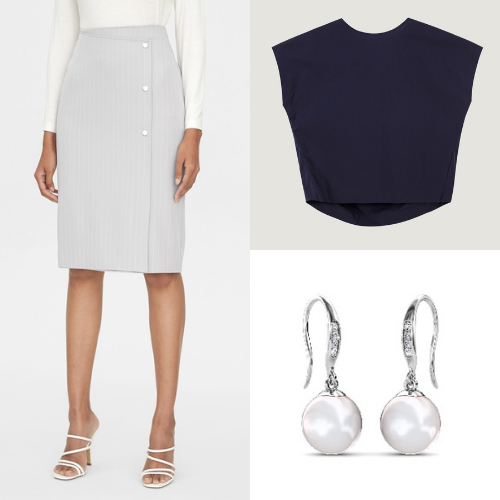 A minimalist fashion style is probably one of the hardest styles to pull off. The challenge lies in mixing and matching the apparel in various combinations while keeping the overall look clean and classic. This iORA Back Ribbon Tie-Detail Blouse (Black) (available on iorasg) paired with a Pomelo High Waisted Side Button Skirt (available on Pomelo Official Store) is the epitome of minimalist fashion. Complete the look with this pair of Pearl Hook Earrings Embellished with Crystals Pearls from Swarovski (available on Her Jewellery Official Store) — an elegant, yet understated jewellery you can wear to the office.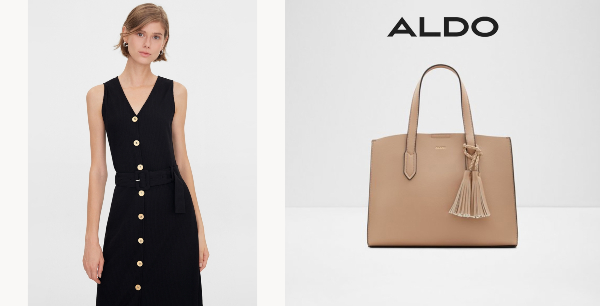 Minimalist fashion also involves wearing classic dresses with a twist. This Pomelo Button Up Belted Dress (Black) (available on Pomelo Official Store) with buttons, a front belt and a v-neck design is a good example of such style. This may look like a simple dress but the belt accentuates your curves and makes you look slimmer. Want to try one of these minimalist styles this International Women's Day? Don't forget to accessorise your outfits with this uber chic ALDO ACHILLIEA Snap Tote Bag (Bone) (available on Aldo Official Store)! 
6. For the startup boss
This boss is a self-starter. She is a hustler and wears all the hats of the company from operations manager to leading meetings. Her style: comfortable (casual even) while still being fashionable.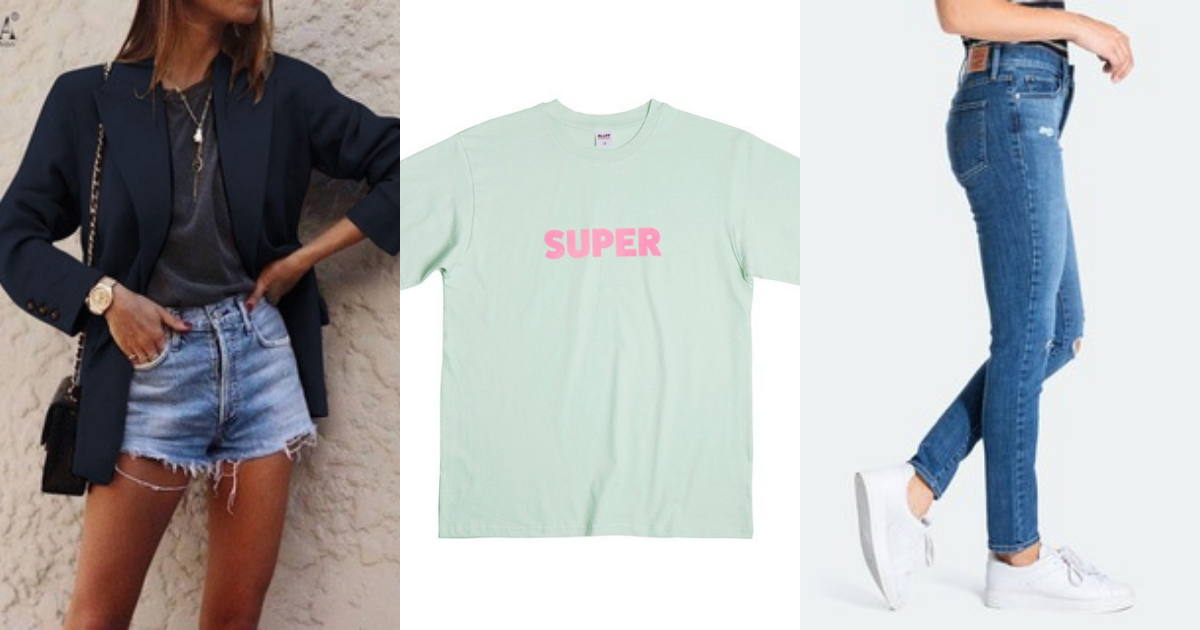 One of the mainstays is a good pair of jeans. We especially like these pair of Levi's Shaping Skinny Jeans (available on levis_singapore) that manages to accentuate those curves. Pair it with a cool T-shirt like this [BLUFF] Super T-Shirt (available on ALANDOFFICIAL.sg) and a ZANZEA Turn-down Collar Casual Blazer (Black)(available on ZANZEA Official Store). With this easy breezy style, the startup boss will be easily able to manoeuvre between meetings and other manual labour duties.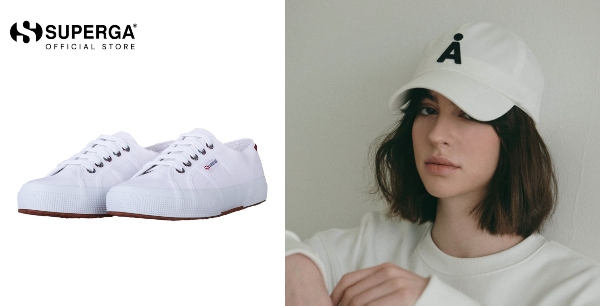 Every startup boss can be found hustling from place to place, so be sure you have a pair of comfortable footwear for the ride! We swear by sneakers  — our favourite is the Superga 2750 Coloured Rivets in Scarlet(available on Superga Singapore Official Store). If you're more of a cap gal, then this ALAND A LOGO BASEBALL CAP (available on ALANDOFFICIAL.sg) will surely be up your alley while shielding you from the harsh sun rays. Ready yourself with these accessories and hustle this International Women's Day!
7
.

For the #fitspo boss

This boss takes work and working out to the next level! Her style: sports luxe pieces that are chic enough for work but can take her straight to the gym.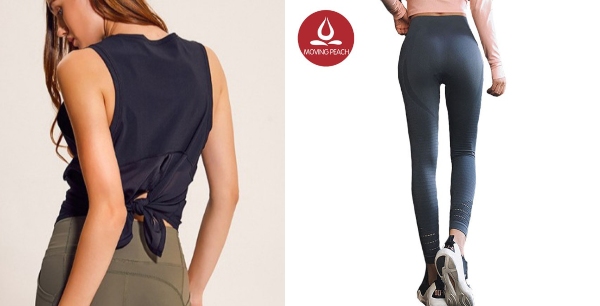 If you're keen to get started on a lunchtime workout routine, why not dress in an athleisure fashion or sports attire to work — but make sure you're not breaking any office attire rules! This Women's Sports Fitness Tank Top (available on Moving Peach) can be worn two ways – tied or untied. Leave it untied when in the office and tie up the ends when you're hitting those reps in the gym. Pair it with these pair of trusty Black Yoga Pants (available on Moving Peach) that will easily blend into the office environment!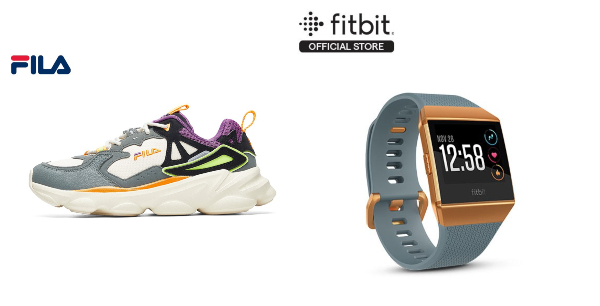 Don't forget to match the apparel with sporty yet fashion-forward accessories. We couldn't leave out this stylish pair of FILA SKIPPER FS Women's Chunky Sneakers Beige (available on FILA Official Store) and Fitbit Ionic – Smartwatch (available on Fitbit Official Store) to keep track of your steps, calories and other workouts which you can programme into the smartwatch.
Ready to celebrate women's day 2021?
Celebrate this International Women's Day with deals on our favourite girl boss looks! In the meantime, make sure your skin is getting some TLC. Check out our guide on the ultimate skin care routine to get that dewy and flawless complexion. Exercise is just as important so be sure to keep that adrenaline pumping at one of these 24-hour gyms in Singapore! Once you've had your me time, don't forget to schedule some time with your girlfriends too. We scouted some of the best ladies' night deals in town for some HTHT with your gal pals!
This article was updated on 02-03-2021. Additional research done by Abigail Chang
---
New to Shopee? Get $7 off (min. spend $15) with code*: 7GIRLBOSS
*TNC Applies. Valid for new users from 4 Mar to 11 Mar 2021 only.