Imagine sinking your teeth into pillow-y soft dough, tender to the bite. Your tongue instinctively curls around lashings of rich chocolate and fruity jam. The most satisfying bit? Licking that scrumptious coat of sugar from your fingers. If there's a sweet treat that falls under the radar, it has to be the classic donut (or doughnut). From old-school sugar coated donut holes to Italian-style bombolinis filled with espresso custard and jam, here's our shortlist of where to find the best donuts in Singapore. 
Best donuts in Singapore: Delivery
1. Burnt Ends 
If you haven't managed to snag a coveted seat at one-Michelin-starred Burnt Ends, you can take comfort in a box (or two) of their recently-launched brioche donuts that are all the rage right now. Flavours come in a tangy Passionfruit Curd, luscious Tahitian Vanilla, and current crowd favourite — the Milo donut, generously dusted with the chocolate malt powder. No wonder there's a two-week waiting list for one of the best donuts in Singapore. 
Get your fix: Order online at Burnt Ends Bakery SG  
2. Sourbombe Bakery 
Fans of Basque burnt cheesecake will love the bombolini version of this recent food trend.  Masterchef Singapore runner-up Genevieve Lee helms the Sourbombe Bakery kitchen, where the Basque Burnt Cheesecake bombolini is piped with a cream cheese custard infused with blue cheeses like gorgonzola. Can't take the funk? Play it safe with the Hojicha Caramel Crunch, boasting a roasted tea custard and salted caramel pearls for extra crunch. The sourdough bombolinis here are also deep-fried in coconut oil, so they are less greasy and not at all jelat! 
Get your fix: Order from Sourbombe Bakery a week in advance. Minimum spend of $15 required, with options for delivery or self-collection. 
3. The Fat Kid Bakery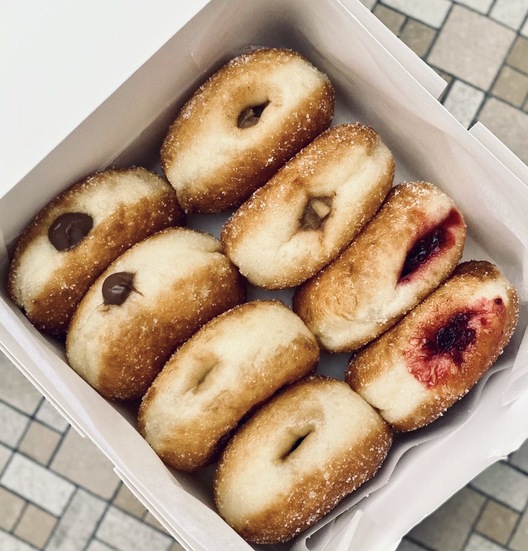 It's usually sugar and spice that makes everything nice, but in the case of The Fat Kid Bakery, a little sour(dough) never hurts too! Home-based baker Ariel Tang substitutes yeast for a sourdough starter to make her Italian-style bombolinis, and the result is fluffier donuts with a slight tang. Opt for the classic Chocolate, or the Brown Butter Apple Cinnamon for a delicate sweetness. Psst, the Triple Chocolate Brownies might not quite fall into category of donuts, but they will definitely score you extra brownie points if you get a box to go along with your stuffed donuts!
Get your fix: Orders can be made through their Instagram page @thefatkidbakery, with pre-orders for donuts opening two to three days before delivery or collection.  
4. Baker & Cook 
Need something stronger in the morning to perk you up? Go for a double with a cup of coffee and a scrumptious Espresso Custard Donut at Baker & Cook! The donut is deep-fried on both sides, filled with an espresso-infused custard, then glazed with vanilla icing and hazelnut crumble. This Kiwi-founded bakery might have made a name for itself with its sourdough loaves, but it definitely makes some of the best donuts in Singapore too! 
Get your fix: At all Baker & Cook outlets islandwide, or on Deliveroo for delivery 
5. Doughnut Shack 
If you're the kind who is game to try any quirky flavour combination, then head to Doughnut Shack to get your fix! The homegrown bakery in Whampoa Estate turns out a range of donuts, from classic donut holes and Italian-style bombolinis, to cake donuts and beignets. Try the Chilli Crab Bombolini if you see it on the menu, or the Glazed Matcha Donut if you're missing a taste of Japan. 
Get your fix: Order online at Doughnut Shack SG. Minimum order of $14 required, with complimentary donut delivery for all orders above $120
6. Fluff Bakery 
Started in 2013, this homegrown bakery that is well-known for its whimsical cupcake flavours has since branched out into offering some of the best donuts in Singapore. The donuts here are baked fresh daily, with flavours rotated weekly so there's always something new for you to try! Crowd favourites include Vanilla Salted Cream, Strawberry Cream Pie, and New York Cheesecake. 
Get your fix: Place your orders a day in advance from Fluff Bakery. Pickup or delivery options available from Monday to Saturday. 
7. Krispy Kreme 
No shortlist of the best donuts in Singapore would be complete without Krispy Kreme, arguably the OG of the donut trend here! Who can forget the crazy queues Krispy Kreme caused when it first made its debut in Singapore? The original glazed donuts remain one of our favourites, though you can't go wrong with all-American classics like New York Cheesecake and Cookies & Cream either. 
Get your fix: Available at all Krispy Kreme outlets, with donut delivery available via GrabFood, Deliveroo and Foodpanda. 
8. Plain Vanilla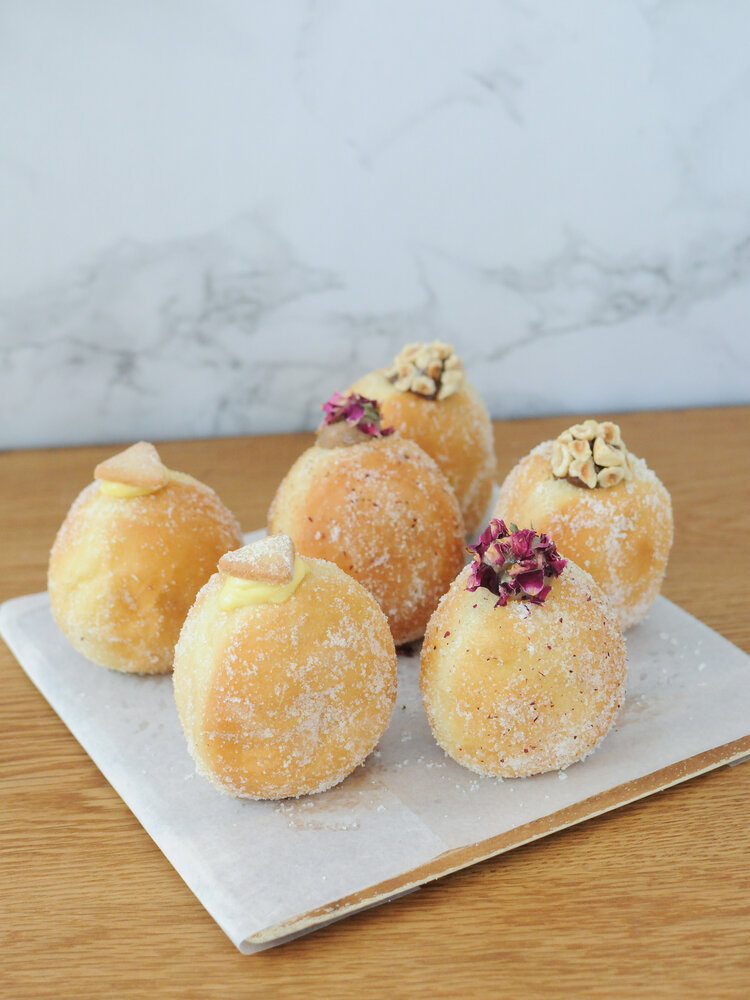 Most of us know Plain Vanilla for their delish cupcakes that come in delicate flavours, but here's a little well-kept secret: this home-grown bakery actually turns out dreamily fluffy brioche donuts too, made in limited quantity only thrice a week (Wednesdays, Saturdays and Sundays)! Mainstay flavours include Dark Chocolate Hazelnut, as well as Vanilla Bean Malt, a brioche donut filled with a milky custard and topped with a crumby vanilla bean cookie. The donuts here are available for same-day order for collection or delivery to your home!
Get your fix: Order online here 
9. Kind Kones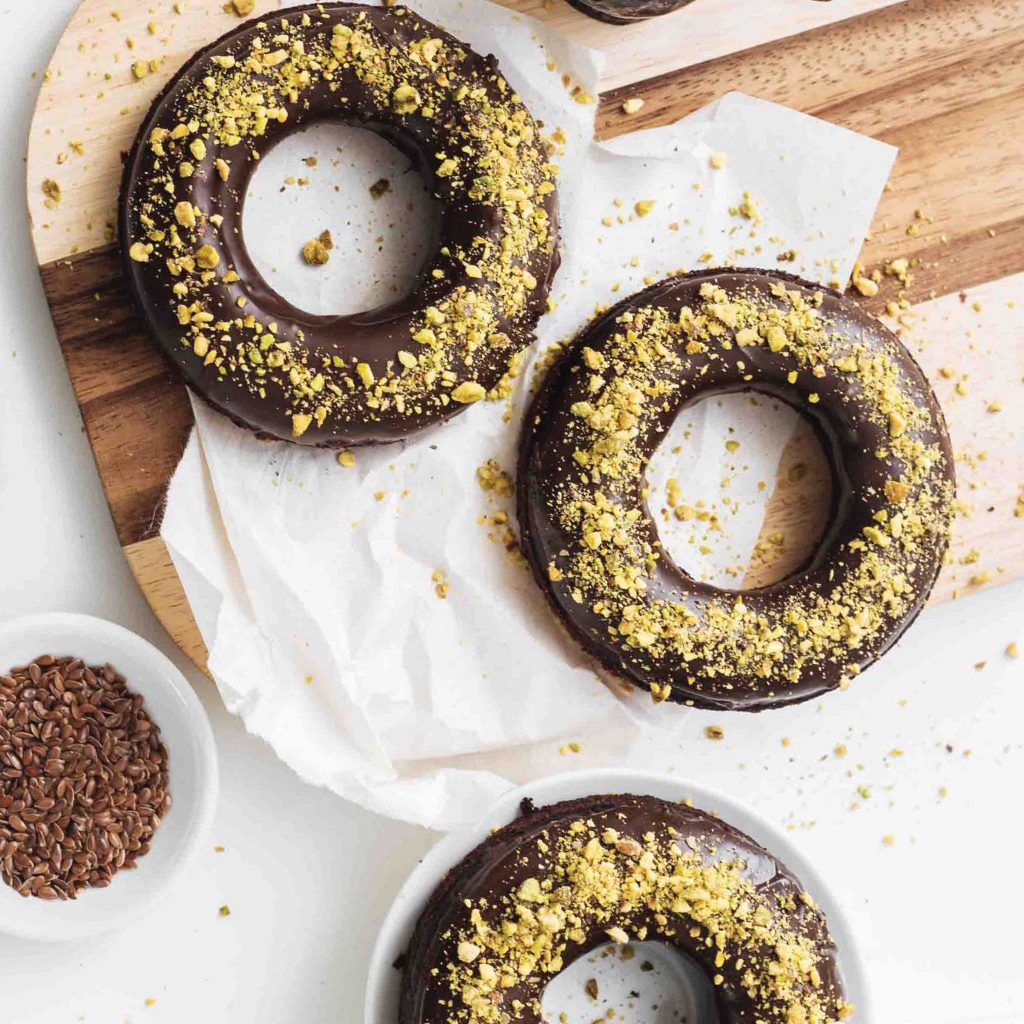 Looking to satisfy your sweet tooth, but have certain allergies? Kind Kones might be an ice cream parlour, but this place also specialises in gluten-free donuts that are perfect for vegans. The Chocolate Donut here is baked instead of fried (so you can tell yourself it's a healthier option), and boasts healthy ingredients such as flax seeds, apple sauce, and agave instead of refined sugar.
Get your fix: Order online here 
Best donuts in Singapore: 

Dine-in / takeaway
10. Korio 
https://www.instagram.com/p/CDK968YnI9s/?utm_source=ig_web_copy_link
If you like your donuts light and fluffy, then the ones at Korio are perfect for you! The bakery uses a brioche recipe which calls for more eggs and butter, so their donuts are more airy and not as dense compared to some others out there. Even the different donut glazes are made in-house, with less sugar so the pastries are less cloying. We recommend trying the Caramelised Biscuits Donut, made with cookie butter and crushed Lotus biscuits for a taste of nostalgia. 
Address: Far East Square, 135 Amoy Street, #01-35, S(049964)
Opening Hours:
Mon – Fri: 9am – 2.30pm
Sat: 9am – 1.30pm
11. City Donut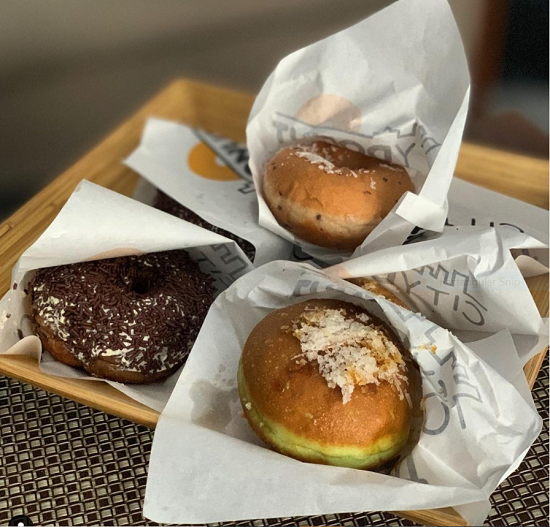 Snaking queues are a sure sign that something good is baking. In the case of City Donut, that would be the pillow-y filled donuts infused with local flavours such as Pandan and Kopi! The stuffed donuts here have proven so popular, there are now two City Donut outlets in Singapore, along McCallum Street and at Velocity@Novena Square. If you're looking to avoid the queues, head over around 4-5pm — though we're pretty sure the hit flavours such as yam and yuzu might have sold out by then. If you spot the Pulut Hitam though, be sure to grab it! We love the roasted rice flavour of the pulut hitam cream piped into the core of the soft donut. 
Address: 2 McCallum St (with a second outlet at #01-72/73 Velocity@Novena)
Opening Hours:
Daily: 9am – 6pm, except Sundays
12. Haritts Donuts & Coffee 
Founded by two Japanese sisters who started with a mobile van selling coffee and donuts to Tokyo's office-goers, Haritts has since grown into a mini donut empire with outlets in Taipei, Taichung and Singapore. These are definitely one of the best donuts in Singapore, individually shaped by hand and dusted with a special donut sugar brought in from Japan. Try the local flavours such as Kaya, Orh Nee (taro paste), or Mao Shan Wang which are sure to go down a treat. 
Address: Havelock II, 2 Havelock Road, #01-08
Opening Hours:
Mon – Fri: 10.30am – 7pm
Sat – Sun: 12noon – 7pm
13. Tiong Bahru Galicier Pastry 
This age-old establishment has been around since the 1970s, and is the go-to standard for Nonya kueh such as ondeh ondeh and kueh kosui. Don't miss the classic old-school sugar donuts — thick, fluffy, and generously dusted with sugar, these are definitely value-for-money at just $1 per piece! 
Address: Blk 55, Tiong Bahru Road, #01-39, S(160055)
Opening Hours:
Tue: 10am – 7.30pm
Wed – Sun: 10am-8.30pm
14. Balmoral Bakery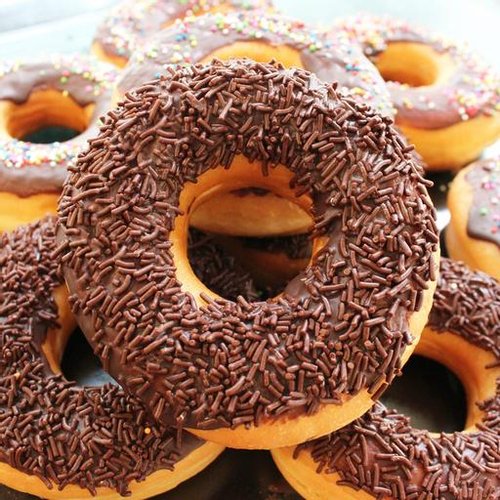 For a kick back to your childhood days, the chocolate rice-glazed donuts at Balmoral Bakery is sure to hit the spot! This old-school bakery has been serving up traditional treats such as cream horns and coffee cream cakes, and we love sinking our teeth into the original sugar donuts and the chocolate rice ones here! We also like their version of mini sugar donuts on a stick, which are easy to enjoy on the go. Fancy a savoury option? The fried donut hotdog is wickedly delicious, and one of the best donuts in Singapore that's different from the rest! 
Address: Sunset Way, 105 Clementi Street 12, #01-06, S(120105)
Opening Hours:
Mon – Sun: 9am – 7.30pm 
15. Jia Mei Mian Bao (家美自制面包)
Here's another gem if you, like us, have a soft spot for old-school sugar donuts. This unassuming stall in Old Airport Road Food Centre turns out fresh bakes every morning, from soft buns that are easy on your wallet (just 80 cents a piece) to fluffy donuts dressed in a light coat of sugar. The crumb is wonderfully tender, with crispy knots in the centre that make for an appreciated additional crunch. Perfect with a cup of kopi or teh! 
Address: Old Airport Road Food Centre, 51 Old Airport Road, #01-43, S(390051)
Opening Hours:
Tue – Sun: 8am – 7pm 
Bonus: Mister Donut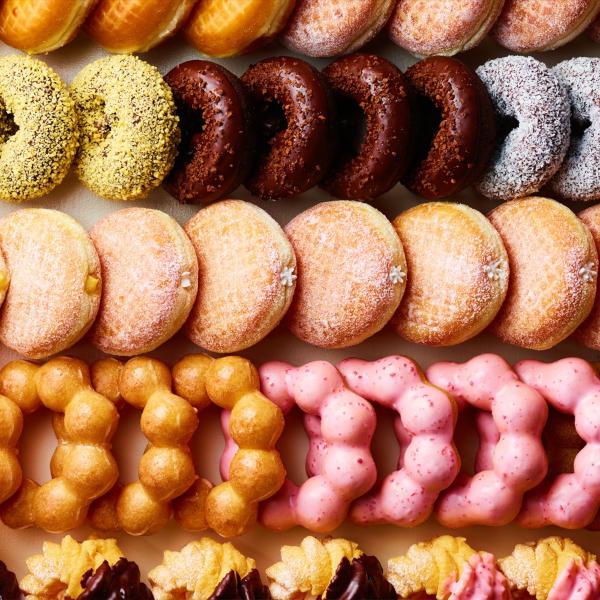 Well-loved American donut store Mister Donut has reached the shores of Singapore! Since its launch in Japan in 1971, Mister Donut has expanded to have over 5,500 stores worldwide. Choose from 16 popular flavours like Custard Cream, Angel French and more. But don't forget to try their signature Pon De Ring! This donut is made with tapioca flour to get a chewy and mochi-like texture that you'll definitely love! You can also go for the Pon De Ring Strawberry that comes with a sweet strawberry glaze. There's only about 3,300 donuts available everyday and each customer can only buy up to 10 pieces. Their popularity has seen long queues at their very first pop-up store in Singapore, so it's best to visit Mister Donut soon as they'll be gone after 14 August! 
Address: Jurong Point Shopping Centre, 1 Jurong West Central 2, #B1-49, S(648886)
Opening hours: Daily, 11am – 9pm
Go on a hunt for the best donuts in Singapore
If you have a sweet tooth, we're sure you'll enjoy sinking your teeth into some of the best donuts in Singapore! Looking to enjoy these fluffy sugar-coated pillows with a good cuppa at home? Check out the best coffee machines that will make a wicked brew. Feeling a little guilty after all that sugar? Head to one of these Muay Thai gyms in Singapore to get in a good workout!
---

New to Shopee? Get $7 off (min. spend $15) with code*: DONUT7
*TNC Applies. Valid for new users from 2 Mar to 9 Mar 2021 only.