Want to know the secrets to Kim Yoo Jung and Lee Sung Kyoung's beauty? Laneige is a great place to start! As one of the leading K-beauty brands, Laneige has spearheaded numerous beauty trends ever since the brand first launched in 1994. From dewy to glass skin, we can always count on Laneige to produce some of the highest quality innovative skincare and makeup to add to our beauty stash. Keep scrolling to discover some of the best Laneige products to achieve your K-beauty goals today!
Best Laneige skincare products
1. Laneige Water Sleeping Mask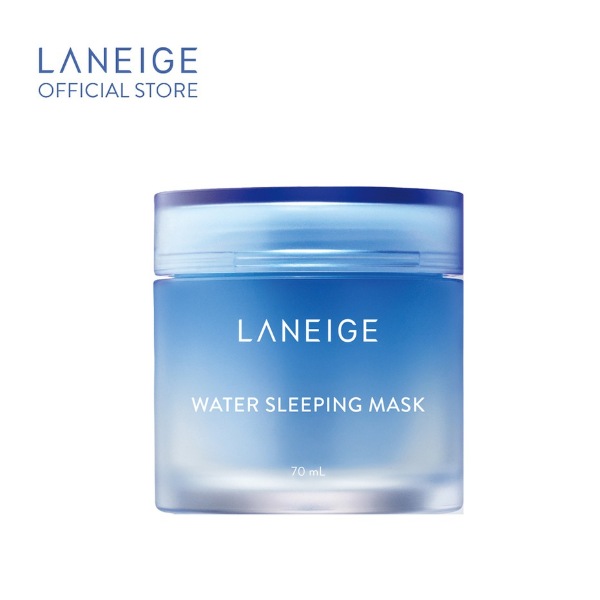 If you've never heard of the oh-so-popular Laneige Water Sleeping Mask (available on Laneige Official Store), you have been missing out big time! This award-winning skincare product is perfect for the lazy beauty junkies and those leading a hectic lifestyle. After pulling an all-nighter in the office (or at home), the last thing you want to do is a 10 steps skincare routine. This is where the Laneige Water Sleeping Mask comes in handy! 
As an all-in-one night mask, simply apply a generous amount of the cooling gel all over your face and you're free to hit the sack! Enhanced with the Sleep-Tox technology, the sleeping mask works overnight to purify, rejuvenate, and eliminate any signs of fatigue. Additionally, it contains Hydro ion mineral water, Primrose root extract, and Hunza apricot extract to give your skin a much-needed hydration boost. Unlike many sleeping masks that feel tacky on the skin, the Laneige water sleeping mask is extremely lightweight and absorbs so quickly into the skin leaving no stains on your bedding. It's no wonder this product has remained as one of Laneige's best sellers even after many years!
2. Laneige Cream Skin Refiner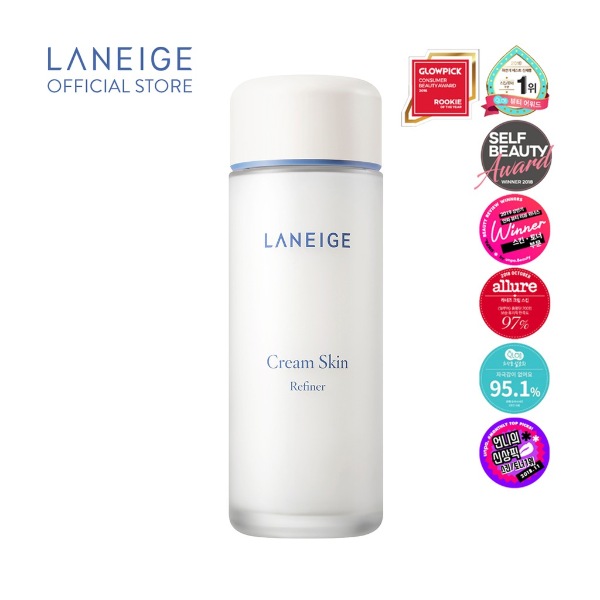 We won't blame you if you can't quite understand the Laneige Cream Skin Refiner (available on Laneige Official Store). Is it a toner? Or is it a moisturiser? Well, truth to be told, the Laneige cream skin refiner is both a face toner and moisturiser combined into one! In fact, Laneige revealed that a whole jar of moisturising cream is melted into each bottle of skin refiner via their unique Cream Blending technology. The product also contains White leaf tea water which boasts higher amino acid content than green tea. The amino acid is a vital ingredient that helps to lock in moisture and improve the skin's texture.
You'd expect such a product to be thicker in consistency, but nope! Upon first use, I found the Laneige Cream Skin Refiner to be no different from a regular toner consistency — liquid-y and extremely lightweight! The only difference is that you can instantly feel your skin becoming more hydrated and plumped up. With daily use, this Laneige best seller can help to eliminate skin dryness and improve makeup adherence. Who knew achieving cream skin, the latest K-beauty trend of having soft and supple skin, can be so easy? 
3. Laneige Radian-C Cream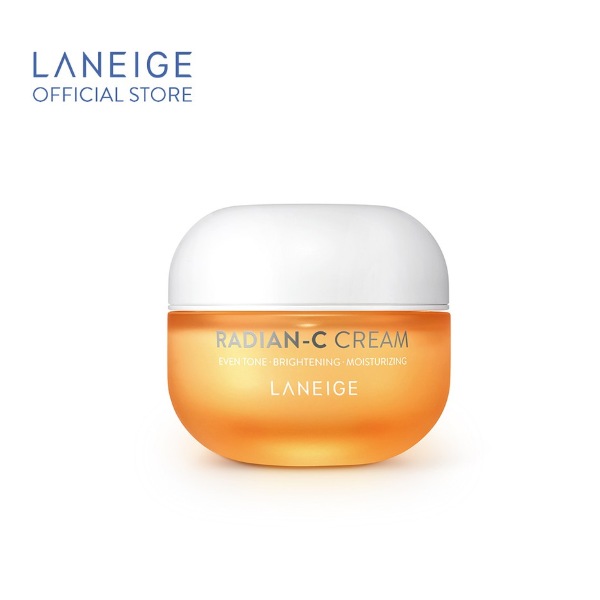 If you've been following the latest skincare launches, you'll know that the Laneige Radian-C Cream (available on Laneige Official Store) is one of the most anticipated skincare products of 2020. As its name suggests, the Laneige Radian-C Cream is targetted at dark spots and hyperpigmentation. It's formulated with 8.5% Vitamin C derivative ethyl ascorbyl ether — a powerhouse when it comes to skin brightening — as well as Melsolv and Vitamin E to enhance skin's luminosity. While most Vitamin C creams target visible dark spots, the Laneige Radian-C Cream goes the extra mile to correct non-visible hyperpigmentation before it becomes visible to the naked eye! 
And if you're like me who's facing the computer for long hours a day, this Laneige Radian-C Cream will be a godsend for you because it'll protect your skin against photo-aging caused by prolonged blue light exposure. Additionally, those with sensitive skin need not worry that this vitamin cream will cause skin irritation. Unlike other Vitamin C serums that usually contain a potent concentration of about 15% pure Vitamin C that may be a little too strong for sensitive skin, the Laneige Radian-C Cream contains almost half the concentration and is dermatologically tested to be non-comedogenic (or pore blockages) and hypoallergenic. Hence, this is one of the best Laneige products suitable for all skin types, including for mature skin!
4. Laneige Clear C Advanced Effector_EX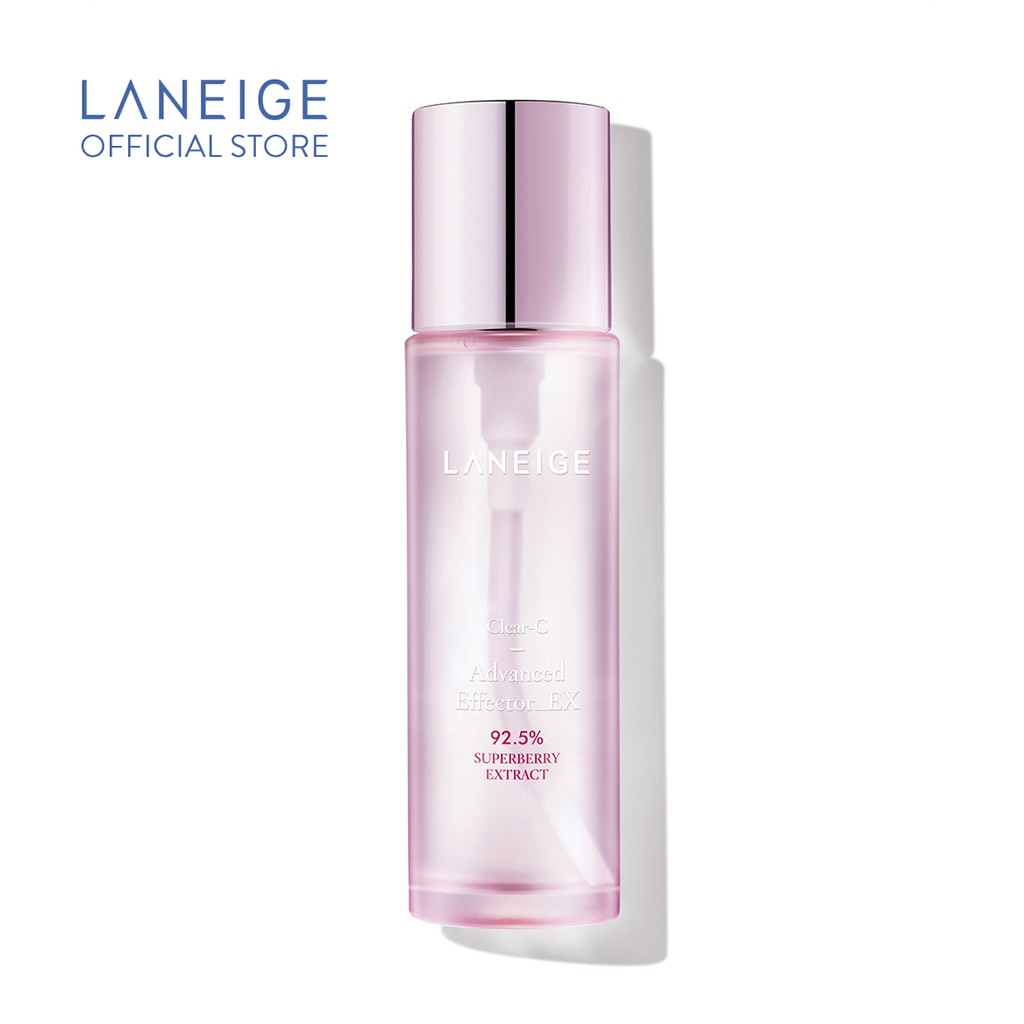 Keep your skin looking fresh and clear with the Laneige Clear C Advanced Effector_EX. With a 92.5% vitamin booster of super berry extracts, it's clarifying effects with antioxidizing properties will help give you a brighter complexion. On top of that, this is a water-type formula that is quickly absorbed by the skin as it moisturises. The bottle also comes with a pump that makes it easier to dispense. After cleansing your face, apply with a cotton pad for radiant skin.   
5. Laneige Water Bank Eye Gel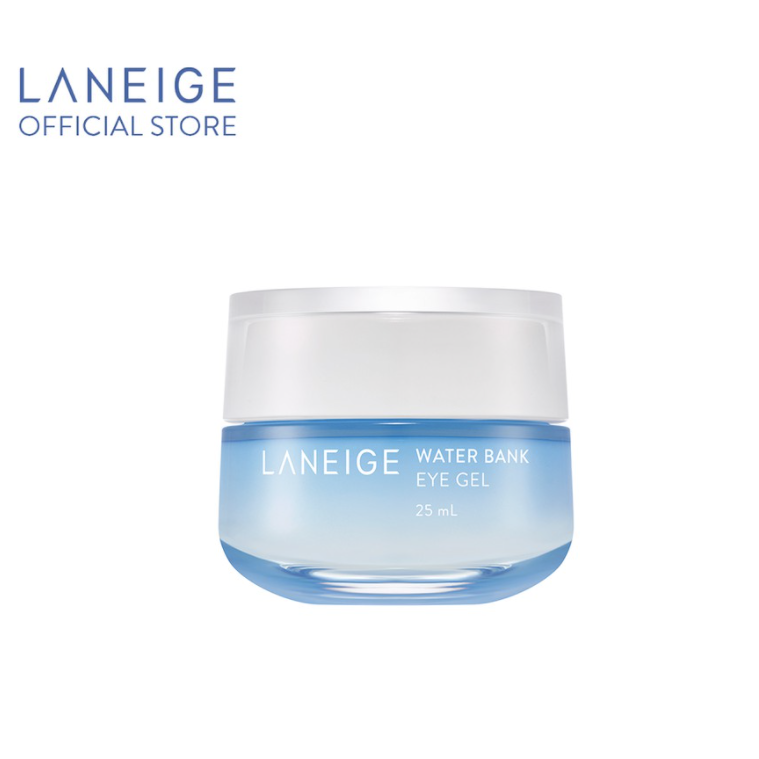 If you're someone who leads a really busy life and is in a constant lack of sleep, the Laneige Water Bank Eye Gel (available on Laneige Official Store) would be perfect for you to brighten up your eye area! As this eye gel contains green mineral water, it is able to provide enhanced moisture replenishment, lifting up the delicate skin around your tired eyes. In addition, the narcissus extract it contains is able to directly penetrate into your skin, keeping it smooth and hydrated. The best part is that this eye gel contains pomegranate extract that is rich in anti-oxidant; it is able to revitalise and brighten up the skin around your eyes, ensuring that you look fresh and awake, ready to start your day!
6. Laneige Lip Sleeping Mask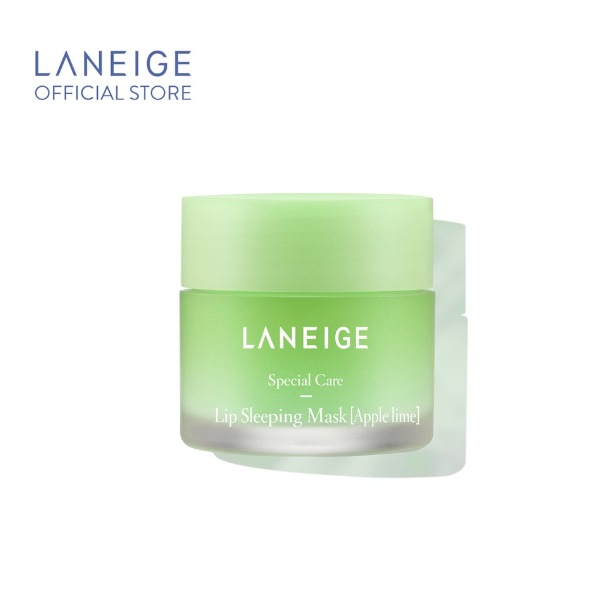 Our list of the best Laneige products will not be complete without mentioning the brand's signature Laneige Lip Sleeping Mask (available on Laneige Official Store)! Touted as the biggest secret to kissable lips, this product is a must-have in every girl's nighttime skincare routine. It's enriched with berry extracts bursting with Vitamin C and anti-oxidants to effectively cure chapped lips and melt away any dead skin cells overnight. In addition, it contains Laneige's patented Moisture Wrap technology. This helps to retain and lock in moisture to give you that plumped and smooth pout! While the lip sleeping mask comes in four different scents, my personal favourite is the apple lime-scented one. It gives off a refreshing yet soothing scent — perfect for a restful night! 
7. Laneige Water Bank Double Gel Soothing Mask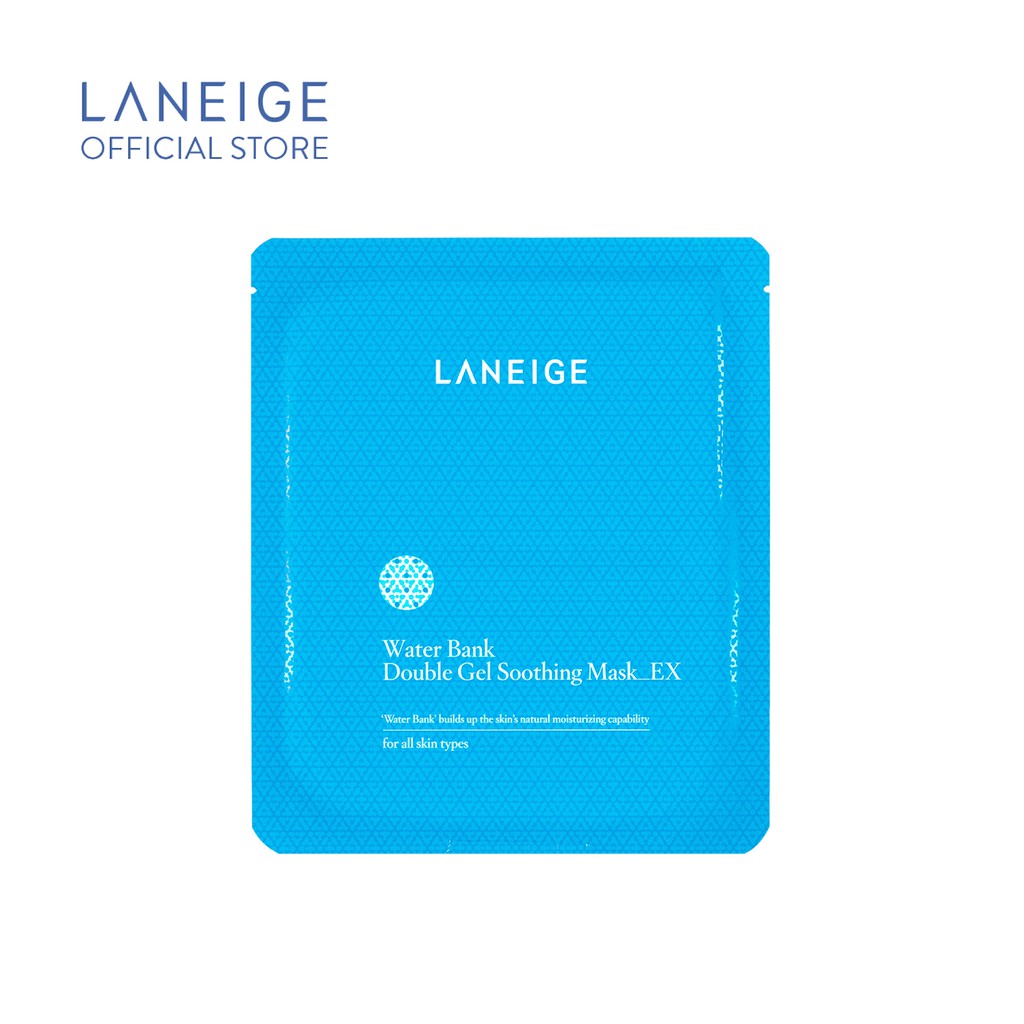 We all know the importance of masking to achieve our K-Beauty goals. This Laneige Water Bank Double Gel Soothing Mask (available on Laneige Official Store) provides intensive moisture care while providing a soothing and cooling effect. Keep your skin hydrated, soft and supple. Each box comes with 5 sheets, so you can use it once a week and it'll last you more than a month or if you're an avid mask-er, you might need to stock up!
Best Laneige makeup products
1. Laneige Neo Cushion Matte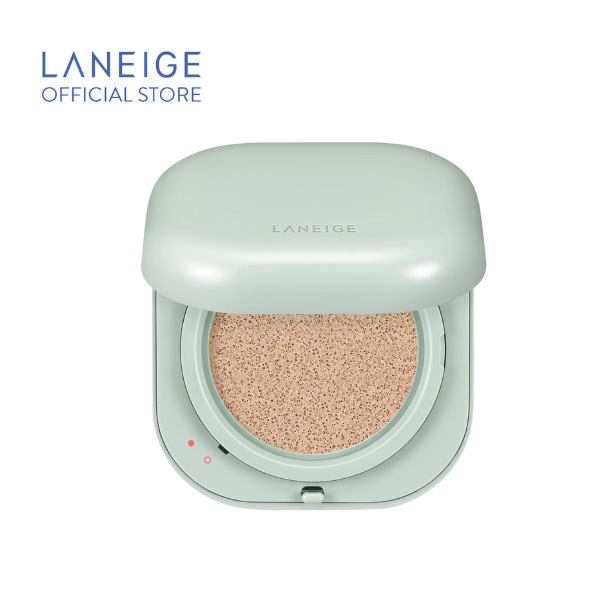 During this trying period where wearing a mask is a must, even a makeup junkie like me tends to stay clear of foundations. After all, having messy foundation smudges on your mask is not a pretty sight to behold. However, the Laneige Neo Cushion Matte (available on Laneige Official Store) has recently become my go-to foundation because of its highly adhesive and transfer-resistant formula Additionally, it's perfect for our hot and humid weather thanks to its 24-hour sweat-resistant formula that controls excessive sebum production and prevents the foundation from oxidising. It's truly one of the best Laneige makeup products ever created for Singaporeans!
Need more reasons to buy the Laneige Neo Cushion Matte? Aside from its wonderful formula, the cushion foundation also comes in an attractive minimalist case that bears an uncanny resemblance to an Airpods case. And that's no coincidence!  After all, it's designed in collaboration with Korean designer Yeongkyu Yoo, who has also designed products for tech giants like Samsung and Microsoft. So go on and flash your beautiful Laneige Neo Cushion proudly when you're touching up your makeup! 
2. Laneige Silk Intense Lipstick 2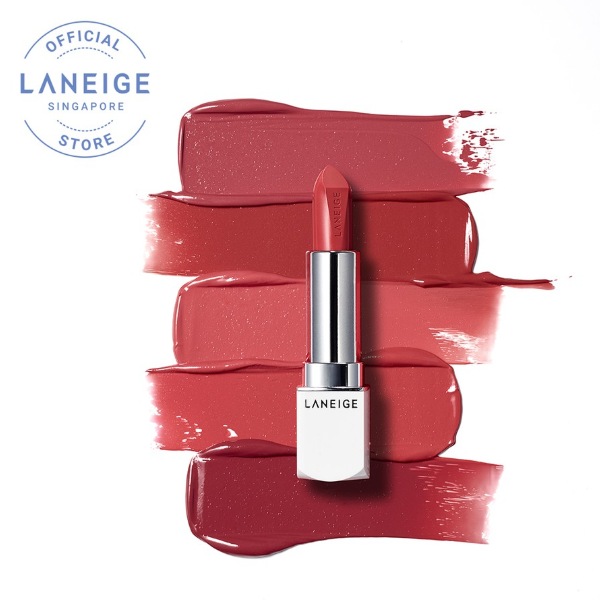 The Silk Intense Lipstick has been a Laneige best seller ever since it was worn by Song Hye Kyo in the 2013 drama That Winter, The Wind Blows. To keep up with the latest lip makeup trends, Laneige launched several new shades under the Laneige Silk Intense Lipstick Rose Collection (available on Laneige Official Store). As its name suggests, the collection comes with five wearable yet trendy shades inspired by the romantic hues of roses. The formulation also saw an improvement with the lipstick being more pigmented and long-lasting than before! Mesmerised by all the shades and can't make up your mind on which to choose? We suggest going for No. 520 Autumn Rose shade which with a hint of brown that will flatter any skin tone! 
3. Laneige Layering Cover Cushion & Concealing Base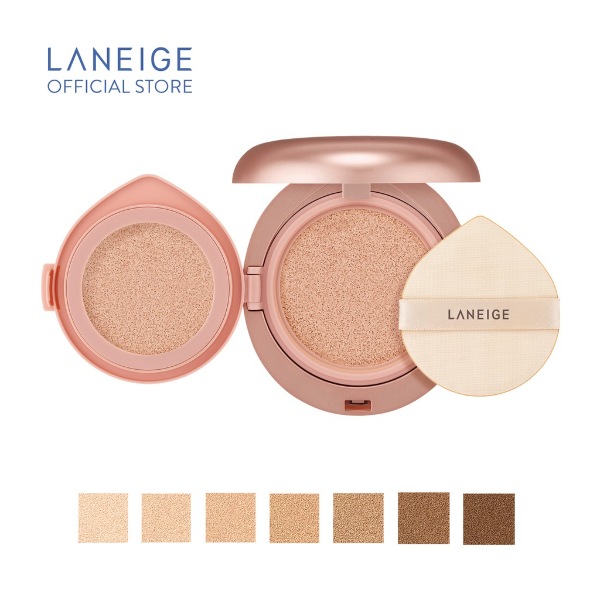 From concealers to mascaras, there are so many cosmetic products we need to fit into our makeup pouch. Don't force it, reduce the number of things in your pouch with the Laneige Layering Cover Cushion And Concealer Base (available on Laneige Official Store)! This 2-in-1 cushion compact not only contains a foundation but also a cushion concealer. It's one of the best Laneige products to get for on-the-go touch-ups!
While the cushion concealer is the highlight of this product, Laneige did not neglect the item's main component — the cushion foundation. The Laneige Layering Cover Cushion boasts a new and improved formula. It now contains illuminating jewel powder to give a gorgeous radiant pink sheen. With the addition of French sparkling water, Hydro ion mineral water, and lychee fruit extract, the foundation supplies soothing moisture to the skin all day long! Laneige has also gone the extra mile by designing the cushion puff into two sections. The upper section is smoother and denser to pat on the high coverage concealer. The lower section is perforated to capture and effectively deliver the moisturising foundation to the skin! 
4. Laneige Rose Collection Ideal Blush Duo No. 7 Mute Rose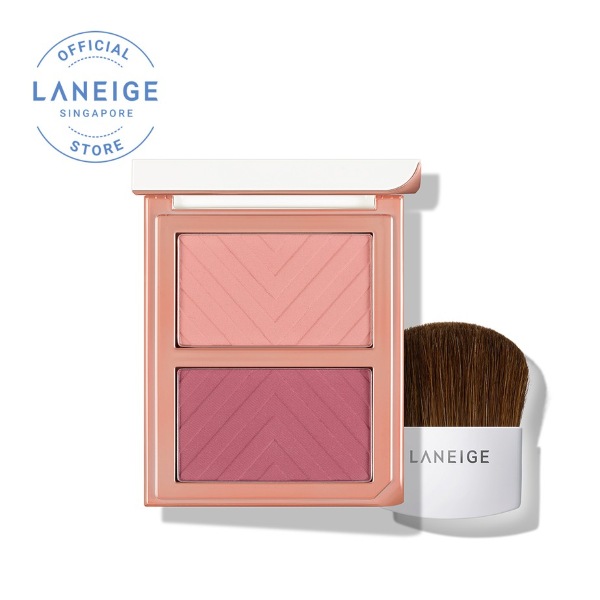 Love how K-drama actresses like Lee Sung Kyung, use blusher as the focal point of their makeup look? You can do the same with one of Laneige's best products — the Laneige Rose Collection Ideal Blush Duo No. 7 Mute Rose (available on Laneige Official Store)! 
Containing just about the right amount of pigmentation, this duo-tone blusher is all you need to create a natural, healthy flush. By combining the two ideal blush shades into one palette, this blusher can take you from day to night! Pop the bright peachy shade onto your cheeks and across your nose bridge for a sweet day makeup. When the night falls, dust on a sheer amount of the deep rose shade for a sexier look. Alternatively, mix the two blush shades together to achieve a youthful and lively look that's wearable even in the office! 
5. Laneige Layering Lip Bar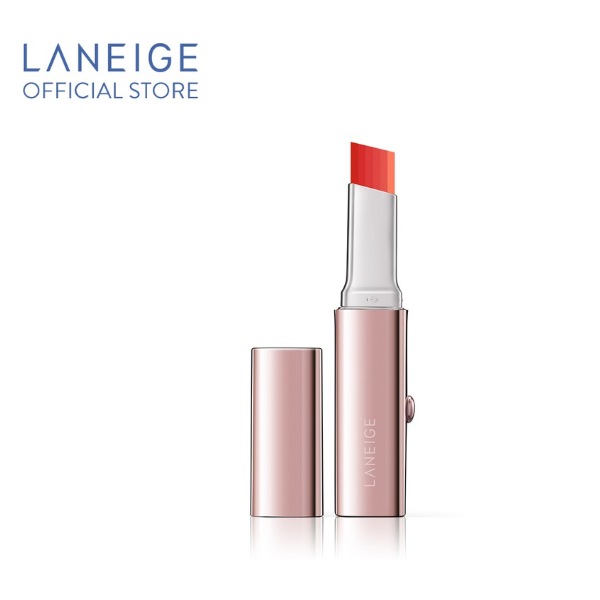 Why stock up on so many lipsticks when you can get six colours within one Laneige Layering Lip Bar (available on Laneige Official Store)? This is the best Laneige product to give you that famous vibrant gradient pout that's all the rage in Korea. Each lip bar is carefully curated to include six unique flattering shades — from lightest to darkest — to give the illusion of juicy plump lips. They offer intense pigmentation so all it takes is one easy swipe to complete your lip makeup. It's also a godsend for those with dry chapped lips as it has the same Moisture Wrap technology as featured in the Laneige Lip Sleeping Mask! We suggest getting No. 14 Candid Brick for an MLBB daily shade or No. 3 Jealous Red for a fun and youthful orangey-red hue! 
6. Laneige Stained Glow Lip Balm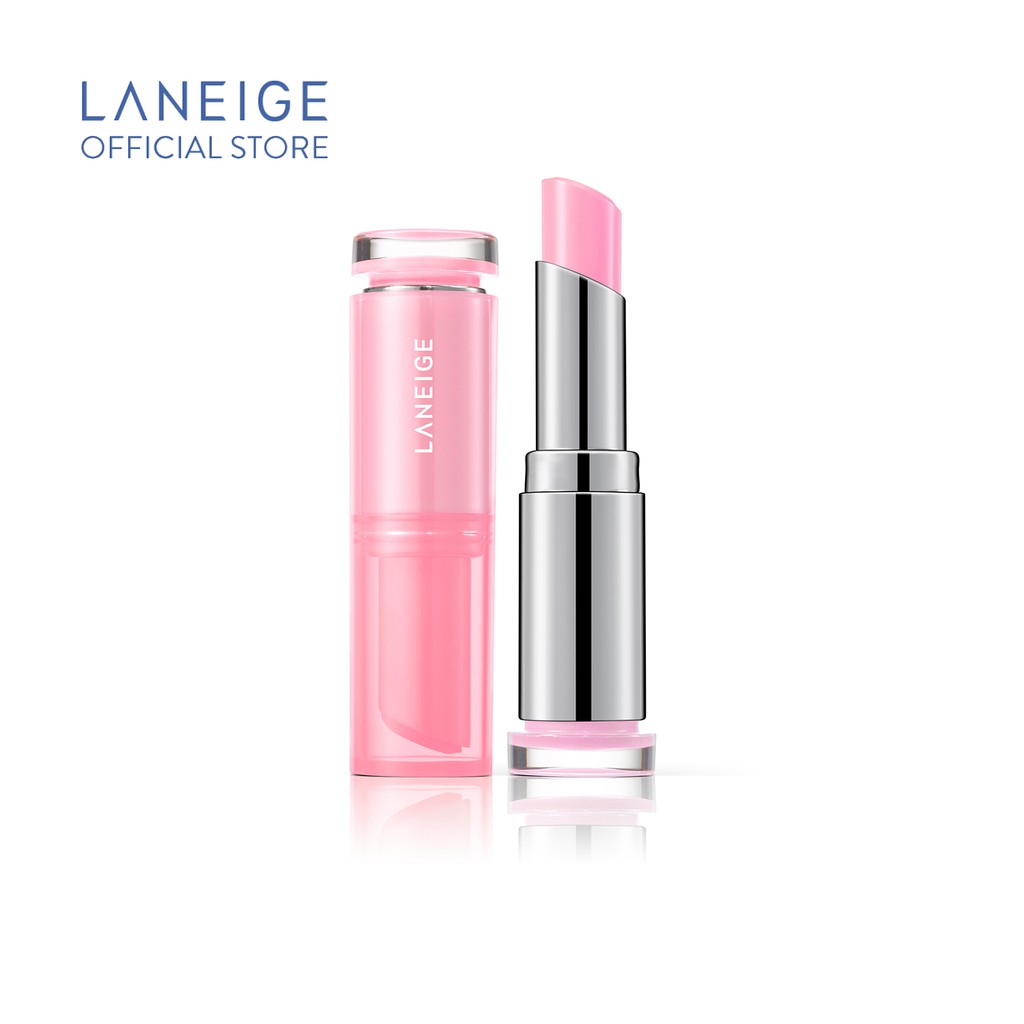 Looking for plump moisturised lips with a slight tint of colour? Then the Laneige Stained Glow Lip Balm is perfect for you. It comes in 3 shades – berry pink, rich red and mandarin coral to suit all skin tones. The lip balm is made with plant-based oil and shea butter to help moisturize your lips from the inside out and the various berry ingredients are rich in vitamin C and antioxidants to shed dead skin cells, making your lips feel smooth and supple. Kiss worthy lips? We think so!
Up your makeup game with the best Laneige products
Now that you're in the know of the best Laneige products, it's time to put them to good use! Check out our exciting 3.8 Laneige Super Brand Day to snag some awesome deals. You can also read up on our ultimate skincare routine to discover the best way to incorporate your Laneige skincare products into your daily regime. Then, get inspired by the latest Korean makeup trends and recreate your favourite K-Pop idol makeup looks! 
This article was updated on 2-03-2020. Additional research done by Tiffany Chng.  
---
New to Shopee? Get $7 off (min. spend $15) with code*: LANEIGE7
*TNC Applies. Valid for new users from 6 to 13 March 2021 only.