Thanks to the Korean Wave, the Land Of Morning Calm is now well-known for its music, culture and… beauty, of course! Beyond the eye-catching makeup and flawless skin, people from all around the world are adopting the Korean diet to achieve that enviable K-pop idol figure. Thankfully, there's now a wide variety of easy Korean food replacement products available in Singapore to make your conversion to a Korean diet a fuss-free one! 
Secrets of the Korean diet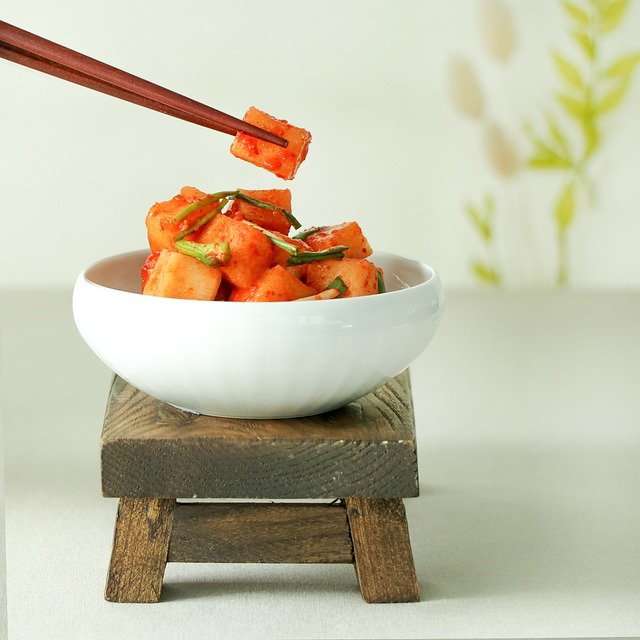 The Korean diet promotes eating whole, fibre-rich and minimally-processed foods so that you stay fuller for longer. Some foods are also popularly included in these diets for their myriad of health benefits, with one of them being kimchi. This fermented side dish helps to boost gut health and is full of vinegar and acids, which will keep you full for a longer period of time. Koreans also swear by soy-rich foods like tofu, veggies (that are also incorporated into banchan) and seaweed!
While snacking is generally frowned upon in the world of dieting, Koreans make an exception for healthy diet snacks that are both delicious and diet-friendly. Of course, it's also important to complement your efforts with workouts, however simple they may be!
With so many factors to think about, it's no wonder that meal replacement products have been adopted by Korean stars. These usually come in the form of beverages, snacks or powders that are both low in calories but high in other essential nutrients. Meal replacement products are great for replacing solid meals to ensure a more effective diet, all while keeping you sufficiently full and satisfied until your next meal. Here are some of the best meal replacements you can get in Singapore to help kick-start your Korean diet!
Best meal replacement shakes 
1. Labnosh Food Shake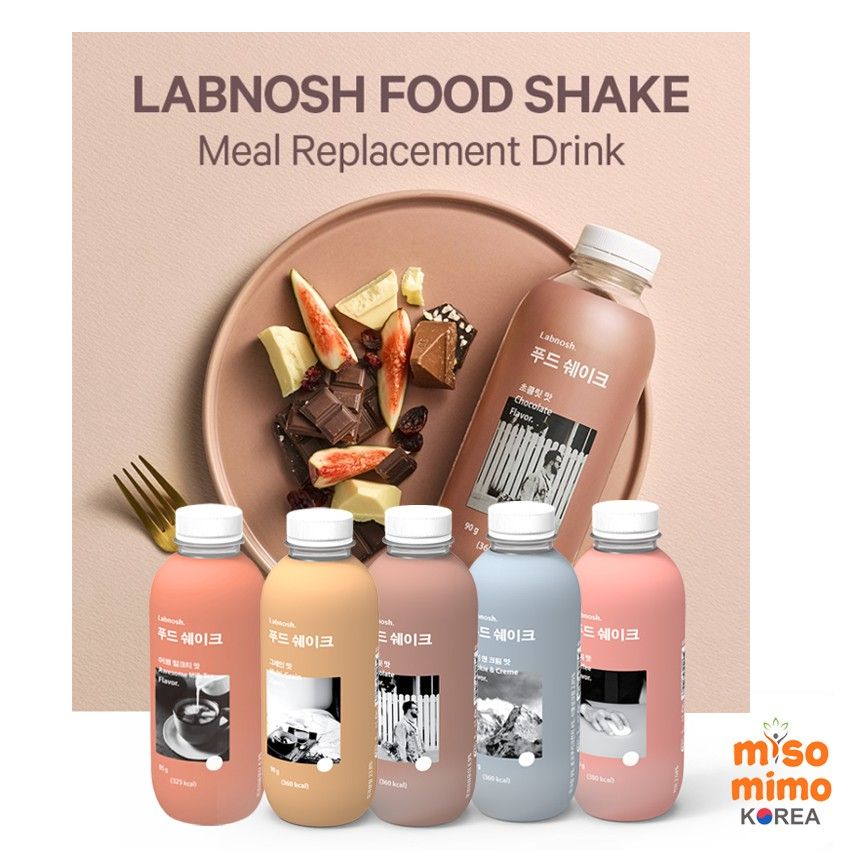 Labnosh Food Shakes come in aesthetically-pleasing packages, but do they taste as good as they look? According to Sharmaine (psst: watch the video at the end of this article), these easy food replacement beverages did not disappoint and kept her full all afternoon! 
The Labnosh Food Shake Full Set (available on misomimo) comes in five delicious flavours — milk tea, multi-grain, chocolate, cookie & creme and coffee. To make your diet even more effective, it's recommended to replace breakfast and dinner with Labnosh food shakes. Enjoy lunch as per usual, but be sure to avoid unnecessary snacking!
Concerned about compromising on nutrient intake during your Korean diet journey? Don't be! Each bottle of food shake contains 335-345 kcal and three major nutrients — carbohydrates, protein and fat (with zero trans fat). Each serving includes 19 types of vitamins and minerals, and accounts for up to 28% of the recommended daily fibre requirements.
*Please note that some flavours are currently sold out – do check the listing for any future restocks!
2. Just Meal Meal Replacement Protein Powder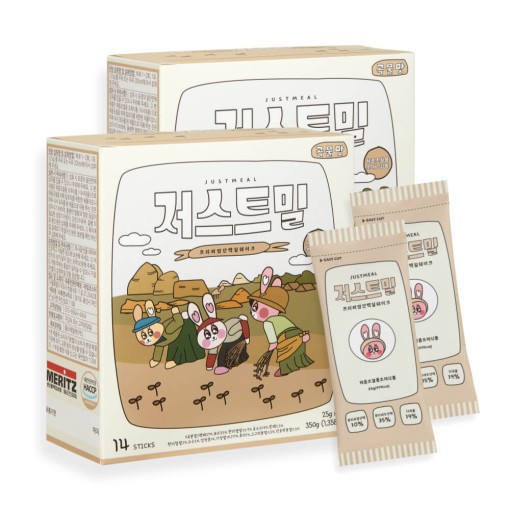 Reducing one's calorie intake is a popular weight loss method, but it can sometimes be hard to cut down while still eating your usual meals. The Just Meal Meal Replacement Protein Powder (available on oko_korea.sg) only contains 217kcal per portion, and provides a low-calorie alternative that is super convenient – simply mix with milk and enjoy!
The Just Meal powder comprises 11 types of Korean grains including barley, sesame seeds and brown rice, making it high in natural, quality proteins. It is also made with Stevia, instead of sugar, making it safe for diabetic users to consume!
This product is not only a great option for those planning to go on a Korean diet, but also for individuals who are looking to maintain their weight after a successful diet. Since the Just Meal powder is recommended to replace one meal per day, you can still enjoy all your favourite foods afterward with a clear conscience!
3. Calobye Low Calorie Grain Flavor Diet Shake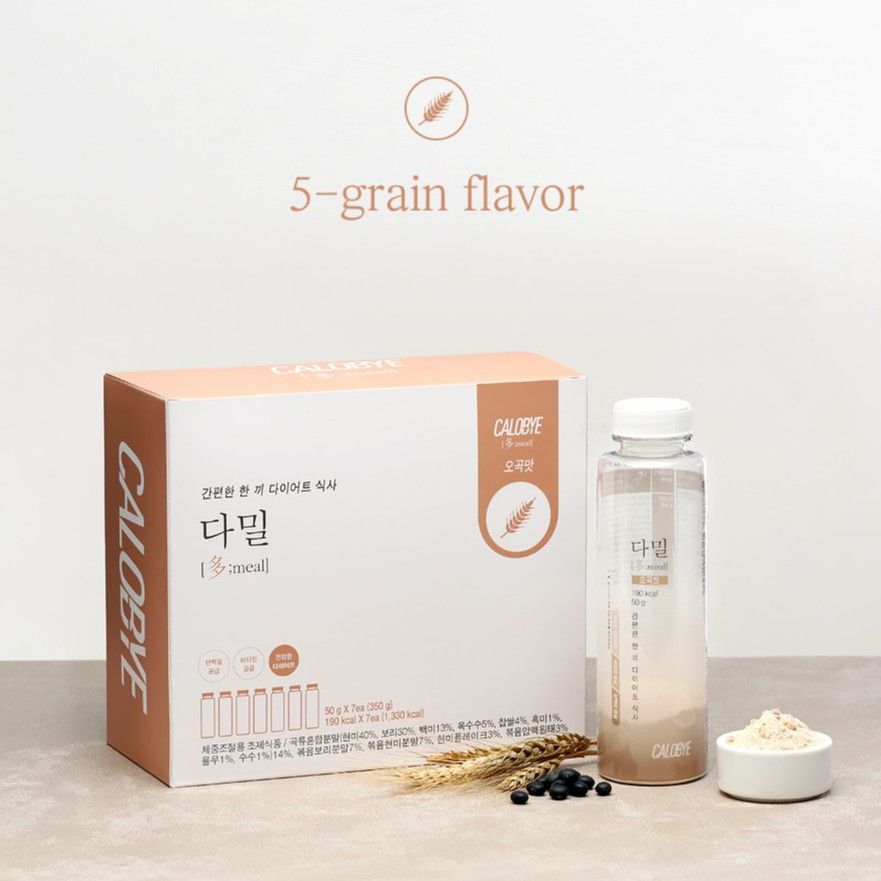 The Calobye Low Calorie Grain Flavor Diet Shake (available on Calobye Official Store) is another popular Korean meal replacement. With only 190kcal per bottle, this shake can be consumed for breakfast, a quick snack or even as a post-workout treat. These are super simple to use, with pre-measured shake powder portioned into individual bottles!
Each diet shake bottle has a savoury flavour, thanks to the roasted barley powder, roasted brown rice powder and grain mix powder it contains. Brown rice flakes are also added in for an extra crunch when you enjoy this meal replacement diet shake. The powder contains a good mix of carbohydrates, protein and fat, alongside a healthy dose of vitamins and minerals.
Best meal replacement snacks
4. Labnosh Food Bar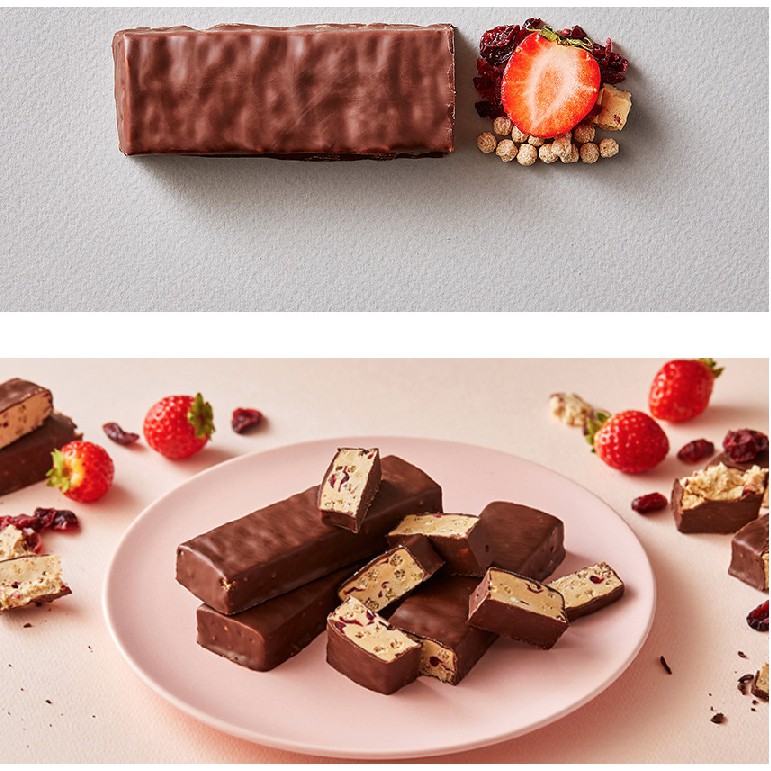 Even if you often find yourself too busy for a proper meal, try your best to avoid skipping meals, as you could end up binge eating even more afterwards. Instead, simply toss a few Labnosh Food Bars (available on Seoul Unnie) into your bag and munch on the go! The Labnosh food bars have undergone a recent upgrade – each bar now contains 20-22% of protein, 42% dietary fibre and chicory root fibre which can aid in controlling blood sugar and weight loss.

Choose from the sweet-sour strawberry pie flavour (pictured above) made with Korean strawberry powder and dried cranberries, or go for the matcha green tea flavour for a nuttier taste. There's also the mild choco flavour for chocolate lovers! 
5. CJ 100% Real Roasted Chestnuts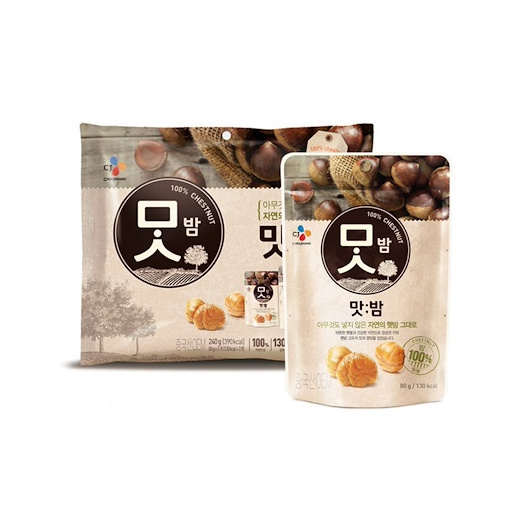 We've all been there — sudden cravings for something sweet, hunger pangs right before meal time and the need to munch on something while working. The best solution? A diet-friendly snack like the CJ 100% Real Roasted Chestnuts (available on koreafarm.kr) that won't tip your calorie count over the edge while you're on your Korean diet!
Setting you back only 90kcal, the CJ 100% Real Roasted Chestnut snack is a popular Korean meal replacement snack in Singapore. These roasted chestnuts are highly addictive, and are a rich source of vitamins and minerals. They're known to help reduce cholesterol levels, improve bowel movements, increase energy levels and strengthen the immune system.
6. Calobye Perfect Power Protein Bar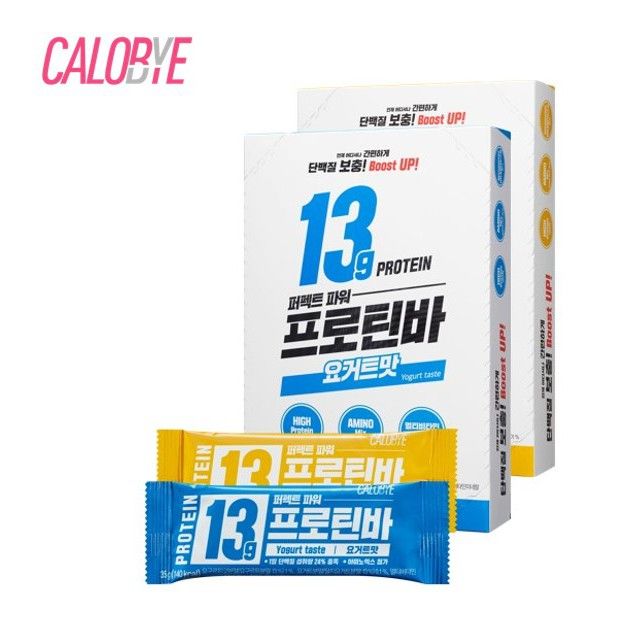 Hitting one of the 24 hour gyms in Singapore to speed up your dieting progress? Be sure to avoid exercising on an empty stomach! By burning fat rapidly without supporting your body with the right amount of food, you unintentionally activate your body's survival instincts. That is, your body will burn fewer calories and reduce your metabolism on purpose — everything you don't want in your Korean diet journey. 
Instead, keep your energy levels up with [CALOBYE] Perfect Power Protein Bar (available on Calobye Official Store). Each of these meal replacement energy bars provides 13g of protein (the same amount as an egg), and contains essential amino acids, multivitamins and minerals. Choose from two delicious flavours —  yogurt and banana. The yogurt bar contains soy protein and has a crispy and savoury taste while the banana one also has whey protein and tastes a little sweeter. Each box contains 10 bars — suitable for before or after your workout, or whenever you feel peckish at night!
7. Sugarlolo Delicious Konjac Jelly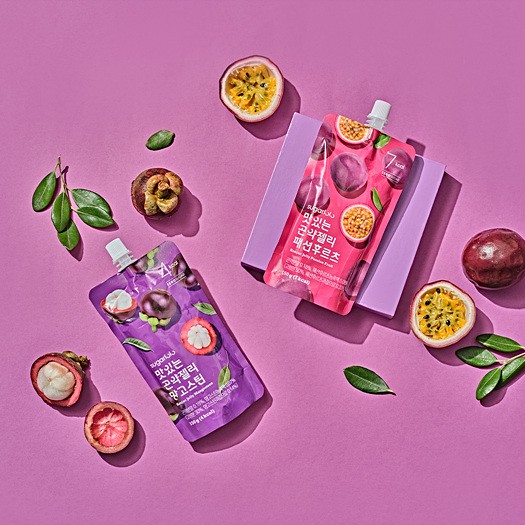 Can a dessert contain less than 7kcal and zero sugar? Well apparently, the Sugarlolo Delicious Konjac Jelly (available on Intake Korea Official Store) does. This konjac jelly helps your diet, while still allowing you to indulge in your favourite desserts guilt-free. A key ingredient is konjac, which is a soluble fibre that keeps you full for longer and aids weight loss. This Shopee-exclusive box contains six packs with new flavours — mangosteen(7kcal) and passionfruit (4kcal) — both of which are perfect for getting out of an afternoon slump at work!
Best meal replacement meals
8. INTAKE Morning Porridge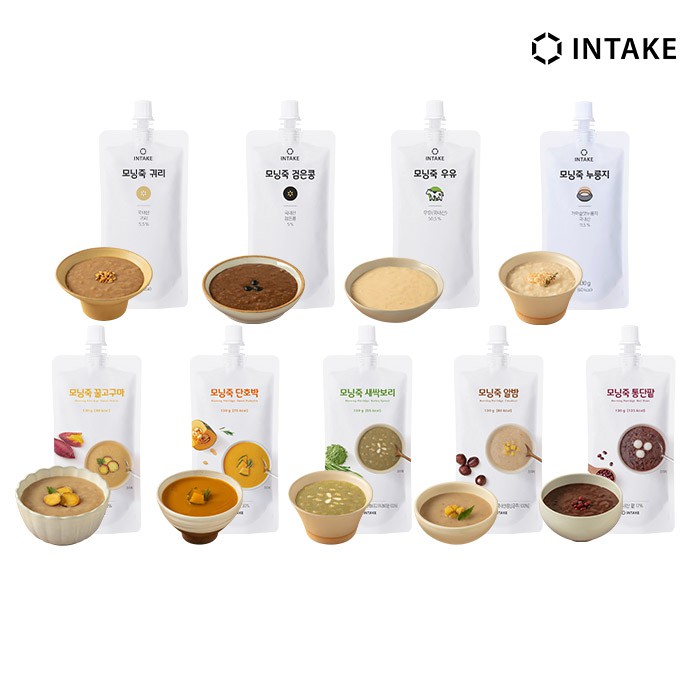 We understand that at some point during your Korean diet journey, you'd be craving for a proper meal that isn't a beverage or a snack. This is where the [INTAKE] Morning Porridge (available on Intake Korea Official Store) comes in! Packaged in a pouch with a spout straw for convenient drinking, this breakfast meal replacement in Singapore is easy to pack and consume on the go. You can choose to heat it up with a microwave, or simply have it cold.
Choose from nine flavours — the best selling ones are sweet potato, sweet pumpkin, red bean, and chestnut. If you're a fan of traditional Tau Sar Paus, then you'll love the red bean flavour (75kcal). It contains Korean pat (red bean), which is famous for its chunky texture and mildly sweet flavour. The other flavours also contain 60 – 135kcal, with no MSG, artificial preservatives or flavouring included. We're sure you won't be skipping out on breakfast anymore with these yummy low-calorie options!
9. Labnosh Konjac Noodles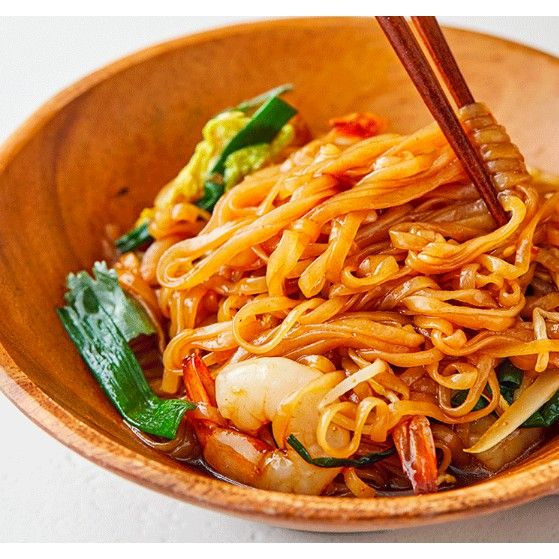 Gone are the days where dieting means you'd only be eating salad and nothing else. With Labnosh Konjac Noodles (available on Seoul Unnie), you can slurp your way to a slender figure! Konjac noodles have a wonderful springy texture and are unbelievably low in calories. This low-calorie meal replacement in Singapore comes in two flavours — Topokki and Migoreng — yum!
Each pack of the Toppoki noodles (50kcal) is spicy and sweet — a quintessential Korean drama recipe to try. Meanwhile, those craving a more local flavour will love the Migoreng (55kcal), which tastes similar to Thai stir-fried noodles. The best part is that it's super simple to prepare these noodles! Simply mix them up with the sauce and pop the whole thing into the microwave. You may also choose to add on meat like fresh chicken breast to bolster your protein intake!
We put the Korean meal replacement diet to test!
Don't just take our word for it – we tried it for ourselves too! Check out our Korean diet experience over two weeks, using some of the most popular food replacement meals from Korea.
Embark on a Korean diet in a healthy way!
Hot girl summer and Halloween may be over, but the new year is fast approaching! We hope this list of meal replacement products in Singapore can encourage you to push through your Korean diet plans and achieve your desired figure.
Check out expert tips on how to lose weight fast and healthy recipes for weight loss, and do remember that the best dieting results can only be achieved through both healthy eating and consistent exercise. Set up your own home gym so you never have an excuse to skip a workout!
Be sure to also check out Shopee's 11.11 Health Day to get the best deals on all your essential diet products~
This article was updated on 5 November 2021. Additional research done by Samantha Kwang.
---
New to Shopee? Get $7 off (min. spend $15) with code: *MEALREPLACEMENT7*. T&Cs apply. Valid for new users from 6 to 13 November 2021 only.