Contrary to popular belief, a home gym doesn't require a lot of space or cost a bomb. From foldable workout benches to adjustable dumbbells and a home gym mirror, there's never been a better time to dive into the world of space-saving home gym equipment! While it might be daunting to set one up, home gyms will definitely help you save time and money in the long run. Read on as we cover the best home workout equipment for your home gym in Singapore!
What are the benefits of building a home gym?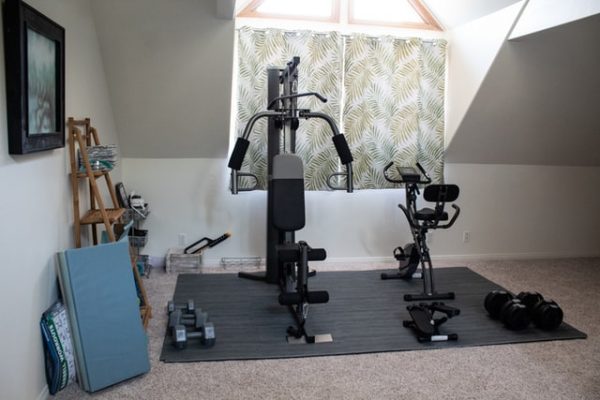 Cost-effective:

Perhaps the biggest benefit of a home gym lies in saving money. While setting up a home gym has high costs upfront, there is the potential to save money from your monthly gym membership and transport costs in the long run. In fact, gym memberships can cost up to $260/month which might cause a significant strain on your wallet over time. In contrast, home gyms cost about $1000 – $1500 in total for a basic set-up!

Convenient:

Instead of rushing to your regular gym before closing hours to squeeze in a workout, home gyms are open 24/7 — even on public holidays! Now you'll be able to workout any time of the day, as many times as you want.

No waiting time:

Tired of snaking queues in front of the bench press? You don't have to worry about that at your own home gym! It will always be open, so you can workout at your own pace without feeling the stares by other gym-goers. 

Privacy:

Another benefit of having a home gym in the comfort of your own home is the privacy it affords. You can lift as little or as heavy as you want without feeling self-conscious in front of a crowd!
Essential home gym equipment: Flooring
1. Floor Mats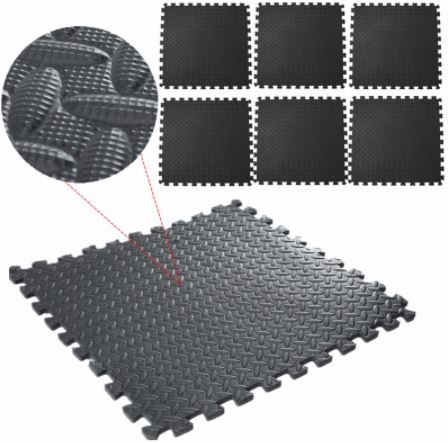 Before diving into the heavy home gym equipment, let's first establish the basics! To prevent permanent imprints on the floor or accidental damage to your home workout equipment, you'll need to invest in proper gym flooring to provide extra grip and cushioning. A good start would be Puzzle Floor Mats (available on Wonderful House) which come with anti-slip properties. If you're afraid of noise that comes with placing equipment on the floor, you'll be glad to know these floor mats muffle the sound. This allows you to workout in peace without complaints from your neighbours!
Storage Instructions: Stack these puzzle mats on top of one another to save space in your home gym. Be sure to wipe them down after a workout!
2. Yoga Mats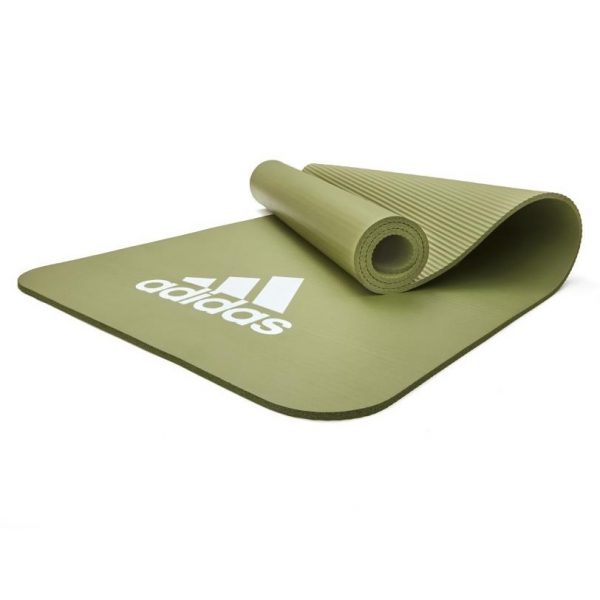 An alternative to floor mats would be yoga mats, which provides thick cushioning that forms a buffer between the floor and your body to prevent injury when exercising at home. We recommend the Adidas Yoga Mat (available on Sporting House Official Store) that is made from rebound foam with a honeycomb cushioning structure. As one of the best home workout equipment in Singapore, it also has non-slip benefits and improved friction so you won't have to worry about slipping on your own sweat after an intense workout! 
Storage instructions: Roll up your yoga mat and store it at the side of your workout space. You can also use an elastic band to hold it together so it won't come apart!
Essential home gym equipment: Weights & benches
3. Dumbbells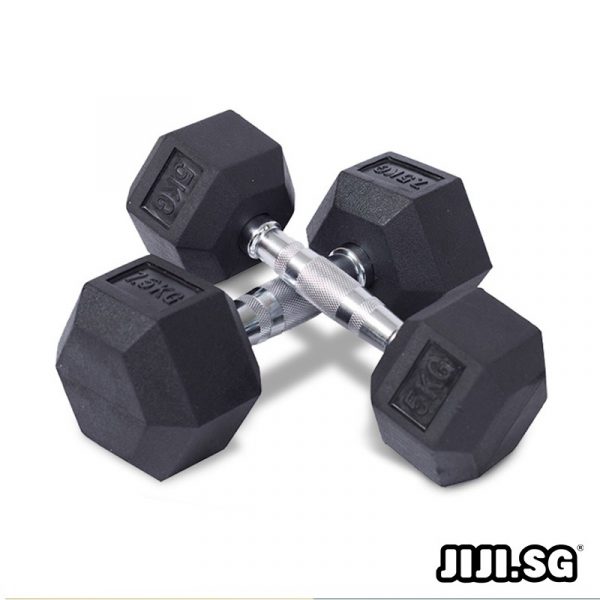 When it comes to building your home gym in Singapore, you've got to include at least a set of weights! Most fitness enthusiasts get dumbbells which can be used for plenty of cardio and strength exercises like tricep extensions and bicep curls. When shopping for dumbbells, our recommendation would be to get a pair like this hexagon-shaped JIJI.SG Rubber Coated Dumbbell (available on JIJI.SG Official Store) designed to prevent rolling and provide easier storage.
Storage Instructions: Dumbbells should ideally be kept on a small dumbbell rack. However, if you've a lack of space in your home gym for an extra rack, leave them in a corner so you won't trip over them.
4. Foldable Dumbbell Gym Bench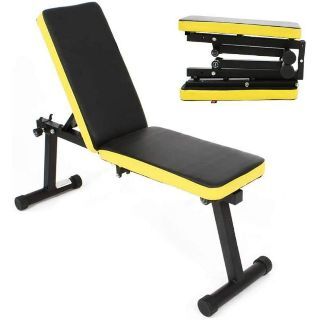 Now that you've got the weights, you'll require a sturdy workout bench as your base! When buying a quality gym bench, factors like high maximum weight capacity, sufficient cushioning, and stability are crucial to you completing your sets safely and properly. In particular, the Multi-Functional Foldable Workout Bench (available on Big_Boss.sg) is an ideal equipment to home gyms in Singapore. Fashioned with a high-quality steel frame and an adjustable hold-down base, this bench guarantees a sturdy surface so you can comfortably perform your pressing exercises at your preferred angle.
Storage instructions: Reduce the space occupied by folding the bench upwards and putting it aside, talk about space-saving furniture!
5. Barbell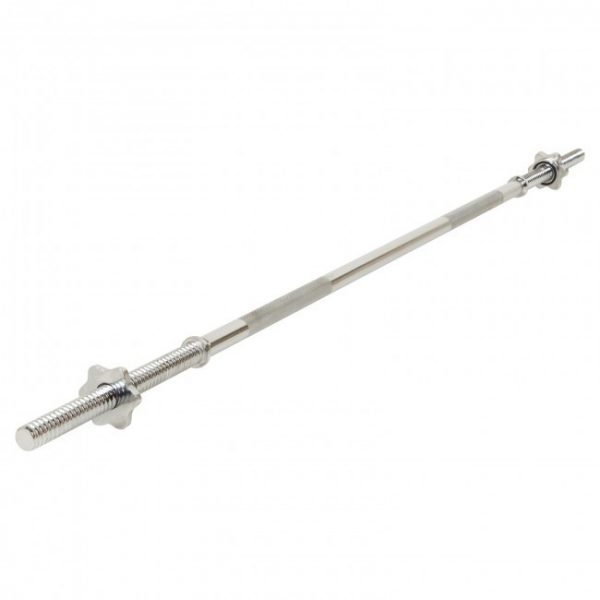 From squats to deadlifts, you'll definitely be using barbells in your workout. One tip we have when buying such home gym equipment in Singapore is to look out for barbell knurlings. These rough patterns help beginner lifters to better grip the bar and double as guides for you to position your hands. We suggest getting these Barbell Bars (available on Crownsports Official Store) which are designed specifically to position your wrists at an angle which places less stress on them when performing traditional arm exercises such as bicep curls, reverse curls, and tricep extensions.
Storage Instructions: Ideally, you can keep this propped up if you have wall-mounted hooks. Otherwise, simply roll it to a corner so it won't become a tripping hazard.
6. Barbell Squat Rack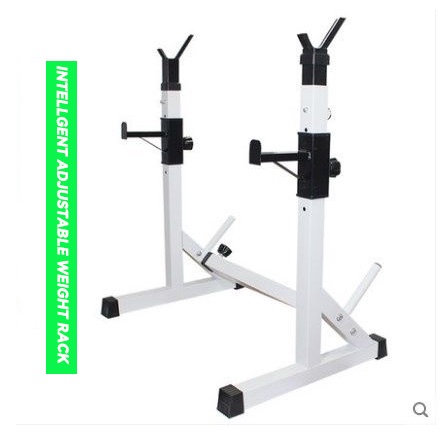 With the ability to hold up to 200kg, this Adjustable Barbell Rack Squat (available on Superd Fitness Equipment Store) is the perfect home workout equipment for your home gym in Singapore. Regardless of how deep you're squatting, you'll need a structure that's sturdy and adjustable enough to handle the hefty barbell. To ensure your safety, this barbell squat rack also comes up with adjustable spotters on each post so you can avoid any accident while making it suitable for a variety of heights and exercises. 
Storage instructions: Given that they aren't the most space-friendly gym equipment, you can improvise by converting this into a hanging rack. Simply place a barbell on the hook and you're good to go.
7. Weight Plates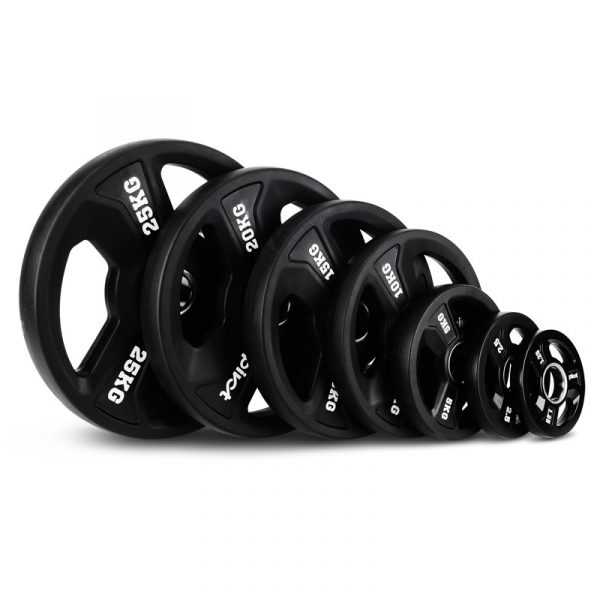 If you're planning to gain those muscles quickly, you'll definitely want to add weight plates to your barbell. Ranging from 1.25kg to 10kg, these Olympic Weight Plates (available on Gymsportz Fitness Official Store) are one of the best home workout equipment you'll need for your home gym in Singapore. The plates come with a rubber coating that provides a better aesthetic as compared to plain or painted cast iron finishes. More importantly, the rubber coating protects against rust and is a floor-friendly surface that doesn't leave scratch marks.
Storage Instructions: Similar to our dumbbell storage method of keeping stacked and aside.
8. Kettlebells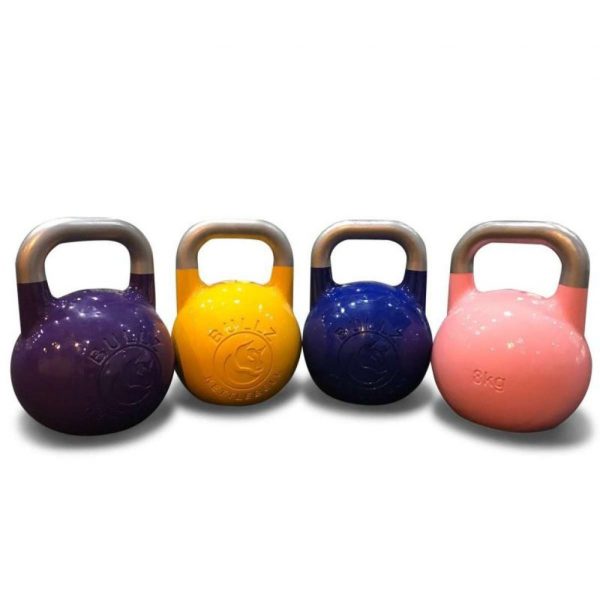 Looking to incorporate crossfit workouts in your home gym in Singapore? Then you'll probably need to add a good set of kettlebells to the mix! We especially love these BULLZ Competition Kettlebells (available on Gymsportz Fitness Official Store) that have a soft touch outer shell and widened grip handle to help with controlling these swinging movements. Weighing from 4kg to 40kg, these kettlebells are specialised weights that cater to different strength levels so you're constantly pushing yourself to workout harder!
Storage instructions: Their compact nature and low centre of gravity makes storage easy as you can keep them on the floor, in a corner.
Essential home gym equipment: Fitness bars and bands
9. Pull-Up Bar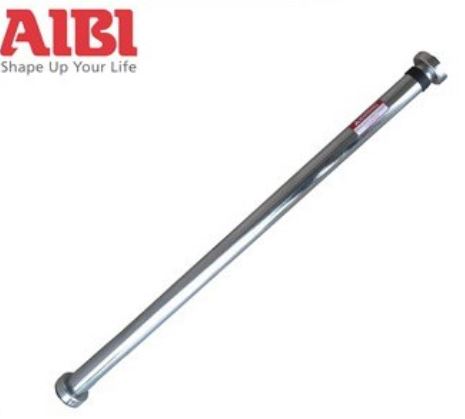 Pull-up bars are another must-have home workout equipment that you'll need when building your home gym in Singapore! For starters, this AIBI Chase Pull-Up Bar (available on AIBI Singapore Official Store) is a good buy given that it is adjustable and can be secured between walls (and not just on doorways). This is especially helpful if you have limited space but still want to get your resistance training done. With its high weight-bearing capacity, you can even attempt weighted pull-ups by using your feet to grip onto a dumbbell!
Storage instructions: To be attached between walls or doorways.
10. Push-Up Bar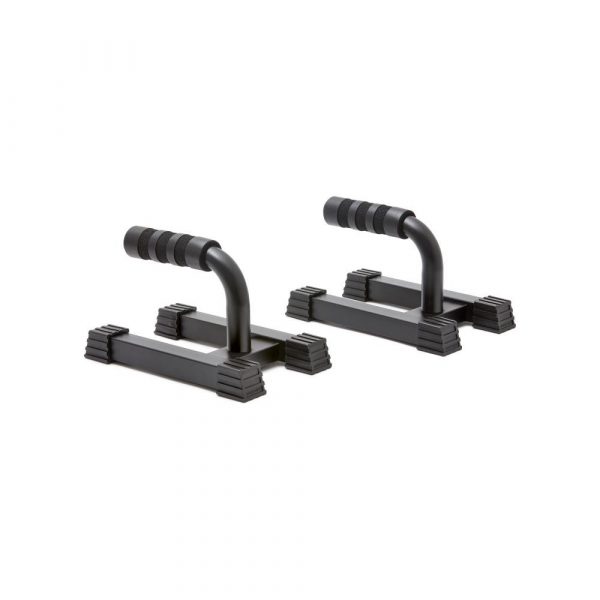 This list of home gym equipment in Singapore would be incomplete without a set of push-up bars. After all, you'll want to try to max out your push-up count and get gold for IPPT. Allowing you to deepen your push-ups, the ADIDAS Premium Push-Up Bar (available on AIBI Singapore Official Store) enhances each rep with a 14cm deficit, placing greater stress on your arm muscles. Additionally, it is fitted with thick rubber feet and foamed grip handles, so they guarantee comfort and stability for optimal performance!
Storage instructions: Due to its compact size, it can be easily kept away in cupboards when not in use. 
11. Ab Roller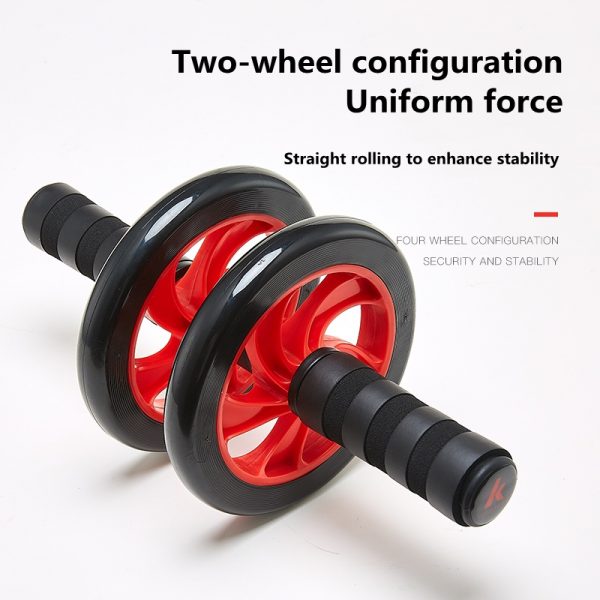 Want to impress your friends with a killer six-pack? Then, ab rollers like this Kawasaki Abdominal Wheel (available on KWSKI.sg) is a gym workout equipment you'll definitely need for your home gym in Singapore. Coming in a two-wheel configuration and built-in steel pipe, this ab roller enhances stability and bearing capacity so you don't have to worry about getting injured while exercising. It also has elastic wraps around its foam handles which are sweat-absorbing and comfortable at the same time! 
Storage instructions: Similar to push-up bars, ab rollers can be easily kept away in cupboards when not in use due to its compact size. 
12. Resistance Bands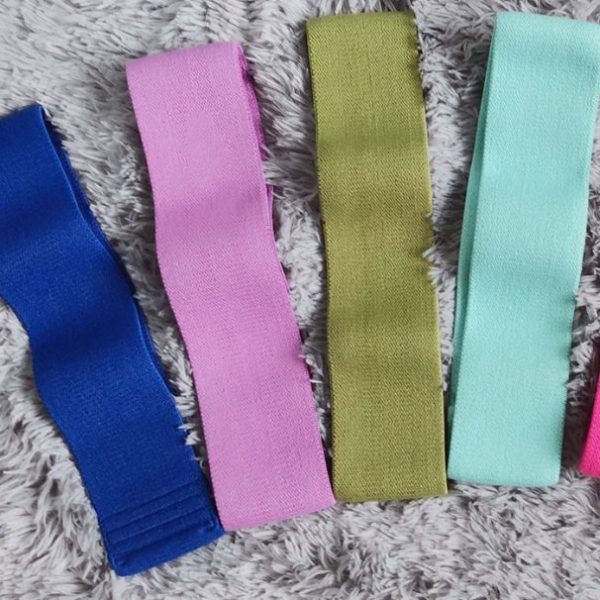 Don't underestimate the power of resistance bands. These innocent-looking Moving Peach Resistance Bands (available on MOVING PEACH Official Store) are great for versatile strength training, activating different muscles such as your glutes, triceps and back. Did we mention that they are made of a quick-dry material? This means you can wash it and use it again the very next day — how convenient is that! These polyester fitness bands will definitely pack a punch for strength workouts at home gyms in Singapore!
Storage instructions: Keep resistance bands away from heat, sunlight, and moisture. Use storage racks to hang them up after working out so that they remain tangle-free!
13. Suspension Trainers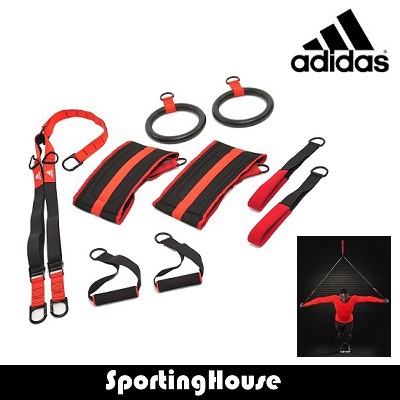 An alternative to resistance bands are suspension trainers which can help you to improve strength, power and agility. As one of the best home workout equipment for your home gym in Singapore, the Adidas 36Zero Suspension Trainer (available on Sporting House Official Store) lets you work your entire body without the need for heavy lifting. The straps of the suspension trainer should be positioned at approximately mid-calf height off the floor. It utilises a series of different attachments from rings, pads, ab straps and handles – great for intense targeted abdominal exercises! 
Storage instructions: When not in use, suspension trainers can be hung on hangers to air off the sweat.
Essential home gym equipment: Other fitness equipment
14. Foldable Bicycle Trainer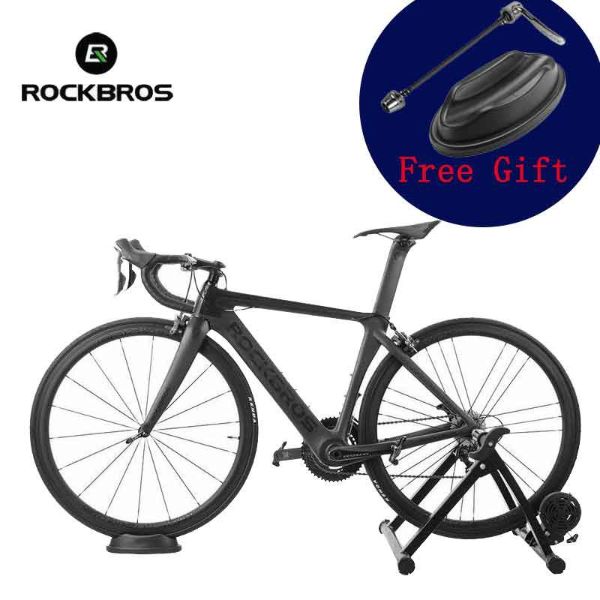 Whoever said that you can't get your cardio fix at your home gym in Singapore obviously haven't used foldable bicycle trainers before. They work just like spinning bikes except more space-saving. So if you own a 26-inch or 28-inch foldable bicycle, consider getting these Rockbros Bicycle Indoor Trainers (available on Rockbros Official Shop) which are known to put less stress on your joints. Cycling indoors can also help you achieve your cardio fitness goals rain or shine, burning calories and body fat while strengthening muscles. Check out our list of best foldable bikes for more options! 
Storage instructions: Remove the bicycle, collapse the foldable stationary frame and place it at the side of the room.
15. Skipping Rope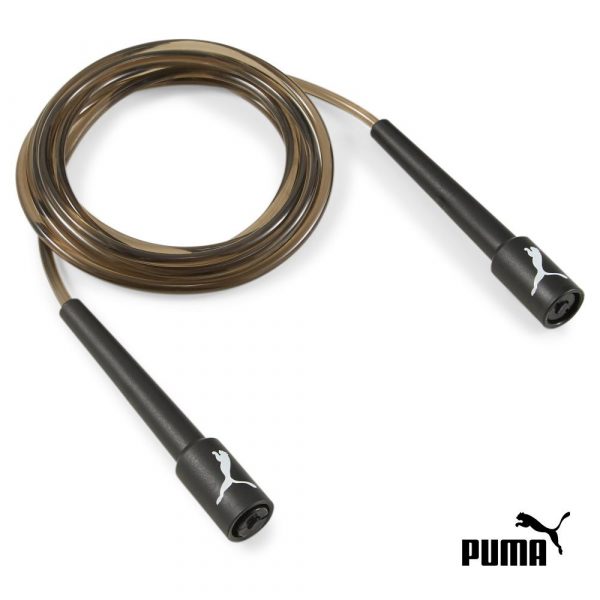 While skipping ropes look like simple home gym equipment, it has a host of advantages like boosting heart health and building stamina! Made with solid plastic alloy, this PUMA Unisex Training Skipping Rope (available on PUMA Singapore Official Store) is a fantastic cardio equipment for home gyms in Singapore. Its design gives users the flexibility to adjust rope length according to their height for maximum comfort and effectiveness. Don't have a proper skipping plan? Follow these best skipping rope workouts for weight loss and muscle gain!
Storage instructions: Roll up the skipping rope and tuck it away at the side of the room or under your bed.
16. Treadmill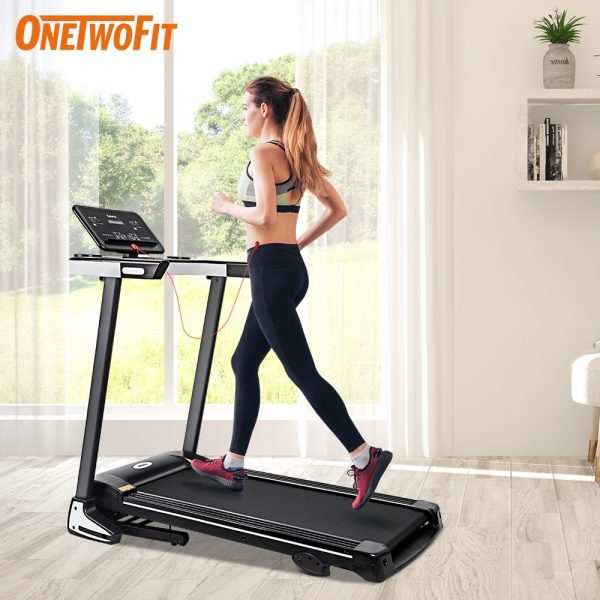 Let's face it, we've all hogged the treadmills when we're too tired to do more vigorous exercises at the gym. So it's no wonder why a treadmill is a MUST on this list of essential home gym equipment in Singapore. Specifically, we are in love with this OneTwoFit Foldable Smart 2.0HP Treadmill (available on OneTwoFit SG) that has a professional damping system and external high-grade cushioning spring. With 12 different running preset programs and a maximum speed of 8km/h, you're sure to break a sweat! Scour through our list of the best home treadmills for more suggestions! 
Storage instructions: To keep, fold the treadmill with its hydraulic arm and wheel it into a storeroom or the corner of your home gym.
BONUS: Other essential items needed for your home gym
17. Home Gym Mirror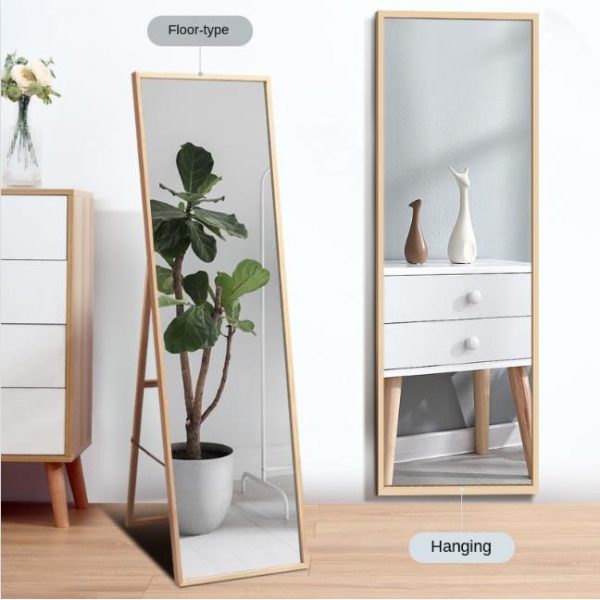 Far from being just for narcissists, full-length mirrors are definitely necessary when it comes to safety in your home gym in Singapore! Given that you might be exercising alone, there won't be anyone to remind you to straighten your back or adjust a sloppy form. Mirrors like this Full Body Mirror (available on FreyaMirror) help in this aspect as they allow you to correct your form and prevent long-term damage to your body.
18. Fitness Tracker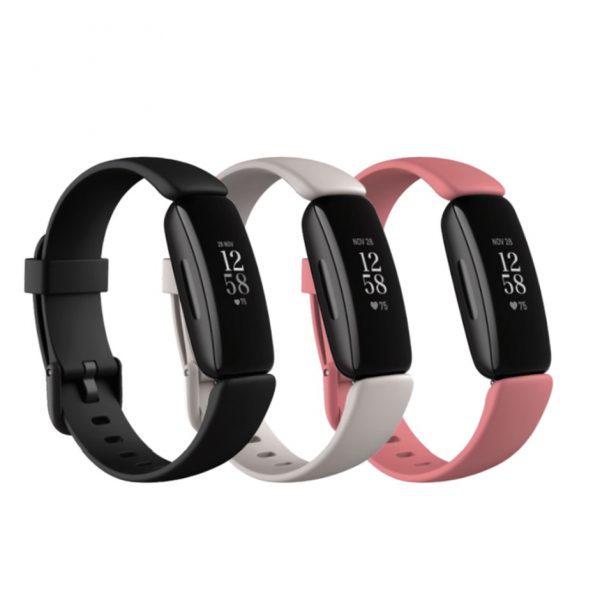 Since you're probably exercising alone at your home gym in Singapore, you'll need fitness trackers like this Fitbit Inspire 2 Fitness Tracker (available on Sprint-Cass Official Store) to keep you on track with your fitness goals. Don't underestimate these small gadgets, it can track your heart rate and number of calories burned in a workout! Moreover, you can check your Cardio Fitness Score in the Fitbit app to see how fit you are and get tips on how to improve it. With 10 days of battery life and a compact size, this is a home workout equipment everyone will love! Here's our roundup of the best fitness trackers that are both accurate and stylish. 
19. Water Bottle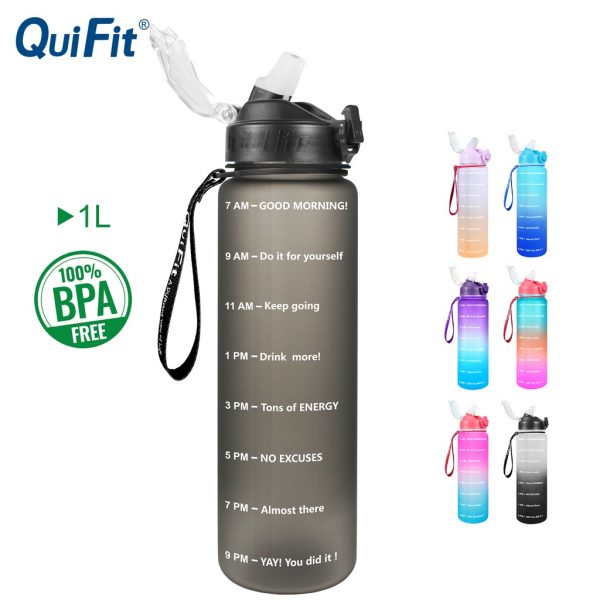 Working out in a home gym in Singapore can be as tiring as doing so in a 24-hour gym. Hence, it is important to stay hydrated with water from a handy water bottle in between sets and after your workout! We strongly recommend this 1L QuiFit Tritan Water Bottle (available on QuiFit Official Mall) which comes with a soft straw for easy drinking. It also has thermal insulation which means that your water will be kept cold – perfect for a refreshing post-gym drink! Be sure to browse through our list of best water bottles in Singapore too. 
Keep fit with the best home gym equipment in Singapore
We hope this list was helpful in outlining the basic fitness equipment you need when setting up a home gym in Singapore! Not sure how to start an exercise plan? Follow these trainer-recommended full body workouts for some inspirations or engage some of the best personal trainers that will give you the extra push you need. Otherwise, a good diet is important in achieving your dream body too. Try out some of the best keto meals in Singapore and stock up on the best protein powders for maximum muscle gain!