Worried about losing your gym gains during this stay home period? Why not set up your own home gym! Contrary to popular belief, a home gym actually doesn't require a lot of space or cost a bomb. From foldable workout benches to adjustable dumbbells and a home gym mirror, there's never been a better time to dive into the world of space-saving gym equipment! While it might be daunting to set one up, home gyms will definitely help you save time and money in the long run. Read on as we cover home exercise equipment perfect for your home gym in Singapore!
Why build a home gym?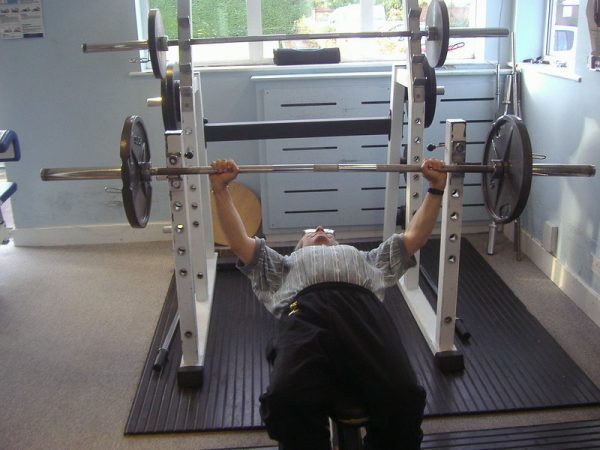 Cost-effective:

Perhaps the biggest benefit of a home gym lies in saving money. While setting up a home gym has high costs upfront, there is the potential to save money from your monthly gym membership and transport costs in the long run. In fact, gym memberships from studios like Virgin Active Fitness ($232 – $260/month), Fitness First ($175/month for 18-month membership), and boutique studios like Ritual gym (up to $260/month) can cause a significant strain on your pocket over time. In contrast, home gyms cost about $1000 – $1500 in total for a basic set-up!

Convenient:

Instead of rushing to your regular gym before closing hours to squeeze in a workout, home gyms are open 24/7 — even on public holidays! Now you'll be able to work out at any time of the day, as many times as you want.

No waiting time:

Tired of snaking queues at the gym in front of the bench press? You don't have to worry about that at your own home gym! It will always be open, so you can work out at your own pace without feeling pressured from stares by other gym-goers. 

Privacy:

Another benefit of having a home gym in the comfort of your own home is the privacy it affords — Lift as little or as heavy as you want without feeling self-conscious in front of a crowd!
Essential exercise equipment for your home gym in Singapore
Flooring
1. Floor Mats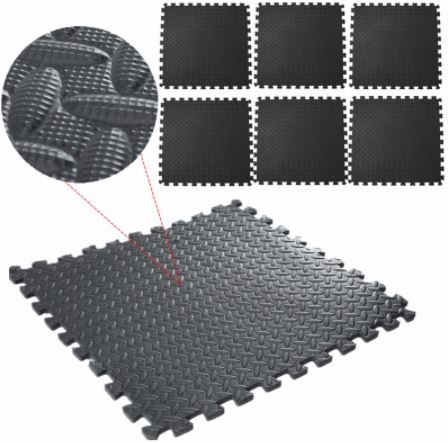 Before diving into the heavy equipment, let's first establish the basics! After all, you can easily damage your floor if you're careless while handling home exercise equipment. To prevent permanent imprints on the floor or accidental damage to your equipment, you'll need to invest in proper gym flooring to provide extra grip and cushioning.
Did you know that puzzle floor mats (available on Wonderful House) usually used for kids can double as functional gym flooring? As the mat possesses anti-slip properties, these foam mats are guaranteed to keep your equipment and floor scuff-free. If you're afraid of noise that comes with placing gym equipment on the floor, you'll be glad to know these mats muffle the sound, allowing you to work out in peace without neighbour complaints.
Storage Instructions: Stack these puzzle mats on top of one another to save space in your home gym. Be sure to wipe them down especially after a workout!
2. Camel Non-slip Yoga Mat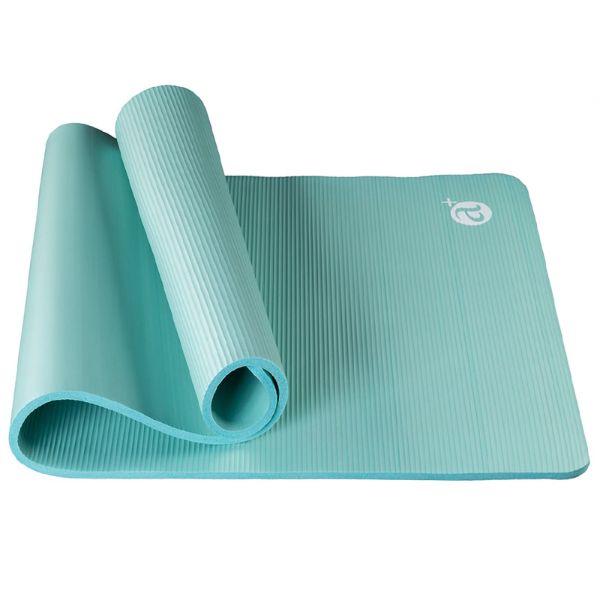 Besides using mats to prevent home exercise equipment from damaging the floor, having a thick, non-slip yoga mat is also key for safety during exercise. The Camel non-slip yoga mat (available on Camel Official Shop.sg) provides a thick cushion that forms a buffer between the ground and your body to prevent injury. Made from rebound foam with a honeycomb cushioning structure, this yoga mat delivers great comfort and grip regardless of the type of exercise you're doing. With the two-way horizontal lines design, it also has anti-slip benefits and improved friction, so you won't have to worry about slipping on your own sweat after an intense workout! This is a must-have in home gyms in Singapore due to its amazing safety and comfort. 
Storage instructions: Roll up your yoga mat and store it at the side of your workout space. You can also use the elastic band to hold it together so it won't come apart!
For a cardio workout
3. Foldable Indoor Bicycle Trainer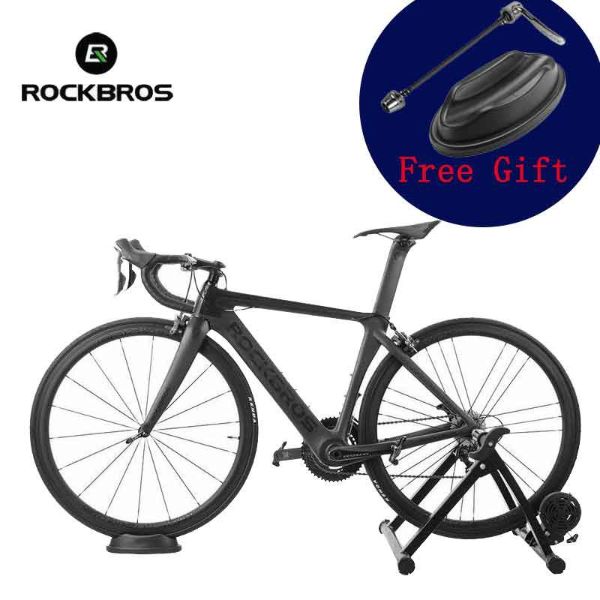 You may be wondering where you can get your cardio fix while working out at home — enter foldable indoor bicycle trainers (available on Rockbros Official Shop)! Cycling indoors can help you achieve your cardio fitness goals rain or shine, burning calories and body fat while strengthening muscles. If you own a foldable bicycle, consider using these trainers to set up your own stationary bike at home to attend virtual spin classes! Compared to other types of equipment, stationary bikes are also known to put less stress on your joints. The best part about this bicycle trainer is that it's foldable, making it easier to store than spinning bikes and preventing it from cluttering up the house! This is definitely a sturdy, space-saving and useful equipment for home gyms in Singapore.
Storage instructions: Remove the bicycle, collapse the foldable frame and place it at the side of the room. 
4. Camel Heavy Wire Jump Rope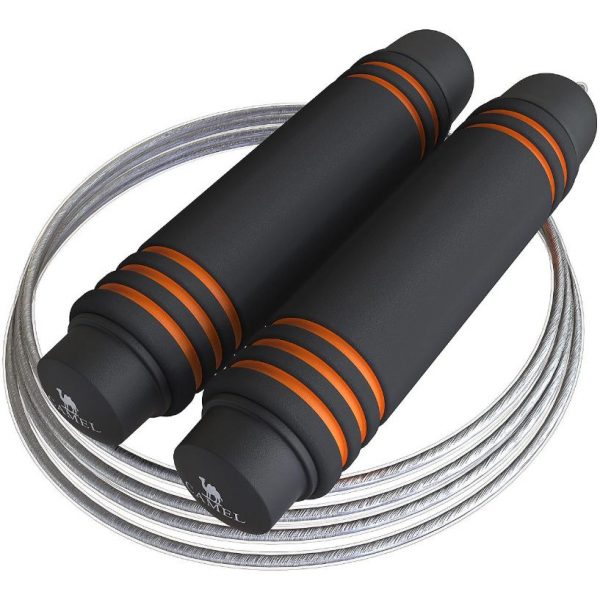 While skipping ropes look simple, it has a host of advantages, including boosting heart health, improving coordination and building stamina! In fact, skipping can burn up to 10 calories per minute and strengthens calves, shoulders while burning stubborn belly fat. The Camel heavy wire jump rope (available on Camel Official Shop.sg) is fantastic cardio equipment for home gyms in Singapore — made with solid plastic alloy, it helps to reduce resistance for easy use. Its double bayonet locks also give users the flexibility to adjust rope length according to their height for maximum comfort and effectiveness! What's more, jump ropes can be rolled up neatly and stored and won't clutter your space. This is one of the most versatile pieces of exercise equipment to add to your collection! 
Storage instructions: Roll up the jump rope and tuck it away at the side of the room or under your bed.
For building strength & conditioning
5. Dumbbells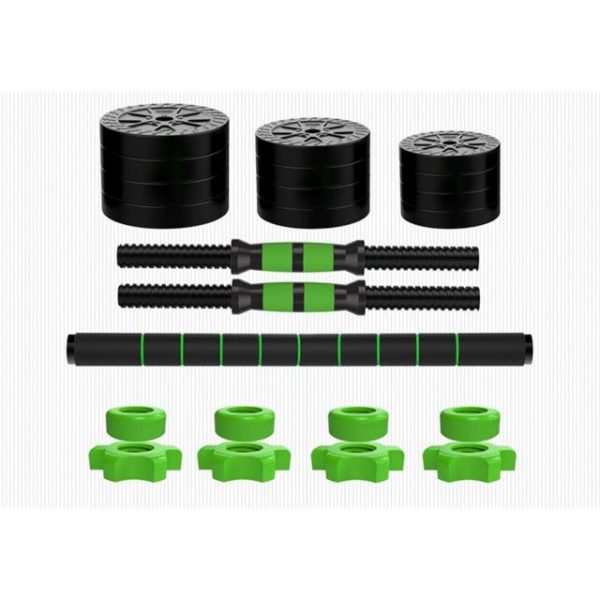 Looking to take the first step to build your home gym? Dumbbells are the most space-efficient home gym equipment in Singapore. From tricep extensions to bicep curls, dumbbells are versatile and can be used for plenty of cardio and strength exercises. Compared to bulky gym machines, dumbbell exercises help train your stabilising muscles as you rely less on the balance and isolation provided by machines while saving you plenty of room!
When shopping for dumbbells, our recommendation would be to get a pair of adjustable dumbbells as they provide more value for money and are more space-saving given you only need to buy one pair. Ideally, you'll want a dumbbell barbell set (available on retail_sg) that lets you easily swap between both. As dumbbell and barbell exercises target different muscle groups, the freedom provided will help you immensely in isolating selected muscles during your full-body workouts.
Storage Instructions: Unscrew the safety catches to fully separate the weights from the bars and keep them in a corner so you won't trip over them.
6. Foldable Dumbbell Gym Bench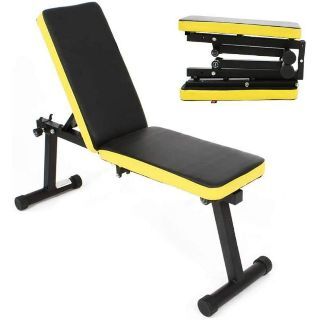 If you're trying to improve power, you'll require a sturdy workout bench as your base! As numerous strength-building exercises require hyperextension and contraction of your limbs, workout benches help immensely by providing ample space for you to move freely. When buying a quality gym bench, factors like high maximum weight capacity, sufficient cushioning, and stability are crucial to you completing your sets safely and in proper posture.
The multi-functional foldable workout bench (available on Big_Boss.sg) is an ideal addition to home gyms in Singapore. Fashioned with a high-quality steel frame with an adjustable hold-down base, the bench guarantees a sturdy surface so you can comfortably perform your pressing exercises at your preferred angle while providing comfort and position support. This workout bench is perfect for a safe, muscle-building workout for different muscle groups! 
Storage instructions: Reduce the space occupied by folding the bench upwards and putting it aside. 
7. Barbell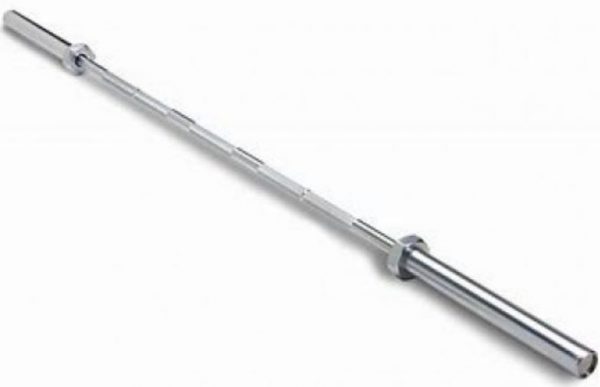 Barbells will be the base of many of your full-body workouts so make sure to get one that's strong enough to withstand constant mounting and dismounting. From squats to deadlifts, you'll be relying on them for several compound exercises so you wouldn't want them rusting or warping after prolonged use! One tip we have when buying such home gym equipment in Singapore is to look out for barbell knurlings. These rough patterns help beginner lifters to better grip the bar and double as guides for you to position your hands.
The selection of Olympic barbells (available on TribalFitness) for sale includes everything you'll need to get started with weightlifting! Keen on working on your overall technique? Their 7kg chrome practice barbell lets you mimic expert techniques without putting you at risk of injury. For gym veterans, their standard 20kg, 2.2m black zinc barbells are a safe bet with their chrome sleeves to prevent rusting and close to the 700kg weight limit!
Storage Instructions: Ideally, you can keep this propped up if you have wall-mounted hooks. Otherwise, simply roll it to a corner so it won't become a tripping hazard.
8. Weight Plates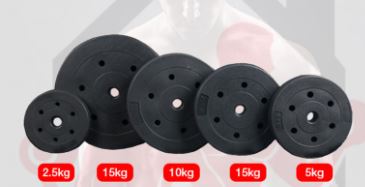 The quality of the weight plate is practically similar across the different variations. The only choice you'll have to make is between iron plates or bumper plates. Unless your floor is well-protected by thick padding or carpeting, we're going to recommend spending extra for the rubber padding of bumper plates! Additionally, the grips make them easier to lift off the ground and store on a rack after use.
From 2.5kg to 15kg weights, these hardened plastic weight plates (available on gymathomesg) offer plenty of utility for those keen on varying their exercises and loads accordingly. The weight templates are covered with a protective lubrication layer upon delivery, so do give them a wipe before use. Also, these weight plates are made from eco-friendly plastic which doubles as a floor-friendly surface that doesn't leave scratch marks.
Storage Instructions: Similar to our dumbbell storage method of keeping stacked and aside.
9. Barbell Squat Rack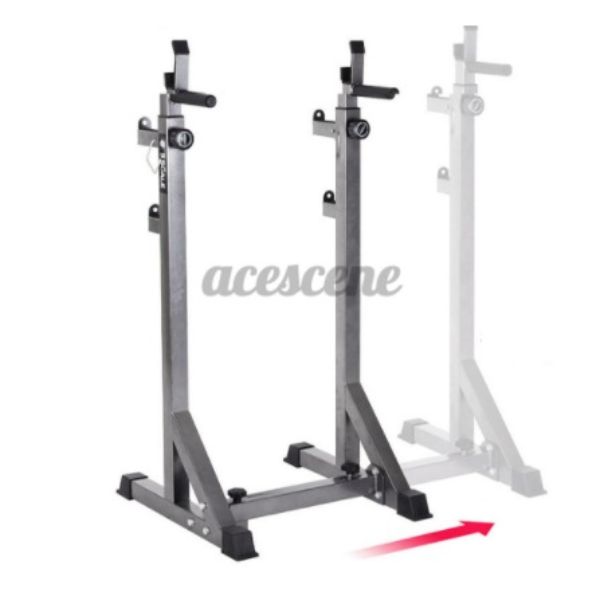 The importance of a good squat rack when it comes to building a home gym in Singapore cannot be understated! Regardless of how deep you're squatting, you'll need a structure that's sturdy and adjustable enough to handle the hefty barbell. Also, make sure your squat rack comes with safety guards to allow for safe squatting — the last thing you'll want is an injured back that could sideline you for weeks. 
With the ability to hold up to 300kg, this barbell squat rack (available on acescene.sg) is the perfect home exercise equipment to introduce yourself to full-body workouts and exercises like squatting and standing overhead presses. To ensure your safety, the rack also comes up with adjustable spotters on each post so you can avoid any accident while making it suitable for a variety of heights and exercises. 
Storage instructions: Given that they aren't the most space-friendly gym equipment, you can improvise by converting this into a hanging rack. Simply place a barbell on the hook and you're good to go.
10. Pull-Up Bar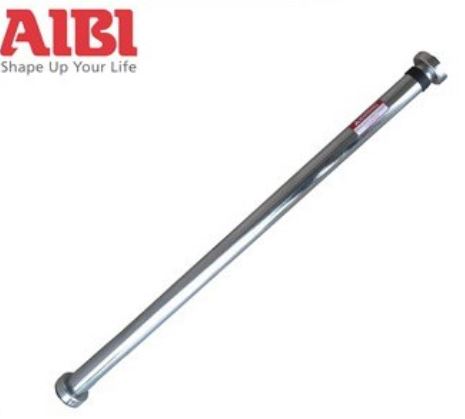 Prefer doing bodyweight exercises and callisthenics? You'll appreciate the versatility of pull-up bars! The pull-up bar's verticality opens a whole array of workout options. From the classic pull-up to variations like the pull-up hang and the negative pull-up, you'll definitely notice a difference in strength if you commit to a workout plan centred around such a powerful resistance exercise!
Although installing AIBI's Chase Pull Up Bar (available on aibisg) might be troublesome given the drilling required, you'll have reliable and fail-proof home gym equipment in Singapore! Compared to most bars that latch onto doorways, this one is adjustable and can be secured between walls. This is especially helpful if you have limited space but still want to get your resistance training done. With its high weight-bearing capacity, you can even attempt weighted pull-ups by using your feet to grip onto a dumbbell!
11. Moving Peach Yoga Resistance Band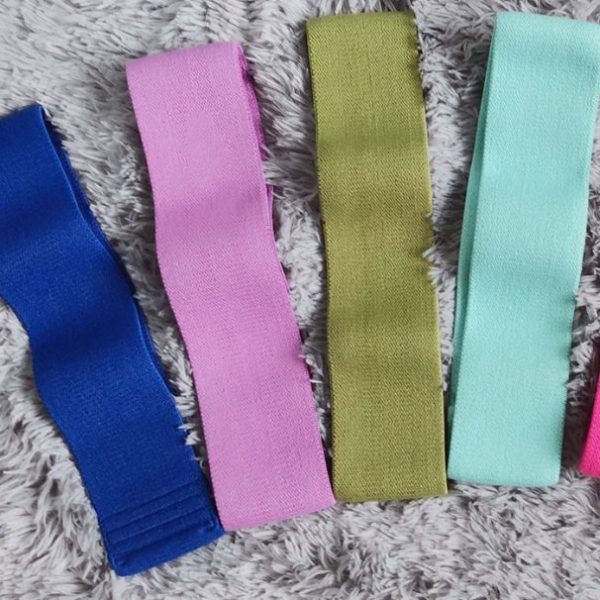 Don't underestimate the power of resistance bands — These innocent-looking bands are great for versatile strength training, activating different muscles such as your glutes, triceps, and back. The Moving Peach yoga resistance band (available on movingpeach.sg) is elastic, versatile and can accommodate a variety of everyday fitness routines. Use them for supersets to challenge your muscles while building stamina and strength! Its quick-dry material also means you can wash it and use it again the very next day — how convenient is that? These polyester fitness bands will definitely pack a punch for strength workouts at home gyms in Singapore!
Storage instructions: Keep resistance bands away from heat, sunlight, and moisture. Use storage racks or hangers to hang them up after working out so that they remain tangle-free!
12. Kettlebells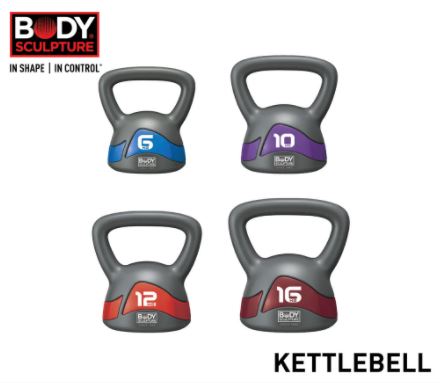 Looking for a more advanced way to secure your strength gains while constructing your home gyms in Singapore? Include kettlebells to the mix! As kettlebells are specialised weights that have a non-uniform centre of gravity, they're often used in crossfit workouts as part of the many movement-based exercises. This ultimately makes them perfect for time-pressed users as using them meshes resistance training with cardiovascular exercise.
New to kettlebell exercises? Don't worry — Body Sculpture's kettlebells (available on Enso Lifestyle) will help you get started. As newer users may find the kettlebell motions unwieldy, Body Sculpture has incorporated a soft touch outer shell and widened grip handle to help with controlling these swinging movements. Additionally, the kettlebells come in different weights to cater to different strength levels so you're constantly pushing yourself to work out harder!
Storage instructions: Their compact nature and low centre of gravity makes storage easy as you can keep them on the floor, in a corner.
Bonus: Home gym mirror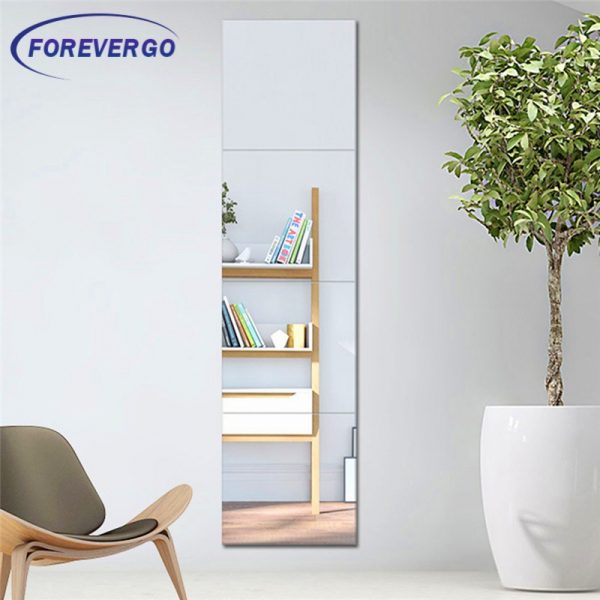 While they aren't classified under home gym equipment in Singapore, full-length mirrors are definitely necessary when it comes to safety! Far from being just for narcissists, mirrors are there to keep you safe. Given that you might be exercising alone, there won't be anyone to remind you to straighten your back or adjust a sloppy form. Mirrors help in this aspect as they allow you to correct your form and prevent long-term damage to your body.
But where will you find enough space for a large mirror in your home? Thankfully, that's where these removable mirror decorations (available on forevergo.sg) come in handy! If space is a concern, these versatile decals can be placed on your walls in a free-form design. Just make sure the arrangement is wide enough so you can spot any mistakes in your form or posture as you're exercising!
Now that we have the foundations covered, here are our recommendations if you're serious about putting on some muscle at home! We've even included suggestions on how you can store to maximise your available home gym real estate.
Sweat-inducing full-body workouts await with these must-have home gym equipment in Singapore
Regardless of what home exercise equipment you hope to incorporate in your home gym, we hope this list was helpful in outlining the basics of setting up a home gym in Singapore! For more recommendations on fitness equipment you'll need, visit our page on home workout essentials to enjoy the latest deals. Also check out some of our best deals while you stay safe and stay home!
The hardest part is sticking to a routine and being disciplined about your workouts. Looking for a bodyweight workout to start today? Check out our easy 15-minute workout routine so you can start getting fit right away! Also, if you're bored of your usual routines, try these Switch exercise games.