Been hitting the gym but not seeing improvements? Or do you usually end up talking yourself out of exercising only to regret it later? Most of the time all you really need is a trainer to guide you through doing the exercises correctly and to motivate you. Personal trainers (PT) trainers in Singapore are one such group of people — who teach fitness for a living! With dedicated attention from one trainer, you'll be more likely to see changes over a shorter span of time.
Find a list of personal trainers in Singapore below — home and gym based — and the rates they charge for their sessions!
Home-based personal trainers in Singapore
1. Coach Emy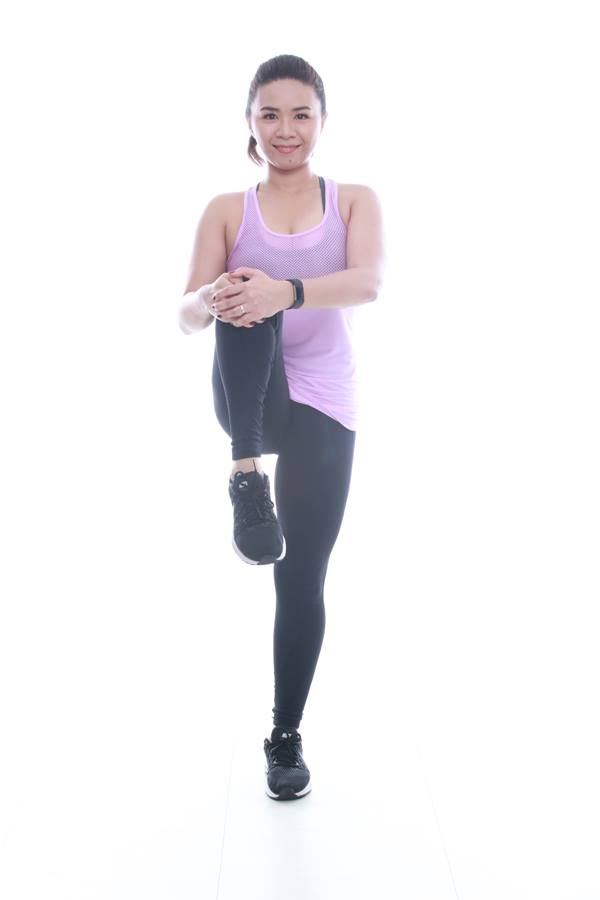 Coach Emy has been in the personal training business for over 10 years now. She specialises in a number of types of training exercises ranging from strength & conditioning and mobility & flexibility training to back pain management and even pre and post-natal training. Coach Emy has also been cross circuit trained and sports nutrition trained among other certifications.
Have knee and back problems? Coach Emy has alleviated those issues for many of her clients. Clients have also commended Coach Emy for being not just an excellent coach but a good friend as well. If you're looking for a personal trainer in Singapore who goes the extra mile then you know where to go!
Personal Training Rates:
Trial or Single Session (60 Minutes): $100
10 Sessions Package (60 Minutes): $900
Buddy Training / Couple Training (90 Minutes)
Trial / Single Session $160
5 Sessions Package (90 Minutes) $750
To book, message her directly via her Facebook page
2. 1- Habit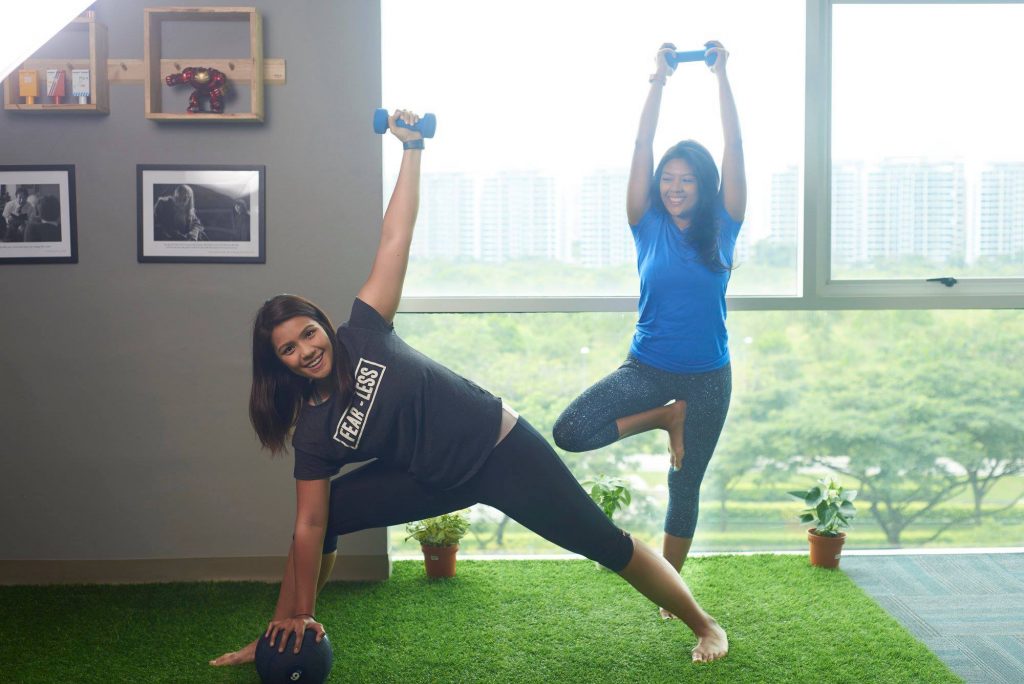 Tried many fitness and diet plans and found none have worked for you? Or maybe they've worked but just for the short run and you're now seeing the old habits creep back in? Founder, lead trainer and nutrition coach of 1-Habit, Aqilah Norazman understands your struggles having gone through them herself. She aims to do one thing and one thing only — to keep you in the best shape without ever slipping.
1-Habit is a fitness studio which primarily conducts small-size classes but Aqilah also provides one-on-one personal training in Singapore at a location of your choice. She'll not only tailor a plan to suit your fitness needs which will more often than not include cardio, strength, HIIT and yoga but also keep an eye on your diet and teach you why, how and what you can do to change your lifestyle 1-Habit at a time.
Personal Training Rates:
From $550 per month which includes one personal training session a week, nutrition coaching and one group class a week
Book a free consultation here

Address:
717 North Bridge Road, S(198685)
3. Trainwithnoop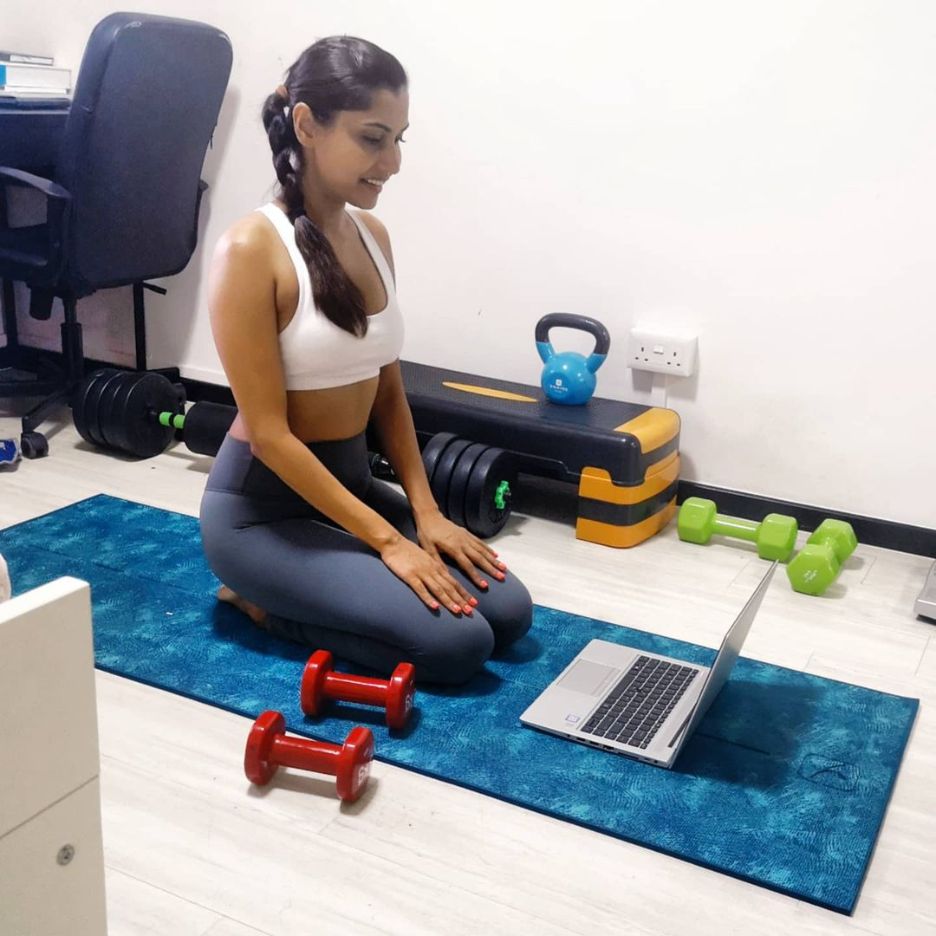 Are you a mum or mum-to-be? Noop conducts both pre-natal and post-natal exercises and is also a qualified physio and rehabilitation specialist with over five years of experience. She works with new mums, focusing on their health and creates a workout plan to ease them safely into physical activity. Looking to do pelvic floor exercises or suffering from diastasis recti? Learn the right techniques from Noop and let her guide you into getting back into the best shape and health while being a mama!
Like many personal trainers in Singapore, Noop has also transitioned to online training this year. Hit her up for a customised workout programme — whether pregnancy-related or not and she'll tailor a workout programme for you with nutritional advice and injury evaluation all through the screen!
Personal Training Rates:
$1,260/12 sessions
$130/trial session
See here for more package types
*Note that Noop will be on maternity leave from Jan. Her online programmes resume in Mar while physical lessons resume in Apr.
4. Karen Lee Fitness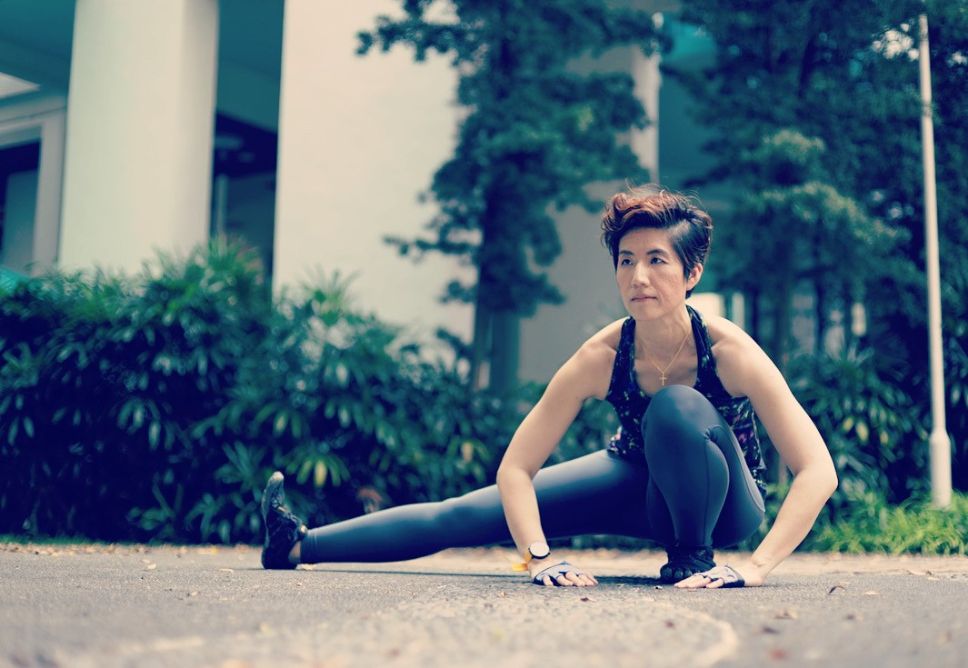 Karen Lee is a health and wellness coach and takes into account helping clients develop a healthy mindset and habits while working on the fitness aspect. She first works on solving the client's current lifestyle factors, focusing on customising a workout plan (whether in person or thought online personal training sessions) that will help you incorporate training techniques for life. She then plans brief and effective workouts that include functional movement, cardio and resistance training before tracking and accounting her client's performance against set goals.
Don't be beguiled by Karen's age! With several fitness certificates to her name, this is one personal trainer in Singapore who knows her craft through and through and won't be afraid to kick your butt if she thinks you need it. Want to get a glimpse of the kinds of workouts she'll conduct with you? Her self-designed, free to watch, online 27-day Move Smart programme includes a workout video each day for you to challenge yourself too!
Personal Training Rates:
Virtual PT: $50/session for 30 minutes (Ad Hoc)
Lite Package: $150/ 5 sessions
See here for more package types
Check out the 27-day Move Smart programme here
5. EzFit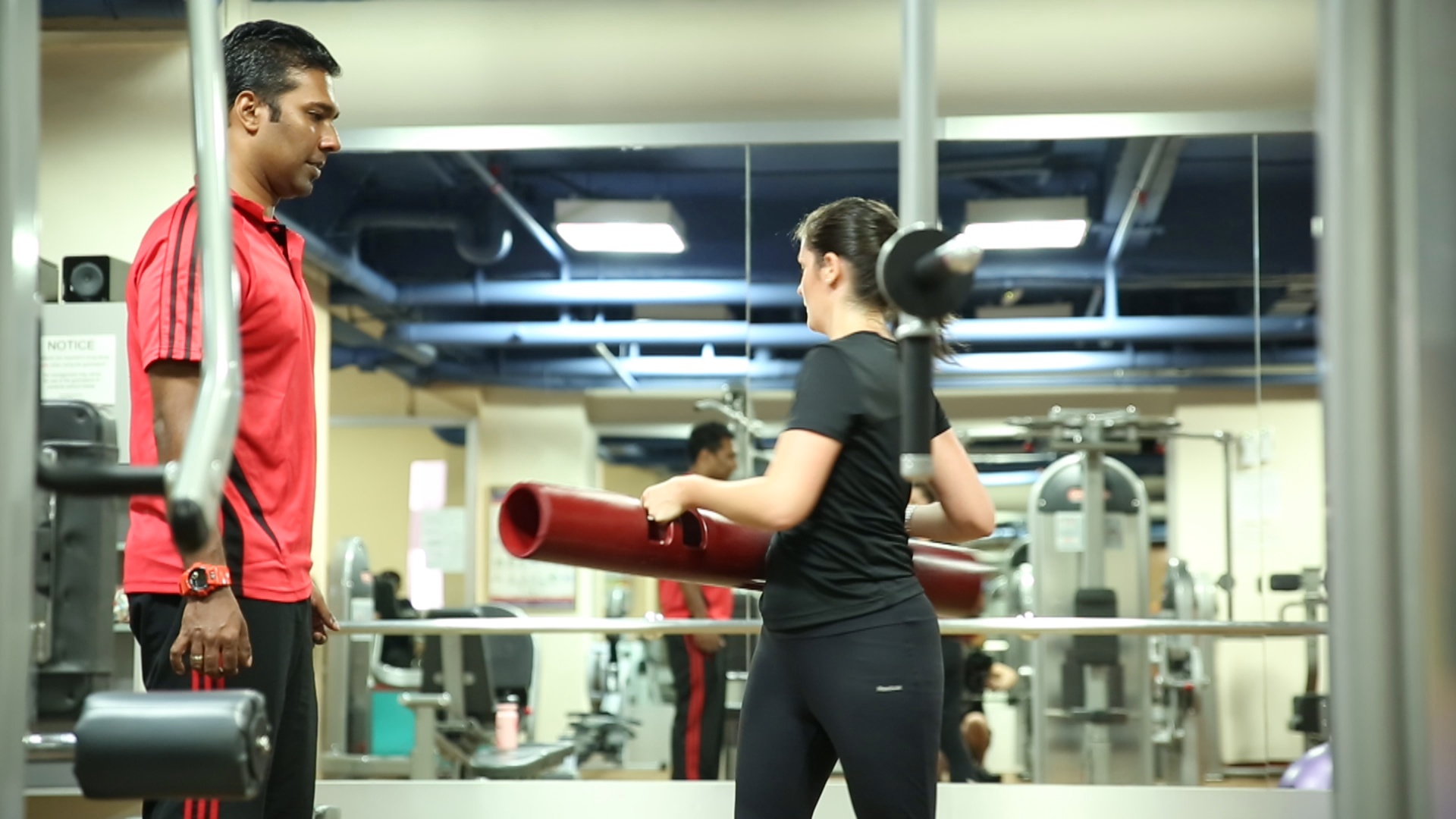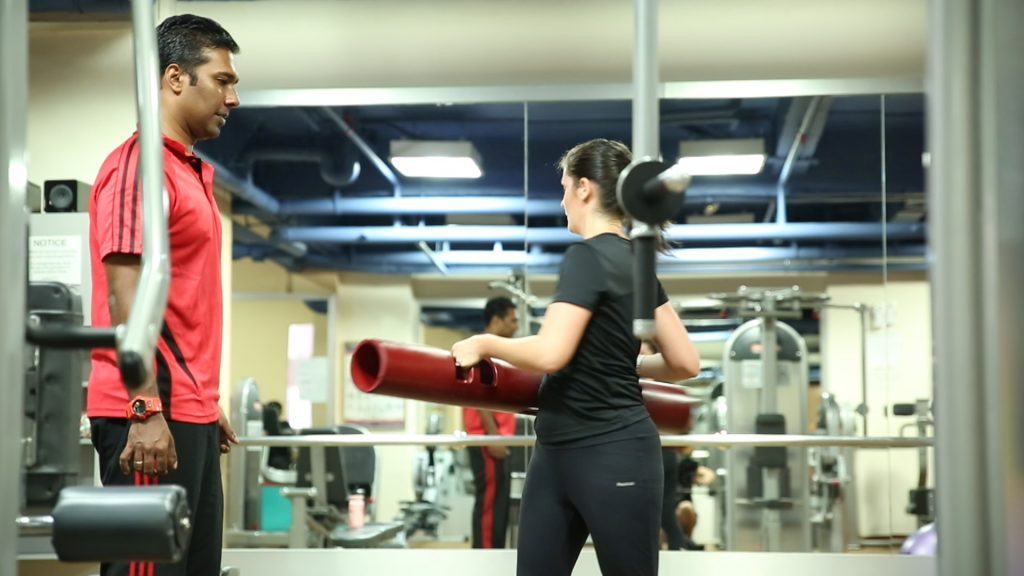 EzFit co-founder, Vanan does not believe in advocating 'yo-yo diets'. If you've had an injury and need rehab training or have a lower back pain that just won't go away, Vanan and a team of qualified trainers will see to it and nip the issue in the bud.From postural correction programmes to personal training for fat-loss, strength and conditioning, you'll be guided on how to do fitness correctly and effectively. Did we mention that EzFit is also Singapore's first 24/7 home-based fitness provider and will bring all necessary fitness equipment to your location of choice! Yup, there's no hiding from fitness anymore when you can fit in a personal training class at midnight.
EzFit also has an online personal training program to ensure you keep up with workouts from home. All you've to do is load the pre-filmed instructional videos and train!
Personal Training Rates:
$110 – $150/ Session. Prices range depending on the type of program, check their website for more details.
Gym based personal trainers in Singapore
6. Strength Avenue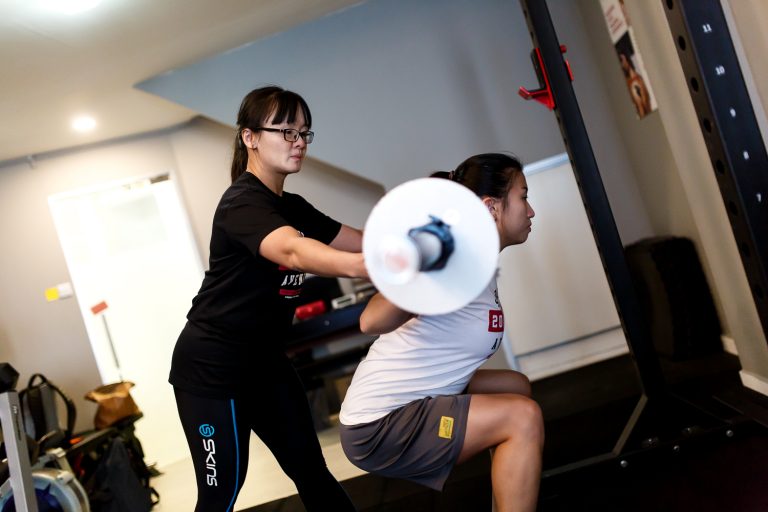 Strength Avenue is well-known for conducting strength and conditioning training for young athletes, helping them perform at their peak during competitions. The studio's resident trainers themselves are kettlebell and powerlifting champions, having competed and won medals on international stages. But they don't just limit themselves to grooming athletes, they'll train anyone who's willing to make the commitment.
These personal trainers in Singapore will tailor a fitness program that'll suit your needs and fitness goals. Helmed by head coach, Andyn Kadir who has more than 10 years of coaching experience under his belt, you'll be in good hands with these personal trainers.
Personal Training Rates:
$120/ Session
$99 / 2 Trial Sessions
Make an appointment with them via their website — no walk-ins allowed
Address: 57B Boat Quay, Level 3, S(049846)
Opening Hours:
Mon – Fri: 7am – 9pm
Sat: 9am – 4pm
Sun: 9am – 3pm
7. GYMMBOXX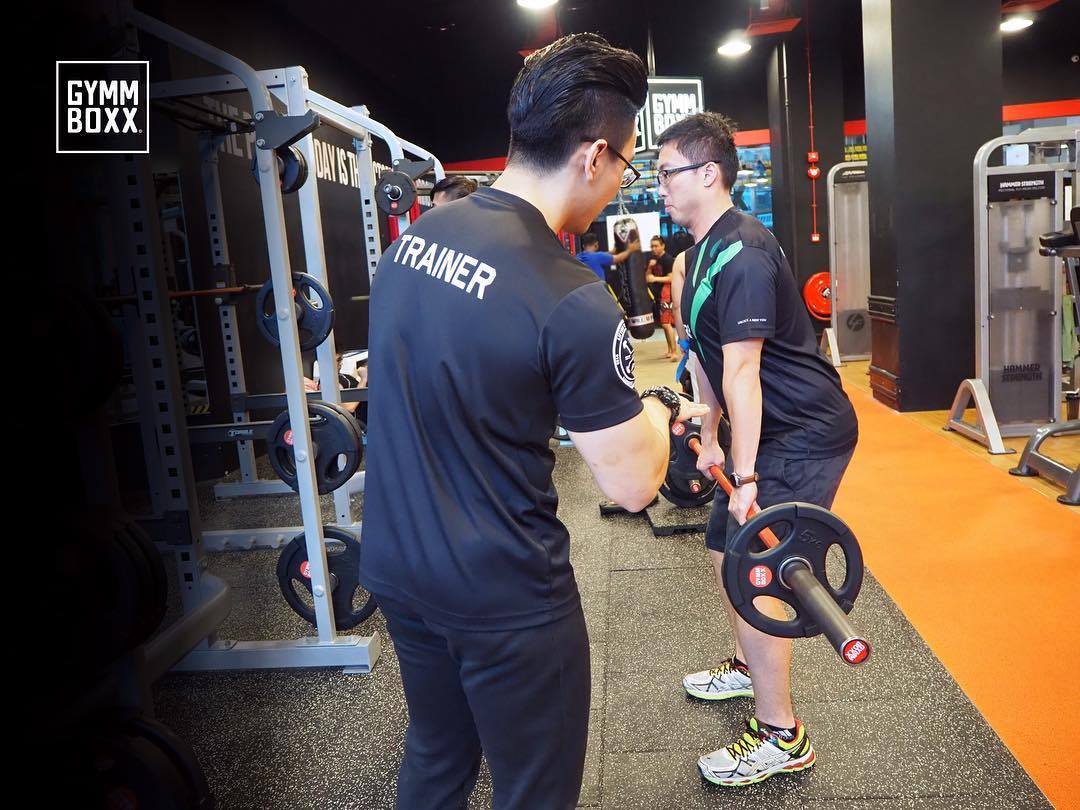 Gymmboxx boasts one of the more affordable personal trainer rates in Singapore. Not only have they spread their wings far enough to reach far-flung places in Singapore (Bedok Point and Keat Hong) but they also throw a gym membership in the package — reminding you that training never, ever truly stops.
We like that this gym's personal trainers started off as not being in the best of shapes themselves. Soon after embarking on their own fitness journeys, they stand before you today as qualified coaches. You'll be guided on correct and safe ways to use gym equipment to reach your own fitness goals. Want those killer abs or a sculpted physique? We're sure the personal trainers at Gymmboxx can help you achieve that too!
Personal Training Rates:
From $850/ 10 Sessions. Check out their website for other package rates
Address: Bishan CC, 51 Bishan Street 13, #04-01/02, S(579799)
Check out other locations here
Opening Hours:
Mon – Fri: 6am – 12am
Sat – Sun: 8am – 12am
8. The PIT Singapore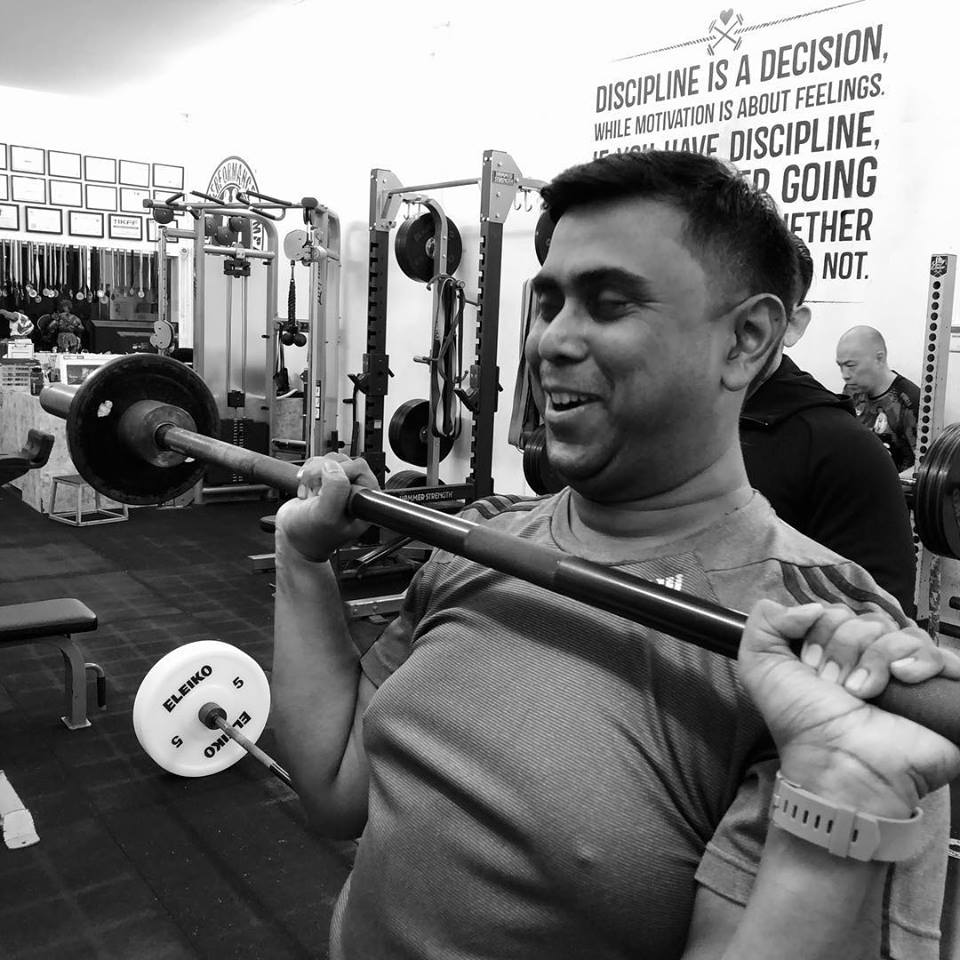 The personal trainers at PIT Singapore are dedicated to bringing out the best in their clients through a range of training modalities that include traditional strength training — think lifting to Metcon and personal training for Muay Thai.
You'll be training with champion personal trainers in this Singapore gym with most having achievements in BJJ, powerlifting or even grappling. This gym is not for the faint-hearted, but if you're serious about making some changes to your lifestyle, these bad boys will help you achieve that.
Personal Training Rate:
$110- $160/ Session, dependent on package type. Drop them a message on their website for more information.
Address: 123 Devonshire Road, S(239883)
Opening Hours:
Mon – Fri: 7am – 10pm
Sat – Sun: 7am – 7pm
9. Fitness First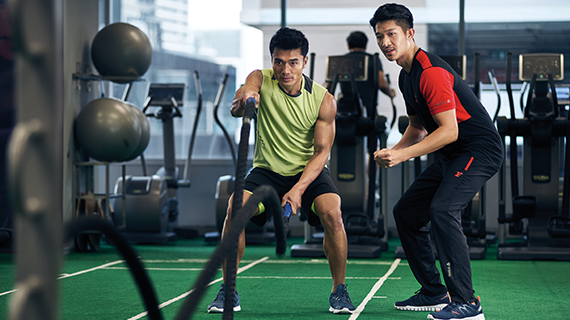 If you're already a member at this ubiquitous gym then why not consider signing up for their personal training sessions and enjoy a more customised workout? Though we've previously talked about their kickboxing classes, we like their personal training classes too! Personal trainers use fitness science — we're talking the likes of DNA testing — to tailor a routine just for you.
With a large pool of personal trainers, you'll get matched with one whose expertise best meets your goal. Personal trainers at Fitness First also follow a five-pillar fitness curriculum of sorts to get you in top-notch condition. You'll notice increased mobility, a stronger core, improved strength and cardio plus even better posture — perfect for those hunched in front of their computers all day!
Personal Training Rate:
$706.16/ 8 Sessions
$347/8 Sessions (online)
Address: 100 AM,100 Tras Street, #04-16B, S(079027)
Check out other locations here
Opening Hours:
Mon – Fri: 6am – 10pm
Sat – Sun: 8am – 10pm
10. FITLUC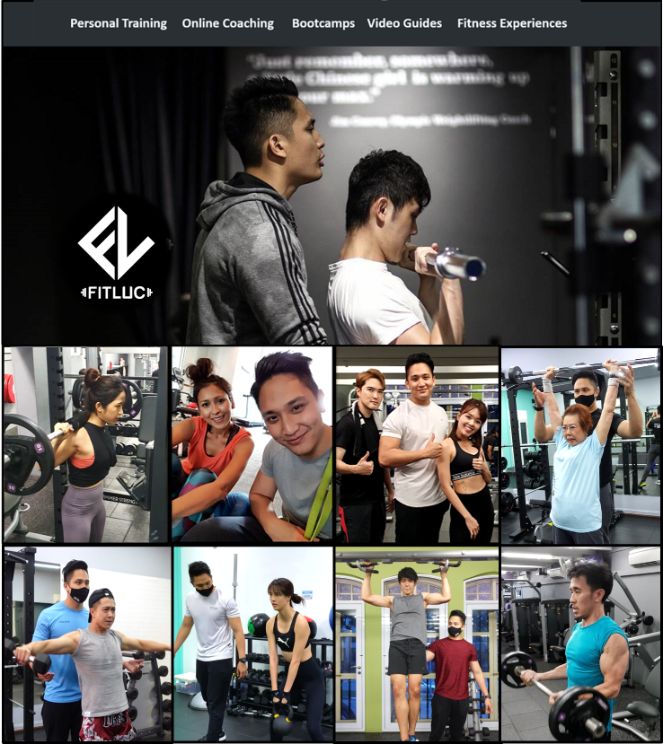 Gym personal trainers at FITLUC help you become a better version of yourselves no matter what your age! The gym has seen clients from aged 13 to 84 walk through their doors and helped achieve their individual fitness goals — ranging from weight loss to muscle gain, pre and post-natal training and even elderly training. Celebrities like Maxi Lim, Tay Ying and Lee Teng have also been trained here.
All of the six personal trainers at FITLUC have several fitness certifications under their belt. Each brings different strengths to the table so you'll be matched with a personal trainer who can help achieve your personal fitness goals. Choose from their in-person or online personal training sessions. You can also request for a house-call personal trainer at an additional fee.
Personal Training Rates:
From $120/session, dependent on package type
Virtual PT: From $139 / month, dependent on package type. See here for more package types.
Address:
21A Keong Saik Road (Level 2), S(089128)
Opening Hours:
Mon – Fri: 9am- 2pm, 4pm – 9pm
Sat, Sun and PH: 9am – 2pm
In-person training sessions are by appointment only.
Use the promo code: SHOPEE10 for a 10% discount for an In-Person or Online Personal Training trial session. U.P: $50.

11. Genesis Gym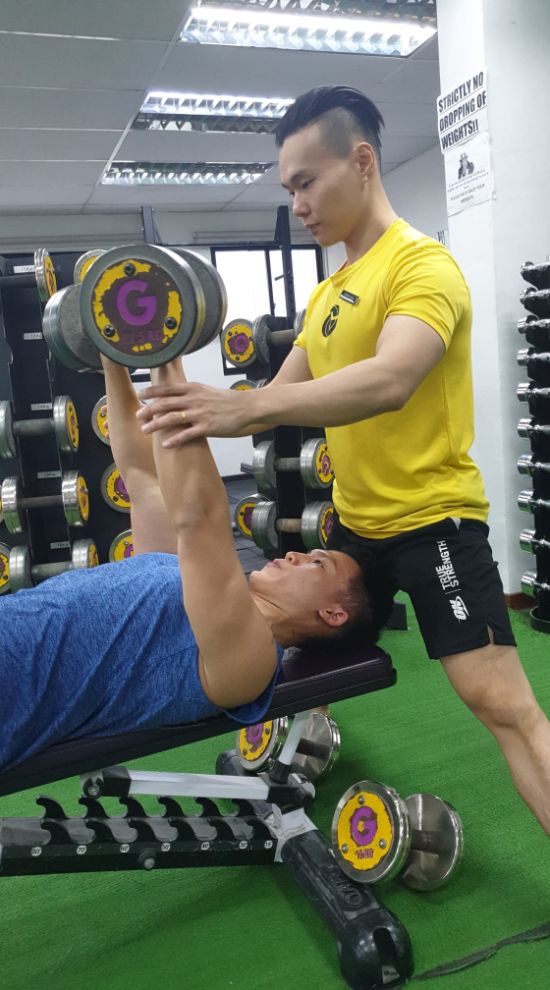 Are you already consistently hitting the gym but not seeing any results? Jonathan Wong, founder at Genesis Gym will make your time at the gym worth your while so you can finally achieve the goals you want to. Look forward to three types of workouts here: body transformation, mid-life makeover and online training.
For instance, in the Body Transformation Programme, you'll get a total body assessment, nutrition plan and a time flexible training schedule to fit your hectic schedules. Personal trainers in this Singapore gym will also give you support even after you reach your goals. With athletes like Theresa Goh and Xu Xin having trained here, you can rest assured of the quality training at Genesis Gym.
Personal Training Rates:
$1050/12 sessions
$2050/ 24 sessions
$5280/ 96 sessions
Address:
Katong Shopping Centre Annexe Block, 865 Mountbatten Road, #04-01, S(437844)
Check out other locations here
Opening Hours:
Mon – Fri: 7.30am – 2pm, 5.30pm – 9.30pm
Sat: 830am – 1pm
12. One Personal Training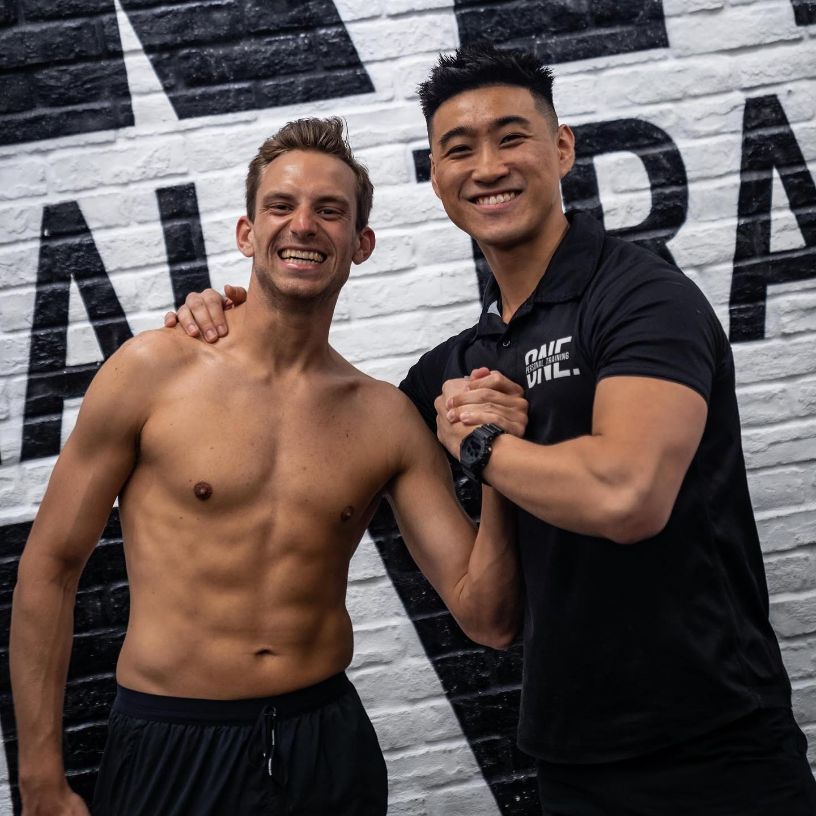 The personal trainers at One Personal Training Singapore are anything but ordinary. You'll meet a team of dedicated trainers who'll tailor a programme for you backed up by science. Yes, you heard right. After pairing you with a personal trainer, you'll be put through a fitness assessment where the trainer will use your body fat modulation and your lifestyle information to build a programme suited just for you.
The gym personal trainers here will become more like your friends — hyping your up to reach that goal. If you're looking for easy to follow, effective workout programmes and PTs like friends, you know where to head to.
Personal Training Rates:
$150/session. Drop them a message on their website for more information.
Free consultation and trial session
Address:
Keck Seng Tower, 133 Cecil Street, #01-01A/02, S(069535)
Opening Hours: Daily, 5am – 10pm
Sign up with a personal trainer in Singapore and get that hot bod in 2021
All pumped and ready to sign up? Don't forget to dress in style while working out! Check out affordable activewear to don while lifting those weights! Not 100% sold on personal trainers? Why not try yoga instead? Check out our guide to the types of yoga classes in Singapore and gain inner peace today!
This article was updated on 1 January 2021. Additional research done by Fatimah Tasmeem.
---
New to Shopee? Get $7 off (min. spend $15) with code*: 12OFFEXERCISE
*TNC Applies. Valid for new users from 9 Jan 2021 to 16 Jan 2021 only.