Looking good while you're working out is half the battle won! Fashionable sportswear brands like Lululemon and Gymshark are all the rage right now. But let's face it — they can also burn a hole in your wallet. It's time to enter affordable activewear brands in Singapore that promise good support while making you look extra cute and perky! Check out our top picks and reviews of the best women's workout clothing brands like Moving Peach, Xexymix vs Lululemon, and Lovito below!
Affordable activewear brands in Singapore: For Yoga
1. Moving Peach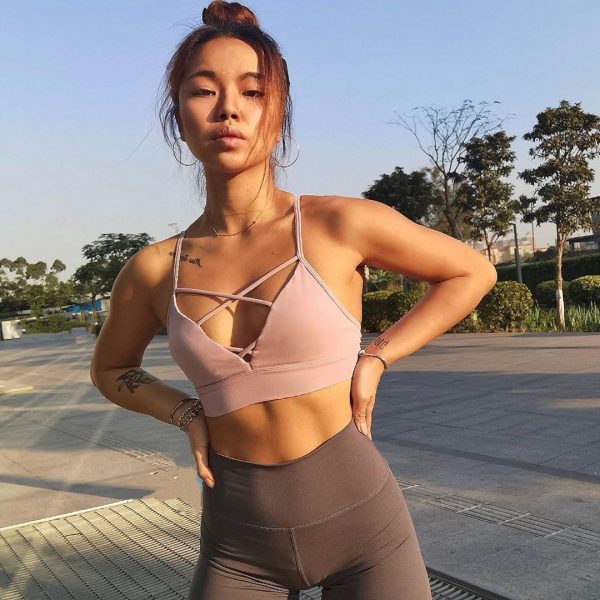 If you like looking extra cute in your gym outfit, you won't be able to resist the wide range of trendy activewear on Moving Peach. From sports bras to sports shorts, Moving Peach is one of the best women's workout clothing brands that offers such insta-worthy outfits – you'll even look good in all that sweat!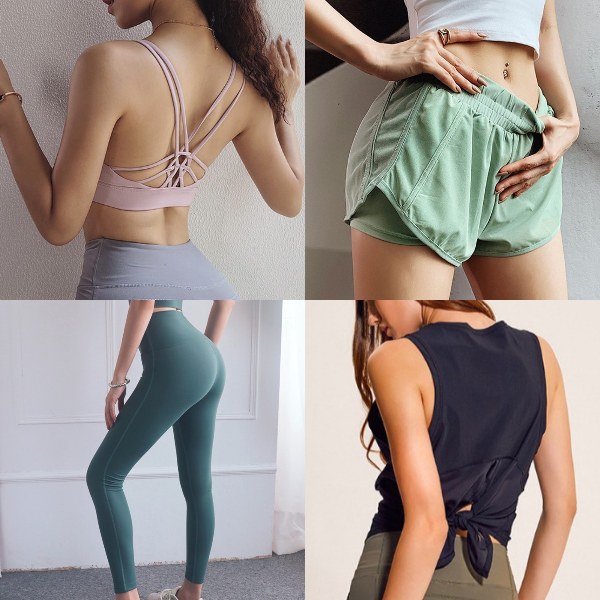 One of our favourite pieces is the Strappy Sports Bra (available on Moving Peach Official Store), which has received glowing reviews. The strappy design provides sufficient support for low-impact workouts such as yoga or pilates. It also has removable padding so you can swap the cups out. If you're not comfortable wearing just a sports bra, throw on the Fitness Tie Back Tank Top (available on Moving Peach Official Store). This ultra-lightweight sports top has strong abrasion and wear resistance, thus it's definitely a durable yet cheap activewear piece in Singapore that you'll be reaching for time after time!
Another highly reviewed item from Moving Peach is the Double Layer Jogger Shorts (available on Moving Peach Official Store). The shorts are lined with inner tights for extra coverage, so you'll feel secure when jogging or striking a Muay Thai high kick. If long pants are more your thing, try the Compression Yoga Pants (available on Moving Peach Official Store) instead! It comes in four sizes for better fit and is made of breathable and quick-drying material! 
2. ThinkTure Gym Yoga Sports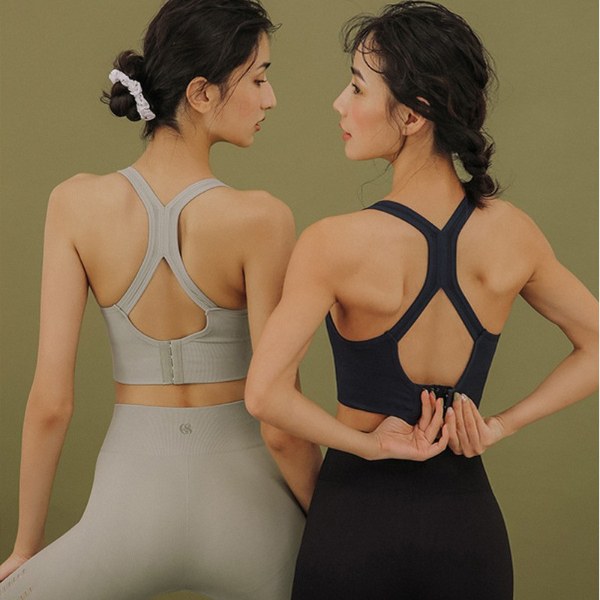 With most pieces going under $30, ThinkTure Gym Yoga Sports stands out as one of the most affordable activewear brands in Singapore! Consider this — why pay twice the price for a regular Lululemon sports bra when you can buy two sets from ThinkTure? The brand also carries many unique designs, so you need not worry about involuntarily twinning in the gym.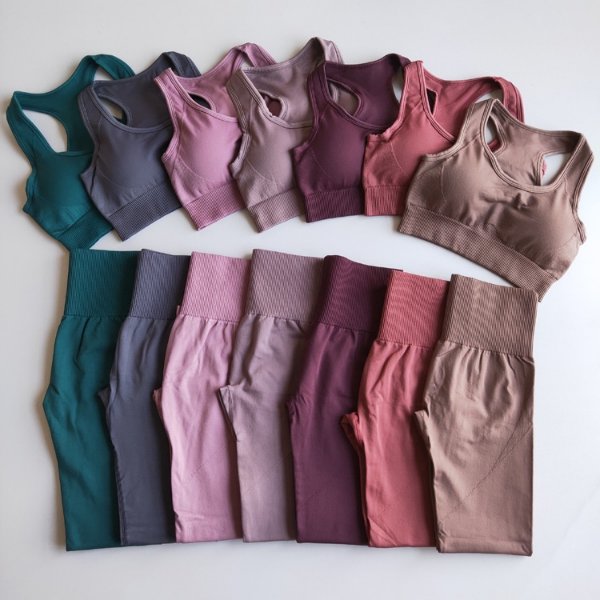 Sportswear sets are perfect for those who often have a hard time matching their fitness apparel for a stylish getup. Thinkture specialises in matching sports top and bottom sets so you can simply throw them on and head out for your exercise — no time wasted! For a fool-proof look, go for the Two-Piece Yoga Set (available on ThinkTure Gym Yoga Sports). It has excellent moisture-wicking material and comes in sizes S to L for a comfortable fit. This set is perfect for yoga classes or even your at-home low-intensity workouts.
Affordable activewear brands in Singapore: For all sports
3. Sports Angel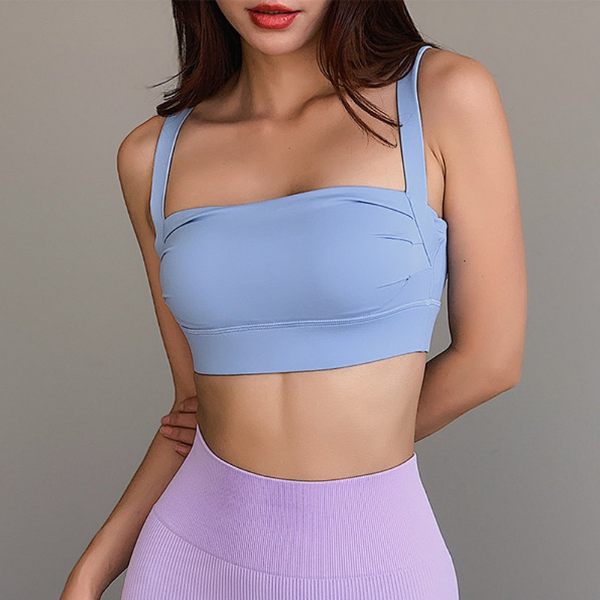 Affordable doesn't have to mean tacky. From backless sports bras to airy workout shirts, Sports Angel is a popular affordable activewear brand in Singapore with an eye-popping range of trendy workout clothes! It also comes with one of the most functional clothing features – pockets! Almost every pair of bottoms comes with pockets for your phone, earphones and maybe even a little protein bar. It's no wonder Sports Angel is one of the best women's workout clothing brands in Singapore!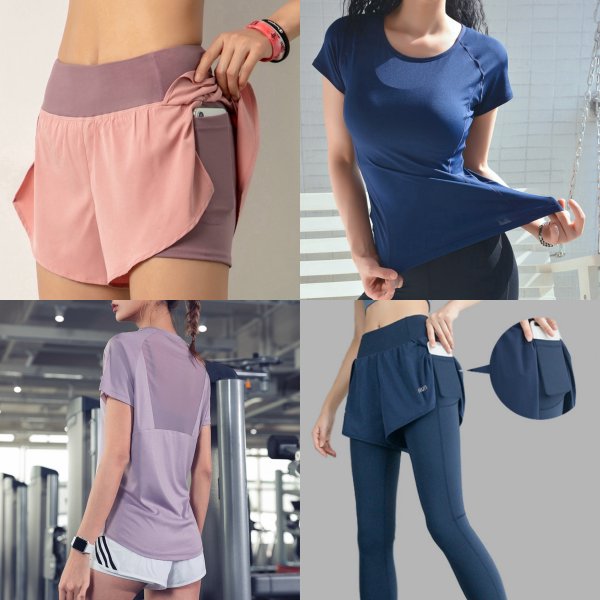 If you loathe holding your phone during runs, you've got to check out the Running Shorts With Pockets (available on sportsangel.sg)! These shorts feature an inner tights layer to slot your phone or other valuables in. They come in a flattering high-waisted fit, along with a fully-stretchable elastic band. Best part? These shorts are available in a wide size range of S all the way up to triple-XL! 
For a more modest option, consider the High Waist Shorts With Elastic Tights (available on sportsangel.sg). Like the shorts, these workout bottoms come with a handy side pocket your workout essentials. The lightweight, breathable material of the tights makes this activewear option suitable even for Singapore's hot weather – perfect for protecting those long gams from unsightly tan lines! 
Complete your look with the Mesh Sleeveless Top (available on sportsangel.sg)! The mesh material makes for a flattering cut that will have you feeling confident. Wear the mesh sports top as it is, or tie a knot around your waist to further accentuate those curves! If you fancy something airier, go for the Short-Sleeved Quick Drying Fitness Blouse (available on sportsangel.sg)! This lightweight workout shirt is suitable for everything from jogs to trips to the gym.
4. Lovito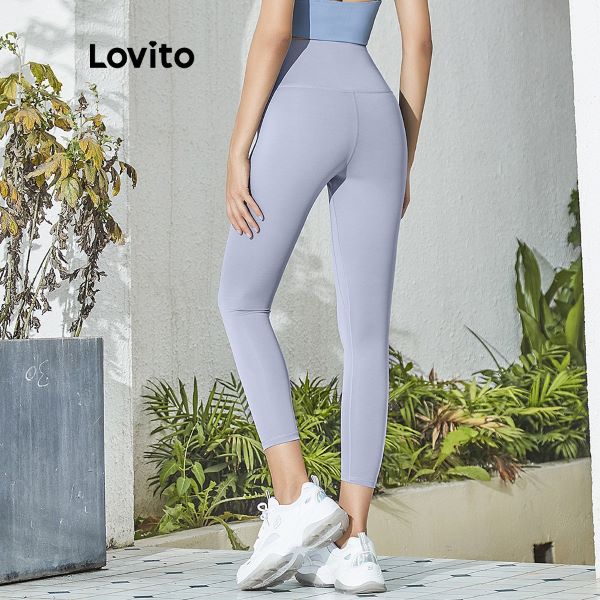 Lovito is a brand in Singapore that has been all the rage these days for its chic, trendy designs and super affordable prices. In addition, they offer an extensive selection of activewear pieces at basement prices that budget fitness enthusiasts will love. If you're looking to expand your wardrobe, Lovito is where you can stock up on multiple pieces without feeling the pinch!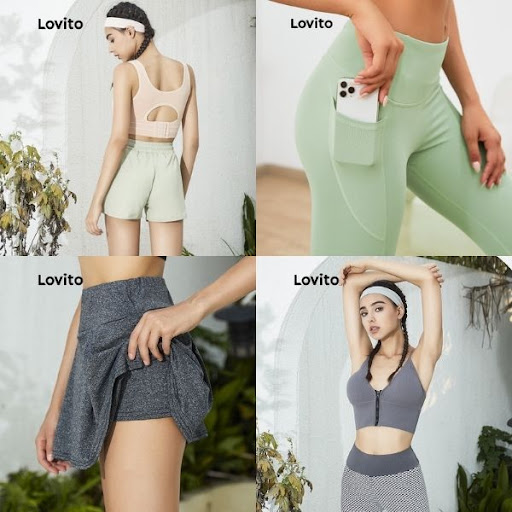 The Lovito Sports Yoga Bra (available on LOVITO OFFICIAL STORE) is one of our favourite pieces from this affordable activewear brand in Singapore that features two contrasting stripe details and white borders around the bra, which makes it look extra flattering. Similarly, another sports bra to check out is the Lovito Plain Sports Zipper Bra (available on LOVITO OFFICIAL STORE) which features a front zipper instead of the usual back closure. Firstly, zippers add an extra layer of compression to support you through high-impact workouts. Secondly, they also make removing them a breeze! We recommend double-checking the measurements and sizing up!
In terms of bottoms, a piece that's not to be missed is the Lovito Sporty Skinny Pocket Quick-Drying Leggings (available on LOVITO OFFICIAL STORE) made of buttery soft material that lets you sail through your workouts, so you can easily slip your phone into the handy pockets when you are out for a run!
5. Fenin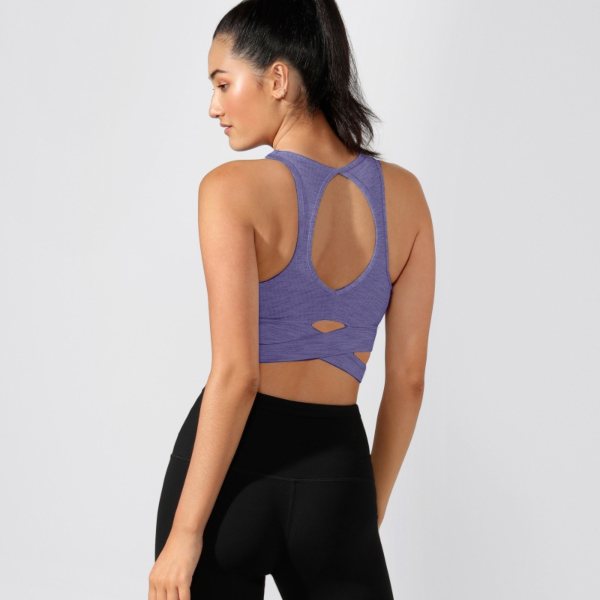 Style will never be compromised when it comes to this affordable activewear brand in Singapore. With a wide range of designs, you are sure to find something that suits you! What's not to love about Fenin's aesthetically pleasing workout gear with muted tones of pinks, blues, and teals? On top of that, they carry shock-proof sports bras and padded tops that are sure to hold you firmly in place for intensive workouts. With a low price point of less than $20, these high-quality pieces are sure to support you well during your workout sessions!
Our top picks from their sports bra collection have got to be the Medium Strength Sports Bra, and the Shockproof Sports Running Vest (both available on Fenin)! With its sleek and modern design, their V-Shaped Medium Strength Sports Bra looks extremely flattering on the back. The additional cut-outs on each side of the straps provide a more airy and breathable design, allowing you to feel comfortable while you exercise. Likewise, the front is well structured and gives good support to your girls. You can wear this while doing high-intensity workouts and still feel confident and relaxed!
6. Kydra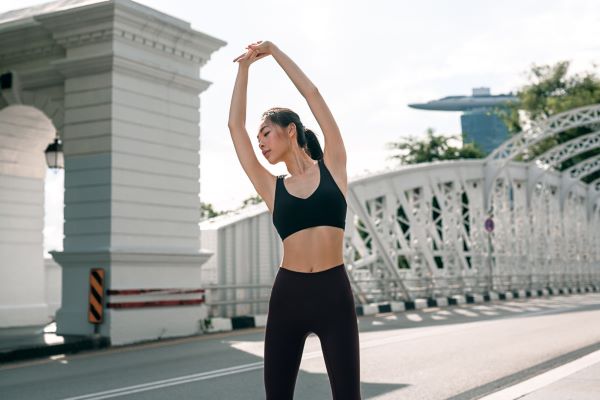 Athletes know their needs best when it comes to activewear designs, which is why you can trust Kydra to offer the best high-impact sports bras, sports tanks, and leggings. This affordable activewear brand in Singapore is helmed by athletes who marry comfort and performance with their activewear. In terms of aesthetics, we give them a 10/10. In addition, their products range from $30 – $90, which is a steal for their quality!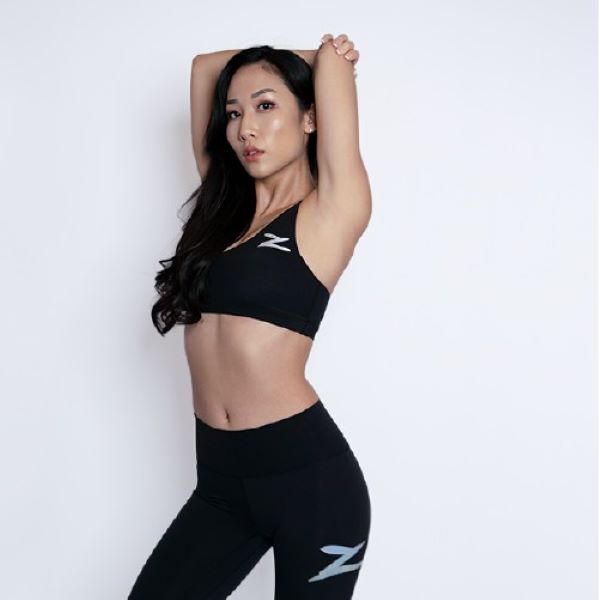 We highly recommend the Thea Kyro Bra (available on Zouk Singapore Official Store).  Made from Kydra's signature Kyro fabric, this baby boasts quick-cool technology for rapid moisture-wicking through even the most intense workouts! In terms of design, we love how the sports bra features a thick strap when seen from your front profile, and a strappy design when seen from the back. 
The Swift Crop Tank (available on Zouk Singapore Official Store) is also not to be missed – it sports a reflective, holographic logo that's so eye-catching, that you'll be sure to turn heads at the gym. In addition, Kydra has got the lads covered with men's sports attires like the Resurge Tee (available on Zouk Singapore Official Store) that's made of fabric with anti-bacterial, anti-UV, and sweat-wicking properties!
7. Funfit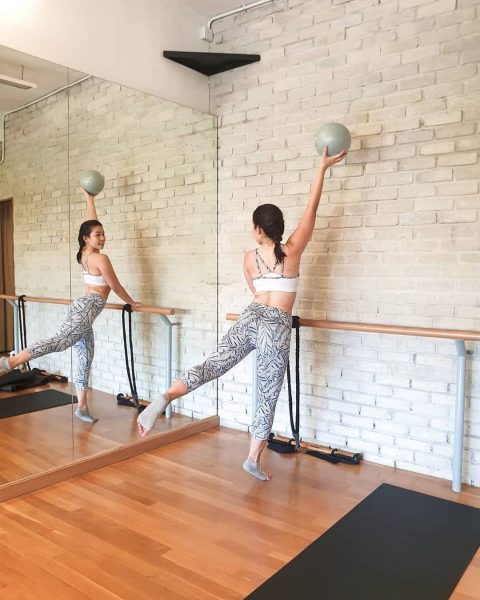 #SupportLocal with home-grown affordable activewear brand, Funfit! This fashionable sportswear brand has been in Singapore for over 20 years, offering a range of gym wear to swimwear. Moreover, Funfit carries a wide size range that goes up to 5XL. No one is left out on this stylish fitness journey!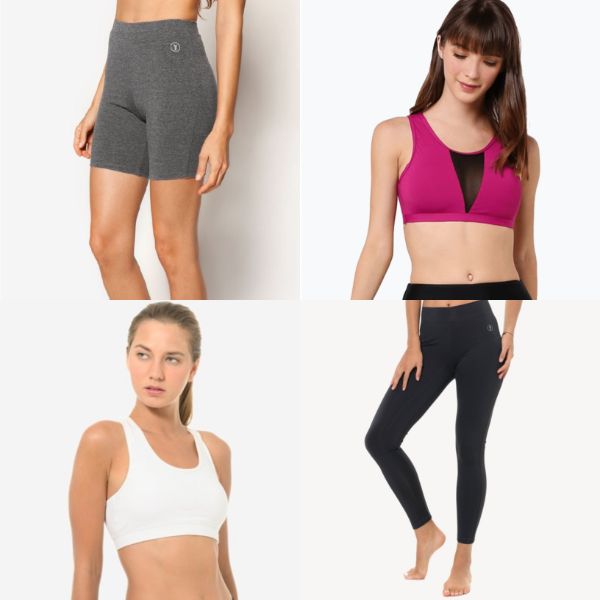 Brands like Lululemon and Gymshark are known for their quality material – Funfit is no different! Take the Basic Shorts (available on Funfit Outlet Official Store) for example. Its polyester-spandex blend provides medium compression to improve blood and lymphatic flow for better sports performance. Funfit lives up to its name with the Mesh-Over Tube Sports Bra (available on Funfit Outlet Official Store), which comes in funky iridescent prints. The see-through mesh panel vamps things up while providing additional breathability. Armed with quick dry moisture wicking, this piece is great for steamy hot yoga sessions!
If you prefer a more subdued sports bra that does its job in giving you the right support and comfort without the extravagance, the Funfit Racerback Sports Bra (available on Funfit Outlet Official Store) is perfect for you. It comes in an off-white colour with a flattering U-shape scoop and boasts a four-way stretch fabric for easy movement. Pair these sports bras with the Funfit Leggings with Back Trim (available on Funfit Outlet Official Store), and you're ready to kickass at any medium to high-intensity workout classes!
8. Air Active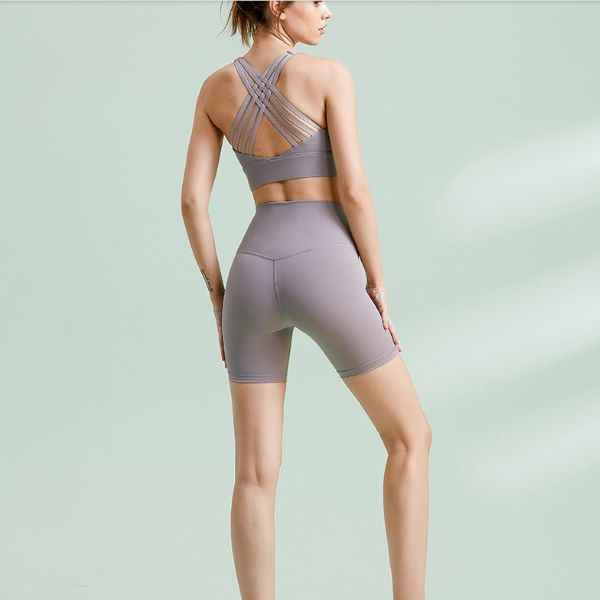 Activewear goes beyond just apparel to don to the gym or yoga classes – they also make for snazzy outfits! For versatile women's sportswear that you can wear for both HIIT sessions and casual days out, check out Air Active! Living up to its name, Air Active's line of apparel is ultra-lightweight and super breathable, which helps you to breeze through your workouts in comfort!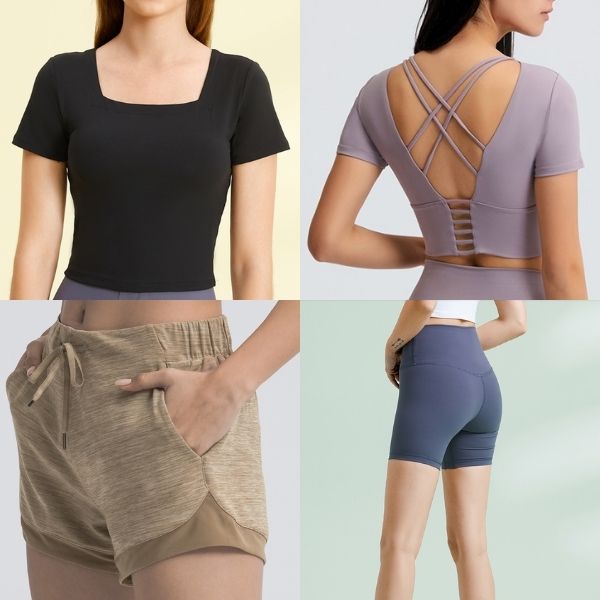 We absolutely love padded tops as they save you the hassle of finding a suitable bra to pair your top with. That's why the AIR ACTIVE Padded Yoga Top (available on air_active.sg) is our top pick! It's a cheap activewear top in Singapore that comes with detachable padding, doubling up like a sports bra. The square neck design is super chic, making this ladies' top a versatile piece. Pair it with the AIR ACTIVE Yoga Shorts (available on air_active.sg) which come with inner pockets when you're heading for a run. Alternatively, match it with a denim skirt for a casual Sunday brunch with your girlfriends!
The AIR ACTIVE Sports Padded Crop Top (available on air_active.sg) is another padded top option from Air Active. Pair it with the AIR ACTIVE Buttery Shorts (available on air_active.sg) for the complete fitness and lounge fit! 
9. Beachbody Gear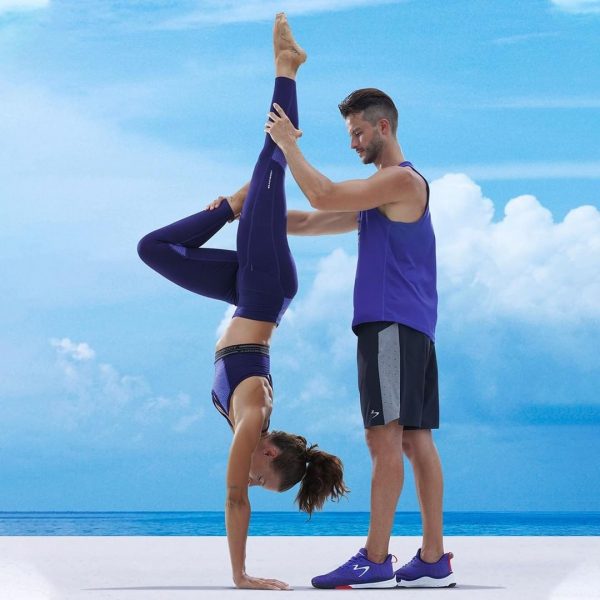 If you're looking for a more affordable activewear brand alternative in Singapore, we suggest turning to Beachbody Gear! They have equally stylish and good-quality fitness apparel at a fraction of the price. Beachbody Gear apparel is created with innovative technology for unparalleled quality and functionality. Moreover, gentlemen will not feel left out here at Beachbody Gear with their men's sports attire!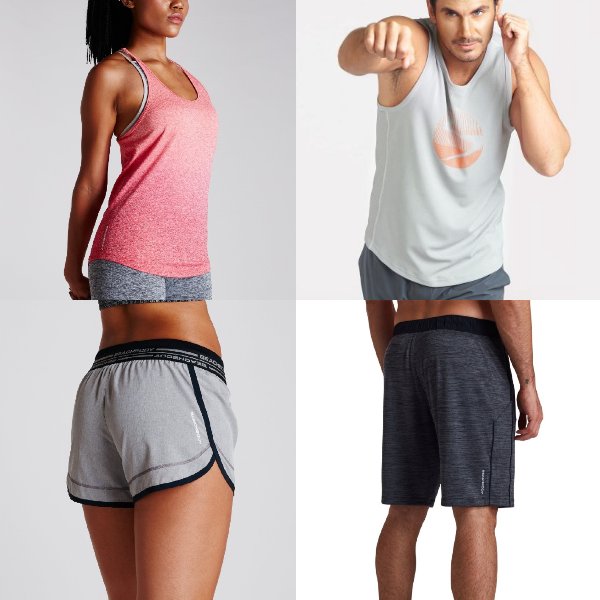 From sports tops to sports footwear, you can shop from a variety of fitness essentials at Beachbody Gear. This includes the Gear Up Zone Mesh Ombre Women Tank Top (available on Gear Up Beachbody Store) which comes with integrated mesh ventilators for better breathability. It's designed with NILT INNERGY, which allows the nylon fibre to absorb body heat. This cheap activewear piece in Singapore then retargets the heat towards your muscles for better stimulation and to relieve muscle fatigue!
Pair it with the Gear Up Go-To Twist Women's Shorts (available on Gear Up Beachbody Store) which are created with DRY-TEK technology. It enables the fibres to wick moisture away from the body after a sweaty session at the gym. Additionally, the inner waistband has SORBTEK technology that encourages quick evaporation for long-lasting dryness. This will definitely be a great alternative to your good ol' FBTs. 
As for guys, you can buy the Gear Up Everyday 10 Knit Men's shorts (available on Gear Up Beachbody Store). It features the same DRY-TEK technology for excellent breathability. Pair it with the Gear Up Energy Wave Men Tank Top (available on Gear Up Beachbody Store) to complete his fitness outfit! Don't mistake this tank top for something ordinary. The sustainable bamboo charcoal material used to make this top has natural odour reduction properties. Stay fresh ever after a sweat session!
Affordable activewear brands in Singapore: K-style
10. Xexymix Official Store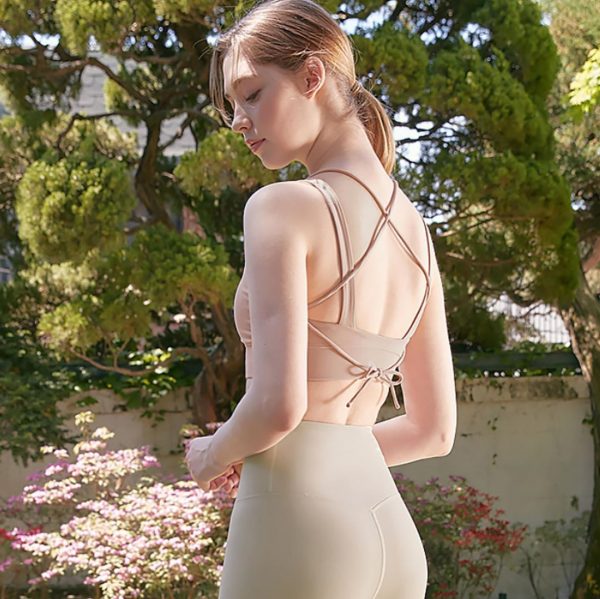 What happens when you put K-fashion and fitness wear together? You get Xexymix, the hottest women's workout clothing brand in Korea! Xexymix offers a wide range of fashionable fitness apparel without busting your budget!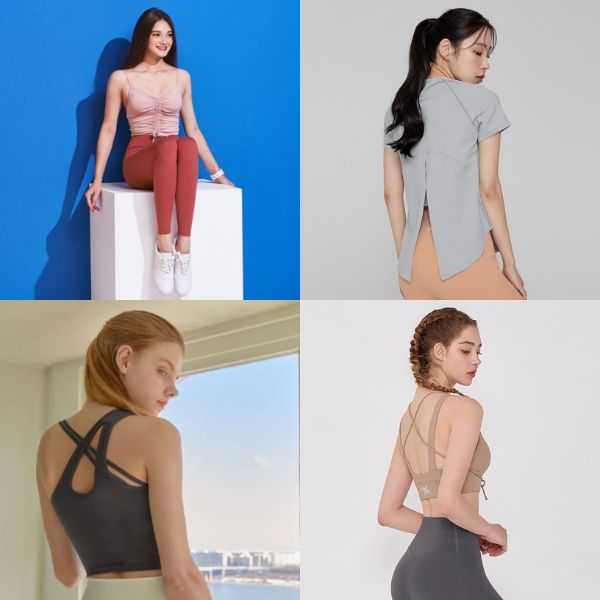 Comparing Xexymix vs Lululemon, you will find that many of Xexymix's apparels boast similar thoughtful designs with comfort in mind. Firstly, you should check out when you're shopping on Xexymix is the popular Cella V-Up 3D Leggings (available on Xexymix Official Store) as this hit item offers a body-contouring fit and boasts butt-shaping abilities. Your bum will look firm and round in them! Additionally, this cheap activewear in Singapore provides balanced compression across your lower body. Likewise, it also comes with a non-slip waistband to prevent rolling when you're working out.
The Korean brand carries many unique sports apparels in flattering colours and styles that are to-die-for! The XT4317F Fresh Feather Cross T-Shirt (available on Xexymix Official Store) is designed for those looking for something unique. You can tie the coattail-like cutting on the front of this sports top for a cropped look! We think it's the perfect getup for those who are on the hunt for versatile sports apparel.
11. Mulawear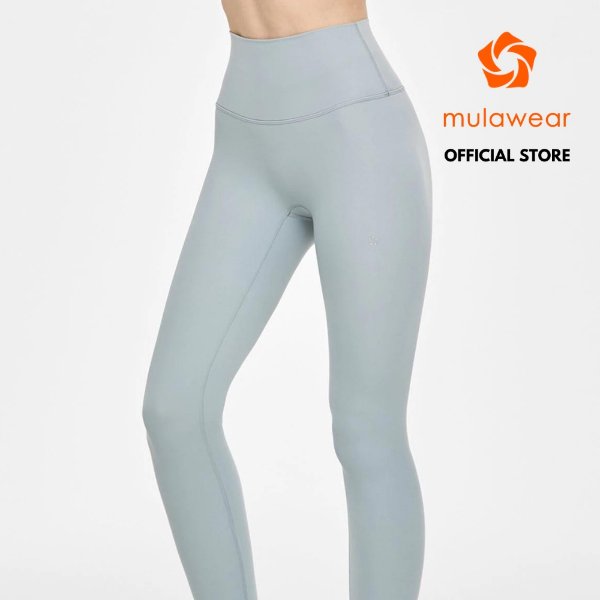 Hailing from Korea, Mulawear is an affordable activewear brand (prices start from $40!) in Singapore that offers a deluge of stylish athleisure apparel. With bright pastel hues of pink and blue, this is one of the best women's workout clothing brands that doesn't compromise on fashion. But of course, there's also the staple black and grey colours that make mixing and matching among the different Mulawear options possible!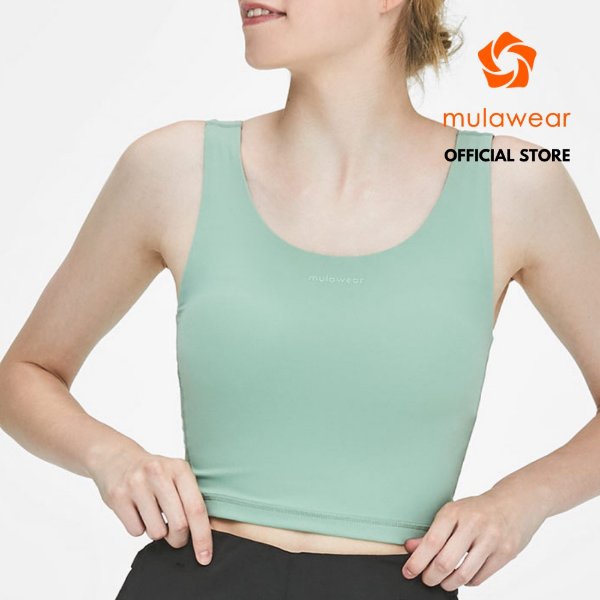 These leggings are part of Mulawear's impressive Miracle 6 Years Lifespan Leggings line and are guaranteed to last you for years! This is possible with Mulawear's self-developed fabrics from top textile company Invista. For yogis and gym nuts, we recommend getting the MULAWEAR New Noble Leggings (available on Mulawear Singapore) which are designed for maximum comfort. The lack of a waistband or front seam eliminates the pressure on the lower abdomen that you'd usually get from sports leggings! Pair that with the crowd-favourite MULAWEAR Soft Wrap Top (available on Mulawear Singapore), and you've got yourself the perfect workout fit!
Psst: believe it or not, there are even options for men. The MULAWEAR Essential Tank (available on Mulawear Singapore) boasts a flattering, wide-cut design that gives the illusion of broader shoulders. Its large arm holes also allow for a wider range of movement perfect for arm days at the gym! 
12. Conchwear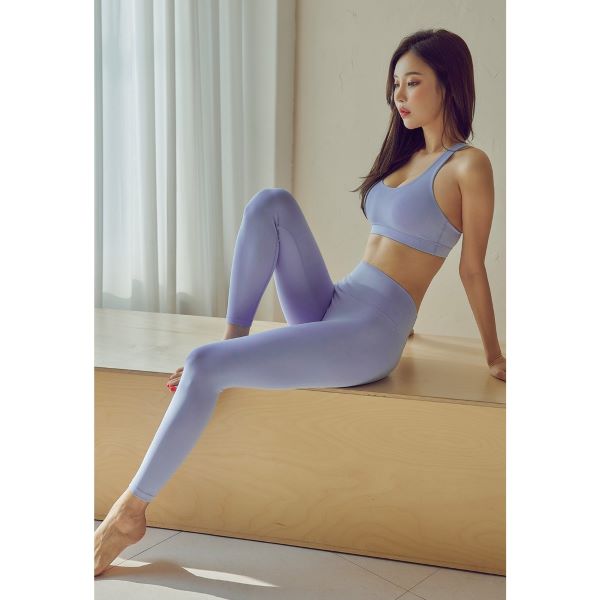 If you're looking for an affordable Korean activewear brand in Singapore that doesn't break the bank, look no further than Conchwear. This is one of the best women's workout clothing brands with a selection of elegant activewear. That's why you'll look straight out of a K-drama wearing them. Most importantly, these velvety-soft fits come at wallet-friendly price tags!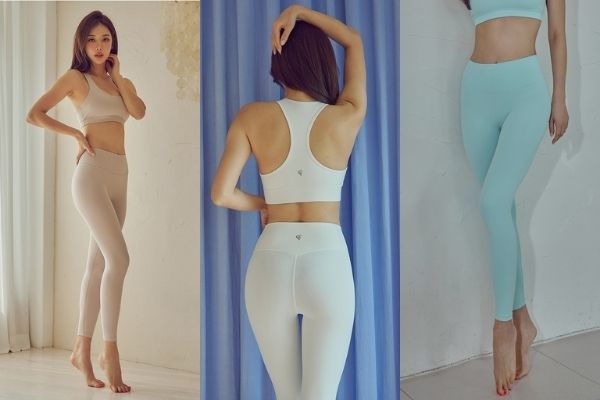 We're obsessed with the soft, pastel colours that the Conchwear Signature Legging and Conchwear Signature Supple Sports Bra (both available on Mi-In Activewear) come in. For neutral tones, get them in sage green or get the beautiful Tiffany Blue colour for a pop of colour! In terms of fit, you won't have to worry about camel toes or a visible panty line with Conchwear leggings. They're of the right thickness to offer support, yet still feel breathable in the Singapore weather. Therefore, this makes them a fan favourite in Korea. 
Get your adrenaline pumping with these affordable activewear brands in Singapore!
Be it Xexymix vs Lululemon or Moving Peach vs Lululemon, these affordable activewear brands in Singapore will not disappoint! So dress fashionably as you hit up these best pilates studios in Singapore to achieve that dream bod. You can also wear these chic-looking sports bras even if you're stuck at a 24-hour gym with one of the best personal trainers in Singapore.
This article was updated on 3 January 2023. Additional research done by Caryn Tan.