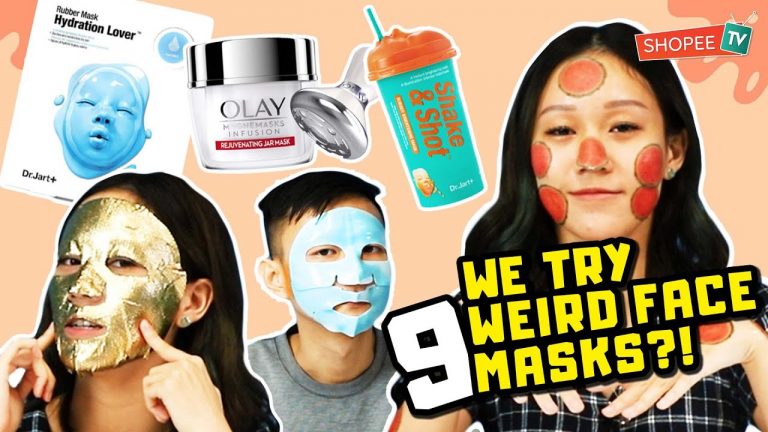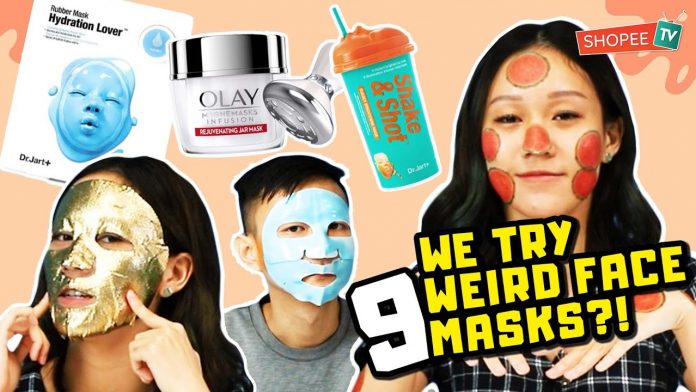 Getting a little tired of donning a mask every time you step out of the door? Why not stay indoors and put on one of these best Korean face masks instead! Not only do these best Korean face masks provide plenty of hydration for our skin, you can also keep them in the fridge and smooth them over your face for a cool treat! An effective skin-booster, Korean sheet masks are jam-packed with nourishing ingredients such as hyaluronic acid and collagen. One thing to note: pick a face mask that targets your specific skin concerns for maximum effectiveness! Be it dry skin or ageing skin, we've got you covered. 
Best Korean face masks for daily maintenance
If you have normal skin or generally good complexion, lucky you! However, that doesn't mean you should neglect your skin. Do your skin a favour by adopting a consistent routine with the best Korean face masks in Singapore.
1. A'pieu Daily Sheet Masks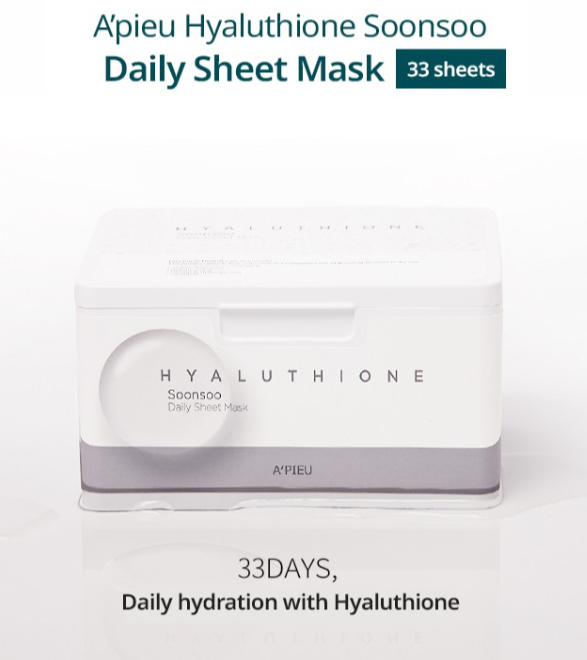 While incorporating a daily Korean sheet mask into your beauty routine can do wonders for your skin, many may have reservations about it due to the waste involved in opening a brand new packet of sheet every day. Thankfully, the A'pieu Daily Sheet Masks (available on kosatoz) come in a box of thirty-three Korean sheet masks so you won't be left with a pile of packaging waste. Each mask is soaked in hydrating solution, enough to last you a full month of daily sheet masking. 
The A'pieu Daily Sheet Masks come in three types – black tea, green tea and hyaluthione. Black tea for hydrating, green tea for soothing and hyaluthione for improving the skin's moisture barrier. Our personal favourite is black tea as it smells incredible and absorbs well into the skin!
2. Feelxo 5-Day All in One Skincare Program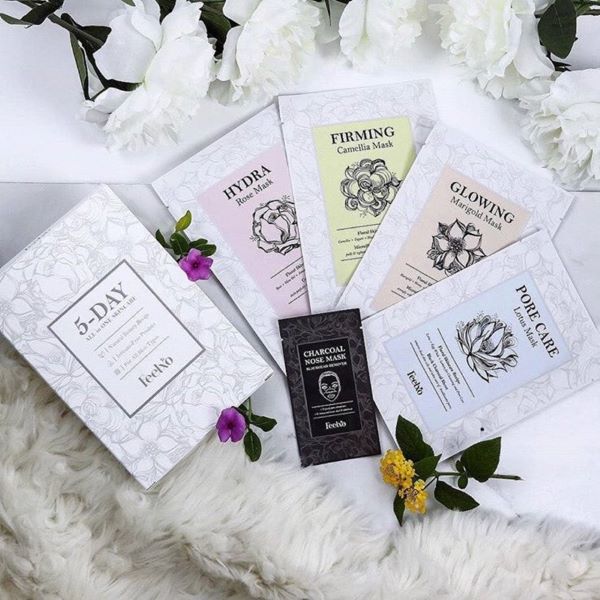 If you're looking for a low maintenance skin care routine, the Feelxo 5-Day All-In-One Skincare Program (available on cosblah) could be the one for you! It comes in a set of five individual masks to use over the course of five days. The first mask is a charcoal nose mask to help get rid of blackheads. Followed by a pore care lotus mask, hydrating rose mask, firming camellia mask and glowing marigold mask. 
The Feelxo 5-Day All-In-One Skincare Program helps to tackle multiple skin concerns to achieve clear and glowing skin! It's also a great way to try out their different sheet masks and you can purchase them separately should you fancy a particular mask.
3. ETUDE HOUSE 0.2 Air Therapy Mask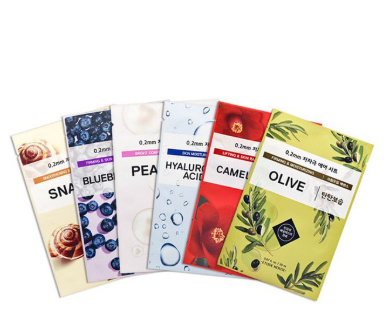 The Etude House 0.2 Air Therapy Mask (available on ETUDE Official Store) is a hypoallergenic Korean sheet mask that comes in an array catered to many skin concerns! They make for great daily masks due to their affordability and range. Popular ingredients include aloe vera, snail mucin, madecassoside and tea tree.

These Etude House masks are only 0.2 mm in thickness, which allows for perfect adherence while letting your skin breathe comfortably. Often feel suffocated whenever you drape on a sheet mask? The Etude House 0.2 Air Therapy Mask is a game changer!
Best Korean face masks for dull skin
Pent-up stress and the lack of proper skincare may cause your skin to appear lacklustre, dull and flat. The accumulation of dead skin cells may also result in a grey-ish complexion. Achieve glass-like radiant skin with the following Korean face masks!
4. JAYJUN Intensive Shining Mask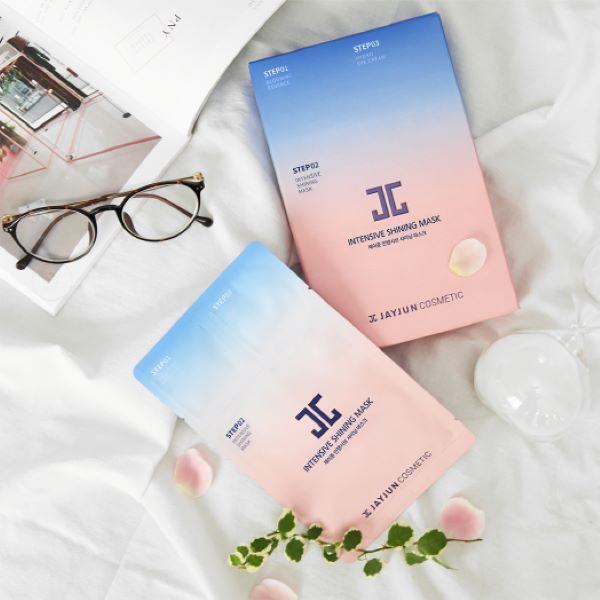 The JAYJUN Intensive Shining Masks (available on jayjun_official.sg) is a Korean face mask that's formulated with some of the best skincare ingredients. It contains niacinamide, adenosine and betaine which have brightening, plumping and hydrating effects respectively! Despite it's higher price point, the JAYJUN Intensive Shining Mask is value for money as each pack contains a face essence, eye cream and the mask pack! 
After using your facial cleanser, apply the essence all over your skin and tap lightly for better absorption. Then, apply the mask sheet for 20 minutes before using the complimentary eye cream to give your under-eyes a much-needed hydration boost. Be amazed at how well your makeup applies after this intense skin pampering!
5. Dr Jart+ Shake & Shot Rubber Brightening Mask

For a truly innovative and fun mask, try out the Dr Jart+ Shake & Shot Rubber Brightening Mask (available on cosblah)! Check out the above video on how to use it. This rubber mask penetrates the skin deeper than regular sheet masks, allowing for the skin to absorb a higher amount of powerful active ingredients. While the packaging itself is enough for us to whip out our wallets, the rubber mask also comes infused with great ingredients like Vitamin C, sea buckthorn fruit extract that'll give your skin a luminous glow!
The Dr Jart+ Shake & Shot Rubber Brightening Mask comes with two sachets of solutions — just mix them together and you're good to go. They also include a spatula for you to help spread the rubber mask onto your skin without contaminating it with your fingers. Hygienic and adorable packaging? We are sold!
Pro tip: Keep the spatula after use, you can reuse them for other peel-off or wash-off masks!
Best Korean face masks for dry skin
Whether you've naturally dry skin or developed it due to environmental factors, focus on hydration for your skincare routine. Your dry skin may crack, peel and become inflamed if you do not take good care of it. Besides installing a humidifier in your room or on your work desk, you can also turn to Korean face masks for a quick and effective solution. Discover the best Korean face masks in Singapore for dry skin below!
6. Dr.Jart+ Rubber Mask Moist Lover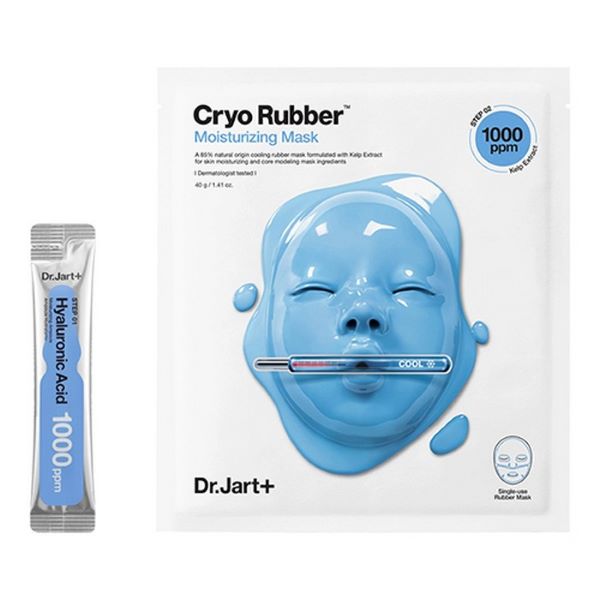 Dr.Jart+ is a trusted dermatological cosmetics brand with scientifically tested products that are safe even for hypersensitive skin! Indulge your dry skin in the ultimate hydration therapy with the Dr Jart+ Cryo Rubber Moisturizing Mask (available on Shopee Supermarket). It comes with a hyaluronic acid ampoule for deep hydration. What's more, this Dr. Jart + mask is made with algae and clay coated with kelp extract, which not only helps to moisturise the skin but also eliminates impurities, leaving a healthier complexion.
What makes this one of the best Korean face masks in Singapore for dry skin is the rubber mask, which helps to better penetrate the skin and lock in the moisture. The results? Moisturised and supple skin that's less likely to itch or peel!
7. HERA Hyaluronic Filler Mask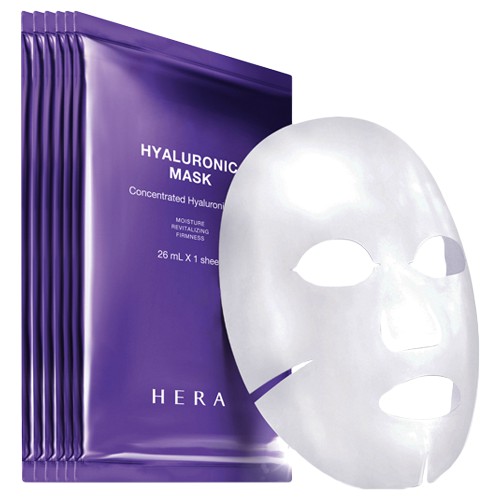 When it comes to the best Korean face masks in Singapore for dry skin, there's no surprise that HERA sits high up on the list. This high-end cosmetics brand is renowned for its effective and superb quality skincare products that have been raved by top tier actresses and supermodels alike. 
HERA understands the difference hyaluronic acid makes to dry skin, which is why it's the main ingredient used to formulate the HERA Hyaluronic Filler Mask (available on marketkueen.sg)! Hyaluronic acid acts as a powerful moisture magnet, drawing moisture of over 1,000 times its own molecular weight deep into the skin. For the best results, massage your face in an outwards motion using both the middle and ring finger with the mask still on, to achieve firmer, glowing skin!
8. Medicube Ringer Mask Moisture Hydra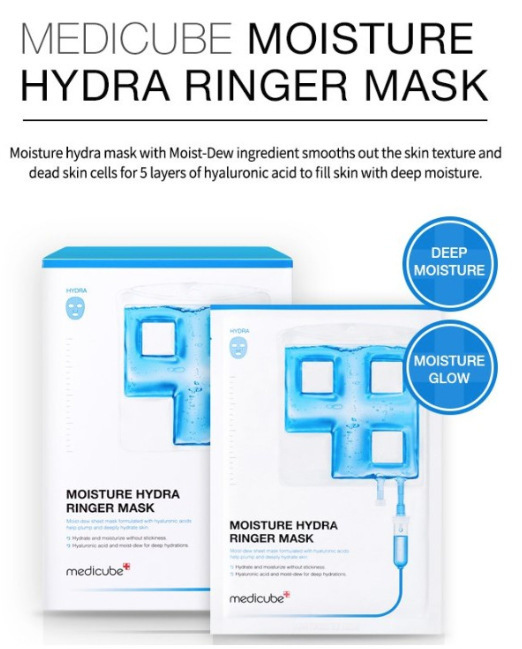 Moisturized skin helps the skin look and feel smoother. Give your dry skin a much-needed boost of hydration with the Medicube Moisture Hydra Ringer Mask (available on Medicube Official Store). It comes infused with five layers of hyaluronic acid to ensure penetration into the skin and maximum hydration. 
The Medicube Moisture Hydra Ringer Mask also includes panthenol, which is great for soothing skin and reducing trans-epidermal water loss. If you're a fan of Medicube, feel free to check out their other masks including Revital Nourishing, Shining Toning and Relax Calming!
Best Korean face masks for acne-prone skin 
Pesky acne and unsightly blemishes can affect your overall appearance and take a toll on self-confidence. Some of the causes of this skin issue include hormonal imbalances and stress. A general rule of thumb; do not pick or squeeze your blemishes as it may exacerbate the condition and cause scarring. While acne and blemishes may be some of the trickiest skin issues to tackle, there's no need to fret. We've got some of the best Korean face masks in Singapore to help improve your complexion! 
9. Miss Dragon Wasabi Green Facial Mask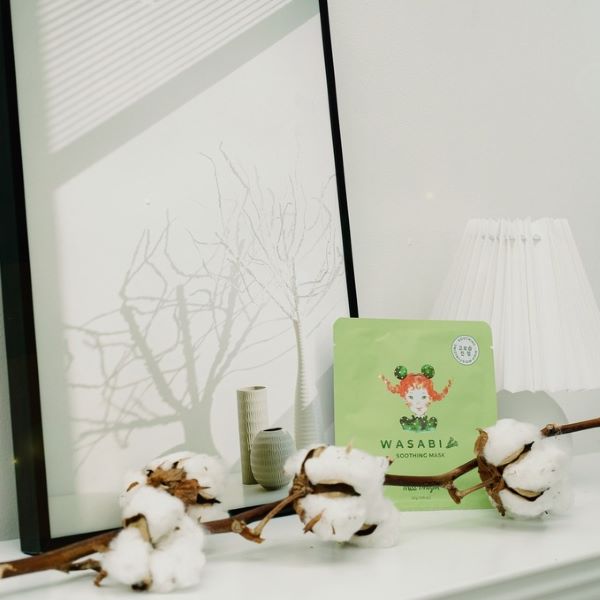 Wasabi and the word soothing may not seem to go well together, but this Wasabi Green Soothing Mask (available on missdragonofficial.sg) is one of the best Korean face masks for troubled, acne-prone skin. This key ingredient in this mask is wasabi root extract, which has anti-inflammatory and antibacterial properties that help to heal the skin and boost circulation. Together with green tea extract and centella asiatica for additional soothing benefits, this mask is suitable even for those who suffer from red inflamed skin. 
10. Lindsay Tea Tree Modeling Mask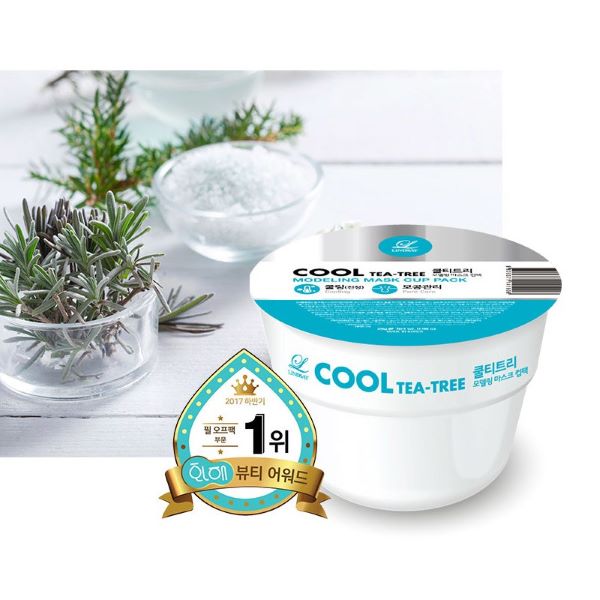 Those who've been to facial treatments would know how intensely calming and effective modelling masks are in revitalising your skin. Bring the spa experience home with the Lindsay Tea Tree Modeling Cup Pack (available on CoScOs KOREA) to soothe troubled skin! The Lindsay mask contains a powder that is mainly made from tea tree leaves, an ingredient known for reducing redness and relieving irritated skin. 
Mix the powder in the cup pack with seven spoons of cold water or toner (highly recommended) and spread it evenly across your face. After 15 minutes, peel the mask off to reveal dewy, moisturised skin! 
11. Mediheal P.D.F. AC-Dressing Ampoule Mask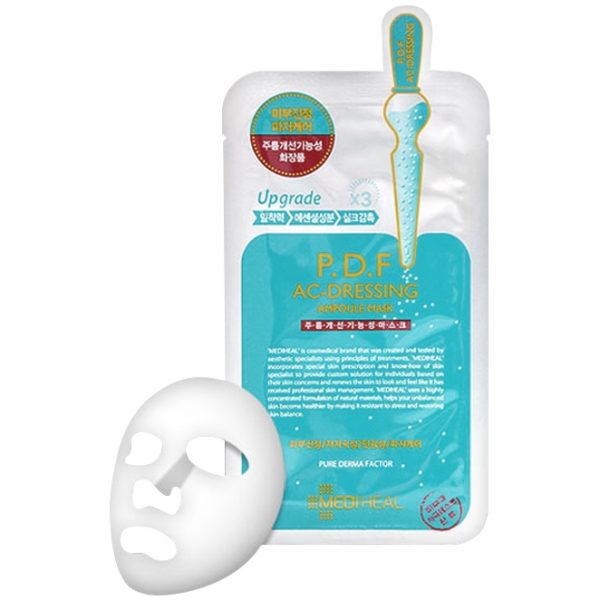 When you have acne-prone skin, you need to be extra careful of the products you use on your face! Mediheal is a trusted cosmetics brand famous for its high-quality sheet masks. The brand has created some of the best Korean face masks in Singapore and has sold more than 10 million sheet masks across the world! 
The Mediheal P.D.F. AC-Dressing Ampoule Mask (available on Florray Singapore Official Store) is formulated with salicylic acid, one of acne's greatest enemies! Together with centella asiatica and portulaca oleracea extract, this Korean face mask effectively controls sebum production and eliminates pore-clogging to promote healthy and blemish-free skin. For the best effect, the brand recommends consistent use of the face mask, two to three times a week over a span of a month. 
Psst, if you're a fan of LINE friends, don't miss out on the adorable Mediheal LINE Friends P.D.F. AC-Dressing Ampoule Masks (available on beautynthefit.sg)!
12. Dr.Jart+ Clearing Solution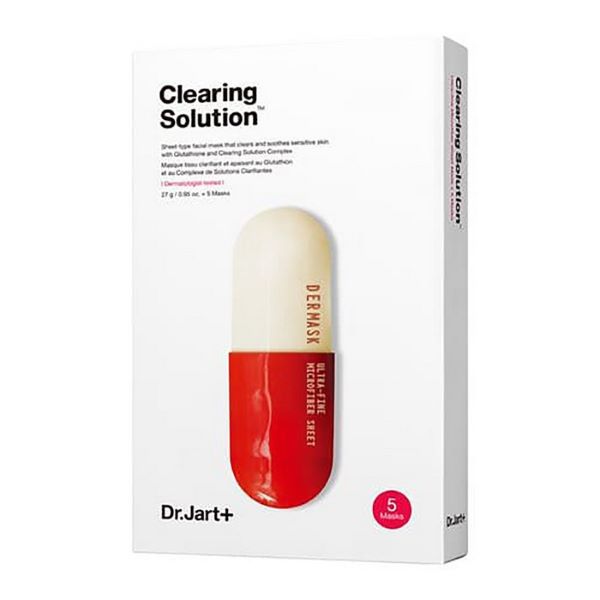 Tame those annoying breakouts and inflammation with one of the best Korean face masks in Singapore for acne-prone skin — Dr.Jart+ Clearing Solution (available on Shopee Supermarket)! Formulated with glutathione, this mask helps to even out skin tone and reduces redness. In addition, it contains salicylic acid and tea tree oil to combat pimples, whiteheads as well as control oil production! 
Besides these effective ingredients, this mask does not contain artificial fragrances, alcohol and sulfate-based surfactants — a godsend for those with acne-prone skin. For the best results, don't forget to give your skin an extra boost of hydration with a good moisturiser after using the mask!
13. April Skin Calendula Peel Off Pack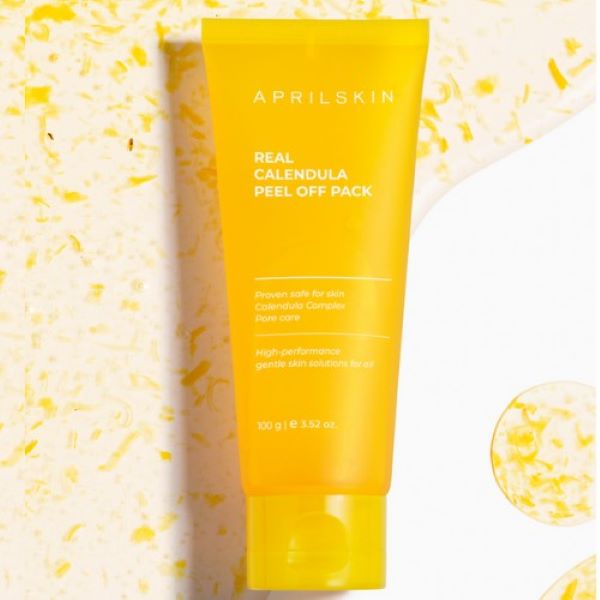 You've probably already heard of the highly raved April Skin Calendula Peel Off Pack (available on Aprilskin Official Store). This peel-off mask helps remove dead skin cells, which is crucial in acne prevention as dead skin can contribute to clogged pores. Alongside that, it's packed with a chock-full of skin-friendly ingredients including calendula flower extract which has antibacterial and anti-inflammatory properties and orange peel oil to brighten the skin and fade acne scars.
The April Skin Calendula Peel Off Pack can be applied with either clean fingers or a jelly brush (available on April Skin Official Store), avoiding the eyes and mouth. Leave the mask on for 30 minutes and let it dry. You will start to feel the mask tighten on your skin as it dries down. Now, for the fun part — peel off the mask! Challenge yourself to peel it all off in one piece. We've tried but sadly, yet to succeed.
Best Korean face masks for ageing skin
As you age, you may start noticing fine lines, age spots and skin dryness. Your skin also appears more sallow and saggy, making you look tired and haggard. The main culprit behind skin ageing is sunlight. Stay out of the sun as much as possible and apply your sunscreen religiously so as to avoid exacerbating your skin's ageing process. Meanwhile, help your skin battle premature ageing with some of the best Korean face masks in Singapore!
14. NOBLESSE Fermentation Essence Mask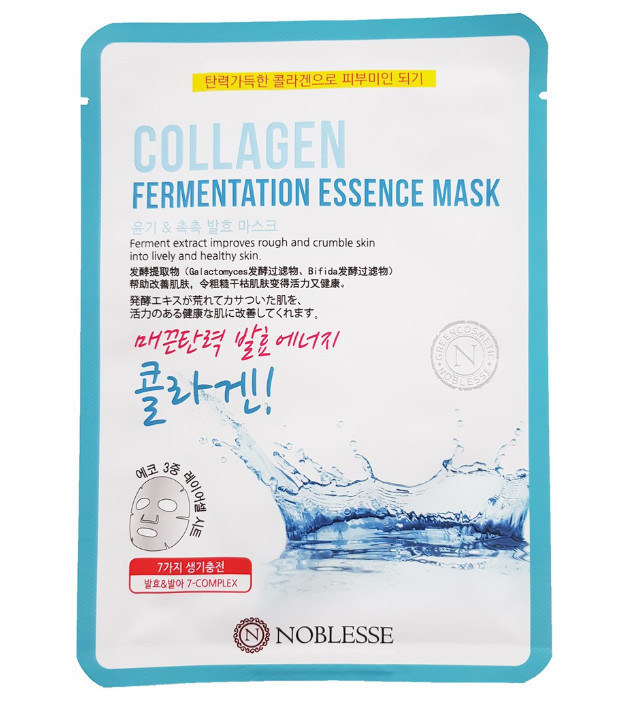 For those who follow closely with Korean skincare, fermentation essence should be no stranger! The NOBLESSE Fermentation Essence Mask (available on topkorea.sg) comes infused with galactomyces — a popular and potent anti-ageing ingredient in Korean skincare. Galactomyces is a type of yeast, but don't let that deter you! They were first discovered as a byproduct of fermenting sake, whereby sake brewers noticed that their hands stayed smooth and wrinkle-free while the rest of their body aged.
Aside from galactomyces, the NOBLESSE Fermentation Essence Masks come 15 different types. We highly recommend their Red Ginseng mask to improve skin elasticity. It also serves as an antioxidant to prevent skin cells from ageing.
15. Innisfree Second Skin Firming Mask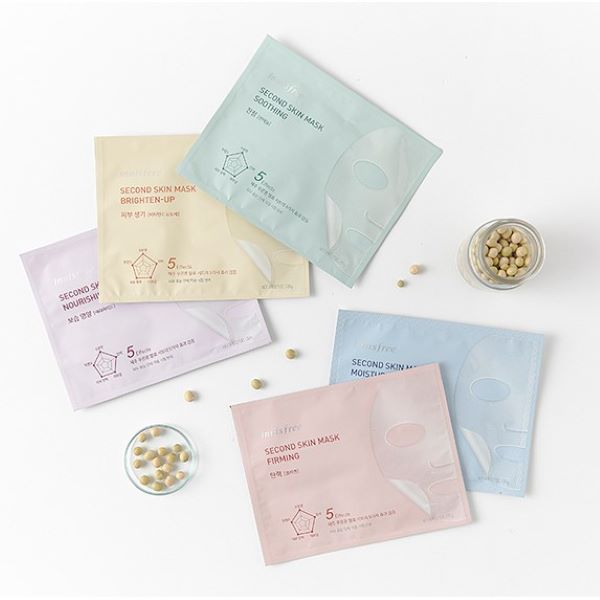 Living up to its name, the Innisfree Second Skin Moisturising Mask (available on Innisfree Offical Store) adheres to the skin wonderfully as if it were another layer of skin. Unlike regular Korean sheet masks, this Innisfree mask is made of bio-cellulose from fermented plant fermented nanofiber. This allows for better adherence and penetration of the mask essence. It also has a cooling effect when worn, which is great for Singapore's hot weather.
Try out the best Korean face masks and achieve glass skin today!
We hope this list helps you find your holy grail Korean face masks! Besides mask sheets, complete your skincare routine and achieve flawless skin with our recommended list of Korean skincare products. Consider introducing some variety into your skincare routine and try out our list of best clay masks to reap more skincare benefits. Maybe even flaunt your smooth skin with fun Korean makeup products like best Korean lip tints to give yourself a moisturised and pretty pout to match!

This article was updated on 13-10-2021. Additional research done by Liang Shi Nan.