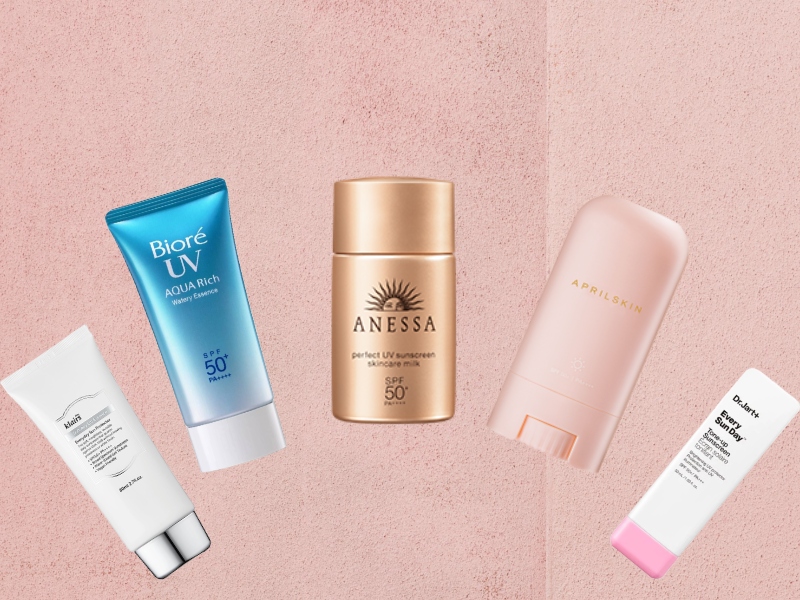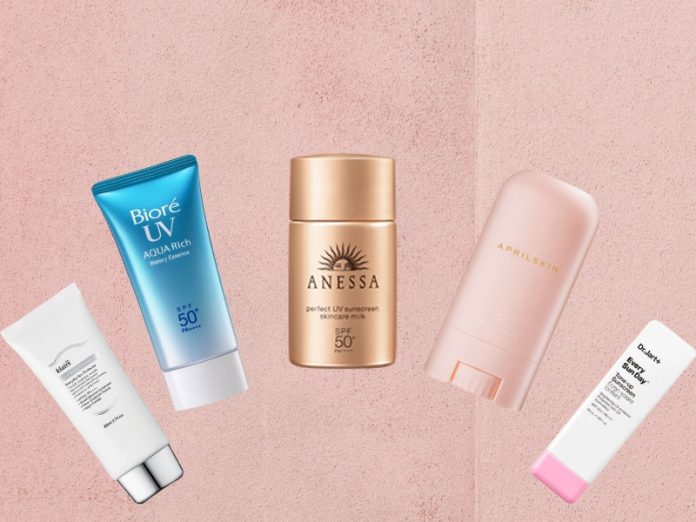 Applying the best of sunscreen in Singapore is crucial for youthful skin. Admit it, many of us skip this step in the morning and go straight ahead to either piling on our makeup (for girls) or simply applying moisturiser (for guys), because this step is just too mafan and we're always rushing to leave the house.
So, why is sunscreen so important? To put it simply, wearing sunscreen will help protect your skin from the damaging ultraviolet rays and in the long run, failure to protect will be reflected on your skin 10 to 15 years down the road. In addition, it will also help prevent the onset of skin cancer, which is a real and pressing problem.
If we've convinced you (which we hope we did), here's a list of best sunscreens in Singapore for face that will be perfect for wearing under makeup no matter the weather!
1. Anessa Perfect UV Sunscreen Skincare Milk ($18.89)
The Anessa Perfect UV Sunscreen Skincare Milk (available on MOFFIE) has a SPF of 50 PA +++ and is said to be great for daily protection and moisture and is catered more towards normal to oily skin. It has a non-sticky milk formula, making it super comfortable for users to apply under your makeup too! The sunscreen is said to become more effective when in contact with water or sweat, which is very common given Singapore's climate. It is no wonder this is one of the best sunscreens for face in Singapore!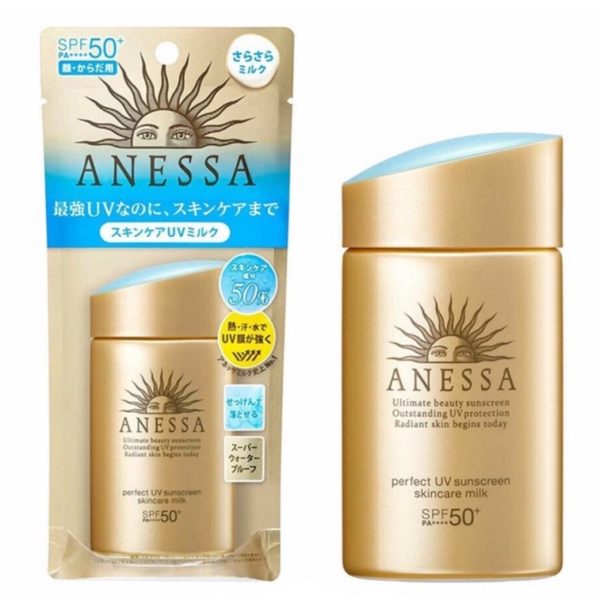 Promising Review- "The product glides on the skin so well and easy. It feels a bit sticky when I first apply it but it will dry out within a minute to create a smooth finish. It won't leave a white cast or greasy layer on the skin that may haunt other people coz you definitely don't want to look like a zombie in pictures so it is necessary to choose a non-white cast sunscreen." – Anonymous
2. Biore UV Aqua Rich Watery Essence ($18.90)
If you're on a budget and do not want to spend too much on sunscreen, you should consider the Biore UV Aqua Rich Watery Essence (available on Kao Official Store) which is said to be a cheaper alternative to Anessa's Perfect UV Sunscreen Skincare Milk. What's so special about it? Well, for starters, it claims to have a waterproof and sweatproof formula, making it the perfect sunblock for Singapore's climate as we sweat buckets on your face! In addition to that, it also has a light, watery texture that is easily absorbed into your skin, giving it a non-sticky finish. Psst, some even say that it can be used as a makeup base.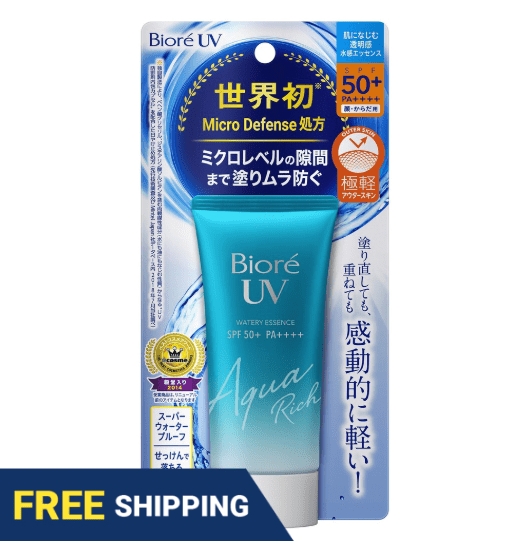 Promising Review- "My fave sunscreen ever. I alternate this one with other Japanese and Korean sunscreens, but I love this one the most. This might not be the usual descriptive info, but others have done that very well. Unlike American sunscreens that are mostly too thick, leave a whitish cast, stink to high heavens, clog my pores, and ruin my makeup, this does not do any of that, and is a keeper. You can also tell the manufacturer refined the formula for a better application." – stephgray
3. Jayjun Watermelon Hydro Sun Cushion ($52.44)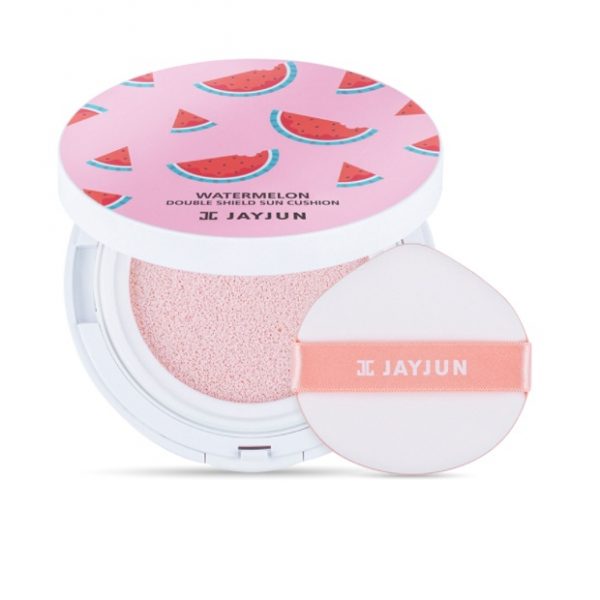 Applying sunscreen on a daily basis has tons of benefits, but having that extra layer of application on your skin may backfire if you are using the wrong products. The Jayjun Watermelon Hydro Sun Cushion (available on honeypumpkin_korea.sg) is engineered for daily application! On top of the UV protection it provides, this sun cushion comes packed with minerals to moisturise improve moisture in your skin. These benefits are in addition to the cooling and soothing effects that the watermelon properties bring about. The pinkish hue of the sunscreen also allows this product to double up as a makeup base! So if you're looking to invest in a sunscreen for the long-term, you may have just found your answer as this is one of the best sunscreens for face catered to weathers like Singapore's.
Promising Review- "The versatile sun-protective cushion offers 48-hour of moisture for the whole family. Thanks to a watermelon complex of fruit extract and seed oil, the product quenches the skin, creates a cooling sensation, and soothes tired, sun-exposed skin." – Unnie.sg
4. ROHTO Skin Aqua Super Moisture Gel Sunscreen ($15.55)
With the new advanced Solarex-3 technology, this Skin Aqua Super Moisture Gel Sunscreen (available on March Sg) is definitely designed to provide an all-encompassing 3-in-1 UV defence system which will help to protect your skin against sun damage, premature ageing and dryness caused by these darn UV rays! As the name suggests, this sunscreen also has a light watery texture, giving a weightless, non-sticky feel. If you're looking for a sunscreen in Singapore that will give you a nice matte powdery finish on your face, this will be your best bet!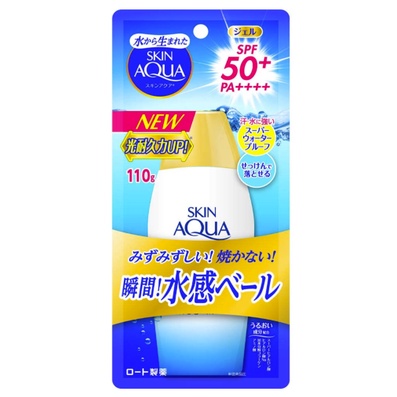 Promising Review- " I was quite pleasantly surprised. Only a couple minutes after applying it to my face, it doesn't even feel like I put any on in the first place. It doesn't even have that nasty sunscreen smell that I've smelled from literally every other sunscreen I've encountered. It also doubles great as a moisturizer. I've found a lot of the time I won't even moisturize my face after putting this on just from how great a job it does. I really don't think this is going to be leaving my morning routine any time soon." – David
5. Klairs Soft Airy UV Essence ($21.50)
The Klairs Soft Airy UV Essence SPF 50 PA+++ (available on giangcosmeticqbqx.sg)  is an everyday sun protector for sensitive skin. As is it water-based, it holds a gel-type texture to give a soft weightless and light finish. Also with its high SPF and PA level, it completely guards the skin against UVA, UVB without leaving any greasiness or white cast. This is definitely perfect for those who have sensitive skin and do not like the tackiness of a typical sunscreen!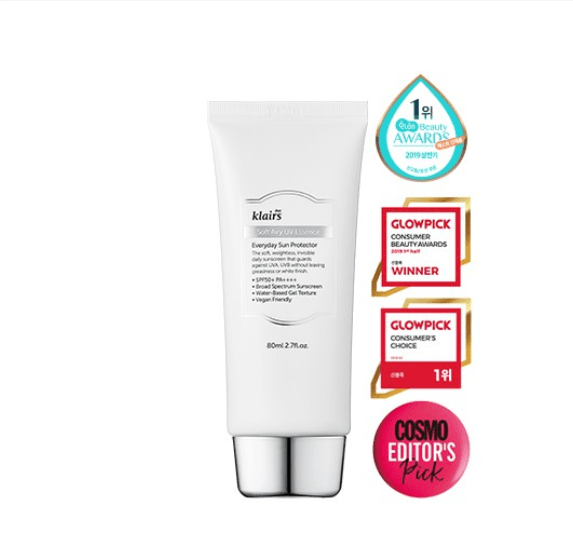 Promising Review-"I'm extremely happy with the Klairs Soft Airy UV Essence in this respect as it meets my expectations – it's very hydrating, blends smoothly, absorbs and dries down quickly and leaves no white cast." – Anonymous
6.La Roche-Posay Anthelios Anti-Imperfection Sunscreen ($35.18)
Anthelios Anti-Imperfections Corrective Gel-Cream (available on La Roche Posay Official Store) is a dermatological suncare product enriched with Salicylic Acid and Niacinamide. The formula provides very high broad spectrum protection (UVA-PF 21, UVB, certain Infrared-A and pollution damage) for acne prone skin at risk of UV-induced marks and post-sun breakouts. This sunblock is both non-oily and non-sticky, perfect for those who have oily T-zones on their face. This is perfect for acne prone skin at risk of UV induced marks and post sun breakouts.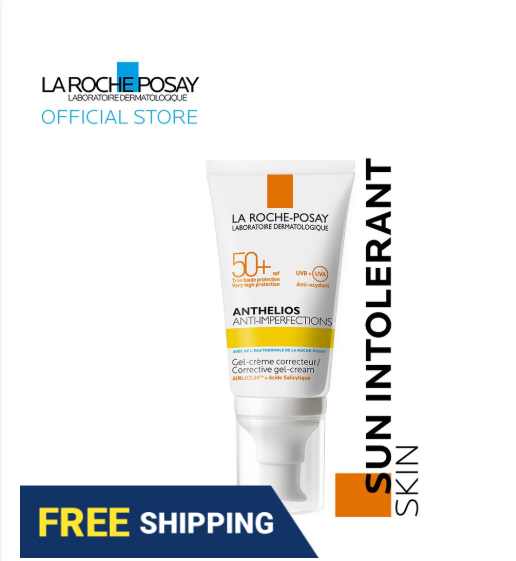 Promising Review- "I love this! My skin didn't react to this at all. It is not greasy at the end of the day." – Anonymous
7. Kiehl's Ultra Light Daily UV Defense ($46.40)
You know how some sunscreens are just so heavy and creamy that you feel weighed down by it? Well, that is because you aren't using this! Albeit on the pricey side, the Kiehl's Ultra Light Daily UV Defense Sunscreen SPF50++ (available on GODWELL COSMETICS) is famed for its light texture that is easily absorbed by your skin with a few pats. Unlike other brands, the product also doesn't leave a sticky or greasy finish on your skin. Apparently, there are reports that it can even help prevent up to 90% of skin ageing problems such as fine lines and wrinkles!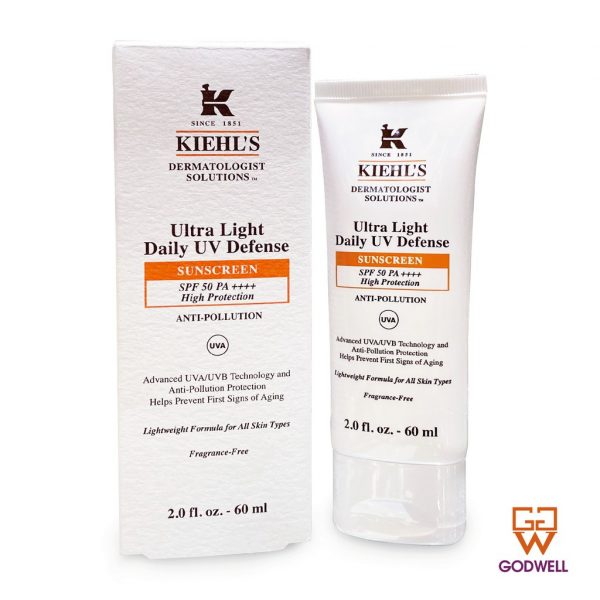 Promising Review- "I really like how "dry" this feels on my face. All the other 50 SPF sunscreens make me look pale and shiny like a disco ball. This behaves like a daily moisturiser, I sometimes even forget I have it on. It is very light and comfortable. " – 翻译
8. Neutrogena Ultra Sheer Dry-Touch Sunscreen ($15.00)
You might be put-off at first glance when you squeeze out a little of the sunscreen because of the thick and creamy consistency. But, unlike most other "thick" sunscreens, the Neutrogena Ultra Sheer Dry-Touch Sunscreen (available on jorzz) is readily absorbed into your skin with a quick massage and best of all, it gives a non-greasy finish, making it comfortable to wear under makeup. If you have sensitive skin and do not have the budget to get the La Roche-Posay Anthelios XL Ultra-Light Fluid Sunscreen, you know what to get! This comes highly recommended as one of the best affordable sunscreen products for face in Singapore.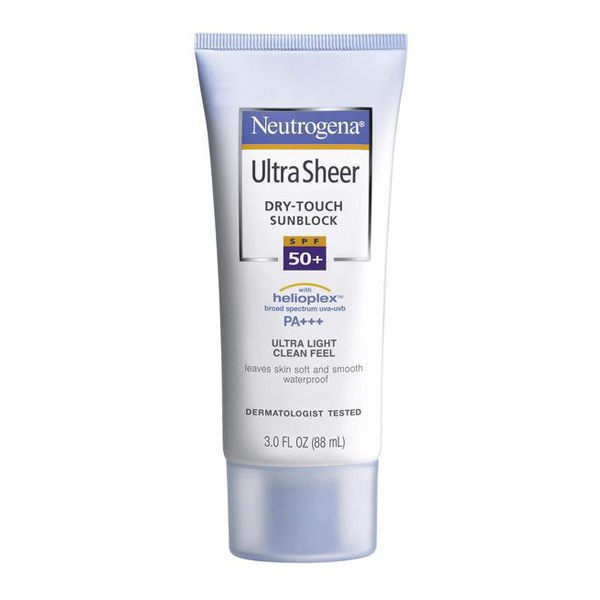 Promising Review- "As a person with oily skin I've been searching for a good sunscreen that won't leave me looking shiny and greasy an hour after applying. This stuff is IT. I apply this sunscreen, top with primer, then dust my face in loose powder and have no problem staying matte for the majority of my day. Highly recommend this stuff." – coolbeans83
9. Dr. Jart Every Sun Day Tone-up Sunscreen ($16.20)
This sunscreen is a lightweight sunscreen that has both moisturising and soothing benefits, preventing dryness and yet, it does not leave the skin feeling greasy or sticky. With a subtle light pink-beige colour, the Dr. Jart Every Sun Day Tone-Up Sunscreen (available on NARRSHA) can even work to colour correct your skin tone for a healthier and brighter skin tone. Just a word of caution though, if you have a slightly dark or brown skin tone, this might not work as well and might leave your skin looking slightly grey without makeup.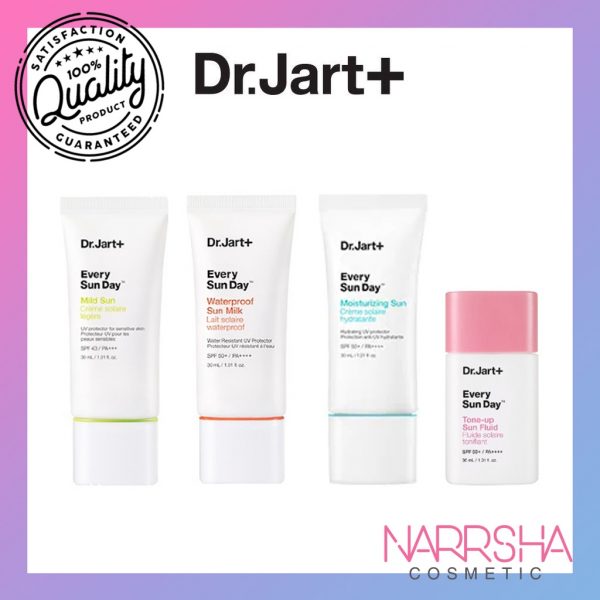 Promising Review- "This is one of the few sunscreens I would consider wearing on my face because it's not greasy, unscented, doesn't have a white cast and isn't sticky. It applies like a moisturiser and doesn't just sit on my skin. I also love the bottle. It has a little nozzle, so you only get as much of the product as you want and is very hygienic. This is something I would use every day." – pillager13
10. Sofina Jenne Whitening UV Cut Emulsion ($33.00)
Sofina Jenne Whitening UV Cut Emulsion (available on YuYu Collection) is both a moisturizer and Sunscreen. It is moisturizing yet not sticky or oily. It is also easily absorbed into the skin and is lightweight as well.  Make sure to shake well before use and it is best to use it after application of toner.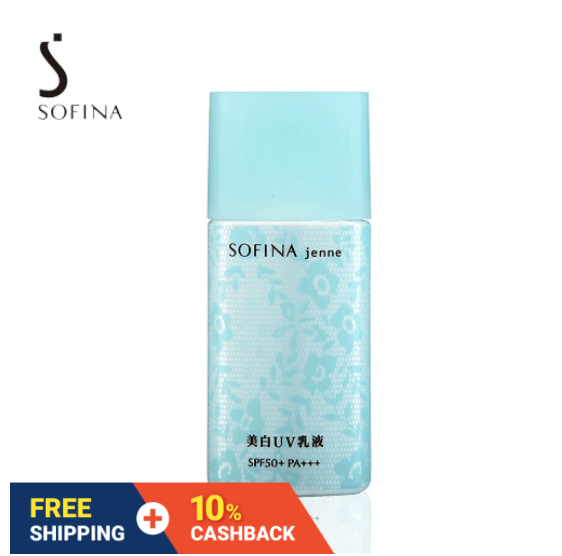 Promising Review- "This sunscreen is really amazing! i expected it to be greasy like most sunscreen, but this definitely proved me wrong! I am on second bottle already!" – Anonymous
11. Make p:rem Daily Sun Fluid ($17.99)
A new addition to the K-Beauty scene, the Make p:rem Daily Sun Fluid (available on Bringyouglobal.sg) was hyped by many Korean Youtubers since its release. If you're looking for a primer with SPF, this might be your best bet! It is so thin and light that you can easily apply your makeup over it during the day. Squeeze a little out and the cream surprisingly spreads water-thin and even breaks into tiny dew-like droplets when it comes in contact with your skin. The sunblock not only promises to hydrate your skin but also help to instantly cool your body down, which to us, is the best kind of sunscreen for face to be used in tropical Singapore.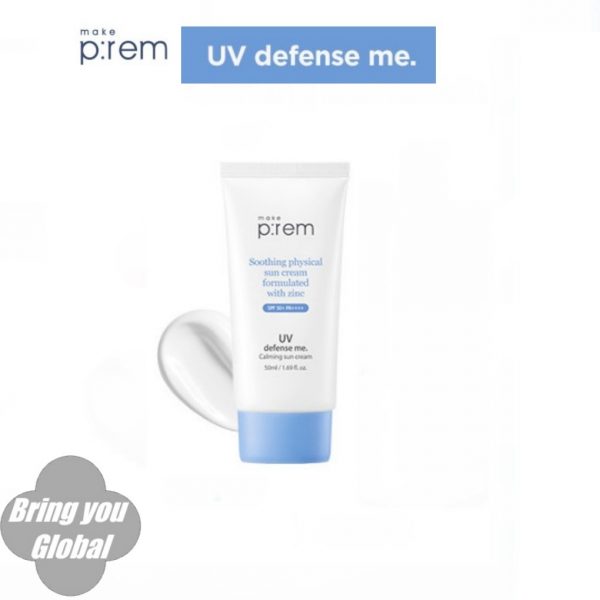 Promising Review- "Texture is smooth and upon blending gets a bit watery and absorbs well. Do note though that for the first five minutes your skin will be oily. This leaves a greasy feel for a good five minutes but then disappears. Skin feels soft and hydrated and no longer greasy after five minutes. Has a mild floral scent to it. It comes in a pump bottle and very affordable for its price. The bonus is that it has chock-full of nourishing fermented plant extracts, niacinamide and hyaluronic acid. Niacinamide is also high up on the ingredient list. It doesn't leave a white cast and feels like you're wearing nothing at all. Doesn't pill under foundation either or layered on top of other skincare. Has not broken me out. I usually skip moisturiser if I use this on its own, it's pretty hydrating for me. But if you have dry skin, best to apply a good moisturiser underneath first. Overall, I love this. This is my new favourite sunscreen. Highly recommended!" – aishteru85
12. NALC Non-Alcohol Perfect Waterproof Sunblock ($34.90)
This NALC Waterproof Sunblock SPF50++ (available on nalc.null.official.sg) is a top-selling Sunscreen in Japan ranked #1 in Rakuten Japan, and is known to be suitable for sensitive skin types. The sunscreen has a lightweight texture and does not form a white cast upon application. Not only does it protect your skin thoroughly, it doubles up as a nifty moisturiser!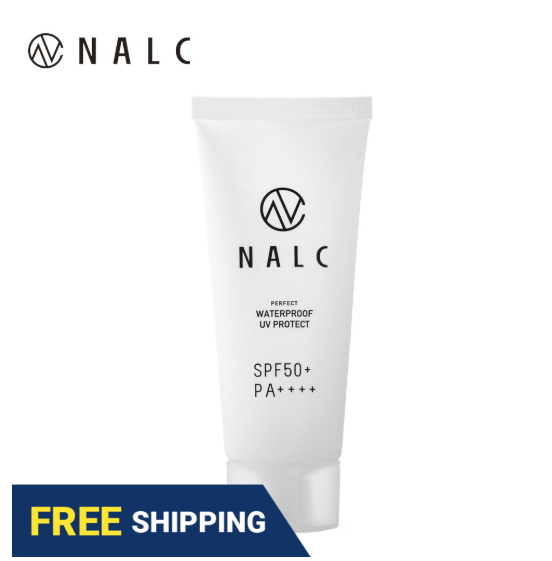 Promising Review- "This is the first time I have used such an effective sunscreen! This sunscreen protects my skin and it does not come off while sweating or come in contact with water. Super recommended!" – Christina Lee
13.  Medicube Red Moisture Cooling Sun Stick ($28.00)
This Medicube Red Moisture Cooling Sun Stick (available on Medicube Official Store) is perfect for sensitive skin because it is non-comedogenic and uses non-nano ingredients which does not clog pores, hence preventing breakouts. Apart from providing 100% physical sun protection, it is also non-greasy and does not leave a tacky feeling after application. Furthermore, what makes it more attractive is that there is no white cast, hence making it perfect for slathering on before you apply your makeup.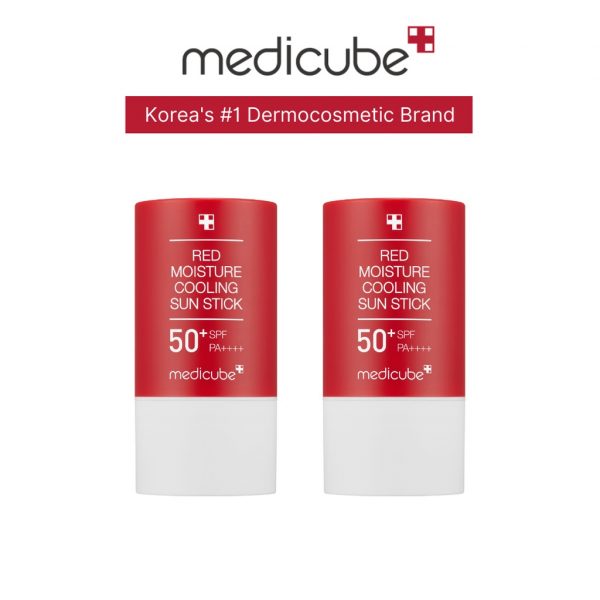 Promising Review- "The texture is like essence when I applied it on my face, also no white cast and non-sticky at all :)" – Dan
14. Beauty of Joseon Relief Sun: Rice + Probiotics
This is the sunscreen that has taken the internet by storm, especially on TikTok! This Relief Sun: Rice + Probiotics (available on Glowest.sg) by Korean brand Beauty of Joseon is worth all the hype. The luxury skincare brand has launched plenty of amazing products that many love, and their sunscreen is one that you must not miss. Not only does this SPF50+ PA+++ organic sunscreen provide strong protection against UV radiation, it also contains grain fermenting lysate ingredients that helps strengthen your skin. It is akin to using a moisturiser and sunscreen at the same time!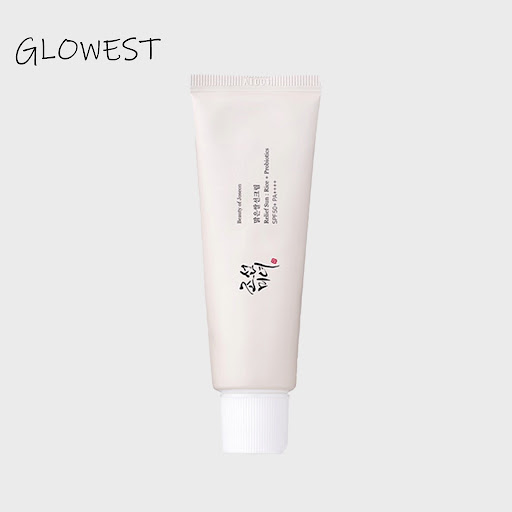 Promising Review- "I'm really digging this sunscreen! It feels so comfortable on my sensitive skin and I love that it offers a little moisture to my now dry winter skin without overwhelming it with grease. I also really appreciate that there isn't a shiny finish to this because it means I never hesitate to apply this in the morning!" – Kelly Driscoll
Well, what sunscreen are you using now? Let us know in the comments below!