Few things in life can match the importance of quality time with a loved one. In an island as tiny as Singapore, things to do in Singapore with your kids can seem limited. But with a little creativity, you'll find there's plenty of nooks and crannies to explore given the variety of Singapore attractions for kids. Bond with your little ones over a trip to the Singapore Zoo or take them kite-flying at the barrage! Here are 15 of our favourite fun things to do in Singapore with kids!
Best things to do in Singapore with kids
1. Marina Barrage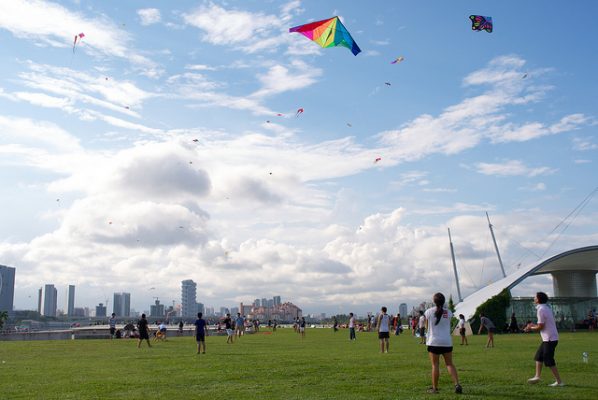 Opening our list of things to do in Singapore with kids is the de facto place for kite flying. Marina Barrage is one of the most popular places in town for relaxing picnics and flying multi-coloured kites. With zero obstructions, a wide open space and frequent gusts of wind, this will soon become  one of your favourite Singapore attractions for kids to relax at. Wind down after kite flying with a nice picnic as you enjoy the magnificent scenery and company of loved ones.
Address: 8 Marina Gardens Drive, S(018951)
Opening Hours: 24/7 
2. The Singapore Zoo, Night Safari and River Safari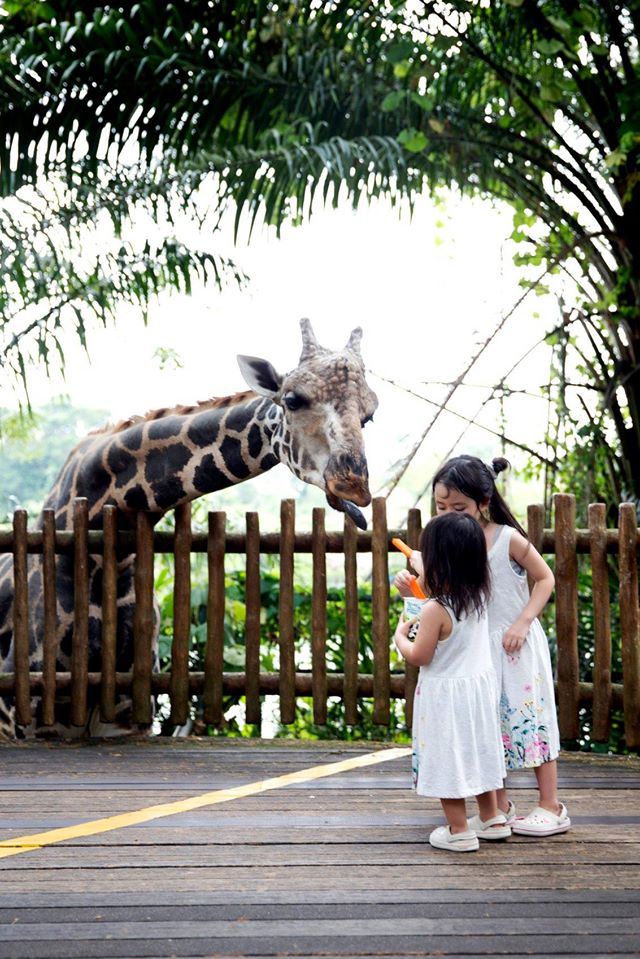 Zoo visits are one of the staples when it comes to Singapore attractions for kids! With a diverse range of enclosures and exhibitions, no two visits will ever be  the same here. Besides getting entertained by the various animal shows, your kids will also learn to appreciate the majesty of endangered animals like the Sumatran elephant and orangutan. With the brand new animal adoption scheme, we think zoo visits will be an even more  popular thing to do in Singapore with kids! Make sure to buy Singapore Zoo, River Safari and Night Safari (all available on 1travel.sg) attraction tickets online at special rates!
Address: 80 Mandai Lake Road, S(729826)
Opening Hours:
Singapore Zoo: Daily, 8:30am – 6pm
Night Safari: Thu – Sun, 7pm – 11pm
River Safari: Daily, 10am – 7pm
3. The Cat Cafe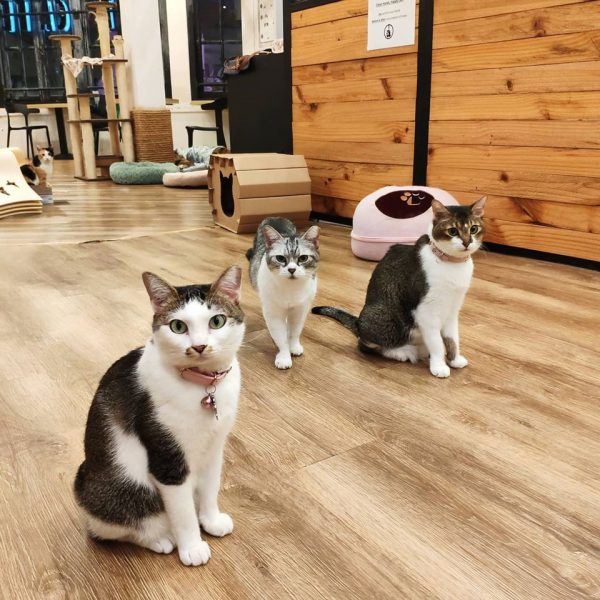 Empathy is one of the most important life skills for a child to develop. Nurture this by letting them interact with rescued cats! At The Cat Cafe, kids aged above six are allowed to observe (and possibly interact with) their rescued cats. Given that cats have a tendency to act on their own and go anywhere they please, this visit will teach your kids to be both patient and empathetic. Charging on a per entry basis, enjoy the company of the cats for as long as you please while sipping on coffee and munching on yummy cakes!
Looking to let your precious pet tag along? Check out our selection of the best pet-friendly cafes in Singapore!
Address:
Bugis – 241B Victoria Street, S(188030)
The Rail Mall – 392 Upper Bukit Timah Road, S(678046)
Opening Hours:
Mon: 3pm – 10pm
Tue – Sun, Public Holidays: 10am – 10pm
4. Pulau Ubin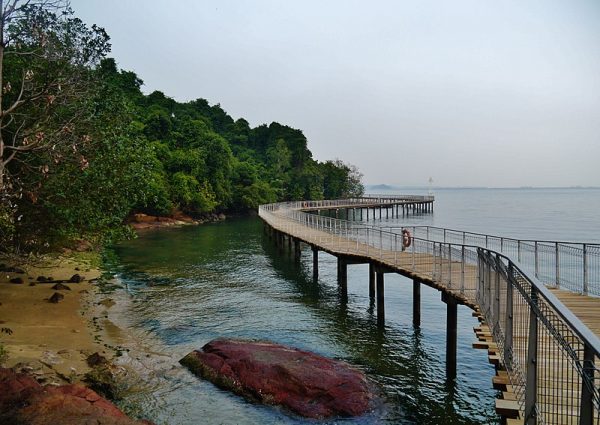 Be transported back to the good old days with a visit to Pulau Ubin! This is one of the more adventurous things to do in Singapore with kids as you get to cycle or hike the day away. While many locals might know Pulau Ubin as one of Singapore's last kampong villages, the island has plenty of must-see natural sights. These include picturesque abandoned granite quarries and an intertidal wetland area known as Chek Jawa — a sight you can take in via the coastal boardwalk. Bring along water bottles and plenty of sunscreen so your kids don't get dehydrated or sunburnt.
Ferry Terminal Address: Changi Point Ferry Terminal, 51 Lorong Bekukong, S(499172)
Ferry Operating Hours: Daily, 6am – 7pm
Chek Jawa Operating Hours: Daily, 8.30am – 6pm
5. Sentosa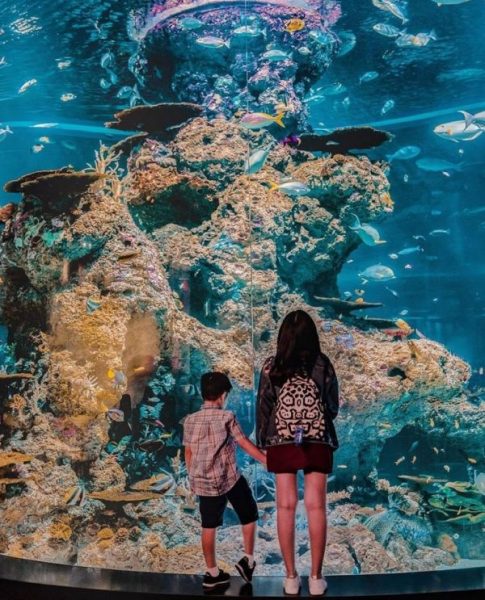 Packed to the brim with things to do, Singapore's Sentosa is home to many entertaining kids activities. Looking for one of Asia's best theme parks? Check out tickets to Universal Studios Singapore. Want to learn more about marine life? Visit S.E.A Aquarium, Southeast Asia's largest aquarium. Visitors are free to go all-out or kick back and relax with the wide number of free and paid Singapore attractions for kids to visit. Refer to our handy guide on things to do in Sentosa guide if you're planning a trip! Otherwise, purchase tickets for Universal Studios Singapore and S.E.A Aquarium (both available on Changi Recommends Official Store) with us and save more!
Address: Sentosa Island
Opening Hours: Attraction-dependent
6. Sungei Buloh Wetland Reserve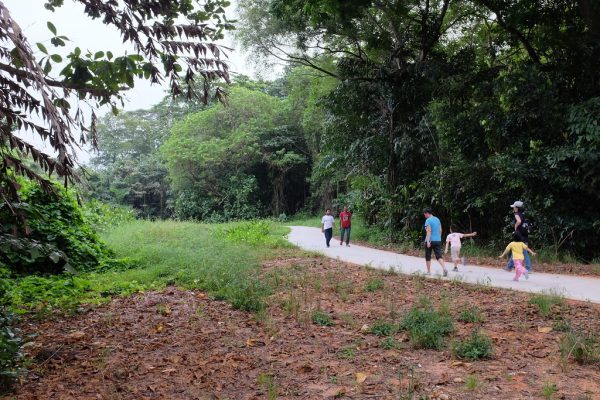 Pegged as Singapore's first ASEAN Heritage Park and acting as a rest stop for migratory birds, Sungei Buloh Wetland Reserve is at the top of the list for nature loving parents looking for things to do in Singapore with their kids. If you're lucky, you might spot the resident smooth otter family or milky stork!

Besides being a pit-stop for an unusually large variety of bird species, Sungei Buloh also holds one of the last few mangrove swamps in Singapore. Your kids will enjoy learning about the importance of mangrove swamps on guided walks around the wetlands at one of the most educational Singapore attractions for kids!
Wetland Centre Address: 301 Neo Tiew Crescent, S(718925)
Opening Hours: Daily, 7am – 7pm
7. Fire station open house
Who would've guessed that a fire station would be one of the most popular Singapore attractions for kids? As one of the lesser known things to do in Singapore with kids, families are free to visit the fire station open house every Saturday morning for a tour! The busy SCDF firemen take great pride in their firefighting duties and are more than happy to give a grand tour of the place and show off their vehicles and equipment.

You'll definitely want to check out Singapore's Central Fire Station as it holds plenty of sentimental and historical significance. From jumping into the famous Red Rhino to enjoying water hose demonstrations, your kids are bound to have a blast exploring the ins-and-outs of a fire station. So plan a date and secure your booking by registering early!
Central Fire Station Address: 62 Hill Street, S(179367)
Fire Station Open House:
Sat: 9am – 11am
By registration only.
8.

Children's Garden at Gardens by the Bay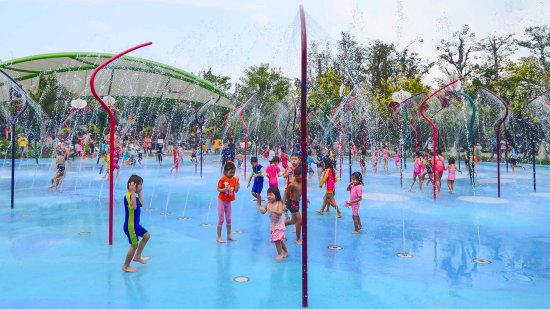 Gardens by the Bay makes for a fantastic venue for fun things to do in Singapore with kids. Besides the spectacular Flower Dome and Cloud Forest (available on Changi Recommends Official Store) attractions, make sure to pay a visit to the Children's Garden. A big playground designed to stimulate your child physically and mentally, the Children's Garden contains treehouses, a water play area and an adventure trail for your kid to experience. Moreover, much like the rest of the entries in our free water parks guide, admission is completely free!
Address: Gardens by the Bay, 18 Marina Gardens Drive, S(018953)
Opening Hours:
Tue – Sun: 9am – 8pm
9. J²​ Terrarium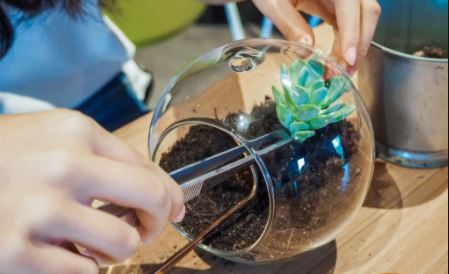 Want to  learn something new with your little one? Why not try building a terrarium! J²​ Terrarium's Terrarium Workshop (available on J2 Terrarium SG Official Store) educates you and your child about the intricacies of creating and maintaining a terrarium. While they do provide the materials required to creatively construct a terrarium, the end product is entirely made by both you and your child. The best part about this meaningful activity is bringing your personalised terrarium home and displaying it as a happy memory!
Address: A'Posh Bizhub, 1 Yishun Industrial Street 1, #04-06, S(768160)
Operating Hours: By appointment only.
10. Clip 'n Climb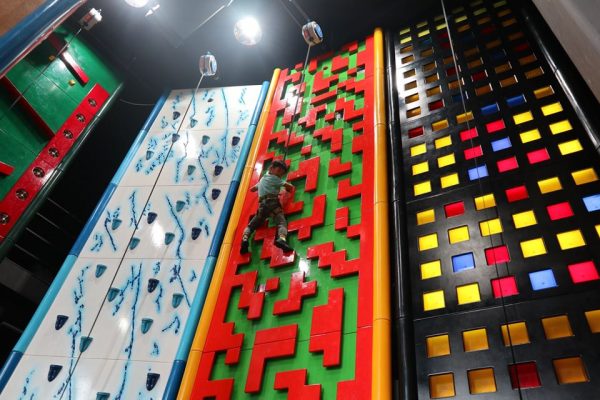 Fancy a full-body workout experience when it comes to things to do in Singapore with your kids? Clip 'n Climb is a unique climbing gym that showcases one-of-a-kind climbing walls to challenge your family! From ice-like walls that arm climbers with ice picks to Tetris-inspired surfaces, your tots will be impressed by the vibrance and innovation included with each wall. Regardless of whether your younger ones are experienced scalers or beginners to rock climbing, Clip 'n Climb's various walls certainly provide enough challenge to physically stimulate them.
Address: Our Tampines Hub, 1 Tampines Walk, #03-03, S(528523)
Opening Hours:
Mon – Fri: 12pm – 8pm
Sat – Sun: 10am – 8pm
11. BOUNCE Trampoline Park
Running out of things to do in Singapore with kids? Why not visit BOUNCE trampoline park for an adrenaline pumping time! As one of Singapore's premiere indoor playgrounds for visitors bubbling with free-jumping energy, you'll adore BOUNCE. If your little ones are new to trampolining, they'll certainly appreciate programmes like Tramp Camp and Flight Academy that'll get them up to speed with basic and intermediate skill. Alternatively, once they're masters, let them try out the skill-intensive Ninja Warrior-inspired X-Park that's packed with brutally difficult obstacles that'll push their skills to the limit! With the BOUNCE trampoline park open-dated voucher (available on Changi Recommends Official Store), you can head down whenever's convenient for you and your family.
Address: Cineleisure Orchard, 8 Grange Road, #09-01, S(239695)
Opening Hours:
Mon – Fri: 10am – 7pm
Sat – Sun: 10am – 9pm
12. Timezone Arcade
Contrary to popular belief, today's modern arcades in Singapore are perfect for kids to hang out at with their bright motifs and colourful gamut of arcade cabinets. Gone are the dark and seedy vibes as Timezone has transformed their arcades into family-friendly havens that are chock-full of interactive games. From carnival games like Skee Ball and Air Hockey to classic driving cabinets like Daytona USA and Mario Kart, there's plenty of kid-friendly options to choose from! Did we also mention that Timezone's flagship branch at VivoCity has VR setups and full-scale bumper cars? With all these grand additions, it's no wonder many consider a visit to the arcades as one of the best things to do in Singapore with kids.
Want to save on arcade visits? Pre-load on credits by checking out the Timezone Smart Game Pack (available on Shopee Digital Official Store).
*Do note that the voucher is only viewable on mobile
Flagship Branch Address: VivoCity, 1 HarbourFront Walk, #02-43, S(098585)
Opening Hours: Daily, 11.30am – 9.30pm
13. Jacob Ballas Children's Garden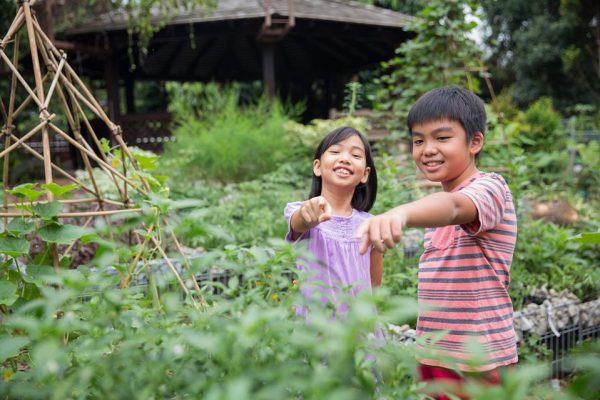 Not to be confused with the aforementioned attraction at Gardens by the Bay, the Jacob Ballas Children's Garden is Asia's first garden dedicated to young patrons! Nestled within the Botanic Gardens, the Children's Garden offers kids an expansive natural area for adventure and exploration. From walking along streams to gliding through forests on the flying fox, your tykes will be spoilt for choice as the place caters to their inner explorer! The best part is that the Jacob Ballas Children's Garden weaves in nuggets of wisdom among all these interactive activities. With tonnes of flora surrounding them, they're free to delve deeper into the surrounding ecology and cultivate their love for nature!
Address: Botanic Gardens, 481 Bukit Timah Rd, S(259769)
Opening Hours:
Tue – Sun, 8am – 7pm
14. Snow City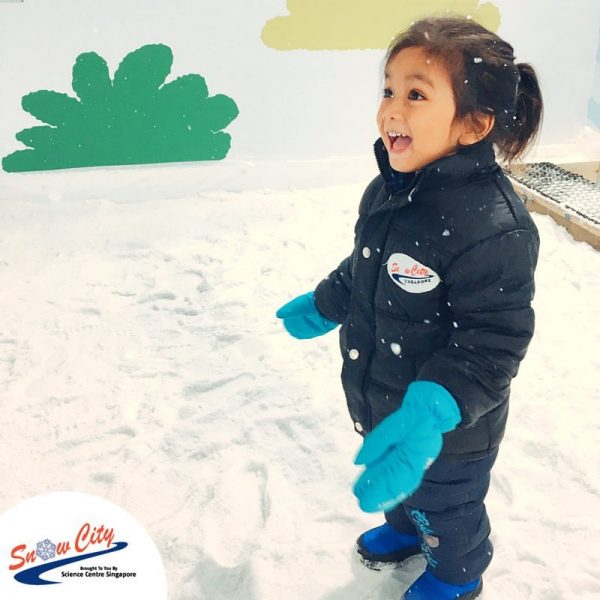 Beat the sweltering heat and make snowing in Singapore a reality by visiting Snow City! For the uninformed, Snow City is Singapore's first indoor snow centre that allows you to experience winter in the tropics. This makes the venue a prime Singapore attraction for kids! Visitors get to try winter activities like making snow angels and having snowball fights. On top of featuring authentic snow, must-try activities include chilling in an igloo and snowtubing! So what else are you waiting for? Book your Snow City open ticket (available on weekendgowhere) and experience the winter wonderland for yourself!
Address: Snow City Singapore, 21 Jurong Town Hall Road, S(609433)
Opening Hours:
Wed – Sun: 10am – 1pm, 2pm – 5pm
School & Public Holidays: 10am – 1pm, 2pm – 6pm
15. Jewel Changi Airport Canopy Park
No list of things to do in Singapore with kids would be complete without mentioning the popular Canopy Park at Jewel Changi Airport! Far from just being home to the impressive HSBC Rain Vortex, Canopy Park is a recreational wonderland that welcomes all with its array of eye-catching attractions. From taking in the Petal Garden's sights to getting lost in the Mirror and Hedge Mazes, your little ones will be in for a treat as they're stimulated both mentally and physically. So wait no longer and secure your spots today with these Canopy Park tickets (available on King's Travel)! Once you're exhausted out from exploring Canopy Park, make sure to refuel by visiting these Jewel Changi Airport food outlets.
Address: Jewel Changi Airport, 78 Airport Boulevard, S(819666)
Opening Hours:
Mon – Thu: 10am – 10pm
Fri – Sun: 10am – 11pm
Exciting visits to these Singapore attractions for kids await
We hope this guide gives you a better idea of the fun and educational things to do in Singapore with kids! For more ideas on stimulating your younger ones, check out our curated list on sensory activities for toddlers. Looking for a wet weather plan due to the unpredictable Singapore weather? Encourage your kids to develop a love for reading with these best children's books!
---
New to Shopee? Get $7 off (min. spend $15) with code*: 15FUNKIDS
*TNC Applies. Valid for new users from 31 Aug to 7 Sep 2020 only.