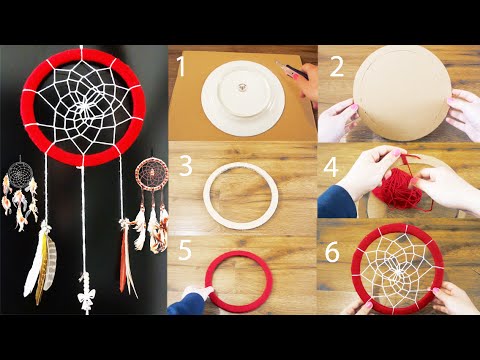 Need more ideas on how to get your little one off their mini iPads this March school holidays 2020? DIY arts and crafts for kids are a great way to hone your child's creative talents and keep their minds active! 
Craft activities help to develop fine motor skills and more importantly boost your child's self-esteem especially when you encourage them. This list of arts and crafts for kids plus parents is the perfect way to spend more time with your little ones! 
1. DIY Dreamcatcher
Native Americans believed in the existence of good and bad dreams. The dreamcatcher is regarded as an object that captures bad dreams and allows good dreams to 'flow' down the feathers to the sleeping person.

Make a dreamcatcher with your child and decorate his or her room! This arts and crafts project for kids is perfect, especially for your older children. All you'll need is a metal or wooden hoop, some yarn, decorative beads and feathers to make the dreamcatcher of your choice!
2. How to draw
Pick up a marker and spend time honing your child's creativity! Ignite Art does excellent step-by-step drawing videos for kids! Instead of letting your child watch the videos themselves, why not join them? Besides creating quality bonding time, doing the same art piece together will be encouraging and special for them too! 

Doubt your drawing abilities? Don't worry too much about the technical drawing skills and motivate your child to try his or her best instead!
3. Flower bouquet
Use the March school holidays 2020 to instil the importance of recycling to your kids! Create an arts and crafts project for kids out of used egg cartons! Simply cut out each cavity of the egg carton, shape the individual cavity into flowers then paint and layer them one on top another to make a beautiful flower bouquet! 
Pop this flower bouquet into a vase and display it in your home. Your child will feel proud of this piece of home decor they've contributed to
4. Snow globes
No travel plans during the March school holidays 2020? You aren't really missing out! This environmentally-friendly arts and crafts for kids not only encourages you to reuse old mason jars but also whisks your child to a snowy winter wonderland from the comfort of your home! Want to get rid of the pesky plastic figurines lying around the house or perhaps your child's old Lego toys? Use them in this snow globe instead!

This activity also doubles up as a science project for kids. When going through the different steps of making the snow globe, ask your kids to predict what would happen. For example, before placing the toy into the jar, ask whether the toy would sink or float (float, hence the need for the glycerin)! Have fun and glitter up with this DIY snow globe!
5.  Matching bracelets
Fulfil your childhood wish of making DIY jewellery and create matching Macrame bracelets with your children today! Macrame is the art of knotting string in pattern to make decorative objects where the square knot is the primary knot used.

This detailed technique will test your patience but once mastered, you can wear your jewellery like a badge of honour! This craft activity is not just for girls though, your sons can make them too! This arts and crafts project for kids is perfect for older kids to teens and will be sure to keep them entertained and busy this March school holidays 2020. 
6. Origami penguin
Paper folding jump-starts your child's creativity and is one of the easiest arts and crafts for kids. Start with Origami — the art of folding paper without making cuts or using glue — a safe craft activity that can be done anywhere at any time!

Check out this step-by-step tutorial on how to fold an origami penguin. We bet you'd be pros after a few tries! It's not a bad idea to carry origami paper in your bags too so you can engage your child in these easy crafts if you're ever stuck waiting around in public.
7.  Stained glass window art
This is an easy and beautiful art and craft project for kids of all ages. Take advantage of our tropical weather and catch the sun rays with DIY colourful stained glass window art.

Mix glue and food colouring to create a special coloured paint that will stay on your glass panes. Encourage your child to mix the colours and paint on the glass pane in any way they want to and voila! You'll have a gorgeous stained glass window art to hang in your home.
8. Rubber band powered car
Arts and crafts for kids can make for interesting science projects too! Why not make a rubber band-powered car and introduce your kid to concepts like aerodynamics through a fun DIY experiment! Just be careful to oversee this project closely as it involves the use of a hot glue gun. Make two or more cars and race it out with each other for some healthy competition!
9. Hand print designs
Hand print designs are one of the easiest arts and crafts to do with kids, including toddlers! Pull out a drawing paper, dip your entire hands in some paint and transform each handprint into animal designs! This is a great activity to encourage your child to think out of the box and show them there are endless possibilities with a simple hand print design!   
Beyond arts and crafts for kids…
Want to send your kids for dedicated art lessons during the school holidays? Check out our list of the best art classes in Singapore they'll definitely enjoy! Alternatively climb new heights together during the March school holidays 2020 at some of the best climbing gyms in Singapore. Or check out other recommendations on things to do with kids in Singapore.
Whatever you choose to do, remember to have fun with your child! 
This article was updated on 04-01-2020. Additional research done by Natasha Lau.