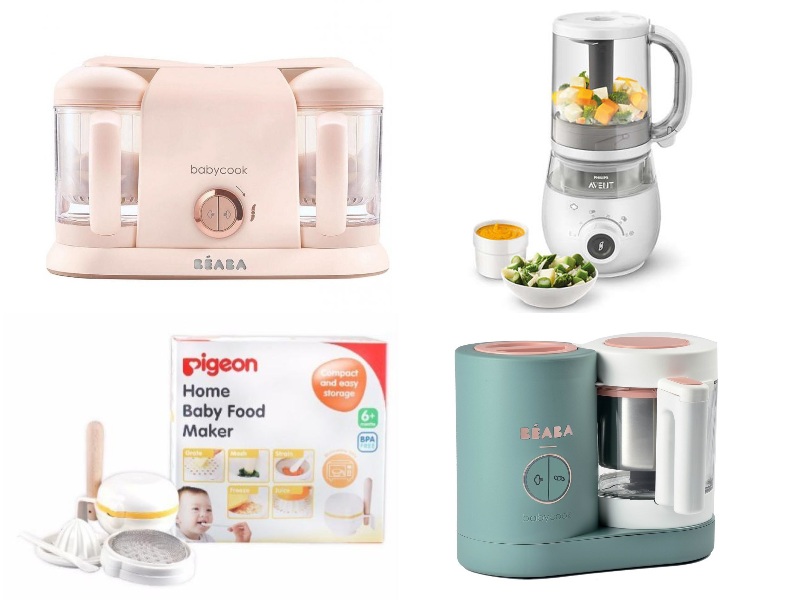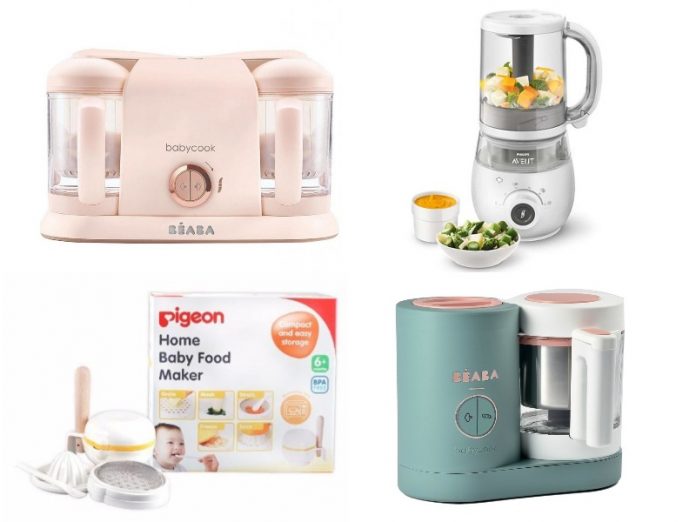 From mashing, steaming, pounding and pureeing, there can be a lot that goes into making homemade baby food. But did you know that you can whip up quick and delicious meals with the aid of a baby maker? This is every parent's best kept secret and saves you precious time! Learn more about this multipurpose kitchen appliance and check out some of the best baby food makers worth investing in! 
What is a baby food maker?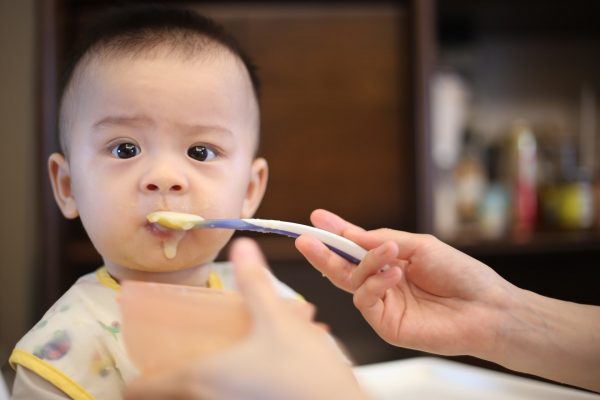 To put it simply, an electrical baby food maker is a blender, steamer and food processor all-in-one. This multipurpose appliance can help cut down on the number of kitchen appliances needed to make a nutritious meal for your child. Additionally, a baby food maker makes cleaning up easier since all the cooking is done within the same appliance!

While an electrical baby food maker is the perfect solution to make your child's meal at home, it's not portable enough to bring with you when you're travelling with your little one. In such cases, we suggest relying on manual baby food makers. They are a  simpler, non-electrical tool that can help you achieve the same result. Manual baby food maker sets often come with a grater, crusher, strainer and squeezer so you can make yummy and healthy baby food on-the-go! Read on for our top picks of electric and manual baby food makers!
Best baby food makers in Singapore
1. Beaba Baby Neo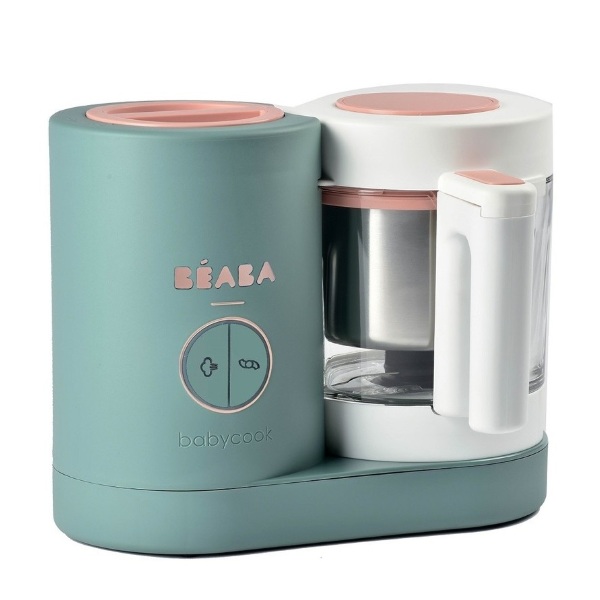 When it comes to aesthetics, the Beaba Babycook Neo (available on Pupsik SG Official Store) has got to be one of the best looking baby food makers available on the market. This baby food maker is every parent's dream kitchen companion. From fine puree to chunkier baby meals, this stylish appliance can do it all for you!
The in-built baby food blender is designed with a unique pulse-blend feature so you can have maximum control over the consistency of your child's meal. Additionally, the device is equipped with a steam cooking system which automatically turns off when your baby food is cooked! You can even reheat or defrost your ingredients in the Beaba Babycook Neo, eliminating the need for a separate pot or microwave! Moreover, it's good to note that the device is BPA, lead and phthalate-free so chemicals won't contaminate your bub's food.
2. Philips Avent 4-In-1 Healthy Baby Food Maker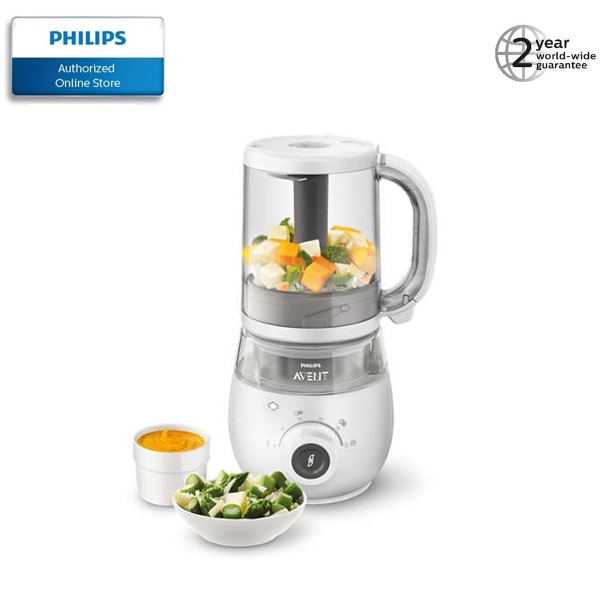 While the Philips Avent 4-In-1 Healthy Baby Food Maker (available on Philips Certified Store) may look like any regular blender, it's in fact, jam-packed with useful functions to make your life easier as a parent. To make nutritious homemade baby food, simply pop fruits (peeled) and vegetables into the Philips Avent 4-in-1  baby food maker and steam until tender. This device boasts unique steaming technology that circulates the steam from bottom up, ensuring that all your ingredients are well cooked. Steaming is also one of the healthiest cooking methods as it retains all the ingredients' natural goodness and nutrients for your little one. 
Once that's done, simply unlock the container and flip it around to reinsert into the appliance. Now you're all ready to blend the food up into a puree! This device makes cooking baby food unbelievably easy as there's no need to fumble with additional attachments like a steamer basket. All the cooking is kept in a single jar for fuss-free cleaning! But the best part about this baby food maker is its one-litre jar capacity. Perfect for busy parents, this device can cook up to four meals at a time. So start meal planning for your little one and store the unused portions in the freezer for later consumption! 
3. Tommee Tippee Baby Food Maker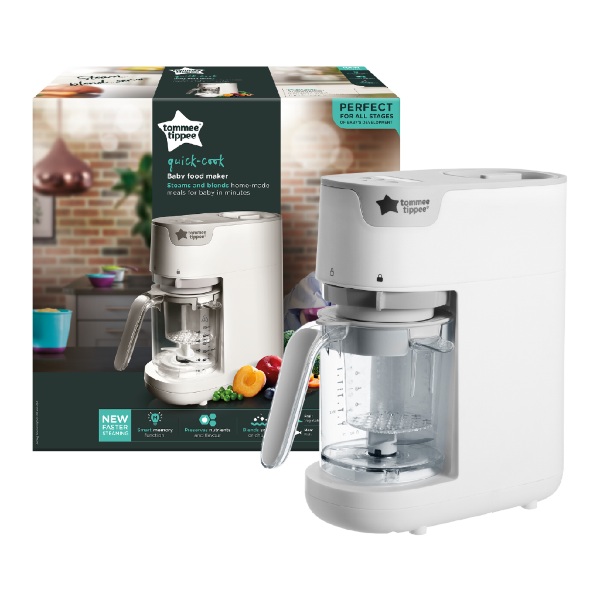 The Tommee Tippee Baby Food Maker (available on Tommee Tippee Official Store) is another one of the best baby food makers for multitasking parents. Equipped with an automatic timer and smart switch function, this baby food maker is capable of switching from steaming to blending mode seamlessly once the ingredients are cooked. This means you don't have to stay around to monitor the device. There's also no need to worry about overcooking or over blending your food. Simply move on to other important tasks while the device does its job and come back when it beeps! 
Moreover, we also adore its space-saving ergonomic design that takes up minimal counter space. Plus, you'll find a hand spatula hidden in the jar's handle so you can stir the food whenever needed!
4. Beaba Babycook Plus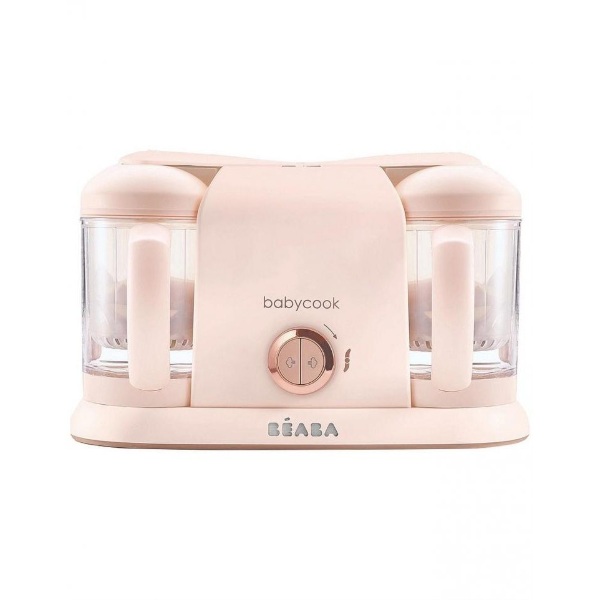 It's twice the size and double the convenience when it comes to the Beaba Babycook Plus (available on Pupsik SG Official Store)! While this baby food maker may take up a bit more space on your kitchen counter, it's totally worth it once you discover how much more efficient it is to prepare your child's meals! 
Want to prepare both your own and your bub's meal before heading to work? The Beaba Babycook Plus is one of the best baby food makers to prepare two meals at the same time. The two large bowls hold up to 1.1 litres each so you can be making soup in one while whipping up a delicious smoothie in another. Additionally, the steam power button isn't centralised. This means you can enjoy better control over your cooking via the dedicated steam power button for each bowl. It's good to note that while both bowls can be used to steam your ingredients, the baby food blender is only available on one side of the device. 
5.
OUKE 304 Baby Food Maker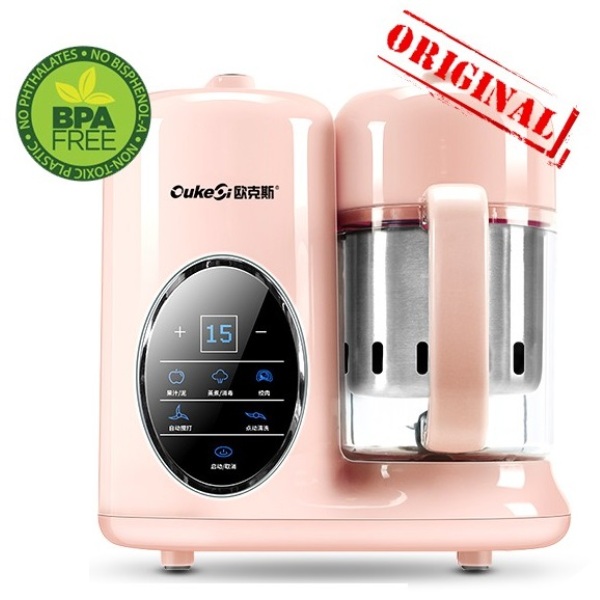 We all know by now that many baby food makers can steam and blend food into the right consistency for our little ones. But what makes the OUKE 304 Baby Food Maker (available on happytao.sg) special is its additional ability to disinfect. Simply pop your baby utensils or baby bottles into the bowl and turn on the disinfecting mode. The device will produce high-temperature steam to effectively kill bacterias and germs.
Another great thing about this baby food maker is the cleaning mode. It's always a struggle to thoroughly clean a baby food blender, but this will not be the case when you use the cleaning mode on the OUKE 304 baby food maker. Now there's one less thing to worry about on your to-do list!
6. Farlin 7-in-1 Baby Food Maker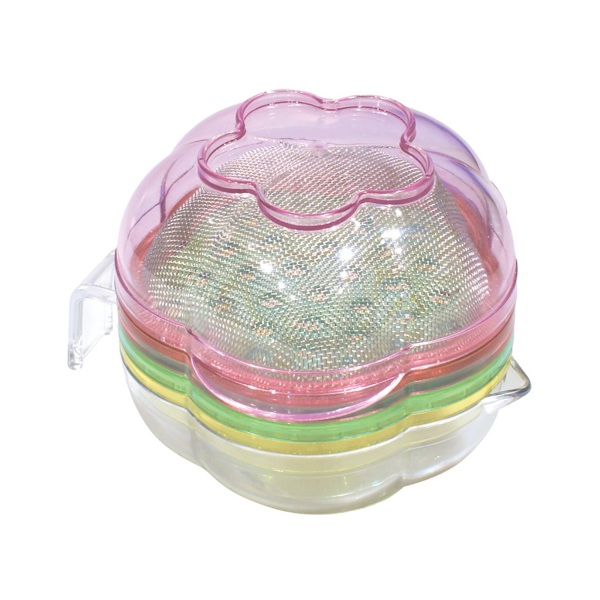 Many parents cave and turn to instant baby food pouches when travelling with kids. But making a healthy home-cooked meal for your little one while on-the-go is completely doable when you have the Farlin 7-in-1 Baby Food Maker (available on Farlin Baby SG Official Store). Despite its compact and simple design, this manual baby food maker can perform four different functions —  grate, smash, juice and strain! The set comes with seven components, including a strainer, squeezer, grater, pestle, serving bowl as well as baby fork and spoon. It's all you need to make your little one a delicious bowl of mashed potatoes or a cup of orange juice to kickstart the day! Plus, each component is easy to wash and can collapse together to fit into any diaper bag or luggage.  
7. Pigeon Home Baby Food Mbaby faker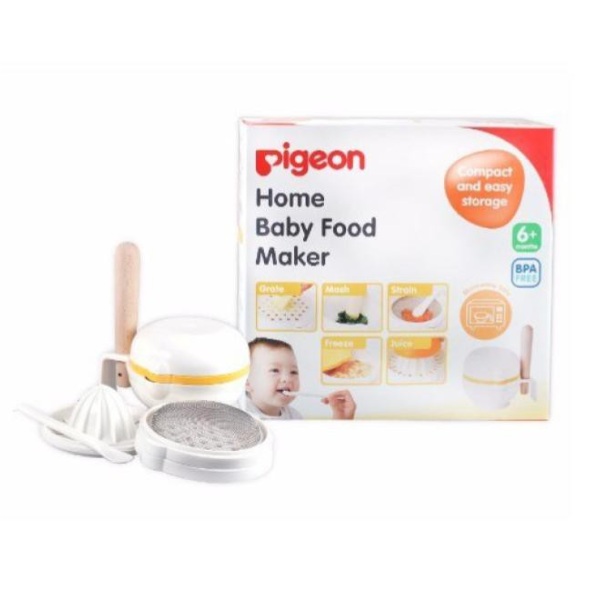 While most manual baby food makers perform similar functions, what sets the Pigeon Home Baby Food Maker (available on Pigeon Official Store) apart is its storage component. This is one of the best baby food makers for families on-the-go because the set comes with an additional storage container and lid on top of its six other components. While it doesn't seem like much, the extra storage option comes in handy when you need to store leftover baby food for your little one to snack on when they are hungry again. You can also keep your baby food ingredients fresh in the storage container for later use. 
The entire manual baby food maker set is BPA free, microwave and freezer safe. This means you can easily freeze fresh ingredients in the kit or pop it into the microwave for a quick reheat. 
Fill your little bub's belly with delicious baby food!
Now that you've got yourself equipped with some of the best baby food makers in Singapore, try making some of these easy baby food recipes for your kids! Once their little bellies are filled, it's time for some fun! Take them out to explore some of these fun things to do in Singapore with kids or keep them entertained with these fun sensory activities for toddlers at home!