The end of October is near and you know the drill. It's time to prepare for a flippin' good time getting creative for Halloween costume parties. With Netflix being one of our most trusty companions, now is the best opportunity to pay tribute to your favourite shows. Whether you've been bingeing ​​Stranger Things or re-watching F.R.I.E.N.D.S for the tenth time, we've curated these easy Netflix-inspired Halloween costumes for 2023 that you can take inspiration from!
Easy Netflix-inspired Halloween costumes for 2023
The possibilities are endless when it comes to Halloween costumes. Beyond witch and bunny costumes, you can be your favourite characters from your latest binge as well! To keep things simple, most of these Netflix Halloween costumes for 2023 are ready-made. You'll just have to make sure to purchase them in advance. Some of them are made up of apparel that you might even already have in your closet. Plus, you can still don them as your #OOTD even after Spook-tober is over.
Easy Netflix Halloween costumes for your squad
1. Stranger Things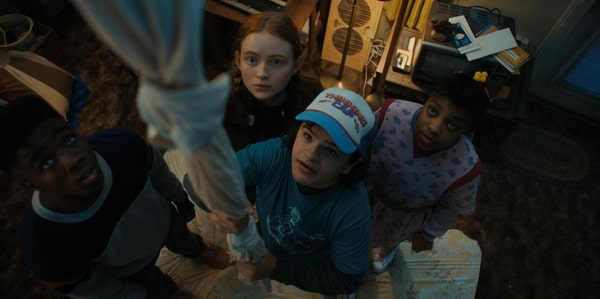 There's no Netflix series more apt than the sci-fi horror themed Stranger Things when it comes to easy Halloween costumes for 2023. Transport your party to the strange(r) dimension with these best Netflix characters to dress up as from 1980s Hawkins!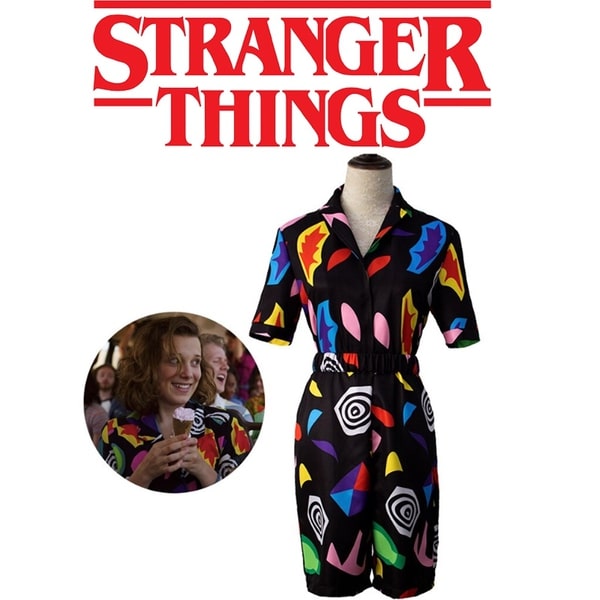 Levitation, telekinesis, and portal manipulation – these are just some of the psychic abilities that Hawkin's resident superhero, Eleven has. If you're a fan of this meek yet fiercely protective character from Stranger Things, this easy Netflix-inspired Halloween costume would be a no-brainer for you this 2023. Simply get the colourful Eleven Cosplay Costume (available on Garrett Men's Fashion Store) which she was wearing while eating strawberry ice cream with Max on the bus!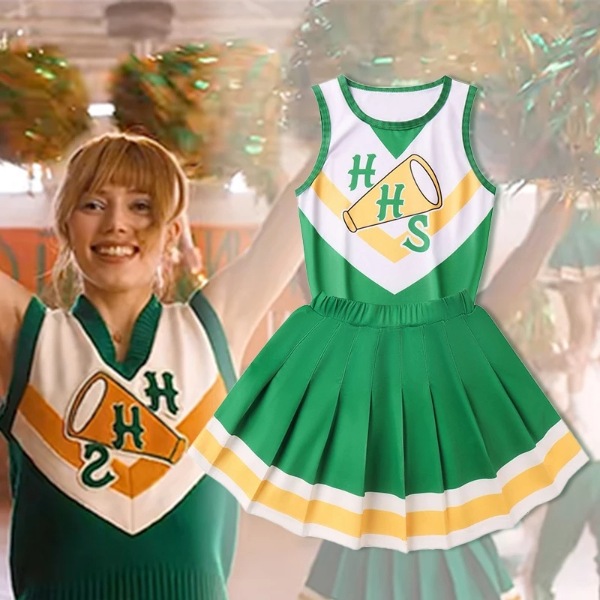 Want to be matchy with your girl squad? Rock the Hawkins cheerleader outfit (available on OEBLD Factory) to channel the queen of Hawkins High, Chrissy Cunningham. This iconic Netflix-inspired green and white getup will surely be a highlight at your Stranger Things-themed Halloween party in 2023!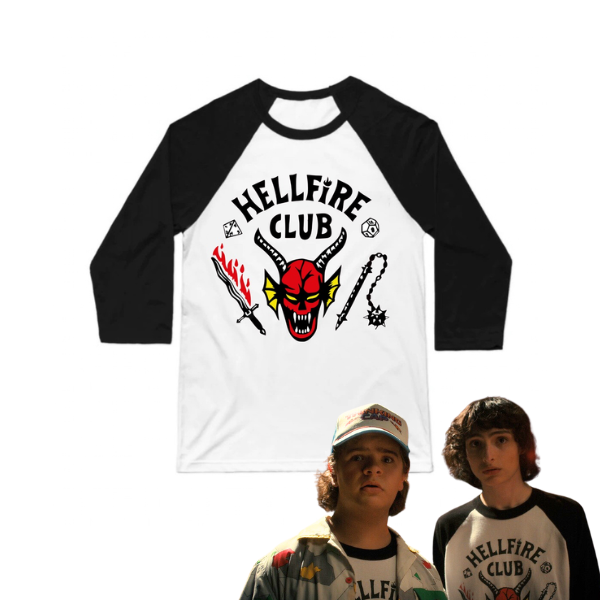 Well, who doesn't love Dustin? He's arguably the most well-loved Stranger Things character, and definitely one of the best inspirations for a Netflix Halloween costume this 2023. To recreate his look, get the Hellfire Club T-Shirt (available on cherryhellpq.sg) that every Stranger Things fan should own, and complete the look with a colourful outerwear and his signature baseball cap (available on armor1.sg)!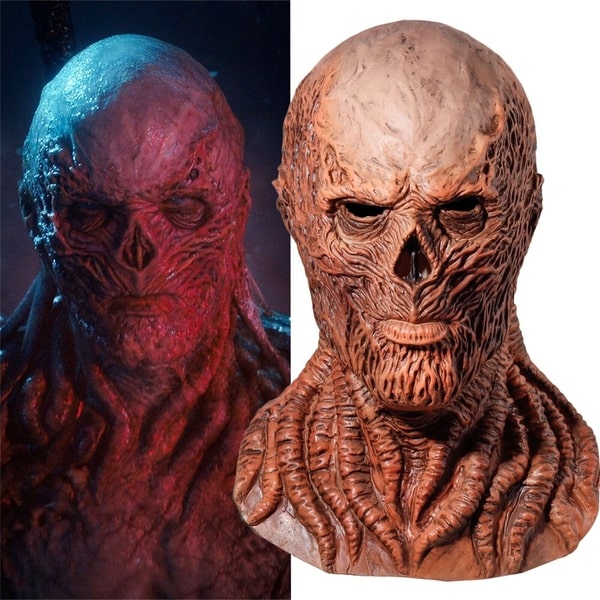 We can't write a list about the best Netflix characters to dress up for Halloween 2022 without including Vecna – the costume is definitely going to win you best-dressed at your 2023 Halloween party. This Stranger Things character is so iconic that even if you didn't watch the series, you'd definitely have seen him in memes on social media. For an easy Halloween costume inspired by Netflix, get the 3D Vecna Mask (available on redbuild.sg) and you're all set!
2.

Squid Game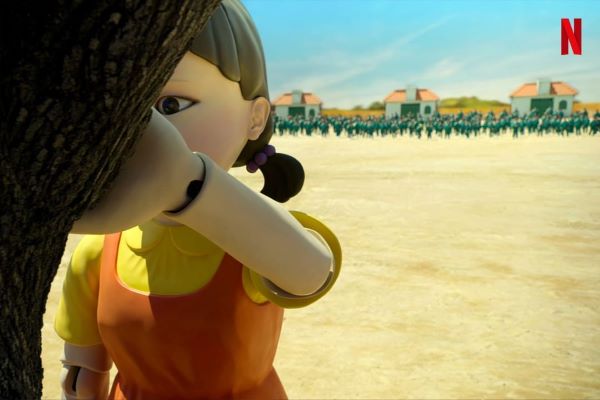 "Mu gung hwa ggochi piyeo seumnida" — if this chant sends a chill down your spine, you've probably binged this survival drama Netflix hit, Squid Game. Halloween 2023 is the perfect opportunity for you to dress up in a Squid Game costume to give a nod to this dark survival game show that took the world by storm in 2021. Here's a slew of Netflix's Squid Game inspired Halloween costumes to consider for 2023: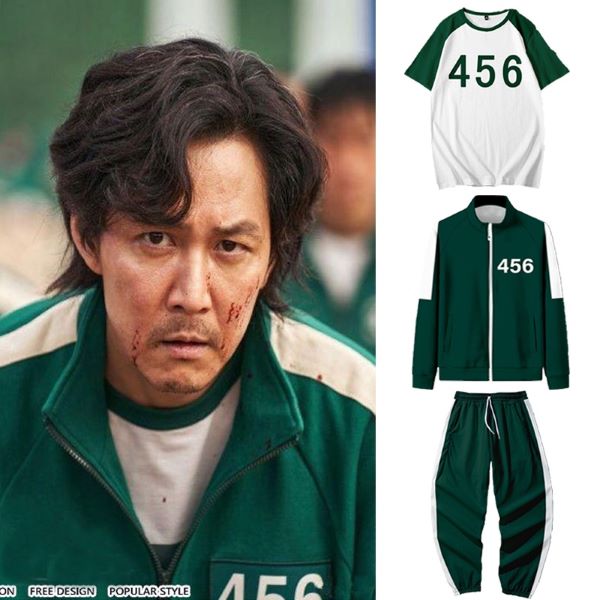 According to Squid Game director Hwang Dong-Hyuk, the players in the series were dressed in green gym attire as they reminded him of what Korean high school students wore back then. Most importantly, it was a way to remove their individuality and symbolise conformity.
While you'd probably not want to participate in the deadly game, these Squid Game uniforms make for an easy Netflix Halloween costume this 2023. Simply get the Squid Game Uniform (available on Uhome-sg) and pick your favourite character's number!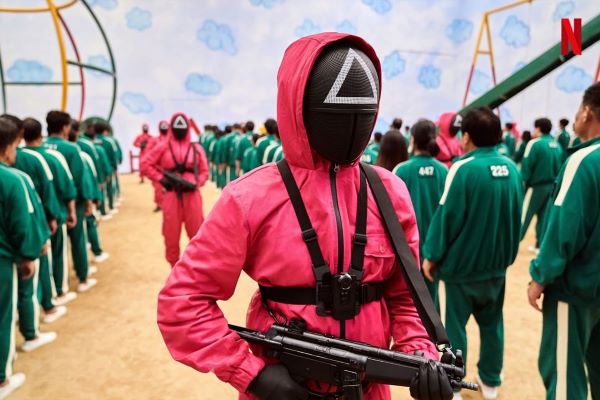 In striking contrast, the masked men carrying out duties donned hot pink jumpsuits. Their masks were marked with the three iconic shapes of the series — circle, triangle and square. According to director Hwang, this design was inspired by ant colonies. It's similar to how ants have delineated roles in a clear system, but they look indistinguishable on the outside. 
For an easy Netflix-inspired Halloween costume, simply get the Pink Guard Jumpsuit (available on Superstar7.sg) which includes the iconic Squid Game masks as well!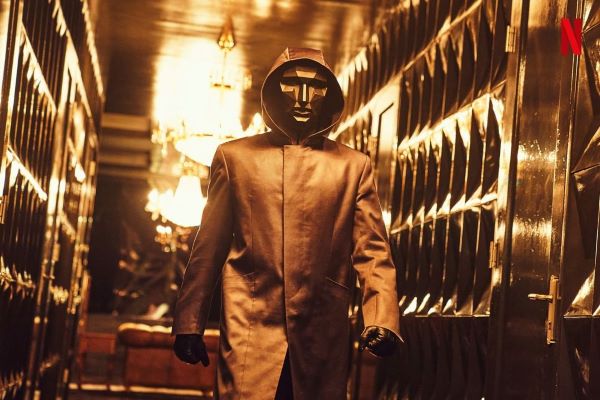 The coolest, most mysterious, outfit of Squid Game undisputedly goes to the Front Man. Fret not if you don't have access to a 3D printer to churn out the polygon mask — simply get the ready-made Front Man's mask (available on Superstar7.sg) online for an easy Squid Game Halloween costume. After that, throw on the black Front Man Windbreaker (available on Uhome-sg) to complete the look.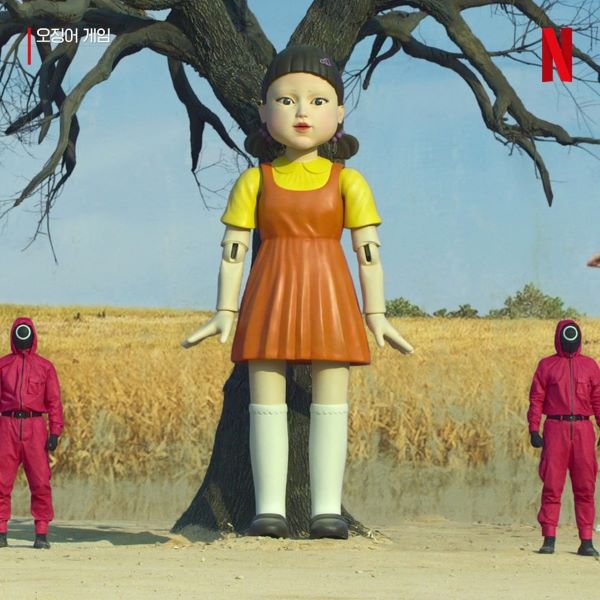 To instil some terror in your next ghoulish Halloween gathering this 2023, dress up as the giant animatronic doll in Squid Game. For this Netflix ensemble, get the Robot Doll Costume (available on Sunshine Official). To recreate the look exactly, put on a pair of Knee-High Socks (available Citrusox Official Store) and black mary janes (available on SAPPUN OFFICIAL).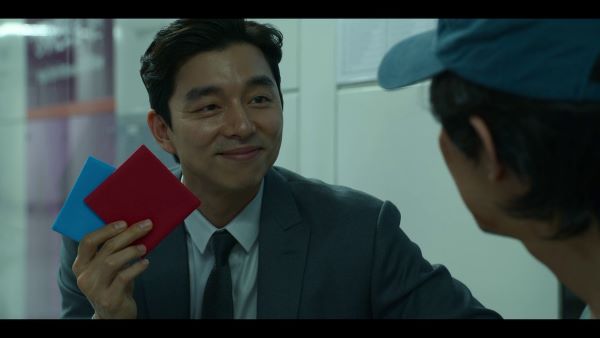 Despite only appearing in a few scenes, Gong Yoo's cameo has been a fan-favourite and the subject of multiple Squid Game theories. The Ddakji slapping game has also been recreated by fans across the world at the subway station. For a Netflix Halloween costume this 2023, throw on your tuxedo and bring along a briefcase (available on Lata Official), Squid Game Card (available on pliatab4.sg) and Ddakji set (available on ku3066.sg). Then, put on your best salesman smile to look the part!
3. Mask Girl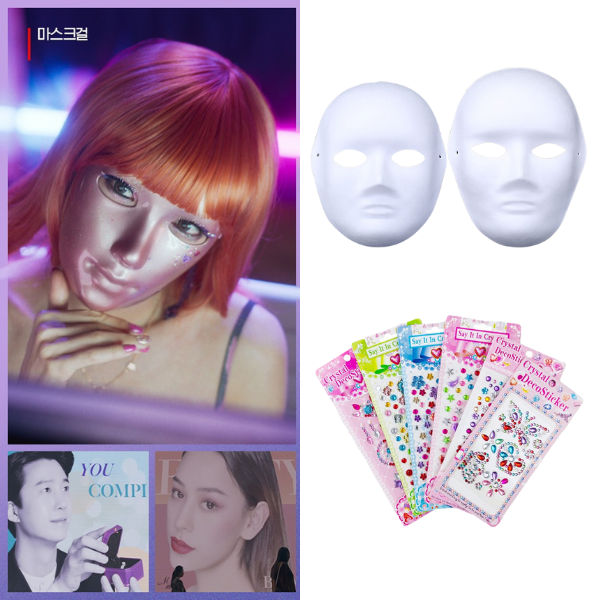 Mask Girl is Netflix Korea's next big hit, with the show defending its spot on the Netflix TV (Non-English) Global Top Ten, for four consecutive weeks since its release on August 18. The dark thriller quickly climbed the charts thanks to its unique plotline and social commentary. In fact, the infamous cam girl or Mask Girl sits at the centre of this allure. 
If you want to experience what it's like to live as the alter ego of the protagonist, try this out as an easy Netflix Halloween costume this 2023. All you'll need is a full face mask (available on choosewho.sg), sticker gems (available on choosewho.sg) to decorate it, and glittery makeup. If you want to go all out, you can also put on a long, straight wig!
4. Money Heist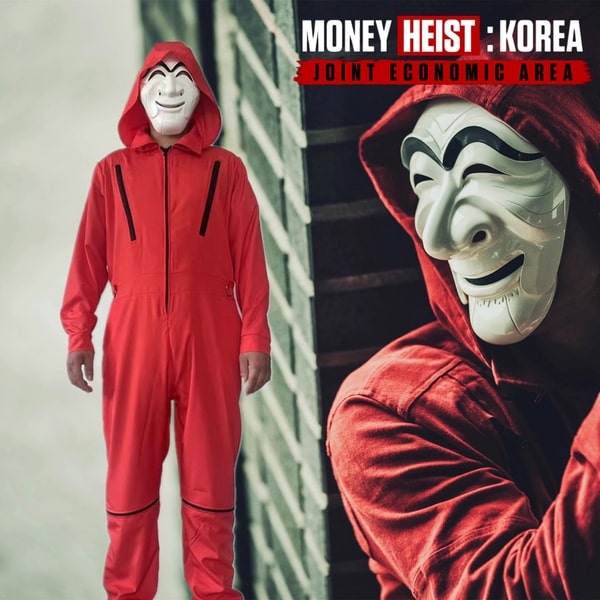 Want to be the anti-heroes this Halloween? With the recent release of Money Heist's Korean adaptation, it's the perfect time to get decked up in a red suit and Salvador Dali mask. Simply get the Money Heist Korea Cosplay Costume (available on Anime Star) that's affordably priced at less than $25. If you want to match the crew's get-up to a tee, wear a black t-shirt underneath and a pair of black boots (available on CAT Lifestyle)!
5. Attack On Titan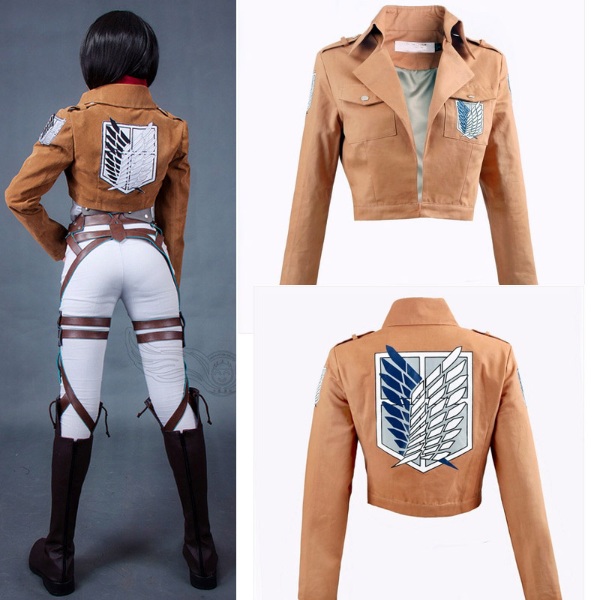 Dressing up as one of the scouts from the smash hit anime series Attack On Titans is sure to ignite some cheer amongst your friends. Get ready to tatakae with this easy Halloween costume  idea – don the iconic AOT Survey Corps uniform (available on Fighting1983) that includes the green cloak and brown collared jacket. For girls who want to cosplay as Mikasa, simply add a red scarf into the mix. For guys who want to be Eren, get the Eren's wig (available on SKY LIGHT.sg) to complete the look.
6. F.R.I.E.N.D.S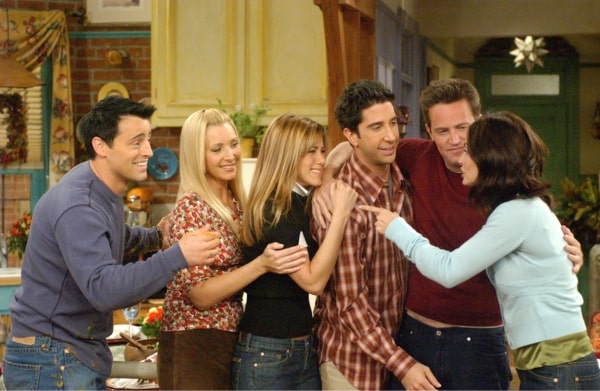 It's safe to say that F.R.I.E.N.D.S is the most iconic sitcom of all time. Almost two decades after its finale, this series is still the talk of the town. If your crew wants to give a nod to this timeless comedy, here are some easy Halloween costumes for each character. You might already have some of these clothes in your wardrobe, which makes things even more convenient!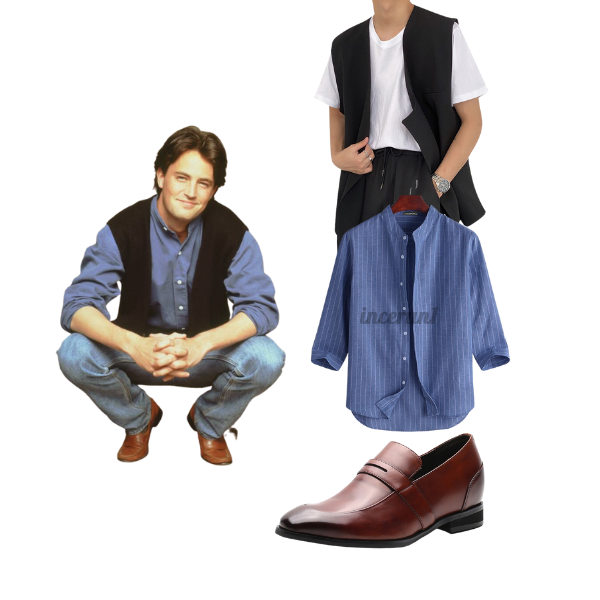 Could this outfit BE anymore easy? Dress up as Chandler with this vintage get-up that includes a blue button down shirt (available on INCERUN Official Store), brown leather shoes (available on Walking Tall Official Store) and to spice things up, a black vest (available on INCERUN Official Store). Apart from the right garb, be sure your quips are as sharp as your dressing! This is definitely one of the more stylish Netflix-inspired Halloween costumes for 2023.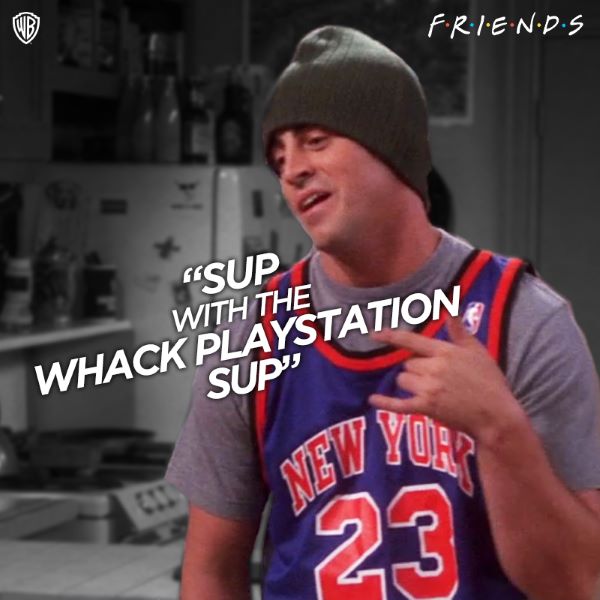 Relate most to Joey's fun-loving personality? Many of you might remember this scene where he tries to act like he's 19 years old in a comedic get-up — an idea for an easy Halloween costume that pays homage to this character. Pair any grey T-shirt and a Knicks jersey (available on silpsportv7.sg) or any retro basketball vest and throw on a beanie to complete the look. Get into character by ordering a meatball sub or strike them with an iconic "How you doin?" pick-up line.
Want to dress up as Ross this Halloween? His outfits are pretty simple as he's commonly seen in a sweater or a suit throughout the show. However, you can give it a unique spin by doing a throwback to this memorable episode. Remember when his spray-on tan goes wrong? All you'll need is to cover your body with bronzer and wear a yellow sweater (available on INCERUN Official Store).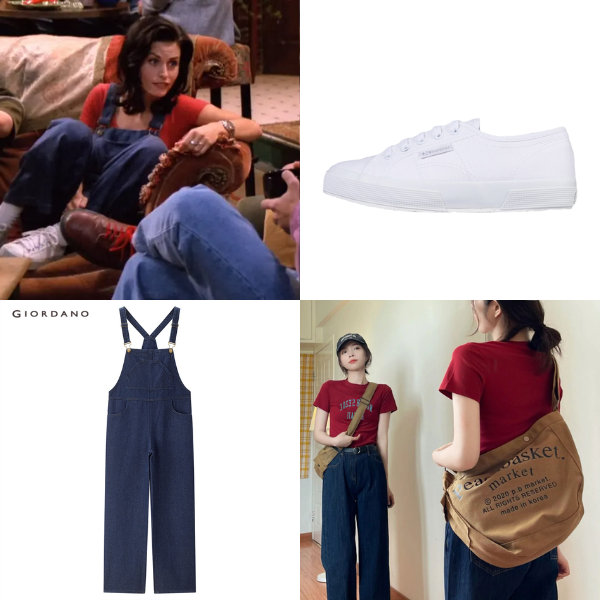 Are you the motherly one in the group who loves to cook and host your friends? If you answered yes, this Monica-inspired Halloween costume is for you! In episode three of season one, Monica sported a red top (available on ihkke mall-Women's fashion), and a pair of dark blue denim overalls (available on Giordano Official Store) with white sneakers (available on Superga Singapore Official Store). We love how retro yet youthful this outfit is, and it makes for an easy Halloween costume too! For a more convincing get-up, use a hair curler to recreate her iconic hairstyle. If all else fails, just scream "I KNOW!" and they'll get it.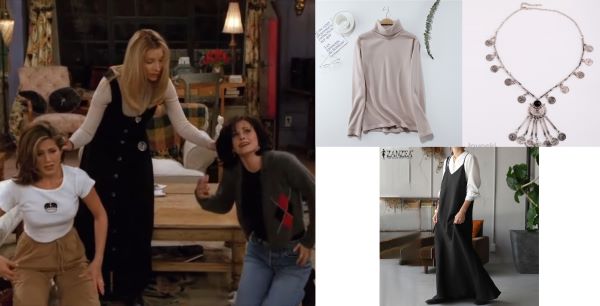 You can go full-on boho chic to dress up as Phoebe — or  Princess Consuela Bananahammock. One of our favourite Phoebe outfits is this one where she sports a cream long-sleeve turtleneck blouse (available on bigbigfun.sg) with a black maxi dress (available on ZANZEA Official Store) over it. You can't go without some vintage accessories, so this boho necklace (available on Fashion Jewellery) is definitely an essential part of this outfit!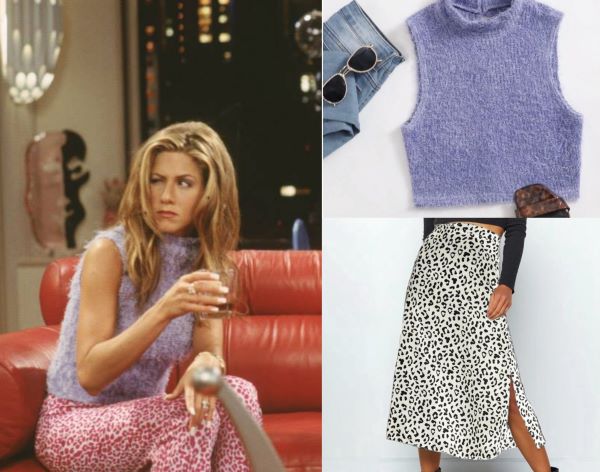 Rachel Green is one of the biggest style icons of the 90s. There are many ways to get around dressing up as this character. A turtleneck top, jumpsuit, or a sexy spaghetti strapped dress are all options you can consider. For an easy Halloween outfit, we chose to go for one of her most snazzy get-ups — a fuzzy lavender turtleneck top (available on rashidahanis89) paired with an animal print skirt (available on mukok.sg)!
7. Umbrella Academy
Introduce yourselves as one of the Hargreeves siblings this Halloween with this easy Netflix-inspired Halloween costume this 2023! All you'll need is the Umbrella Academy Uniform set (available on Fancys.sg), a pair of black calf socks (available on Xiao Qiao Socks Store) and a pair of lace-up oxford shoes (available on Dr Cardin). Throw them on and you're all set to unleash your superpowers — just be careful not to blow up the moon!
8. Haikyuu!!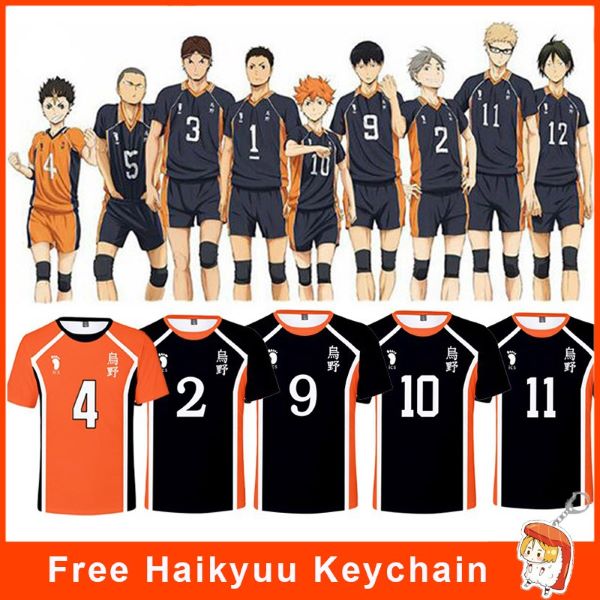 Got an adrenaline rush to play volleyball after watching the exciting match scenes in Haikyuu!!? This Halloween, get your pals to dress up in matchy Haikyuu jerseys (available on Costume Boutique) as a nod to this anime series — a costume that couldn't get any easier. Plus, you can take your pick on your favourite character by choosing their jersey number! A volleyball game after the costume party, perhaps?
Easy Netflix Halloween costumes for couples
9. A Business Proposal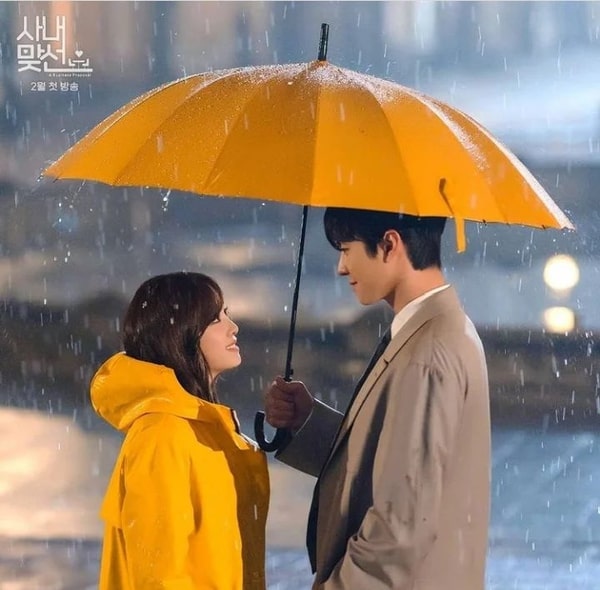 Many Koreaboos would agree that A Business Proposal takes the cake for one of the best Korean rom-coms on Netflix in 2023! Dress up as Kang Tae-moo and Shin Ha-ri with your bb this Halloween with costumes inspired by one of the couple's best scenes in the series – the one where they share a yellow umbrella (available on ARTBOX OFFICIAL STORE). Girls can throw on a yellow raincoat to pose as Shin Ha-ri, and guys can throw on their best men's blazer to rock the look of Kang Tae-moo.
10.

King The Land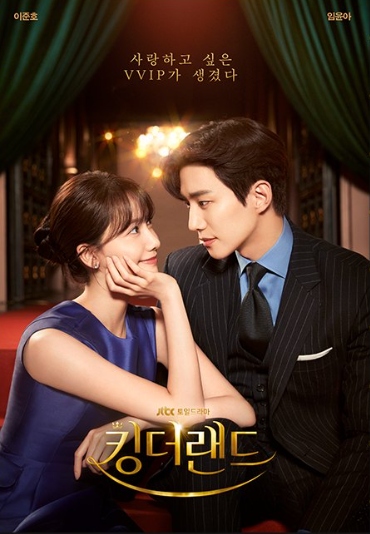 If you're a diehard fan of second-generation K-Pop groups like 2PM and Girls' Generation, this is definitely a drama that you're familiar with! Talk about drooling over 2PM Lee Jun-ho's good looks in King The Land, or what about GG Im Yoon-ah's charming beauty? Make your K-drama dreams come true by dressing up as the title characters this Halloween. Reenact their outfits with your boo – it certainly makes for a stylish Halloween costume for couples!
Gu Won is often seen in bespoke suits throughout the drama, and we especially love this grey tuxedo fit – just prepare a smart fit suit blazer (available on G2000 Flagship Store) and a snazzy pair of tailored trousers (available on Marks and Spencer SG). If you want to look even more like a dashing young chaebol, finish this outfit off with a smart tie!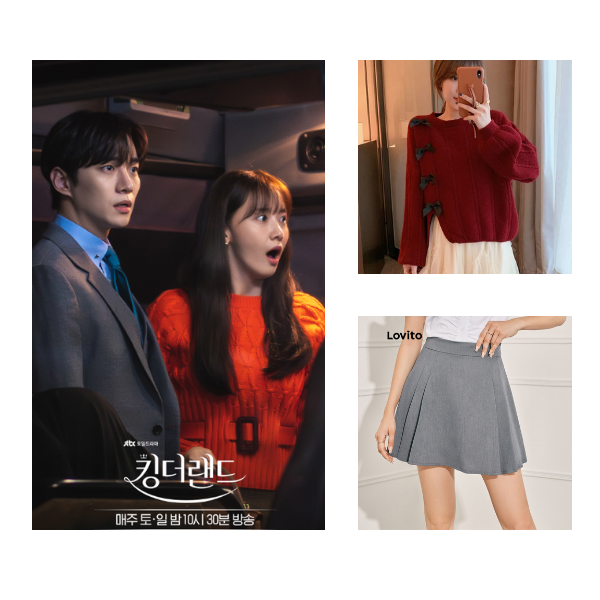 For the ladies, here's how you can dress like Cheon Sa-rang. While you often see our female lead dressed prim and proper in her hostess uniform, there are definitely moments when her style is more versatile! And it seems her favourite colours are reds – don a red cable knit sweater (available on SUGEMIUSI WOMEN CLOTHES) and a high-waist pleated skirt (available on LOVITO OFFICIAL STORE) to look just like Cheon Sa-rang. So along with your partner, throw on these Netflix-inspired ensembles for an easy Halloween costume with bae this 2023!
11. Dr. Romantic 3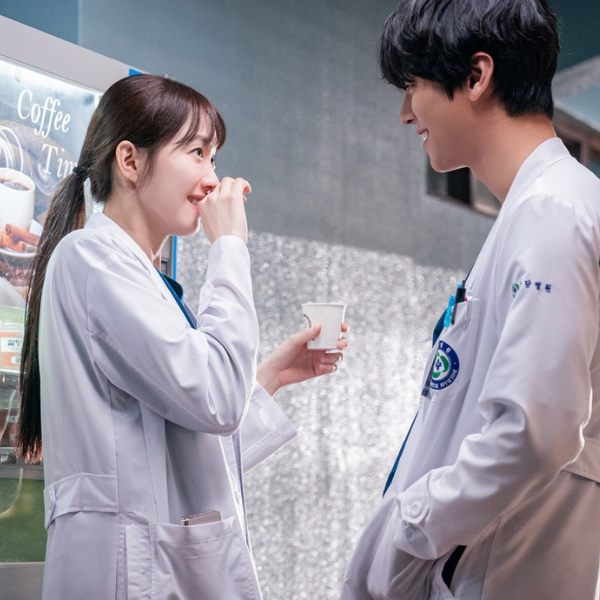 Dr. Romantic is now on its third season on both Netflix and Disney+! Right from where they left off in Season 2, Kim Sabu and his team at Doldham Hospital continue their work to save the lives of patients. This time, we will get to see the new connecting trauma center building in action! Fans are also going to want to know what's in store for the young couple, Seo Woo-jin and Cha Eun-jae.
So why not recreate the palpable chemistry between these two young doctors this October? It's a great Netflix-inspired idea for your Halloween costume this 2023! All you need is a set of hospital scrubs, white lab coats (both available on charshops) and a Doldam Hospital ID Card (available on pentaganstore.sg). Additionally, grab a cup of hot coffee to look just like Cha Eun-jae on her coffee break! This is going to be a fun Halloween costume idea for couples!
12. Brooklyn 99
A policeman's uniform may be a cool idea for a Halloween costume. But what's even better is dressing up as the one true pair of B99 — Jake and Amy. They're definitely one of the best Netflix characters to dress up as in 2023! Each of their characters is full of personality, which can be incorporated into the outfit too.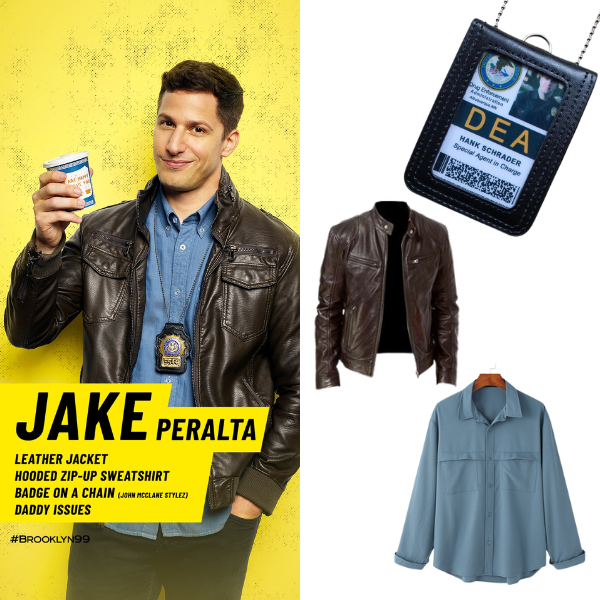 Across the show, Jake is often seen in a leather jacket (available on Men wardrobe) and jeans. Underneath the jacket, throw on a blue button-down shirt (available on INCERUN Official Store). Most importantly, you'll need to put on a badge on a chain (available on Hazel Men's Accessories Store) to show that you're part of the NYPD!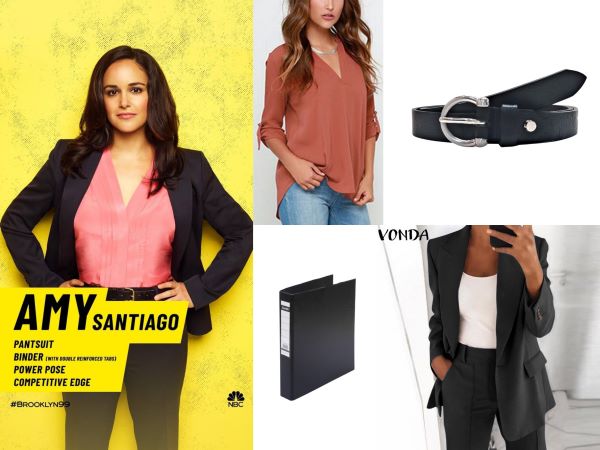 Opposite of Jake, Amy is either decked up in her lieutenant uniform or seen in her well-pressed blazer (available on ZANZEA Official Store), a salmon coloured v-neck blouse (available on Closetonline Women Flagship Store) and a belt (available on Oxhide Leather Official Store). But what's most quintessential to her character is a bursting binder file titled "Conflict Resolution".
Easy Netflix Halloween costumes for individuals
13. Emily in Paris — Emily Cooper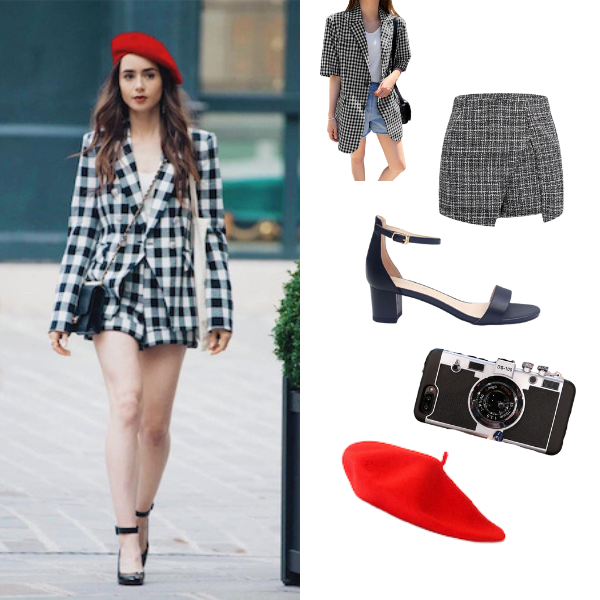 Take your Netflix-inspired Halloween costumes up a notch in 2023 something ringarde. Inspired by the hit series Emily In Paris, there's no time to live your Parisian dreams an Emily-inspired outfit. Why not go with one of Emily's iconic looks in season one – a plaid short-sleeve blazer (available on ZANZEA Official Store) and tweed shorts (available on LOVITO OFFICIAL STORE) paired with an eye-catching red beret (available on Warm Station). Don't forget her signature retro camera phone cover (available on szbba1990.sg) that's seen whenever she snaps her selfies! In tres chic style, complete the look with classy ankle strap heels (available on Emelyn Label Official) and flap crossbody bag (available on IELGY Official Store)!
14. Girl From Nowhere — Nanno
Not gonna lie, Nanno's crazy laugh still sends chills down our spines. Some say she's the karma goddess, and some say she's the devil's daughter. Whichever camp you subscribe to, this Girl From Nowhere character is one of the best Netflix characters to dress up as this Halloween. All you'll need is a girl's school uniform (available on Watermelon uniform franchise store), or you can even use your own. You'll also need to rock her signature bangs, and remember to practise that laugh of insanity!
15. Spy x Family – Anya Forger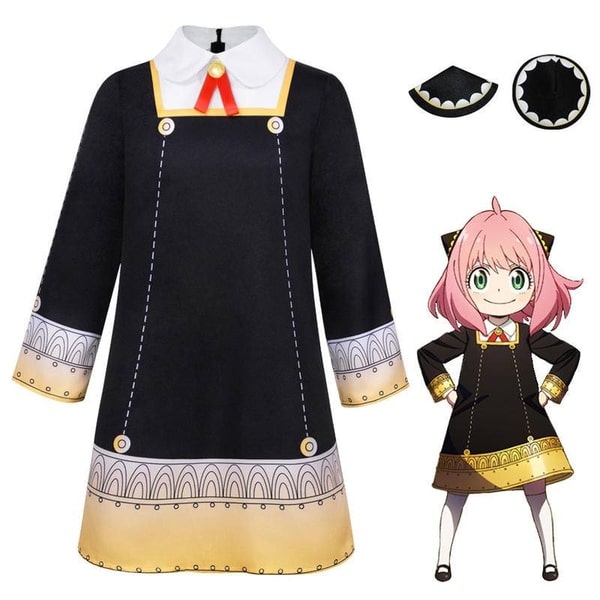 If you're petite like Anya Forger from Spy x Family, you'd be the best candidate to dress up as this anime character for Halloween in 2023! You'll be all ready when you get the Anya Forger Cosplay Set (available on Barflin Fashion) that's almost exactly like what you see in the series. You can also get the Spy X Family Imperial Uniform (available on cocofashion.sg) that's available for both guys and girls!
16. Jujutsu Kaisen — Gojo Satoru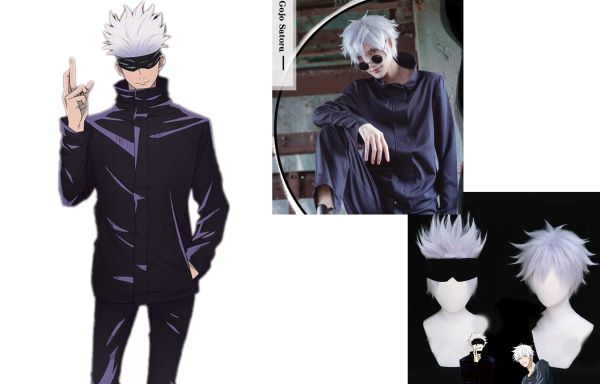 Jujutsu Kaisen is a shonen anime series that has been making waves for its intensely action-packed episodes and never-seen-before powers in the plot. If you're a fan of this series, dress up as one of its strongest characters, Gojo Satoru. While cosplaying as anime characters tends to require elaborate makeup, the Gojo Satoru costume only requires a blindfold and wig (available on usnow.sg)! This is definitely one of the easiest Netflix anime Halloween costumes you can find in 2023. You can also get the entire Gojo Satoru black costume (available on Syayou.sg) at a wallet-friendly price of less than $20.
17. Demon Slayer — Nezuko
This easy Halloween costume inspired by popular anime series Demon Slayer may seem like the most elaborate of the lot. However, you won't have to painstakingly source for each element of Nezuko's get-up as you can get them all with this Demon Slayer Cosplay Costume set (available on myelegant.sg). This set includes everything from the robe, the wig to the bamboo muzzle. For a step up, go for a pink-themed makeup look and put on some coloured contact lenses!
18. Spirited Away — No Face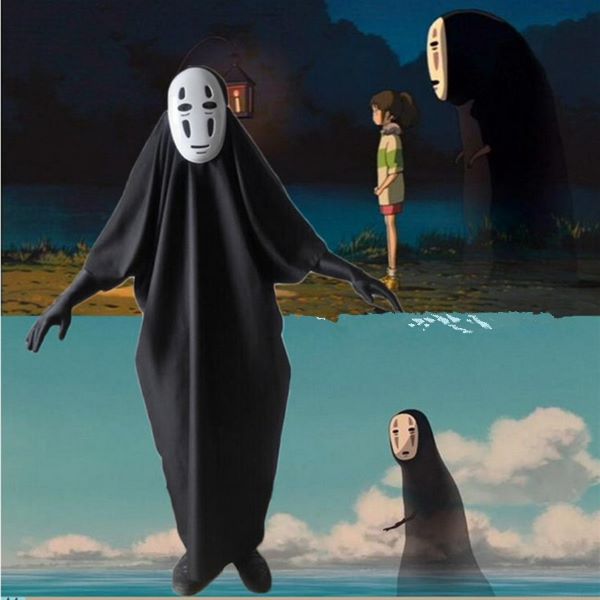 Studio Ghibli's movies will always have a place in our hearts. Even after two decades, they're still rewatch-worthy. If you want to honour your favourite Studio Ghibli movie this Halloween with an easy costume, we recommend dressing up as the iconic character, No Face, from Spirited Away. All you'll need is this No Face costume set (available on Miss.Sandy) that includes both gloves and a mask, so absolutely no makeup or face paint is required. This definitely makes for a fuss-free Netflix anime Halloween costume for 2023!
19. My Name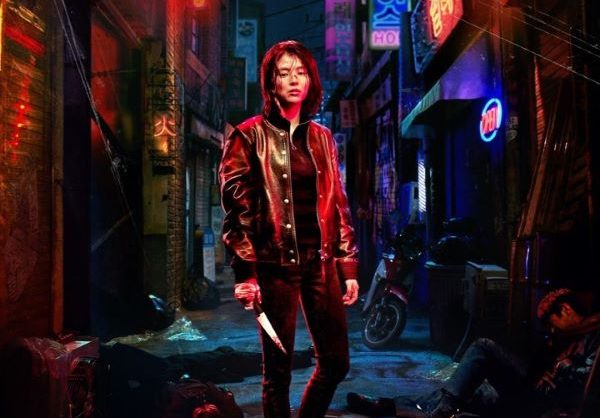 If you're having a girl crush on Han So-hee's tough and quick-witted character in My Name, take inspiration from her look for your Netflix Halloween costume this 2023. Throw on a Black Bomber Jacket (available on Dekace Official) on top of a black shirt and a pair of black jeans. To add a dose of terror to perfect the look, add a stroke of dark red face paint (available on IMAGIC Official Shop) across your face to recreate her battle scars.
20. One Piece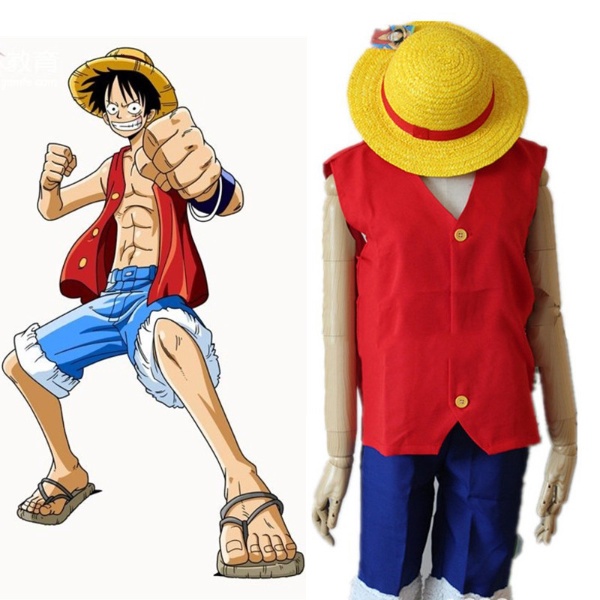 One Piece is a manga series that has managed to achieve the title of cult classic, with over 500 million copies sold worldwide. Set in a world filled with notorious pirates and adventure, One Piece has its own anime TV series and now, even a Netflix live-action series! Even if you're not an avid fan of the series, we trust that you will after watching Season One of Netflix's One Piece. One of the most popular characters would be Monkey D. Luffy's, whose getup is recognisable by his straw hat and vibrant red vest. If you're thinking of Netflix-inspired Halloween costumes to try out in 2023, Luffy's Costume Set (available on SKY LIGHT.sg) is definitely going to be a fun option. Simply pair it with a pair of slippers or flip flops and you're good to go!
21. Wednesday Addams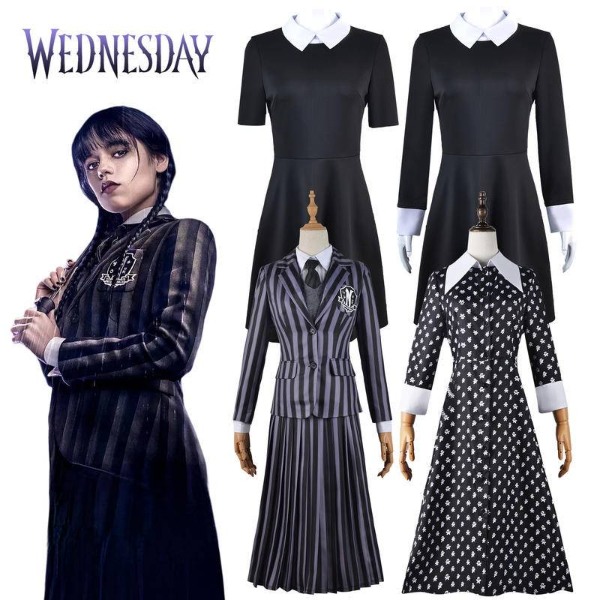 By now I'm sure we've all seen the 'Wednesday Dance' that went viral at the end of 2022. The unconventional deadpan dance that Jenna Ortega choreographed and performed in the Netflix series, Wednesday has got youngsters and adults alike dressing up in black, gothic maxi dresses like those in the series. There's no doubt that this is one of the best Netflix Halloween costume ideas for 2023. But on top of that, these garments can also be restyled for daily wear! Whether it's Wednesday Addams' striped uniform, or the patterned dress that she opens the show with, dressing up in these Wednesday Addams outfits (available on Barflin Fashion) is going to be so much fun!
Celebrate Halloween 2023 with these Netflix-inspired costumes
Need even more inspiration apart from your favourite Netflix characters for Halloween costumes in 2023? Try your hand at these simple Halloween makeup looks to add to the spook factor. For those with furkids, we've got you covered too with these Halloween costumes for pets!
This article was updated on 21 September 2023. Additional research done by Foo Pei Shi.