For many Singaporeans, June is the time of the year to go on a vacation again. And when you're planning for it, there's surely one location that comes to mind – tropical, gorgeous Bali. It's no secret that the island is a typical tourist hotspot, but take your getaway to the next level by upgrading to a villa stay. In fact, we've sussed out some of the best villas in Canggu, Ubud and Seminyak to check out for your next trip to Bali!
When is the best time to visit Bali?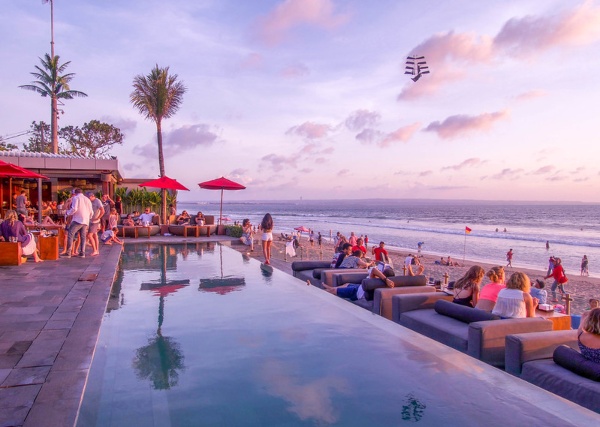 Bali is one of the world's most popular tourist destinations, especially during the Summer months of April to August. That's why tourists who prefer lesser crowds should consider travelling to Bali in January and February. If you're a hiking enthusiast who's looking to take on the majestic mountains and hills of Bali, visiting between April and October can help you avoid risky or unpredictable weather conditions during the rainy season. 
As for those who want to immerse yourselves in the local culture and community, look out for the Bali Arts Festival which typically takes place in the months of June and July. You can also check out these best beach clubs in Bali, where you can chill by the beach while sipping a yummy cocktail. 
Where is the best place to stay in Bali?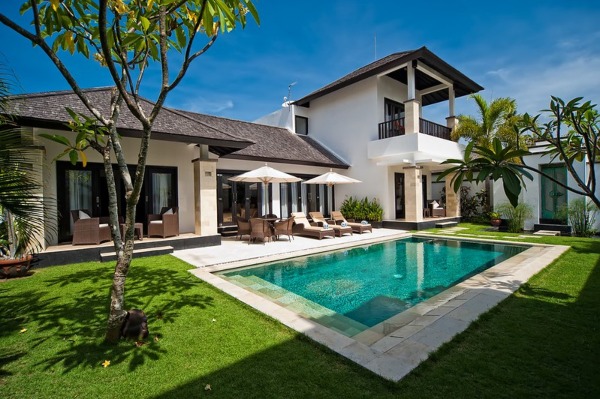 For those looking to cover the must-see tourist attractions and cultural destinations, Ubud, Kuta, and Legian might be for you. In fact, the former is known for being Bali's artistic and cultural centre and is home to attractions such as Ubud Palace and the Sacred Monkey Forest – remember to bring along your cameras to capture these amazing sights!
If you're thinking of finding a secluded retreat away from the hustle and bustle of city life, head to Nusa Dua and Bedugul. Similarly, while Sanur is known for having a relatively tranquil and limited nightlife, it's the go-to place for adventure-seeking tourists during the day – especially for surfing and diving enthusiasts. They're also known for some of the best villas in Bali, including  In fact, it's in close proximity to a beautiful coral reef just 300m off the shores of Sanur Beach.
Best villas in Bali for couples (2023)
1. Ayana Villas Bali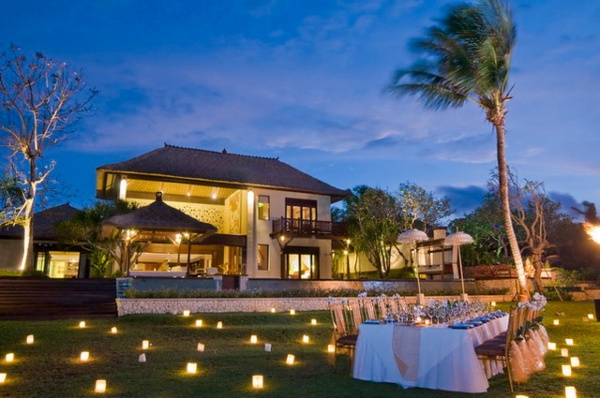 Ayana Villas Bali is an exclusive venue that feels like a complete escape from the outside world. Each of its luxurious one or two-bedroom villas are located within a secluded garden, where guests can indulge in a private pool and its adjoining cabana. 
Couples can also try out romantic date ideas like a sunset picnic on Kubu beach, or arrange for a table to be set on the grounds of your private villa for an intimate dinner. In fact, what makes Ayana Villas Bali one of the best villas in Bali is its Couple Package – it comes with a 15% discount for room rates, including tasteful treats like flower baths, discounts for in-room spa treatments, and Thalassotherapy for two!
Address: Jl. Karang Mas Sejahtera, Jimbaran, Kuta Selatan, Kabupaten Badung, Bali 80364, Indonesia
Price: From $1,301/night
2. Hidden Hills Villas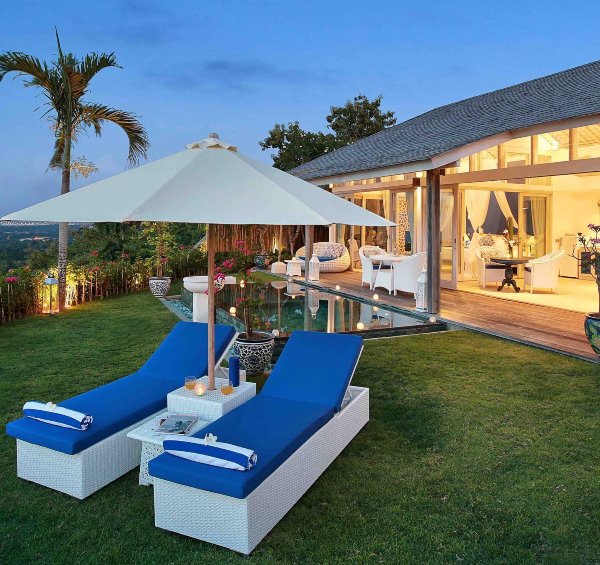 Nestled among the hills of Uluwatu, Hidden Hills Villas is one of Bali's most exciting new destinations to check out. Not only is it a 30-min drive from the Ngurah Rai International Airport, but it's also a short drive away from ideal date spots like restaurants and beach clubs, such as the Sundays Beach Club. 
As for the residence itself, the Hidden Hills Villas are a collection of 15 villas that're specially designed so that no two encapsulates the same style – from the quintessential tropical bali aesthetic to more scandi boho styles, there's bound to be one that suits your tastes and preferences. 
Address: Jl. Labuan Sait, Gang Puncak Sekapa II, Pecatu – Kuta Selatan, Badung, Bali 80361, Indonesia
Price: From $284/night
3. Kubu Petitenget Suite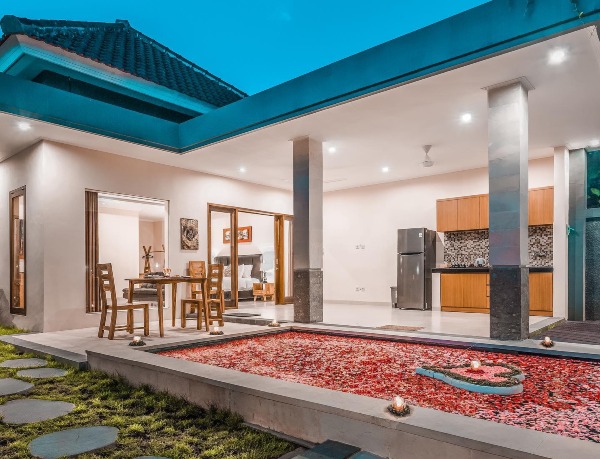 For couples who want to go on a luxurious getaway without wanting to worry about breaking the bank, the Kubu Petitenget Suite is going to be one of the best villas in Bali for you. While it's a budget option, it's definitely spacious and has all the basic amenities required to make your stay comfortable. 
It even includes fancy services such as floating breakfasts at the pool and is within walking distance to well-known beach clubs like KU DE TA – both of these make for perfect date ideas. Overall, the Kubu Petitenget Suite is value for money!
Address: Jl. Petitenget Gg. Sunyi No.10, Kerobokan Kelod, Kecamatan Kuta Utara, Kabupaten Badung, Bali 80361, Indonesia
Price: From $58/night 
4. Bali Dynasty Hotel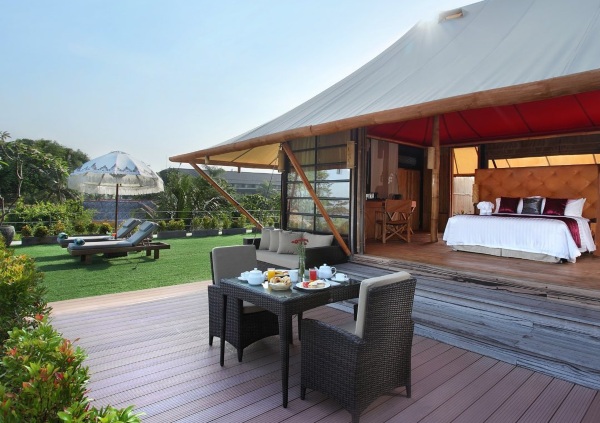 Bali Dynasty Resort brings to guests a unique take on villas – rooftop tent-style villas that closely resemble a glamping experience. What's even better is how it's more wallet-friendly than the average villa. You can also fulfil your open-air bathroom dreams with the walk-in rain shower.
The Resort also has some of the best villas in Bali because of the guaranteed sea views that guests get to enjoy. This is one of the best villas in Bali that's situated right along Seminyak Beach, which puts you in the front row seat to coastal waters. The villas also have a spacious lawn that's complete with two cosy deck chairs and an umbrella so that you can unwind outdoors to your heart's content. At night, couples can choose to pair the calming views with a romantic dinner on the lawn.
Address: Jl. Kartika Plaza, Tuban, Kecamatan Kuta, Kabupaten Badung, Bali 80361, Indonesia
Price: From $322/night
5. Asvara Villa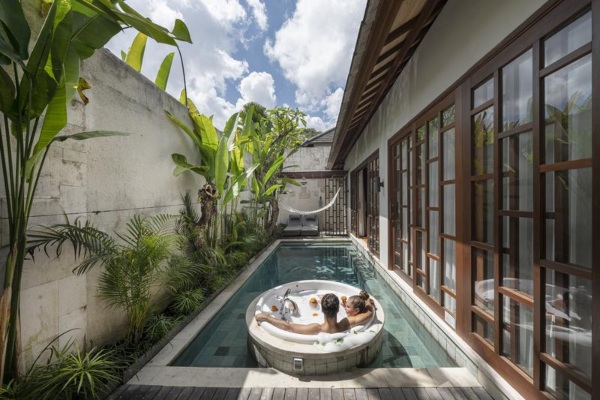 Founded by the award-winning hospitality management company, Ini Vie Hospitality, Asvara Villa is by far one of the best villas in Bali. In fact, the five-star resort is popular among tourists for its elaborate services. It has everything you need to spice up a honeymoon or holiday, with candlelit dinners by the pool, floating breakfasts, as well as assorted floral, fruit, and balloon displays – perfect for extravagant proposals and declarations of love. 
For guests who find planning such romantic gestures complicated, you can still impress your significant other with the help of Asvara's various packages. The Honeymoon Package's highlight is a candlelit dinner for two, while the Romantic Getaway Package includes elaborate flower petal décor and airport pickup services. Depending on your needs, these packages will curate the perfect couple experience down to a T.
Address: Jl. Bangkiang Sidem 8x, Keliki, Tegallalang, Gianyar Regency, Bali 80571, Indonesia
Price: From $225/night
6. Sana Vie Villa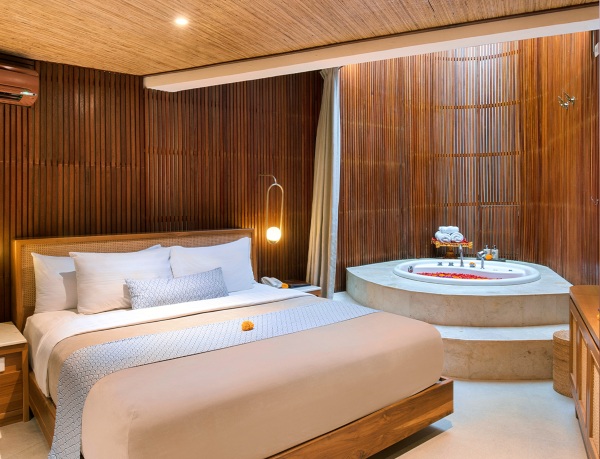 Sana Vie Villa is yet another resort meant for couples and romantic escapes, and it just so happens to be the sister estate to Asvara Villa. Its villas sport bamboo-panelled walls and natural stone furnishing, giving them a relaxing zen aesthetic. 
Couples can also choose from one-bedroom villas, two-bedroom villas, or even suite rooms with a cosy jacuzzi that's adjacent to the bed – this bonus would certainly contribute to the intimate atmosphere. Other than these features, guests can also look forward to other perks, such as getting access to Spotify and YouTube on their villas' Smart TVs.
Address: Jl. Gn. Tangkuban Perahu 888x, Seminyak, Kecamatan Kuta Utara, Kabupaten Badung, Bali 80361, Indonesia
Price: From $120/night
Best villas in Bali for families (2023)
7. Blossom Eco Luxe Villas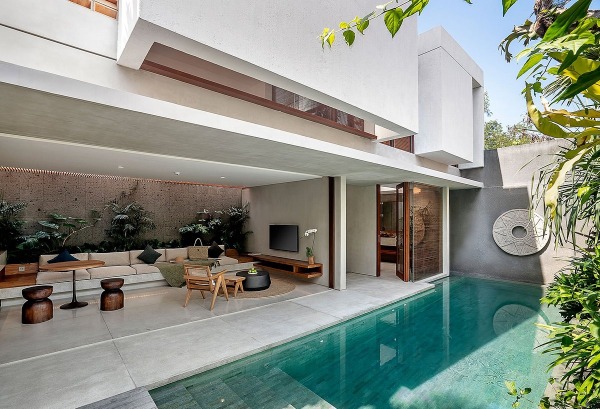 Blossom Eco Luxe Villas has some of the best villas in Canggu, Bali to check out if you're looking for open-concept modern villas. Its offerings manage to channel modern luxury with the furnishings while retaining more natural elements with its lush landscaping. Coupled with ceiling-to-floor windows that usher in natural light, the natural stone floors and muted-toned interiors of the villa serve to calm the senses and help guests to rejuvenate. 
The spacious suite also makes for one of the best villas for families in Canggu, Bali, as it's great for the rough and tumble of children, while the lush private pool should also be sufficient to keep the little ones entertained so parents can take a much needed-break.
Address: Jl. Pantai Batu Bolong, Canggu, Kecamatan Kuta Utara, Kabupaten Badung, Bali 80361, Indonesia
Price: $389/night
8. Meliá Bali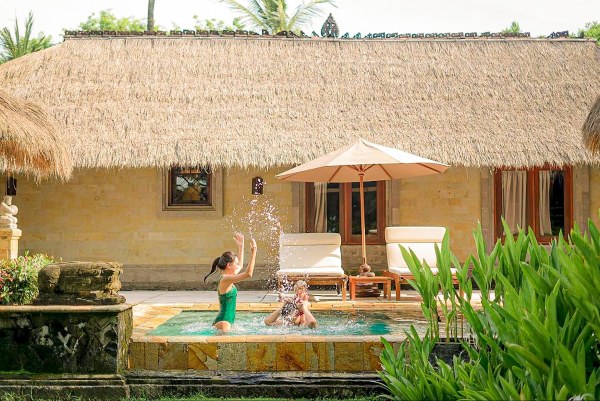 With their limestone brick walls and thatch roof, the Meliá Bali garden villas exude both a luxurious yet exotic feel. What's more – Meliá Bali is located along the Nusa Dua Beach, which boasts pristine, white sand that'll take your breath away. From building sandcastles and roasting marshmallows by the fire, to chilling by the oyster bar and painting tote bags, there's a myriad of activities to choose from. 
For parents who're looking for a much-needed respite or dinner date, Meliá Bali also has some of the best villas in Bali for families. You can choose to drop off your kids at the resort's supervised movie nights, where the little ones get to have fun and make new friends!
Address: Jl. Kawasan. Nusa Dua Resort ITDC Lot 1, Jl. Nusa Dua, Bali, 80363, Indonesia
Price: From $1,359/night
9. Four Seasons Resort Bali at Sayan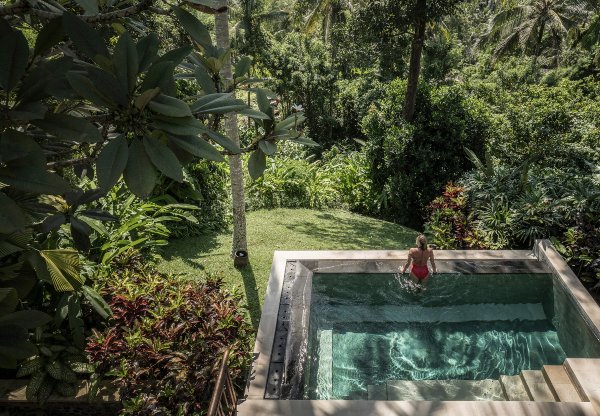 If you're willing to splurge on your family vacation, one of the best villas in Ubud, Bali to check out would be the Four Seasons Resort at Sayan. The interior of its villas truly brings the essence of the tropical island to you through rich, culturally-infused furnishings and decor, such as teak elements and hand-loomed fabrics. These villas are also tucked away among Bali's central highlands, giving guests a spectacular view of the paddy fields and Ayung River. 
Let's not forget the amazing perks that come with choosing the best villas in Bali for families: complimentary yoga and meditation classes, extra beds or baby cribs, entry to its Pici Pici Kids Club, and even babysitting services – worth every penny and you'll even get some respite from the kids!
Address: Jl. Raya Sayan, Sayan, Kecamatan Ubud, Kabupaten Gianyar, Bali 80571, Indonesia
Price: From $2,014/night
10. Hilton Bali Resort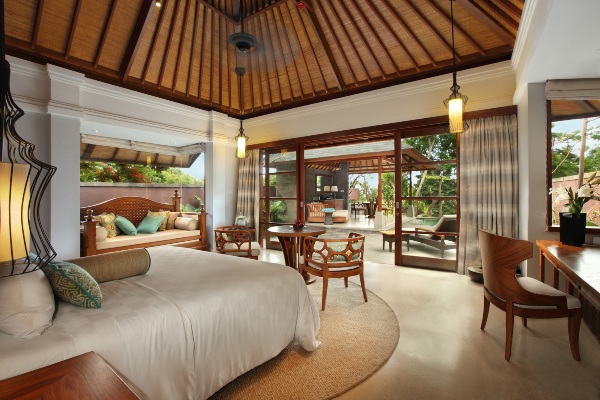 The international luxury chain never disappoints with its hospitality offerings. In fact, the Hilton Bali Resort is a five-star hotel that boasts consistency in the quality of its services – which is also backed up by the reviews of many satisfied guests. As for its villas, their interiors and styling is a perfect fusion between the East and West: pristine-looking, modern amenities are paired with indochine elements like rattan and bamboo, as well as textiles featuring floral motifs. 
For homebody families who just want to lounge in bed all day, the villas are equipped with a 50-inch smart TV that can connect to your mobile devices and a BOSE sound system – to keep you entertained even if you're indoors. As one of the most family-friendly villas in Bali, Hilton Bali Resort is home to the Jungle Kids Club, an indoor-outdoor playground that features an exciting climbing wall and even a trampoline. They're bound to have all sorts of fun while you whisk away with your other half to enjoy more of Bali!
Address: Jl. Raya Nusa Dua Selatan, Benoa, Kecamatan Kuta Selatan, Kabupaten Badung, Bali 80363, Indonesia
Price: $480/night
11. The Trans Resort Bali
The Trans Resort has some of the best villas in Seminyak, Bali, to consider if you're planning a getaway for your family this summer! You can choose between the One Bedroom villa and the Presidential Villa, which are both massive as they span about 350sqm and 700sqm, respectively. These mini-country houses are furnished generously with cosy daybeds and wide verandas by the pool; the Presidential Villa can even accommodate up to 6 guests in total and has an added bonus of a full dining room.
No matter your age, a family-friendly villa like Trans Resort Bali has something to keep you entertained during your stay. For the little ones, the expansive kids club that's complete with a Baskin Robbins ice cream parlour, air hockey table, and even a PC corner! For older guests, they can head down to get a rejuvenating, personalised treatment at the spa, and can enjoy a 20% discount on several types of services. 
Address: Jl. Sunset Road, Seminyak, Kerobokan Kelod, Kecamatan Kuta Utara, Kabupaten Badung, Bali 80361, Indonesia
Price: From $633/night
Time to upgrade your next vacation with a villa stay in Bali
Experience the beauty of "The Island of The Gods" in the best way possible, with these villas in Bali that we've discovered for you! Whether it's in Seminyak, Ubud or Canggu, there's bound to be one of the best villas in Bali that's perfect for your upcoming vacay. While a villa stay is often more costly than a typical hotel stay, it's definitely much more swanky and comes with its own added perks. Not only do you get a private pool and garden, there's less likely to be a noise disruption in the middle of the night, or you're less likely to feel out of place and uncomfortable in the comfort of your own secluded residence. And do make sure you're all set for the tropics with some of the best portable fans and best sunglasses in Singapore.