Hotels may be the common go-to when it comes to staycations. But do you remember the good ol' times you had celebrating birthdays and barbecuing at the best chalets in Singapore? They're usually larger than regular hotel rooms and suites, making them perfect for extra large gatherings. So if you're still wondering where to bring the fam bam over the upcoming March holidays, look no further than the best chalets in Singapore!
Chalets vs hotels: Which is better?
| | | |
| --- | --- | --- |
| Type of staycation | Chalets | Hotels |
| Space available | Usually larger than hotels, able to accommodate big groups of people | Tend to be smaller unless you opt for suites |
| Maximum number of guests | Unlimited | Varies according to room type |
| Price | Cheaper | More expensive |
| Accessibility of location | Usually less accessible via public transport | Can be easily accessed via public transport |
Best chalets in Singapore: West
1. The Chevrons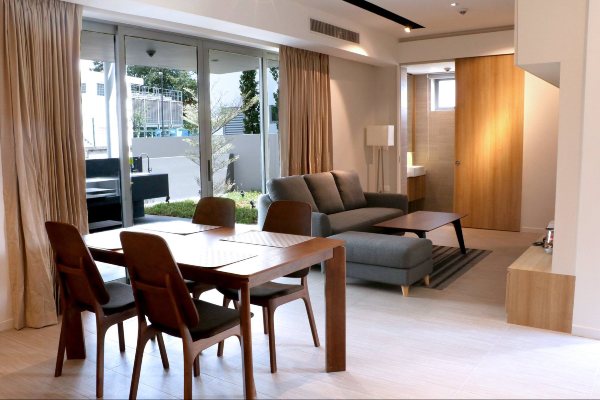 Journeying to the east is always a pain for West-siders. But thanks to The Chevrons, you'll no longer have to travel far for the best chalet in Singapore. Designed with a modern finish, chalet units at The Chevrons are furnished with a mahjong table, pillowy soft beds and more to give you a home away from home. 
What makes the Chevrons the best chalet in Singapore is how each unit, including the bungalows, come with sheltered barbecue pits. And with JEM, IMM and Westgate located about 10 minutes away, you'll have more than enough options when it comes to grocery shopping! 
Price: From $120/night
Address: 48 Boon Lay Way, S(609961)
2. HomeTeamNS Bukit Batok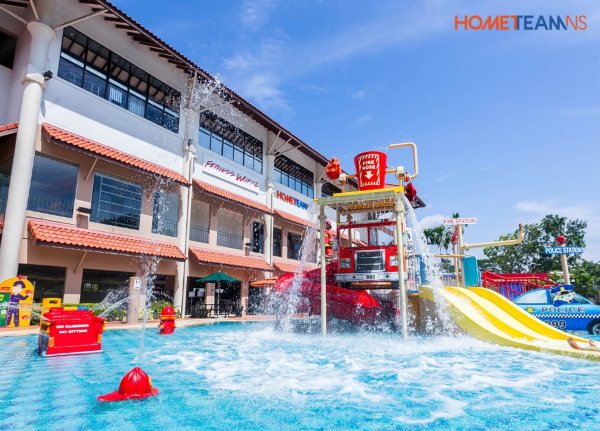 Thinking about what to do during your staycay at some of the best chalets in Singapore? Cue HomeTeamNS Bukit Batok where there's a multitude of activities lined up. Adrenaline junkies will be in for a thrilling time with the high elements at the Adventure Centre. While those who want something more chill can get some swings in at the
golf
range, or play some
board games
at the playpen.
Other than activities, HomeTeamNS Bukit Batok is also known for having the best bungalow chalets in Singapore. And it's all thanks to how each bungalow villa comes with an Xbox console. So get ready for friendly challenges with your pals well into the night as you conquer stages after stages!
Price: From $257/night
Address: 2 Bukit Batok West Avenue 7, S(659003)
Best chalets in Singapore: East
3. Civil Service Club @ Loyang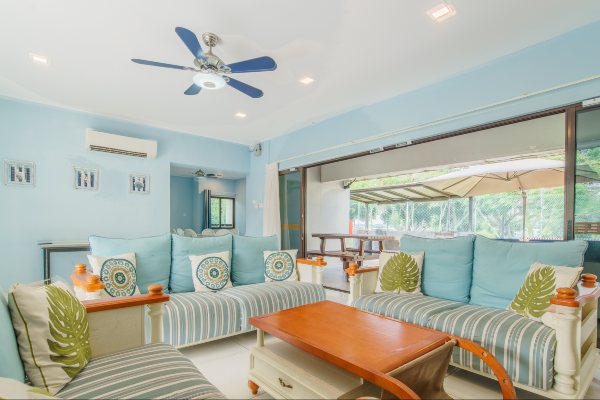 Themed rooms, sea views and bungalows – what more could you ask for when it comes to the best chalets in Singapore? The Civil Service Club @ Loyang has 38 chalet units, each offering a different view during your staycation. Whether it's the pool, sea or garden, you can be assured that every view is just as picturesque as the others. 
Civil Service Club @ Loyang is also one of the few pet-friendly bungalow chalets in Singapore. This means birthday parties for your furry companion and their fellow paw pals for the perfect bark-day! 
Price: From $155/night
Address: 159W Jalan Loyang Besar, S(507020)
4. CherryLoft Resorts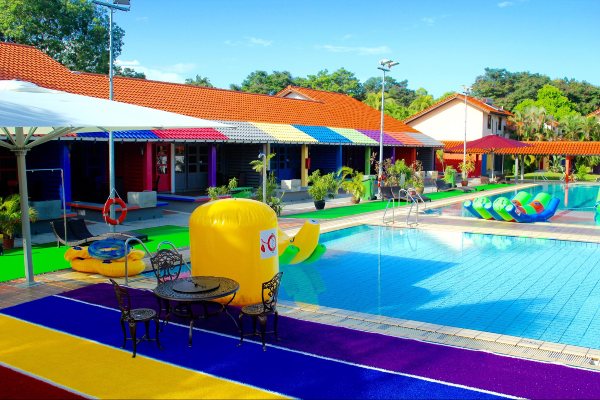 Kampung vibes coupled with the aesthetic of Brighton Bathing Boxes is what you'll get at CherryLoft Resorts. The vibrant colour palette is a treat for the eyes, but that's not all. Each unit at this best chalet in Singapore faces the pool. You'll be barbecuing at the pit with the glimmering pool in the background and wake up to the sun reflecting off the water in the morning. 
But what we love most is how you can jump into the pool anytime and come up to the communal area to dry off as you dig into the barbecued food. And if the pool can't contain your holiday excitement, take a five-minute walk to Downtown East that's home to one of the best indoor kid's playgrounds and indoor skating rink.
Price: From $175/night
Address: 159 Jalan Loyang Besar, S(509404)
5. National Service Resort & Country Club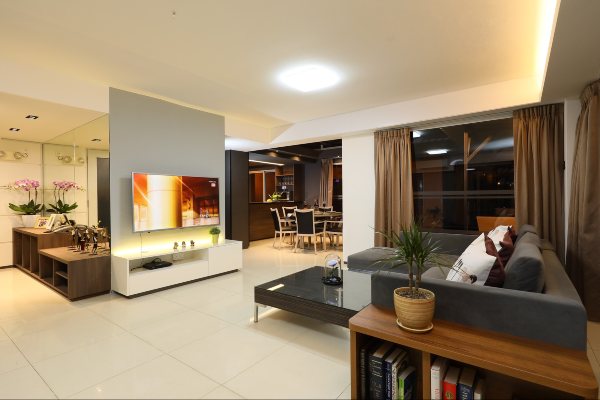 Not all of the best chalets in Singapore are created equally. For atas vibes that are a cut above the rest, go for National Service Resort & Country Club (NSRCC) for a more bougie staycay. NSRCC is one of the best bungalow chalets in Singapore that offers guests a tranquil environment, reminiscent of resort villas in Bali. The bungalow's aesthetic, well-furnished rooms and amenities will definitely be more than enough. 
Otherwise, make use of the complimentary bowling games that come with your stay to engage in some fun competition! You can definitely expect a wonderful time where you can unwind with your loved ones at this best bungalow chalet in Singapore! 
Price: From $124/night
Address: 10 Changi Coast Walk, S(499739)
6. Aranda Country Club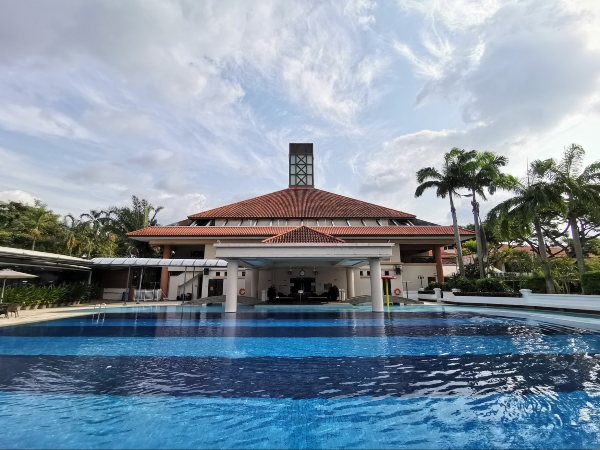 We'll never be done with the best chalets in Singapore that boast a modern aesthetic. So here's Aranda Country Club, where you'll experience high-class staycations like never before. You'll be staying in one of 38 suites that'll guarantee a sweet break as you chill with loved ones near and dear. 
The Executive Suites at this best chalet in Singapore comes highly recommended. You may be able to catch glimpses of otters and herons in their natural habitat as you peer out of your room into the nearby Pasir Ris mangrove swamp. And if your kids are itching for some activities, you'll be happy to know that the stay comes with unlimited access to Wild Wild Wet. Just remember to slap on some sunscreen and get your swimsuits ready for a splashing good time!
Price: From $194/night
Address: 60 Pasir Ris Drive 3, S(519497)
7. Heritage Chalet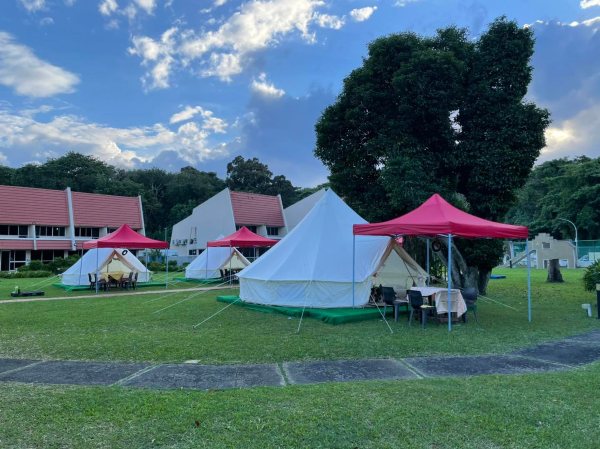 Trust Heritage Chalet for a glampcation beyond your wildest dreams! This is one of the best chalets in Singapore that takes staycation to the next level as you'll be glamping by the sea. That calls for some sunrise watching with your loved ones for the most IG-worthy shots! And if the fam is up for some fun, stroll through Pasir Ris beach and bring the kids to one of the largest playgrounds in Singapore nearby. Alternatively, head to Gallop Stable nearby for some horseback riding! 
But of course, no chalet is complete without some barbecuing. You don't have to buy any of your own food as Heritage Chalet's got your back. They offer a BBQ Starter Bundle and food for five people at an additional $80. Just get your chef skills ready to perfect those chicken wings, satay and more!
Price: From $105/night
Address: 125A Pasir Ris Road, S(519121)
Chope the best chalets in Singapore for your staycation now
Staycays with your fam bam don't always have to be fancy. The next time you're planning a weekend getaway or a special celebration, be sure to let loose at these best chalets in Singapore. Make it lit with the best drinking games or binge watch the hottest Netflix dating shows – here's to a night of endless fun!