There are plenty of ways you can have a date night with your partner at home without heading out, especially when there are limitations on dine-in and a two pax restriction for most entertainment venues. Spice up your nights with these exciting couple games you can play at home. For lovebirds who do not live together, we've compiled a list of online couple games that you can play together even when you are miles apart!
Best online games for couples 
With tighter restrictions recently, couples may find it harder to spend time together during this trying period. Thankfully, you guys can still meet online and have fun together! From cooking up a storm in a virtual kitchen to battling powerful monsters in scary dungeons, the following best couple online games will bring about loads of fun and excitement to your relationship!
1. Overcooked! 2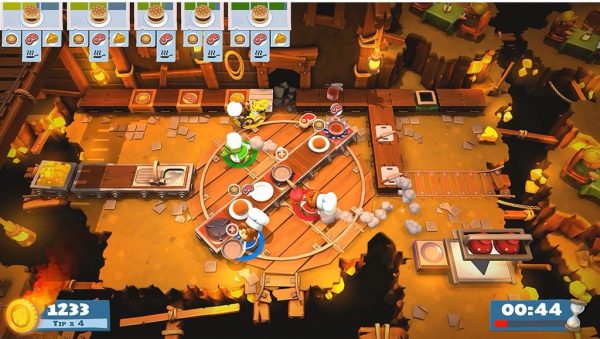 Are you a huge fan of the popular Overcooked? You will love the sequel as much as the original, if not more! But if you've never played a video game with your partner before, this fun multiplayer game is bound to make your non-gamer partner a convert! 
The first Overcooked! is a local co-op game — this means you and your partner have to be playing side by side on the same device. This can be hard for couples who don't live together during this stay home period. Thankfully, the PS4 Overcooked! 2 (available on Chipskategame) allows for online co-op mode. Don't own a PS4? This online game is also available on Nintendo Switch, Xbox One and PC via Steam. No matter where you are, you can experience this fun-tastic couple online game together with your partner! Similar to the first version, Overcooked! 2 is a cooking simulator game where players have to cooperate and discuss strategies on their feet as the kitchen duties constantly change. This multiplayer co-op game supports up to four players so you can get your family to join in on the fun too. With new interactive levels, themes and recipes, Overcooked 2 will put your teamwork to the test and guarantee lots of laughter and endless fun!
Available on: Nintendo Switch, PS4, Xbox One and PC via Steam
2. Among Us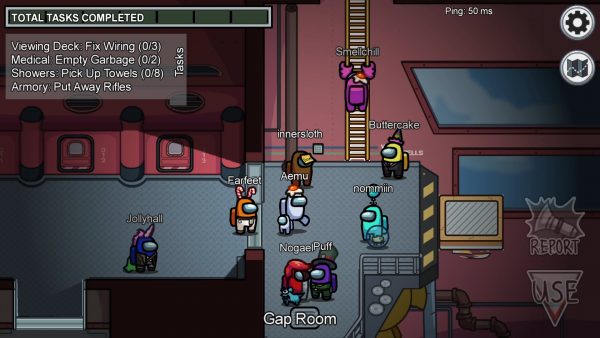 We couldn't leave out Among Us —  one of the most popular games of 2020! This is one of the best couple online games to put your wits to the test and battle it out with your partner. In this game, you play a spacecraft crewmate who's preparing your spaceship for departure. However, an imposter has snuck onto your ship and is out to kill your crew! Act fast and evict the imposter by getting all your crewmates to complete their tasks or to unite your votes and uncover the culprit.
Meanwhile, being the imposter is also equally fun in Among Us. The role is randomly assigned at the start of the game. As an imposter, you will have to cause chaos (think black outs and oxygen shortage) and find the perfect time to sneak in a kill. Be sure to convince or confuse your crewmates so they don't vote you off the ship! You can play this not only with your partner but also with your friends as the game hosts up to 10 players online! Need more tips to ace the game? Check out our Among Us tips now! And while you're at it, don't forget to bag some cute Among Us merchandise to show your love for the game.
Available on: App Store and Google Play Store on mobile and PC via Steam
3. Play Together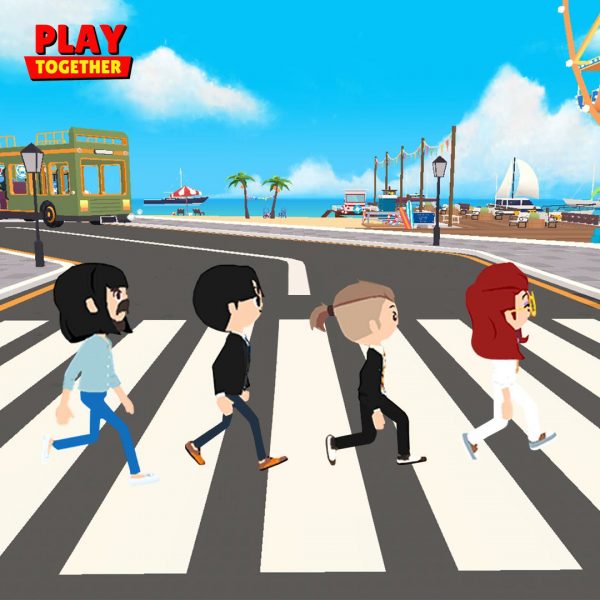 During this period where gatherings are limited to two people and dining out isn't possible, Play Together is like a godsend to keep us entertained. This easy-to-play mobile game is a mini game, racing game and cooking game all rolled into one. Get your adrenaline pumping when you and your partner participate in 17 exciting mini games in the likes of those found in Fall Guys. Do your best to avoid elimination and survive till the end to win the game!
 Need a break? Go on a date in the Plaza where you get to eat, play and shop together! Psst, buy a car in the game and take your date out on a drive — she or he will be impressed! Running out on in-game money? Head on over to attend school in Play Together, where you'll attempt quizzes and role plays to earn more in-game money. On top of all of these, you also get to own a house of your own that's fully customisable and take care of cute pets such as cats, dogs and even chickens! With so much to do in Play Together, you and your partner will never get bored of this best online couple game!
Available on: App Store and Google Play Store on mobile
4. Genshin Impact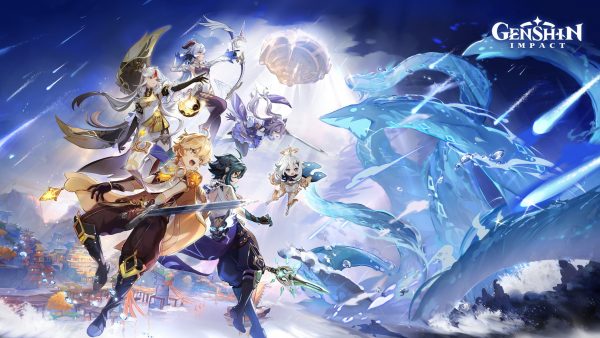 If you and your partner are fans of action RPG (role playing games), Genshin Impact will not disappoint. Immerse yourself in the magical world of Genshin Impact, where stunning graphics meet wonderful character design and satisfying gameplay. Many RPG games are hard to pick up because of complex controls and game design. However, Genshin Impact kept its core combat simple with a customisable team build. This means you can experiment with different characters in your team to find the best winning recipe that works for you. The game actively updates its storyline and introduces new characters so it never gets boring. You can visit each other's world and team up to fight bosses together or even go farming for resources to build more furniture for your lovely homes! And if you can't meet up for a romantic date, why not climb up to Qing Yun Peak together and watch the sunset side by side? This is the best couple online game while you stay home and stay safe! Plus, the game supports cross-platform experience so you need not own the same gaming devices to play together. 
Meanwhile, check out these Genshin Impact merchandise which features the cheeky hilichurls, bouncy slimes and even your favourite game characters like Paimon!
Available on: PC, App Store and Google Play Store on mobile, Playstation 4 and 5, 
5. Keep Talking And Nobody Explodes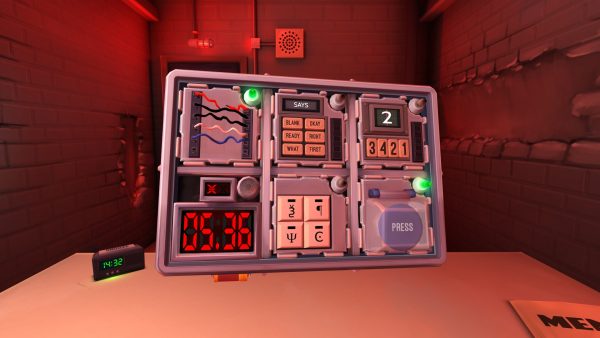 Are you able to cooperate and defuse the bomb in time? Keep Talking And Nobody Explodes' premise is simple: one player gets trapped in a room with a time bomb while the other is handed a bomb defusal manual to rescue the trapped player. 
Sounds easy, doesn't it? But, here's the catch. The player with the bomb defusal manual is unable to see the bomb. Talk and discuss ways to solve the challenging puzzles. It's the only way to diffuse the bomb! This best online game for couples allows both players to discover each other's coping mechanism amid a chaotic situation. 
Available on: App Store and Google Play Store on mobile, PC via Steam and consoles such as Nintendo Switch, PS4 and Xbox One. For a more holistic experience, choose to play it in VR mode.
6. Mario Party Game Series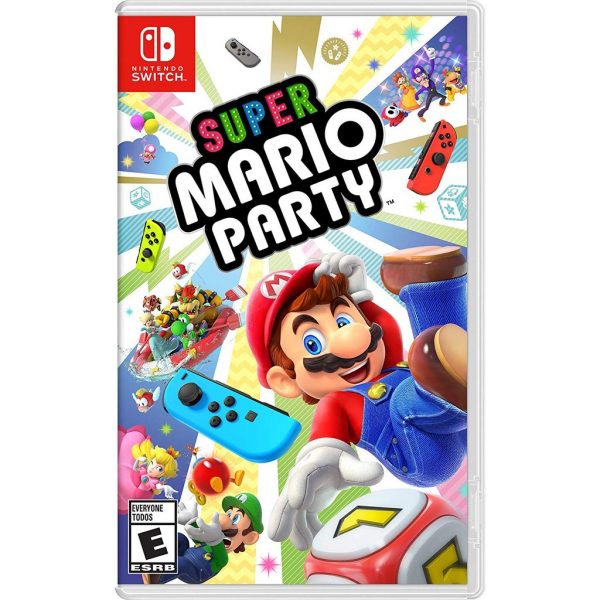 Bringing the joy of board games onto your screen, the Mario Party game series is one of the best online games for couples. The popular  game series allows players to set off on the quest of stars collection and minigames with the ultimate goal to defeat Bowser, Mario's biggest archenemy. 
The exciting gameplay of each Mario Party is changed to suit the technology of the console over the years. We especially like Super Mario Party (available on RPG – Right Place For Gadgets) which has new innovative minigames that allow for online multiplayer mode for the first time in the series! You can play the minigames together with your partner even when you don't live together. Released for Nintendo Switch, Super Mario Party also features one of the largest rosters of characters in-game. Played it countless times? Engage in other fun Nintendo Switch games too!
Available on: Nintendo Switch
7. PlayerUnknown's Battlegrounds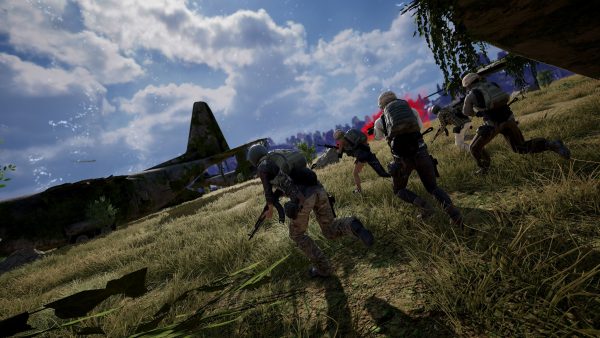 No list of best couple online games is complete without PlayerUnknown's Battlegrounds (PUBG). Nothing is more romantic than being able to protect your lover (aww) in this fierce battle royale game where players fight to emerge victorious as the last man standing. 
Requiring strategy and an adventurous spirit, this game can be played solo or as a group (maximum four players). Players are parachuted down onto the map where they can rummage for weapons, armour and vehicles. What makes the game extra challenging is the shrinking safe zone, which forces players into a more confined area for combat. Players who are unable to reach the safe zone in time will 'die' and be out of the game. In it's latest update, cross-platform play is now available for players on Xbox One and PS4, which means that you can play this game with your partner even if you both don't own the same console! Gain an edge over your enemies in PUBG Mobile when you use PUBG mobile gaming accessories such as the Ugreen PUBG Joystick Controller (available on Ugreen Official Store).
Available on: Xbox One, PS4 and on Apple App Store and Google Play Store as PUBG Mobile
8. Terraria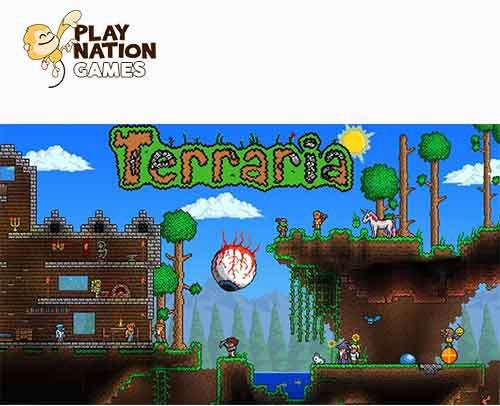 Dig, fight, explore and craft together in this 2D indie action-adventure game! Perfect as a couple game, the Terraria world is filled with seemingly endless possibilities for you to explore together. 
Created in a 2D world, you need to be street-smart to navigate your way through this ingenious world of Terraria (PS4) (available on Play Nation Official Store) where you can go solo or with an adventure-buddy. You first create a character and enter a randomly generated world where you can host your friends via Steam. Players will experience a day/night cycle where the night-time dangers of flying eyeballs and zombies will trouble you. During the day, you are free to dig underground caves to mine valuable items that you could use to craft weapons such as lightsabers and build houses! Explore a world full of possibilities in this fun online game for couples. If you are up for something different, check out some of the best Final Fantasy games to play.
Available on: PC via Steam, PS4, Nintendo Switch, Xbox One, Apple App Store and Google Play Store
Best face-to-face couple games
Despite the restrictions, couples can still meet up at each other's house thanks to the two visitor per day limit. This means that other than online games, you guys can exploreboard games or card games for couples too! Spend quality time challenging each other with these fun face-to-face games for couples below.
9. Exploding Kittens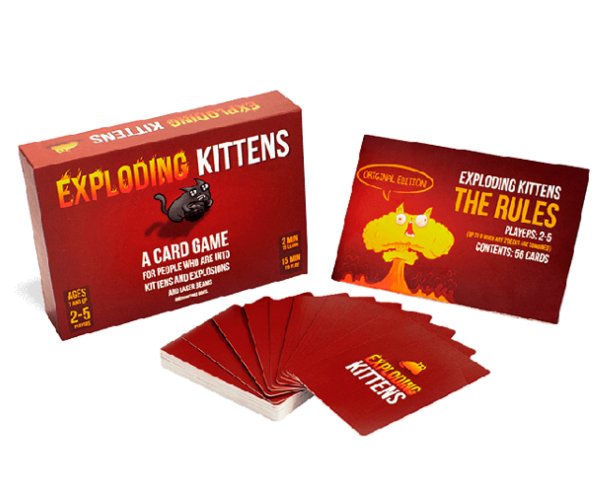 Launched through Kickstarter, Exploding Kittens (available on Toy Station Official Store) is a hugely popular card game for couples. This is especially so for those who are looking for something straightforward and fun. Players take turns to draw cards filled with adorable cat illustrations and a player loses when he or she draws an Exploding Kitten. This can be avoided through strategic use of the defuse cards or other action cards that help to resolve the situation. Exploding Kittens is one of the best card games you need to try!
10. Pie Face Showdown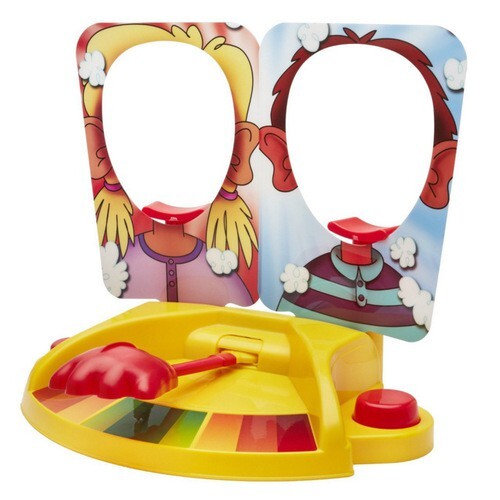 If you and your partner have a bit of a competitive streak, this couple game is just for you! Don't be mistaken by the packaging, Pie Face Showdown (available on Receesoon Fashion) isn't just for kids. Fastest hand wins in this game, where both players have to smash the buttons rapidly to direct the pie thrower away from their side. The slower contestant gets a pile of whipped cream thrown in their face. Load the pie thrower up with a pile of whipped cream to up the stakes and both of you will be screaming your way through the night! 
Couples at home can get creative (and dirty) by switching up the items placed on the pie thrower. Instead of whipped cream, why not go for some leftover pasta sauce? Fair warning: just be prepared to clean up after all the fun!
11. Just Dance 2021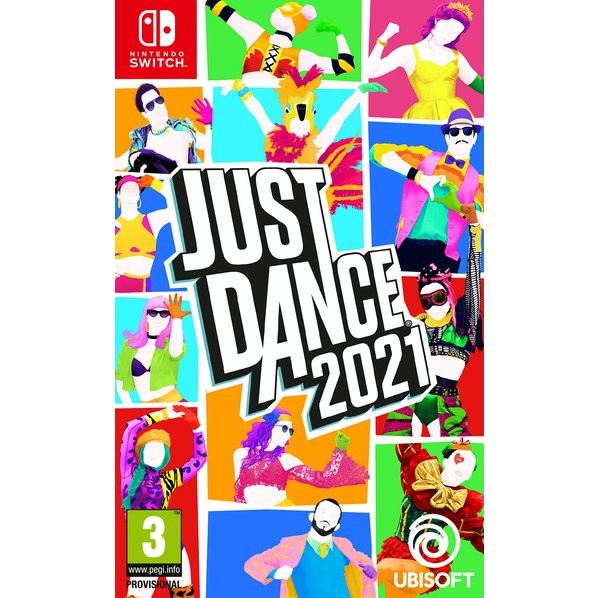 Kill two birds with one stone with this competitive exercise game. With Just Dance 2021 (Nintendo Switch) (available on Qisahn.sg), you get to groove to the beat with your partner as you work those muscles and break a sweat at home! 
Just Dance 2021 features 40 chart-topping popular tracks including sing-along hits such as Feel Special by Twice, Don't Start Now by Dua Lipa and Señorita by Shawn Mendes & Camila Cabello. Players will need to bust some of their best dance skills as they follow the on-screen dancer's choreography to a chosen song. Certain tracks even feature a couple dance to spice up your night. Enjoy exercising together with your partner? Take your date night to another level with these Nintendo Switch exercise games for just as much fun!
Available on: Nintendo Switch, Xbox One, PS4, Wii and Google Stadia
12. Desire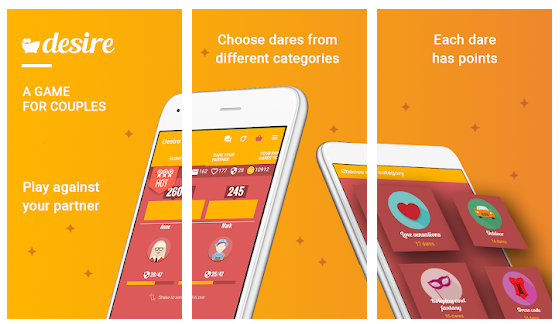 Turn up the heat with Desire, a mobile game application that allows you to exchange dares with your partner. Choose dares from a long list of predetermined categories, including 'Love sensations' and 'Roleplay and Fantasy'. You can even create dares of your own for your partner. The dare will be received in the form of a scratch card, adding to the excitement when you scratch it off and reveal yours. Players who accept and complete a dare are rewarded with points which help to unlock more challenging dares. 
This couple game will power up the passion in your relationship and is great for couples who find their relationship stagnating. 
Available on: Apple App Store and Google Play Store
13. We're Not Really Strangers Card Game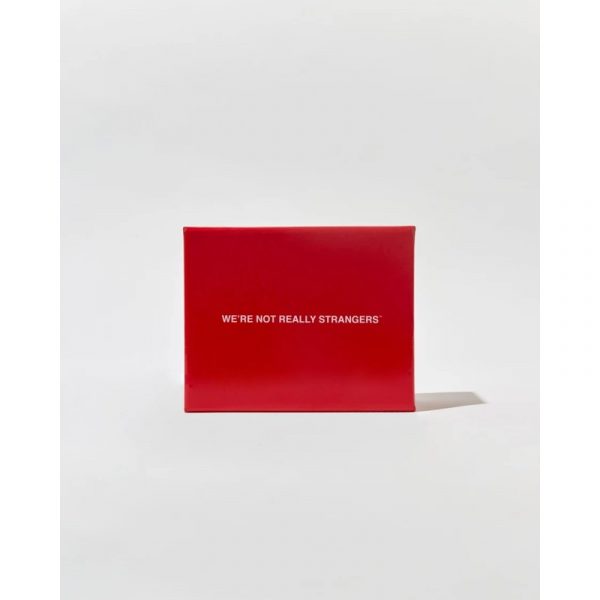 Behind this deck of seemingly minimalistic cards, lies a game that builds strong relationships and connections. We're Not Really Strangers (available on coldpotato) is a meaningful card game for couples to gain a deeper understanding of each other. The deck comes with a variety of deep questions such as "How are you, really?" or "What about me intrigues you?" to help guide couples through a session of quality communication. This is a great game for couples who struggle to express their emotions to one another. You can also purchase the Relationship expansion pack which includes more dating related cards. Grab some wine, lean back and enjoy this session with an open mind! 
14. Machi Koro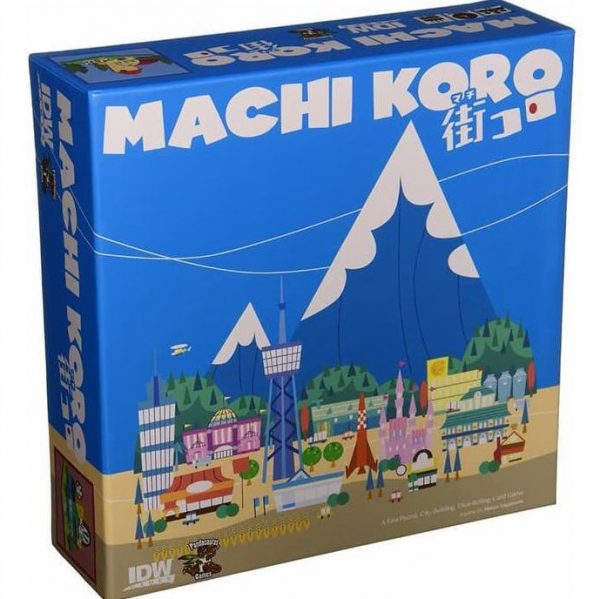 Looking for a quick couple card game to end the night? Machi Koro (available on araminta.grosir.sg) will be a good option! You're the mayor in this fast-paced card game. Your aim is to build a city with all the top landmarks before your other half does. At each turn, roll the dice for landmarks or buildings that you can create. But things are not so easy! You'll need to collect income from developments (or steal your partner's money) to fund these constructions. Stay alert to avoid falling into traps and build the biggest city to win the game!
15. Our Moments: Couple Edition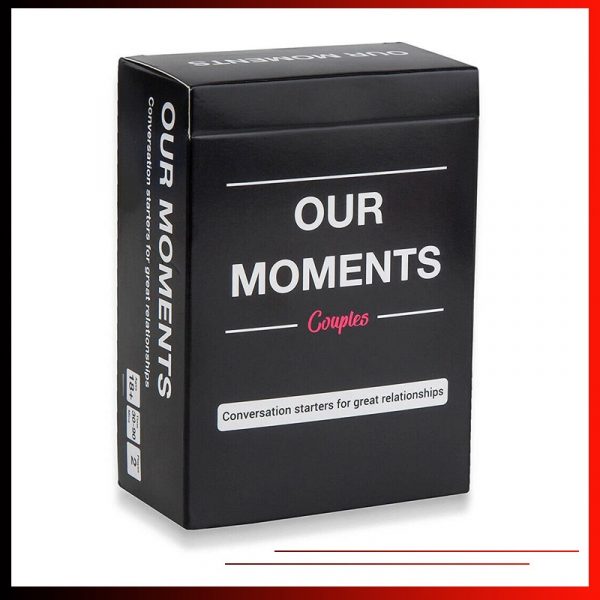 Another fun card game for couples is Our Moments: Couple Edition (available on HOU-MI Store). Slightly more lighthearted than We're Not Really Strangers, Our Moments also come with question cards that help to initiate conversations between couples. Questions such as "If we could quit our jobs, what would we like to do?" can help couples align on their aspirations and gain a deeper understanding of one another. Make time for each other and enjoy an endless night of chatter and laughter with Our Moments! 
Keep the spark alive with these best online and offline couple games 
Don't restrict your stay home activities to just watching Korean dramas. There is a myriad of home entertainment if you know where to look! Whether you are together or apart, delve into a realm of fun and laughter with some of the above online games and card games for couples! Check out other popular PS5 games and Telegram game bots that you can enjoy with your family and friends too!