Bored of doing jumping jacks and running on the treadmill? Why not workout with these Nintendo Switch exercise games! Rather than involve gimmicky motions, these Switch fitness games push your limits while letting you exercise from the comfort of your own home. From defeating monsters or keeping to the beat, here's how you can break a sweat and have fun while you're at it!
Why Ring Fit Adventure is the best Nintendo Switch exercise game to date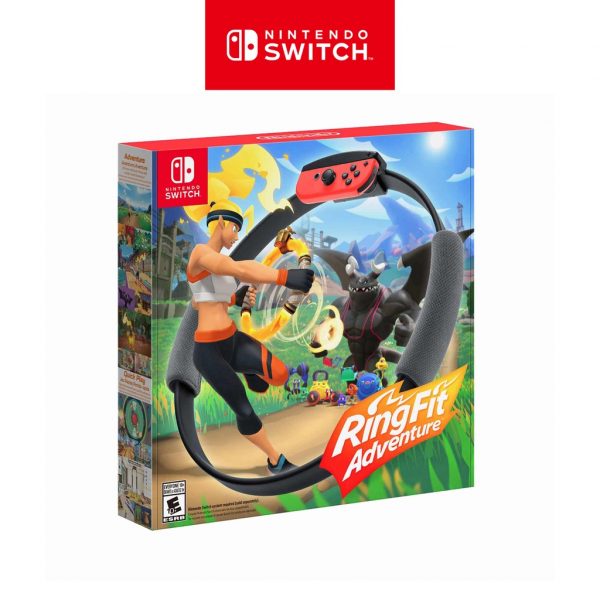 Before diving into the best Nintendo Switch exercise games, we have to first highlight the game that inspired this list! Despite looking goofy on first impressions with its pilates-inspired ring accessory, the Ring Fit Adventure (available on Nintendo Official Store Singapore) will definitely be a worthy purchase especially if you get it in a bundle with a Nintendo Switch OLED (available on Nintendo Official Store Singapore).
Sweat it out in Adventure mode, where you're actively jogging through linear paths and beating enemies with squats and knee raíses! Over time, you can level up and unlock even more potent workouts to breeze past enemies. From rhythm-based bopping and robot crushing minigames to recording your heart rate and reminding you to hydrate yourself, you'll shed those calories while having a ball doing it. If you've been trying to restart your fitness routine after gym closures, there's no better way to kickstart it than with Ring Fit Adventure. Here are some of our other favourite Nintendo Switch exercise games to get active with!
Best Nintendo Switch exercise games like Ring Fit Adventure to get in shape with
1. ARMS
Love the boxing minigame in Wii Sports? Engage in some friendly fisticuffs with the frantic Nintendo Switch exercise game — ARMS (available on My Gaming Lab). The game is a visual feast! The roster of fighters are immediately differentiable with their unique playstyles. Rather than it being a contest of who can flick their wrists faster, ARMS rewards you for smart play and movement as you tilt and thrust the joycons to dodge and punch your virtual opponents. Although it might not be labelled as a Nintendo Switch fitness game you'll definitely be gasping for air after you're done flailing your arms and dodging your opponents' hooks in this fast-paced game.
2. Just Dance 2021
Just Dance 2021 (available on qisahnsg) is undoubtedly on the top of everyone's list of best Nintendo Switch exercise games. Refining the established Just Dance formula, the 2021 edition includes bangers like Doja Cat's Say So and Blackpink's Ice Cream that'll appeal to anyone familiar with the modern pop scene! Mastered all 40 songs? Test your mettle by signing up for Just Dance Unlimited to unlock 500 more songs. Whether you're a newcomer or an experienced dancer, the jump-in-and-play nature and varied songs in Just Dance 2021 are a definite plus for any Switch owner's library. Once you're done dancing, make sure to check the in-game calorie counter and pat yourself for the calories burnt!
3. Super Mario Party
For a game that's based on charming minigames and stealing stars, you might be confused on why a Nintendo Switch party game like Super Mario Party (available on Nintendo Official Store Singapore) makes our list of perspiration-inducing Nintendo Switch exercise games. It's Super Mario Party's Sound stage mode that will get your heart racing as you compete with your friends across multiple rhythm-based minigames. These can range from skewering fruit that's launched across the screen to wiping windows as you're ascending a building! Once you're familiar with the mechanics, ramp up the difficulty and get subjected to faster, more challenging beats.
4. Fitness Boxing 2
Unlike Nintendo Switch fitness games like Ring Fit Adventure and ARMS, Fitness Boxing 2 (available on gm_elec_.sg) skips all the distracting razzle-dazzle to deliver a focused workout experience. If you've never attended a combat fitness or boxercise class, Fitness Boxing will prove a satisfying challenge with its endless combos of jabs, hooks and uppercuts — all while boxing to the beat of catchy pop songs! Fitness Boxing 2 also offers dedicated workouts to target specific body muscles like the calves and chest. With handy graphs that track calories burnt and punches thrown, the game doesn't pull its punches in letting you experience a full-blown boxing workout! For the price of a one month gym membership, Fitness Boxing 2 offers a convenient workout option as long as you're willing to put the time in.
5. Zumba Burn It Up
Zumba Burn It Up (available on GameBusted) is the real deal when it comes to getting active and burning those calories. While the Just Dance franchise is popular with its easy-to-learn dance moves, Zumba Burn It Up takes it up a notch with complex dance moves that can stumble players with two left feet! For those who've signed up at Zumba classes, you'll feel right at home here with live-action instructors dancing along with you! Love a challenge? Try the 60-minute Full Class option to really get those muscles working.
6. Mario & Sonic at the Olympic Games Tokyo 2020
Besides being an excellent Nintendo Switch exercise game to break a sweat with, Mario & Sonic at the Olympic Games Tokyo 2020 (available on GameBusted) also welcomes Nintendo fans by tying in two of its biggest mascot characters. From archery to fencing, this Nintendo Switch fitness game keeps you on your feet as you physically take part in close to 30 various minigames via motion controls. Beyond being a fun Switch party game, Mario and Sonic at the Olympics is also packed with content to keep you busy on the single-player end. With a unique story mode that ties in retro minigames, it's a welcome surprise that harkens back to the good old days of mashing buttons on old-school track and field sporting games!
7. Mario Tennis Aces
Serve up a storm with Mario Tennis Aces (available on My Gaming Lab) — one of the best Nintendo Switch exercise games that offer an assortment of colourful characters from the Mario universe! With a varied Adventure mode that teaches you all the basics, you'll be slicing and smashing in no time. Once you're done, take your skills to the online Tournament mode or battle your friends in local multiplayer! While Mario Tennis Aces might look like your run-of-the-mill sports title, peel back the layers and you'll find an exciting Nintendo Switch fitness game that's akin to a technical showdown. As you commit to long rallies, your special bar will be your biggest ally! From power shots to last-ditch saves, its usage is what will separate the good players from the masterful ones.
Heart-racing exercises await with these best Nintendo Switch exercise games
Whether you prefer fun pilates exercises in Ring Fit Adventure or boxing opponents in ARMS, these Nintendo Switch fitness games will definitely come in handy if you wanna squeeze in a quick workout! If you need more recommendations for Switch titles, you can always scour through the Nintendo Official Store Singapore or read up on our guide to the best Nintendo Switch party games you can play with your friends. If you want to get more toned, then check out our trainer-recommended workout guide that will help you stay in shape. Additionally, don't forget to get some of the best fitness trackers which will help you keep track of your heart rate and fitness progress!
This article was updated on 17-09-2021. Additional research done by Gabriel Choo.