Kombucha has been a buzzword recently but what are the benefits of kombucha and where can you buy kombucha in Singapore? A kombucha drink is made from fermented tea and is similar to other cultured food like yoghurt, kefir or even kimchi! What does it look like? Well, it's about the same colour as tea — brownish and lightly effervescent and can be fizzy too. Taste wise, it can be slightly vinegary. More importantly, it has become a hot commodity in the market with flavoured variations like peach, mango passion and sour plum kombucha being snapped up fast! Read on for a brief introduction to how kombucha is made, the benefits of kombucha and where you can buy your very own kombucha drinks!
How is kombucha made?
Kombucha is fermented sweet tea. If fermentation is familiar that's because many other foods are also fermented too like yoghurt, kefir and kimchi. Essentially, kombucha is made by brewing sugar, tea, kombucha from a previous batch and scoby or the symbiotic culture of bacteria and yeast. The scoby 'eats' the sugar in the tea, fermenting it and producing acidic compounds. Fermentation takes about a week to even 21 days. Sometimes, a second round of fermentation is also done so as to carbonate the drink or to add additional flavours. Psst, watch the above video for a quick introduction into the kombucha making process.
How to 'feed' your scoby?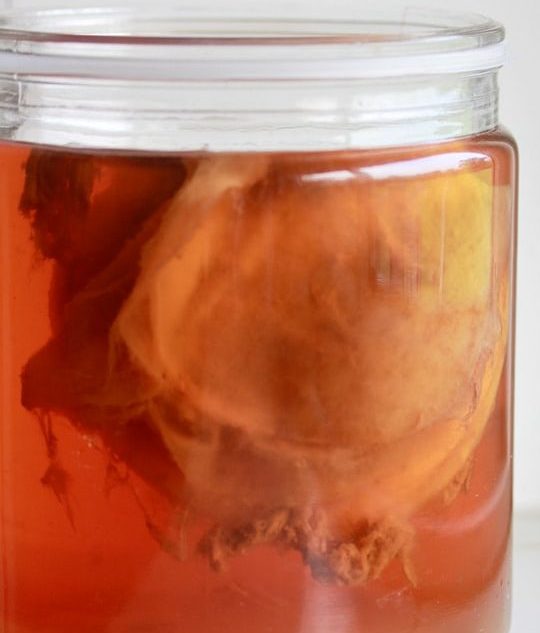 Once you've brewed your first batch of kombucha, you'll notice a jelly-like layer on the surface of the kombucha. This is called the scoby. The bacteria and yeast in the scoby feed off the tea's sugar and break it down into acids to give kombucha a fizzy taste. The scoby can be either attached to the original scoby or remain separate.
If the new scoby is thin but you are happy with the way your kombucha tastes then you can skip this section. However, a thicker scoby could just be the answer to enhancing the taste of komucha.To thicken it up, you can try these steps:

Allow your scoby to sit longer than seven days. A longer brewing time could allow the scoby to develop further
Try using more sugar. You can add on half a cup to even one extra cup of sugar and let your brew sit for two extra days
Benefits of kombucha drink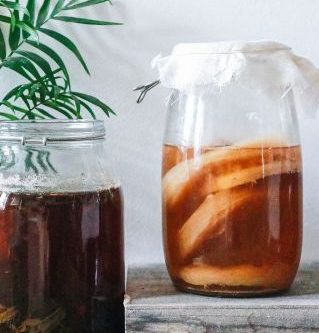 Kombucha was considered a healthy drink way back in time in China and Japan. Fast forward to today, there are still many proponents for drinking kombucha. Some have even gone as far as citing that kombucha drinks can help in weight loss, rheumatism, fights cancerous cells and more. However, there is little medical evidence for most of these claims. What we do know is that the most legitimate health benefits of kombucha are derived individually, from the benefits of the fermentation process (evidence of probiotics) and from the benefits of tea. Read on for the three benefits of kombucha according to health and wellness site, Healthline:
Due to the fermentation process, kombucha is rich in probiotics. Probiotics are considered to be good bacteria for our gut and help to keep our overall digestive system healthy. Probiotics can help reduce the occurrence of diarrhoea or even may fight off IBS.
Antioxidants refer to substances that help fight free radicals that attack our body cells. Kombucha, especially if made from green tea, is rich in polyphenols (a group of antioxidants) that help protect our cells from damage.
May reduce risk of heart disease
Studies have shown that tea can reduce LDL cholesterol (or bad cholesterol). Green tea, in particular, can prevent the oxidation of LDL cholesterol particles which can contribute to heart diseases.
Other potential benefits of kombucha include helping to boost metabolic rates, strengthening the immune system (thought to be linked to the strong gut) and relieving symptoms of depression and anxiety — some studies have found that probiotics have a hand to play here.
Now that you're familiar with some of the benefits of kombucha, read on to find out where you can buy kombucha drinks in Singapore!
Where to buy kombucha in Singapore
1. Remedy Kombucha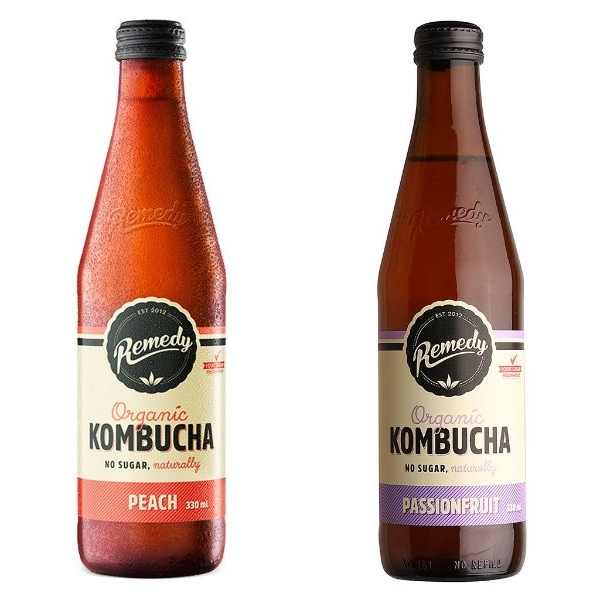 Remedy Kombucha brews kombucha in small batches, for 30 days. The resultant kombucha is filled with live culture, organic acids and antioxidants and without nasties like sugar. While raw organic sugar is added to the brewing process, this sugar gets naturally converted into organic acids leaving the brew with no residual sugar.
If you recall, one of the benefits of kombucha lies in its abundance of probiotics. Remedy Kombucha packages the drinks in dark glass bottles This will help protect the probiotics from light damage so they can do good for your gut! You've also got to try their varied flavours. From Remedy Organic Kombucha Peach and Remedy Organic Kombucha Passionfruit] (both available on Shopee Supermarket) to these portable Remedy Organic Kombucha – Ginger Lemon Cans (available on SG Deli and Grocer) that'll be perfect for that picnic in Singapore.
2. Kombynation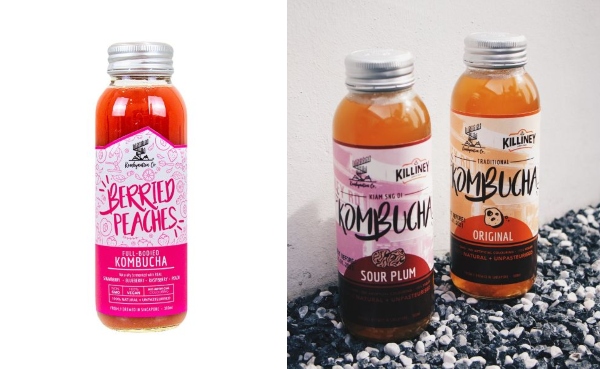 Locally brewed, Kombynation takes the art of fermenting seriously. They took the health benefits of kombucha another step further by including blended superfruits for an extra health boost. For example, Kombynation Berried Peaches (available on Food Culture SG Official Store) includes mixed berries that are known for their high antioxidant content and also includes peaches for their anti-inflammatory and anti-diabetic properties.
For a local twist, check out this Killiney x Kombynation Kombucha Bundle (available on Killiney Singapore). Get treated to the Traditional Kombucha or the more unique Kiam Sng Di (salty, sour and sweet) kombucha which refers to the plum treat that's commonly seen in drinks like lime juice!
3. Teazen kombucha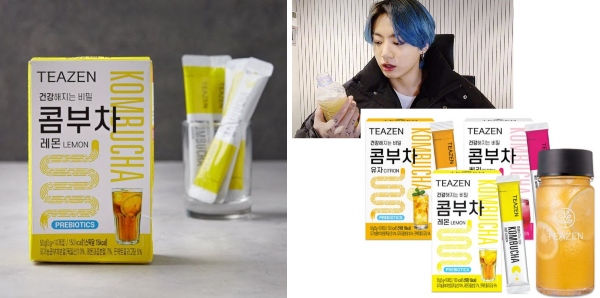 Made popular when BTS member Jungkook was seen drinking Teazen Lemon flavoured kombucha, the brand of kombucha has since been snapped up almost everywhere. But fret not, you can still get your hands on the Lemon 10T Teazen (available on Koryo Mart & K-Market. Each Teazen kombucha stick contains just 15 calories with no added sugar, fat or cholesterol. Add the kombucha stick into 250ml or 500ml water, shake and you're good to go!
4. Craft & Culture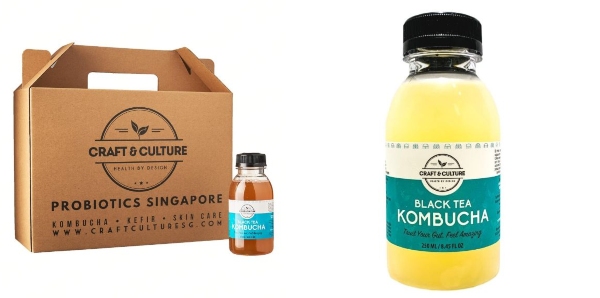 Local brand, Craft & Culture is a women-led microbrewery that specialises in kombucha along with other fermented drinks and foods like kefir and kimchi. Helmed by team members who have over 20 years of fermentation know-how, you'll be assured that kombucha drinks are of the highest quality here. Craft & Culture is also upfront about what their drinks do contain. For example, their kombucha drinks contain at least some sugar. They do not try to propagate sugarless kombucha as they believe that some sugar is normal and helps probiotics thrive. 
If you want to give this brand a go then their Craft & Culture 7 Day Kombucha Detox Set (available on Craft & Culture Singapore) is one to start with. One of the most widely believed benefits of kombucha is the ability for it to boost our digestive health. The detox set can help regulate your bowel movement, reduce bloatedness and you might even notice a brighter skin appearance. However, be sure to consult your doctor before starting on any detox program.
Alternatively, try Craft & Culture Yuzu Black Tea Kombucha for a zesty taste or the Craft & Culture Rose-Chia Black Tea Kombucha (both available on Craft & Culture Singapore) that contains chia seeds for an energy boost anytime of the day.
5. Genie kombucha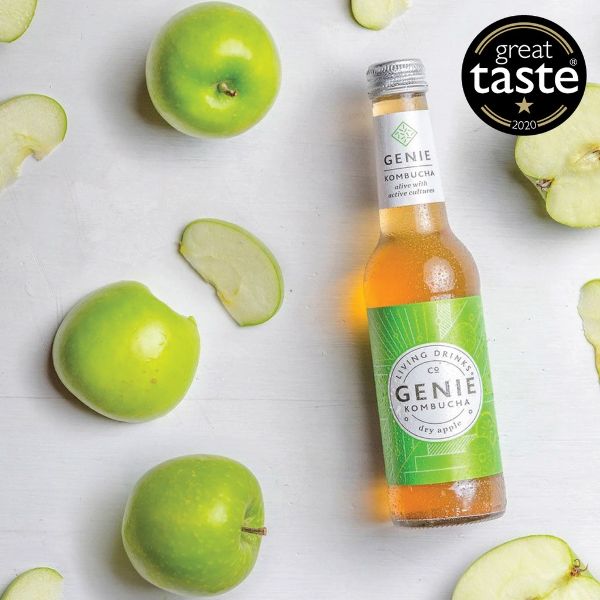 Made in the UK and having won awards for their kombucha, Genie Living Drinks is one must-try kombucha brand. The kombuchas come in three flavours — Dry Apple, Crisp Citrus and Fiery Ginger (available on ZestyLeaf) and are packed with live and fermented cultures, contain no added sugar and best of all are vegan and gluten free. A bundle of three bottles costs an affordable $18. This makes it easier to enjoy the benefits of kombucha without burning a hole in your pocket!
Won over by the benefits of kombucha yet?
We hope this guide to the benefits of kombucha drinks has been helpful. Drinking kombucha is just one way to maintain an overall healthy well being. Remember to keep to a balanced diet too. If you're making the switch to non-dairy milk alternatives, then this easy oat milk recipe will be up your alley. Otherwise, try these meal prep ideas in Singapore and stick to a healthy diet while working from home!