Frustrated by Whatsapp's lack of features? Why not consider swapping to the superior messaging app, Telegram! Here are 3 features WhatsApp lacks that has Telegram #winning the messaging app charts:
Telegram Channels
They are public groups you can join to get special deals, news and promo codes.
Telegram Bots
Basically the robots of Telegram! Send commands, like '/bus timing' and it'll automatically tell you how long it'll take for your bus to arrive.
Telegram Stickers & GIFs
Instead of your usual emojis, you can send stickers and GIFs (waaaay before WhatsApp could). Best of all, you can customise your own stickers! So move aside WhatsApp, because Telegram is here to make our lives a whole lot easier and fun! Get updates on the latest promotions, train breakdowns, bus timings, and even the daily life of our Prime Minister. Here are some of our favourite Telegram channels, bots and stickers we think every Singaporean should join or have:
Telegram Channels
A tool for broadcasting public messages to a wide audience, Telegram channels can be especially useful because they provide real-time updates on a variety of issues ranging from traffic updates to food discounts. Here are a couple of our favorites!
The Official Shopee Shopee SG Channel
Telegram Link: @theofficialshopeesg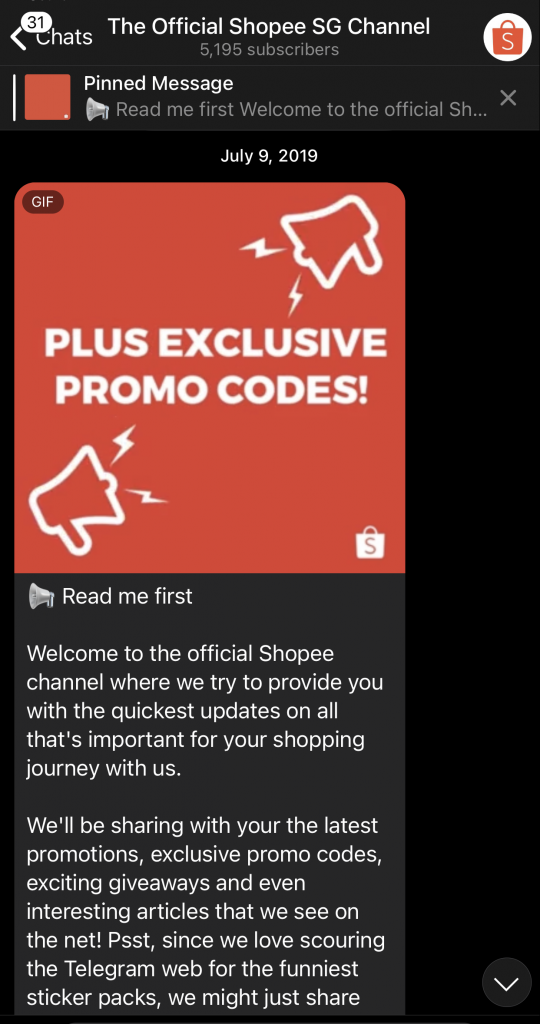 That's right, we are on Telegram (and Whatsapp) now! Subscribe to our channel to get the latest promotions and deals, receive exclusive promo codes and first alerts on the latest articles on our Shopee Blog! Here's a tip – lookout for our Wednesday Wins and Friday Freebies every Wednesday and Friday for promo codes to offset your purchases, but hurry – fastest fingers.
Shopee Prizes
Telegram Link: @shopeeprizes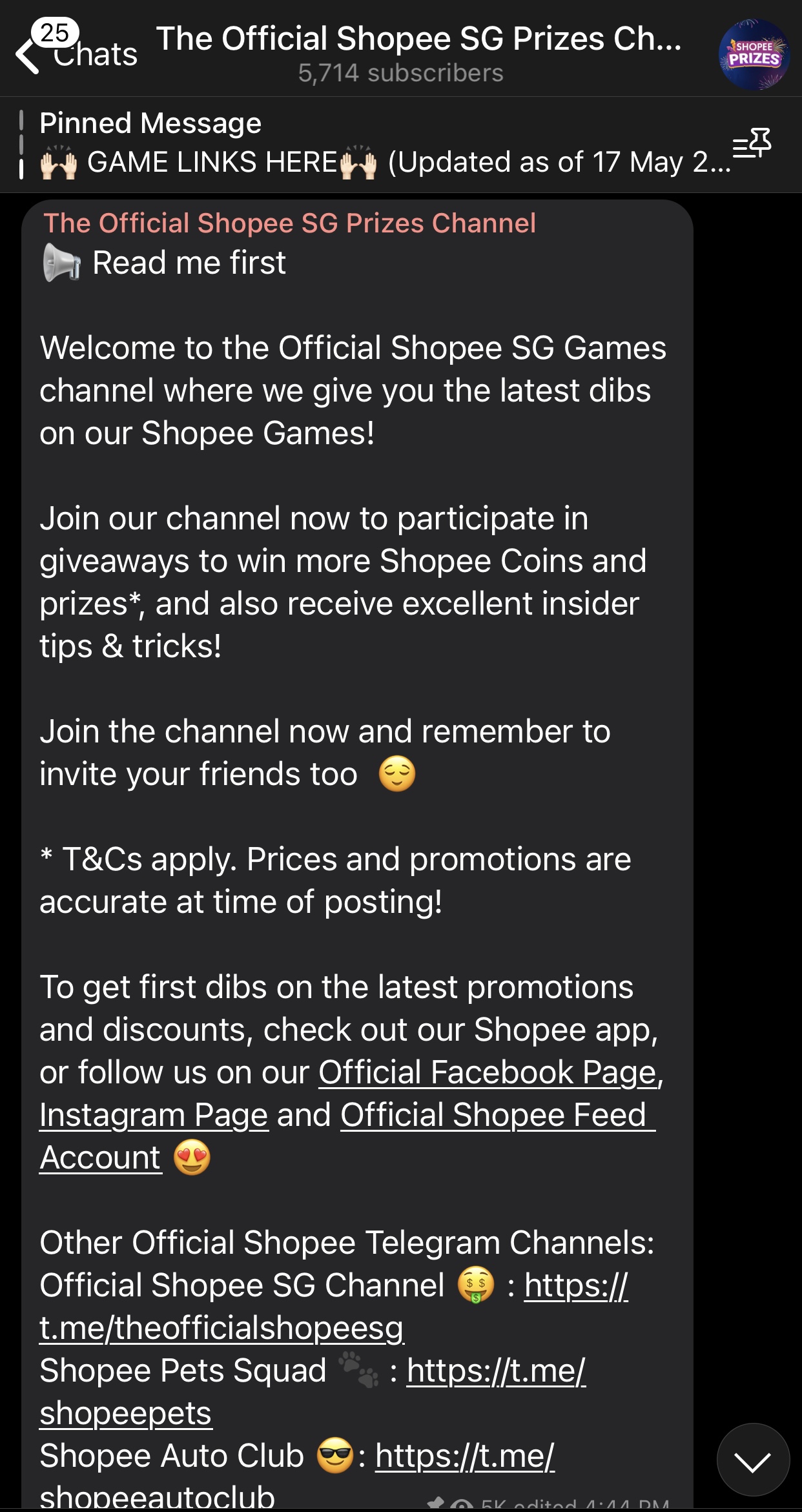 You didn't think we just had one telegram channel, did you? Get the latest dibs on all Shopee Games and be in the know about all our upsized prizes, giveaways, and updates. Shake shake, just shake it!
Shopee Auto Club
Telegram Link: @shopeeautoclub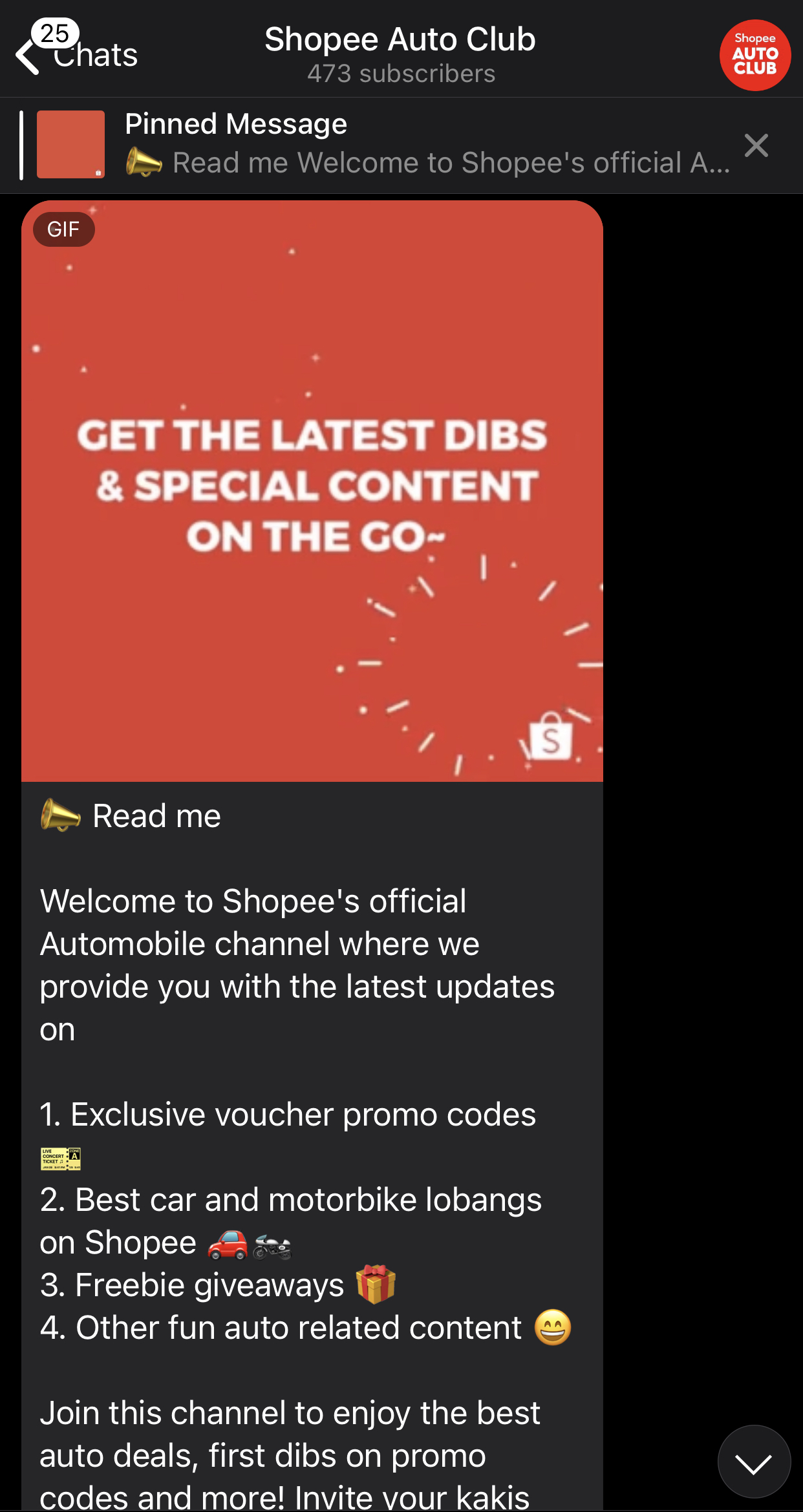 We're going to keep em' coming! The Shopee Auto club is perfect for all you automotive lovers. Stay up to date for all things automotive and watch out for exclusive deals coming your way.
Shopee Pets
Telegram Link: @shopeepets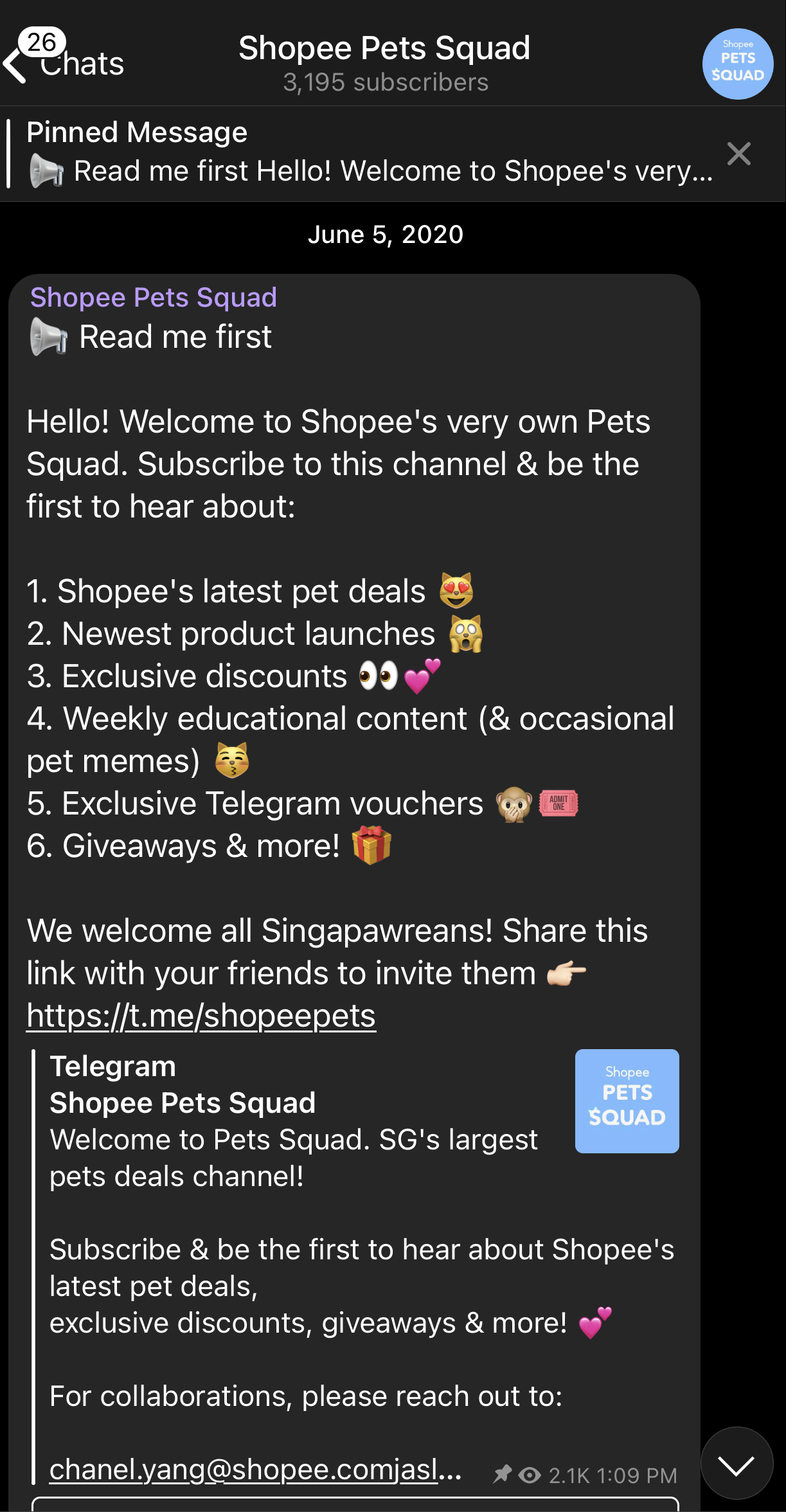 If your pets had Telegram, this is the first thing they would join. Be part of Shopee's very own Pets Squad for pet memes, educational content, and the latest pet deals. Singapawreans unite!
Shopee Alcohol VIP 
Telegram Link: @shopeefoodiedeals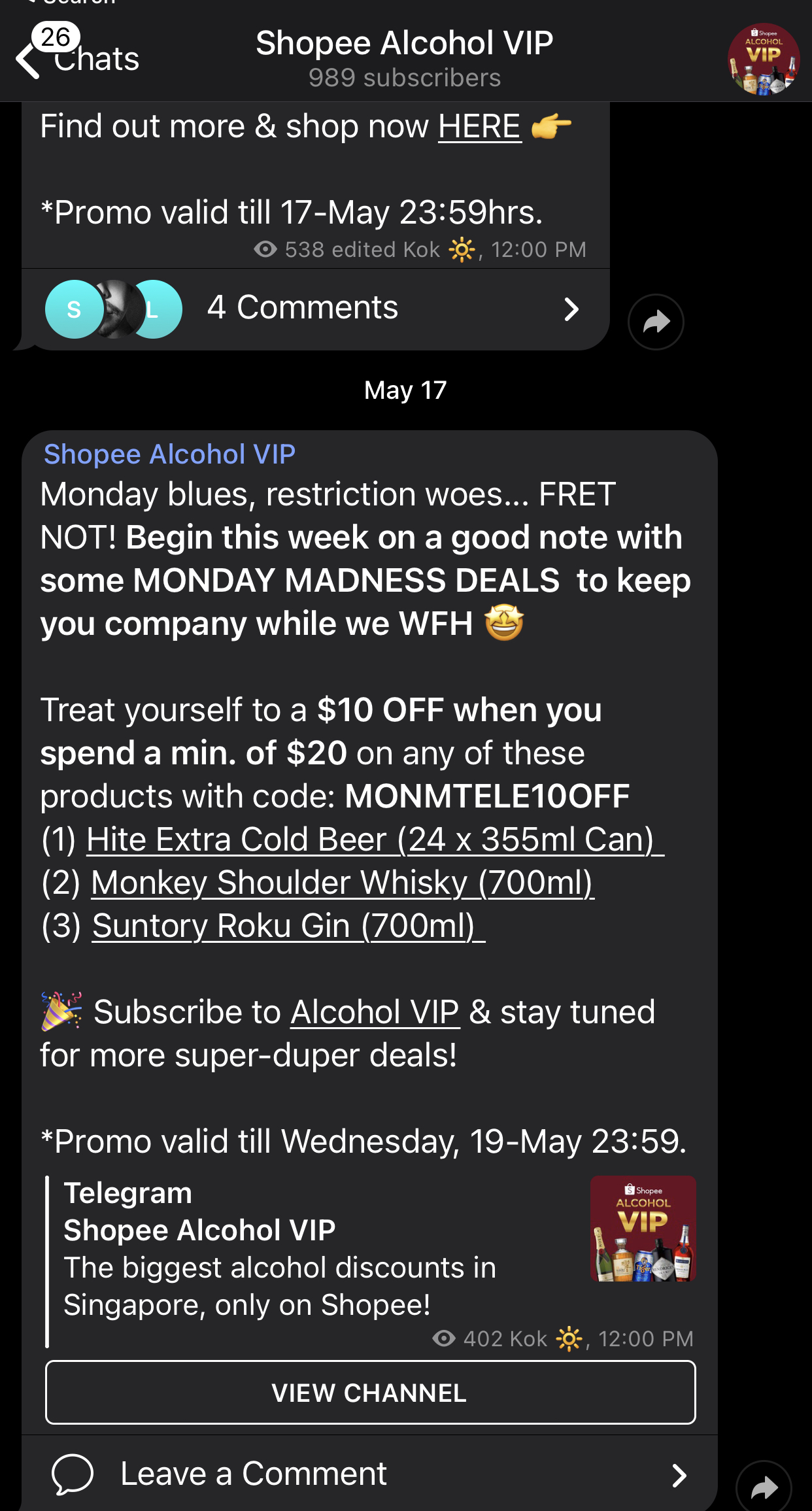 Whether your drink of choice is Whiskey, Beer or Soju – we've got you covered with the Shopee Alcohol VIP telegram. Get the best savings and top alcohol discounts in Singapore here!
Gov.SG
Telegram Link: @gov.sg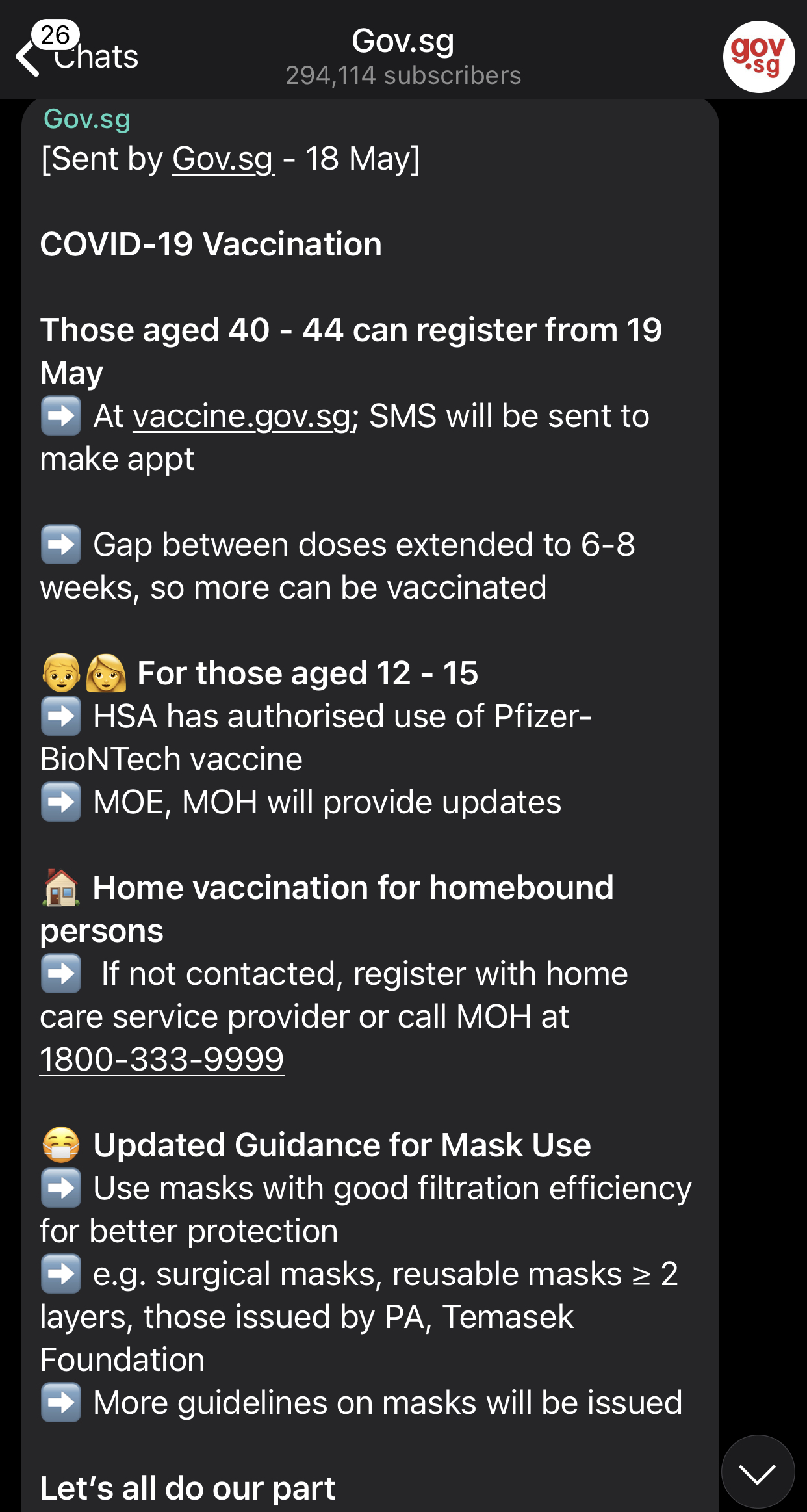 With everything happening in today's world, this is one telegram channel you need to join. Subscribe to receive official and important announcements and updates from the SG Government.
Lee Hsien Loong
Telegram Link: @leehsienloong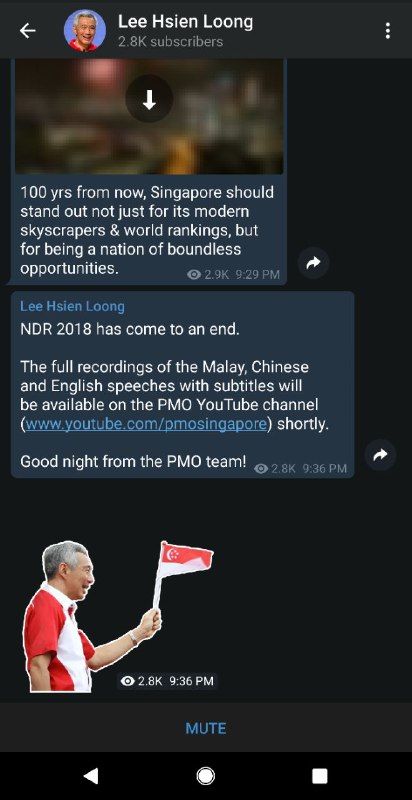 One of the more regularly updated Telegram channels, join this channel to read up about your favorite PM, Mr. Lee Hsien Loong. Receive news regarding future Singapore alongside fun pictures with his well-known BFFs like President Jokowi!
SG MRT Updates
Telegram Link: @sgmrt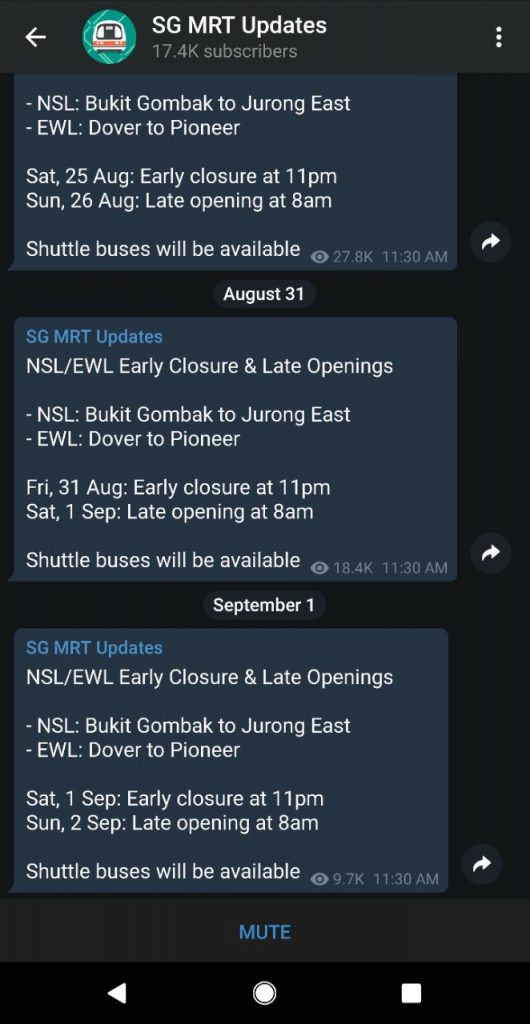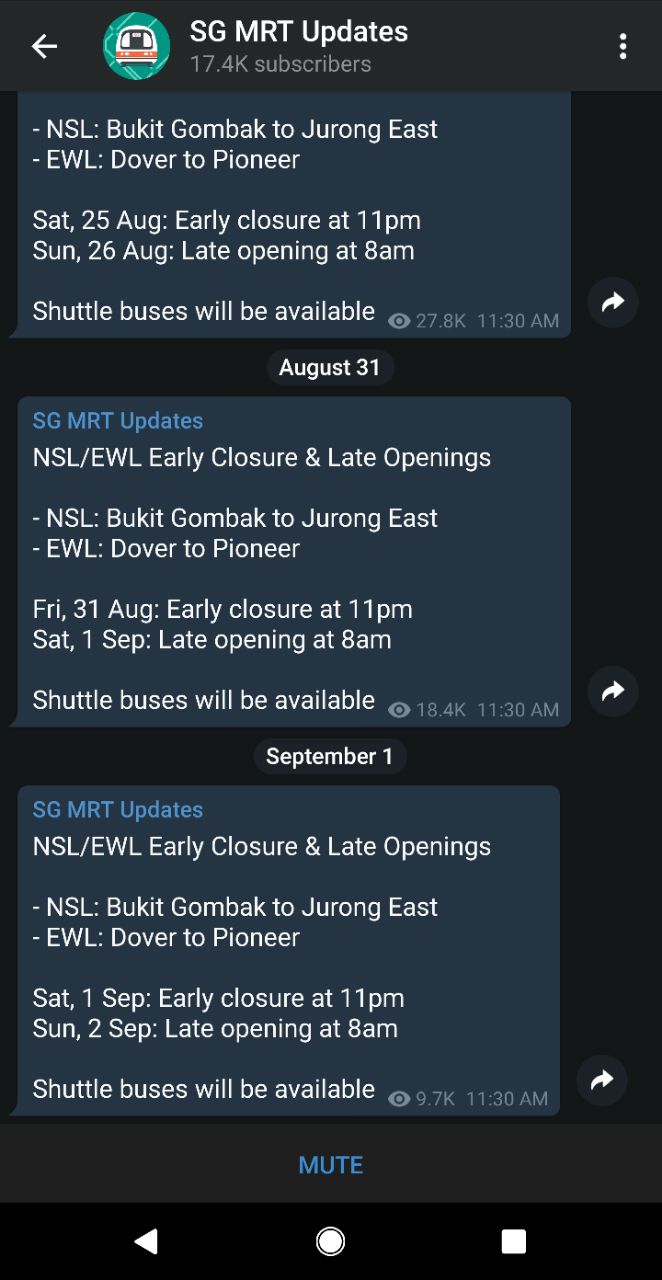 With the constant "upgrading", the train services are a little unpredictable, especially during peak hours. Telegram channels like SG MRT Updates allow you to stay one step ahead with real-time updates so you can plan an alternative route before it's too late!
SG Cab Promos
Telegram Link: @sgcabcodes

If you prefer to skip the crazy peak hour rush by taking a Grab or Go-Jek, SG Cab Promos is a must-join. It includes Grab, Go-Jek, Ryde and ComfortDelGro Taxis promo codes. What's great is that they even have exclusive giveaways for those looking for even more deals!
SG Food Deals
Telegram Link: @sgfooddeals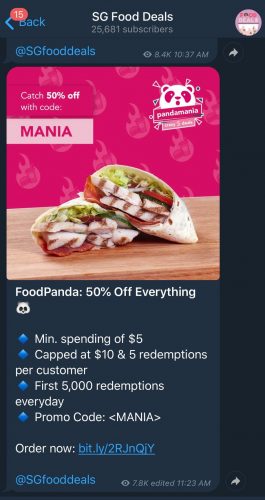 Craving for more promotions? Join SG Food Deals for even more food promotions and discounts in Singapore.
SG Kiasu Foodies
Telegram Link: @kiasufoodies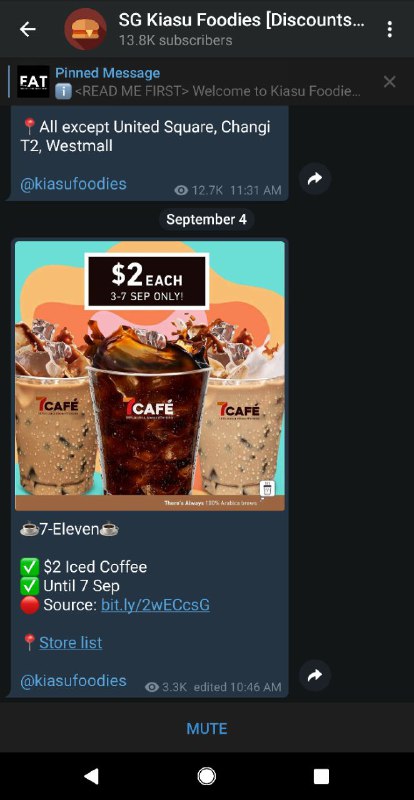 With prices soaring all around us, it would be wise to save money whenever you can. Stay updated with the latest food deals in Singapore with wallet-friendly Telegram channels like NUS FAT club's SG Kiasu Foodies initiative!
SG Travel Promos
Telegram Link: @sgtravelpromos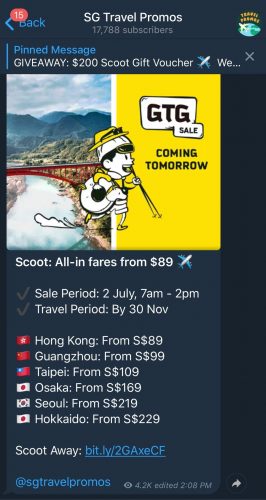 With borders still closed, our favorite travel telegram channel has pivoted to showcasing local staycations and activities. Join to check out the best deals in SG! 
SGUpdate
Telegram Link: @SGUpdate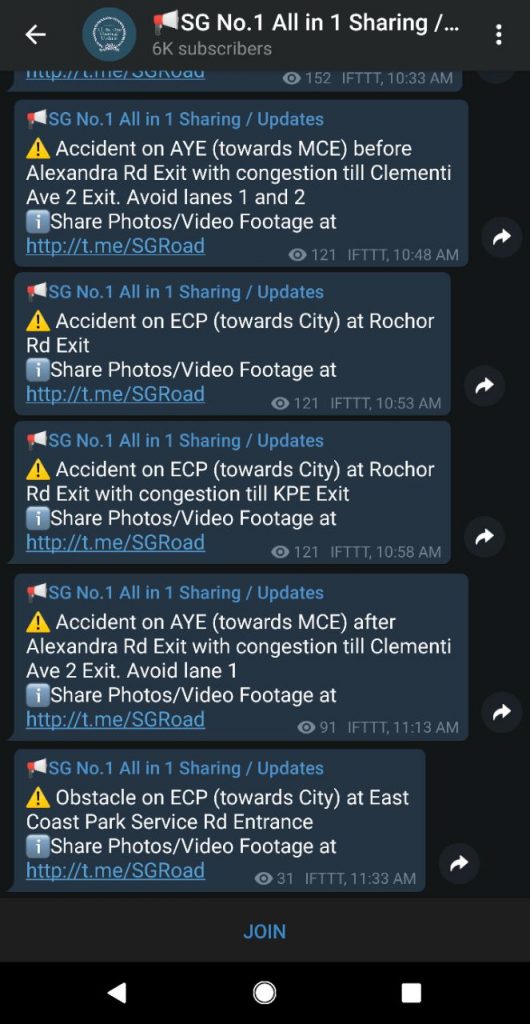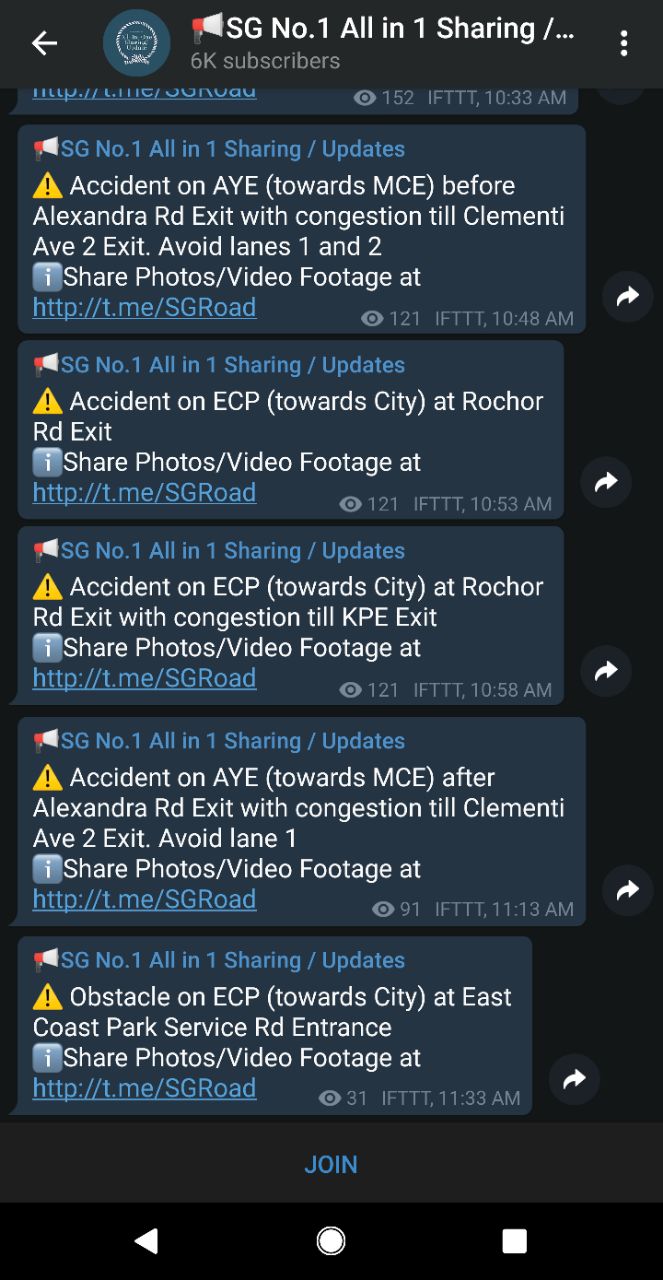 Sick of relying on radio broadcasts for traffic updates? Get real-time traffic news with SGUpdate, one of few telegram channels dedicated to dishing out news about road accidents and obstacles so you can make that early detour and avoid congestion.
SG Weekend Plans
Telegram Link: @sgweekend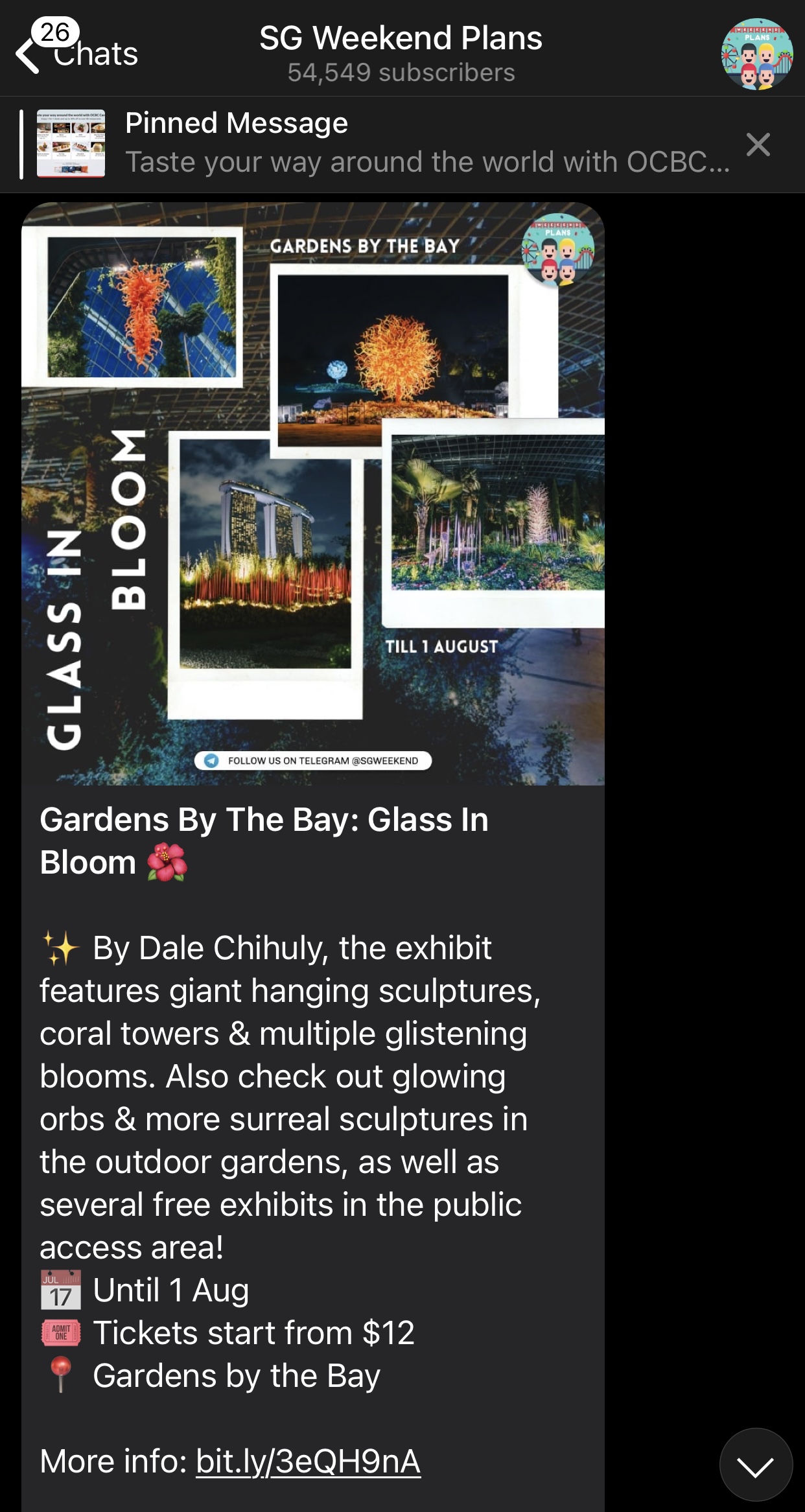 Explore Singapore in a safe way with this Telegram channel. Keep up to date on things to do over the weekend from cultural performances, local attractions and shopping deals! With the wide variety of activities that they feature, they definitely have something for everyone.
DateIdeas Singapore
Telegram Link: @dateideas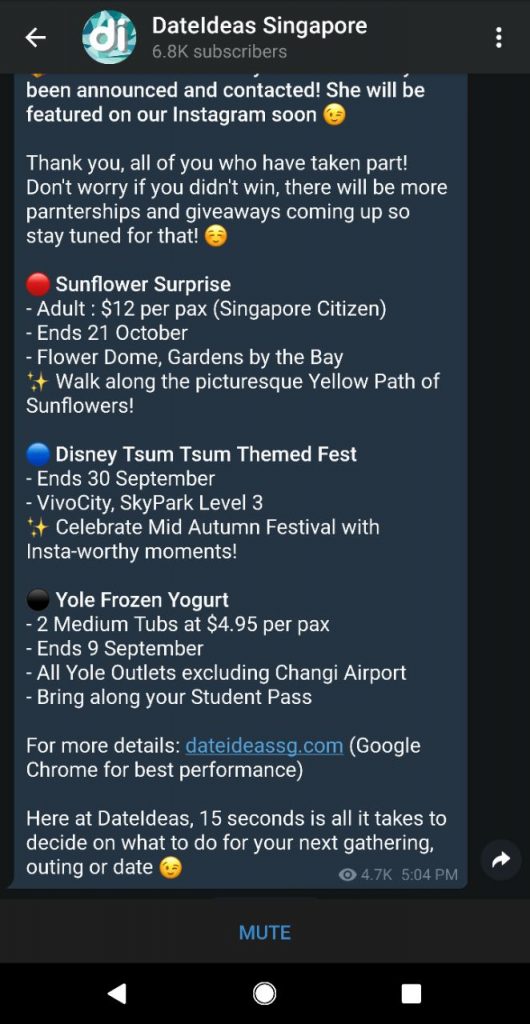 Bae complaining that dates are getting stale? Mix things up with Telegram channels like unique leisure activity recommendations from DateIdeas! From restaurant discounts to details about upcoming events, you'll be spoilt for choice when planning your next date night.
SG Student Promos
Telegram Link: @sgstudentpromos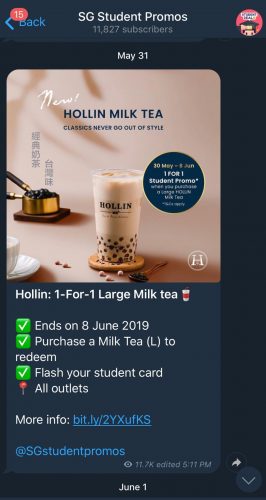 Maximise your student perks with SG Student Promos. If you're lucky enough to still have a student card, this channel features all types of steals for you, including student meals, bubble tea deals and movie deals.
SG Budget Babes
Telegram Link: @budgetbabes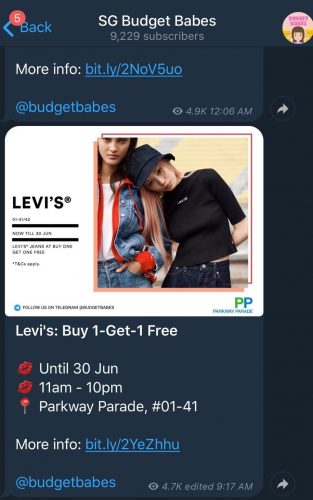 For all you shopaholics, check out SG Budget Babes for the latest beauty and fashion promotions. From online shopping vouchers to IPL promotions, this channel has got you covered! They also feature product releases from a wide range of brands, so you can keep up with the latest trends.  
SG Parent Things
Telegram Link: @sgparenthings


Tired of your kids constantly playing on their iPads? Find the best places to bring your kids with SG Parent Things. They also feature amazing deals for all the budget mommies and daddies out there.
SG New Movies & Shows
Telegram Link: @sgnewmovies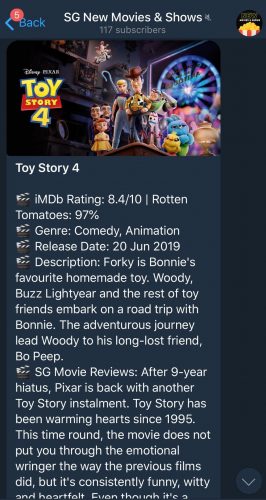 Whether you're a movie snob or a Netflix addict, you'll enjoy SG New Movies & Shows. They have iMDB and Rotten Tomatoes ratings as well as a short description and review to help you decide on the next movie/show you should binge-watch.
Tech In Asia
Telegram Link: @tianewsfeed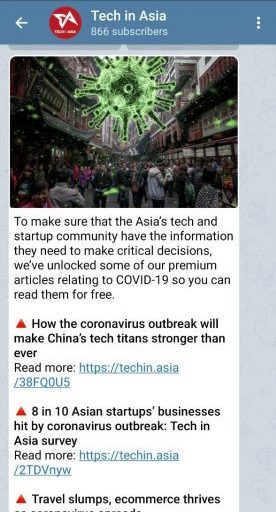 Don't want to miss the latest tech scoops? Join the Tech In Asia Telegram channel to stay updated on up and rising tech startups as well as expert insights on the tech economy.
Singapore HDB
Telegram Link: @SingaporeHDB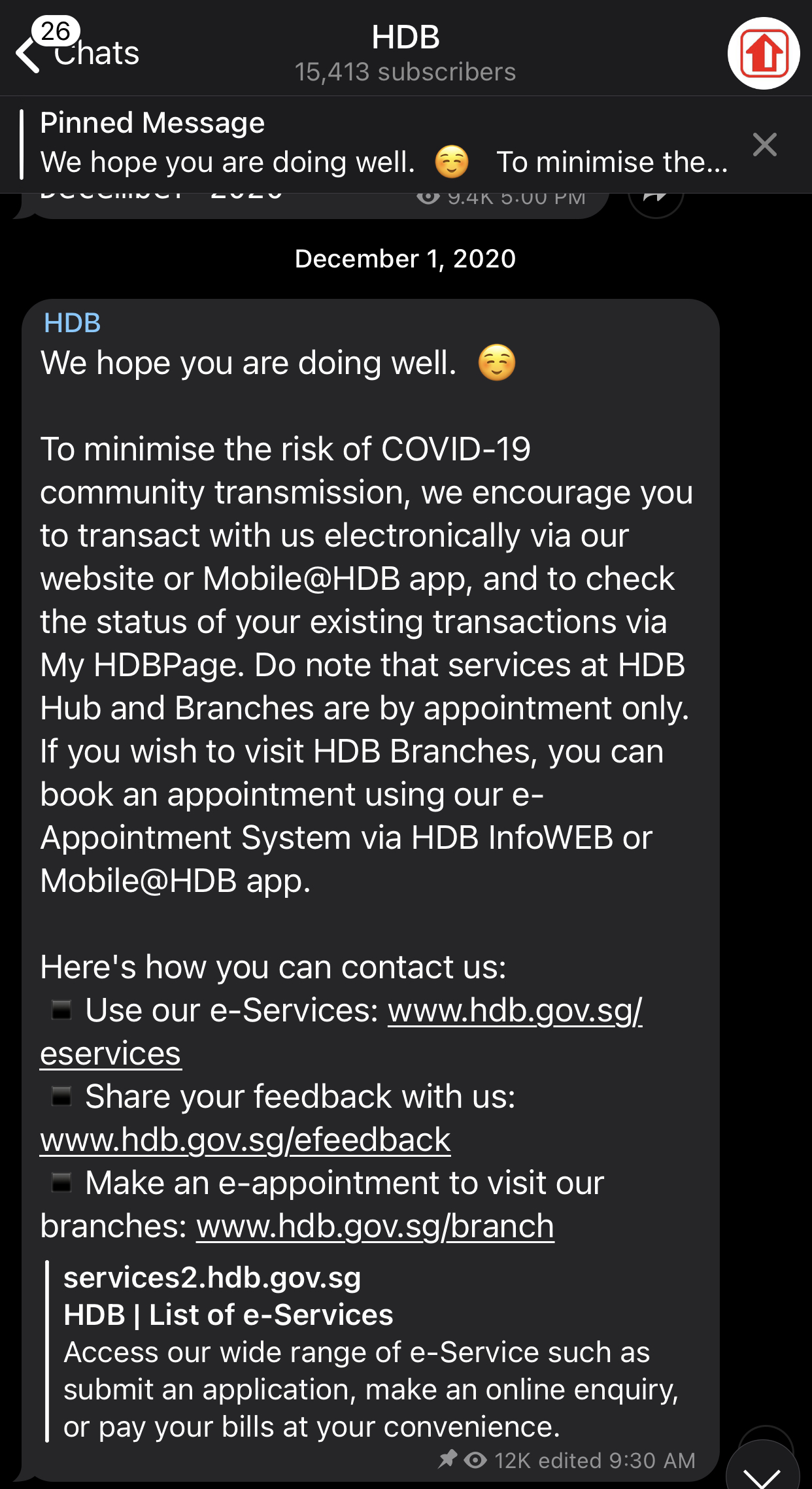 Looking to BTO with your significant other or just wanting to stay up to date on all the latest news regarding the Housing & Development Board in SG? Join this channel today~
SG Internships
Telegram Link: @sginternships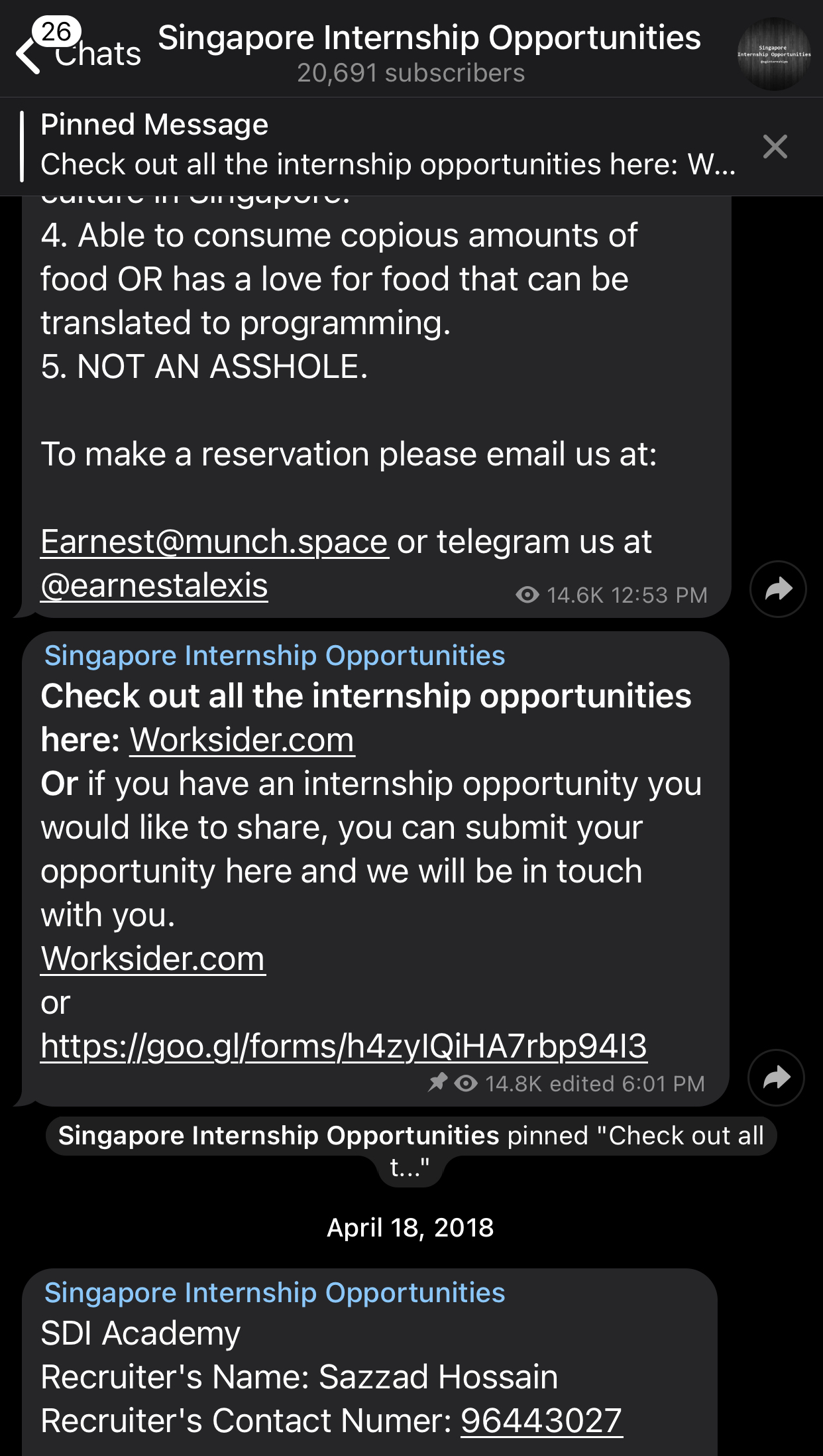 If you're still in school and looking for internship opportunities, this is the channel for you! Make your life easier and check out new opportunities within Finance, Marketing and HR in Startups, SME's and MNC's from this Telegram channel.
Telegram Bots
For the uninformed, Telegram bots are third-party apps that run within the Telegram app itself. You can interact with them by entering commands like /start. Here are the best Telegram bots Singaporeans have to know about.
Stickers Bot
Telegram Link: @Stickers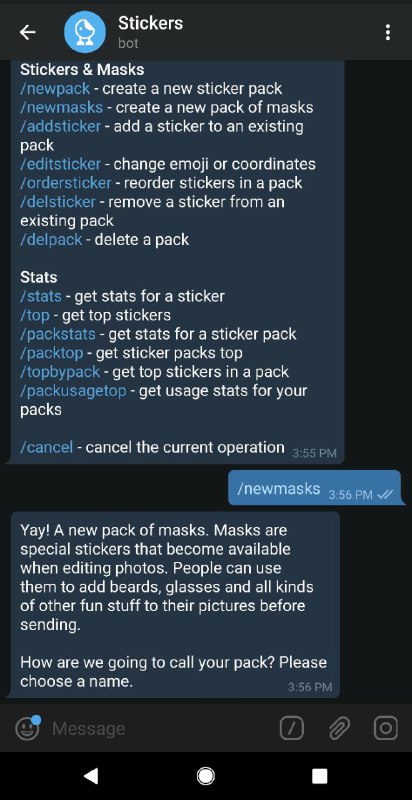 Personalise your messages by creating your very own sticker pack! Don't worry about it being too complicated, the bot does a good job of walking you through the process. Get creative and feature things like your latest K-pop eye candy or an exclusive sticker pack just for you and your #squad!
Note: We recommend creating stickers on Desktop for the user-friendly interface.
Shiok Bot
Telegram Link:@shiokbot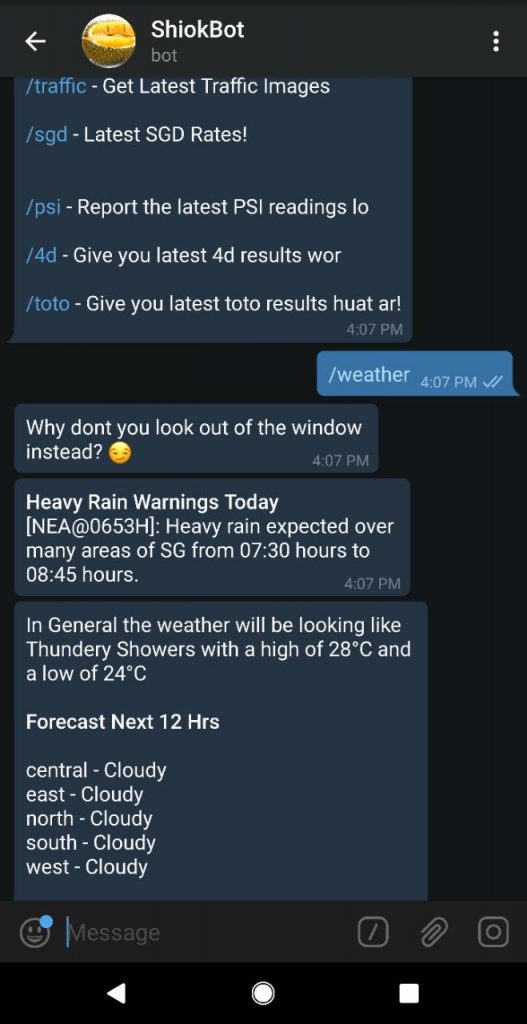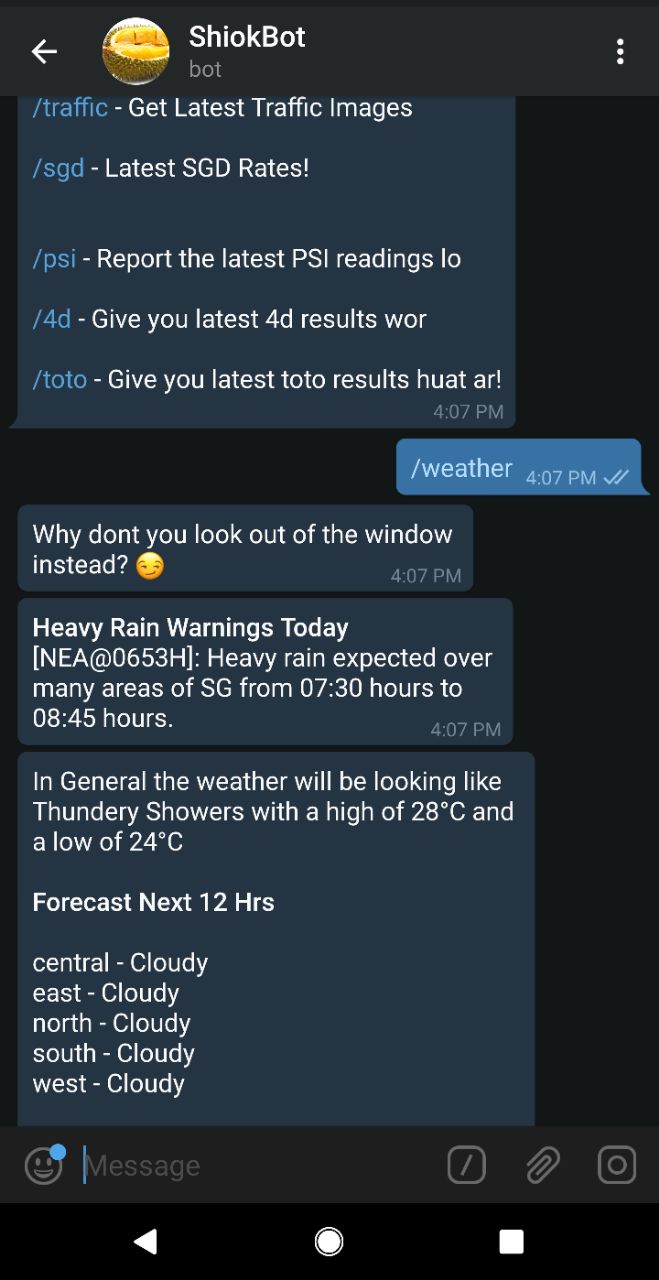 Also known as the helpful Singlish spouting bot, this is any Singaporean's new (sassy) best friend. You can get the latest train breakdown alerts, PSI readings and weather forecasts with a witty Singaporean twist. We don't want to spoil the fun for you, so start chatting with the ShiokBot and brighten up your mundane day.
For non-Singaporeans, give this bot a try! It doubles as a crash course for all non-Singaporeans as it exposes all to the lahs and lohs locals have grown up with.
GetMedia Bot
Telegram Link: @getmedia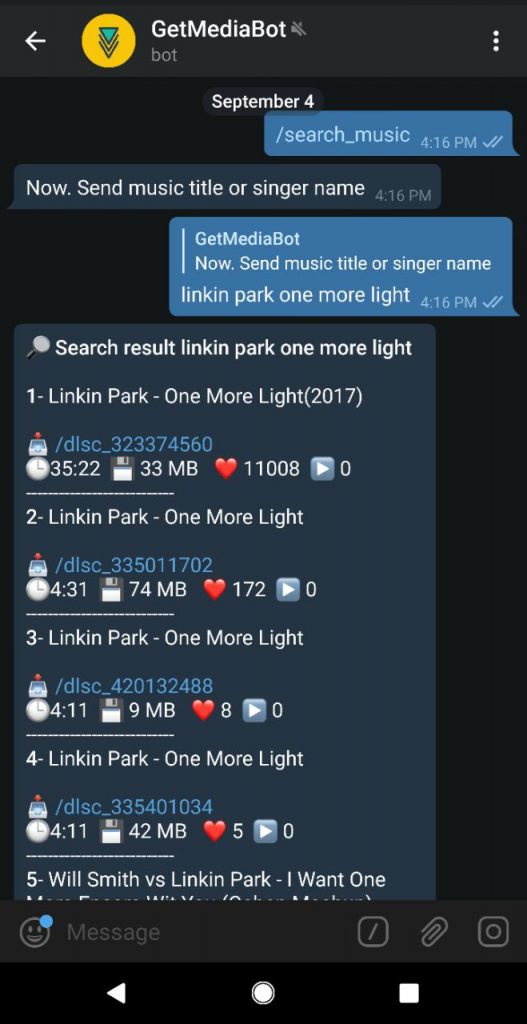 Whether it's your favourite song, the latest trending video on YouTube or your crush's Instagram Stories (we don't advocate unhealthy obsessions), this helpful bot will download any media directly to your phone!
YouTube Downloader Bot
Telegram Link: @utubebot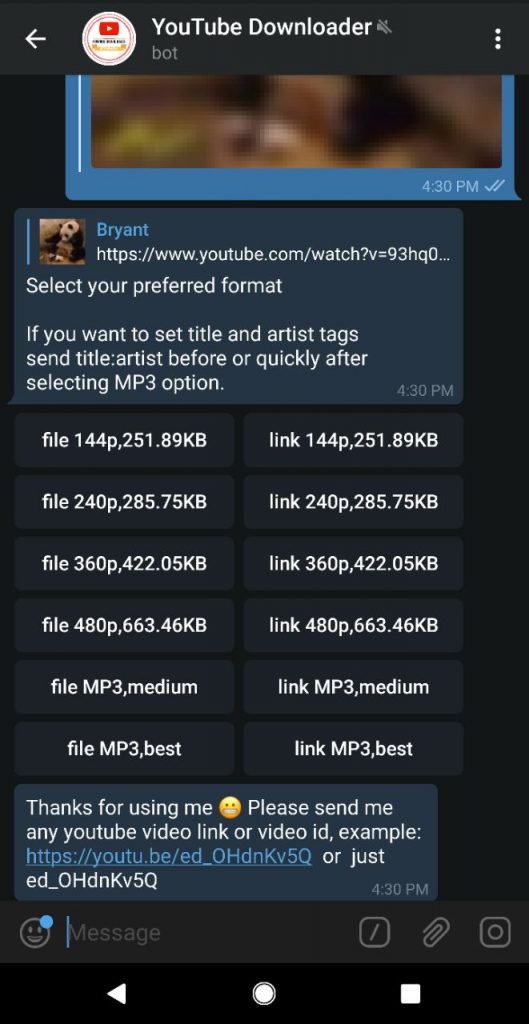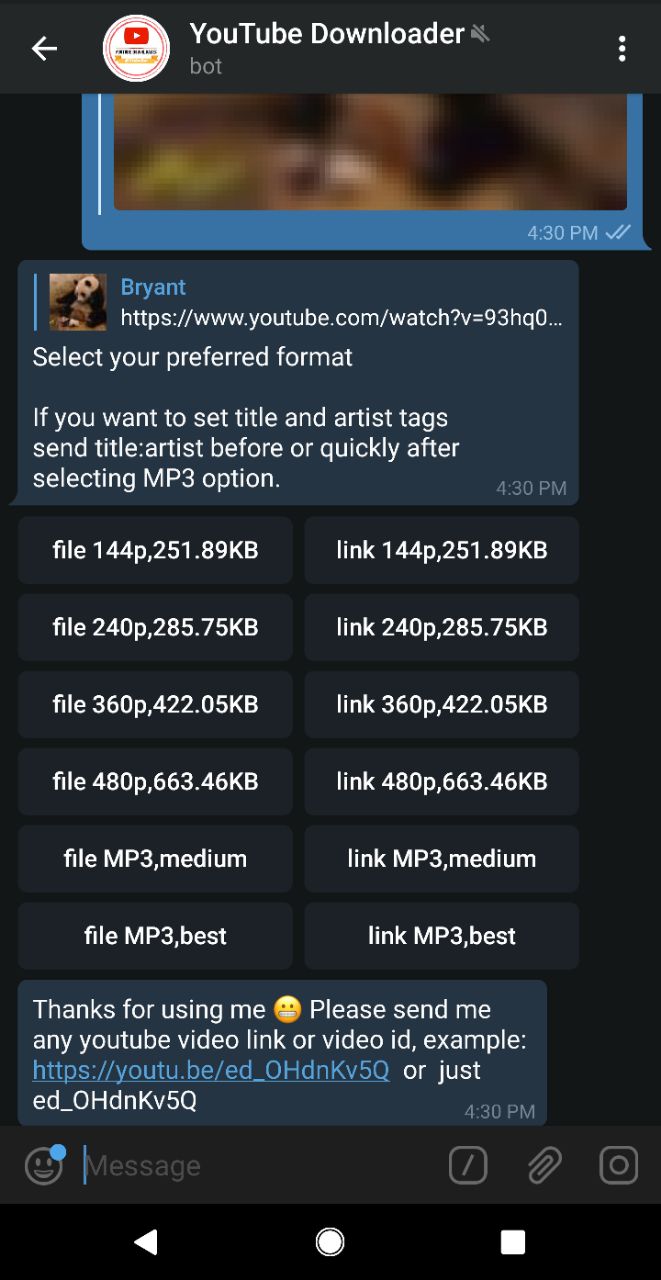 Similar to GetMedia, YouTube Downloader helps you to (as the name suggests) download YouTube videos. The creators of the bot has made it such that any video can be downloaded including 1080P, 720P and 480P. On top of that, you can also convert any video into MP3 format, allowing you to listen to your favourite music on-the-go. Simply tap on Start or type "/start" and send the bot links of your favourite YouTube videos to start downloading.
Bus Time Bot (SG)
Telegram Link: @bus_time_bot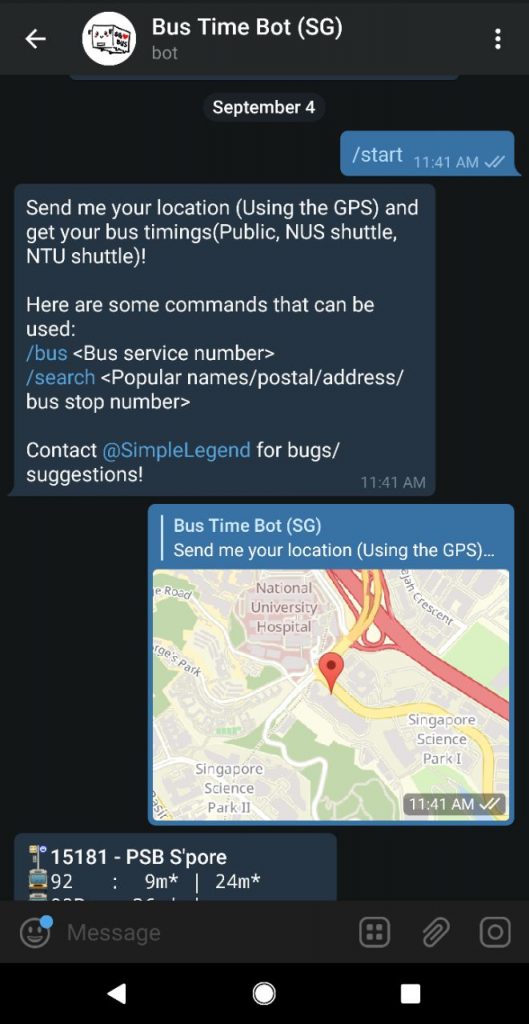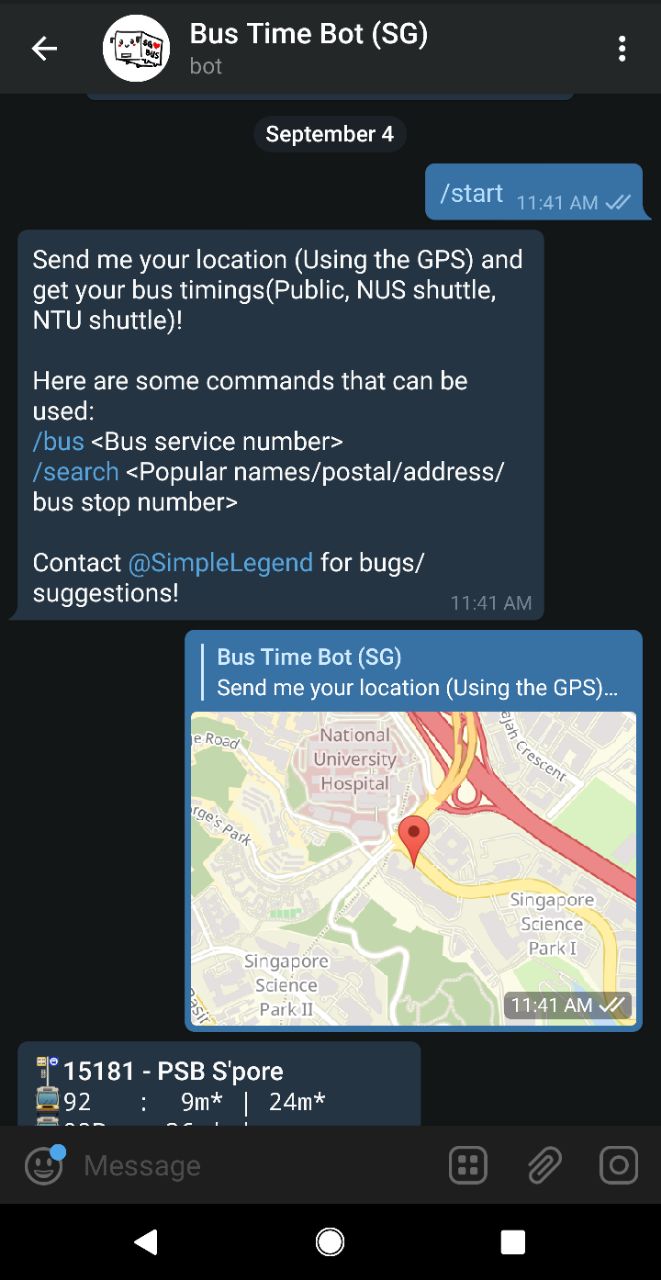 This bot is dedicated to update you on all bus timings for SBS, SMRT, Tower Transit and even NUS and NTU buses. Simply send the bot your location and the smart creature living inside your phone will give you  bus timings for the 5 nearest stops.
Wikipedia Search
Telegram Link: @wiki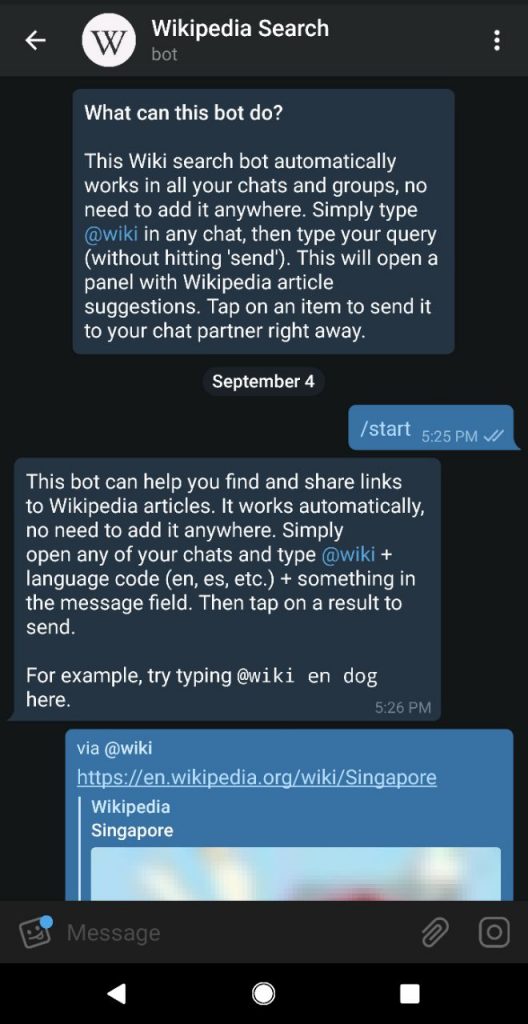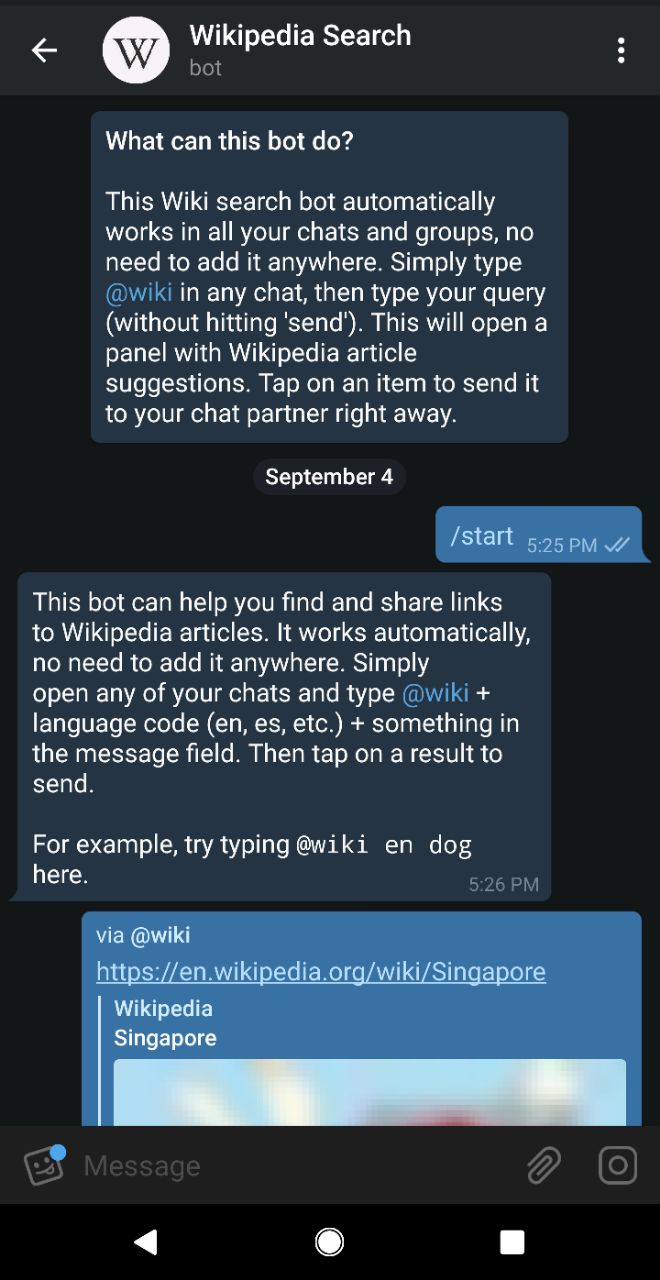 Ever wanted to prove your friends wrong? Have the world's knowledge base at your fingertips with Wikipedia Search! What's amazing is that you can simply type @wiki and you can search for anything from any chat on Telegram, regardless of whether you added the bot to the chat.
PollBot
Telegram Link: @pollbot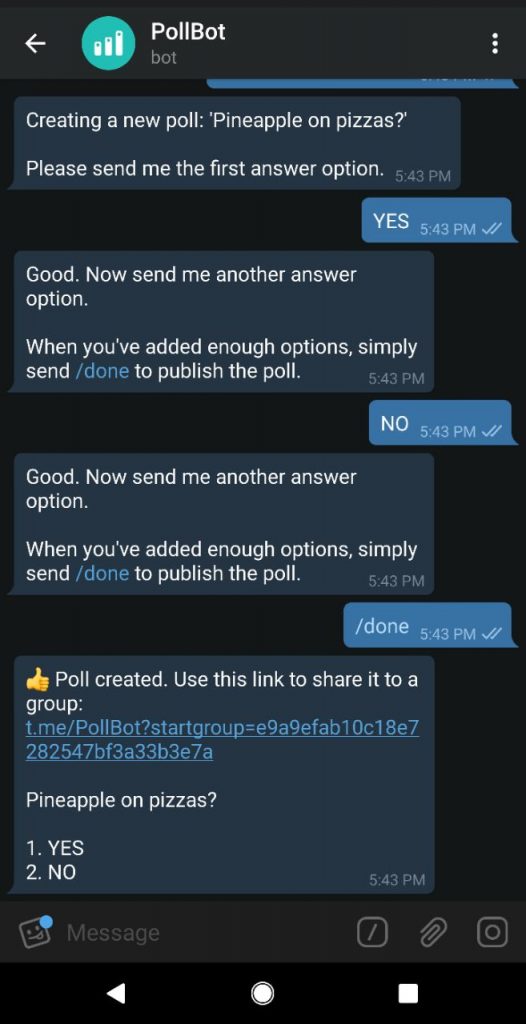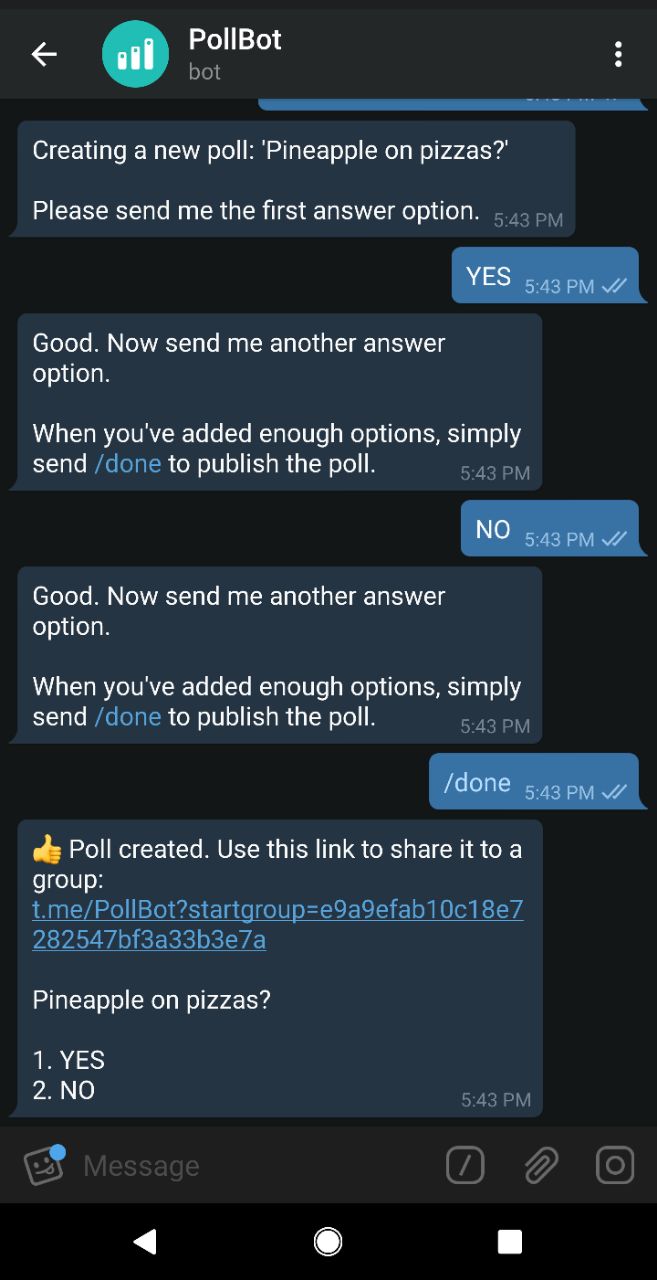 Reaching a joint decision can be hard, especially when they're as divisive as deciding whether to add pineapple to your pizza. Decide with the power of democracy when you use pollbot! With easy-to-follow instructions, you'll be making decisions and following the majority in no time.
Telegram Stickers
Express yourself with a variety of hilarious stickers outside of the usual emojis! Here's a list of our preferred stickers on Telegram.
SG Language Pack
Telegram Link: @SgLang
This is one of our favourite packs on Telegram because the Sibeh Hot melting sticker accurately depicts our thoughts every day on this sunny island. Also, we've yet to find another sticker that relates better to us than the Kancheong sticker.
BB Never Tell
Telegram Link: @BbyNeverTellSG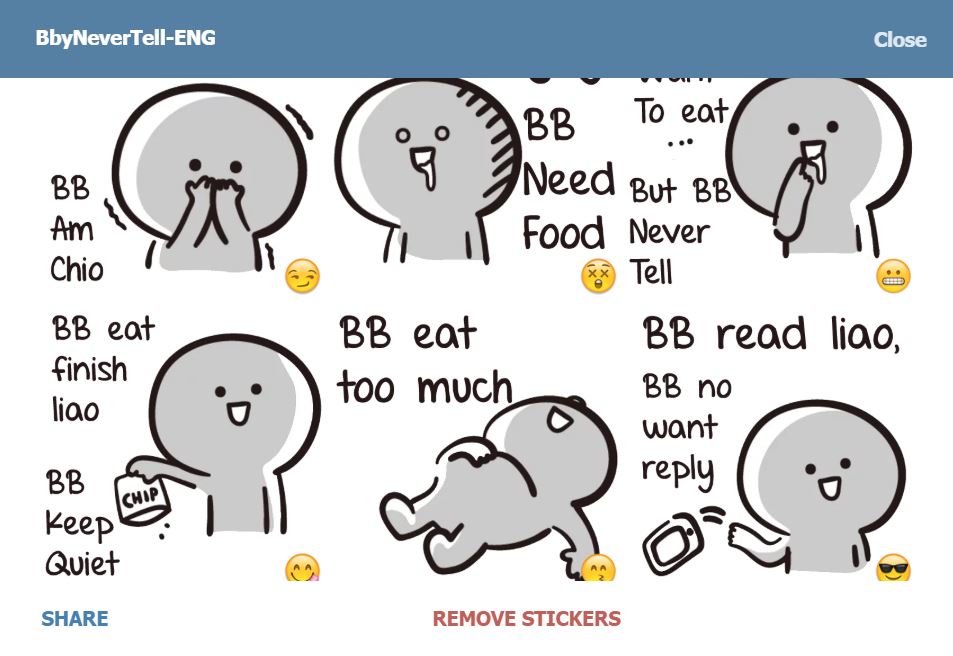 Intentionally filled with grammar errors, the BbyNeverTell stickers are hilarious because of the passive-aggressiveness and smiley cartoon BB character!
SgFood
Telegram Link: @Sgfooood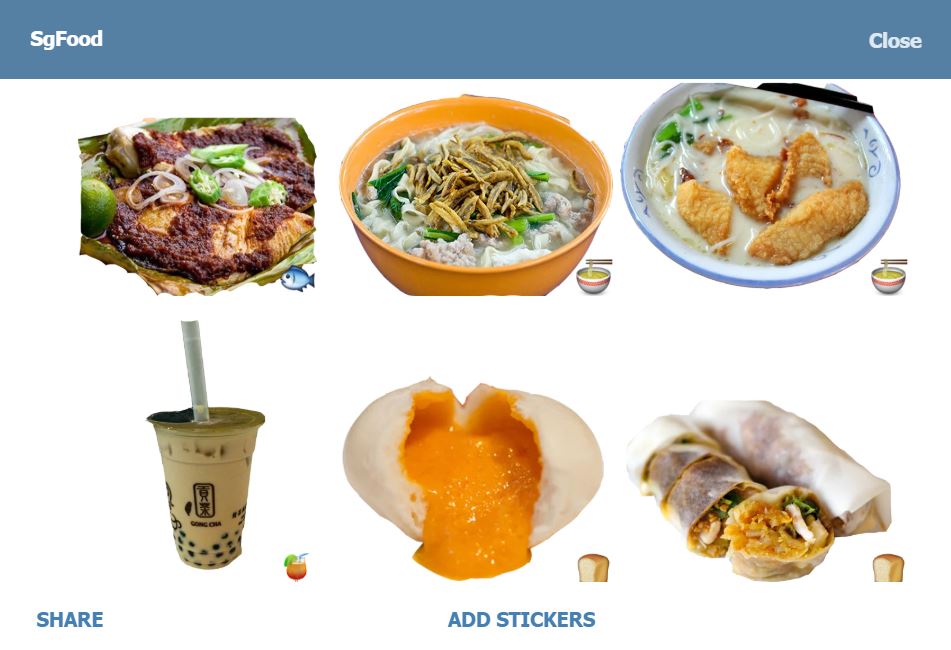 From bubble tea and chicken rice to carrot cake and xiao long baos, if you've ever felt the need to tease your hungry friends, you need this pack.
Kuehkueh
Telegram Link: @Kuehkueh
As Singaporeans, we clearly do take pride in our food because here's yet another sticker pack dedicated to all kinds of Singaporean food such as Satay, Roti Prata and Ang Ku Kueh.
McDonalds
Telegram Link: @macdonalds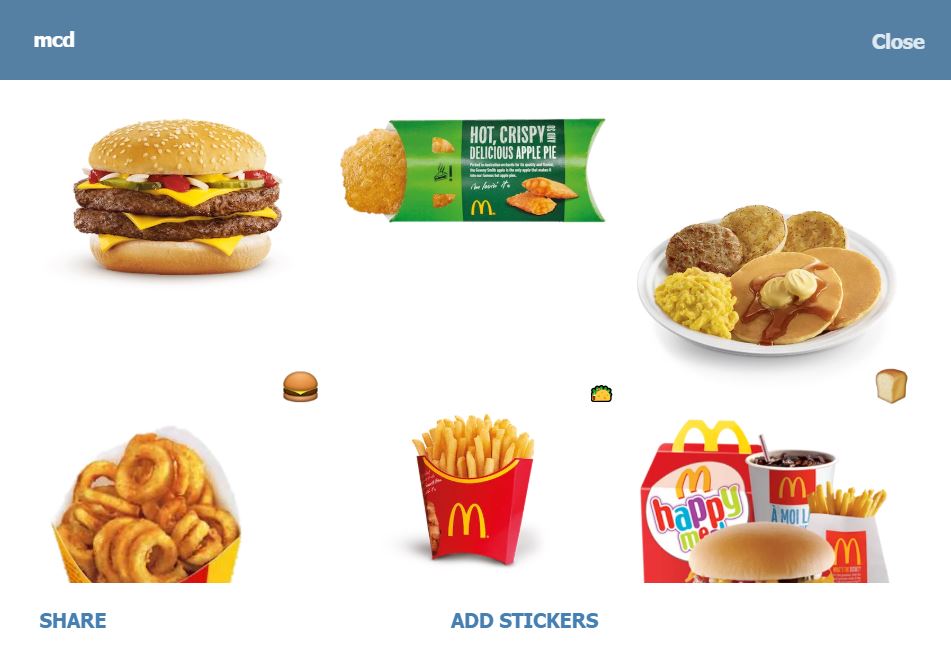 Other than our local delights, there is a special place in all our hearts when it comes to McDonalds. It's the best way to tempt your friends for supper by sending across stickers of nuggets and fries. Yum!
Boba Tea Time
Telegram Link: @BobaTeaTime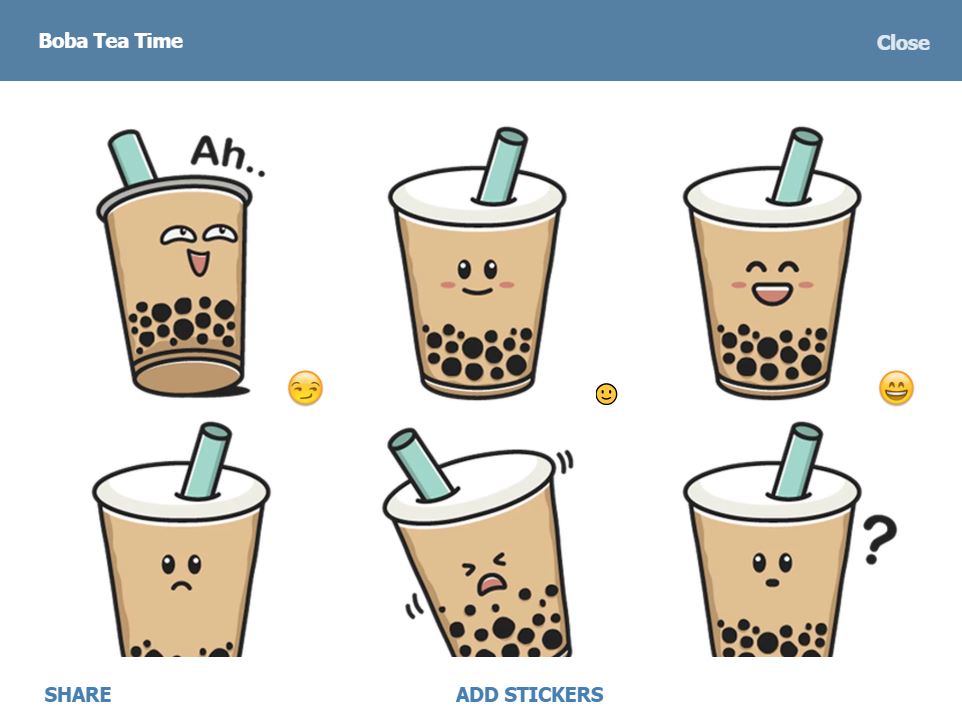 Of course, we can't leave out the trend that took Singapore by storm – Bubble Tea! These adorable Boba Tea Time stickers will definitely leave you grinning from ear to ear.
Singlish
Telegram Link: @singaporee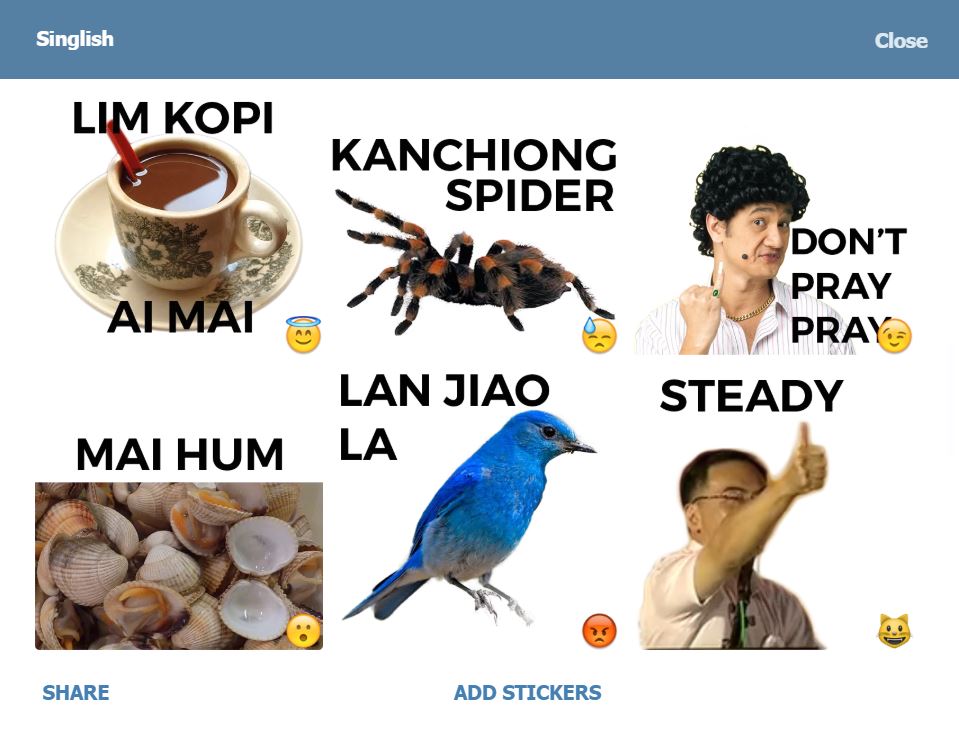 This localised Singlish sticker pack is filled with all our favourite single sayings so "wake up your idea" and download this sticker pack now.
PPAP
Telegram Link: @PikotaroPPAP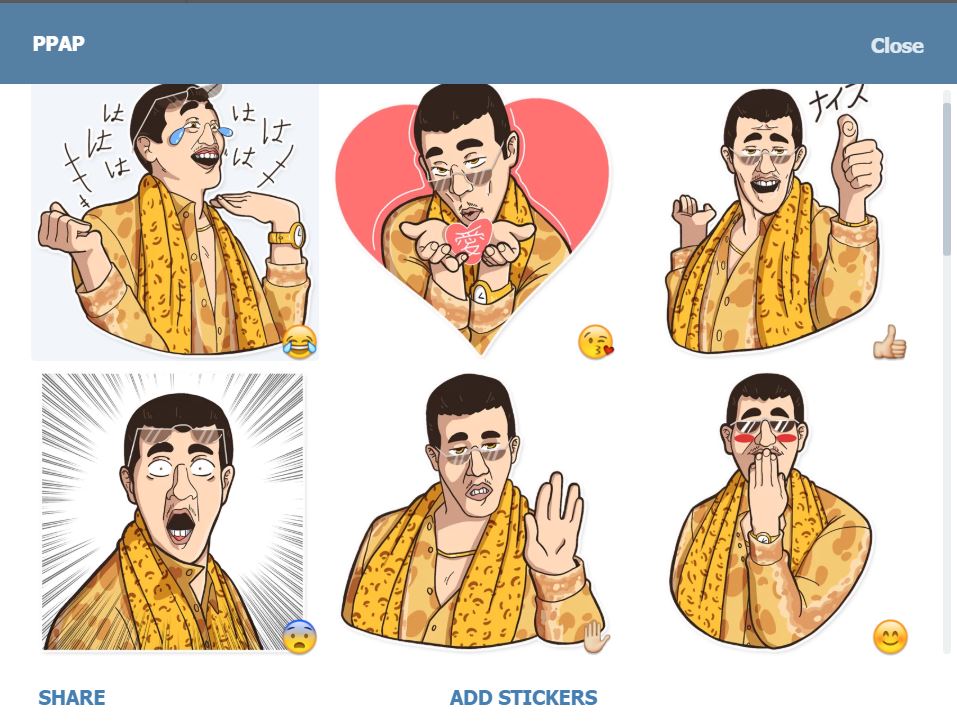 If your friends are annoying you, go one level up and annoy them with old memes! Dance like it's 2017 with the Pineapple Pen sticker pack.
By @jillehdoodles
Telegram Link: @jillehdoodles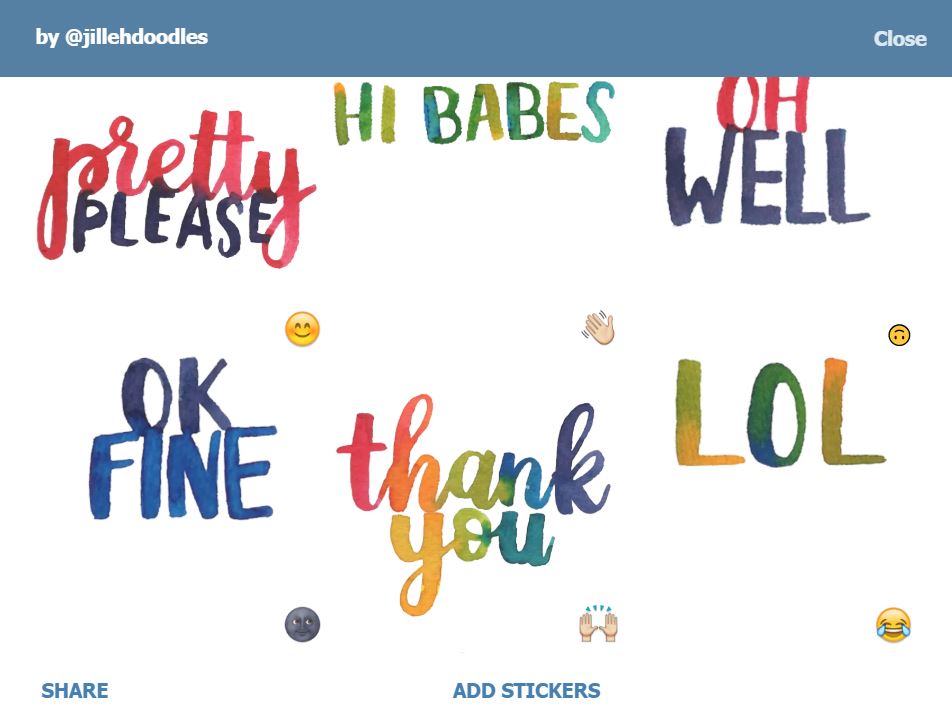 By @jillehdoodles features amazing hand lettering by (we're guessing) jillehdoodles and is the prettiest non-picture sticker pack of our list!
PAP
Telegram Link: @pappap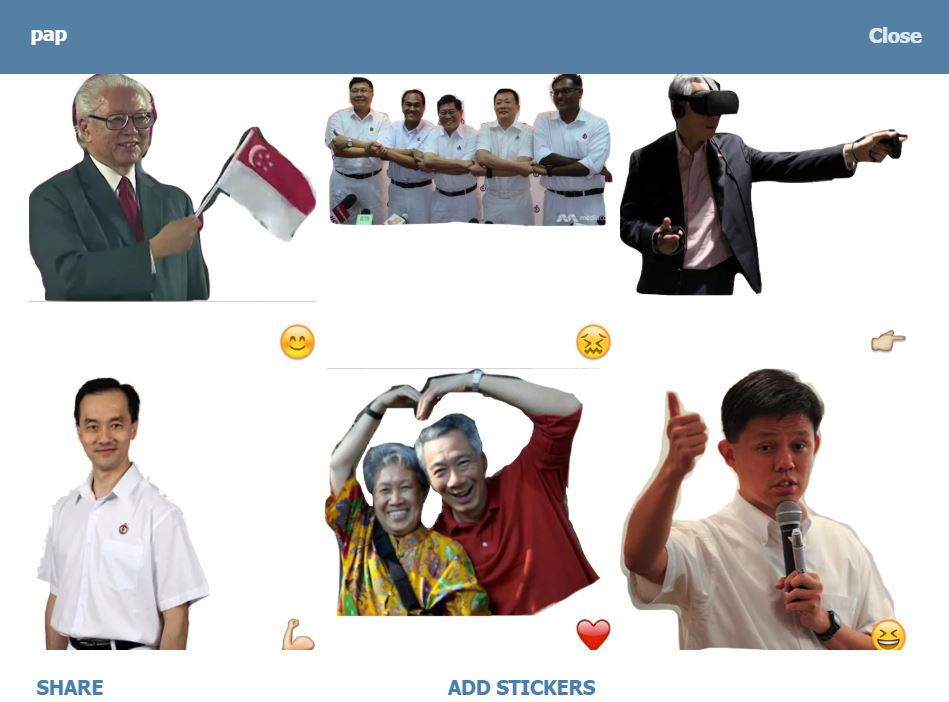 Love them or hate them, the PAP is a major reason why Singapore is where it is today! Celebrate Singapore's ruling party with this dedicated sticker pack!
PM of SG, LHL
Telegram Link: @SG50LHL
Because the prime minister has so many meme-worthy pictures online, there is of course a sticker pack dedicated just for him!
Werewolfers
Telegram Link: @werewolfers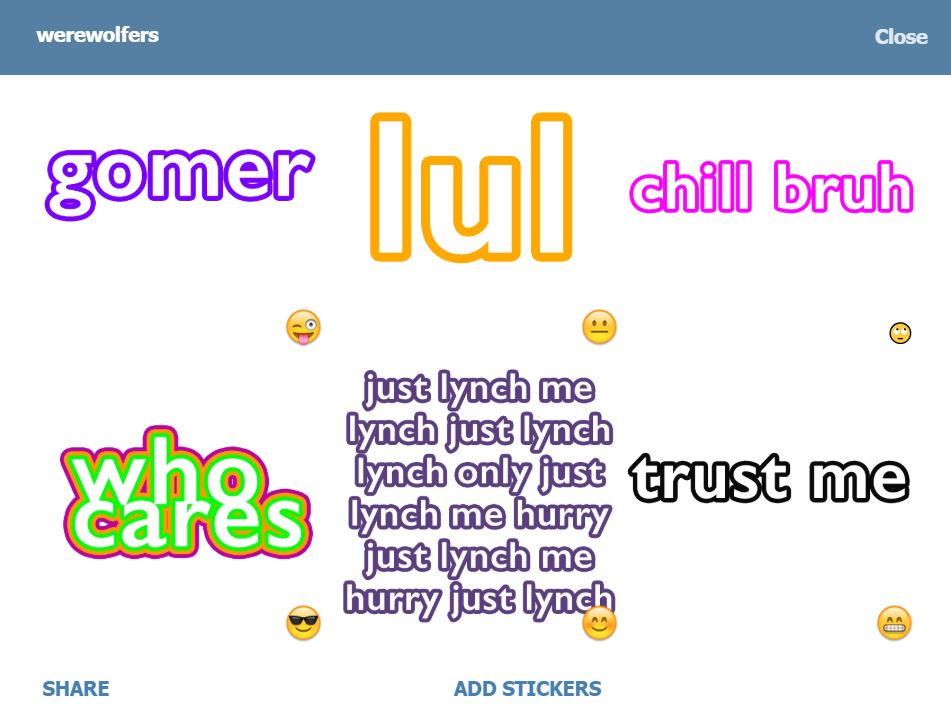 Werewolf fans, this dedicated sticker pack is just for you! Convince others you're not the werewolf and give subtle hints to your actual role with various Werewolf-themed stickers.
In case you're out of the loop, you can play Werewolf and other fun group games without meeting up with your friends in person! For more details, check out our list of fun games and bots.
For Telegram fans and veterans, we'd like to hear from you! Share your favorite Telegram channels, bots and stickers in the comments below!
This article was updated on 19 May 2021. Additional research done by Tiffany Chng.
---
New to Shopee? Get $7 off (min. spend $15) with code*: STICK7STCK 
*TNC Applies. Valid for new users from 20 to 27 May 2021 only.