Have your Telegram group chats been awfully quiet? Try playing some fun games and reconnect with the group again! From Werewolf to Hangbot, here's our list of Telegram games that can inject joy to your chats and spice up your relationships with family and friends! 
Can you play games on Telegram?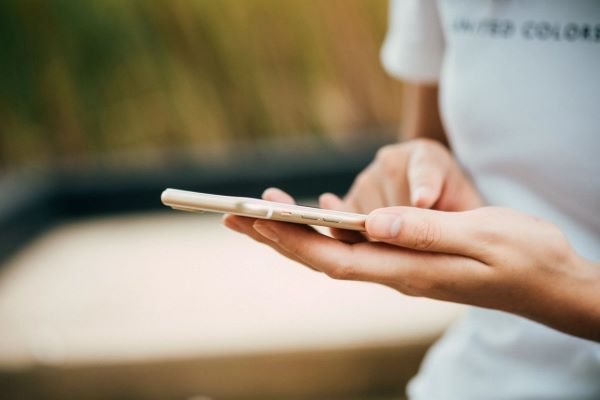 Telegram is superior to Whatsapp for many reasons – one of which is that you can actually play games on it! From games for 2, group games, to solo games, there are options for anyone. For most games, you will have to add a game bot to the chat or enter a game bot to select games from it. Read on for our list of fun Telegram games to play!
Telegram games for 2
1. Mini-game Emoji
Did you know that you can play a game of luck with your boo or bestie with these emojis ?, ?, ?, ⚽️ and ?? Well, most of us didn't until the Telegram mini-game emoji went viral on TikTok. For this Telegram game for 2, no bots are needed. The next time you run out of things to talk about with bae, or just want something fun to kill time – try hitting the bullseye or scoring a goal and see who wins! 
Number of players: 2
How to play game on Telegram:
Choose one of these emojis ?, ?, ?, ⚽️ and ? and send it once to your friend

Your friend should send the same emoji back. 

For the soccer and basketball emoji, whoever's ball scores the goal wins. For the dice emoji, the one who rolls the higher number wins. For the slot machine, you win if you get three matching slots!
2. Quizarium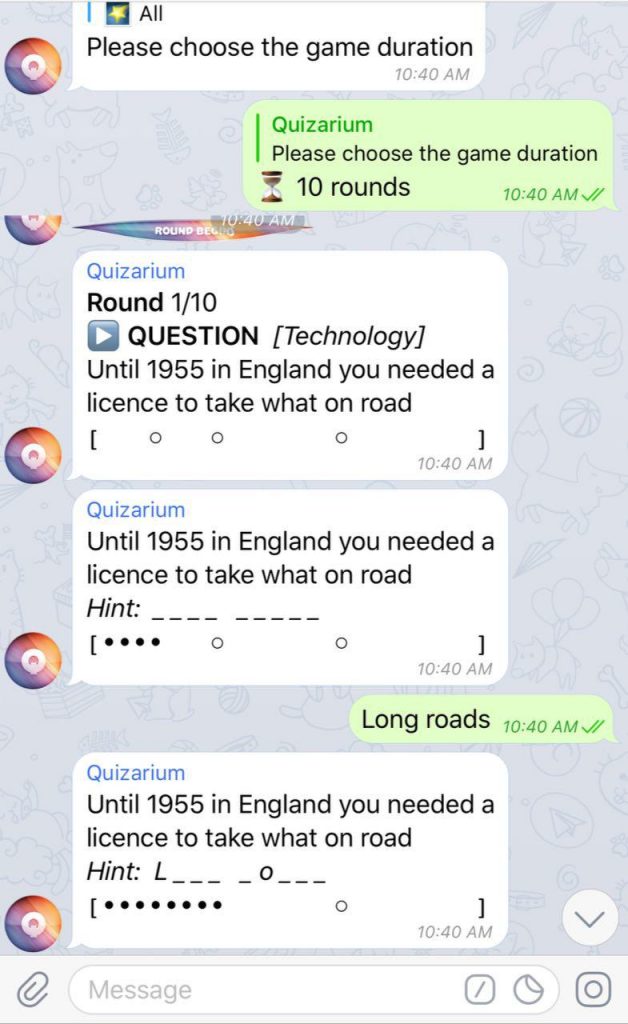 Put your general knowledge to the test with Quizarium, one of the most interesting Telegram games for 2 you'll find on the platform.  The concept behind Quizarium is simple — the bot asks a question and players have to come up with the right answer as fast as possible within the one-minute time limit. The bot may release hints from time to time to help players out. However, speed is of the essence in this Telegram group game as the faster you get the right answer, the more points awarded to you. Points range from one to five, and the player who gets the most points at the end of the game wins!
Psst, the fun in this game is when players give completely irrelevant answers that will make your chat burst out in laughter! So we suggest not to take things too seriously for some lighthearted fun! Take note that this Telegram game bot results in a lot of spam, so if you aren't in the mood to play the game, it'll be best to mute the group chat.
Bot: @Quizarium
Number of players: 2 and above
How to play game on Telegram: Add @quizarium as a member of the group chat
3. Hangbot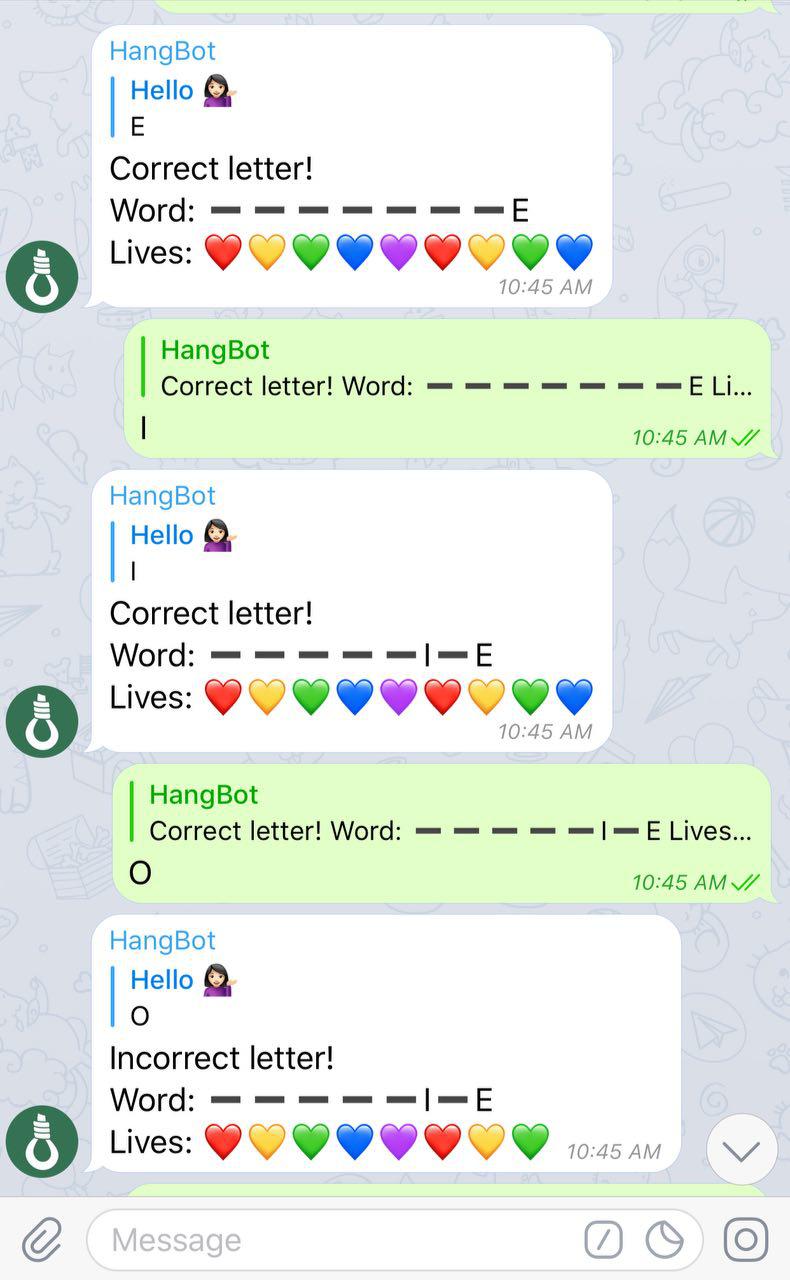 Hangman is one of the classic games you'd play with your friends back in school because all you need is your brain, pen, and paper. When it comes to Telegram games for 2, enter Hangbot which comes up with a mystery word for you to guess! 
While you may be tempted to start spamming answers in the chat, do note that you'll lose heart in the process if you make a wrong guess — just like the actual Hangman. The game ends when you've exhausted all your lives. Just like the best Wordle games, this is a great way to expand your vocabulary!
Bot: @Hangbot
Number of players: 1 and above
How to play game on Telegram: Add @hangbot as a member of the group chat
4. Unobot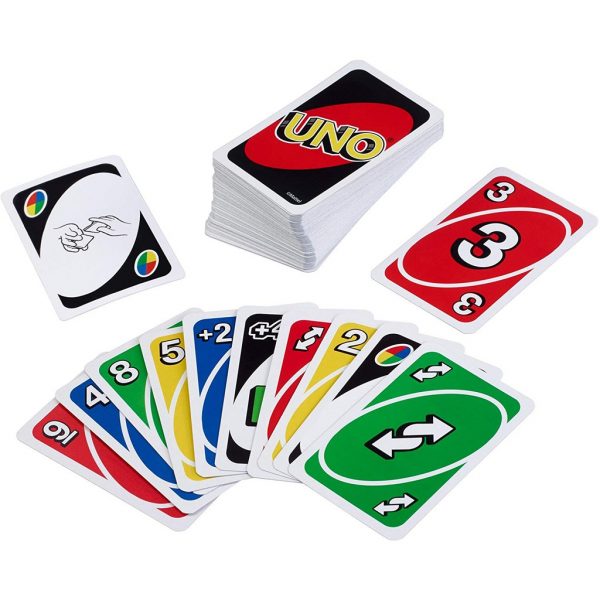 You can't go wrong with a game of good ol' Uno. However, there's no need to be dealing Uno cards when you can play this all-time favourite card game on your Telegram app! The bot will deal cards to each player. Some of your cards may be greyed out but that just means these cards are not available to you at the moment. Players will take turns dealing cards that match the colour, number or symbol of the open card as indicated by the bot. 
You can also click  the '?' button to check on the current game state, such as how many cards each of the other players possess. The first player to clear his/her hand wins the game! The best part about playing this Telegram group game via the bot is that there's no need for you to shout 'UNO!' when you've reached your last card. The bot automatically announces it for you so you won't be subjected to the four-card penalty!
Bot: @unobot
Number of players: 2 and above
How to play game on Telegram: Add @unobot as a member of the group chat
Telegram games for groups
5. Werewolf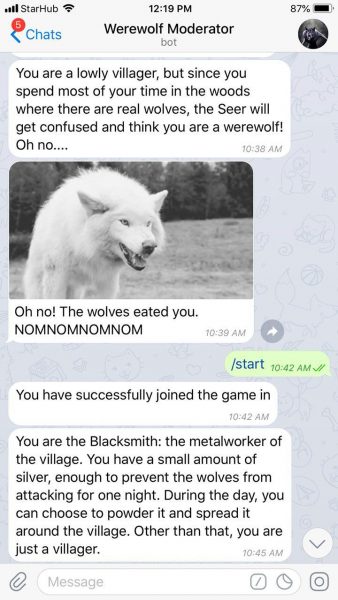 You have probably played the game Polar Bear, Mafia or Murderer at some point in your childhood. The Werewolf game on Telegram allows you to relive those memories, in a more high-tech version via your favourite messaging platform!
For those who haven't heard of this game before, here's what this Telegram game is all about. You and your friends are in a village where mysterious creatures lurk. Among the group, some players will play as the werewolves who are out to kill all the villagers before the game ends. The rest of the players will be villagers. Villagers need to work together to figure out who the werewolves are so as to 'lynch' them before they kill off the entire population. At the end of every round, villagers will have the chance to vote for who they think the werewolf is. You can oust someone based on majority votes, so it's crucial to pick the right person to vote for (unless you're the werewolf)! 
The bot will delegate time for the wolves and the players to discuss and make their voting choice within the chatroom. You could also play this game in real life, by making use of the bot's role allocation but having a discussion face to face with your friends. If you enjoy playing this game, we're sure you'll love the game Among Us too!
Pro Tip: Once your Telegram group has mastered the basic version of the game, we suggest you up the level by playing the game in 'Chaos Mode'. This mode adds a few other interesting characters into the mix, including serial killers, guardian angels, detectives and more! 
Bot: @werewolfbot
Number of players: 5 and above
How to play game on Telegram: Add @werewolfbot as a member of the group chat, then private message the bot and click 'start'
6. Chat Against Humanity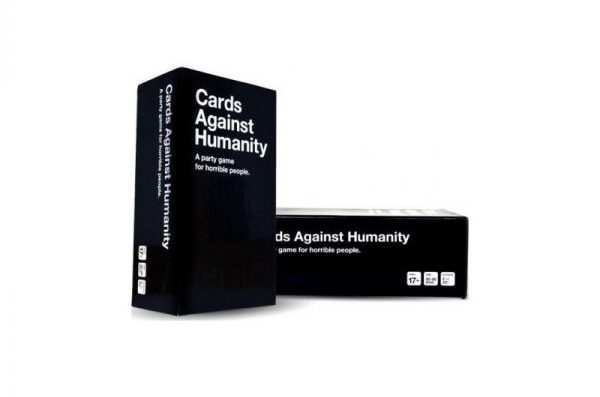 Loved the witty puns found in Cards Against Humanity? Then Chat Against Humanity is just for you! This is one of the most hilarious Telegram games on the platform as players take turns selecting what they think is the funniest answer among their cards in reply to a question generated by the bot for Player A.
Player A will then have to choose the most humorous answer out of all the submissions. The player who submits the chosen answer gets a point. The game continues so that every player gets the chance to be Player A and the one with the most points wins! If this is a game you and your friends enjoy, we suggest trying out these adult card games for games night!
Bot: @chat_against_humanity_bot
Number of players: 5 – 12
How to play game on Telegram: Add @chat_against_humanity_bot as a member of the group chat
7. Pokerbot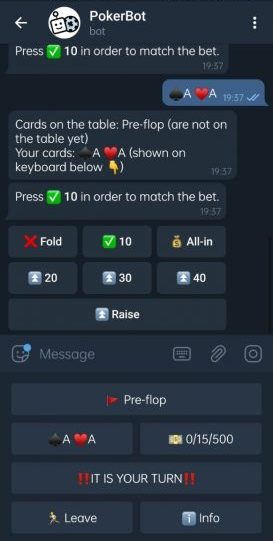 Forgot to bring along a deck of poker cards to your friends gathering? Don't sweat it, you guys can still enjoy the game via Pokerbot! Get everyone to join a Telegram group chat and add the Pokerbot Telegram game bot to kickstart the fun! When it's your turn, the bot will prompt you with a range of moves you can make including fold, all-in or check. The bot will also keep track of your winnings. 
Pro Tip: Want to continue the game after the gathering is over? You can join random players across the world to play the game via the bot!
Bot: @pokerbot
Number of players: 5 and above
How to play game on Telegram: Add @pokerbot as a member of the group chat
5. Dreamers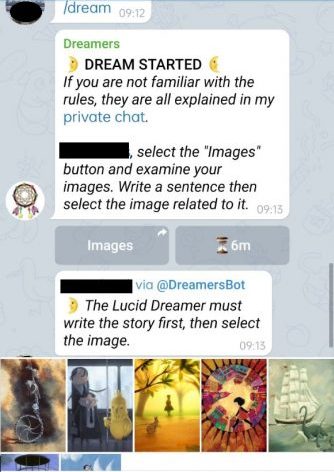 Sometimes, we just want an easy-to-play game without learning too many rules. One of the most straightforward Telegram games is Dreamersbot, which is essentially a guessing game for all ages. Players will take turns being the Lucid Dreamer, the character who gets to select an image out of a pool of options provided by the bot. The Lucid Dreamer will have to provide a hint that describes the image. 
Meanwhile, all the other players act as the Dreamcatcher. The Dreamcatcher will not know which image was selected by the Lucid Dreamer and will have to deduce the answer based on the hint provided. Dreamcatchers who guess the image correctly will gain points. Win as many rounds as you can to become the overall Dreamer winner! Get creative with your hints by quoting song lyrics, movie lines or even poems to make things more exciting! 
Bot: @dreamersbot
Number of players: 3 and above
How to play game on Telegram: Add @dreamersbot as a member of the group chat
Minimum number of players: 3
Telegram games to play solo
9. Gamee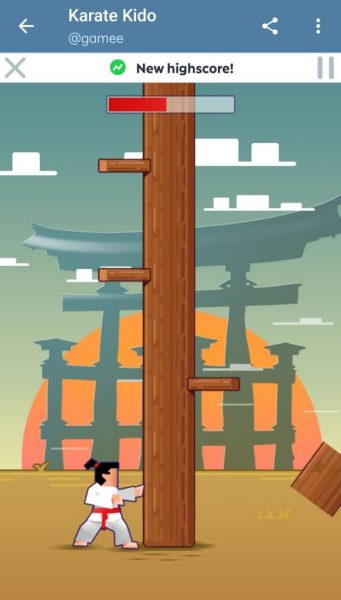 Miss old-school arcade games? Relive retro games via one of the most engaging Telegram games, Gamee! Gamee promises hours of fun and endless activities as there'll be tons of arcade games for you and your friends to choose from. Think Gravity Ninja, Snake and other classic game titles! Travel down memory lane, challenge your friends and try to stay on top!
The games in this Telegram game bot are pretty straightforward, but they'll also come with instructions so you'll be able to play them with ease. Beware that your competitive spirit will be at an all-time high with Gamee! After playing with your friends virtually, why not take the challenge offline at some of these best bars with games in Singapore!
Bot: @Gamee
Number of players: 1
How to play game on Telegram: Add @gamee as a member of the group chat
10. Gamebot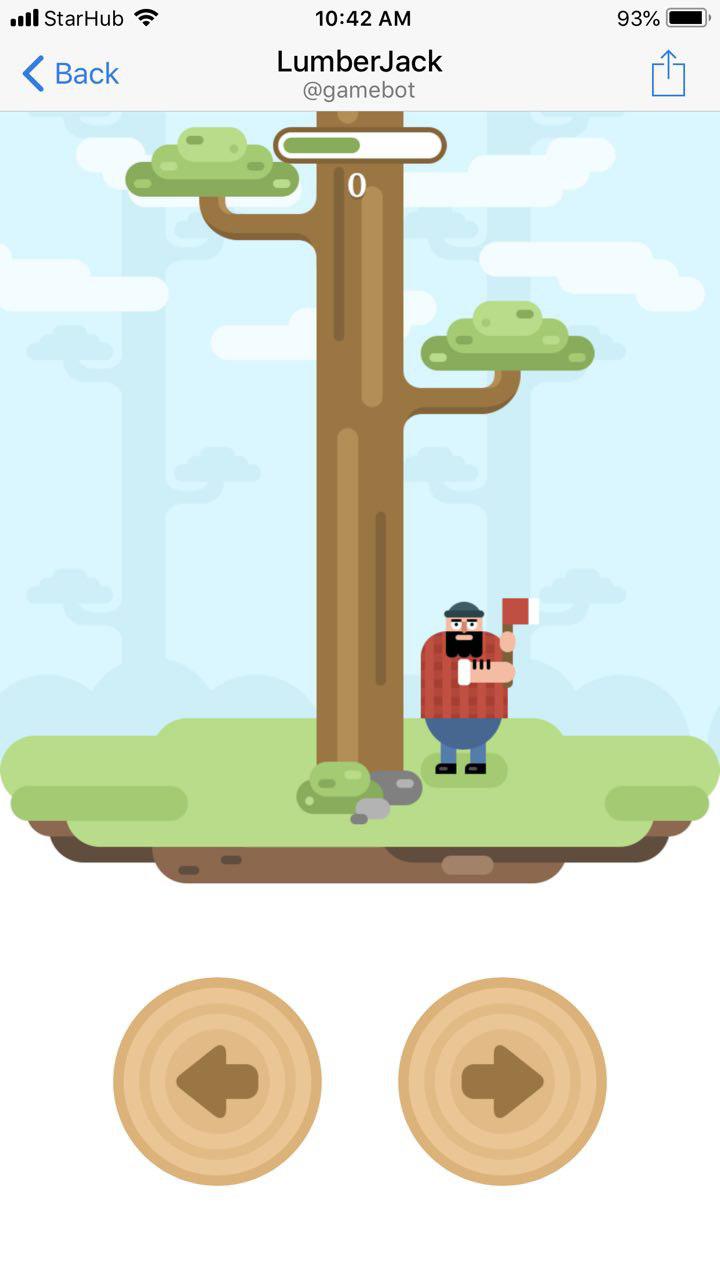 Instead of adding a bot to your group chat, simply type '@gamebot' in the chat's text box (don't press enter) and wait for it to load. You can then select from a list of games including Lumberjack, Corsairs and Math Battle. Out of all these games, we strongly recommend Lumberjack! In this Telegram game, you'll be playing as a lumberjack — chop wood by using the left and right arrows while trying to avoid getting hit on the head by a tree branch! It's a simple yet relaxing game which you and your friends can unwind to after a long day.
Pro Tip: Playing Lumberjack on the computer with a keyboard allows you to chop and dodge faster! 
Bot: @Gamebot
Number of players: 1
How to play game on Telegram: Type @gamebot into the chat (without pressing enter) and wait for game options to load
11. Arena Game RPG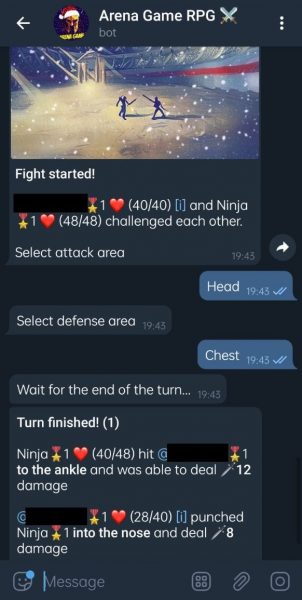 Telegram games need not be just about mini-games and card games. You can now enjoy your favourite role-playing multiplayer game with friends with Arena Game RPG! You get to create characters of your own, manage their skills and inventory and set your character up to win the fight in the player versus player battle! In the fights against other players, you take turns to choose an attack spot such as the head, chest or legs. The amount of damage you inflict depends on how geared up your character is. The warrior that wins the battle walks away with more skill points which can be used to improve your attack or defence. Let your friends join in the fun by banding together for team battles! 
Bot: @arenagametelegrambot
Number of players: 1 and above
How to play game on Telegram: Start a private chat with @arenagametelegrambot to create your character
Spice up your chats with Telegram games
With so many fun Telegram games to pick from, there will no longer be awkward silences in your group chats again. Aside from these Telegram games, we've also got you covered with the best Nintendo Switch games and best PS5 games to play with your squad!
To get the latest and most exclusive deals on Shopee, join our Official Shopee SG Telegram Channel! Don't miss out on our Official Shopee SG Prizes Group too! 
This article was updated on 21 June 2022. Additional research done by Liang Shi Nan.