Finding the perfect Father's Day gift can be a tough feat. Does dad need a new wallet? Will he prefer a tie for work or a new mobile case? Here's our take — nothing makes for a better gift for dad than a handmade Father's Day card from the little ones! After all, showering pops with love from the heart can never go wrong. Let the kids unleash their creativity and express their adoration for the greatest hero in their lives with these easy Fathers' Day card ideas for kids!
What gift is best for Father's Day?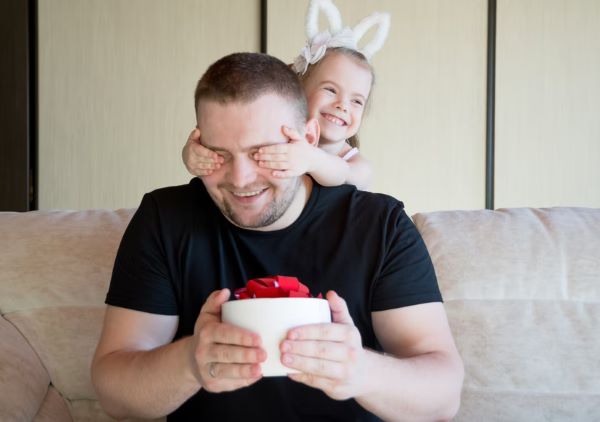 From the best belts for men to the best men's wallets, there are plenty of practical gifts that you can give to pops on Father's Day. However, nothing quite beats a thoughtful, handmade happy Father's Day card – especially when it's from their beloved kiddos. This Father's Day (19 June 2022), take inspiration from these DIY Father's Day card ideas for kids to put a smile on your dad's face!
DIY Father's Day card ideas for kids
1. Hands down best dad ever Father's Day card
Impress daddy with a creative handprint card! This father's day card idea for kids is not only easy but provides lots of room for creativity. Be sure to provide the little ones with loads of art decorative materials so they can go all out to spice up this DIY card.
You will need:
Glitter craft paper

Coloured paper

Child safety craft scissors

Alphabet stickers

Glue

Markers
How to:
Get the little ones to trace the outline of their hands on the back of glitter craft paper (available on Eden Gifts). Then, help them cut out the handprint or let them have a go at it with a pair of children safety craft scissors (available on Happy Star) — cutting will develop your kids' hand-eye coordination and stability. Moving on, use this chance to teach your kids some spelling by getting them to stick alphabet stickers (available on Les Gift International) to form the phrase 'Hands down best dad ever!' on one of the handprint cut-outs. 
Cut a thick strip (6 x 20cm) of coloured paper and create a zigzag fold. Next, glue the strip between two handprint cut-outs to connect them. Lastly, have the kids write a short message for daddy on the strip and the happy Father's Day card idea is complete!
2. Dad's a champion trophy card
Go beyond the typical Father's Day card ideas for kids and help the little ones create this awesome trophy card for their champion dad. Beyond the trophies and medals that dad may receive for sports or work achievement, this trophy card might just be the most prized possession from his precious kids.
You will need:
Coloured paper

Bottle caps

Bubble stickers

Glitter washi tape

Glue

Superglue

Number '1' bubble sticker

Markers

Scissors
How to:
Let the kids pick out the coloured paper they want for the trophy. Firstly, fold the paper in half and cut it into the shape of a trophy, ensuring that the card stays connected by the seams. Next, cut two 'C' shapes as the trophy handles and get the kids to glue them onto the sides of the card. 
Using a different coloured paper, cut out a circle (6 x 6cm) and glue a bottle cap onto the middle of the circle using super glue. Then, paste this onto the centre of the card to form the trophy ribbon. Since dad's such a champ, reward him with a number '1' bubble sticker (available on little.pineapple.sg) on the bottle cap to let him know he's always the best in the eyes of the kids! 
Title the trophy 'Best Dad' and guide the little ones on decorating the card with some glitter washi tape (available on yikun.sg). All that's left is for the kids to write a short heartfelt message and present the card to their daddy with a big hug on Father's Day!
3. Magic scratch art Father's Day card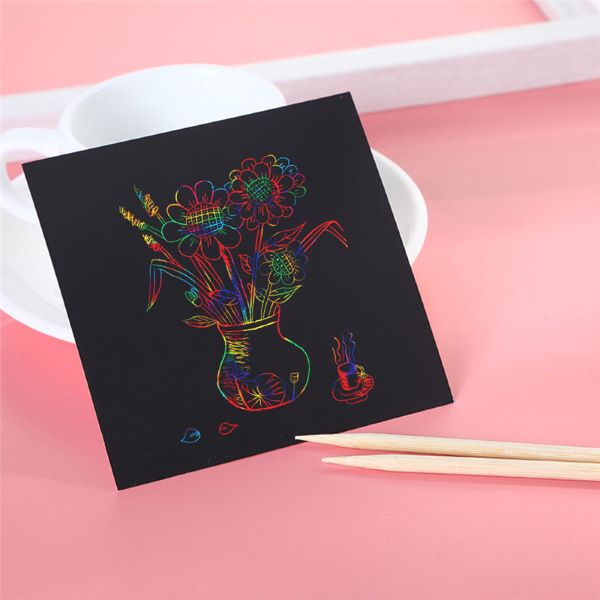 Racking your brain to think of some unique and fresh Father's Day card ideas for your kids? Why not create a magic scratch card from… scratch! We assure you it's loads of fun and easier than it seems.
You will need:
A4 cardboard

Wax candle

Paint brushes

Acrylic paint in various colours

Black acrylic paint

Toothpick

Fork
How to:
Let the kids go wild as they cover one side of the cardboard sheet in acrylic paint — the more colourful the better! Avoid using black paint as it won't show up on the final piece. Allow the acrylic paint (available on EWstore.sg) to dry for 30 minutes. Then, rub a candle (available on eat ORGANIC Official Store) on the cardboard to wax every inch of the card.
Next, paint the black acrylic paint all over the cardboard and allow it to dry for 20 minutes. Once dried, the little ones can start writing or drawing on the card using a toothpick or fork! Lastly, scratch off the black paint to reveal brilliant colours underneath that will add a whole new dimension to this Father's Day card.
If you're looking for a last minute Father's Day card idea, you can simply use these pre-made magic scratch art painting paper (available on glowbean.sg) to speed things up. Dad will never know!
4. Father's Day shirt card
Fathers are especially charismatic when they don their best shirts and head out to work. This Father's Day, make dad a different kind of men's shirt — one that he will never have to replace! As one of the easiest Father's Day card ideas, this craft is perfect even for younger kids.
You will need:
A4 Coloured paper

Markers

Crayons

Glue

Scissors
How to:
Begin by folding the A4 coloured paper in half to form a card. Then, cut a strip of paper (5 x 10cm) and fold both ends inwards and downwards so that their upper corners meet in the centre. Now you have a collar for the shirt! Next, glue the collar down on the top of the card.
Draw an outline for the tie, extending from between the collar down to the middle of the card. Last but not least, let the kids colour it as they please with crayons and guide them on writing dad a simple and cute message inside the card. Now, dad will know how much of a fashionista he is!
5. Father's Day mosaic portrait card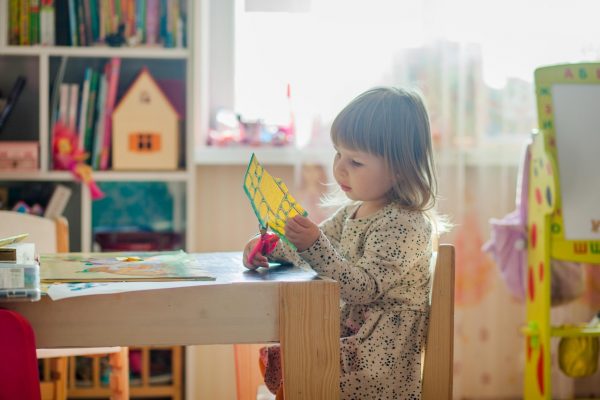 This Father's Day card idea for kids will allow you to recycle the old stack of magazines and newspapers in your house. Get artistic with the kids by creating a mosaic portrait of dad using paper scraps! Want to get all your kids to work on the same card? This is the perfect handmade Father's Day card idea to do that!
You will need:
A4 cardboard

Old magazines

Old newspapers

Glue

Pencil

A portrait photo of dad
How to:
Gather the kids and help them pick their favourite photo of dad. Using the photo as a reference, get them to sketch dad's head, shoulders, clothes and background on the cardboard. Then, rip pages out of magazines or newspapers and tear them into small pieces. Next, separate the paper scraps by colour for easy reference. Here comes the fun part — kids can fill in the portrait outline with paper scraps according to the colours that match dad's hair, skin and shirt. 
For the eyes, paste two white ovals and layer them with two circles in a shade that matches dad's peepers. Then, let the glue dry for about 30 minutes. Lastly, remember to have the kids pen down their love for dad on the back of the card. Dad will definitely be delighted to receive this frame-worthy piece of art from his little angels!
6. Happy Father's Day shaker card
Show dad how much he's appreciated by the family with a novelty handmade Father's Day shaker card! This fun-filled card is not only an easy crafts project but also one that's bound to sparkle brilliantly in dad's office!
You will need:
Plastic craft sheet

2 A6 cardstocks

Scissors

Foam tape

Double-sided tape

Glitter

Sequins

Markers
How to:
To begin, create a window frame for the shaker card. Cut the cardstock into a frame with a 3cm width. Then, line the back of the frame with double-sided tape and secure the plastic craft sheet (available on Flamingo.sg Jewelry) over it. Next, trim the plastic craft sheet so it's the same size as the window frame. After that, line foam tapes (available on Allin Mart) on the edge of the plastic sheet, ensuring there's no gap between the tapes. 
Meanwhile, the kids can get creative with the other cardstock — drawing pictures or writing a short message for dad. Once that's done, it's time to get sparkly! Pick out a bunch of chunky glitter (available on westyletin.sg) and sequins (available on Arya-stop) for the shaker card. Next, pile them in the middle of the card, then secure the window frame onto the cardstock with the foam tape. Lastly, shake the card about to ensure the contents don't spill and voila! Dad will definitely be amazed at this awesome handmade Father's Day card.
7. Rainbow pasta Father's Day card
Who said you can't get creative with food? If dad's favourite dish is pasta, surprise him with a rainbow pasta Father's Day card handmade by the kids! This is one of the best Father's Day card ideas for kids that will have him grinning and his tummy growling!
You will need:
Raw pasta of different shapes

Food colouring

Rubbing alcohol

Ziplock bags

Super glue

A4 Colour papers

Parchment paper
How to: 
Prepare a bunch of uncooked pasta in various shapes — think farfalle (available on Shopee Supermarket), conchiglie, penne and fusili pasta . Mix them up and pack them separately into different ziplock bags (available on Deli Official Store), one colour of pasta per bag. Next, add a tablespoon of rubbing alcohol into each bag and seal it up. Massage the bag to evenly distribute the rubbing alcohol. Then, add different food colouring to each bag, seal it again and massage the content to distribute the colour. After that, dry the dyed pasta on parchment paper (available on Cocoaorient Official Store) for a day so that the colours don't bleed while your kids work on their cards. 
To create the rainbow pasta Father's Day card, simply fold the coloured paper into half and guide the kids to glue the pasta on the card whichever way they wish to. They can recreate dad's face or even design a radiating mandala using the coloured pasta!
8.

Pull tab origami envelope Father's Day card
Running low on art supplies at home or simply do not have time to make a fancy card with your kids? Here's a quick and simple pull tab origami card idea to shower some love to dad on his special day.
You will need: 
A4 paper 

Markers

Glitter, sequins, stickers (optional) 

Photographs (optional) 

Glue (optional) 
How to: 
Grab either some white or coloured A4 paper (available on MR DIY Official Store) and start by folding it into half horizontally. Ensure that the crease is sharpened with a bone folder (available on sakulastore.sg), the back of a scissors or just your fingernail. Secondly, open the folded paper, and lay it flat, faced horizontally in front of you. Next, fold the top and bottom right corners towards the crease in the centre. Similarly, do the same for the left side of the paper and you should have 4 equal triangles on all four corners that are nicely in line with the middle crease.
Then, with the triangles facing the side, fold the top down and bottom up toward the centre crease. After that, fold the triangles, from the horizontal side, toward the centre crease. You should get a rectangle-shaped paper at this point. Now flip the paper over such that the folds are now facing down and the flat slide is facing you. 
Here is where the kids can get creative. On the flat side, encourage them to write a heartfelt message or even a drawing for Dad using markers. Decorate the card using different art supplies like glitter, sequins, or stickers. If the kids want, they could even paste their favourite photo of them and Dad!
Once done, fold both sides towards the centre of the paper, then tuck the right fold into the fold on the left side. This ensures that the note is securely folded until the tab is pulled. Now, the pull tab is in the centre of the note. Lastly, don't forget to label the tab so Dad knows how to unfold the card for his special Father's Day message!
9.

Father's Day photo album 
You know how they always say 'a picture speaks a thousand words'? Why not let the kids tell Dad (in thousands of words) how much they love him through photographs. This DIY photo album will definitely put a smile on Dad's face when memories flood his mind as he flips through each page on Father's Day.
You will need: 
A4 coloured paper 

Twine 

Scissors

Hole puncher

Glue  

Photographs

Stickers, sequins, glitter, washi tape (optional) 
How to: 
Let the kids pick out as many different coloured A4 papers depending on the number of desired pages for the photo album. Firstly, cut the A4 paper into quarters to create the pages of the album. Secondly, punch holes along the length of the paper and secure these loose sheets of paper with string twine (available on miqin2).
Next, start assembling the photo album with their favourite printed photographs. Save a trip to the photo printing shop and get 4R photo prints (available on Photobook Singapore Official Store) online. Lastly, encourage them to get more creative by decorating each page with washi tape, stickers, or sequins, accompanied by short messages to Dad to tell him they love him!
10. Happy Father's Day mug card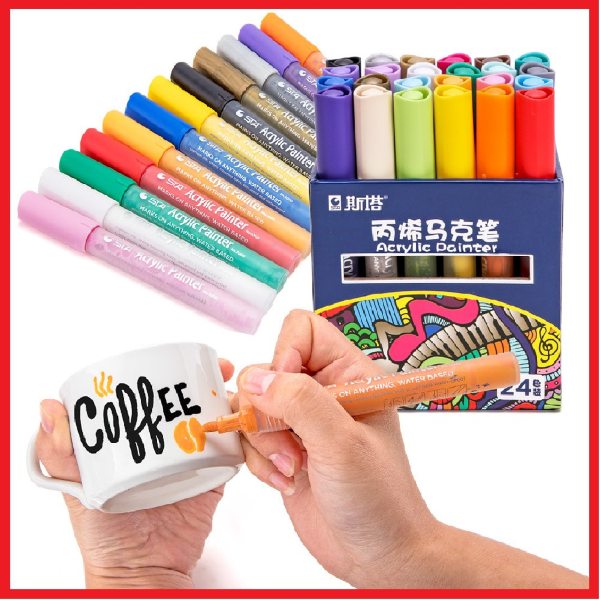 Who said a happy Father's Day card can only be designed on paper? Get creative with your kids and create this easy last-minute card idea — on a mug! This is a practical gift for dad who gets to enjoy his daily cuppa with a unique mug with hand drawn designs by his little ones. We're sure dad will be showing it off to everyone in the office!
You will need:
Porcelain mug (preferably white)

Acrylic paint markers
How to: 
While you can use any mugs to create this Father's Day card idea for kids, we highly recommend going for mugs that are white or of a lighter colour to ensure the kids' drawings can be easily seen. The Wilmax Porcelain Mug (available on Poo Lee Trading Official Store) makes for a great mug card thanks to its smooth white design. For the mug drawings, use Non-Toxic Acrylic Paint Markers (available on Sealife) which are also permanent and waterproof. Let the kids draw a picture of dad on the mug and pen down some of their heartfelt words for the greatest man in their life! Once they have completed their masterpiece, let the mug air dry before wrapping it up for dad.
11. Popsicle card for Father's Day
This quirky Father's day card idea for kids is not only fun to create but also easy to surprise dad with! Simply pop this card into dad's pen holder in his study or stick it into his favourite flower pot. Dad will be sure to gasp in delight when he finds the dainty card while going about his daily routine!
You will need:
A4 coloured paper (blue & black)

A4 hite paper

Glue

Scissors

Pencil

Markers
How to:
Cut a blue coloured paper into three strips (5 x 10cm). Get the kids to do a zig zag fold on all of these strips. While the zig zag fold is compressed, cut one end of the strip into a sharp tapered shape. Repeat these on the other two strips. Then, glue the three strips together from end to end such that they create one long zig zag strip. Transform the strip into a circle by connecting the two ends together with glue. Once the glue has dried, press the circle down from the middle to create a flat rounded fan design with jagged edges. Add glue to the middle of the fan and add a small piece of square white paper to cover up the unsightly connection.
Using a black paper (10 x 5cm), fold it into half and sketch out the shape of half a mustache with a pencil. Cut the black paper along the lines and unfold to reveal a complete mustache. Then, use another piece of black paper (6 x 6cm) to sketch out a classic top hat. Cut along the lines and get the kids to glue both the mustache and top hats onto the fan (side without white paper). 
Roll a piece of white paper (15 x 10cm) into a thin stick, and decorate by twirling a thin strip of black paper around it. Glue this stick onto the bottom of the fan (side with white paper). Pick another coloured paper (16 x 8cm) in dad's favourite colour and fold it into half. Using a circle compass, sketch a big circle on the paper and cut it, taking care to leave one side of the circle uncut. Open up the circle card and let your kids decorate their Happy Father's Day card with markers! Once done, glue the back of the card onto the fan (side with white paper) and you're done!
12. Father's Day tie card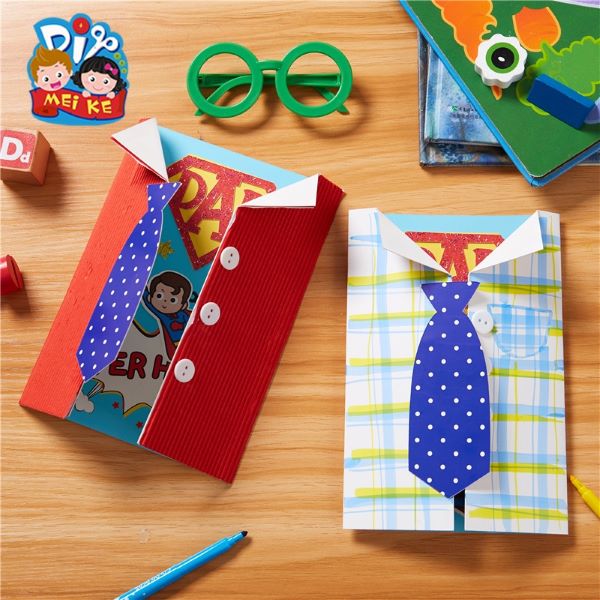 Does dad don a tie for work every morning? Then this DIY happy Father's Day tie card idea would be a great way to express their love for the man in the house. This card resembles a collared shirt and even comes complete with textures and buttons for a 3D effect. This will definitely be fun to make, and a joy for pops to receive it!
You will need:
Father's Day tie card kit
How to:
This art and craft is extremely simple even for kids thanks to the all-in-one Father's Day Card Material Kit (available on Vesta Home & Living Shop). Your little ones won't even be needing  scissors or glue as all the materials are pre-cut into shapes and come with adhesive backing for convenience. Simply lay the materials out on the table and get your little ones to focus on decorating the card from bottom to top. Once they are done decorating, help them slot the band into the two holes at the top of the card and voila! Get ready to help dad put on this special tie on Father's Day!
13. Father's Day secret scratch card
Have a secret to tell dad this Father's Day? Your little ones can now hide what they have to say to dad in this interesting happy Father's Day card idea for kids! Utilising the scratch card concept, the little ones can conceal their words behind a special acrylic paint concoction which can be scratched off easily with a coin after it dries. This adds an element of surprise and mystery to the fun occasion! 
You will need:
White cardstock (12.7 x 17.8cm)

A4 Coloured paper

Acrylic paint

Dishwashing liquid

Clear Tape

Pencil

Coloured markers

Paint brush

Coin
How to:
Help your kids draw faint lines using a pencil across the cardstock horizontally. There should be a 2cm gap in between the lines. This acts as a guide for the kids to write their secret Father's Day wishings. Then, the kids can go ahead and fill in the lines with what they want to say to dad. Be sure to leave a line after every sentence. Trace the words with coloured markers.
Moving on to the fun part — hiding the words! Select a few lines of the card to conceal. Cover these sentences with a strip of clear tape. To formulate the scratch-off paint, mix two parts of acrylic colour of your choice with one part of dishwashing liquid. Paint this mixture over the areas covered with tape using a paintbrush. Let it dry and add another coat. You may need to coat multiple layers to achieve maximum opacity. 
Fold the coloured paper into half and glue the scratch card onto the coloured paper. Open up the card to reveal more space for your kids to doodle for dad! Once done, all dad needs to do is to scratch away the paint at the front with a coin to reveal the secrets his little monkeys have to say to him!
14. Father's Day wallet card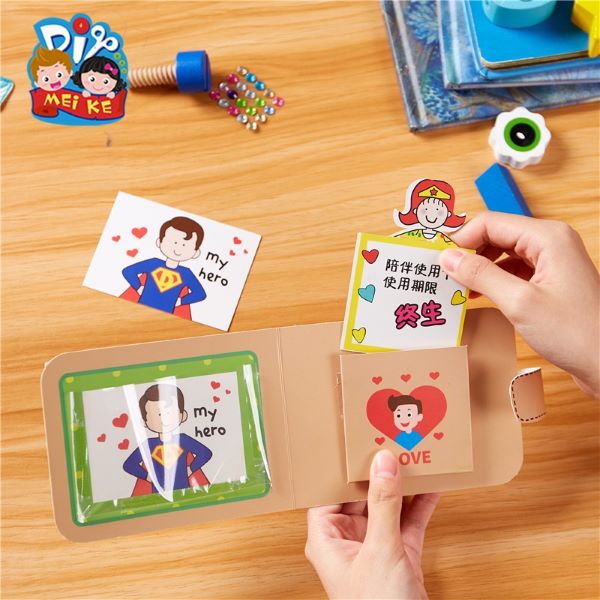 Looking for a quirky DIY Father's Day card idea for kids? End your search with this handmade Father's Day wallet card! This wallet contains slots where you can slip in your heartfelt messages and your doodles of him. It may not be able to fit any of dad's cash and cards, but this might just be the most treasured wallet your dad has. 
You will need:
Father's Day wallet card DIY kit
How to:
A Father's Day wallet card may be difficult to make from scratch, but the Father's Day wallet card DIY kit (available on Vesta Home & Living Shop) makes things easy with all the materials you need. This kit contains the components of the card wallet, stickers to decorate it with, cards that you can slot in the wallet, as well as double-sided tape. All you'll have to do is piece the components together, and decorate the wallet to make it uniquely yours!
15. Father's Day french fries craft card
Does your little one love bonding with pops over french fries? Then this French Fries craft card couldn't be more apt to encapsulate their relationship. The best part? It's unique yet super simple to make without requiring any fancy material. What's more, this Father's Day card idea for kids might just inspire him to bring the young'uns out for a date at Mcdonald's!
You will need:
Red coloured paper

Yellow coloured paper

Markers

Scissors

Glue

Pencil
How to:
First, take the red colour paper (available on Ethereal Art & Stationery) and fold it into half. Draw a diagonal line on each side of the paper and cut along the lines to form the shape of a french fry pouch. Next, draw a curved line across the two angled points on the paper. Cut along this curved line only on one half of the paper. After that, draw another curved line with an outward concave on the other half of the paper and cut along the line. Use a glue stick to glue the outline of each half together to form the french fry pouch.
Leave the centre of the pouch dry to insert the 'french fries' afterwards. Cut out a curved strip of white paper with an inward concave to pen your message to dad and paste it on the pouch. For the paper fries, cut strips of yellow paper out and write on them. You can write your favourite qualities of your dad on them! Lastly, insert the paper fries into the pouch and there you have it!
16. Father's Day rocket card
Tell pops you love him to the moon and back with this Father's Day rocket card idea for kids! It's also a way to let him know that to you, he's out of this world. This rocket card is simple yet fun to make! Those with older tots can let them practise using the scissors and cutting the shapes out, while the younger ones can help out by sticking them at the right place!
You will need:
A4 coloured paper 

Felt paper

Scissors

Glue

Ruler

Yarn
How to:
First, fold a black A4 coloured paper into half – this will be your card. Next, measure 4.5 inches (length) and 2.5 inches (breadth) and fold the paper down at the 2.5 inch mark. Draw a line where the paper folds down and cut the rectangle out. Glue one side of the paper on the centre of the black card.
Then, cut three small circles and two triangles out from an orange coloured paper and a larger triangle out from a red coloured paper. Glue the three circles in a row on the yellow rectangle, the small orange triangles on the sides of the rectangle, and the red triangle on the bottom of the yellow rectangle. Afterwards, cut two stars out from a glitter foam sheet (available on Best Buy Over Here) and glue them onto the black card. On the bottom of the black card, below the yellow rectangle, use a pencil to mark out a row of circles, and use a single holepuncher (available on SCHOOL STATIONERY STORE) to punch holes accordingly.
Measure 25cm of yellow and red yarn and cut it out. Fold the yarn to half twice and string it across the hole. Tie a knot to secure the yarn on the card. Repeat this process according to the number of holes you have punched. Finally, open up the yellow piece of paper on the card and pen down your heartfelt Father's Day message!
Surprise dad with a handmade card this Father's Day 
We hope this list of happy Father's Day card ideas for kids will bring joy to your children and a smile on their dad's face! Besides a cute handmade Father's Day card for dad, pamper him a little more on this special day with these Father's Day gifts ideas! The whole family can also gather for a feast together to celebrate the special occasion. Psst, don't forget to pair it with the best wines in Singapore. Snag them at amazing discounts at our Father's Day Promotion to get the best bang for your buck!
This article was updated on 6 May 2022. Additional research done by Liang Shi Nan.