We're past the four year anniversary for the Nintendo Switch and its run has been nothing short of stellar. With many titles available on the portable powerhouse, there's surely no better time to start gaming on the Switch! From calorie-shedding fitness games to frantic multiplayer romps, we have you covered with some of the best Nintendo Switch games. Psst, we've included some Nintendo Switch accessories that you can add to your collection!
Best Nintendo Switch games of all time for solo players
1.

The Legend Of Zelda: Tears Of The Kingdom
Can't get enough of The Legend Of Zelda? Buckle up and get ready for its sequel, The Legend Of Zelda: Tears Of The Kingdom (available on My Gaming Lab). Fantastic animation and exciting storylines are waiting for you in this best Nintendo Switch game. We won't spoil you too much but from what we saw, you can expect to feast your eyes on the most detailed and beautiful designs in this Nintendo Switch game. 
Pluck up your courage as you play Link, trudging through tumultuous terrain as you encounter episodes of combat. From vast fields to floating sky islands, your journey through the lands of Hyrule will surely be a thrilling one. But don't forget to quickly master those new abilities so as to claim victory over evil forces. 
Release date: May 2023
2. Hogwarts Legacy
Potterheads, gather around for one of the best Nintendo Switch games in 2023. Hogwarts Legacy (available on Qisahn) is an action role-playing game where you'll become a student at the Hogwarts School of Witchcraft and Wizardry. The game is set in a time before the events in the novels. While you'll have to pick up magical abilities and objects in the school, you'll also get to explore locations like the Forbidden Forest, Diagon Alley and Hogsmeade. 
One of the more exciting parts of the game is choosing your house and unlocking different common rooms. Solve riddles to unlock the Ravenclaw common room or unlock more side quests when you become part of Gryffindor. You'll also meet magical creatures like dragons, trolls and nifflers, where they can potentially help you advance in combat. Just be wary and stay away from the Unforgivable Curses, or you'll find yourself in great peril. 
Release date: July 2023
3. Xenoblade Chronicles 3
Step into the world of Aionios, where your character has been born into a life of constant war. You'll be accompanied by others in your party as you venture through the world in Xenoblade Chronicles 3 (available on Nintendo Official Store Singapore). Each party consists of up to six characters from two opposing nations. Brought together by a common goal to find their true enemy, you can easily switch between the characters to freely explore the world of Aionios. 
In this best Nintendo Switch game, you'll get to strategise how to best manipulate each character's strengths and weaknesses to conquer all your enemies in exciting battle sequences. Whether you're a healer, attacker or defender, you can choose to tap on an Interlink system that combines two individuals into an Ouroboros. Not only will this be a larger form, but the powers and abilities are greatly enhanced. Taking down enemies will be no big feat when you're an Ouroboros in Xenoblade Chronicles 3!
4. Digimon Survive
Dive in and relish in some nostalgic times with Digimon Survive (available on Bandai Namco Official Store)! This is the best Nintendo Switch game to relive those days where you're seated in front of the television, waiting for your favourite Digimon show to start. But this time, you'll be involved! Digimon Survive is a tactical role-playing game that requires some strategising. Your choices will affect how the story turns out, and your Digimon isn't spared in this process. How they'll evolve depends on you! 
You'll find yourself visiting a famous temple to investigate the legend of the Kemonogami. Suddenly, you'll meet Koromon and hear screaming only to find out your other classmates are being attacked by other Digimon. After Koromon digivolves, you'll finally realise that you've somehow been transported into another world. The goal is ultimately to survive, find out why and how you got there and lastly find a way to escape. As your journey continues, you'll have to bond with your Digimon and fight enemies. And if the going gets tough, there's always digivolving to count on!
5. 13 Sentinels: Aegis Rim
Originally a PS4 video game in Japan, 13 Sentinels: Aegis Rim (available on ShopiTree) now has its own Nintendo Switch version! As its name suggests, players get to take control of 13 different characters who are high-school students. The gameplay is set during a fictionalised version of 1980s Japan and the distant future of 2105. It follows a non-linear storyline where the characters will interact with each other to build a larger narrative. With a mix of side-scrolling adventure segments and real-time strategy battles, 13 Sentinels is a game that will put your memory and analytical skills to the test! 
As one of the best Nintendo Switch games in Singapore, it is strategically split into three sections for easy gameplay. The first section, Remembrance, sees players exploring the virtual environment and storing obtained items and keywords by the characters into a Thought Cloud database. Players then move onto the second stage, Destruction, where the characters will battle it out with their enemies through different attack ranges and movement speeds. They can earn Mystery Points along the way for a good fight. The final section, Analysis, is where the game concludes and the Mystery Points are used to unlock new index entries. We can't wait to try this best Nintendo Switch game already!
6. Fire Emblem Warriors: Three Hopes
Hack and slash games are always a hit with the masses, and Fire Emblem Warriors: Three Hopes (available on Nintendo Official Store Singapore) is not any different. Featuring combat fights with melee weapons, this is the best Nintendo Switch game you should try out next, especially if you're a fan of the Fire Emblem Nintendo Switch games! Fire Emblem Warriors: Three Hopes is a direct spin-off of Fire Emblem Three Houses (available on MAXSOFT FLAGSHIP STORE), where the game looks like everything is happening within an alternate timeline. 
Similar to Fire Emblem Three Houses, this latest Nintendo Switch game requires you to strategically deploy and command characters to win battles. The War Map is your best friend, pinpointing where there are missions to be cleared so you can earn rewards. The important thing is to hustle on side missions too as you'll receive points that can be used to buy "strategies". From recruiting certain enemy units to strengthening defences, these strategies will make clearing missions a whole lot easier! Moreover, you'll be able to replay main story battles once you've cleared Chapter 4. Take advantage of partner specials and adjutants, where your character's fighting power and abilities will be boosted by accompanying characters. Or simply use battalions to increase your defence against enemy units!
7. Lego Star Wars: The Skywalker Saga
Awaken the force inside you and train to become the best Jedi with Lego Star Wars: The Skywalker Saga (available on MAXSOFT FLAGSHIP STORE). This best Nintendo Switch game is where you can relive all the Star Wars episodes and make your way through different trilogies to perfect your lightsaber skills. While the Lego Star Wars: The Skywalker Saga is much like its predecessor, Lego Star Wars: The Force Awakens, the main difference between the two is how you can now explore more places featured in the Star Wars franchise. Venture through the sandy terrains of planet Tattoine or explore the little corners in the Death Star. You'll get to see all the different iconic places in so much detail! 
You don't have to explore the different Star Wars episodes in chronological order in this best Nintendo Switch game. You can start with Poe Dameron fighting the First Order and switch to where it all began as Princess Leia entrusts C-3PO and R2-D2 with an important mission. You'll unlock planets and moons as you progress through the saga and travel across an adventure-filled space. Random dogfights will come up and you can either choose to engage them or simply continue with the story. With 380 playable characters, get ready to hone your skills as a young padawan with this best Nintendo Switch game. 
8. Chrono Cross: The Radical Dreamers Edition
Are you a fan of Chrono Trigger? You'll love the newly released Chrono Cross: The Radical Dreamers Edition (available on MAXSOFT FLAGSHIP STORE)! Retaining the main elements, this best Nintendo Switch game is now back with much higher resolution graphics! While Chrono Trigger lets you travel through time, this latest version lets you traverse through parallel dimensions. You'll start off as a young boy, named Serge, who finds himself in another world and ends up working with a thief called Kid. Together, the two team up to track down a valuable treasure. 
Other than fighting enemies and bosses in different dungeons, you'll also get to hop between dimensions as you progress through Chrono Cross: The Radical Dreamers Edition. But the coolest thing about this best Nintendo Switch game is the battles. Instead of simply launching attacks at your enemies, you'll get to build up your hit chances by performing consecutive weak attacks. This percentage will build up and you'll be able to launch a powerful move. Your magic spells are also colour-coded. If you were to cast three red spells in a row, the next red spell you cast will become extremely strong. If the fights are too much of a hassle and you just want to move on with the storyline, you can choose to speed up the battles or simply activate the auto-battle mode. 
9. Monster Hunter Rise
Does the challenge of slaying foes ten times your size excite you? Then Monster Hunter Rise (available on Game On By GadgetsWave E-Store) will fit you perfectly. The premise of Rise is simple — hunt giant beasts, harvest for materials and craft increasingly lethal weapons. With the focus on faster and smoother action, Monster Hunter Rise tweaks this winning formula to make it perfect for on-the-go monster slaying.
Interested in what's new this time round? One of its coolest additions is Wirebugs! With a single press, your avatar can effortlessly cross caverns and zip up vertical walls with this grapple hook-like accessory. By adding an additional dimension of movement, you'll have tonnes of fun exploiting this while tackling different beasts. This makes the experience fresh every time as you fell mighty creatures solo or with fellow hunters online.
10. The Legend of Zelda: Breath of the Wild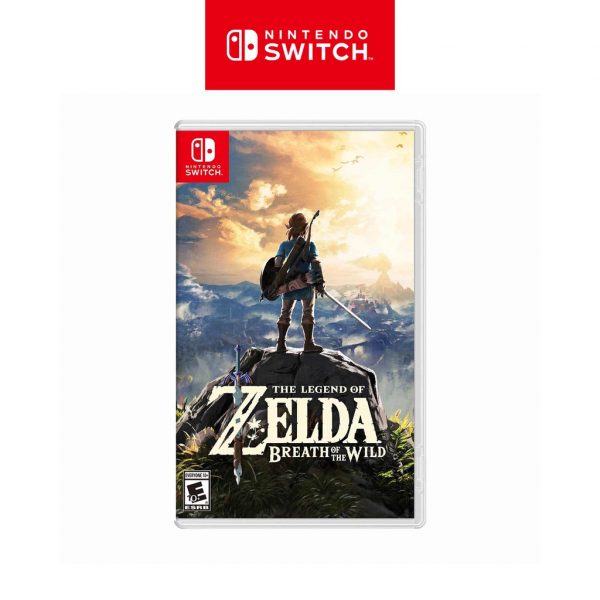 There's a good reason why The Legend of Zelda: Breath of the Wild (available on Qisahn.sg) is still considered one of the best Nintendo Switch games. Within minutes of booting up Breath of the Wild, you're greeted with one of the most gorgeous vistas we've ever seen in a video game! Showcasing an endless horizon of rocky hills and lush valleys, space and scale are the game's best aspects.
Few games will fill you with childlike wonder as you're dwarfed by your colossal surroundings while exploring every mysterious nook and cranny. From taming and mounting bears for traversal to creating bushfires so updrafts hoist you away on your glider, the Hyrule world is your oyster as you're rewarded for keen-eyed observations and experimentation.
11. Kirby And The Forgotten Land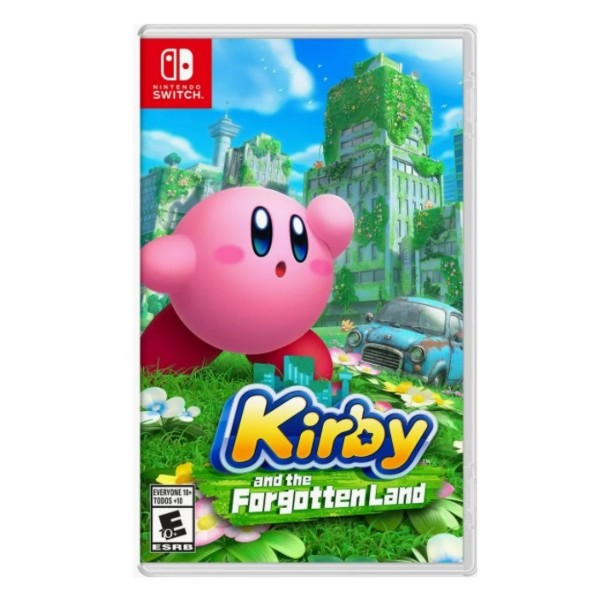 Celebrate Kirby's 30th anniversary with Kirby And The Forgotten Land (available on Nintendo Official Store Singapore).  This best Nintendo Switch game starts out with Kirby finding himself in a forgotten land known as the New World. After being sucked up by a Dark Vortex, Kirby now has to explore the New World to find the missing Waddle Dees.  You'll have to fight and evade members of the Beast Pack along the way to locate the Waddle Dees and return them to Waddle Dee Town. As you return the Waddle Dees to their town at each level, you'll also unlock minigames where you can compete with other players online for the top score. 
Since Kirby is known for his inhaling and copying abilities, you can be sure that you'll get to execute these in Kirby and The Forgotten Land. Kirby's copy abilities are now upgraded with two new modes, Ranger and Drill. In Ranger mode, Kirby will be able to wield a blaster gun to shoot enemies from a range of distances. On the other hand, Kirby's Drill mode takes advantage of 3D space to allow him to burrow underground. Both of these modes also have evolutions where their moves are further upgraded. There's also a new Mouthful Mode where Kirby can swallow and control large objects like vending machines and cars. And you guessed it, you'll be able to navigate the New World with Kirby as a car!   
12. Triangle Strategy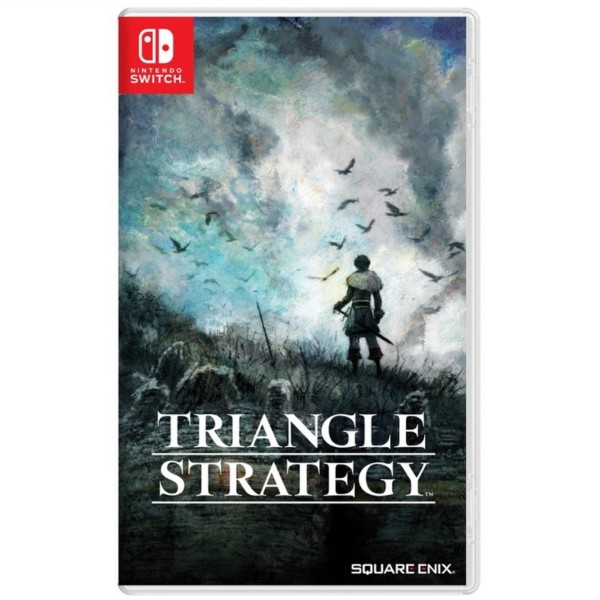 Following its successful games Octopath Traveler and Bravely Default, the Square Enix developers have finally launched their highly anticipated Triangle Strategy (available on MAXSOFT FLAGSHIP STORE)! Developed with Artdink, this best Nintendo Switch game has a unique style of graphics called HD-2D. HD-2D is basically a blend of a 3D world with high-definition graphics and a 2D pixel style. The HD-2D graphic style is so new that this is the only Artdink game that has this. 
This promising tactical role-playing game is extremely sought after because of its storylines. Yup, not just one, but multiple storylines! Your character, Serenoa Wolffort, has to navigate through a war conflict between three countries within a fictional continent. Each decision made is crucial and contributes to your character's story. With most games, the ending is usually pre-determined, but not with Triangle Strategy. People have been raving about this best Nintendo Switch game because there are pivotal choices you have to make that will alter your path and ultimately, your ending.
13. Rune Factory 5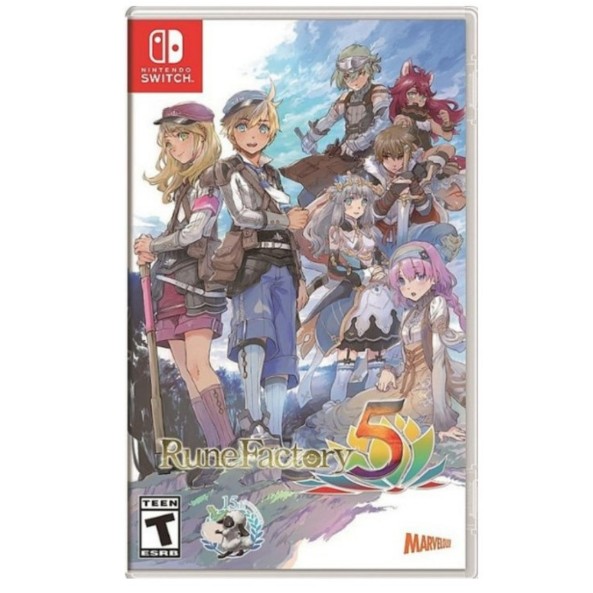 If you loved playing Stardew Valley and Kitaria Fables, then Rune Factory 5 (available on MAXSOFT FLAGSHIP STORE) is a game that should not be missed! This role-playing simulation game starts out with you having lost your memory. You'll find yourself in a small town known as Rigbarth where you'll join a group of rangers from the peacekeeping organisation called SEED. Choosing from the male player Ares or the female counterpart Alice, the main goal in this best Nintendo Switch game is to find out what's affecting the runes that keep the harmony between humanity and nature. Your main responsibility as a ranger is to complete missions and battle monsters with your SEED-issued spell seal to maintain the peace. 
While you're not busy with official work, you're encouraged to tend the land and carry out tasks for the townsfolk. You'll interact with people of Rigbarth to help the town prosper through farming, festivals and friendships. You can develop each character's storyline with conversations and gifts, and end up with a romantic tale as you marry one of them! Sound familiar yet? Rune Factory 5 has also been praised for its combat system and gameplay. With a wide variety of weapon options, spells, and physical weapon skills, your customisable loadout is a definite plus to the storyline this game has to offer!
14. Metroid Dread
If you're a fan of Samus Returns on the 3DS then Metroid Dread (available on MAXSOFT FLAGSHIP STORE) is an action-adventure game that you must try out. This best Nintendo Switch game sees you playing as Samus as she explores the mysterious planet ZDR. Just like before, Metroid Dread retains the side-scrolling gameplay so you can have a better view of the map and overall gaming experience. 
As you explore planet ZDR with Samus, you'll unlock items and weapons that opens new areas on the map. Samus isn't alone on this planet though. There are E.M.M.I robots that are in pursuit of her, so you'll have to remain in stealth mode when you encounter them. Then again, your game isn't totally over if you're caught. You'll get chances to counterattack and escape before Samus is killed. And if you succeed in killing the E.M.M.I robot, you'll get a permanent upgrade, so it's definitely a good risk!
15. Pokemon Sword & Shield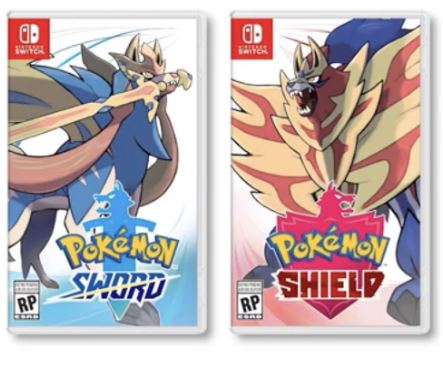 With more than 300 million total sales, it's safe to say the Pokemon franchise is a strong contender for the title of best Nintendo Switch games. Being the first mainline Pokemon title on a home console, expectations for Pokemon Sword & Shield (available on GameBusted) were sky-high. Visually, the game knocks expectations out of the park as the UK-inspired Galar region looks spectacular with rolling hills and evergreen pastures. From admiring the dynamic weather conditions to spotting wild Pokemon roaming about, this is the 3D Pokemon adventure we probably envisioned when first playing the series on the original Game Boy!
Aside from shiny new graphics, Sword and Shield has retained the original Pokemon formula. From assembling your dream lineup to testing your mettle against powerful leaders, explore the vast Pokemon world! Even if all this doesn't win you over, we're sure the terrifying Dynamax Pikachu will. Adore the Pokemon franchise? Check out these best Pokemon games to play so you're up-to-date on the ever-expanding list of Pokemon games to grace Nintendo consoles.
16. Animal Crossing: New Horizons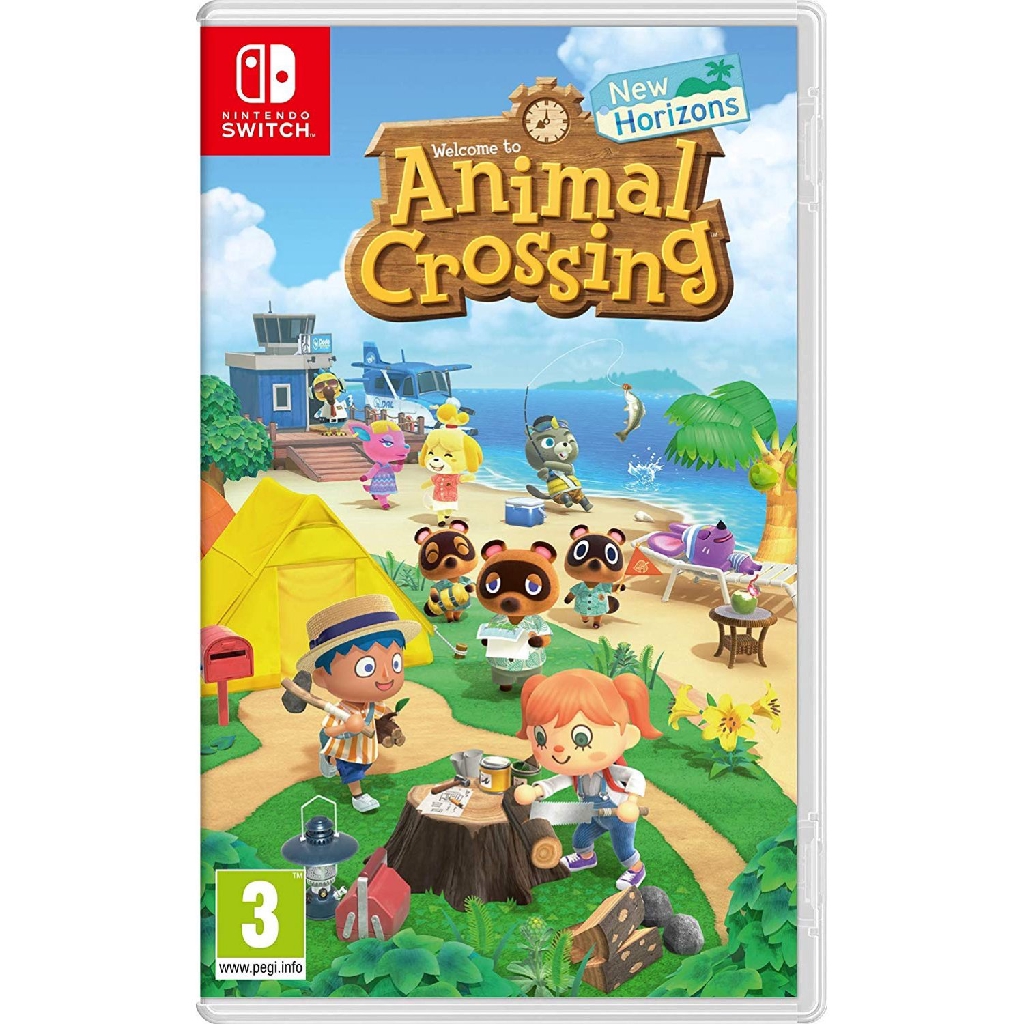 For us, the star appeal of Animal Crossing: New Horizons (available on RPG – Right Place for Gadgets) is the game's combination of laid-back activities and endearing interactions with villagers — all 383 of them. With immense customisation options, players have the title pegged as one of the best Nintendo Switch games in 2020.
Far from just being a chore simulator, New Horizon's charm lies in giving you the freedom to do anything. From fishing to visiting new islands, there's no pressure for completing any task as the game emphasises on the lack of deadlines that are commonly found in today's mainstream games. Love games that help you kick back and relax after a long day? Check out these best farming games for even more options!
17. Shin Megami Tensei V
With Shin Megami Tensei V (available on Qisahn.sg) being nominated as one of the best role-playing games, all others can move aside! This best Nintendo Switch game takes post-apocalyptic settings to another level. Set in modern-day Tokyo, your character starts out as a high-school student who gets caught in an earthquake. This earthquake brings you to another version of Tokyo, one where angels and demons are battling each other.
As a human, your efforts prove to be futile but your character becomes a deity that strives to keep humanity out of this battle. You'll explore different maps and unlock rewards as you fight different demons and complete quests. Aside from its compelling storyline, what got us hookedis the amazing high definition and art style in Shin Megami Tensei V. The realistic-looking characters and dynamic effects make the gaming experience feel so immersive you'll find it hard to put down the console.
18. Ring Fit Adventure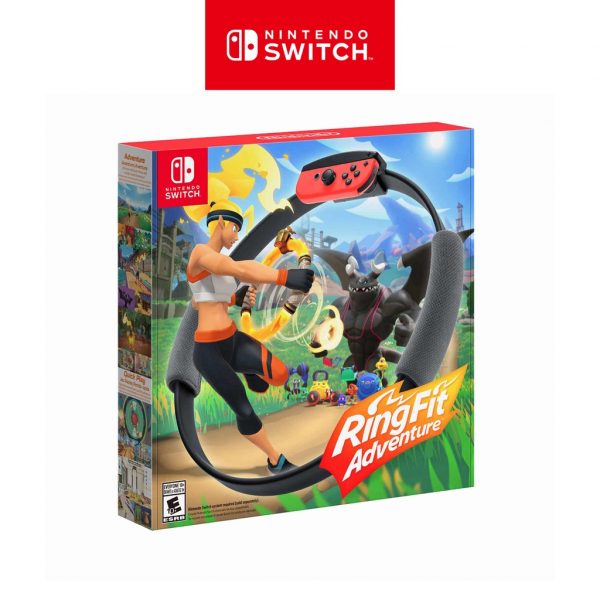 If you love the idea of hitting your daily workout targets in a fun way, then Ring Fit Adventure (available on Nintendo Official Store Singapore) is one of the best Nintendo Switch games for exercise to have at home! Essentially, Ring Fit Adventure expertly weaves the exercise into its gameplay by making it primarily a turn-based role-playing game in Adventure mode! As you're dashing through the scenic levels, you'll run into enemies and you'll need to complete workout routines like squats and overhead presses to whittle down their hit points.
Besides Adventure mode, you'll enjoy a myriad of minigames that range from accurately shaping pottery to directing your parachute. There's even a Rhythm Mode, where players groove along to the game's soundtrack! Overall, Ring Fit Adventure makes the whole process enjoyable to help you hit your fitness goals while at home.
19. Super Mario Odyssey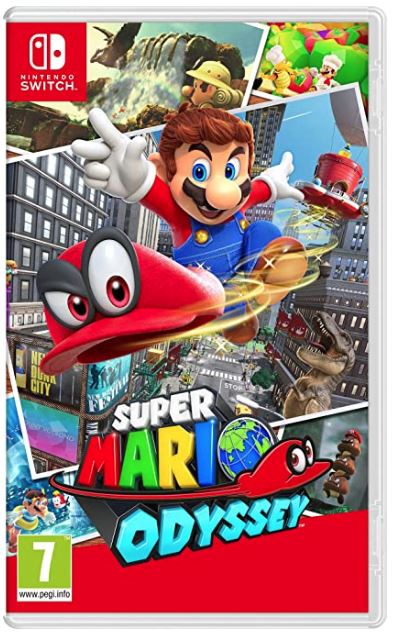 No best Nintendo Switch Games list would be complete without the iconic moustachioed plumber! Super Mario Odyssey (available on ShopiTree) marks Mario's return to the open-ended sandbox gameplay first made popular in Super Mario 64. Odyssey's strength lies in how it magically transports players to dense kingdoms jam-packed with secrets to discover. From the bustling streets of Metro Kingdom to the dinosaur-themed Cascade Kingdom, Nintendo doesn't hold back in delivering living, breathing worlds that pop with vivid colours.
Controlling the titular red plumber is a blast as Super Mario Odyssey nails the traversal mechanics to a tee! By introducing Cappy, Mario gains access to additional movement options so you breeze past obstacles. Once you get past the initial finger gymnastics, Odyssey rewards you with immense satisfaction as you leap to impossible heights and bound across wide caverns.
Best Nintendo Switch games for multiplayer gatherings 
20. Mario Strikers: Battle League 
When it comes to the best Nintendo Switch games for multiplayer gatherings in Singapore, nothing quite beats Mario Strikers: Battle League (available on Nintendo Official Store Singapore) which was just released earlier in June 2022! As the third game in the Mario Strikers series, it has a similar gameplay to its predecessors where two teams of five (four players and a goalie) compete for points by getting the ball into the opposing team's net. It follows the rules of street soccer where there are no penalties like fouls. This means that players are able to tackle their opponents around the field too!
What's different this time round though, is a new online Strikers Club mode where players can host clubs with up to 20 players and compete against other clubs to earn points and increase their rankings. There is also a new technique called the Team Tackle that can be used both defensively and offensively. Even better, there's more customisation features available in this edition. You can also adjust various attributes such as the movement speed, curve shots and resistance to getting the ball. All this will definitely make the gaming experience more fun! 
21.

Mario Party Superstars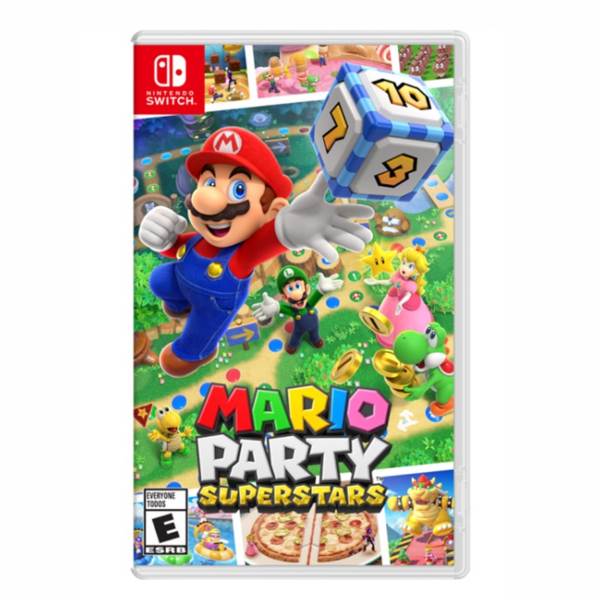 The fun doesn't start until you've got Mario Party Superstars (available on Nintendo Official Store Singapore), one of the best Nintendo Switch games in Singapore! Mario Party Superstars features five main boards where you'll play a game that's similar to Monopoly. Your goal is to collect the most coins and this will be exchanged for stars. The one with the most stars is the winner at the end of the game. There's a twist though. Collecting stars isn't that easy, because you can easily lose them when you land on traps!  Sabotage other players by planting traps around the board to amp up the fun factor of this game with your loved ones! 
There are also minigames along the way where you can compete against one another. It'll either be free-for-all or a tag team competition. There are a total of 100 minigames where you need to come out as the victor to get the most coins! You can train and improve your skills at these minigames by heading to Mt. Minigames. It's here where you don't have to spend time taking turns to move on the board to play minigames. This best Nintendo Switch game also allows you to play with other users online. You can engage in friendly minigame competitions and take part in daily challenges to show off your skills!
22. Super Smash Bros Ultimate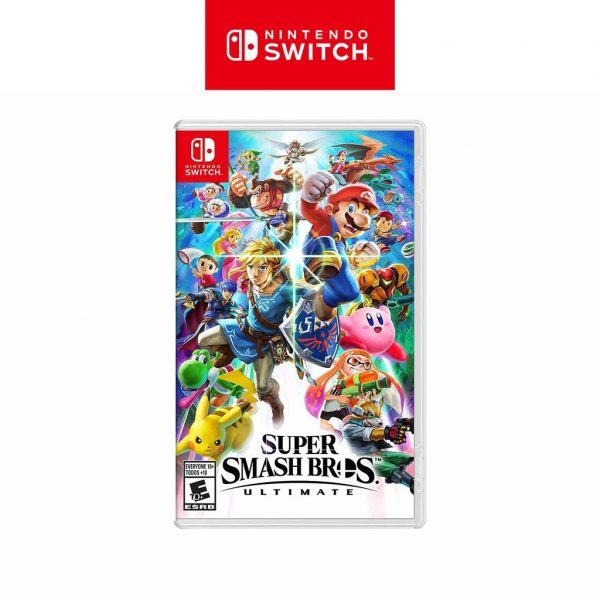 Have you ever wondered who would win a fight between your favourite video game characters? With over 80 unique playable characters representing gaming's most beloved franchises, Super Smash Bros Ultimate (available on Qisahn.sg) remains a favourite and one of the best Nintendo Switch games of all time.
The premise is simple — knock your opponent off the map with whatever means necessary. From utilising your character's diverse moveset to knocking them out in style with your Final Smash move, the game is fun for all ages and game levels! Love frantic games like Super Smash Bros Ultimate? Check out these best Nintendo Switch party games that are sure to liven up any party!
23. Super Mario Party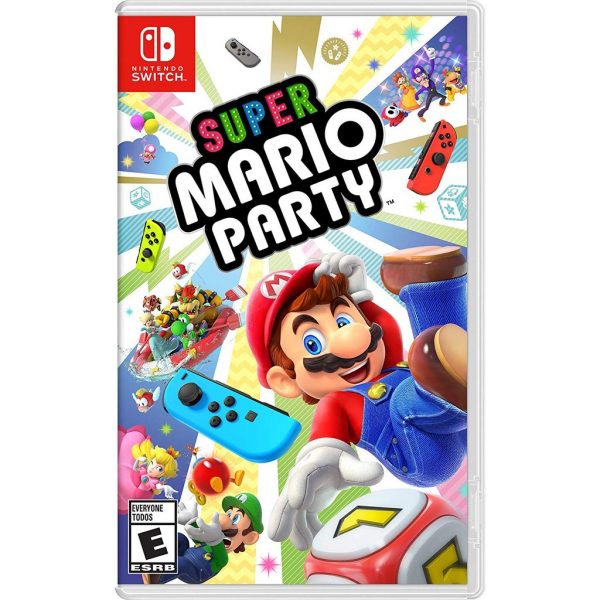 Who would have thought that a mishmash of mini-games could've resulted in one of the best Nintendo Switch games? Super Mario Party (available on pagu_games) makes its triumphant debut on the Switch by including its strongest offering of mini-games yet. From rhythmically skewering fruits to holding the joycon like a frying pan to perfectly cook your steak, these sections ooze innovation and charm. Party Mode retains its original ruleset where players roam about the board and the player with the most stars wins. The fun part comes when you give other players stealing other players' stars and sneak a last-minute victory!
Additionally, the alternative game modes are bundles of fun too! Test your teamwork by trying River Survival — a mode where you'll coordinate raft movements with players to make it down the raging river. For the rhythmically inclined, you'll have a blast performing actions to the music's beat in Sound Stage. With Super Mario Party's extensive options for casual cooperation and competition, it's the ideal couple game for date night!
24. Just Dance 2023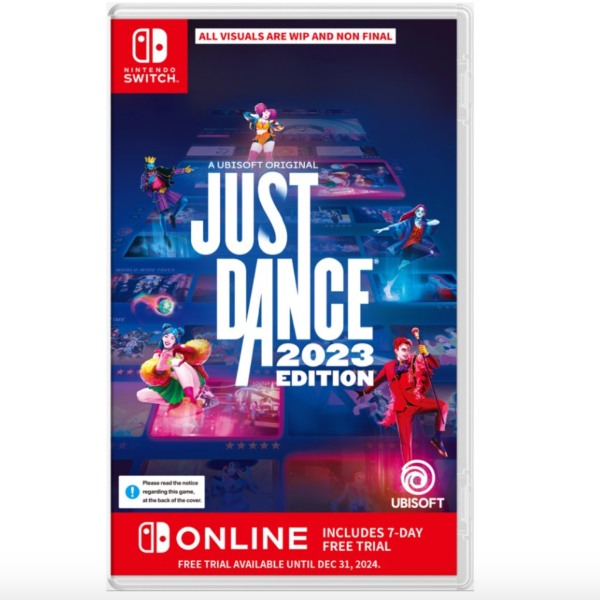 Remember those times when Dance Dance Revolution (DDR) was all the rage? Released in 1998 in Japan, the dance game was wildly popular. Instead of further probing us so we expose our age, why not check out Just Dance 2023 (available on MAXSOFT FLAGSHIP STORE) instead? Instead of flimsy dance pads that can ruin the nostalgia, Just Dance 2023 relies on joy-con motion to improve the rhythm accuracy.
Choose from chart-topping tracks like 'Dynamite' by BTS and try to beat the high score together with your friends and families! The new user interface is enhanced such that all your playlists and game modes are just a click away. This allows for more time dancing and less time searching for songs! Ultimately, it's this massive variety and chaotic fun that makes Just Dance 2023 one of the best Nintendo Switch games for gatherings.
Endless fun awaits with these best Nintendo Switch games
With these games and accessories, you're now ready to experience the best of what the Nintendo Switch has to offer! For more on console gaming essentials, check out our array of video game listings. If you're curious about how the Switch stacks up against the competition, here's our comparison guide of the PS5 vs Xbox Series X. Want to go back to the good ol' days of handheld gaming? Read this guide on why the Nintendo Switch Lite may just be the best console fit for you!
This article was updated on 30 November 2022. Additional research done by Gabriel Choo.