Durian lovers, raise your hands! We know that there never seems to be enough of this spiky fruit. It's always too little and you never feel satisfied when it's all gone. But fret not! We've got you covered with this list of the best durian buffets in Singapore where you can get an endless amount of your favourite fruit to indulge in this 2023!
What is a durian buffet?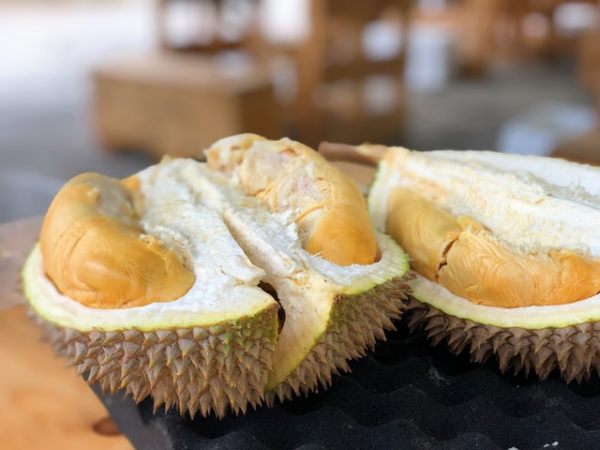 Buying durians usually involves having to pay for how much they weigh. What's worse is that the weight measured usually includes the durian husk – which can get very bohua (not worth the value). And let's not get to the part where the durian seeds are extra large. Bummer! In the end, you'll be paying a lot for very little durian flesh.
The best thing about durian buffets in Singapore is the fixed price. Ranging from $58 to $88, you get to enjoy an endless supply of durians such as D24, Mao Shan Wang and Red Prawn! This gives you the chance to sample different types of durians at the same time – what a deal! Read on to find out where you'll get a bountiful supply of durian to feast on in Singapore.
Best durian buffet spots in Singapore to feast at in 2023
1. Zeng Zu Fu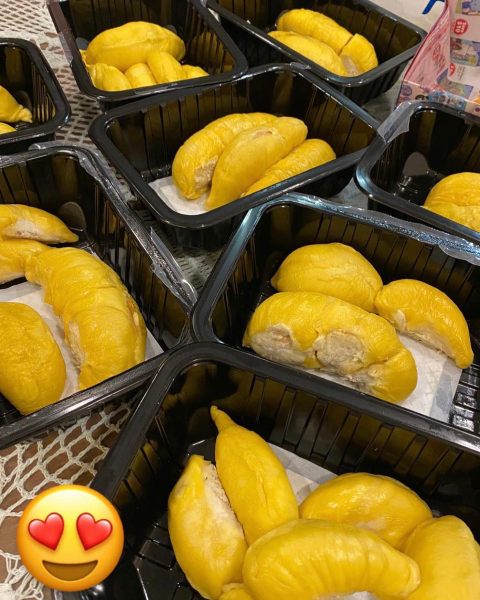 Started by a durian lover in the 1950s, Zeng Zu Fu's founders were durian farmers who had humble beginnings in Pahang, Malaysia. This family business then grew to supply over 100,000kg of durians to several international vendors, including Singapore. With such a high demand for their durians, it's no question that this is the best durian buffet in Singapore! For just $78, you'll get the best durians with guaranteed freshness. Each durian is opened in front of you, right before you dig into it. As with all of the best durian buffets in Singapore, different varieties are available for you to choose from. There are Red Prawn, Golden Phoenix (both available on Zeng Zu Fu) and more. We especially love how the extremely bittersweet Black Gold is included in the mix, so yay!
Address: 88 Bedok North Street 4, #01-149, S(460088)
Opening hours:
Mon – Wed: 11am – 10pm
Thur: 11am – 11pm
Fri – Sat: 11am – 12am
Sun: 2pm – 11pm
2. DurianBB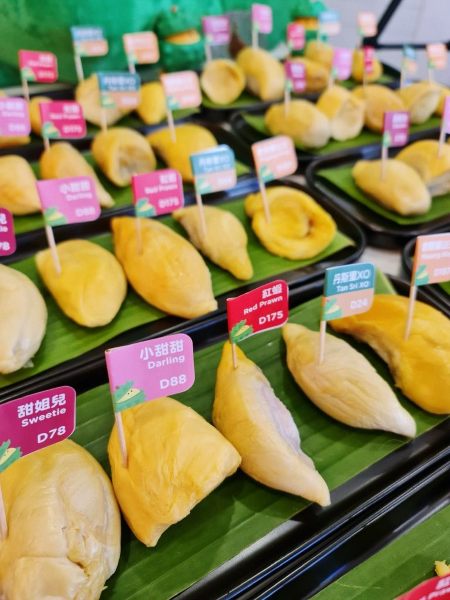 Get schooled as you feast at one of the best durian buffet spots in Singapore this 2023! The DurianBB Party is where you'll feed your tummies and your brain with anything and everything about durians. You'll be guided as you sample about five to six different types of durian in DurianBB's Signature Tasting Platter. Produced in Malaysia, the different types of durians you'll sample include Old Tree Musang King, Tan Sri XO, Tekka and up to three other selected types of the day. The Malaysian Durian Exporter Association Founding President will also be there to share interesting facts about this spiky fruit!
The free-flow feasting starts once the guided tasting session is over. According to reviews, all you have to do is pick up the flag belonging to the durian of your choice, wave it around, and the staff will give you another serving of that durian. Don't forget to also try their ever popular durian desserts and beverages. Think creamy Mao Shan Wang Milkshakes, aromatic Mao Shan Wang Mousse Cakes and a bittersweet Black Gold Jumbo Mao Shan Wang Puff!
Address: 462 Crawford Lane, #01-65, S(190462)
Opening hours:
Tue – Sun: 2pm – 10pm
3. Lexus Durian King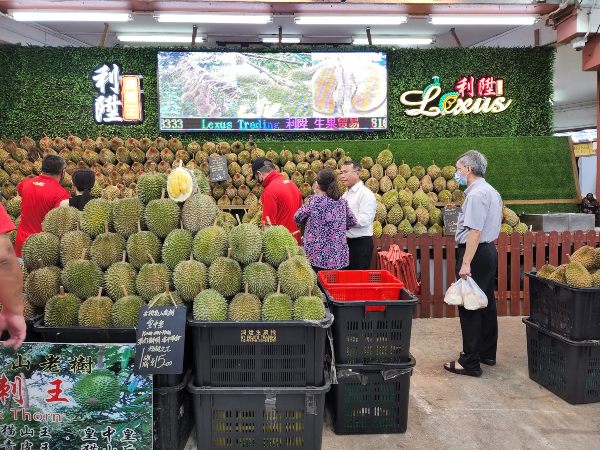 Affordable and limitless – those are the magic words you'll want to hear when it comes to durians. And thankfully, we have Lexus Durian King for that. This is one of the best durian buffet spots in Singapore in 2023 that's priced below $40 per person. You'll only have one hour to eat your fill, but trust us, it'll be worth it. Lexus Durian King has blast frozen their Mao Shan Wang durians to retain their freshness. So every bite is going to be full of decadently rich and creamy durian flesh. They also offer one free coconut that's going at a "while stocks last" basis; just for some cooling hydration before you end the night.
With such amazing service, and a wide selection of different types of Mao Shan Wang, it's recommended that you make time to visit Lexus Durian King. They run out of durians every day, so it's best to plan early, especially when you're thinking about bringing the family along.
Address: 1001 Upper Serangoon Road S(534739)
Opening hours: 24/7
Durian buffet price: $38.80/pax
4. Durian Fiesta 2.0 @ Jurong Point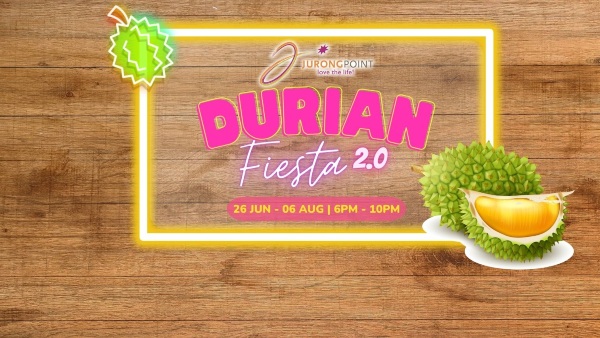 Durian lovers in the far West of Singapore can now rejoice with Jurong Point's Durian Fiesta! This is one of the best durian buffet spots in Singapore as you'll get to indulge in free-flow D24 durians and Pahang Premium Mao Shan Wang for an hour. Fans of the D24 durian can opt for the lower-tier buffet that's priced at just $38. If you're in the mood to splurge, go for the $138 buffet where you can also dig into the decadent Pahang Mao Shan Wang.
Not satisfied after the hour's up? The Durian Fiesta also has takeaway deals on these amazing durians. Simply buy $120 worth of Pahang D24 durians and you'll get to a free box of D24 as well. And if you're into another varietal, purchase $200 worth of Pahang Mao Shan Wang durians where you'll also get one box for free!
Address: Jurong Point, 1 Jurong West Central 2, S(648886)
Durian buffet timings:
26 June – 6 August 2023, every Tuesday and Thursday
8pm – 10pm
Durian buffet price:
Pahang D24 durian buffet: $38/pax
Pahang Mao Shan Wang buffet: $138/pax
5. Gain City Durian Feast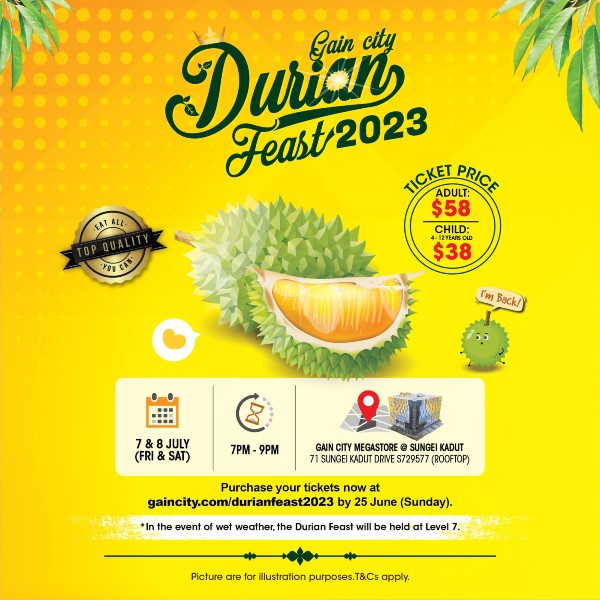 You'll only have a lot to gain when you hit up this best durian buffet spot in Singapore 2023! Experience what it means to be in the promised land when you're at Gain City's Durian Feast 2023. It's here where you'll get to spoil yourself with free-flow durians as you lounge on the rooftop of Gain City Megastore in Sungei Kadut.
Just like before, you'll get to indulge in a whole load of Mao Shan Wang at just $58 per person. As this durian buffet spot in Singapore once offered a variety of seasonal fruits, we're hoping this year would be no different. Cross your fingers and there may be some mangosteen coming your way! If this ultimate fruit pairing doesn't make this the best durian buffet spot in Singapore, we're sure the beautiful view from the rooftop with that cooling night breeze will!
Address: Gain City Megastore @ Sungei Kadut, 71 Sungei Kadut Drive, S(729577)
Durian buffet price: $58/adult, $38/child
6. A STAR Durian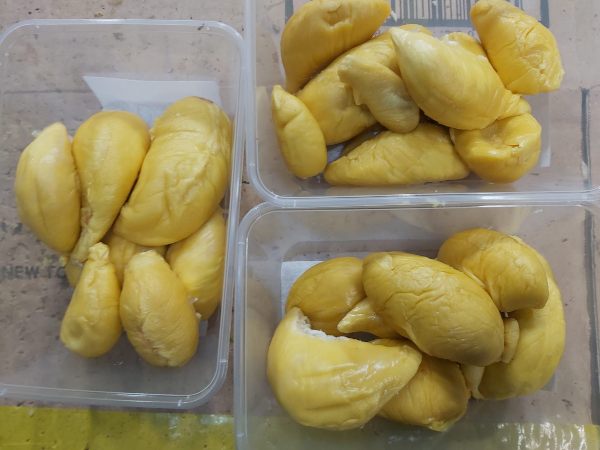 You will really become a star after indulging at this 2023 best durian buffet spot in Singapore! Although it's not very well-known, A STAR makes sure that their durians are of a high quality that rivals those from more famous places. One thing you definitely should get from A STAR Durian is their Tangkak Old Tree Musang King. These durians originate from the Tangkak region in Johor Bahru, where it's sometimes referred to as the Secret Durian Town. The durian trees flourish in this region thanks to the extra fertile soil, so it's also common to find exotic types of durian in Tangkak. Their durian buffet only includes the classic Mao Shan Wang, but we're glad to see that the Tangkak Old Tree ones also fall into this category. Look forward to giving these extra fragrant Tangkak Old Tree durians a go!
Address: 152A Serangoon North Avenue 1, #01-380, S(550152)
Opening hours: By appointment only
Durian buffet price: $68/pax
7

.

Just Durian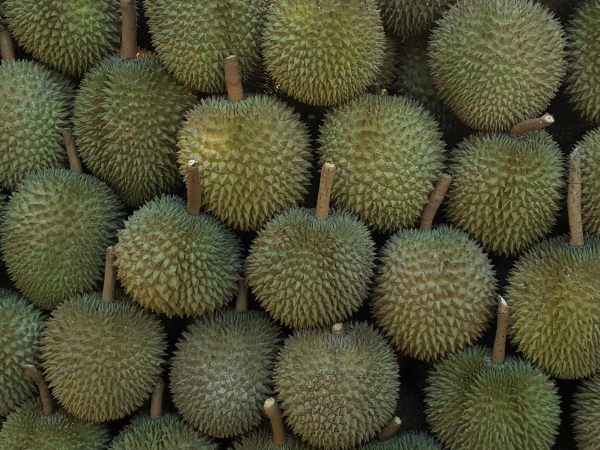 You don't need to travel far for the best durian buffets in Singapore. Just stay put and Just Durian will bring the goods to you! Offering a wide selection of durian varieties, take your pick from the D101, XO, Mao Shan Wang and more. Spoiled for choice? We feel you. You can also leave it up to Just Durian to surprise you with their choices. Simply let them know what you like and they'll choose the perfect ones that are just right for you.
Still feeling peckish? Finish off the meal with several rounds of durian-inspired desserts from Just Durian's buffet. They have durian ice cream, durian cheesecake, durian puffs and more – a perfect ending to this buffet meal that has been a dream come true.
Feast like kings at the best durian buffet spots in Singapore
We hope you've emptied your bellies to feast on the King of Fruits at these best durian buffet spots in Singapore! Visit these best durian stalls and get some of the best durian puffs in Singapore if you're craving for more. Staying in for the night? Check out these best durian delivery services and best durian cake delivery places so you can feast like kings in the comforts of your own home!