It's that time of the year again when Singaporeans rush to get top pick of the King of Fruit — durian! Instead of rushing to queue up at the durian stalls during this stay home period, why not order the durians home without having to leave the house? Here, we round up the best places for durian delivery in Singapore, so you can plan ahead and ensure you'll get your hands on your favourite durians while also beating the queues!
1. Chng Kae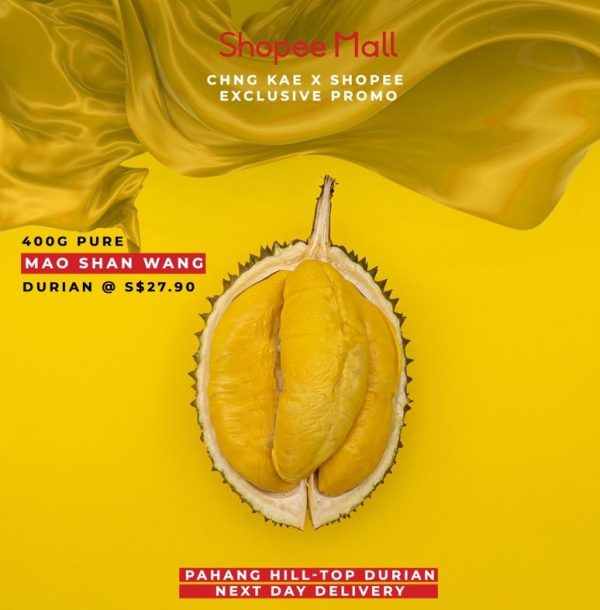 Ever wanted the most bang for your buck when it comes to snacking on the king of fruits? Chng Kae has you covered with these Mao Shan Wang durians (available on Chng Kae.sg) delivered fresh from the hilltops of Pahang. By doing away with fancy packaging, Chng Kae adopts a no-frills approach so durian lovers can get the best prices for their favourite durians. As a bonus, Chng Kae promises next day delivery so you can enjoy the bittersweet goodness of MSW durians with minimal delay! Talk about a great deal when it comes to durian delivery in Singapore.
2. Golden Moments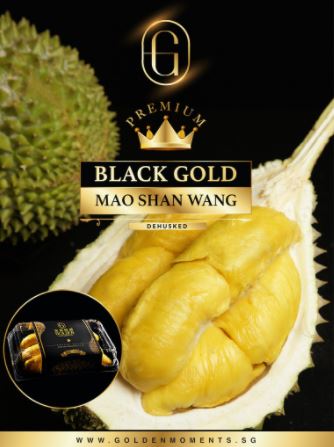 When shopping for trusted sellers who offer durian delivery in Singapore, you'll definitely want to seek out like-minded durian aficionados! This way, you're guaranteed to receive high quality durians that have been skillfully handpicked by them. As an expert in handcrafted quality durian delicacies, Golden Moments stands out from the competition with their sumptuous desserts that'll leave you hankering for more! Their premium MSW packed durians (available on Golden Moments Singapore) are the same ones featured in their decadent desserts. Featuring tinier seeds and an authentic Pahang hilltop taste, these durians are lovingly packed for your convenience so you can indulge without worry!
3. Durian Edition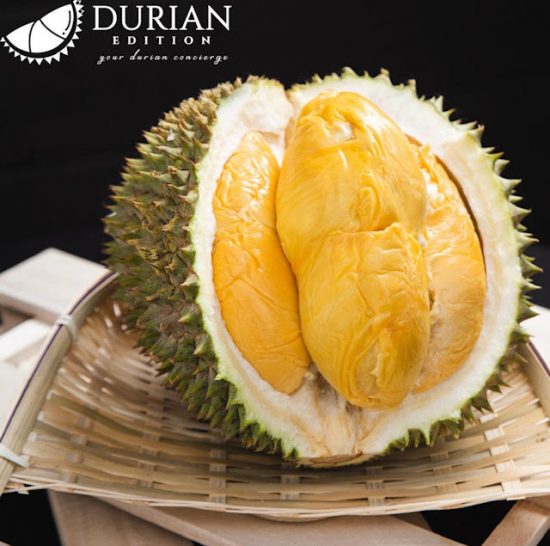 Good news for all durian lovers — Durian Edition is now also available on Shopee Supermarket! This artisan durian dealer is well-loved by locals for their popular durian selections that come direct from their own plantation in Malaysia. Varieties include Black Thorn, Mao Shan Wang, D13, D24 and Oolong in both fresh and nitrogen vacuum-packed versions. If kept frozen, the nitrogen vacuum-packed durians will be good to eat for 6 months — perfect if you want to enjoy the King of Fruits during off-seasons! Enjoy the convenience of buying durians online and having them packed neatly and delivered to your door!
Durian Edition also offers special premium bundles that you can get for your durian-loving family and friends! The Durian Edition Premium Nitro Musang King Bundle, 3 x 450g (available on Shopee Supermarket) comes with nitrogen fast frozen Musang king from Pahang. 
Place your order here or at Shopee Supermarket
4. Durian Plantation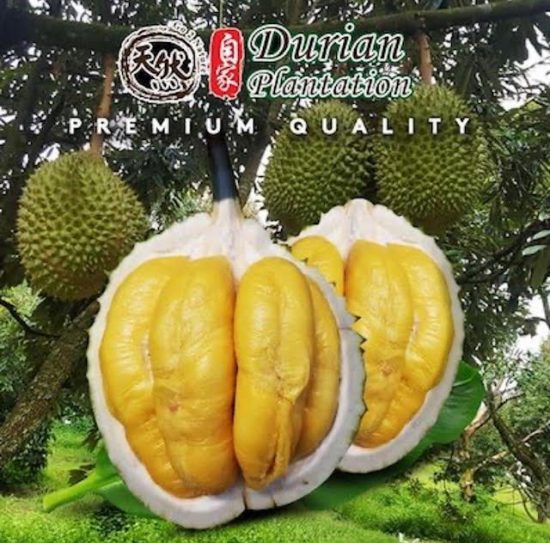 With durian season upon us, why not make Durian Plantation your go-to online durian delivery service in Singapore? Durian Plantation is known for its wide variety and exceptional quality of durians. From Mao Shan Wang for the bitter lovers to Red Prawn for those with a sweet tooth, you'll definitely be spoilt for choice here! Durian Plantation also sells durian puree (available on Durian Plantation) — perfect for making yummy durian cakes.
Durian Plantation delivers throughout the week but they don't do same-day delivery. Order your durians online before 5pm to enjoy next day delivery (this does not apply to weekends). Durian Plantation does quality control for each and every durian that they send out. Hence, there might be some delay if their current batch of durians is unsatisfactory. 
Place your order here
5. Hock Chew Tee (HCT) Durian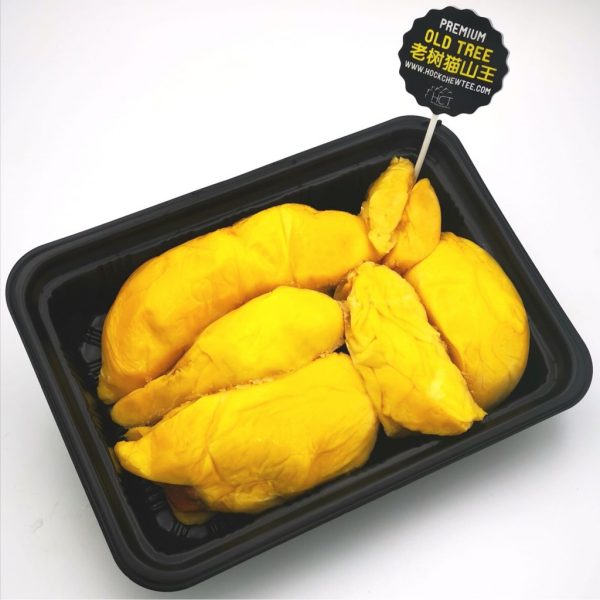 Skip the middleman and head straight to HCT Durian, a major distributor of premium durian in Singapore. This ensures you have first dibs on the best quality durians at good prices! HCT Durian first started more than 30 years ago as a humble durian stall in Jalan Besar founded by three brothers. Over the years, this best durian delivery vendor in Singapore expanded into full fledged fruit stores at Tampines and Geylang, bringing durians closer to its customers. You can now enjoy the superb taste of HCT Durian with the 300g MSW Durian (available on HCT Durian). The durians are kept fresh through a quick freeze procedure and are individually vacuumed packed. Since 300g of MSW durian is only good for one serving, we suggest buying more so the whole family can join in on the feast!
Place your order here
6. Durianmon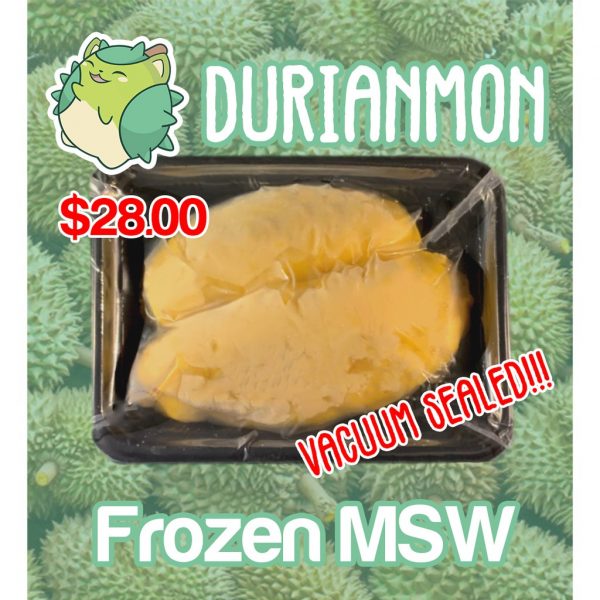 For impatient durian lovers, you won't have to wait long to indulge in the king of fruit. That's because Durianmon provides next day delivery! Place your order for the Frozen MSW Mao Shan Wang Durian 400g or Frozen D13 Durian 400g (both available on Polarmart by Iceman) today and receive it tomorrow. While the MSW needs no introduction, some may not be familiar with the D13. D13 durians are one of the most budget-friendly yet tasty durians available on the market. It's known as a kampung breed and is identified from its distinctive orange hue. This is the durian for those who prefer something mildly sweet and less pungent!
Place your order here
7. Four Seasons Durians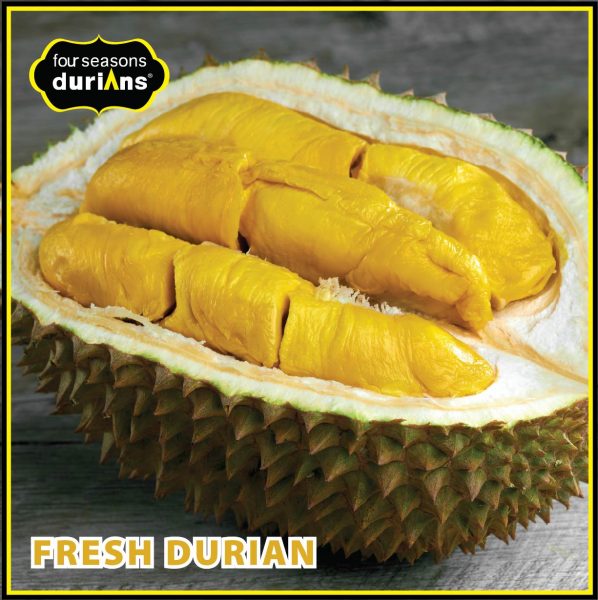 What comes to your mind when you see Four Seasons Durians? For many of us, it's their soft and pillowy durian puffs as well as their creamy durian cakes! However, did you know that Four Seasons Durians also sells fresh durians from the husk? Started as a fresh fruit stall in the early 70s, Four Seasons Durians has a strong foundation in providing the best quality fresh durians for its customers. Over the years, the brand started offering other durian-themed confectionery, but still kept its roots in selling durians. You can order their durians online which include top grade Mao Shan Wang as well as other vacuum-packed durians at reasonable prices!
Place your order here
8. Just Durian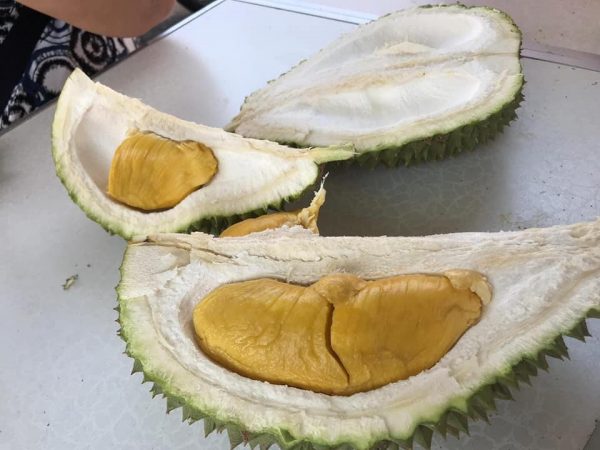 Love durians, but don't fancy the lingering scentit leaves behind in your car? Opt to buy durians online instead! Unlike many other online durian delivery services in Singapore, Just Durian owns their very own durian plantation in Malaysia for better quality control. Ripe durians are collected within 12 hours to guarantee unparalleled freshness. By harvesting their own durian plantation, Just Durian is able to keep prices affordable at $15 to $20/kg depending on the season. Many adore Just Durian for their wide variety of offerings, including XO, Mao Shan Wang and Red Prawn. They also provide durian export services worldwide for homesick Singaporeans!
9. SGDurian.com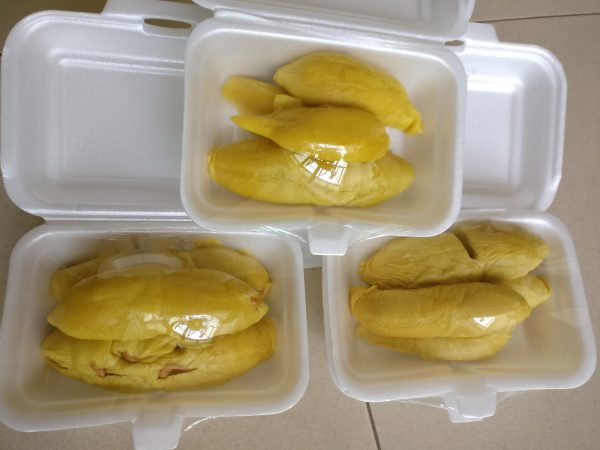 Mao Shan Wang might be a top favourite, but why not jazz up your durian party and try other types too? SGDurian offers a great variety of lesser-known durians, such as Butter King and Red Prawn. Both the Butter King and Red Prawn are known to have a slightly bitter aftertaste when eaten ripe, a lovely contrast to the rich sweetness of Mao Shan Wang. You can even find rare species such as Black Thorn durians and Wang Zhong Wang durians from SGDurian!
If you're planning a durian party with your family, SGDurian offers many durian combos that will guarantee there's enough to go around for everyone. Choose from three boxes of Butter King durians at $75.90 or five boxes of Red Prawn at $119.90! SGDurian delivers daily and you can enjoy same-day delivery when you order their durians online before 1pm.
10. Durian Kingdom SG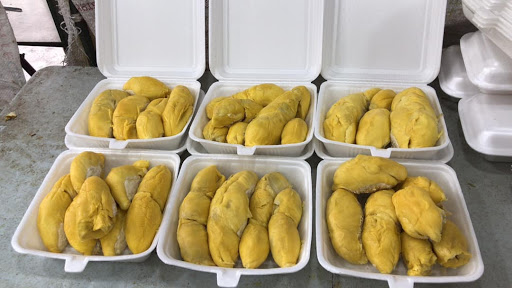 Consider Durian Kingdom SG one of the best-kept secrets among durian lovers! Promoting only via their Facebook page and word of mouth, Durian Kingdom SG is a durian delivery in Singapore that carries Mao Shan Wang, Red Prawn, Black Gold, Red Pearl, Hulu and lesser-known Xiao Feng durians online. Many of their customers can't stop singing praises for the brand, complimenting their service and value-for-money durians. 
As slots are limited, be sure to check Durian Kingdom SG's Facebook page for information about availability and the types of durians you can order online! Prices range between $12 to $20/kg with a minimum order of 6kg with free delivery.
11. Durian 36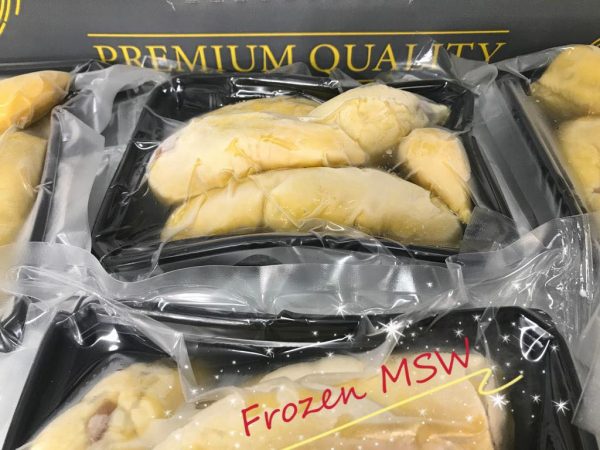 Another reliable store to order online from is Durian 36, which has a loyal following on social media! The team behind Durian 36 has more than 22 years of experience in the durian industry, making them a group of durian professionals to trust. The store uses nitrogen freeze to retain the durian's freshness and flavour. 
The best part about ordering from Durian 36 is the same day delivery — within three hours after you've placed your order! Check out their budget-friendly range of frozen durians including Mao Shan Wang and Black Gold Mao Shan Wang at less than $40 per pack (400g). Order more than $80 to enjoy free delivery!
12. Sin Durian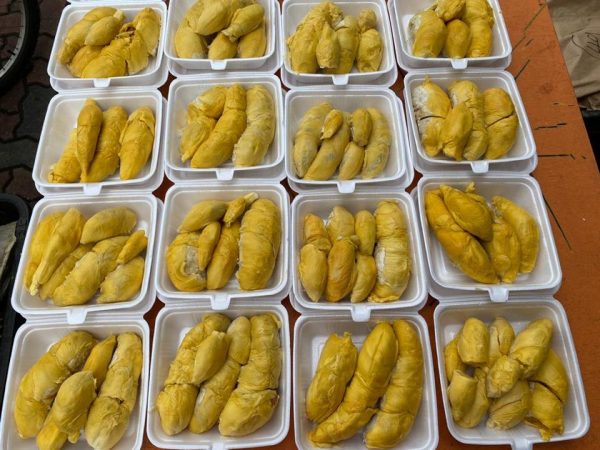 Those staying in the east may have heard of Sin Durian, a neighbourhood durian and fruits stall in Aljunied. While the easties will have no issue travelling down to the stall for some fresh indulgence, what happens to our friends in the west? Thankfully, Sin Durian provides online durian delivery in Singapore so no one needs to feel left out from this delicious feast! 
Have a go at some of the less conventional durian that Sin Durian carries — such as the Chanee durians! Many may be under the impression that Thai durians like Chanee durians are not as flavourful as the ones from Malaysia. But that's not the case when it comes to perfectly ripe, premium Chanee which has a creamy and sweet taste similar to D24 or D13. You'll be able to find good quality Chanee durians here at Sin Durian which will change your mind! And for durian lovers who are not too adventurous in their picks, fall back on the Black Gold Mao Shan Wang for guaranteed satisfaction!
13. Durian Man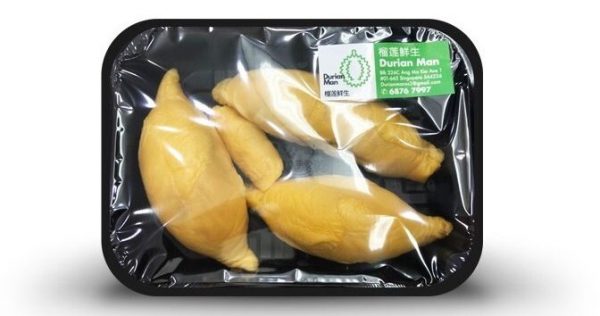 Stay home, stay safe — order your durians online with Durian Man and have them delivered to your home! Durian Man carries popular durian selections direct from the plantations. This includes D24 and Mao Shan Wang (available on Durian Man) in both fresh and frozen variations. We would recommend going for the frozen ones as they have a longer shelf life of up to a year. This means you can enjoy your favourite durians even when it's off-season. Make sure to keep a close eye on their stocks which may run out daily in a flash! Durian Man also carries special treats like their own house-made durian ice cream to help you beat the heat!
Place your order here
14. Durian Express Delivery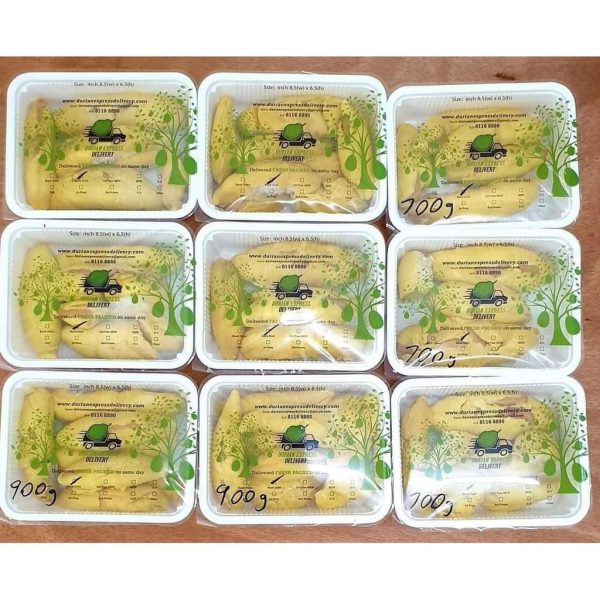 Still skeptical about online durian delivery in Singapore? Well, the number of five-star reviews from Durian Express Delivery's satisfied customers will definitely set you at ease! Durians here are reasonably priced as they are sourced from the vendor's solely-owned plantation in Pahang, Malaysia. Out of their extensive range of durian offerings, Durian Express Delivery is most famous for their signature Old Tree Mao Shan Wang (available on Durian Express Delivery). This type of durian has a rich and subtly bitter flavour that will have you coming back for more!
Not only are the durians here of superb quality, Durian Express Delivery is also your go-to online vendor for unparalleled delivery speed! Order durians online and get them delivered in three hours when you opt for normal delivery at $9.50 or free with every $80 spent. Those who really can't wait any longer for their sinful indulgence can opt for the express 1-hour delivery at $13.50! Durian Express Delivery's last order is 10.30pm, so do act fast! These yummy fruits will definitely make for a great late night supper party with the family!

Place your order here
15. Huat Yuan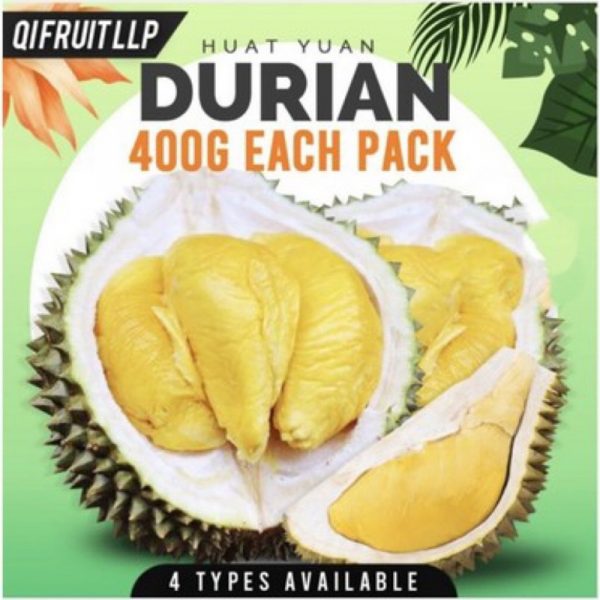 We admit, durians can sometimes be a costly indulgence especially when the season's supply is relatively low. However, you'll always be able to find affordable prices here at Huat Yuan! Although not as well known as its counterparts, Huat Yuan carries a variety of durian types including Pahang Mao Shan Wang (available on Qi fruit llp), Black Gold and Sultan King. Prices are kept well below $40 for 400g and free delivery is available when you spend $50 and above — a much easier target to hit if you're only ordering durians online to reward yourself!
Place your order here
16. Top Durian Station
Throwing an intimate durian party with your loved ones? One good tip to note is to over order the number of durians you'll need at the party — because it's never enough when it comes to the king of fruits! The people at Top Durian Station understand this, which is why they've pushed out their 10KG free delivery bundles! These value-for-money bundles ensure you'll have more than enough durians to go around. Pick from Muar Mao Shan Wang, Pahang Mao Shan Wang as well as the premium Black Gold bundles at about $150, $170 and $190 respectively. You can even order two bundles to make it 20KG worth of durians and enjoy additional $20 off your order! 
Place your order here
17. TAC Food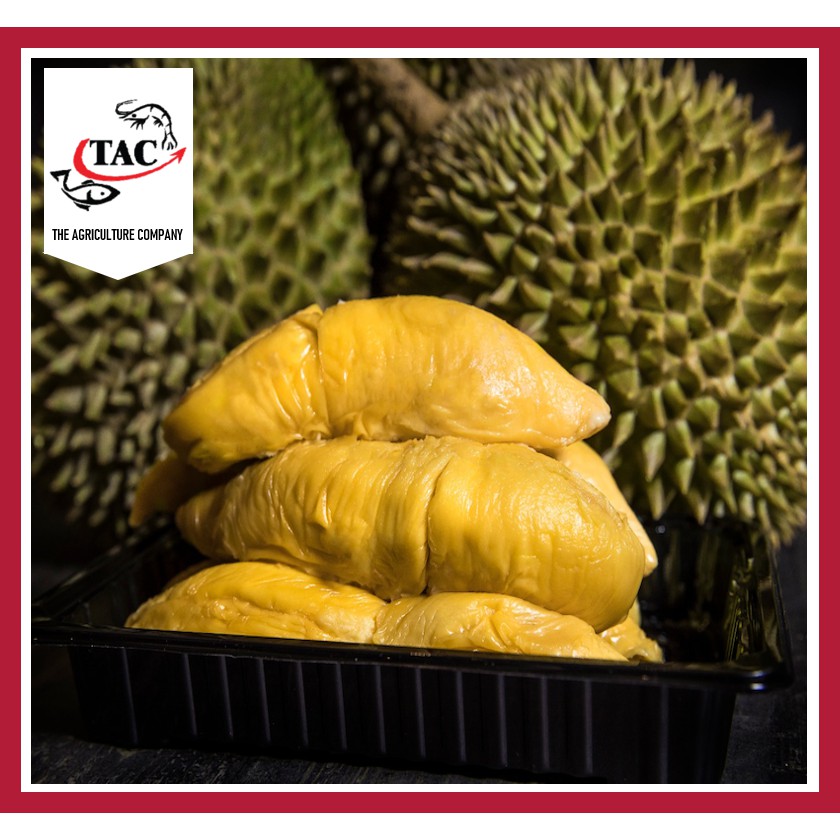 TAC Food aka The Agriculture Company is a company that supplies seafood and seasonal goods like durian. Importing durians from Raub, Pahang – wholesale prices are available too. With fresh Mao Shan Wang (AAA+) Grade (available on TAC food), the durians are removed from the shell, vacuum-sealed, making enjoying this delight fuss-free! Get 400g starting from $35, with either same-day delivery depending on the time that you order! 
Place your order here
18. Zeng Zu Fu
Zeng Zu Fu, meaning great grandfather, is another remarkable brand for durian delivery in Singapore. This durian business was passed down for generations ever since the 1950s. Till today, the brand still retains its strong belief that a durian business should be run based on honesty and trust. Which is why you can always trust Zeng Zu Fu to be transparent with the quality and price of their durians. If you're still skeptical about buying durians online, Zeng Zu Fu is here to help you. They promise to provide one to one replacement for unsatisfactory durians and assure that all the durians are delivered fresh from their farm everyday! Try Zeng Zu Fu Old Tree Mao Shan Wang (available on Zeng Zu Fu) and other types such as red prawn or XO today!
Place your order here.
The King of Fruits awaits
While waiting for your durian delivery in Singapore, why not curb your cravings temporarily with the best durian puffs? These yummy pastries make for a great tea time snack, and are just the right touch of indulgence without being too 'jelat'!. After your durian party, don't throw out the leftovers. Use them to bake a sweet treat with these easy durian cake recipes! You can find both durians and other baking ingredients online at Shopee Supermarket.
---
New to Shopee? Get $7 off (min. Spend $15) with code*: DURIAN7OFF
*TNC Applies. Valid for new users from 8 Jun to 15 Jun only.