Hands up if you look forward to mooncakes boxes or the packaging as much as the delicacies within them! If you've ever retained your mooncake boxes from previous years, then you'd know the effort some brands put into pushing out beautiful and unique designs each year. From Singapore Marriott Tang Plaza Hotel to The Fullerton Hotel and Chinese restaurant mainstays like Peach Garden, we've shortlisted the best mooncake box designs 2020 that can be turned into jewellery boxes!
1. Shangri-La Hotel Singapore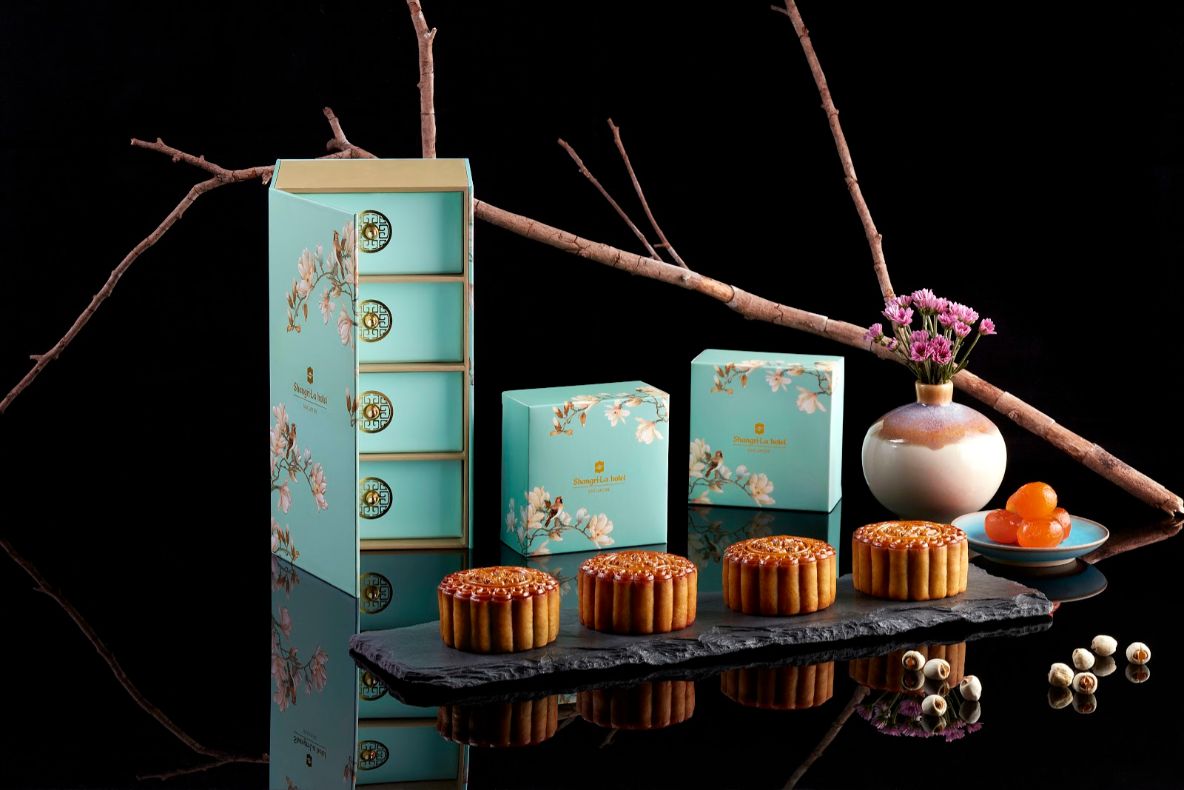 It's hard not to be won over by Shangri-La's mooncake box designs. The boxes come in nostalgic red and elegant turquoise adorned with full blooms to represent a bountiful harvest season. We love the four delicate drawers that will no doubt house your fine jewellery pieces for the year to come. Keep the 'doors' of this mooncake jewellery box open — it'll make for an elegant divider from the rest of the items on your vanity table.
The impressive Shang Palace Four Treasures comes in both box designs and includes a delectable range of healthy mooncake flavours. Find reduced sugar varieties of White Lotus Seed Paste with Double Yolk (available on Shangri-La Hotel Singapore), Plain White Lotus Seed Paste and Mixed Nuts with Chicken Ham. But the most tempting flavour of the lot has to be the Black Sesame with Taro. It's described as being nutty, roasted and laced with the sweetness of taro. How yum does that sound?
2. Singapore Marriott Tang Plaza Hotel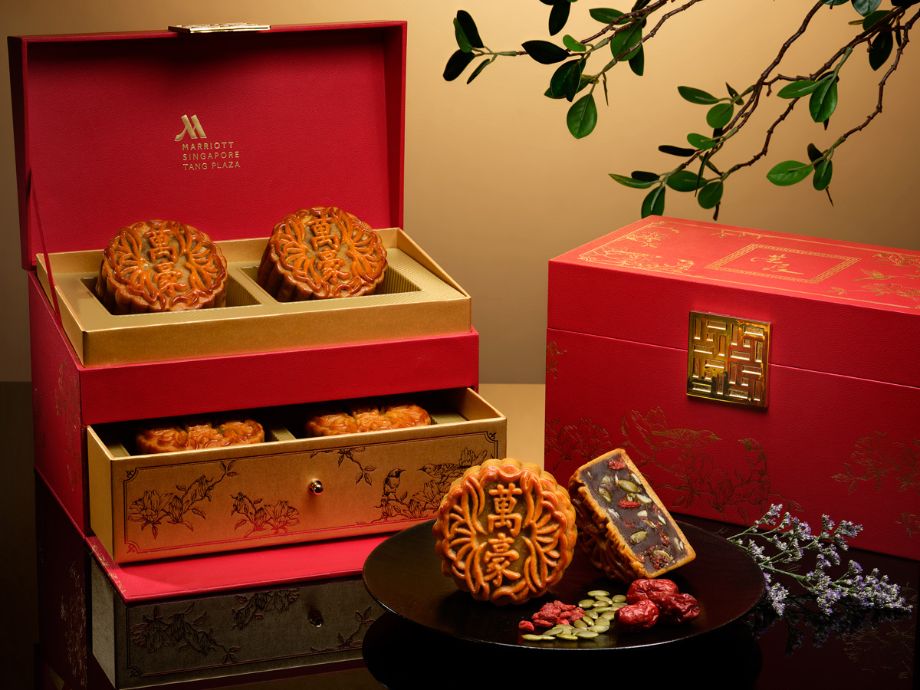 Resplendent red is the name of the game over at Singapore Marriott Tang Plaza Hotel. The mooncake box designs are coloured with an auspicious deep red. Twist the gold helix clasp to reveal a gold-wrapped drawer with floral and sparrow motifs which symbolise love, joy and unity. This chest can easily be repurposed as a mooncake jewellery box or displayed as a decorative item in your home.
The handcrafted mooncakes in this chest are made by chefs at Wan Hao Chinese Restaurant. They are loaded with premium ingredients without any added preservatives or artificial flavouring. If you're looking to give a box to business associates or even in-laws, then you won't go wrong with the traditional Assorted Baked Mooncakes (available on Singapore Marriott Tang Plaza Hotel) set. Find flavours like Red Date Baked Mooncakes with Wolfberries & Pumpkin Seeds and White Lotus Seed Paste Baked Mooncakes with Macadamia Nuts — a treat for the health-conscious.
3. The Fullerton Hotel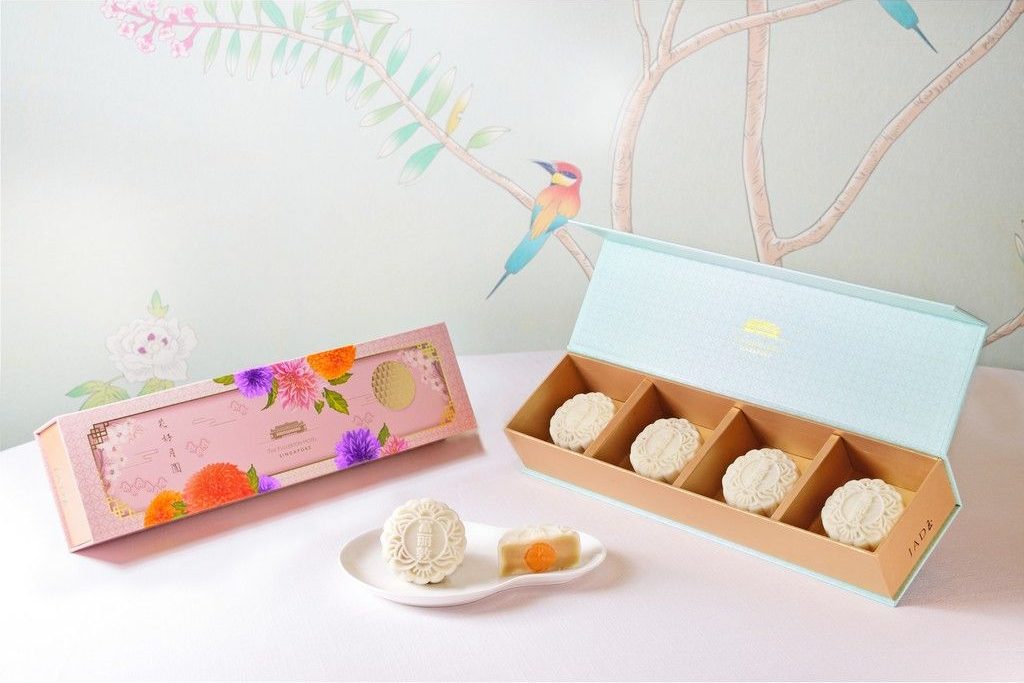 The Fullerton Hotel nails the simple yet elegant rectangle mooncake box design. Find their classic varieties encased in a four-compartment box in pastel pink and turquoise hues. They've also painted on some bright flowers — which add a traditional twist to the otherwise modern box design. After the festivities end, simply clean out the box and fill them with your favourite trinkets or makeup pieces — eyeshadow pots and cheek blushes perhaps?
Enjoy new flavours from their Jade Signature Mooncake Collection. We are eyeing their four-piece Snowskin Treasures (available on The Fullerton Hotel Singapore) that include Yuan Yang and Passion Fruit with Chin Chow Snow Skin Mooncakes — reflective of Singapore's rich culinary history.
4. Yan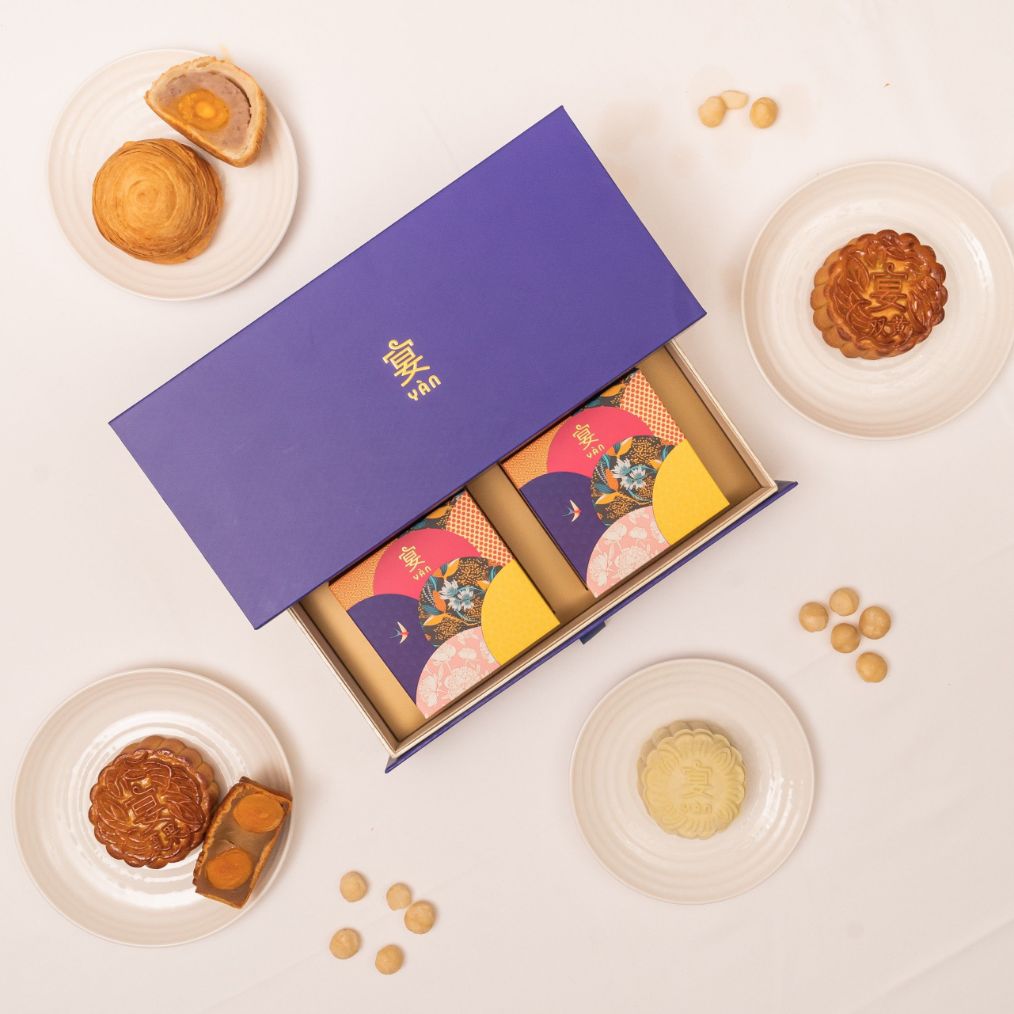 Yan's enchanting midnight blue mooncake box designs strike the perfect balance between tradition and modernity. This two-tiered chest comes with an upper case, a drawer and even a velvet ring holder to make the transition to a mooncake jewellery box that much easier. You won't have any excuse to not organise the vanity table after owning this box.
If you're a durian lover, then their Mao Shan Wang Durian Snowskin Mooncakes (available on Yan Official Store) will surely delight your taste buds. Otherwise, their fragrant White Lotus with Double Yolk Mooncakes (available on Yan Official Store) with silky smooth lotus paste will leave you smacking your lips too.
5. Janice Wong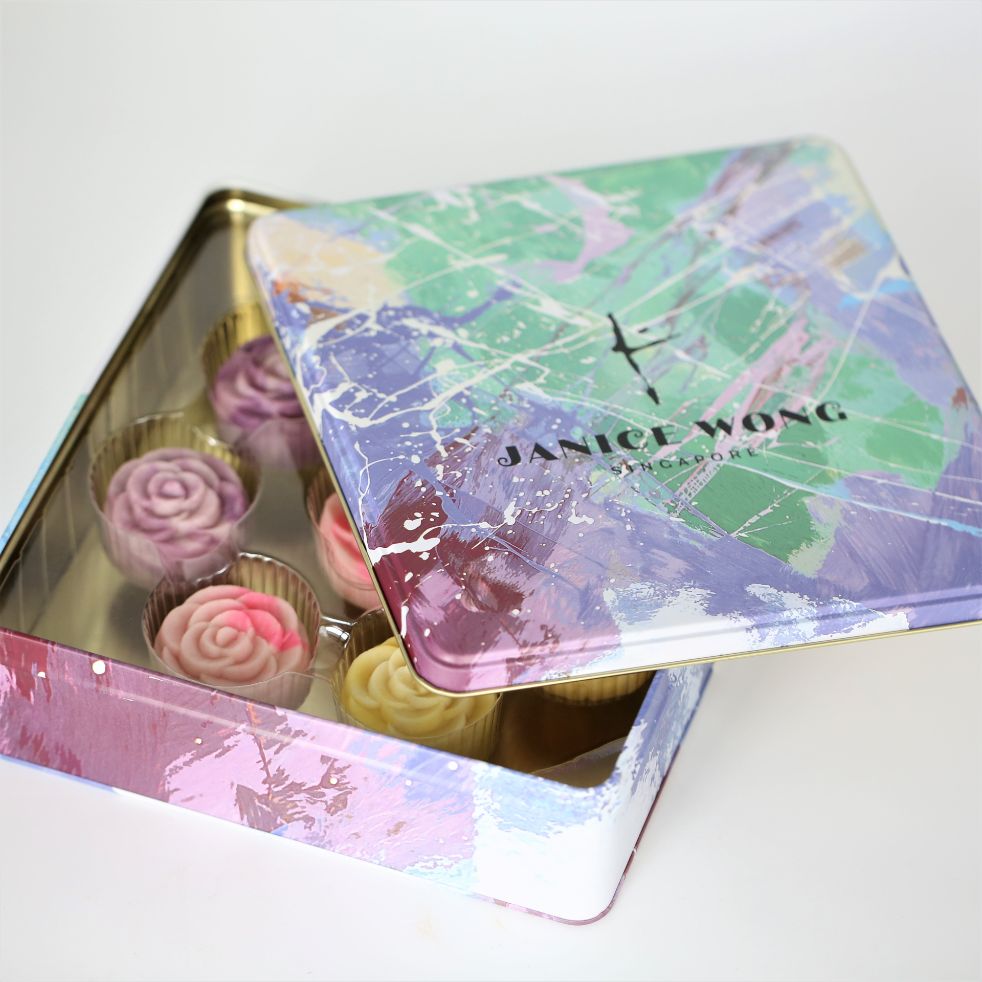 Mooncake jewellery boxes don't have to always come with allocated slots for your jewellery. If you fancy the box, you can include small jewellery trays too. Yes, we could go the extra mile for Janice Wong's 2020 mooncake box design. Eclectic, colourful and bold — it can house random knick-knacks to your favoured jewellery pieces long after the festivities end.
Famous local pastry chef Janice Wong has outdone herself with yet another delightful mooncake variety this year. Their Floral Snow Skin Mooncakes Box (available on Janice Wong SG Official Store) features Cheng Tng Red Date Yam, Red Bean Tea, Peanut Pancake and Rose Bandung that give a nod to nostalgic local flavours.
6. ChangHoSek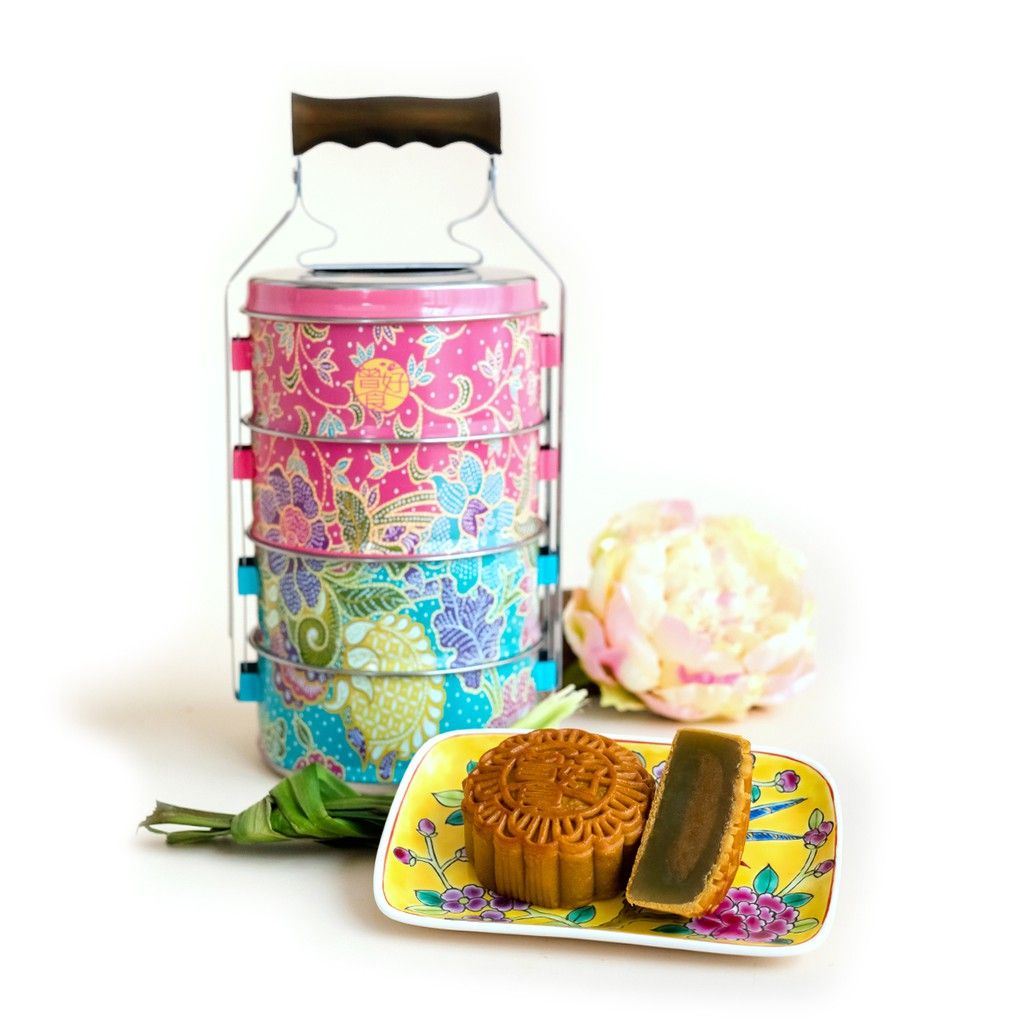 Tingkat deliveries have been all the rage this stay home period and we love that ChangHoSek brought back their signature packaging for the 2020 mooncake collection. Peranakan batik motifs in vibrant contrasting colours adorn this tingkat-mooncake box design. Not going to be packing lunch anytime soon? Repurpose this tingkat carrier into jewellery boxes then! Simply separate the individual tiffins and organise each type of jewellery in it. You can even wrap the more delicate pieces in eyeglass cloth to preserve their polish and shine.
Mooncake connoisseurs, ChangHoSek know how to deliver mooncakes that'll please the masses. Their Shopee Exclusive – 4pcs Bibik Combo (available on ChangHoSek Official Store) comprises two double-yolked baked mooncakes and two mao shan wang ones — that'll please anyone! Moreover, each order comes with a free mooncake cushion to slump into post indulgence.
7. Peach Garden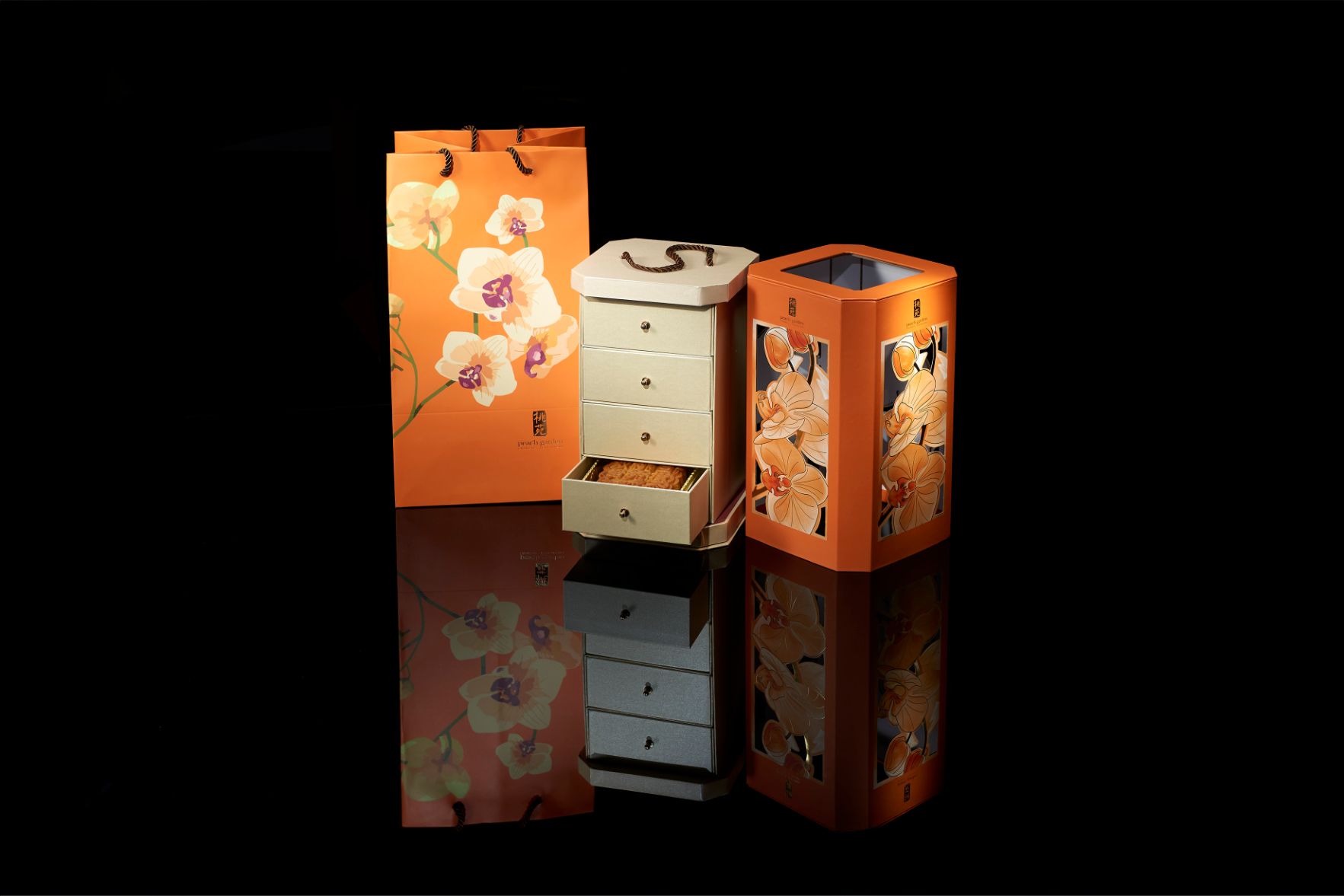 How gorgeous does this mooncake box design look? Peach Garden has outshined competition with an orange-hued lantern box encased in which you'd find four mini drawers. Every vanity table needs one of these! It'll sit pretty in the corner of your dresser table from where you can reach for your favourite jewellery and accessories.
Peach Garden's Lantern Gift Box set comprises baked and snowskin varieties. Bubble tea fans will be pleased with the Mini Snowskin Milk Tea Paste w Chocolate "Pearls" Mooncake (available on Peach Garden Official Store) which is dotted with tiny chocolate bits resembling the tapioca pearls we've come to love in any bubble tea recipe.
Pick your favourite jewellery mooncake box design!
Have these 2020 mooncake box designs left you impressed? Be sure to look out for Shopee's Mid-Autumn Fair and enjoy Early Bird Promotion rates on your favourite box designs! Not too particular about the packaging? Then check out the best durian snowskin mooncakes or the best traditional mooncakes and get dibs on the best tasting delicacies this Mid-Autumn festival!