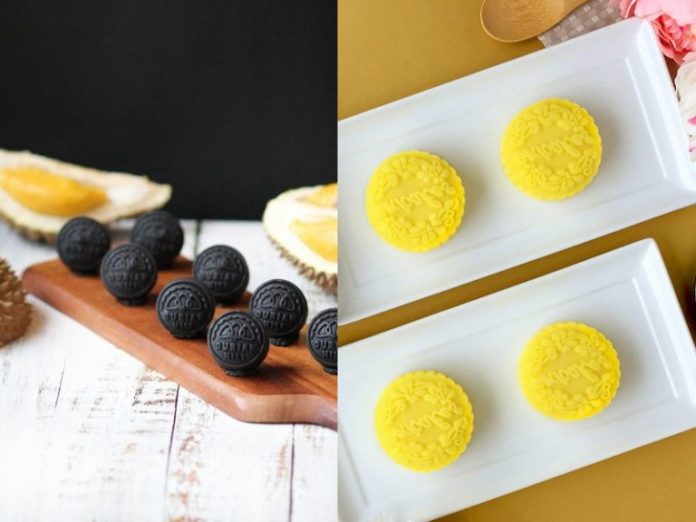 From durian puffs to durian cakes, the King of Fruits sure goes well with many different types of treats. But what happens when you put durians with snowskin mooncakes? You get the perfect burst of bittersweet creaminess that makes Mooncake Festival worth looking forward to! If you're a fellow durian fanatic like we are, this Mid-Autumn Festival 2020 is the perfect excuse to indulge in the best durian snowskin mooncakes in Singapore! From Intercontinental Singapore's durian pengat snowskin mooncakes to unique black truffle mao shan wang durian mooncakes, check out this list for some of the most delicious durian snowskin mooncakes that are bound to delight your family and friends! 
1. Four Seasons Durians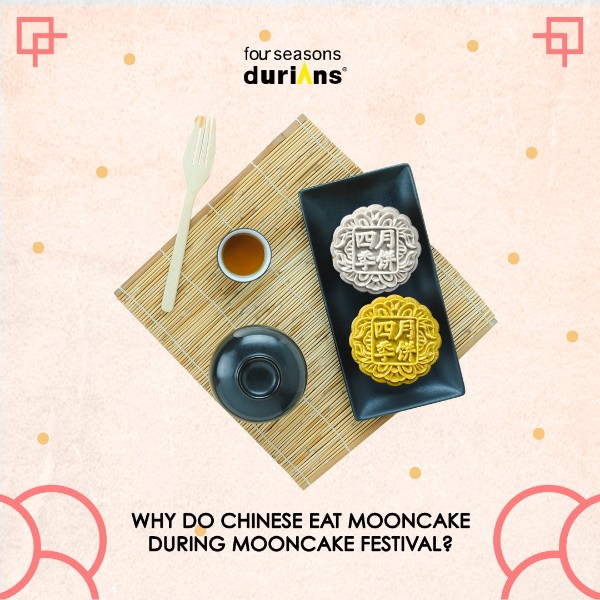 When it comes to durian mooncakes, play it safe and turn to durian experts like Four Seasons Durians! Satisfying us with their durian treats — durian swiss rolls and crepes, anyone? — all year round, Four Seasons Durians never disappoint with their consistent quality and rich flavours. For Mid-Autumn Festival 2020, grab some of the best durian snowskin mooncakes from Four Seasons Durians! 
This includes their best-selling signature Four Seasons Durians mao shan wang mooncakes and Four Seasons Durians D24 mooncakes (available on Four Seasons Durians). These mooncakes contain 100% pure mao shan wang or D24 flesh. Furthermore, they do not contain any preservatives, added sugar or cream. Not a fan of thick snowskin mooncakes? Neither are we! But you need not worry about this as Four Seasons Durians intentionally created thin yet chewy snowskin mooncake to retain that addictive texture we so love of snowskin mooncakes. 
2. InterContinental Singapore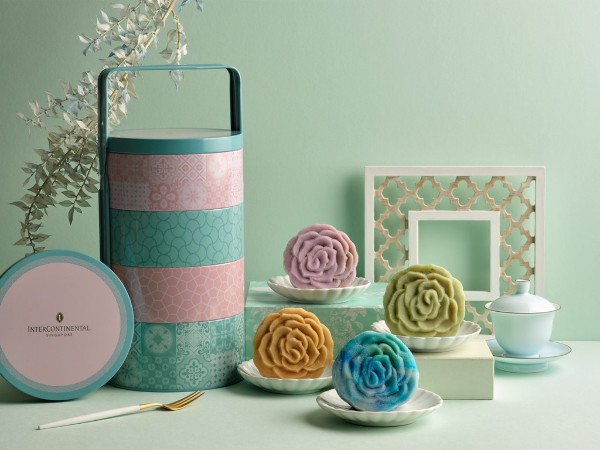 On a hunt for beautiful and luxurious looking durian snowskin mooncakes in Singapore to impress the lovely ladies at home this Mid-Autumn Festival 2020? End your search with InterContinental Singapore's iconic rose-shaped snowskin mooncakes delicately crafted by the Cantonense restaurant, Man Fu Yuan. 
Encased in a nostalgic tingkat-inspired carrier, this year's offerings speak volumes about the hotel's rich heritage. InterContinental Singapore's snowskin mooncake set (available on InterContinental Singapore) comes in four uniquely Singapore flavours, including chendol, pulut hitam,pandan and coconut kaya. But what truly stands out in this gift set is the durian pengat snowskin mooncake. The soft snowskin is dyed in a gorgeous blend of turquoise and white and contains durian cream, gula melaka and butterfly pea. We're sure this tantalising concoction combined with a subtle durian flavour will please even non-durian fans.  
3. My Mum's Cookies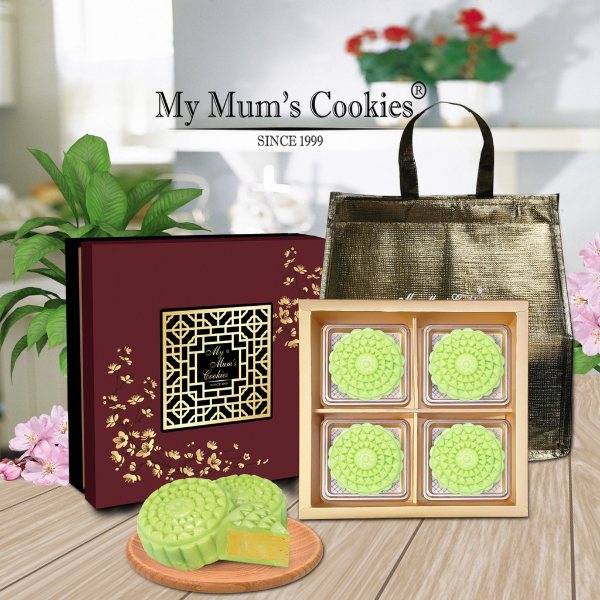 If hotel mooncakes are too conventional, make the switch to bakeries like My Mum's Cookies for homely flavours this Mid-Autumn Festival! You may have heard of My Mum's Cookies when shopping for CNY snacks. But did you know that they are also contenders for one of the best places that sell durian snowskin mooncakes in Singapore for Mid-Autumnn 2020? 
My Mum's Cookies mao shan wang durian snowskin mooncake gift set (available on My Mum's Cookies) will satisfy all your durian cravings as it contains a generous amount of 100% premium mao shan wang flesh. It's almost like eating the actual fruit itself! Additionally, they also make great gifts for the elderly as the mooncakes do not contain added sugar or cream. 
4. Emicakes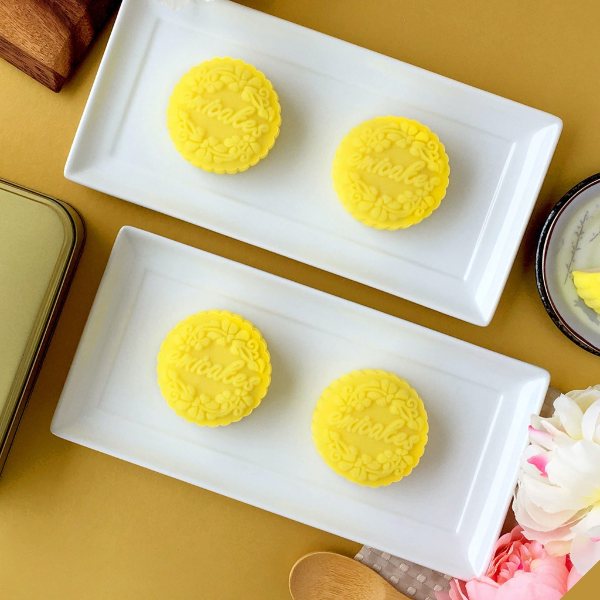 Emicakes is well-known for their premium D24 durian cakes. Hence, it's no surprise that you can get some of the best durian snowskin mooncakes from them in Singapore. The Emicakes durian snowskin mooncakes (available on Emicakes Official Store) are priced reasonably from $40 for two large pieces.  Furthermore, they come in three different durian types to cater to a wide spectrum of durian lovers. 
If you're into durians with a more bitter flavour, you won't go wrong with Emicakes mao shan wang durian snowskin mooncake. It has an unparalleled creaminess that simply melts in your mouth! Meanwhile, those who prefer a sweeter taste profile should go for the Emicakes D24 durian snowskin mooncake. This will be a crowd pleaser even among the kids! Additionally, Emicakes also carry a special mao shan wang delight durian snowskin mooncake which features a more subtle durian flavour. This will be right up the alley for those who're not into the intense durian taste! 
5. Gin Thye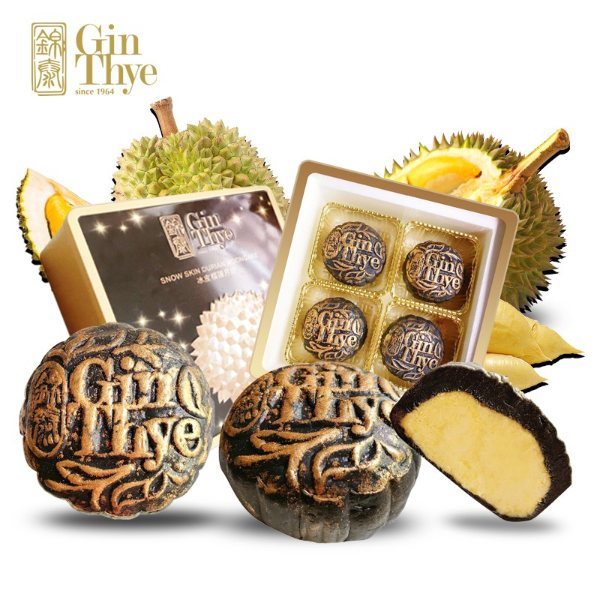 As one of the best selling durian snowskin mooncakes in Singapore online last year, Gin Thye is back again this Mid-Autumn Festival 2020 with the same great offerings! Kickstart the festival with Gin Thye's snowskin bamboo charcoal mao shan wang mooncakes (available on Gin Thye)! Aesthetic-wise, these mooncakes stand out among the crowd with the luxurious golden powder sprinkle which contrasts against the black bamboo charcoal snowskin. Taste-wise, the Gin Thye mao shan wang mooncakes are second to none with an intense bittersweet taste! 
Prefer something of a sweeter taste? The brand also carries snowskin bamboo charcoal red prawn mooncake (available on Gin Thye) for durian lovers with a sweet tooth! Additionally, you can now indulge in these yummy treats without feeling the pinch in your wallet. That's because Gin Thye's red prawn mooncake offerings come at an affordable price of $39.90 with a complimentary box of durian mochi!
6. Durian Hill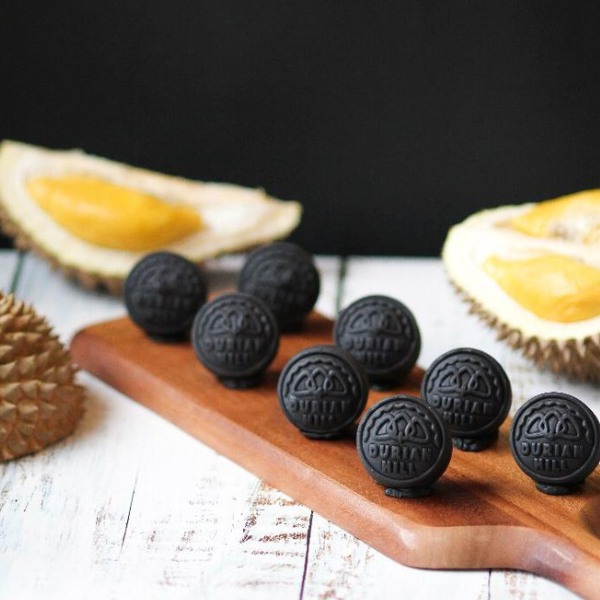 Specialising in farm to table fresh durian delivery, Durian Hill should be your go-to if you're looking for some of the freshest durian snowskin mooncakes online! The Durian Hill pure mao shan wang snowy premium mooncake (available on Durian Hill) features 100% fresh musang king durian fillings specifically made from Durian Hill's own plantation! The durian pulp is encased in a soft and sticky charcoal bamboo snowskin that's almost mochi-like. Plus, the mooncakes come in smaller bite-sized pieces which allows you to devour all the yummy goodness in one bite! 
Alternatively, try the MSW/D24 durian snowy premium mooncakes (available on Durian Hill). Think of this treat as a durian stall rolled into a mooncake! It's created by blending musang king, D24 and other selected premium durian species into a thick paste to deliver a flavourful yet balanced taste!
7. Aroma Truffle & Co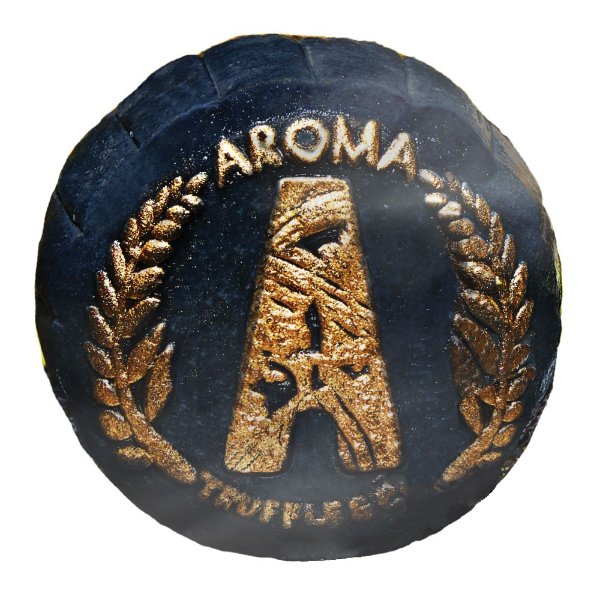 Not too impressed with the regular durian mooncake flavours? We suggest getting adventurous in the taste department with the premium truffle musang king mooncake (available on Aroma Truffle & Co. Official Store) — one of the best durian snowskin mooncakes in Singapore for 2020! Topped with edible gold flakes, these durian snowskin mooncakes make for the perfect gift for your atas friends and relatives. 
Aside from being a treat to the eyes, the mooncakes are also jam-packed with premium ingredients for a lavish indulgence. They are made using black Italian truffles and mao shan wang flesh to achieve a creamy, bitter flavour with an earthy aftertaste. There's honestly no better way to enjoy this decadent treat than to close your eyes and savour its multi-dimensional flavour! Additionally, the harmony bundle also comes with four bags of Aroma Truffle & Co's signature truffle potato chips — perfect for sharing with the family!
8. Ritz Apple Strudel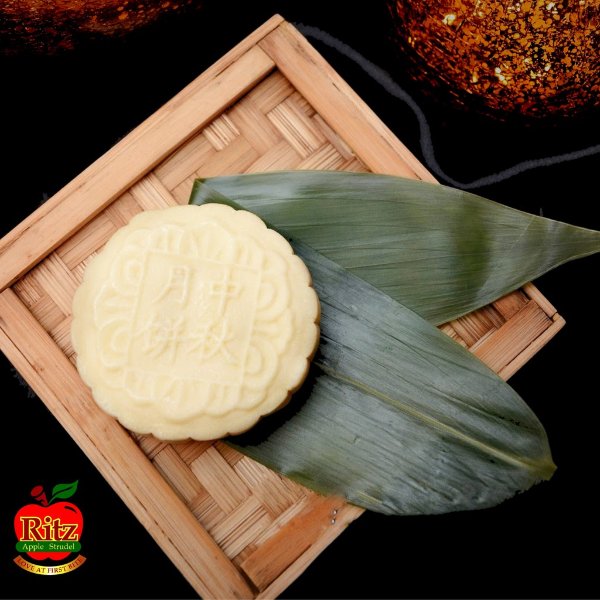 Surprise, surprise! Our all-time favourite strudel bakery brand is rolling out D24 durian snowskin mooncake gift box set (available on Ritz Apple Strudel (Home Delivery)) for Mid-Autumn 2020! Replacing the brand's iconic flaky pastry crust is the soft and smooth snowskin. It wraps snuggly around the chewy D24 durian flesh for a melt-in-your-mouth texture. Moreover, the pale yellow snowskin will look simple yet classy on your feasting table! If your family prefers a no-frills durian snowskin mooncake guaranteed to be delicious, this is one of the best durian snowskin mooncakes in Singapore to purchase. Get your icy mooncakes delivered to your doorstep two days after your order — perfect for the impatient foodies! 
Gather your loved ones for a moon-viewing party today
Can't make up your mind on which mooncakes to choose? Gather more opinions from our mooncake video review where we taste almost every mooncake available on Shopee for you!
Mid-Autumn Festival will take place later than usual this year. But that doesn't mean mooncake lovers like you need to wait till October to get your hands on these yummy treats! Place your mooncake orders in advance with us at the Shopee Mid-Autumn Fair to ensure you don't miss out on any delicious deals! Aside from the best durian snowskin mooncakes in Singapore for 2020, check out this list of traditional mooncakes must-buys! Not a fan of mooncakes? Fret not, we've got you covered with some easy durian cake recipes or if you're feeling lazy, get your durian delivery fix here!