To celebrate Mid-Autumn festival, many of us get our mooncakes from hotels, restaurants and even home-based bakers (HBB) who guard their mooncake recipes with care. But there's a certain joy in attempting to make your own mooncakes from scratch, too! Here, we've put together some easy mooncake recipes for beginner bakers, where you be as as generous with the fillings and even cut down sugar if you prefer a healthier treat!
How to make mooncakes: essential baking accessories
Before you start on these easy mooncake recipes, there are a few things you need to prepare to ensure your baking adventure is smooth. This includes baking accessories like mooncake moulds as well as mooncake packaging. They help turn your bakes into professional-looking ones!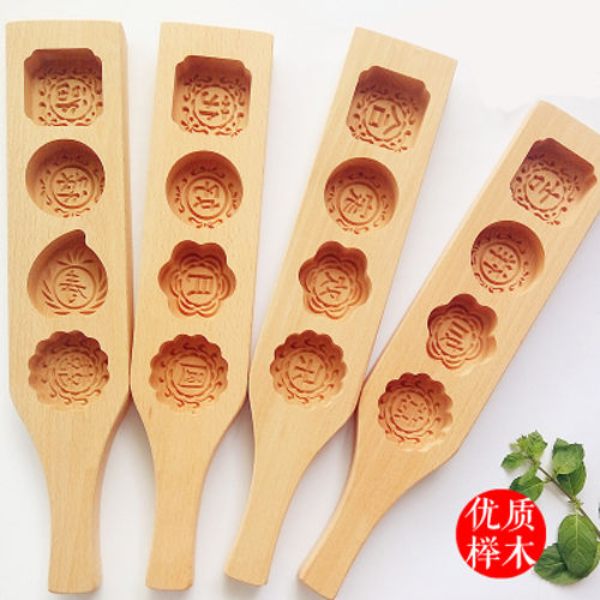 Mooncakes are all about their unique shapes and pretty indentations. These details are hard to create without a mooncake mould. Which is why you need to equip yourself with a Wooden Flower Mooncake Mould (available on HYsg01) which comes with four different words and patterns. If placed together, they form auspicious Chinese blessings which will please the elderly! For something that the kids will appreciate, go for these Cartoon Mooncake Moulds (available on JumboPlayGround) instead. From Doraemon to Pooh and Garfield, these mould designs will surely get your little ones pumped up for Mid-Autumn Festival 2021!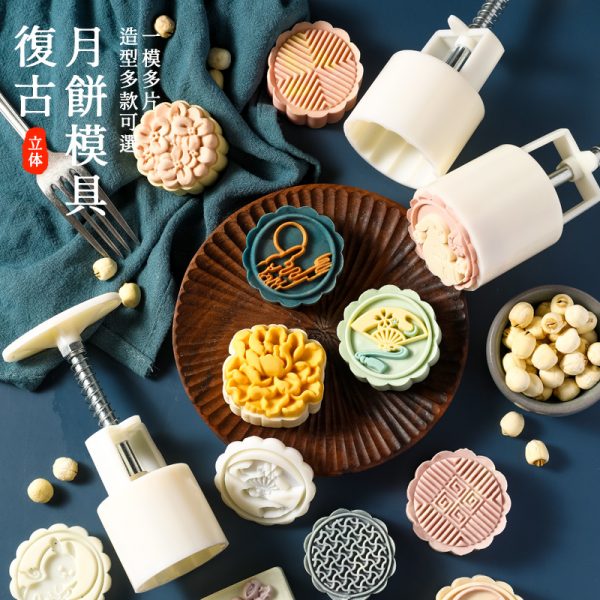 More into modern mooncake designs? Perhaps these trendy Mooncake Stamp Moulds (available on sghotmall.sg) will be right up your alley! Thanks to its unique stamping mechanism, these mooncake moulds are able to create more elaborated 3D designs that traditional moulds are unable to. Plus, they are way easier (and faster) to shape the mooncakes, making it a beginner-friendly baking tool to purchase. All you need to do is pop the mooncake dough into the mould, press it out and voila — a perfectly shaped mooncake is ready to be baked!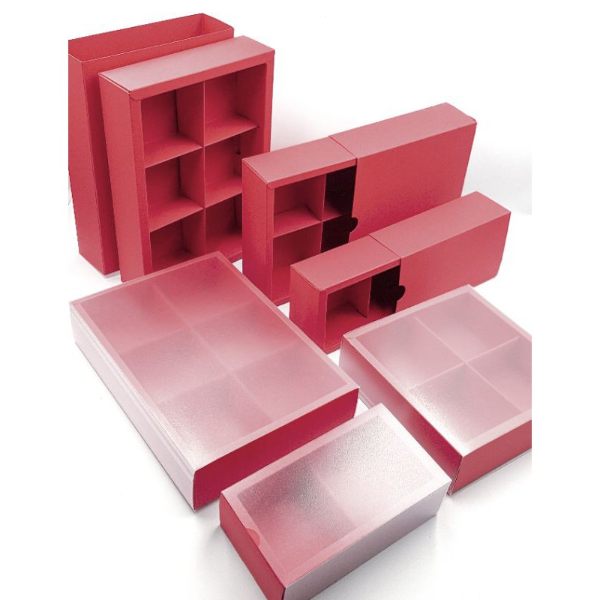 One thing many bakers forget about is the storage needed for their mooncakes. If you're intending to give your DIY mooncakes out as gifts, you will need a presentable mooncake box like these Mooncake Gift Boxes (available on BaeGiftz Sg)! This mooncake packaging instantly transforms your mooncake into atas-looking bakes that are sure to impress your friends and family!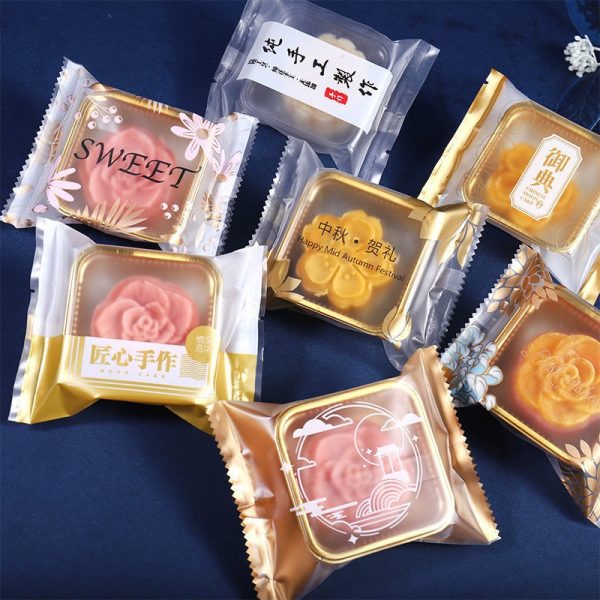 Meanwhile, if you prefer to have your DIY mooncakes individually packed for maximum freshness, these Individual Mooncake Trays And Packets (available on 快乐百货旗舰店❤️Happy Department Store Fla) will work great. You can choose from resealable packet types or air tight packets that will require a heat seal.
Easy mooncake recipes you should try
1. No-bake snowskin mooncakes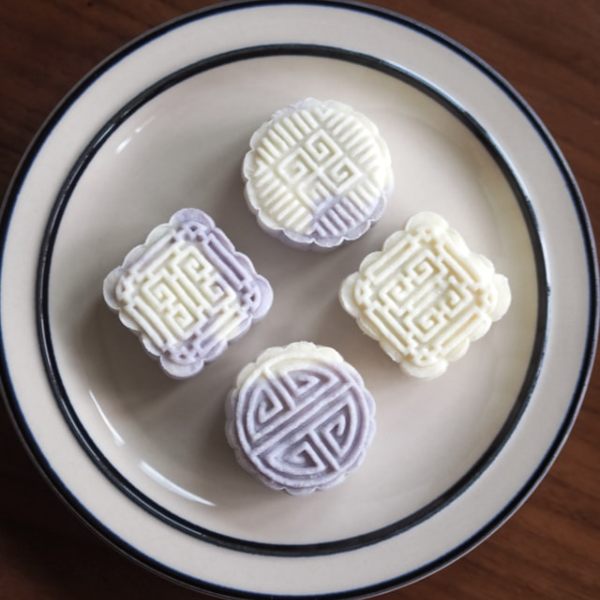 If you don't have an oven but still want to make good ol' mooncakes, snow skin mooncakes are definitely your best option. The best thing about making snowskin mooncakes is that you can literally make them in any colour you want –- all you've got to do is change the colour of your food colouring! Try this easy mooncake recipe to create your own colourful mooncakes!
Prep time: 30 minutes
Cook time: –
Servings: 6 mini mooncakes
Recipe ingredients
210g lotus seed paste

50g fried glutinous rice flour (gao fen)

50g icing sugar

1 tsp vanilla essence

Food colouring of your choice

60-70g cold water

40g shortening
How to make mooncake:
Split the

lotus paste

(available on

Shopee Supermarket

) into six, with each portion measuring about 35g. Roll them into balls and set aside.

Mix and sieve fried

glutinous rice flour

and

icing sugar

(available on

Shopee Supermarket

) together

Add

vanilla essence

(available on

Shopee Supermarket

) and

food colouring

of your choice to cold water. Mix well.

Pour the cold water into the flour mixture in batches. Mix until it resembles a soft dough.

Mix the

shortening

(available on

RedMan Official Store

) into the dough until the dough becomes a soft and smooth homogeneous dough

Divide the dough into six portions; each portion should weigh 25-30g. Roll into balls.

Flatten the dough balls and put the lotus paste balls in. Wrap the dough around the lotus paste so that it is secure, and roll the entire dough into a ball.

Dust with some fried glutinous rice flour and press it through a mould.

Remove from mould and refrigerate for at least 1 hour before serving.
2. Mooncake biscuit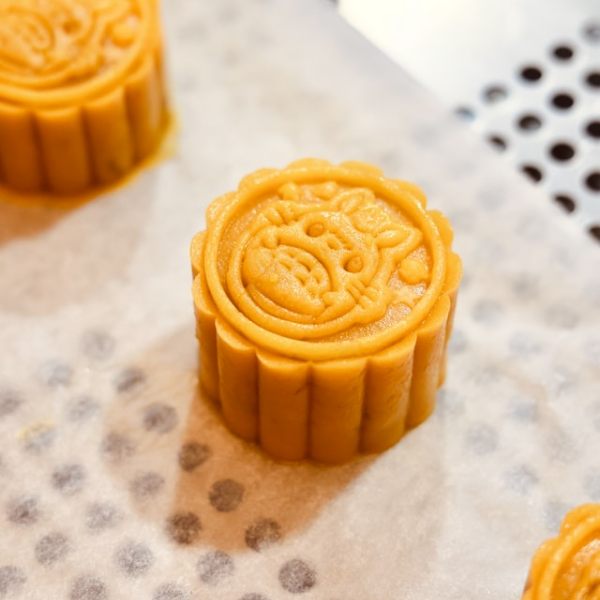 Bring back the childhood memories with simple mooncake biscuits — a guaranteed favourite among the kids even today! Mooncake biscuits usually sport cute patterns like piglet, fish or cartoon characters. In addition, they usually don't contain any filling which makes them one of the best easy mooncake recipes for beginners! It's so simple, you can even get your little ones to participate in the baking process.
Prep time: 20 minutes
Cook time: 20 minutes
Servings: 17 pieces
Recipe ingredients
450g Hong Kong flour (sifted)

270g sugar syrup

9g alkaline water

113g peanut oil

1 egg yolk

1 tbsp fresh milk
How to make mooncake:
Combine sugar syrup,

alkaline water

(available on

VitaKids Official Store

)

Sift the

Hong Kong flour

(available on

Shopee Supermarket

) in a large bowl and make a well in the middle before pouring in the sugar syrup mixture. With a

silicon spatula

(

available on

Shopee Supermarket

), mix everything to form a soft dough. Cover and let it rest for 20 minutes.

Prepare your counter by dusting it with Hong Kong flour. Place the dough on the counter and knead it until it's smooth. Portion the dough into 45g equal pieces and roll into a ball Then, dust some more flour on each ball.

Dust some Hong Kong flour on your mooncake mould and press the dough firmly into the mould. Then, remove the dough from the mould and place it on a lined baking tray.

Bake in a preheated oven of 160 degree celsius for 10 minutes

While waiting, create your egg wash by mixing egg yolk with

fresh milk

(

available on

Shopee Supermarket

).

Let the mooncakes cool down for about 10 minutes after the first bake before giving them an egg wash. Then, bake them again for another 15 minutes.

Let them cool before serving
3. Jelly mooncake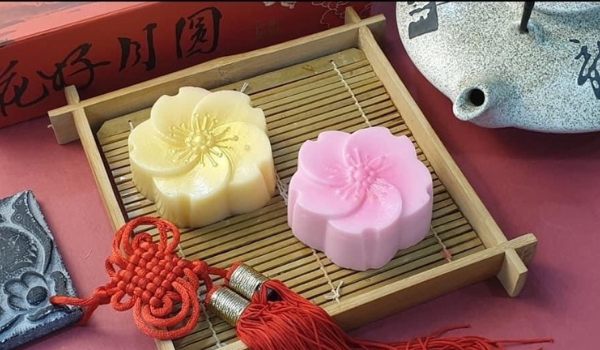 Not confident in your baking skills? Fret not, this easy jelly mooncake recipe is unbelievably easy to master. Jelly mooncakes boast the same 'bounce' as agar agar except that it comes with a layer of filling — almost like a traditional mooncake! For this recipe, you will be needing a mooncake jelly mould (available on sakulastore.sg) to create the beautiful mooncake indents.
Prep time: 30 minutes
Cook time: 30 minutes
Servings: 4 large mooncakes
Recipe ingredients
For the filling:
150g sweet potato, steamed and mashed

100ml water

150ml coconut milk

120g sugar

5g potato starch

2g agar powder
For the jelly layer:
5g agar powder

130g sugar

400ml water

100ml coconut milk

1-2 drops of flavouring essence of your choice

1-2 drops of food colouring of your choice
How to make mooncake:
For the filling:
Mix all the ingredients for the filling in a large pot, and bring it to a boil for 5 minutes, or until all the

agar powder

(

available on

Shopee Supermarket

)

has dissolved

Remove and pour it into

spherical ice cube moulds

(available on

shimeistore.sg

) and allow it to set at room temperature. Set aside.
For the jelly layer:
In a large pot, mix all the ingredients for the jelly layer together and bring to a boil

Cook for another 5 minutes or until all the agar powder has fully dissolved

Pour the mixture into the

mooncake jelly moulds

, up to about 2cm

Allow it to cool at room temperature for 2 to 3 minutes

Then, place the remaining jelly mixture on top of a stove at the lowest heat to prevent it from cooling down further

Once the jelly has partially set in the mooncake mould, put a piece of the filling (it should have slightly set by now) into the middle of the mould

Pour the rest of the jelly mixture to cover it up

Allow it to set for about 10 minutes at room temperature, before transferring into the fridge for a minimum of 1 hour

Unmould and serve
Easy mooncake recipes to try for Mid-Autumn Festival
Whatever your level of culinary expertise, you can definitely impress your friends and family with beautiful homemade mooncakes in an equally beautiful mooncake box! If time isn't on your side and you're just looking for a quick and easy way to score tasty mooncakes, check out our article on the best traditional mooncakes, or this article on low sugar mooncakes – a perfect gift for the health-conscious friend. Love durian AND snowskin mooncakes? We've sussed out the best durian snowskin mooncakes so that you can enjoy the best of both worlds. For other great deals on groceries, Shopee Supermarket is the place to go!