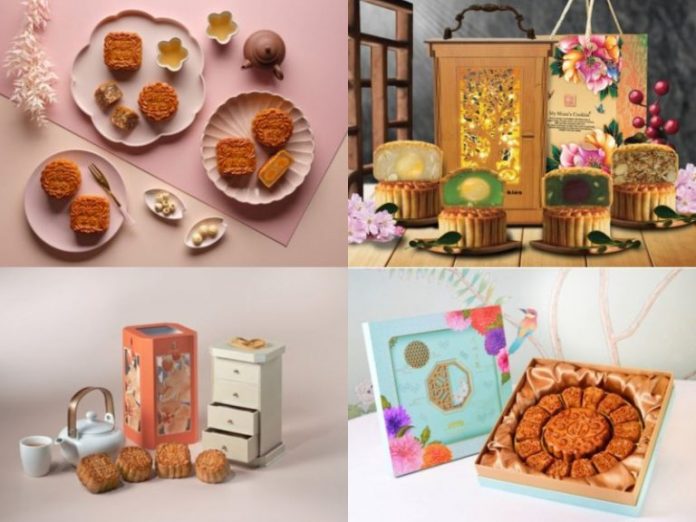 As a staple of the Mid-Autumn Festival, mooncakes are beloved for their delectable fillings and tasty crusts. While some might prefer modern snowskin mooncakes, nothing is the same as indulging in some of the best traditional mooncakes in Singapore! Hankering for a sweet double yolk mooncake treat this festive season? From time-honoured Hainanese mooncakes to mooncakes with fruity zest, get your traditional mooncake fix from bakeries and hotels with the yummy selection below.
Where to get the best traditional mooncakes in Singapore 
1. The Fullerton Hotel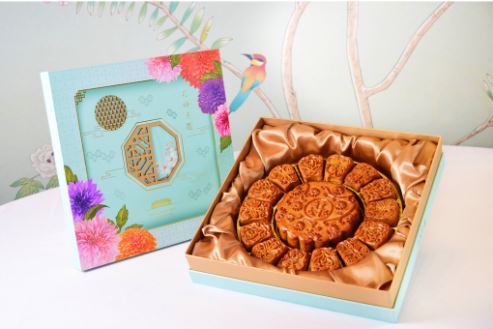 Interested in extravagant mooncake sets this mooncake festival 2020? The Fullerton Hotel's 15 Treasures Premium Gift Set (available on The Fullerton Hotel Singapore) ups the ante with some of the best traditional mooncakes in Singapore! Referencing the auspicious date of the Mid-Autumn Festival, the set contains a myriad of 15 delicious flavours. To cater to all tastes, it includes traditional fillings like red bean and black dates alongside contemporary flavours like coffee and rose. The star of the set is the giant centre mooncake that contains eight whole yolks and anchors the 14 mini mooncakes. Ultimately, this elaborately detailed white lotus seed paste mooncake will appease the most die-hard salted egg yolk fans!
2. InterContinental Singapore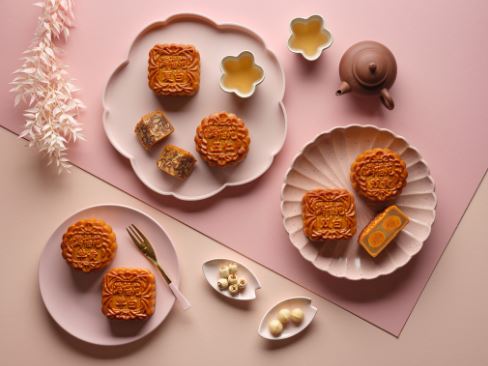 Fancy tasting some of the best traditional mooncakes in Singapore prepared by experts in Cantonese cuisine? Man Fu Yuan is no stranger to Chinese goodies and perfectly demonstrates this in their red lotus paste double yolk mooncakes (available on InterContinental Singapore)! As veterans in the Chinese fine dining scene, their artisanal traditional mooncakes are the best of the bunch. Armed with years of experience, the chefs skillfully bring out the fragrance and texture of each handcrafted delicacy! InterContinental celebrates mooncake festival 2020 by packaging these traditional treats in elegant tingkat carriers that ooze heritage style with their pastel hues and gorgeous motifs.
3. Gin Thye Traditional Baked Mooncakes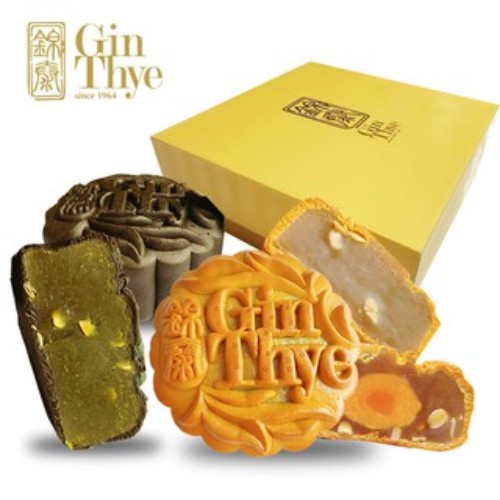 As one of the largest local confectioneries, Gin Thye bakes some of the best traditional mooncakes in Singapore. From peanut rolls to yam biscuits, Gin Thye is committed to keeping up with the times while preserving the essence of their tasty traditional baked mooncakes!
Interested in giving the homegrown heritage brand a shot? Gin Thye has gone all out this mooncake festival 2020 with 10 flavours of their traditional baked mooncakes (available on Gin Thye)! From yolk-less lotus paste mooncakes to innovative additions like bamboo charcoal green tea paste mooncake, you'll surely be spoilt for choice!
4. Gin Thye Teochew Mooncakes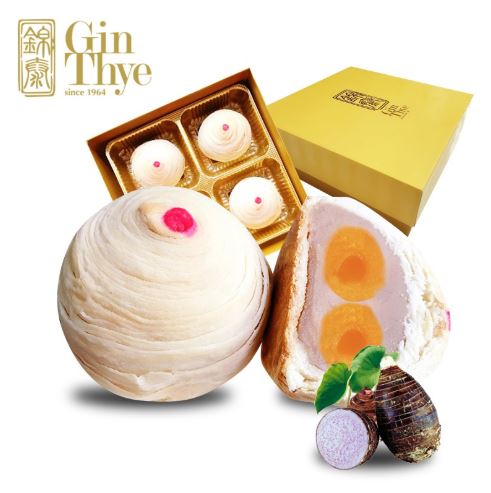 Still not content with the best traditional mooncakes in Singapore Gin Thye has to offer? Look out for their Teochew flaky yam mooncakes (available on Gin Thye) this mooncake festival 2020! Instead of the usual baked chewy exterior, Gin Thye's Teochew mooncakes are deep-fried and have a flaky crust. The chefs achieve this by expertly alternating between layers of dough and flour. This combines pleasantly with the yam paste filling that refrains from being overbearingly sweet and is an absolute treat for Orh Nee dessert fans.
5. Hong Kong MX
When it comes to snagging the best traditional mooncakes in Singapore, you'll certainly want to buy from an internationally recognised brand. Since 2005, Hong Kong MX has earned many Monde Selection international honours for the premium taste, texture and aroma of their white lotus seed paste mooncake with two egg yolks (available on Hong Kong MX Mooncakes)! With a nod from Michelin-starred chefs and culinary experts, you'll be won over by Hong Kong MX's expertly prepared mooncakes.
6. Chuan Ji Hainanese Mooncakes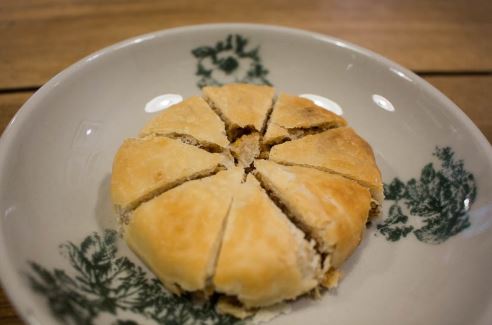 If you're seeking the best traditional mooncakes in Singapore that deviate from conventional baking styles, you'll need to give Chuan Ji's Hainanese mooncakes (available on Chuan Ji Bakery Official Store) a shot! As one of the last few confectionaries to offer authentic Hainanese mooncakes, Chuan Ji defies modern baking techniques by sticking to classic wooden moulds and utilising lesser-seen ingredients like fried shallots and candied orange peels. Their Hainanese mooncakes perfectly balance hints of sweetness, spiciness and citrus zest — definitely worth a try!
7. Peach Garden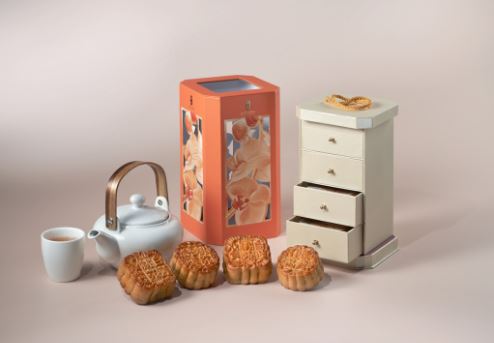 Who says the best traditional mooncakes in Singapore need to have the same few flavours! If you're searching for ones with unique fillings, Crystal Jade's mooncakes will be up your alley. Differentiating itself from common lotus paste mooncakes, Crystal Jade reinvents the wheel by experimenting with pomelo cheese paste mooncakes to jackfruit paste mooncakes (both available on Peach Garden Official Store). These delightful mooncakes are then housed in quaint, minimalist drawers. You can also convert these pretty containers into jewellery boxes after the festival!
8. Chang Ho Sek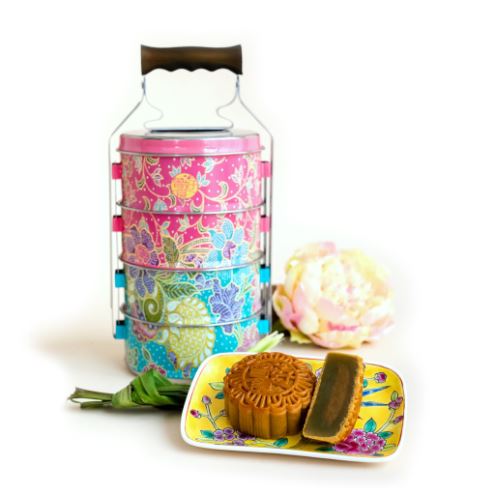 Impressing recipients with its nostalgic packaging, Chang Ho Sek's traditional baked Nonya mooncakes (available on ChangHoSek Official Store) definitely offers some of the best packaged traditional mooncakes in Singapore. Harkening back to the good old days of tingkat deliveries, ordering any traditional mooncake set gives you an ornate tiffin carrier adorned with vibrant floral patterns! Quirky  packaging aside, you'll appreciate how Chang Ho Sek caters to varying taste palates. From Nonya-style mooncakes to ones with perfectly round pandan paste kaya centres, ChangHoSek's mooncakes are perfect for older and younger family members alike!
9. My Mum's Cookies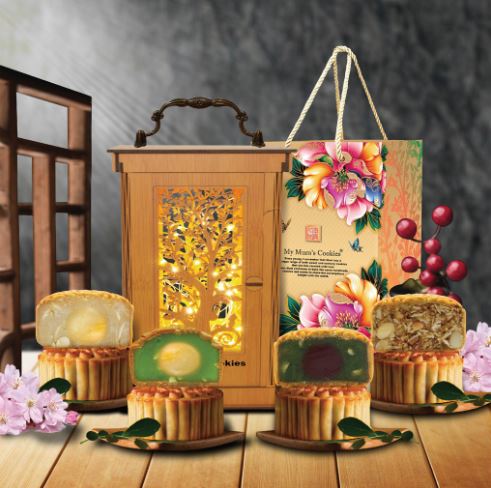 As one of our frontrunners for best traditional mooncakes in Singapore, My Mum's Cookies Lantern Mooncake set (available My Mum's Cookies) blows mooncake fans away with its packaging! Besides promising four tasty mooncakes, each gift set also comes with an ornate wooden lantern box. The delicately-carved container will blow you away with its intricate details and can easily be repurposed for festive mid-autumn decorations! Did we also mention My Mum's Cookies dedication to baking vegetarian-friendly mooncakes? From green tea to pandan lotus, each mooncake substitutes cane sugar for natural ingredients. With lesser calories in each bite, your waistline will thank you for this change! 
10. Good Chen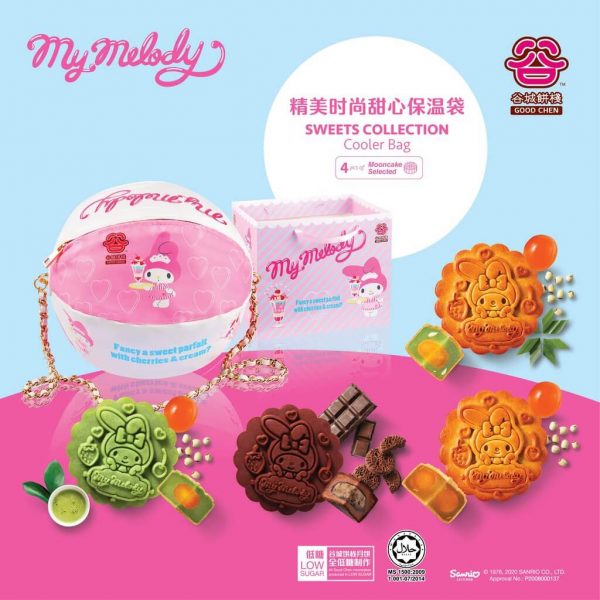 This Good Chen Sanrio Hello Kitty mooncake set (available on Hock Wong Singapore 福王) is perfect for Hello Kitty fans! It comes in four traditional flavours – green tea white lotus single yolk, chocolate lava cookies, white lotus double yolk and pandan lotus single yolk. These cute Hello Kitty mooncakes are low in sugar and halal certified so you can celebrate the Mid-Autumn festivities with your Muslim friends too! What's more, this mooncake set comes with a cooler bag that can be reused for storing cold items during grocery shopping!
Celebrating Mooncake Festival 2020 with the best traditional mooncakes in Singapore
We hope you'll enjoy these time-honoured treats as much as we do! Still prefer the allure of modern mooncakes? From durian to ice cream mooncakes, discover our comprehensive catalogue of snowskin durian mooncakes and even low sugar mooncakes! Didn't find your favourite brand here? Why not watch our mooncake review to discover all sorts of tasty traditional and snowskin mooncake brands!
Need something to wash down all that mooncake goodness? Browse through our recommendations on unique types of tea to pair with your baked desserts. Alternatively, if you're planning to work off all those calories from binging on mooncakes,  read up on our guide to easy home workouts to attempt post feasting.