It's that time of the year again. Not for bakkwa or durian, but another one of Singapore's best-loved traditional desserts – mooncakes. With the Mid-Autumn Festival coming up again, it's finally time to start stocking up on your favourite Chinese pastries. While snowskin and flaky crust mooncakes continue to be popular amongst Singaporeans, there's nothing quite like a good ol' baked mooncake. Thinking of gifting a loved one with some and wondering where to buy mooncakes in Singapore? Read on for our recommendations for the best traditional mooncakes in Singapore this Mid-Autumn!
Why do we eat mooncakes during Mid-Autumn?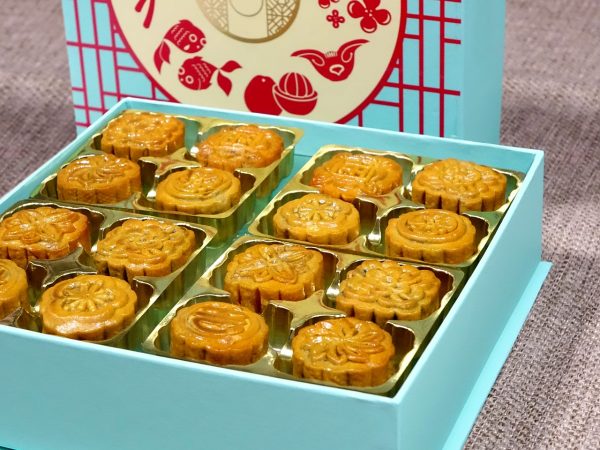 Don't get us wrong – we love a good mooncake. But have you ever wondered why we dig into these indulgent treats every September or so? Originating from ancient China, the Mid-Autumn Festival is celebrated every year on the 15th day of the 8th lunar month. 
The festival honours the Chinese goddess of the moon Chang'e, and serves as an occasion for families to celebrate the end of the autumn season. The tradition of eating mooncakes started as a way of thanksgiving for a full harvest. The roundness of traditional mooncakes symbolises the reunion of families as well as the full moon. When people give mooncakes to each other, it is a way of blessing them with a long and happy life! 
While we don't have the four seasons in Singapore, Mid-Autumn still serves as an opportunity for family reunions. And we can't think of a better way to do it than feasting on some of the best baked traditional mooncakes in Singapore!
What is the most traditional mooncake?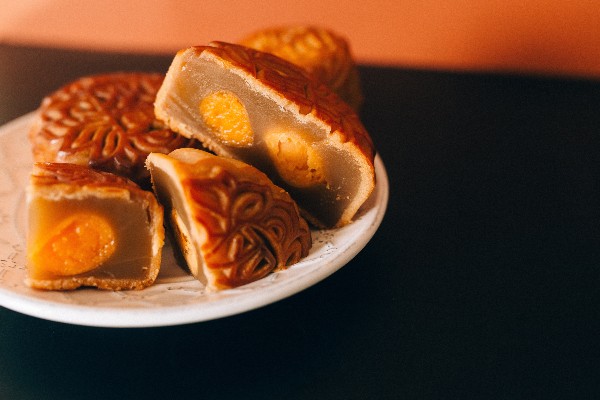 In Singapore, traditional mooncakes generally refer to Cantonese-style baked mooncakes. These mooncakes are characterised by its golden, glossy crust that comes stamped with an intricate pattern consisting of Chinese characters. The most common filling for baked mooncakes by far is sweet lotus seed paste. Lotus paste baked mooncakes typically also feature a core of salted egg yolk to represent the full moon. The result? An incredibly delicious sweet-savoury pastry that appeals to both the young and old! 
Apart from the lotus paste baked mooncake, another best-loved traditional mooncake in Singapore is the mixed nuts mooncake. Also known as wu ren yue bing, the best mixed nuts mooncakes in Singapore are made from different kinds of nuts and dry fruits, such as walnut kernels, almonds, sesame seeds, melon seeds, hawthorn, and red beans. The different ingredients make for a particularly unique eating experience, where no two bites yield the same flavour or texture! (Psst: Looking to impress the in-laws? Mixed nuts mooncakes remain one of the best options for older folks in Singapore – you know what to do!) 
Where to get the best traditional mooncakes in Singapore 
1. Gin Thye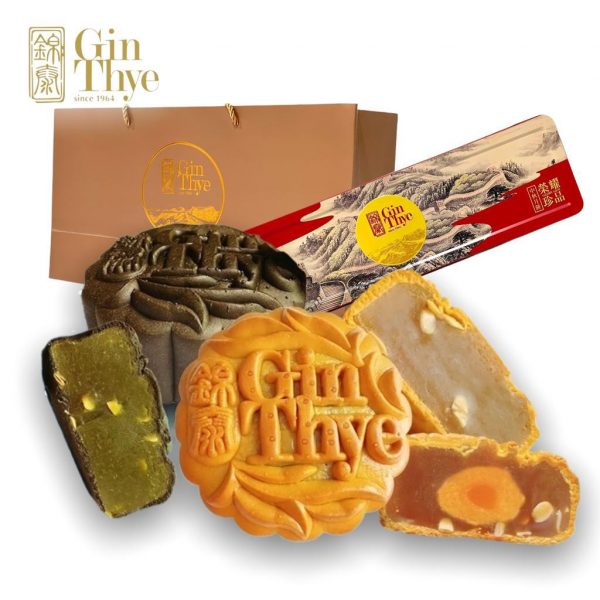 As one of the largest local confectioneries, Gin Thye bakes some of the best traditional mooncakes in Singapore. From peanut rolls to yam biscuits, Gin Thye is committed to preserving the essence of their tasty traditional baked mooncakes! Interested in giving the homegrown heritage brand a shot? Gin Thye has gone all out this mooncake festival 2022 with different flavours of their Gin Thye Less Sugar Traditional Baked Mooncakes (available on Gin Thye). From yolk-less lotus paste mooncakes to innovative additions like bamboo charcoal green tea paste mooncake, you'll surely be spoilt for choice with Gin Thye mooncakes!
2.

Peach Garden
As a household name in terms of Chinese restaurant cuisine and dimsum, Peach Garden no doubt makes some of the most famous mooncakes in Singapore. If you're tired of the traditional lotus paste and salted egg yolk filling, you can choose from the wide variety of flavours available in their baked mooncake series. Those with a penchant for local Singaporean snacks will love the Golden Pandan Paste (available on Peach Garden Official Store). Still a stickler for traditional mooncake flavours? Opt for the Assorted Nuts Mooncake with Kam Hua Ham (both available on Peach Garden Official Store), a classic wu ren mooncake. This highly-reviewed mooncake of 2022 comes with an additional ingredient uncommon in even the best mixed nuts mooncakes in Singapore – Chinese cured ham. Best part? Peach Garden mooncakes are formulated with less sugar, making it one of the best traditional mooncakes in Singapore for all to enjoy! 
3. Mdm Ling Bakery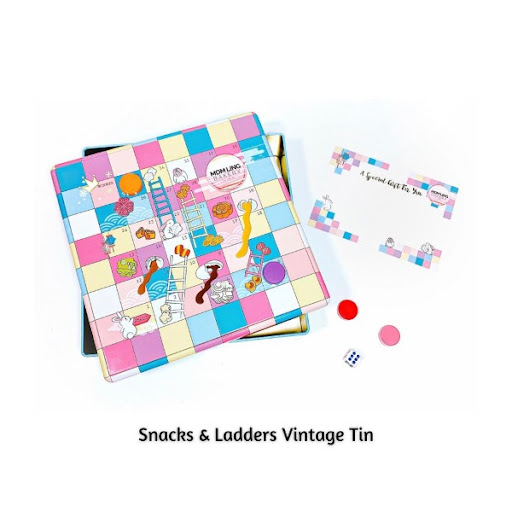 Mid-Autumn is for family – and what better way to spend quality time together than over a fun board game? This Snacks & Ladders Mooncake Game Box (available on Mdm Ling Bakery Official Store) lets you do just that! This innovative mooncake set comes in a vintage metal tin featuring the best-loved childhood game, snakes and ladders. Magnetic game pieces and dice are also provided, giving families a chance to bond over something other than delicious mooncakes. If the packaging isn't enough to convince you, the mooncakes will. You can opt between traditional baked mooncake flavours such as white lotus paste, or more unique options like Belgian-Italian chocolate hazelnut and Nanyang coffee caramel! Who says the best traditional mooncakes in Singapore have to be boring?
4.

Chang Ho Sek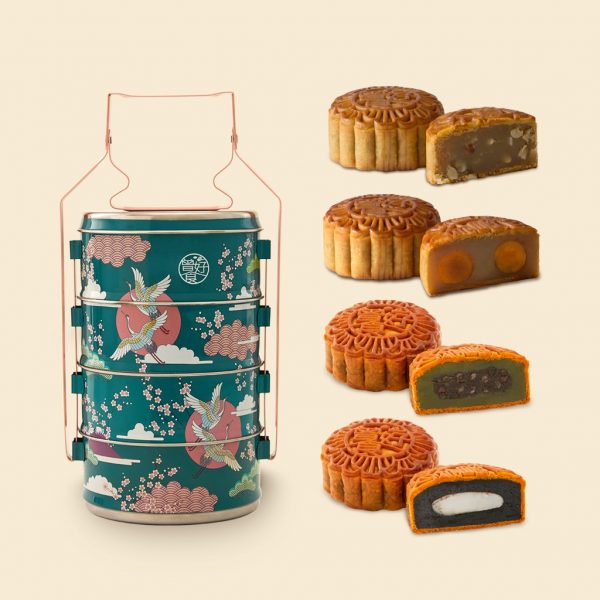 Harkening back to the good old days of tingkat deliveries, this Traditional Reunion Combo (available on ChangHoSek Official Store) is definitely one of the best traditional mooncakes in Singapore to get as a gift! Ordering any traditional mooncake set gives you a food grade tingkat adorned with vibrant floral patterns. Packaging aside, you'll appreciate how Chang Ho Sek caters to varying taste palates with a variety of assorted flavours. From black sesame seed paste with mochi to matcha paste with azuki red beans, Chang Ho Sek's mooncakes have been reviewed to be perfect for both the old and young this 2022!
5. My Mum's Cookies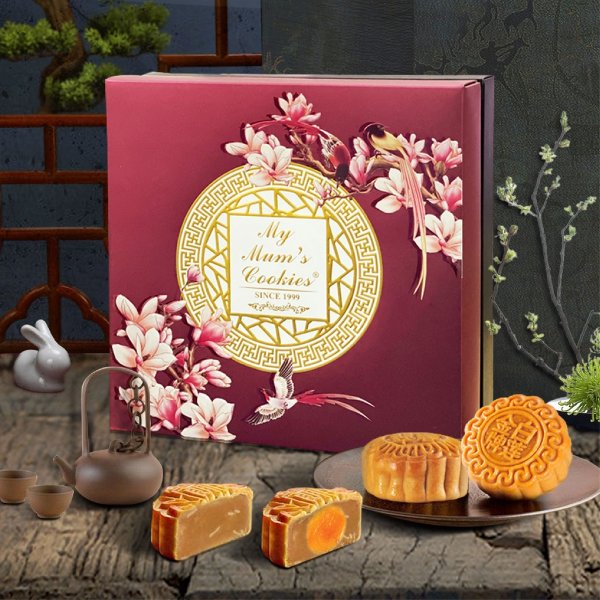 This Classic Mooncake Gift Set (available My Mum's Cookies Official Store) definitely stands out among other famous mooncakes in Singapore in terms of their dedication to baking low sugar content mooncakes! Whether it's the plain lotus or ones with yolks, these traditional mooncakes are considered one of the best in Singapore for not only being lower in calories, but also positively scrumptious. With fewer calories per bite, these My Mum's Cookies mooncakes are definitely one of the best baked mooncakes in Singapore for weight-watchers and the elderly alike.
6. Hock Wong Singapore & Lessie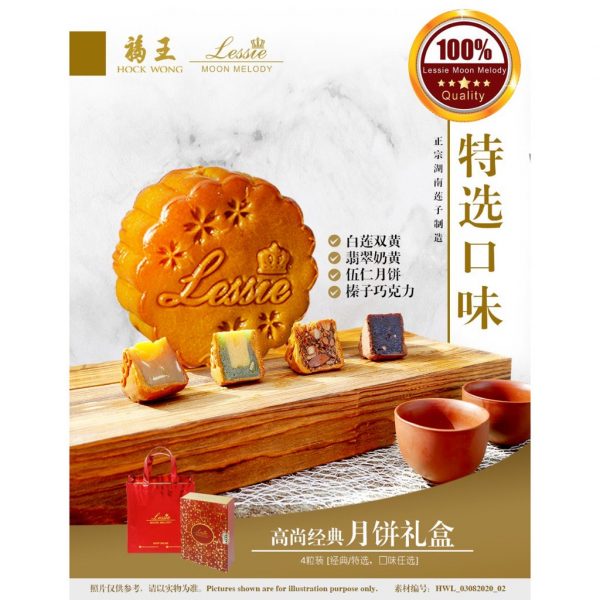 If you're looking to buy from some of the best-known traditional mooncake retailers in Singapore, this Traditional Baked Mooncake Set (available on Hock Wong Singapore 福王) is a solid pick. This mooncake set is a collaboration between two local companies, Hock Wong and Lessie. It seeks to produce a 100% authentic Hunan's lotus seed baked mooncake with zero-additive-added lotus seed paste! Not a fan of lotus seed paste? You can choose between 10 different flavours, which include kid-friendly favourites like red bean to hazelnut choco lotus! 
7. Liumama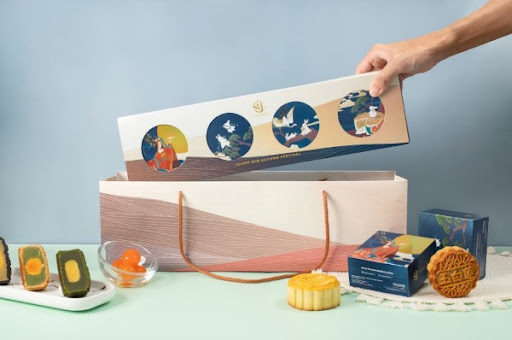 Formerly known as The Baker Haus, Liumama is a local mooncake brand that boasts a wide assortment of baked mooncakes. Aside from traditional white lotus paste, Liumama's most highly-reviewed mooncakes this 2022 include AA Grade Red Bean and Pandan Lotus Paste (both available on  Shopee Supermarket). For a healthier option, their Mixed Nuts Mooncake (available on Shopee Supermarket) is considered one of the best in Singapore! Available in single-serving portions, Liumama mooncakes are no doubt the best traditional mooncake option in Singapore for those who like variety. 
8. Starbucks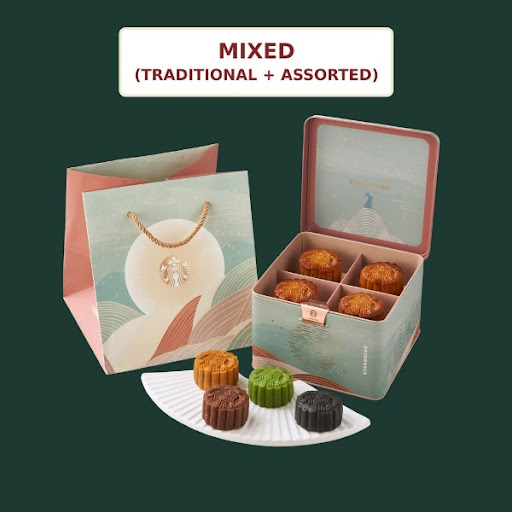 Can't get enough of Starbucks? You've got to give their Baked Mooncake Gift Box (available on Starbucks Official Store) a try! The set comes with four traditional baked lotus paste mooncakes, along with baked mooncakes with modern twists. The flavours include black sesame mochi, pandan salted egg, salted caramel dark chocolate, and Starbucks coffee with caramel and hazelnut! With so many unique flavours, these definitely make for some of the best baked mooncakes in Singapore for those who don't enjoy traditional fillings such as lotus paste. 
9. Four Seasons Durian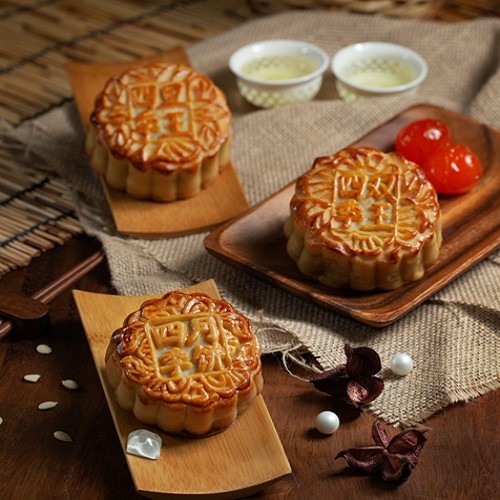 Not to be confused with the hotel, homegrown brand Four Seasons Durians is best-known for their delectable durian-based desserts. Apart from their impressive lineup of durian snowskin mooncakes, the brand also makes some of the best traditional baked mooncakes in Singapore! Case in point – the White Lotus With Single Yolk Mooncake (available on Four Seasons Durians Official Store). Made with less sugar and oil and no added preservatives, these traditional baked mooncakes have been reviewed to be one of the best options in Singapore for those looking for less sinful options. Best part? They're vegetarian-friendly and Halal-certified! 
10. FYRE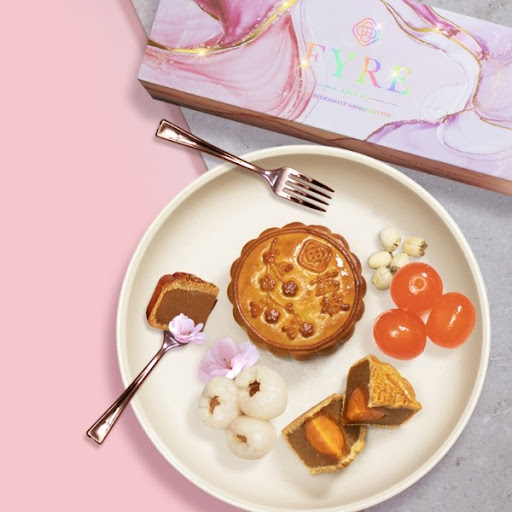 If you're a fan of floral-flavoured desserts, the Signature Traditional Baked Mooncake Set (available on Fyre Singapore) would definitely be one of the best baked mooncake options in Singapore for you! would definitely be this  These low-sugar mooncakes come infused with a subtle cherry blossom lychee flavour. They're slow-baked at low heat to lock in the delicate cherry blossom lychee scent. They're finally smoked with lychee wood to attain maximum lychee flavour. The mooncakes even come stamped with the loveliest cherry blossom print, showing clear attention to detail. Surprise your loved ones with some of the best, uniquely-flavoured traditional mooncakes in Singapore today! 
11. Hong Kong Bay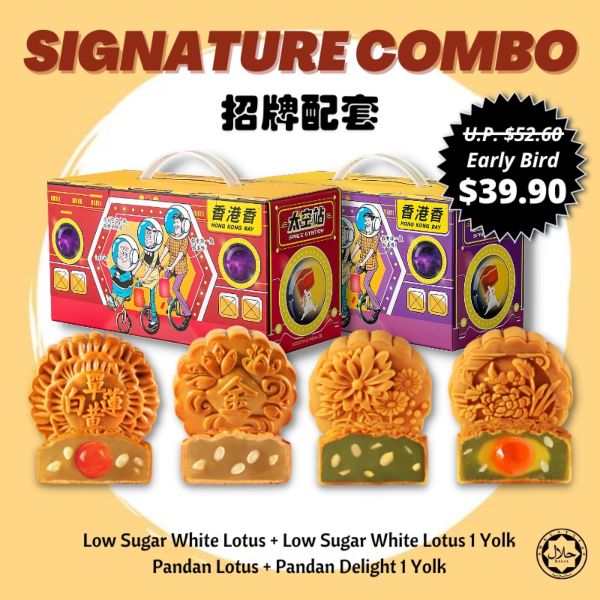 You can trust Hong Kong Bay for the most highly-reviewed traditional mooncakes of 2022. Their Baked Skin Mooncakes (available on Our Fruit Story) are the best options for those who are craving for something simple this Mid-Autumn 2022. Featuring a silky lotus paste, this filling contains less sugar while retaining its flavourful notes. We especially love how its beautiful salted egg yolk centre has a grainy texture, thus giving it a lovely contrast as you bite into one of their Low Sugar White Lotus Mooncakes. Their Pandan Mooncakes have also been reviewed to be the best this 2022 thanks to that coconutty filling that has a subtle sweetness. Containing that similar salted egg yolk, this Pandan Mooncake has been elevated with melon seeds for that extra crunch that you'll love!
12. Zhen Wei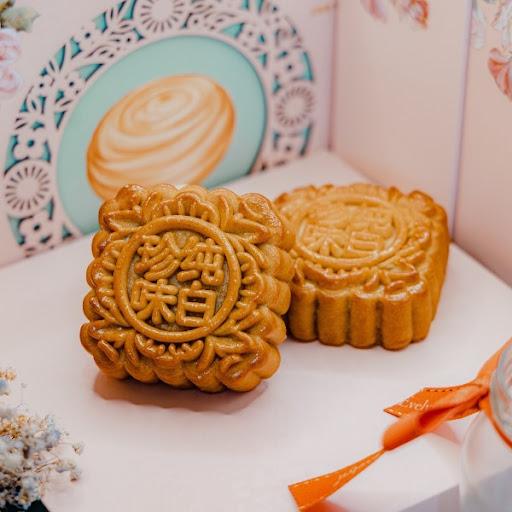 Available in boxes of two or four, the Baked White Lotus Mooncake Set (available on Zhen Wei Mooncake Official Store) comes in one of the best, gift-ready packaging in Singapore. We love how the pink, lattice-print box can easily be repurposed as a bougie-looking tissue box holder! You also have the option of selecting different flavours to fill the box. Nut lovers who don't quite fancy even the best mixed nuts mooncakes in Singapore will definitely enjoy the lighter-tasting Pure White Lotus With Nuts! 
13. Crowne Plaza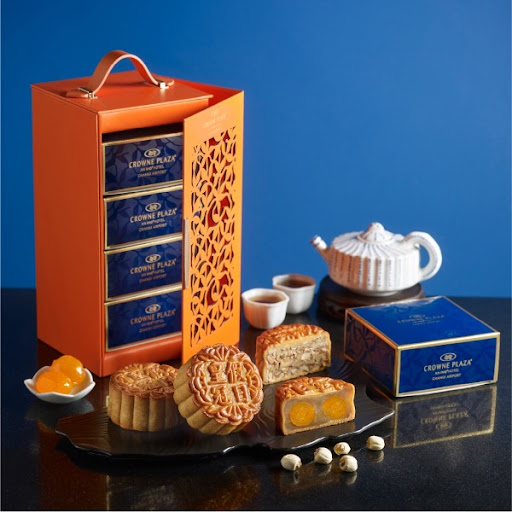 If you're looking for some hotel-standard baked mooncakes at a reasonable price, this Assorted Traditional Baked Mooncake Set (available on Crowne Plaza Changi Airport) will be right up your alley. We love the Low Sugar White Lotus Paste with Macadamia Nuts (available on Crowne Plaza Changi Airport), which marries the smooth sweetness of white lotus paste with the satisfying crunch from the macadamia nuts. Fans of wu ren mooncakes will also be likely to find the Mixed Nuts Baked Mooncake (available on Crowne Plaza Changi Airport), with its complex, sweet-savoury flavour, one of the best in Singapore! 
14. Shangri-La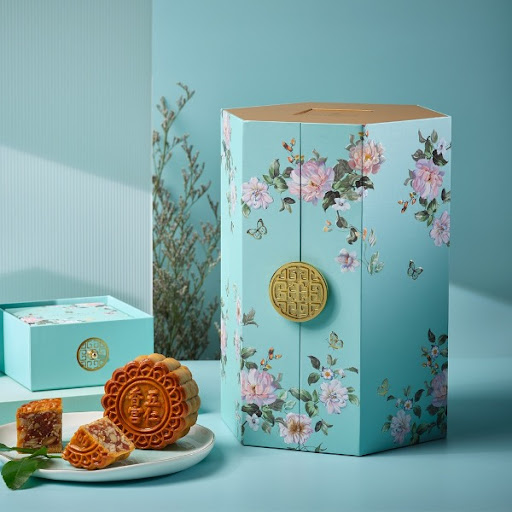 If you're aiming to impress the in-laws this Mid-Autumn, baked mooncakes from Shangri-La is one of the most famous hotel mooncakes in Singapore to get your hands on. The hotel group is widely considered to produce some of the best traditional mooncakes in Singapore, baked or otherwise. It also doesn't hurt that their packaging can always be depended upon to be exquisite! Stick to reliable favourites such as the Reduced Sugar White Lotus Seed Paste with Double Yolk (available on Shangri-La Singapore Official Store). Alternatively, go all out with the Signature Mini Baked Custard with Bird's Nest (available on Shangri-La Singapore Official Store), which features real, high-quality bird's nest wrapped in smooth, creamy custard!
Celebrate Mooncake Festival 2022 with the best traditional mooncakes in Singapore 
We hope you'll enjoy these best-loved traditional mooncakes in Singapore as much as we do! If you still prefer more modern mooncakes, check out our comprehensive guide to picking the best snowskin mooncakes and the best yam mooncakes in Singapore! Alternatively, try making your own mooncakes by following these simple mooncake recipes! 
This article was updated on 19 July 2022. Additional research done by Rachel Tan.